Grading All 70 College Football Coaching Staffs on Their Bowl Performances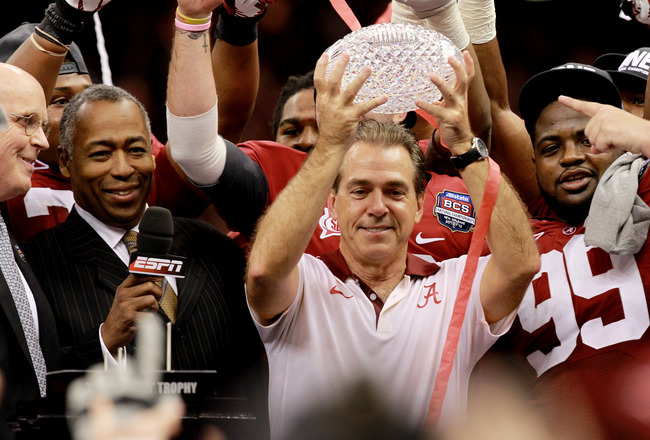 Ronald Martinez/Getty Images
College football's bowl games are all over, and it is time to dissect which coaching staffs deserve to make the mark.
Did any coaches completely bomb in their bowl game and perhaps get a failing grade? Which coaching staffs really aced it in their bowl games?
I break down all 70 teams from the postseason and hand out grades based on their coaching staffs' performance and, more importantly, on how their team performed.
Steve Addazio and Temple Staff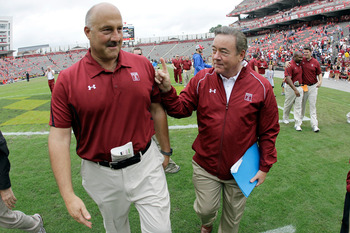 Rob Carr/Getty Images
The Owls got their first bowl victory since 1979, and they did it in dominating fashion, winning 37-15.
Bernard Pierce will not be coming back for his senior season, but he gashed the defense of Wyoming for 100 yards and two touchdowns.
The play-calling was solid, as they opened up the playbook before halftime, connecting on a crucial 61-yard touchdown pass to give them the comfortable 28-7 lead before they put it in cruise control the rest of the way.
Grade: A
Dave Christensen and Wyoming Staff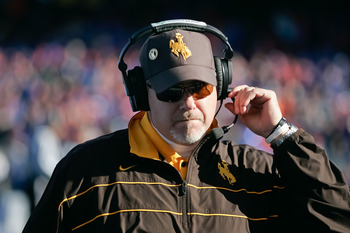 Otto Kitsinger III/Getty Images
Wyoming did not have quite the talent that Temple had in this game, which sounds a bit weird. However, freshman quarterback Brett Smith was never comfortable; some of that was the play-calling, and some of it was just getting outplayed.
It would had been nice if the Cowboys showed up with a bit more emotion since it seemed they were sleepwalking in the first half.
Grade: C+
Frank Solich and Ohio Coaching Staff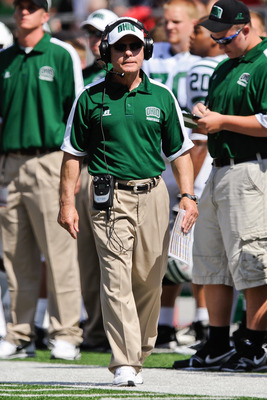 Jamie Sabau/Getty Images
The Bobcats were never in command of this game, yet Tyler Tettleton found a way to win in the closing moments (24-23). They were outgained by nearly 100 yards, but the Bobcats made all the perfect decisions down the stretch. The rush defense was abysmal, although they still managed to win.
Grade: B+
Gary Andersen and Utah State Coaching Staff
Only Utah State could lose every close game it encountered this past season, and it ended just how it started. The Aggies outplayed Ohio in nearly every facet of the game, but they could not find a way to score in the fourth quarter.
Grade: B-
Rocky Long and San Diego State Coaching Staff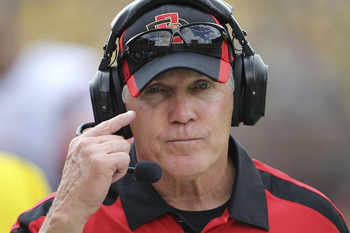 Leon Halip/Getty Images
How Ronnie Hillman could not run or find any room to run is beyond me. Give Louisiana-Lafayette some credit, but the Aztecs came out flat, which is inexcusable for a team that was favored in the Mountain West Conference.
They had success threading the ball, but the pass defense was so absolutely torched that they should be a bit embarrassed.
Grade: C
Mark Hudspeth and Louisiana-Lafayette Coaching Staff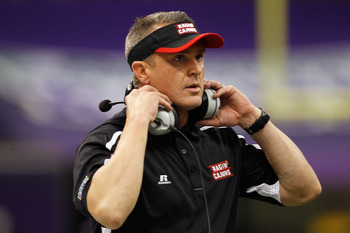 Chris Graythen/Getty Images
It was the Ragin' Cajuns' very first bowl appearance since 1970 and first-ever bowl win. They were not afraid of throwing the deep ball, and they took their shots.
Props to the players and coaching staff, who played to win rather than not to lose. A few questionable decisions almost cost them the game, but they moved right down the field to get off the game-winning kick.
Grade: A-
Doc Holliday and Marshall Coaching Staff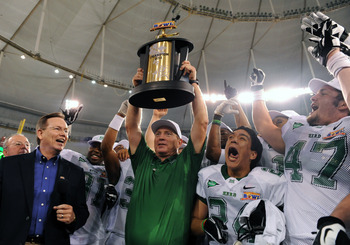 Al Messerschmidt/Getty Images
Marshall decided to be the lone team to find a way to score points at the end of the game, but this was arguably the most boring bowl game. However, the defenses showed up, and the special teams blocked punt was one of the plays of the game for the Thundering Herd.
Grade: B-
Mario Cristobal and FIU Coaching Staff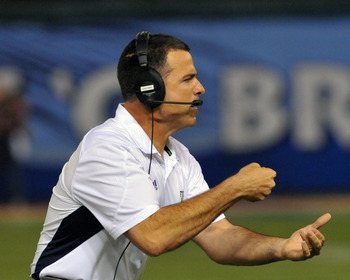 Al Messerschmidt/Getty Images
T.Y. Hilton came into the game as one of the more explosive players on non-automatic-qualifying teams. This game sent offenses back a few decades, and for that it is tough to give this coaching staff a solid grade despite the solid play on defense.
Grade: C-
Gary Patterson and TCU Coaching Staff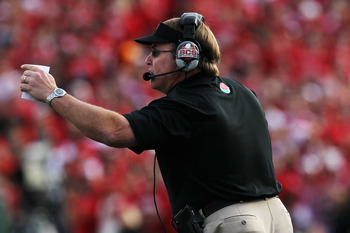 Stephen Dunn/Getty Images
The Horned Frogs thought they would be playing in the BCS, and boy did they disappoint us. Would Louisiana Tech even come close to knocking off Boise State, Baylor, Washington or perhaps even an Arkansas or Michigan State?
All those teams that felt left out would have arguably destroyed the Bulldogs, and TCU played uninspired football, albeit they still won.
Grade: C+
Sonny Dykes and Louisiana Tech Coaching Staff
Had the Bulldogs found a way to pull off the upset as nearly double-digit favorites, they would have received a legit A. However, they folded in the fourth quarter and went away from what got them there.
Sure, TCU just outplayed them badly in the fourth quarter, but they could have capitalized on a few plays in the first quarter (chip-shot field goal hurt) as well as the fourth quarter.
Grade: B+
Chris Petersen and Boise State Coaching Staff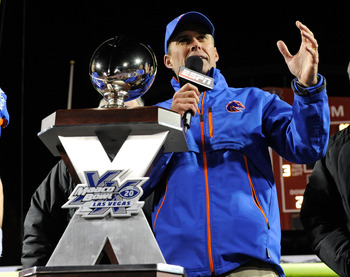 Ethan Miller/Getty Images
Nearly 500 yards and 60 points is nearly as good as it gets in a bowl game. Kellen Moore finished off his career on a great note, and the Broncos defense played its best when it had to.
Chris Petersen is arguably the best coach in the country for a reason. He finds ways to win, and his Smurfs did not disappoint.
Grade: A+
Dennis Erickson and Arizona State Coaching Staff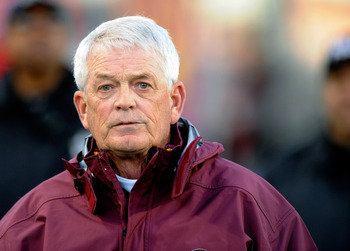 Ethan Miller/Getty Images
In their final hurrah, the Devils played uninspired, and it showed several times. They allowed three non-offensive touchdowns. Man, the game turned ugly right out of the gates after allowing the opening kick for a touchdown.
Grade: C-
Chris Ault and Nevada Coaching Staff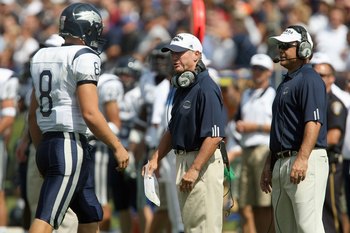 Jonathan Daniel/Getty Images
I had some decent expectations for the Pack, but the coaching staff really lived up to those somewhat lofty expectations. They punched Southern Miss in the mouth when they had the ball, but they could not do anything in the second half.
The defense hung in there and played extremely well against the pass, though it was not good enough.
Grade: B
Larry Fedora and Southern Miss Coaching Staff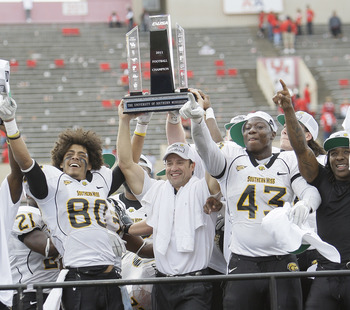 Bob Levey/Getty Images
Southern Miss led the country in non-offensive touchdowns, and it blocked another punt for a touchdown, which proved to be the difference. Fedora found a way to get his team to the winning circle.
Grade: B+
Gary Pinkel and Missouri Coaching Staff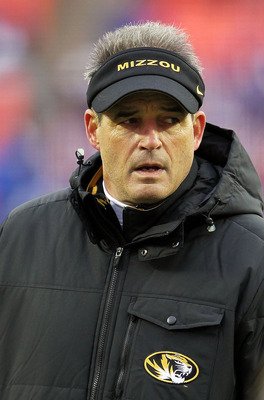 Jamie Squire/Getty Images
For all of the distractions the team had, whether it was losing its starting running back, heading to the SEC or debates on Gary Pinkel's job security with his latest DWI, Mizzou kicked some teeth in. The Tar Heels had no answer for the Tigers' potent rushing attack, and James Franklin had a field day.
Grade: A+
Everett Withers and North Carolina Coaching Staff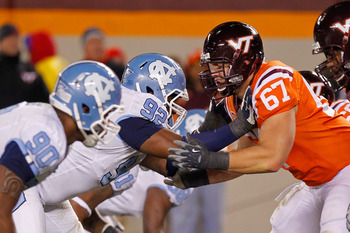 Geoff Burke/Getty Images
This was borderline embarrassing since the Tar Heels were gashed for 337 yards rushing along with giving up three touchdowns. Luckily, the offense was not abysmal for UNC since it had a solid performance from Bryn Renner.
Still, the entire coaching staff was coaching their final game for the program, and they could have done a better job in my eyes.
Grade: C-
Danny Hope and Purdue Coaching Staff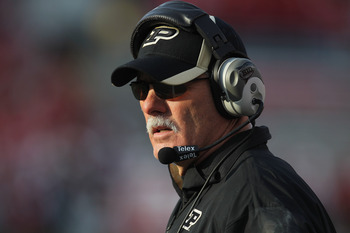 Jonathan Daniel/Getty Images
In a game where they very easily could have lost, the Boilermakers forced seven turnovers!
They allowed 485 total yards of offense and still found a way to win thanks to those takeaways, and the ability to run for 265 yards (and a special teams TD) slowed the tempo down and gave the slightest of edges to the Boilermakers.
Grade: B
Bill Cubit and Western Michigan Coaching Staff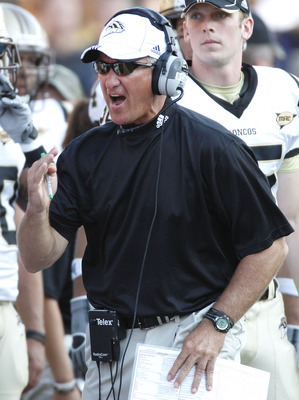 Gregory Shamus/Getty Images
If it weren't for the stinking seven turnovers, who knows what would have happened?
The Broncos offense was virtually unstoppable through the air when Alex Carder wasn't throwing it to the wrong team, and it is sad because the Broncos had a great year and looked as if they were overdue to get the program's first-ever bowl victory.
Grade: B-
Charlie Strong and Louisville Coaching Staff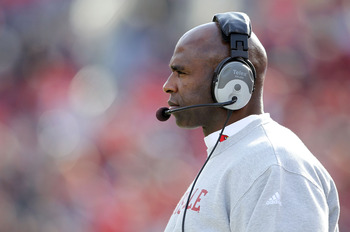 Andy Lyons/Getty Images
The Ville showed up in the second half, but the first half was brutal. The secondary had major issues against Mike Glennon, and it was tough to watch at times. Teddy Bridgewater battled back like the stud he is, but they were smashed on fourth down conversions (1-of-4).
Grade: B
Tom O'Brien and NC State Coaching Staff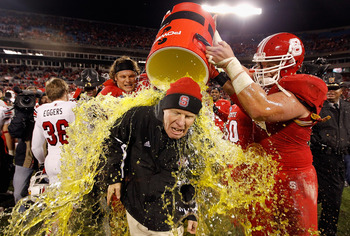 Streeter Lecka/Getty Images
The Pack dominated the first half and almost fell apart in the second half, but a win is a win. Mike Glennon looks like he could have a solid senior campaign, though the defense needs to do a much better job against the pass (led country in sacks but still giving up too many big plays).
Grade: B+
Matt Campbell and Toledo Coaching Staff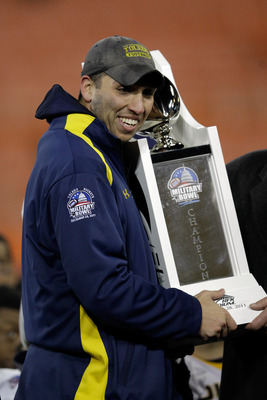 Rob Carr/Getty Images
Luckily, the Rockets were not involved in a passing game, or else they would have likely lost. Defensive backs fell to the ground more times than not, and the secondary was ugly at times.
The offense did find a way to answer almost every touchdown from Air Force and did so despite the loss of original head coach Tim Beckham.
Grade: B
Troy Calhoun and Air Force Coaching Staff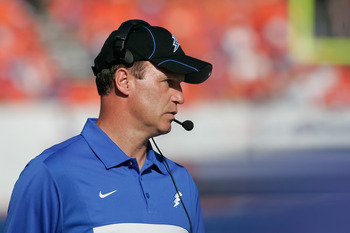 Otto Kitsinger III/Getty Images
Certainly I thought Air Force did a great job to stay in the ballgame with Toledo, as it looked like it was going to get blown out.
The Falcons stuck to the running game and just found ways to move the ball via the air. Had it not been for the fumble of the fake extra point that was botched, perhaps the Falcons would have carried their momentum into overtime with a victory.
Grade: B
Mack Brown and Texas Coaching Staff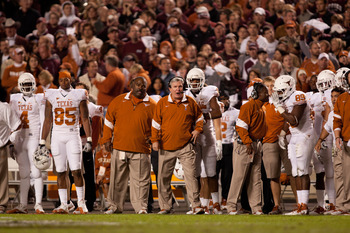 Darren Carroll/Getty Images
Early on it looked like David Ash was not the right guy to choose at quarterback, but the coaching staff made the right decisions and were able to do just enough offensively to get by Cal. The defense was fantastic in the second half and shut down the Bears as they harassed Zach Maynard.
After Texas had to punt out of its end zone, it made the Cal offense go backwards instead of folding and possibly losing the game (score was 14-10 and Cal had it deep in TX territory early in mid-fourth quarter).
Grade: B+
Jeff Tedford and Cal Coaching Staff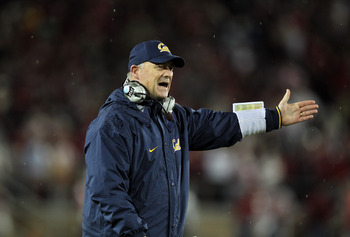 Ezra Shaw/Getty Images
I was thoroughly disappointed with the Bears because they continued to throw the ball under center even though they could not protect their passer (Maynard) to save their lives.
In fact, it got so bad at points of the fourth quarter that they threw the white flag and started running the football. They had opportunities early in the game to beat them deep and throw the ball downfield more often, and the Bears let us all down, unlike in recent bowl games (won four of last six).
Grade: C+
Brian Kelly and Notre Dame Coaching Staff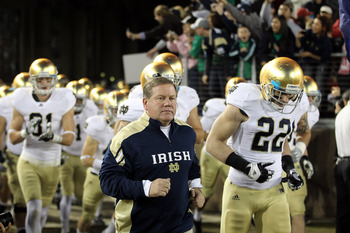 Ezra Shaw/Getty Images
The Irish for some odd reason stopped blitzing and coming after Florida State quarterback E.J. Manuel, which really disturbed Irish fans across the nation. Bob Diaco maybe deserves some of the blame according to most, but the offense continued to turn the ball over at critical stages.
Grade: B-
Jimbo Fisher and Florida State Coaching Staff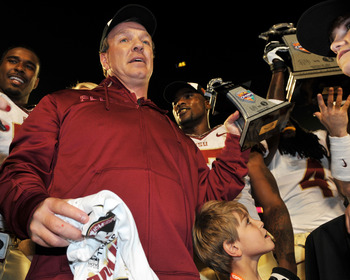 Al Messerschmidt/Getty Images
The Seminoles could not do much offensively for nearly three quarters, yet the defense for the Noles stepped it up, causing a few turnovers. They harassed the Irish quarterbacks and arguably won the game with a great return by Lamarcus Joyner and a few catches by Rashad Greene.
Grade: B+
Art Briles and Baylor Coaching Staff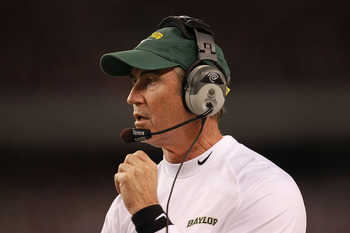 Ronald Martinez/Getty Images
If the Alamo Bowl sold as a toy, it would have something on the back of it stating, "Tackling sold separately," because there was no defense.
At least Robert Griffin III won his final collegiate game after winning the Heisman. The offense was unstoppable, though it was running back Terrance Ganaway who did most of the damage (200 yards, five TD).
Grade: B
Steve Sarkisian and Washington Coaching Staff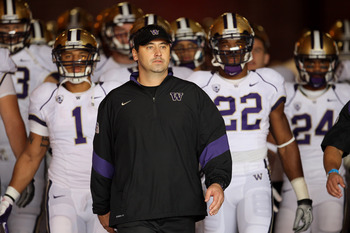 Stephen Dunn/Getty Images
Keith Price looked as if he could be a Heisman dark horse next year, and Chris Polk ended on a good note as well. However, the defense allowed 777 yards (Nick Holt was fired as DC), and it was hard to watch on nearly every single play.
Grade: C
Bronco Mendenhall and BYU Coaching Staff
Sarah Glenn/Getty Images
BYU was scary bad in the first half, and it looked as if Tulsa's defensive backs were playing wide receiver for Riley Nelson, but give the southpaw some credit. He won this game nearly on his own and carried the team on his back in the fourth quarter thanks to the development of Cody Hoffman.
BYU had a soft schedule, but winning 10 games is tough to do regardless of the conference (or independence, ha).
Grade: B
Bill Blankenship and Tulsa Coaching Staff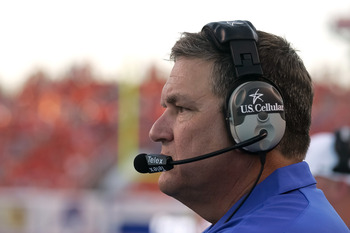 Otto Kitsinger III/Getty Images
Tulsa was the more balanced team heading into the game, but we eventually knew that the secondary was going to get torched on defense.
Sadly, Tulsa was manhandled in the second half up front and was one-dimensional on offense. It held up great in the first half and was playing sensational before the muffed punt that led to a game-changing touchdown.
It went all downhill from there, as the Golden Hurricane allowed the game-winning touchdown with under 10 seconds to go and lost 24-21.
Grade: B
Greg Schiano and Rutgers Coaching Staff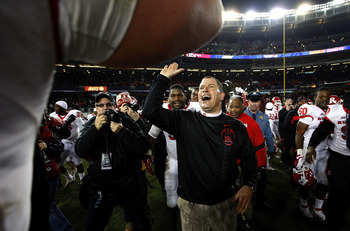 Jeff Zelevansky/Getty Images
This was one of those games were most people thought Iowa State was a lock to win even though it was not favored and was playing in the backyard of the Scarlet Knights.
Rutgers did anything it wanted to playing in front of its home crowd (essential home game). Some teams play worse when the crowd is closer to home, but Greg Schiano and his program dominated the game in the fourth quarter for Eric LeGrand, 27-13.
Grade: A-
Paul Rhoads and Iowa State Coaching Staff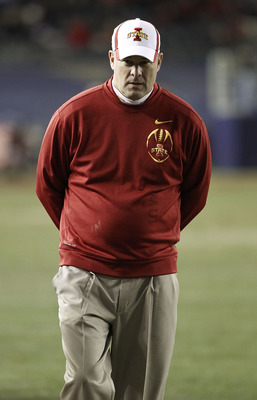 Jeff Zelevansky/Getty Images
The Cyclones hung in there for a while, but they fell apart in the fourth quarter. It was critical that they could not find pay dirt during the first few possessions because Rutgers would score a few touchdowns before it was all said and done.
Solid season, but Iowa State did not finish on the strongest note (it would have helped had its quarterback stayed healthy).
Grade: C+
Dan Mullen and Mississippi State Coaching Staff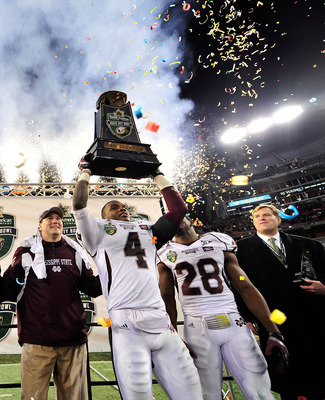 Grant Halverson/Getty Images
The Bulldogs won this game thanks to Vick Ballard's ability to hit the home run ball. However, the defense made the crucial stops when it came down to it, and Chris Relf avoided any terrible mistakes.
For a 6-6 team they proved they have the potential to be much better, though the SEC will make Dan Mullen work for everything in the near future.
Grade: B
Jim Grobe and Wake Forest Coaching Staff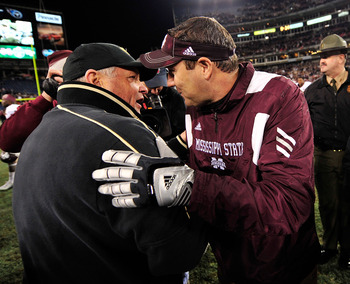 Grant Halverson/Getty Images
Wake Forest never had the top-notch talent to play with all the big boys from the SEC, but it hung in until the final bell rang.
Had it not allowed the Bulldogs to rush for 253 yards (180 by Ballard), perhaps it would have had a chance (no disrespect intended, but who had Wake winning?).
Grade: B
Bob Stoops and Oklahoma Coaching Staff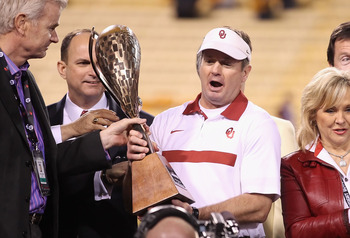 Christian Petersen/Getty Images
The "Belldozer" and Landry Jones did just enough on offense to secure a comfortable 17-point victory over a depleted Hawkeyes squad.
Oklahoma's defense was able to bottle up the run and force James Vandenberg to throw it 44 times. However, Bob Stoops did not get much credit this past season, as they were conceived as a bust after being the top-ranked team in the country.
Grade: A
Kirk Ferentz and Iowa Coaching Staff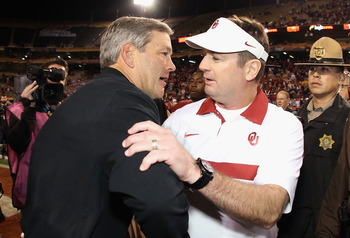 Christian Petersen/Getty Images
Though I talked about the 17-point win for Oklahoma, Iowa played darn well. Had it not been for a late, garbage touchdown by Blake Bell, everybody would be talking about how Iowa kept this game really close.
Perhaps if Marcus Coker had played we would have had a completely different outcome, though that is irrelevant now that he has been dismissed from the program, per his request.
Still, the Hawkeyes played their hearts out in the final game for defensive coordinator Norm Parker, and it is just little unknown stories like this that make college football the best sport.
Grade: B+
Pat Fitzgerald and Northwestern Coaching Staff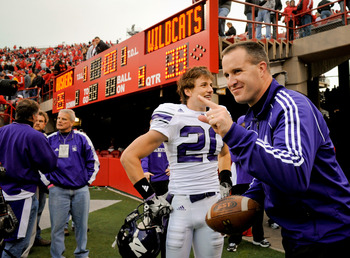 Eric Francis/Getty Images
Northwestern has not won a bowl game since 1949, and it was outplayed badly against the Aggies. A&M came in as one of the biggest favorites and came out victorious, but the Cats battled for four quarters.
The defense could not handle future NFL receiver Jeff Fuller, and the talent disparity showed around the perimeter. Northwestern will be back and will eventually win a bowl game—hopefully it comes sooner than later, though.
Grade: B-
Tim DeRuyter and A&M Coaching Staff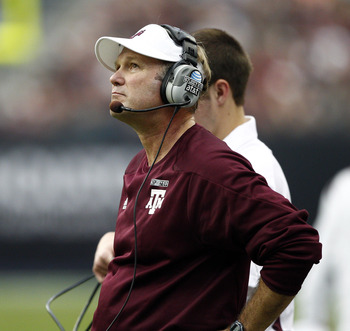 Bob Levey/Getty Images
The Aggies almost were unable to shut the door, but they did just that. Despite losing their head coach for the bowl game and one of their offensive linemen (death), Tim DeRuyter and the Aggies still carved up the Cats for 409 yards.
Grade: A-
Kyle Whittingham and Utah Coaching Staff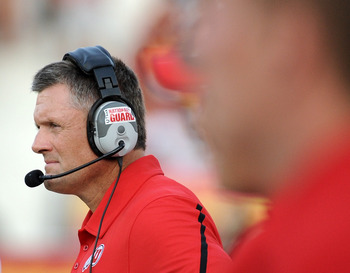 Harry How/Getty Images
The Utes were underdogs and were ranked below 90th in several categories, yet they found ways to move the ball in the fourth quarter and overcame a 14-point deficit. The overtime victory gave the Utes a boatload of confidence for the 2012 season.
Grade: B+
Paul Johnson and Georgia Tech Coaching Staff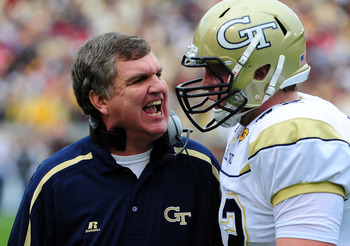 Scott Cunningham/Getty Images
Georgia Tech had a nice 14-point point lead, and it blew it. The Yellow Jackets offense could not put together enough completed passes when they had to down the stretch, and Paul Johnson deserves some of the blame.
The Yellow Jackets should have a solid 2012 season, but the coaching decisions and execution did not go as planned.
Grade: B-
Vic Koenning and Illinois Coaching Staff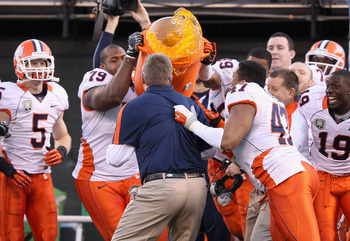 Ezra Shaw/Getty Images
The offense played sloppily in the first half, but A.J. Jenkins bailed them out in the second half, showing off his speed. In reality, the defense was the one that collectively won this game against a subpar Bruins offense.
If the defense can stay consistently stacked with NFL future players, the offense should be able to improve. If that occurs, we could see this team win eight-plus games in the near future, but that is easier said than done.
Grade: B
Mike Johnson and UCLA Coaching Staff
Ezra Shaw/Getty Images
The Bruins struggled to put points on the board this season, and it showed against the Illini, another struggling offense. When plays needed to be made, the Bruins could not handle any of the pressure that Illinois put on them.
It was not easy circumstances, but those "experts" down in Vegas still thought the Bruins were the slightly better team.
Grade: C
James Franklin and Vanderbilt Coaching Staff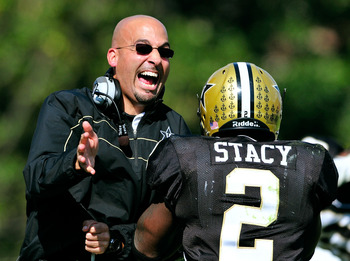 Grant Halverson/Getty Images
Jordan Rodgers struggled miserably, and we all wondered when James Franklin was going to give him the hook, but he may have waited too long.
Larry Smith filled in admirably, but a late interception and the inability to tackle Isaiah Pead or make tackles on special teams cost the Commodores.
Vandy was not outcoached by any means, but the early struggles and the inability to stop the run were a bit surprising (clearly the Bearcats are better than we thought they were).
Grade: B-
Butch Jones and Cincinnati Coaching Staff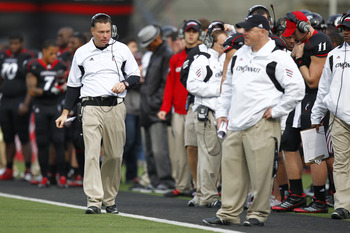 Tyler Barrick/Getty Images
I was fairly impressed with the way the Bearcats battled back after trailing to Vandy, but the staff wasn't messing around. They did not force Zach Collaros to do too much, and running back Isaiah Pead was given the opportunity to shine.
Many coaches do not stay involved with their best players when they are losing, but the staff's ability to mix up the play-calling and bring some pressure on defense was a bit impressive and surprising.
Grade: B+
Mike London and Virginia Coaching Staff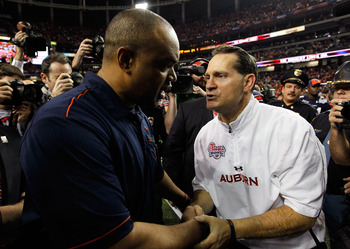 Kevin C. Cox/Getty Images
The special teams let all Wahoos fans down, and Auburn made Virginia look like your typical middle-tier ACC squad.
Auburn did not look as if Michael Dyer was a focal part of its offense (since he was its star that was suspended) with Tre Mason and Onterio McCalebb totaling over 200 yards of offense.
Virginia could not run the ball, and you can't fault Mike London because they could not match the Tigers' speed. That still does not help the disappointed fans that showed up to one of the better atmospheres for non-BCS games.
Grade: C-
Gene Chizik and Auburn Coaching Staff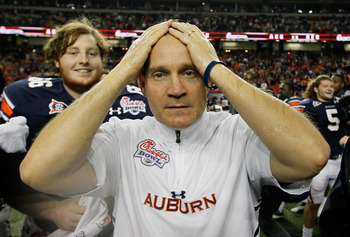 Kevin C. Cox/Getty Images
Many were concerned with Auburn's offense since Guz Malzahn had other things on his mind with the Arkansas State job just hours away (he left when the bowl game ended).
However, Malzahn threw everything at Virginia but the kitchen sink, and the Tigers glided past Virginia. Gene Chizik deserves some props as well since it is not always easy to get your team up for a bowl after a 7-5 season.
Grade: A
Tom Bradley and Penn State Coaching Staff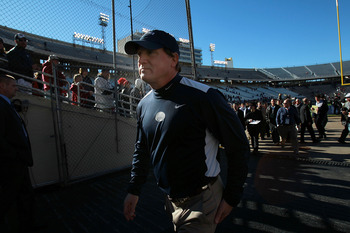 Ronald Martinez/Getty Images
I would love to give Penn State the benefit of the doubt for everything the players have had to deal with, but the Nittany Lions played poorly.
Their defensive backs kept falling down trying to cover Patrick Edwards, and the offense often went backwards against a Cougars defense that even Kirk Herbstreit and Lee Corso thought they would put points up against. Instead, the defense allowed Case Keenum to throw for almost 500 yards. Ouch!
Grade: C
Tony Levine and Houston Coaching Staff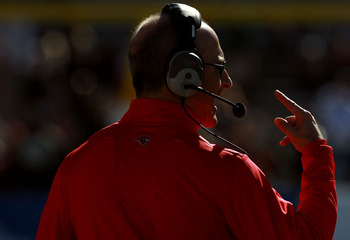 Ronald Martinez/Getty Images
The Cougars deserve a ton of credit for not just beating Penn State, but demolishing them. Case Keenum ended his career on a tremendous note, and the entire coaching staff looked prepared in this game.
Penn State was having issues completing a pass, let alone actually scoring. Houston brought some pressure once the Nittany Lions came within shouting distance, and the Cougars started to chew out clock just the way you are expected to when leading by double figures.
Grade: A
Will Muschamp and Florida Coaching Staff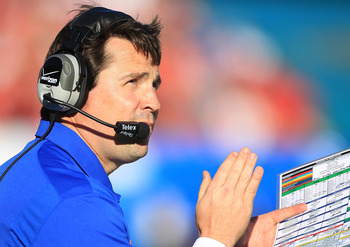 Scott Halleran/Getty Images
Scoring two non-offensive touchdowns put the Gators in command for the entire second half, and they just went off on Braxton Miller and the struggling running game of Ohio State.
The Gators defense was well coached, as they looked solid, but they need to play even better next season in the deeper SEC.
Grade: A-
Luke Fickell and Ohio State Coaching Staff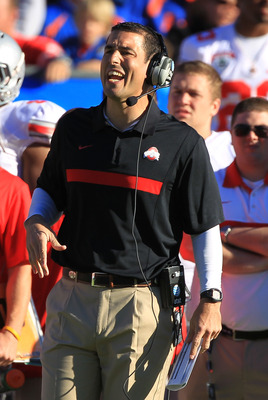 Scott Halleran/Getty Images
The coaching staff during the bowl prep said they were not looking forward to anything, but clearly they had to be a bit distracted.
Florida hit way too many big plays, and the Buckeyes could not get Braxton Miller going in the running game. He was harassed, and the Gators came after the freshman.
Ohio State will not be going up against too many fast defenses like Florida next season, but the offense needs to be on its game more often if Urban Meyer expects a nine-plus-win season.
Grade: B-
Mark Richt and Georgia Coaching Staff
Al Messerschmidt/Getty Images
The Dawgs had Sparty right where they wanted them after going up 16-0. Georgia was dominating in the first half after a safety and two long touchdowns (Aaron Murray to Tavarres King and then a Brandon Boykin punt return).
Georgia got spanked in the third quarter as Kirk Cousins took it to the UGA secondary. It is hard to lose a game in which you force three interceptions, but the inability to move the ball in the fourth quarter really killed Georgia.
The Bulldogs could have attempted to move the ball, throwing it just once, which could have sealed the victory. Instead, they punted and allowed Sparty to tie the game up, which of course turned into a defeat (in three overtimes). After a sensational first half, things went the other way from there on out.
Grade: B-
Mark Dantonio and Michigan State Coaching Staff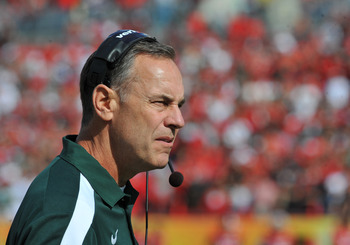 Al Messerschmidt/Getty Images
Michigan State could have given up at halftime, and it would've lost by 30-plus points. Instead, its defense fought back, and the offense woke up.
Kirk Cousins threw three picks and wasn't timid about making the big throws to Brian Linthicum and B.J. Cunningham. This team overcame a lot to get the triple-overtime victory, and the coaching staff is the biggest reason why.
Pat Narduzzi is arguably among the top 10 coordinators in America, and his defense played like a bunch of bullies in the final quarter/overtimes. Dan Conroy was able to win the shootout that was decided by the two defenses and kickers.
Grade: A
Steve Spurrier and South Carolina Coaching Staff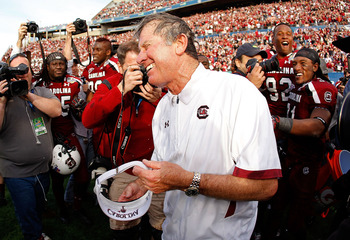 Mike Ehrmann/Getty Images
The good ole ball coach tried to fool us throughout the week leading up to kickoff, but clearly his team was the more talented and dominating one. His defense unloaded on the ground attack of Nebraska, and it was helped by a time-expiring Hail Mary to Alshon Jeffery to end the first half.
Grade: A
Bo Pelini and Nebraska Coaching Staff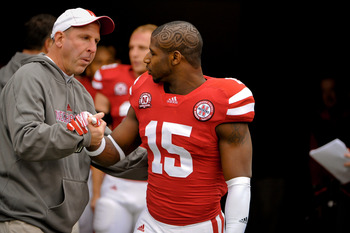 Eric Francis/Getty Images
Nebraska was not going to be able to run the ball for the entire game against a much superior South Carolina defensive line, but the Huskers did see Taylor Martinez spin it a tad better, which has to give you hope for great things to come in 2012.
However, the defense could not make the key stops when it had to, and the scoreboard showed it when the fat lady sang.
Grade: B
Brady Hoke and Michigan Coaching Staff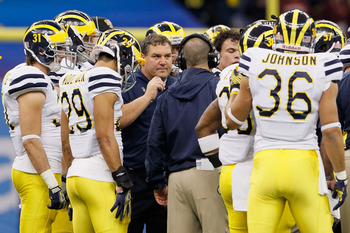 Kevin C. Cox/Getty Images
Only coach Brady Hoke could get a victory for the Maize and Blue despite getting just 184 yards of total offense. Denard Robinson couldn't complete many passes, and he was held in check by the Hokies defense when he decided to tuck it and run.
Yet the Wolverines defense bore down after trailing 6-0 by stopping Logan Thomas on a vital 4th-and-1 inside the Wolverines 15. They won the game thanks to a clutch kicker (Brendan Gibbons).
Grade: B+
Frank Beamer and Virginia Tech Coaching Staff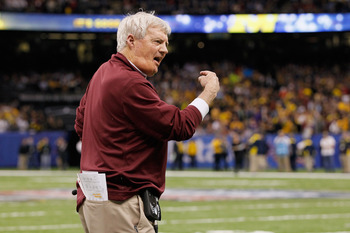 Kevin C. Cox/Getty Images
Brady Hoke was a lucky guy to get a touchdown called back, and though the call was questionable, it should have never gotten to overtime if you are a Hokies fan.
Being held to two field goals and then getting put in reverse on a crucial fourth down in the first half ultimately turned the game around. The special teams had major issues, and the offense stalled way too many times in the red zone.
The game could have been ugly had Michigan actually been able to do anything on offense, but it didn't matter since Frank Beamer and Bud Foster could not get any big turnovers leading into game-changing points. That said, they completely took the Wolverines out of their game, and sadly they still lost.
Grade: B+
Chip Kelly and Oregon Coaching Staff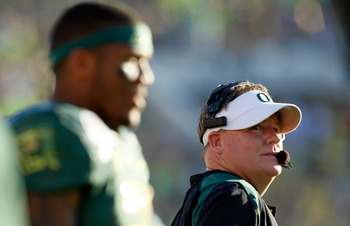 Jeff Gross/Getty Images
De'Anthony Thomas and LaMichael James were able to light up the Badgers run defense, and they made it look easy.
Darron Thomas made the throws he had to right before halftime, and Lavasier Tuinei made the acrobatic catches in the end zone to make the Badgers pay the price.
Big props to Nick Aliotti for being able to slow down the Badgers offense that tormented the Big Ten all season long. This Oregon team came prepared and left with the victory.
Grade: A
Bret Bielema and Wisconsin Coaching Staff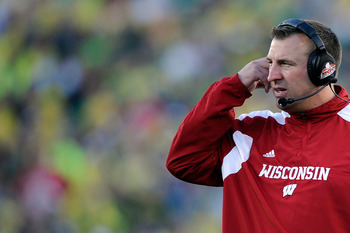 Kevork Djansezian/Getty Images
Montee Ball had a solid game, but the costly turnovers ended up being the difference in the Rose Bowl. The Badgers needed to have a mistake-free game, or else they would have issues hanging with arguably the most explosive offense in America.
They allowed 621 yards but put up 508 yards of their own. The Ducks killed the Badgers for three touchdowns over 50 yards, which was not what the defense expected.
At the end of the day the Oregon defense was a tad better, and its explosive rushing attack was too overwhelming. Wisconsin's coaching wasn't bad by any means, though it could have managed its timeouts better to at least have a Hail Mary heave at the end of regulation.
Grade: B+
David Shaw and Stanford Coaching Staff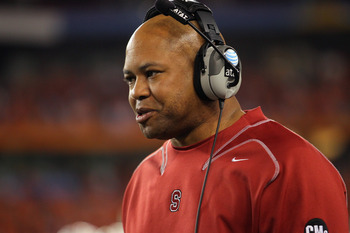 Doug Pensinger/Getty Images
Andrew Luck played out of his mind, but David Shaw and his staff did one of the best coaching jobs all postseason. The play-calling was amazing, and they ran it right at the Cowboys. The only complaint was they did not throw it towards the end zone once at the end of regulation.
Shaw pointed towards his 243 yards of rushing (OK State had only 13), but you have to allow the best player in America to have a chance to win it before going to overtime.
That said, Stanford allowed only 412 yards compared to the 590 yards it put up. Sure, the three missed kicks were costly, but Stanford had way too many penalties (compared to OK State, who had just one) and couldn't get that sixth touchdown that it needed to win.
Grade: A
Mike Gundy and Oklahoma State Coaching Staff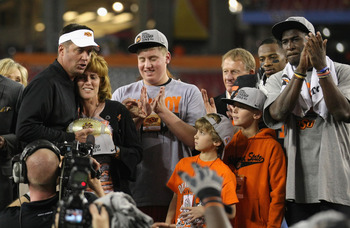 Donald Miralle/Getty Images
The Cowboys won the game, which is the only thing that is important at the end of the day, but the Cowboys had their issues.
They were flat-out dominated at the line of scrimmage and were extremely fortunate to win a game in which they were outrushed by nearly 250 yards. Still, they found different ways to win a BCS bowl for the first time in program history.
Grade: A-
Dana Holgorsen and West Virginia Coaching Staff
J. Meric/Getty Images
Everything went perfect for the Mountaineers, and the records speak for themselves: most points in a quarter (35), in a half (49) and in a bowl game (70).
Tavon Austin caught four touchdown passes (underhanded shovels) and 11 passes for 117 yards. Geno Smith was on target all night, and the defense played one of its better games in ages.
They forced four turnovers and shut down one of the more explosive offenses in college football. They came flying right out of the gates despite trailing 17-14 after the first quarter.
The magical second quarter gave Mountaineers around the world the type of memories that will last a lifetime.
Grade: A+
Dabo Swinney and Clemson Coaching Staff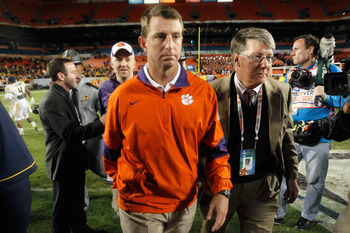 Streeter Lecka/Getty Images
Allowing nearly 600 yards was the least of concerns in a 70-33 blowout and embarrassing BCS loss. It was Clemson's very first BCS appearance, and most thought that it was finally time for it to take the national spotlight. Instead, the entire program came out flat and failed to execute even the easiest of plays.
Tajh Boyd's performance once again gave us the "So this is why Clemson is Clemson" type of performance. It wasn't just the offense that struggled because the defense once again let us down.
It was just disappointing, and you feel bad for Clemson nation because it finally looked like the Tigers were heading in the perfect direction for the 2012 season.
Now there are whispers about Dabo Swinney's job security and whether or not this program can ever compete for a BCS national championship.
Grade: F+
Bobby Petrino and Arkansas Coaching Staff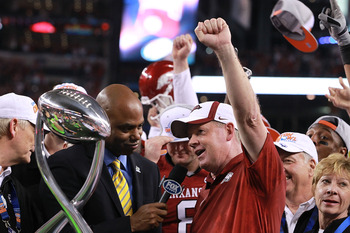 Ronald Martinez/Getty Images
The Razorbacks defense came to play, and they limited Collin Klein to only 42 yards rushing. Tyler Wilson was on target against the Wildcats, and Joe Adams brought back another electrifying punt return touchdown.
Arkansas was not expected to outrush Kansas State, but it did just that. It won the turnover battle and was never gashed on defense. Huge props to Arkansas because it dealt with a coordinator leaving.
Grade: A
Bill Snyder and Kansas State Coaching Staff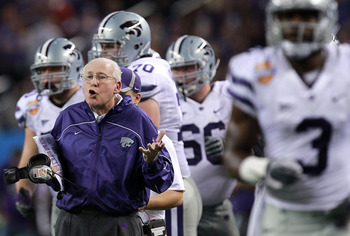 Ronald Martinez/Getty Images
The coaching staff did not do a poor job because they clearly did not have as much talent as Arkansas did. They had no shot of running the ball because Arkansas loaded up the box with extra men and begged the Wildcats to throw the ball.
Collin Klein came in as one of the better quarterbacks in the country, and Arkansas made everybody on the team look average. It didn't have so much to do with the coaches, but they failed to execute a tad early on in the game, and we all knew they did not have the firepower to come from behind.
Grade: B
June Jones and SMU Coaching Staff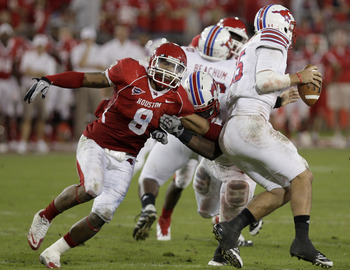 Thomas B. Shea/Getty Images
The Mustangs came in and dominated the Pitt Panthers, harassing the Panthers offense. SMU came away with seven sacks, and Margus Hunt feasted on the Pitt backfield.
SMU limited Pitt to 205 yards, and the game got ugly right away (21-0 after first quarter). SMU took its shots down the field, and the defense swarmed and never took the foot off the gas pedal.
Grade: A
Keith Patterson and Pitt Coaching Staff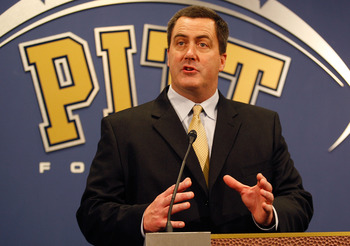 Jared Wickerham/Getty Images
It was tough going into the bowl without your top two rushers (Ray Graham and Zach Brown), but the Panthers could not find a way to move the football if their life depended on it.
Plus, they had an early drive in the first half in the red zone but turned it over. They could not get anything going offensively, and the defense could not cover Cole Beasley or Darius Johnson.
Grade: C
Dave Doeren and Northern Illinois Coaching Staff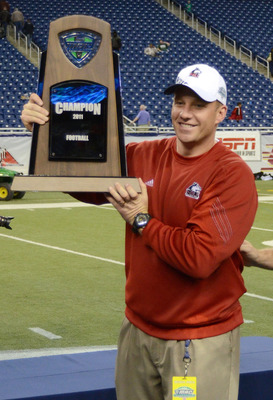 Mark A. Cunningham/Getty Images
The Huskies shut down the running game of Arkansas State and were able to torch the Arkansas State defense.
Chandler Harnish had one of his better games throwing the ball, and he got the job done despite getting dinged up (missed just one possession).
The coaches did a great job preparing the players, and the defense showed up in a big way, forcing five turnovers. Had it not been for the takeaways, perhaps NIU would have come up short.
Grade: A-
David Gunn and Arkansas State Coaching Staff
Certainly the addition of Guz Malzahn could have been an excuse for a distraction, but the team played really flat. After going up 6-0 on a pair of field goals, they could not get anything going on offense because they kept turning it over.
Ryan Aplin had one of the worst games of his career with three picks, and the team could not find any sort of consistency in stopping the Huskies passing attack. NIU was not known for its passing ability, but Arkansas State made the Huskies look like Tom Brady and the Patriots.
Grade: C+
Les Miles and LSU Coaching Staff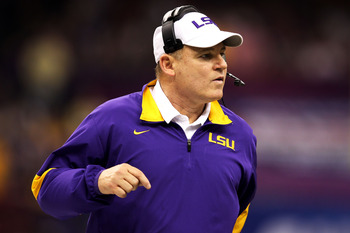 Andy Lyons/Getty Images
Many fans really questioned the move of staying with Jordan Jefferson since nothing worked out, but I really did not question the move.
Jarrett Lee would have been a sitting duck back there, and some believe the score would have been even more lopsided had Les Miles made a change.
The bottom line was LSU could not take too many shots because its offensive linemen were getting eaten alive on every possession. The Tigers stayed in the ballgame for three full quarters, and it really did not get too ugly or embarrassing until the fourth quarter came calling.
Yes, the game plan looked atrocious, and the defense did its best to stay in the ballgame, but the bottom line was LSU was beat in every single category.
Grade: C+
Nick Saban and Alabama Coaching Staff
Andy Lyons/Getty Images
Nick Saban proved to the country why he is the best coach in the entire nation. His squad outcoached and outplayed LSU in every single facet of the game.
Saban did not really change anything up, but his defense sure was prepared to handle Jordan Jefferson and LSU's speed option. Alabama's linebackers looked like the 1985 Bears defense, and they got to tee off on nearly every snap.
Trent Richardson was spelled on a few carries, and people were freaking out about it over Twitter, but in the end Saban had his way.
It was arguably the biggest blowout not just in BCS National Championship Game history, but one could argue in any of the recent collegiate or professional title games. Alabama rules college football once again, though this time it meant business.
Grade: A+
Keep Reading