Marcus Coker: Iowa's Star RB Released from Scholarship
January 10, 2012
Reese Strickland/Getty Images
The Iowa Hawkeyes are going to need a new No. 1 running back.
Shortly before the Insight Bowl against Oklahoma, Iowa head coach Kirk Ferentz suspended Marcus Coker for "disciplinary reasons." On Tuesday, the word from College Football Talk is that the university has taken the next step: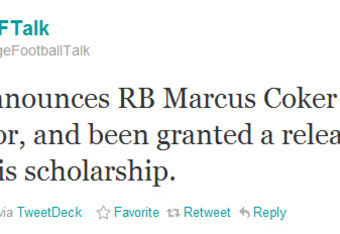 At the time of his suspension, Iowa noted that Coker was found to be in violation of the school's "Student-Athlete Code of Conduct."
Ironically, Coker first took over as the team's No. 1 running back when Adam Robinson was suspended ahead of last year's Insight Bowl for violating team rules. Coker went on to rush for 219 yards in that game, earning Offensive MVP honors.
Coker, a sophomore out of Beltsville, Maryland, rushed for 1,384 yards and 15 touchdowns in 2011, topping 100 yards rushing seven times in Iowa's 12 regular season games.
With Coker out, freshman running back Jordan Canzeri led the Hawkeyes in rushing in this year's Insight Bowl, with 58 yards on 22 carries.
Coker will now look to catch on at another school, and there should be interested parties. He's a big, bruising running back who stands tall at 6'1" and 230 pounds, and the only running back to run for more yards than him in the Big Ten in 2011 was Heisman finalist Montee Ball.
Iowa will miss Coker's production. The Hawkeyes finished in the middle of the pack in the Big Ten in terms of offense, and they are losing their best offensive player. If Ferentz doesn't find a way to replace Coker's production, his seat will start to get pretty warm.
That is, warmer than it already is.