Under Armour All-America Game 2012: Stars Who Will Be Exposed as Frauds
January 6, 2012
This year's Under Armour All-America Game on Thursday night had plenty of explosive high-school players on display, especially for the White team (which thrashed the Black team, 49-16). However, with so many of those top-performing players headed to the perennially stacked SEC, they're in for a major culture shock at the college level.
Here are three standouts from yesterday's game who won't look nearly as impressive on Saturdays next fall:
Brian Poole (Florida commit)
Poole took an interception back for a game-record 93-yard TD, breaking a mark set by future teammate Andre Dubose (now a WR). In spite of that sensational highlight, though, expectations need to be kept in check for the 4-star corner.
The recent star-turns of LSU cornerbacks Patrick Peterson and Tyrann Mathieu have obscured how hard it really is to dominate the game from the CB spot. With Poole joining a Florida defense that's nowhere near LSU's level, he'll be a valuable addition but hardly a Heisman hopeful.
Jameis Winston (Florida State commit)
Winston took home MVP honors by completing eight of nine passes for 178 yards and a pair of TDs. The 4-star QB has landed the nickname "Baby Cam" for his Cam Newton-esque dual-threat performances.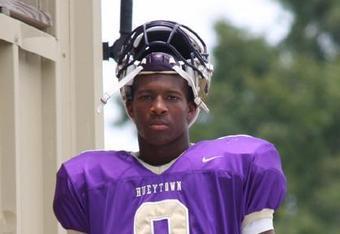 All that hype, though, will take some time to turn into reality for Winston, a raw passer who's also a potential MLB draftee. Beating up on the second-best secondary in a high school all-star game is not the same as being ready to make plays against ACC secondaries.
Cyrus Jones (Alabama commit)
Jones came up with one of the many impact plays for the White team defense, making an interception off a deflected ball and taking it back for a 40-yard TD. Next year, though, the 4-star ATH is expected to find himself on the other side of the ball.
Even with a terrific Alabama team around him, Jones is going to need some time before he's ready to make game-changing plays against the exceptional speed of SEC defenses.