Andy Lyons/Getty Images
January 14, 2012
College football is built on tradition and passion. Fan support is everything. 
There is a reason that Saturdays in the fall fill multiple 100,000-seat stadiums. The NFL may have the TV viewers, but the atmosphere and passion of an NFL stadium cannot match the college game. 
Whether we like it or not, the annual debates also make college football special. Not many like the BCS, but without it would there be hours and hours of college football coverage debating who should be playing where in January?
Then there are the arguments about which are the best programs.
Everyone claims to be the best. Just look at Auburn's fight song when it says "Power of Dixie land" at the end of its song. Do you think anyone else in the SEC might disagree? How about Alabama, which  says "You're Dixie's football pride" in their fight song. 
And these two are not alone.
I've come up with a a mathematical formula, giving an assigned weight to each of the traditional accomplishments used to determine the strength of a college football program.. 
National Champs (AP or Coaches/UPI Poll only): 20
Finish in the top 5 (AP Poll): 14
6-10 (AP): 10
11-25 (AP): 4
10 Wins: 8
Heisman Winner: 5
Consensus All-American: 2
Wins: .25
Weeks Ranked (AP): .5
Bowl Appearance (Any): 3
Bowl Win (Any): 1
Major Bowl Appearance (Rose, Orange, Sugar, Cotton till the 90s and Fiesta since mid 80s): 11
Major Bowl Win: 6
Losing Season: -3
Scott Cunningham/Getty Images
NOTE: All information is since 1936 (the first year of the AP poll). Also, conference titles were not used in the equation because winning one conference is not the same as winning another since they vary in size and quality (example: TCU winning the MWC does not equal Oklahoma State winning the Big 12), and some teams are independent now and others were independent at some point since 1936 (example: Penn State, Florida State etc.).   
Now, of course, I understand that this is college football and even though I just put numbers into an equation I'll be accused of giving favoritism to some teams while knocking other teams down. Anyone that is not first wants to be there and they'll do anything they can to do get themselves there.
Outside of picking the numbers for the equation, all the stats are just that.
I will begin to release the top 20 in results next week, but just for an idea of what it looks like I will go ahead and give you No. 21-25.
21. Georgia Tech Yellow Jackets = 800.5 Points
Georgia Tech has an interesting history. Prestigious at times and average at others. The Yellow Jackets began as a founding member of the SEC before moving to independent status and then the ACC. They do have one national championship and 37 bowl appearances. They are not too far behind No. 20.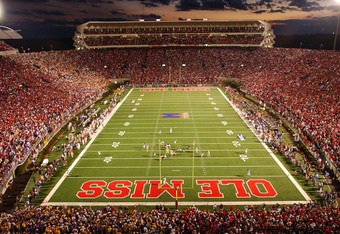 22. Clemson Tigers = 696.25 points
The Tigers are an interesting bunch that most people see as the team that always fails to reach expectations. That has not always been the case.
They did win it all in 1981 which is a grand accomplishment. But even with all their accolades, the Tigers have just one Top Five finish and that came in their national championship season.
23. Michigan State Spartans = 686.25 points 
The Spartans tend to be overlooked because of rival Michigan and its proud tradition, but they have put together a good history themselves. The Wolverines do hold a distinct advantage in most categories,  but are actually tied in national championships with two apiece. And Michigan State has done well recently, which has also allowed them to move up a few spots.
24. Colorado Buffaloes = 683.5 points 
Colorado does not bring up thoughts of prestige to most people. The Buffaloes do have a national championship and 31 All-Americans to go with seven 10-win seasons. Nothing really stands out for the Buffs, but their overall track record is solid. If nothing else, they should be here just because of Ralphie running onto the field. 
25. Ole Miss Rebels = 656 Points
Ole Miss claims three national championships but failed to win one in the major polls. This may seem a surprise to most, but Ole Miss used to be a quality SEC contender back in the Johnny Vaught days.
I will release the rest in groups starting next week. So the big question is who is No. 1?
I bet about 20 fan bases just raised their hands. Gotta love college football! (229 days till kickoff)  
Like the new article format? Send us feedback!