Oregon Football: Ducks Concerned about Losing More Than LaMichael James?
January 6, 2012
Jeff Gross/Getty Images
With the January 15 deadline approaching quickly, Duck fans are hoping for the best as LaMichael James has not come out and announced his intentions on his final year of eligibility.
While losing James would certainly not be what Duck fans would like to hear, many are comfortable with the idea of Kenjon Barner stepping in along with the assistance of freshman phenom De'Anthony Thomas.
How would you feel if Barner was not there as well?
It seems the whispers and rumors about the idea of Barner leaving are growing stronger and stronger by the day.
When Barner first came to Oregon, he came to play on the defensive side of the ball but Kelly quickly spotted his talents and moved him to offense. For the past two years, Barner has been able to fill a role as a backup running back who could give LaMichael James a breather and contribute in the passing game and special teams. 
So the question becomes, if the Ducks lose both James and Barner, what does that leave them?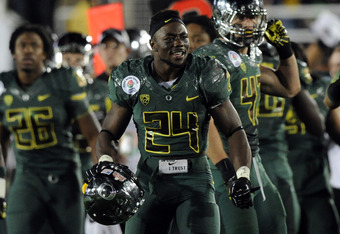 Harry How/Getty Images
The immediate implications would be that De'Anthony Thomas would have to come out of his role as a slot receiver/running back or the Tazar role, as it is referred to in the Oregon offense. Also, Tra Carson would have to step up and take significantly more carries than he did this year.
No matter how you look at it, the plan had to have always been for James to leaves this year, Barner by next year and by then Chip Kelly would have built the depth back up while developing more running backs. Instead, this scenario would force players to step up and be ready to play now.
Regardless of what happens, for the next 10 days, Oregon fans will be on pins and needles as they await the announcement of both James and Barner.