2011-2012 Bowl Games: 7 Players Who Choked the Worst This Bowl Season
Ezra Shaw/Getty Images
This year's college football bowl season has been one of the most exciting and bizarre ones in recent history. Records have been broken every which way in terms of scoring, and an incredible 19 of the games have come down to seven points or less.
Unfortunately, there have also been lowlights for several of the players as they have failed to step up on the national stage.
Here are seven of the worst chokes of the bowl season
Honorable Mention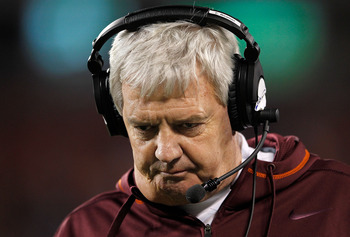 Mike Ehrmann/Getty Images
Air Force holder: Pitch the ball, man. You have to pitch the ball when your kicker is that wide open.
Frank Beamer: Virginia Tech lost the Sugar Bowl largely in part because of special teams, the unit which head coach Frank Beamer coaches, and play selection on fourth down which also comes down to the head coach.
ACC: Georgia Tech somehow found a way to squander a 14-point lead the fourth, the conference lost both BCS bowls and was blown out in three games. Easily the worst conference in bowls this season.
Utah State: The Aggies found ways to lose games this season and choked the game away against Ohio. It was a microcosm of the season.
ACC: The conference's play as a whole was so bad it deserves two mentions.
Blair Walsh
Al Messerschmidt/Getty Images
Last year Georgia kicker Blair Walsh was one of the best in the business, making 87 percent of his kicks and only missing one PAT. This year he only hit 60 percent of his kicks, and his misses against Michigan State directly led to a Bulldog loss.
He missed the winning field goal in the first overtime and had his tying kick in the third overtime blocked. Kickers often get the short end of the stick, but he really earned it in this game and with his play in the season.
Ronnie Hillman
Chris Graythen/Getty Images
Widely considered one of the best running backs outside a BCS conference, San Diego State's Ronnie Hillman was expected to lead the Aztecs past a Louisiana-Lafayette team that hadn't been to a bowl game in 42 years.
Rather than do that, he rushed the ball 24 times for a pathetic 55 yards or 2.3 yards per carry. Ryan Lindley's play at quarterback kept the team in the game but if Hillman had put up anything close to the 131 yards he averaged per game, they would have won this game.
Zach Maynard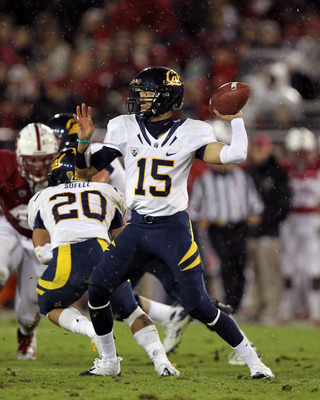 Ezra Shaw/Getty Images
Buffalo transfer Zach Maynard looked like a lost puppy against Texas' defense in the Holiday Bowl. Cal only managed 195 yards of offense despite holding the ball for 31 minutes.
Isi Sofele and Keenan Allen are two of the most underrated players in the country, but Maynard had four turnovers by himself, an interception and three fumbles. Head coach Jeff Tedford is believed to be on the coaching hot seat, and Maynard's play actually might have cost him his job.
Tommy Rees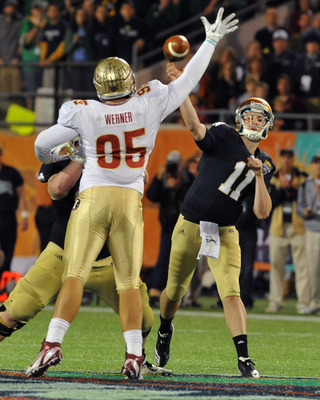 Al Messerschmidt/Getty Images
Notre Dame was manhandling Florida State on all fronts in the first half of the Champs Sports Bowl, but once again turnovers proved to be the Irish's undoing.
Quarterback Tommy Rees continued to throw interceptions, this time throwing two, both of which were in the end zone. In an 18-14 game, turning the ball over in the end zone is the absolute worst thing that can happen. It would not be surprising if sophomore Andrew Hendrix, who saw some action, takes over at quarterback next season.
Silas Redd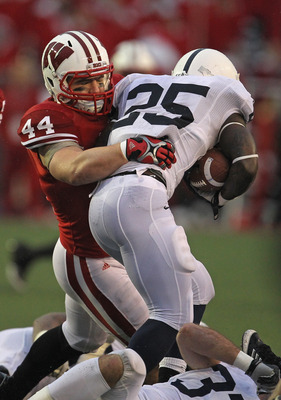 Jonathan Daniel/Getty Images
Penn State's offense is running back Silas Redd. He accounted for nearly a third of all of the Nittany Lions' offense and was poised to have a big day against a Houston defense allowing 171 yards on the ground per game.
Apparently someone forgot to tell him this because the Cougars absolutely dominated him. Redd only had 53 yards and failed to score. His backup Stephfon Green had more carries, a higher yards per carry average and a touchdown. Penn State's chances to win this game went out the window when Redd failed to show up.
Marvin McNutt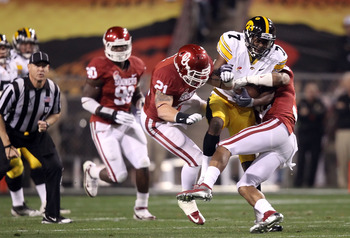 Christian Petersen/Getty Images
Much like Silas Redd, Iowa's offense runs through receiver Marvin McNutt. This was especially the case after running back Marcus Coker was suspended from the Insight Bowl.
Cornerback Jamell Flemming was in charge of covering McNutt and boy did he do a good job. He was targeted on most pass plays but only caught four of them for 46 yards and no touchdowns. The Hawkeyes needed a big game out of their stud receiver in order to pull the upset, and that didn't happen in the slightest.
Jordan Williamson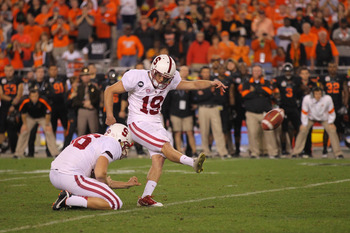 Doug Pensinger/Getty Images
Stanford had Oklahoma State dead to rights, but Justin Blackmon single-handedly brought his team back into the game. Kicker Jordan Williamson made sure the Cowboys won the game.
He started off the Fiesta Bowl by missing a 41-yard field goal, but it was his play in the fourth quarter and overtime that really sealed the Cardinal's fate. He missed a 35-yarder as time expired and then another kick in overtime. He was 75 percent on kicks on the year, but only hit 25 percent when it mattered most.
Keep Reading