20 College Football Teams That Are Already Screwed for 2012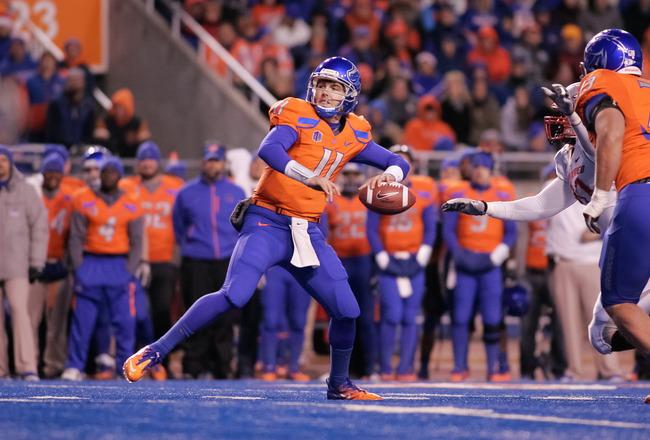 Otto Kitsinger III/Getty Images
We haven't even finished the bowl season, but it's never too early to start looking ahead to next season, especially if we're trying to figure out if our favorite team has a shot at a conference title—or better—in 2012.
But while some teams have bright futures headed forward, there are inevitably going to be some teams that take a few steps back—or even a nosedive.
Here, we'll take a look at 20 teams that we think are already screwed for next season.
Massachusetts, South Alabama, Texas State and Texas-San Antonio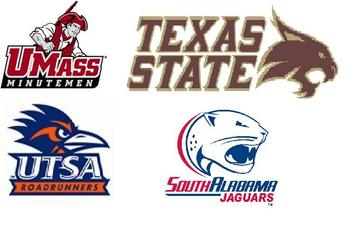 Who?
Exactly. We're going to start you off with a four-for-one deal as these four programs will be making the jump to the FBS in 2012, and will play as members of the MAC (UMass), Sun Belt (South Alabama) and WAC (TSU and UTSA).
Unfortunately, we've seen this story before. What we basically have here is a collection of programs with no history of success at lower divisions eagerly grasping for some of that FBS television money.
What the programs don't realize is that a sudden jump to the FBS before the program is adequately prepared never turns out very well. Just take Western Kentucky as an example.
Of these four programs, Texas State and UMass have some established football tradition, having found their way into both the Division II and FCS playoffs at times in its history.
As for the other two newcomers to the FBS, the programs have played a combined three seasons of NCAA football (two for South Alabama, and just one for UTSA).
Fans of these four programs have many, many years of futility in front of them, even in such lowly non-AQ conferences as the MAC, WAC and Sun Belt.
Ohio State*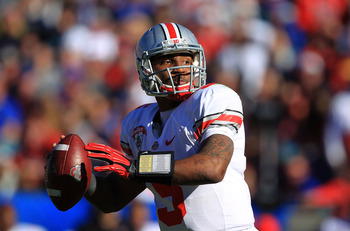 Scott Halleran/Getty Images
Yes, there's an asterisk next to Ohio State, and yes, it's for a good reason.
As we've all heard by now, Ohio State will be ineligible to participate in the 2012 Big Ten Championship Game or any subsequent bowl game next season. That's the price programs pay these days for their transgressions.
And realistically, that's the only reason for Buckeye fans to be glum. Beyond 2012, things are looking quite rosy for the Crimson and Gray.
New head coach Urban Meyer is sure to whip the Buckeyes back into shape, and quarterback Braxton Miller made quantum leaps this season in his effectiveness as the Buckeyes signal-caller.
The 2013 season should see Ohio State right back in the mix in the Big Ten, but since we're talking about 2012, we have to put the Buckeyes on our "screwed" list.
Baylor*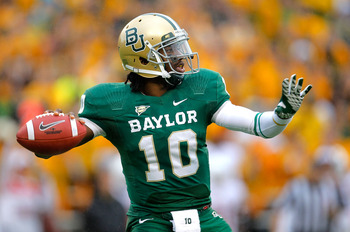 Sarah Glenn/Getty Images
Yes, we've added another asterisk to a team, and this is mainly because we don't yet know the future plans for Robert Griffin III.
Should he decide to return to Waco next season, you can expect another thrilling performance and the Bears will find themselves a preseason contender in the Big 12.
If, however, as an increasing number of pundits seem to believe, Griffin opts to take his leave for the NFL, then it's quite clear that Baylor will likely return to their pre-Griffin Big 12 doormat persona.
Brigham Young*
Ronald Martinez/Getty Images
In our final asterisk "screwed" selection for 2012, we picked BYU out from the ranks of the FBS independents.
After bolting the MWC after 2010, BYU found a fair amount of success in 2011, posting a 10-3 record this season, including a 24-21 victory over Tulsa in the Armed Forces Bowl on Friday.
While 10 wins is a nice accomplishment, it remains to be seen how good the Cougars can be against the best of what the country has to offer in terms of competition. Let's face it: The 2011 strength of schedule for BYU wasn't exactly impressing anyone.
BYU also found themselves blown out early in the season, 54-10, against arch rival Utah—a team that finished just 4-5 in their new conference home, the Pac-12.
Wins over teams like UCF, San Jose State, Idaho State and New Mexico State are all well and good, but the Cougars will step it up a bit in 2012, with teams like Notre Dame and Boise State appearing on the as-yet-unfinished schedule.
The fact that BYU only has eight confirmed games on next season's schedule is the reasoning behind our adding an asterisk. Once the rest of BYU's open dates are filled in, we should have a better idea of where BYU will fit into the picture next season.
It is, however, worth noting that head coach Bronco Mendenhall has most of his team returning for 2012. BYU, impressively, was able to win 10 games this season with very few seniors. While Mendenhall will need to find a replacement for leading rusher JJ DiLuigi, BYU ran the 2011 run offense by committee, so there should be plenty of experience to go around.
We're curious to see how to rest of the 2012 schedule shakes out for BYU.
Houston
Ronald Martinez/Getty Images
After the Conference USA Championship Game, it became apparent that Houston wasn't really all it was cracked up to be.
Is Houston still a good team this season? Absolutely. Is Houston BCS material? Absolutely not.
The Cougars were completely outplayed in their only game against a ranked opponent this season, and their "signature"-win game against a 6-8 UCLA squad. But a 12-2 or 13-1 record is nothing of which any team should be ashamed, and standout quarterback Case Keenum will have one last shot to make his mark on the record books against Penn State in the TicketCity Bowl.
But that will be the last time Keenum puts on the Houston Cougars' uniform. And when he takes that jersey off for the last time, Houston instantly becomes just another team in a non-AQ conference.
Even Houston fans have to realize at this point that Keenum makes that team what it has been, and his loss due to an injury-delayed graduation will have massive repercussions for the program.
And as if that wasn't enough, Houston will be yet another team under a new head coach in 2012. There's just so much the Cougars will need to overcome next season that it seems unlikely we'll be hearing "Houston" and "BCS" in the same sentence in the near future.
Miami (FL)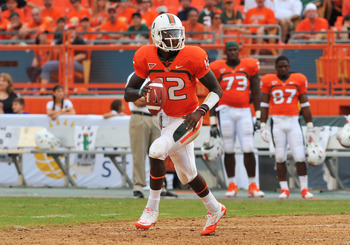 Al Messerschmidt/Getty Images
The Hurricanes seemed to hit a brick wall even before the 2011 season got underway.
With the report of massive violations once again uncovered at "The U," new head coach Al Golden was blindsided and clearly caught off guard.
Apparently, Golden wasn't even told about what now looks to be a massive yet secret internal investigation underway at Miami at the time of his hiring.
Besides the moral lapse from Miami in not informing the man who would be forced to deal with the consequences of the program's transgressions, the allegations themselves were yet another example of Miami football hubris in the Sunshine State.
Slimy groupie Nevin Shapiro spilled his guts from his prison cell, providing Yahoo! Sports will all of the gory details of the numerous and repeated NCAA rule violations at Miami.
As the story began to spin out of control, Miami began to impost sanctions itself, hoping to stave off the dropping of a very large NCAA hammer.
Even with Miami's rejection of any potential bowl bid to the 6-6 team, it's likely the NCAA will have the final word on the situation.
Expect more wide-ranging sanctions on the program at some point this offseason, likely including a postseason ban and scholarship reductions.
You really have to feel for Al Golden, don't you?
Northwestern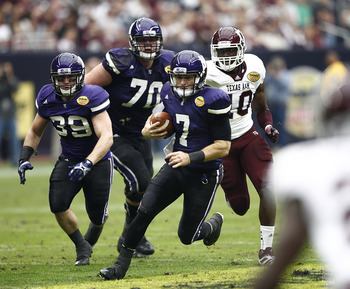 Bob Levey/Getty Images
Dan Persa has had one of those careers at Northwestern.
You know, the kind that makes you wonder "what if?" As in, "what if Dan Persa had been a quarterback of a team that had a deeper well of talent?"
Even through his injury-laden senior season, Persa and the Wildcats finished 6-7, capping it off with a fourth-quarter comeback against Texas A&M in the Meineke Car Care Bowl of Texas that fell just short.
It was Northwestern's fourth consecutive bowl game, setting a new program record. While head coach Pat Fitzgerald certainly deserves a great deal of credit, you can't overlook the contributions of Persa. Now that he'll be moving on after graduating, the future of football in Evanston is a bit hazy.
Northern Illinois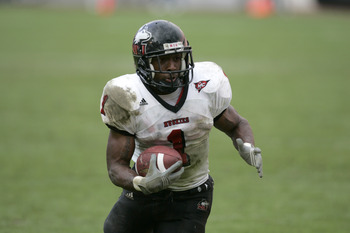 Gregory Shamus/Getty Images
In the notoriously difficult-to-predict MAC, the Northern Illinois Huskies proved to once again be the class of the downtrodden conference, finishing with a 10-3 record, which concludes on January 8 with a GoDaddy.com Bowl appearance against Arkansas State.
The MAC is already prone to wild swings from teams, often falling from first to near worst in a single season, or vice versa. Add in the complication of losing several top performers, including senior quarterback Chandler Harnish (who was also the team's leading rusher), and you have just such a recipe for a 2012 post-conference championship hangover season.
Cincinnati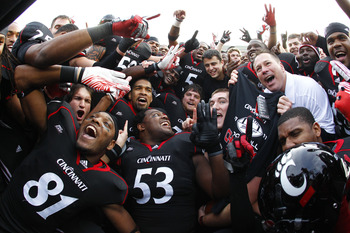 Tyler Barrick/Getty Images
We hate to keep harping on it, but ever since Brian Kelly left for Notre Dame, football at Cincinnati just hasn't been the same.
Sure, the Bearcats were conference co-champions of the Big East this season, but that's a little like saying you're the best Division III third-string left tackle.
Included in this less-than-impressive 2011 season for Cincy was an embarrassing loss to Rutgers on November 19 that all but ended the Bearcats' chances of returning to the BCS as the annual Big East whipping dog (instead, we'll be treated to West Virginia, who lost to Syracuse).
Cincinnati will also feel the sting of personnel loss due to graduation, including starting quarterback Zach Collaros, who has perhaps been the biggest key to the Bearcats' success over these past several seasons. Also hitting the dusty trail is Big East leading-rusher Isaiah Pead, after an impressive 96.9-yards-per-game performance in 2011.
Oklahoma State
Reese Strickland/Getty Images
The Cowboys certainly had one heckuva season, entering the bowl season as the No. 3 team in the nation and just mere tenths of a percentage point from finding their way into the BCS National Championship Game.
It really is too bad, too, because this was probably Oklahoma State's best chance to make the "big game" for at least the next season or two.
The Cowboys will see a mass exodus of talented skill position players after the Fiesta Bowl, as graduation wreaks havoc with Mike "I'm a Man" Gundy's depth chart.
Still, the Cowboys have probably reached a point in their program where they can compete every single season in their conference. But a second straight BCS bid looks like a long shot right now.
Indiana
Jamie Sabau/Getty Images
There weren't many teams worse this season than Indiana.
In fact, the Hoosiers were one of just four teams with a single win in 2011, and no team went winless, so it's safe to say that there weren't any teams worse. Indiana was also the lone 1-11 team from a BCS-AQ conference this season.
So what would possibly make us pick the Hoosiers as being screwed for 2012? It's quite simple, really. There's no great prospect for rapid improvement in Bloomington when it comes to football.
At least there's still basketball to look forward to, right?
Stanford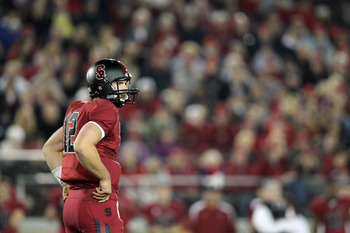 Ezra Shaw/Getty Images
It looks as if Andrew Luck will be headed to Indianapolis after the Fiesta Bowl next week, as the Colts are assured of the top pick in the 2012 NFL draft.
That means the Cardinal will be without their marquee quarterback who led the team to two consecutive BCS berths, while impressing everyone from pro scouts to fans of Stanford's rivals.
No program can withstand the loss of a player like Luck without losing something, and Stanford isn't known as the football mecca of the west, even after the impressive run the Cardinal have had as of late.
Penn State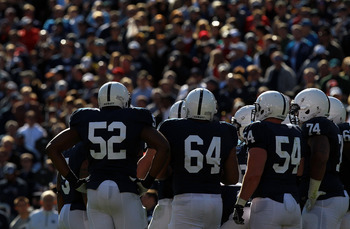 Ronald Martinez/Getty Images
We loathe to connect the alleged despicable actions of a now-disgraced former defensive coordinator to the fortunes of the future of Penn State football, but we also live in the real world. The sickening allegations will unfortunately hurt the immediate future of Penn State football, and the Nittany Lions are already starting to feel the pain on the recruiting trail.
Part of the real problem in State College, PA is the fact that there is as of yet no named successor to the incomparable Joe Paterno.
It's difficult to expect a program like Penn State to effectively recruit when the entire coaching staff is pretty well-assured they'll be looking for jobs come next week. And we haven't even talked about the fact that Penn State's offense was about as bad as they come in the Big Ten these days. Best-case scenario is that the Lions find themselves at least as good as they were this season on offense.
Graduation losses on defense will certainly hurt the team's chances next season in the resurgent Big Ten, and there's not much hope for a run at the Leaders Division title in 2012.
Boise State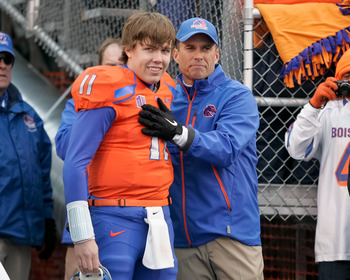 Otto Kitsinger III/Getty Images
This selection was a hard one to put on the list. It seems as soon as anyone bets against the Broncos, they manage to make that person look pretty foolish.
But with Heisman-contending and super-accurate quarterback Kellen Moore finally making his exit from Boise after winning more games as a starter than any quarterback in FBS history, we really have to wonder if the heyday of Boise State football is in the rear-view mirror.
Like several other top players around the nation who will be leaving when the 2011-12 bowl season is complete, Moore's departure from Boise will clearly have a negative effect of the team's success. How much of an impact depends on head coach Chris Petersen, who has rather curtly spurned several high-profile—and equally high-paying—jobs at BCS-AQ programs to remain in Boise blue.
Petersen has proven in the past he's able to keep the Broncos machine humming along without much interruption in the past, but it remains to be seen if he'll be able to absorb the loss of such a great leader like Moore without missing a couple of steps.
Missouri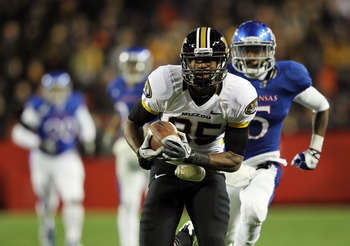 Jamie Squire/Getty Images
While there are certainly claims that could be made about Missouri losing so-and-so, or a particular part of the Tigers' game that just doesn't seem to be up to par, our selection of Missouri for our "screwed in 2012" list has everything to do with who the Tigers will play in 2012 as which players they'll be playing with.
Missouri moves to the mighty SEC next season, and the Tigers certainly have their work cut out for them. The first Missouri SEC schedule has been released, and it's no cakewalk.
After an opening-week game against a team yet to be named, Missouri faced defending SEC East champion Georgia on September 8. After the second half of a home-and-home against Arizona State in Week 3, the Tigers travel to always-dangerous South Carolina on September 22. Week 6 will see a visit from Alabama before a mix of conference and non-conference games, ending in a November 24 old-school Big 12 showdown against fellow SEC newcomer Texas A&M.
Missouri did dodge a bullet with the absence of both Arkansas and LSU, but for a team that finished 2011 with a 8-5 (5-4) record in the Big 12, the 2012 schedule is quite a mountain to climb.
Michigan State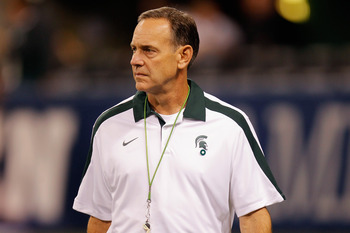 Gregory Shamus/Getty Images
At some point, we have to ask ourselves when Michigan State will finally fall from the mountain top that Mark Dantonio has meticulously built over the last several seasons.
After capturing a share of the Big Ten title in 2010, the Spartans continued their impressive run through the Big Ten in 2011 en route to a Legends Division championship.
While MSU still has quite a task ahead of them this season, with today's Outback Bowl showdown with SEC East champion Georgia, taking a quick glance at the list of graduating seniors from East Lansing is sure to raise the level of worry in even the most ardent of Sparty football fans.
Kirk Cousins is leaving. BJ Cunningham—also gone. Keith Nichol—likewise departing. Keshawn Martin—adios. Brad Sonntag—see ya.
And that's just the offense.
Sure, Dantonio still has a decent core of talent returning in his underclassmen, but the big names that have turned MSU into the toast of the Big Ten these past two seasons are all on their way out of town.
That could mean the dreaded "R" word for 2012: rebuilding.
LSU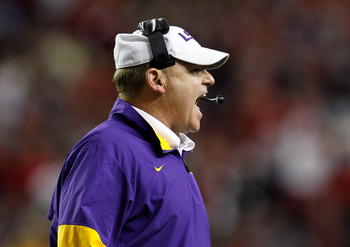 Kevin C. Cox/Getty Images
Before every Tiger fan comes out of the woodwork to stage a nutty over this pick, it's important to remember that "screwed" is a relative term here.
LSU has clearly been the best team in the nation from the opening kickoff to today, and the Tigers have an excellent chance to cap off a perfect season next week against fellow SEC team and once-beaten (by LSU, no less) Alabama in the BCS National Championship Game.
But after any potential celebrations are completed, it's time to take a peek at next season.
LSU has been one of those rare teams that is able to achieve success not because of the stellar play of one or two players (although there certainly are some standouts), but rather a combined effort from every player on every play from Week 1 through the SEC Championship Game.
The way in which his team has performed is a credit to Les Miles and his ability to prepare his players to meet any challenge. But next season, Miles will have to prepare a widely new group of players to again face the gauntlet of SEC mayhem.
The two quarterbacks with the lion's share of experience for LSU are both departing (Jordan Jefferson and Jarrett Lee). LSU will also say good-bye to some defensive anchors, as well, including Brandon Taylor (second on the team in tackles). There's also the added possibility that some underclassmen may be departing early for the NFL, although LSU has been predictably mum leading up to the big game.
Again, it's important to note that we're not saying LSU has no chance of winning anything next season. But the early signs definitely point to something significantly less than a perfect 14-0 BCS National Championship season in 2012.
Keep Reading