BCS Bowl Games: Why Alabama Win Would Be Best Thing for College Football
December 29, 2011
Kevin C. Cox/Getty Images
The first game between Alabama and LSU back on Nov. 5 was supposed to decide once and for all which one of them was the best team in the country.
It did just that, but only temporarily. LSU's close-shave victory over Alabama knocked the Crimson Tide down a few pegs, but they were able to climb their way back up to No. 2 in the BCS rankings, thus securing a rematch with the top-ranked Tigers in the BCS National Championship Game.
You've probably caught wind of the fact that not everyone is happy about this. Though Alabama has a legit case to be in the title game, Oklahoma State has a legit case to be in it, too. And between the two of them, at least the Cowboys have a conference championship to their name.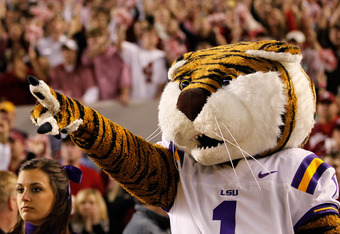 Kevin C. Cox/Getty Images
I'll admit that I have my own reservations about watching Alabama and LSU go at it again. The first game was one of the most boring football games I've ever seen, and I don't think much is going to change in the rematch.
But oh well. All one can do is hope for the best.
In this case, that would be an Alabama win.
A Tide victory would no doubt be just fine with the Tide faithful, who are among the most devoted (and craziest) sports fans in the known universe. They would gladly accept a second national championship, and would remind us all just how awesome Alabama is every chance they get.
But those who just plain enjoy college football should also be rooting for Alabama. It is not unheard of for the No. 2 team to beat the No. 1 team in the BCS title game, but I would go so far as to say that college football needs the No. 2 to win in this case.
This is the only way Alabama is going to validate its presence in the title game, as whether or not the Tide truly deserve a second shot at LSU has been debated over and over again by now.
For most, there is no ill will against Alabama. Instead, there is ill will at any kind of system that allows a team two chances to beat the best team in the country.
For this crowd, of which I am a member, the only reason Alabama is in the title game at all is because the voters made up their minds about the Tide without giving Oklahoma State fair consideration.
It is certainly worth noting that the BCS computers disagreed about the Tide, as they had Alabama at No. 3 while the voters had them at No. 2.
If it's not one thing, it's the other. Some years people blame the computers for a faulty BCS title matchup, but this year they're blaming the voters.
But if Alabama wins, we'll know that the voters were right and—hot damn!—the BCS actually works.
Wouldn't that be something.
If Alabama loses, however, there's going to be no shortage of grumbling over how Oklahoma State would have succeeded where the Tide failed. The perception will be that the BCS failed, and badly at that.
Since we're pretty much stuck with the BCS, we need to know that it works. 
So as a college football fan, I will gladly say this once and only once.
Roll Tide.