Rose Bowl 2012: 10 Players Who Could Be Game's MVP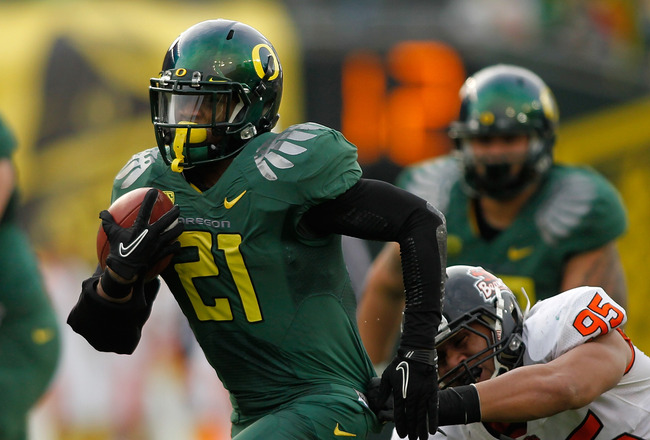 Jonathan Ferrey/Getty Images
When the Oregon Ducks and Wisconsin Badgers face off in the 2012 Rose Bowl, which players have the best chance to be the game's MVP?
The obvious choices are the star running backs LaMichael James and Montee Ball, but there are other players who have the potential to change the game in a big way.
Both teams have stellar quarterbacks and playmakers on the defensive side of the ball.
If a defensive player on Wisconsin is able to disrupt Oregon's offense, they might be recognized with such a prestigious award. It could go both ways, of course, for Oregon's defense as well.
Here's a list of 10 players who could be the game's MVP.
Eddie Pleasant, SS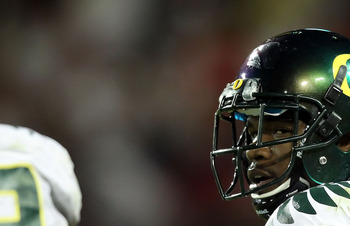 Christian Petersen/Getty Images
Eddie Pleasant has been the most consistent player on the Ducks defense this season. The senior safety has been instrumental in run support from the secondary and led the defense with three interceptions.
He will also be the most intriguing NFL prospect to watch on the defensive side for the Ducks. In the recent past, Oregon has fielded some talented defensive backs who are currently succeeding in the NFL (Patrick Chung, TJ Ward and Jairus Byrd).
Pleasant can cover tight ends and hit like a truck. He's also got respectable speed for a player of his stature.
The way Wisconsin's offense matches up against Oregon's front seven, running back Montee Ball will be making it to the second level the majority of the time.
It will be up to Pleasant and his partner in crime at the free safety position, John Boyett, to step up and stop Ball before he starts running downhill.
This is a must if Oregon has any hope of containing the potent Wisconsin attack.
Louis Nzegwu, DE
Jonathan Daniel/Getty Images
We all saw the impact a defensive lineman can have in disrupting the flow of Oregon's offensive attack.
Nick Fairley, the defensive tackle for the Auburn Tigers, was the sole reason why the Ducks couldn't get anything going on offense in last year's national championship game.
Louis Nzegwu is no Nick Fairley. It's unfair to compare those two players since they do, in fact, play different positions. Farely was an interior lineman and Nzegwu is an end. Fairley is simply a better football player than Nzegwu.
However, Nzegwu is the Badgers' best defensive lineman, and they'll need him to do all he can to clog up the running lanes that the undersized lineman of the Ducks will try to create. It will be quite a task because the defensive line isn't the strength of this Nebraska defense.
But if Nzegwu does find a way to disrupt the offensive flow of the Ducks, it will get recognized and end up being a crucial part of the game.
Michael Clay, LB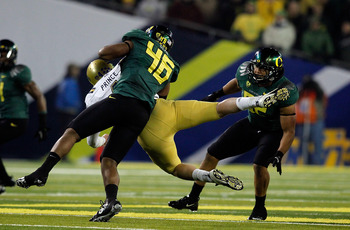 Jonathan Ferrey/Getty Images
Michael Clay is the best tackler on the Ducks defense. His stat line during the regular season was also pretty impressive.
Clay accumulated 89 tackles—6.5 for a loss—three sacks, two forced fumbles, two interceptions and one for a touchdown. That's what you call filling up the stat sheet.
The junior linebacker from San Jose, California will have a crucial role in the Ducks scheme on defense. Oregon is going to need strong play from the linebacking corps in order to slow Montee Ball down, as well as containing Russel Wilson and keeping him in the pocket.
Clay, being one of the leaders on the defense, will need to do a little of both in order to keep the Wisconsin scoring to a minimum.
Wisconsin will get its points. Oregon's defense is simply too small to match up against the massive offensive line of Wisconsin. But Oregon's philosophy on "D" is to "bend but not break," as well as force a lot of turnovers.
If Oregon's defense is able to contain Ball and the rest of the offense, expect Clay to be one of the main reasons why.
Chris Borland, LB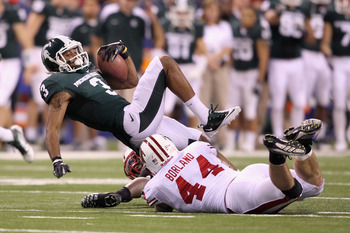 Andy Lyons/Getty Images
Chris Borland and the rest of the Badgers linebacking corps are going to have their hands during the Rose Bowl.
Borland is the best linebacker on Wisconsin—a position that runs deep with depth and talent. They're going to need both in order to contain Oregon's high-tempo style of offense.
It will be the defensive line's job to clog the holes and allow the linebackers to roam free and tackle the ball carrier. Trust me, it's easier said than done when playing the Ducks. Not only are Oregon's running backs quick, but they're elusive and very tough to spot behind the line due to their small statures.
LaMichael James (5'9"), De'Anthony Thomas (5'9") and Kenjon Barner (5'11") are all undersized but extremely quick and tough to tackle in the backfield.
Borland accumulated 131 tackles—an incredible 18 for a loss—1.5 sacks, two interceptions and four forced fumbles. Needless to say, Borland had a magnificent season in 2011, and the Badgers will need him to continue his successful season.
Darron Thomas, QB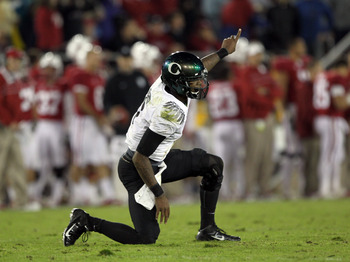 Ezra Shaw/Getty Images
To be blunt, the Ducks are going to need Darron Thomas to have a good game if the Ducks are going to win the Rose Bowl.
You know that Wisconsin is going to make a conscious effort to shut down LaMichael James and the running game. They are going to dare Oregon to beat them through the air.
Oregon's offense needs a stable running game, however, in order to set up the pass. They are not built to run an offense when being forced to pass every down.
One thing to look for in this game is Thomas keeping the ball himself and running a little bit more. It was something that Thomas excelled at in 2010, but we saw very little of this season.
Head coach Chip Kelly could have told Thomas to not run the ball as much in order to minimize the number of hits he takes. You know that defenders are licking their chops when they see skinny ol' Thomas running around the edge.
This would be a good time to open up the offense a little bit and let Thomas run free. The running attack can be lethal when defenses have to respect both Thomas and James as a running threat every play.
If Oregon is able to establish a consistent running game, it will open up the passing game for Thomas. Don't be surprised to see him have a big game for the Ducks.
Jared Abbrederis, WR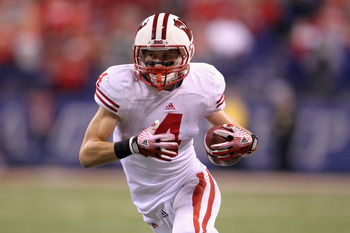 Andy Lyons/Getty Images
Jared Abbrederis is my underrated player to watch on the Badgers.
Abbrederis had 51 catches for 814 yards and seven touchdowns. He was the team's second-leading receiver behind Nick Toon.
Abbrederis is also a threat on special teams. He averaged nearly 25 yards per kick return and 16 yards on punt returns this year. He also added a punt return for a touchdown.
Oregon's defense is fast; they have to play against their offense in practice every day after all.
Abbrederis' game is built around his speed and elusiveness.
However, Oregon is going to be turning its attention towards stopping Montee Ball, Russell Wilson and Nick Toon, so it could allow Abbrederis to find some holes in Oregon's defense throughout the game.
David Paulson, TE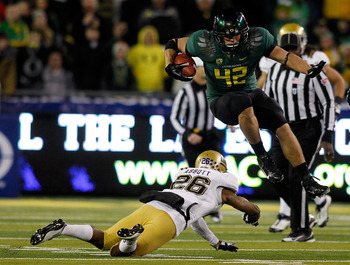 Jonathan Ferrey/Getty Images
David Paulson could be the most underrated player on the entire Ducks roster.
He only had 30 catches for 428 yards and six touchdowns, but he's the biggest target the Ducks have on offense.
Many wished that Paulson was given a larger role in the offense, but his problem is that the Ducks actually have too many targets. Chip Kelly tries to spread the love as much as he can, but it's hard to get everyone the touches they desire with LaMichael James, Kenjon Barner and De'Anthony Thomas on the offense.
He's also widely considered to have the best hands on the team. If the ball is thrown in his general vicinity, chances are Paulson is going to come down with it. His 14.3 yards per catch was also the highest of any starting receiver on the Ducks.
Paulson rarely goes down after first contact. That's largely due in part to his signature hurdle when defenders try to take him out by the knees. Paulson is the Ducks' possession receiver, and they need to get him involved in order to get the passing game up and running.
Russell Wilson, QB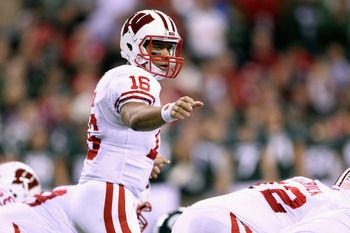 Andy Lyons/Getty Images
If it wasn't for the two running backs on each team, Russell Wilson would be the best player on the field come next Monday. There isn't much that this dual-threat quarterback can't do.
He can zip the ball down the field effortlessly. He can run outside of the pocket to move the chains or to extend the play. His 191.6 quarterback rating was second in the nation to only the Heisman Trophy winner himself—Robert Griffin III.
His 31-to-3 touchdown-to-interception ratio was also the best in the country. He also ran for 320 yards and five touchdowns. The list truly goes on and on.
Oregon's secondary has been exposed at times this season. They did force Andrew Luck to have his worst performance all season, but his receivers did drop a ton of catchable balls. Matt Barkley did, however, pass for 323 yards and four touchdowns earlier in the year and exposed the small and inexperienced Oregon cornerbacks.
Oregon is going to try to bring the heat in an attempt to contain Wilson and Ball from picking away at the defense. This will open up passing lanes to gash Oregon through the air.
Wilson could very well be the MVP during the 2012 Rose Bowl.
LaMichael James, RB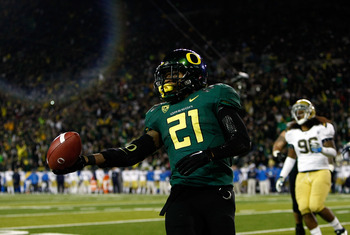 Jonathan Ferrey/Getty Images
This game will mean more than just another bowl game for LaMichael James. There's a lot of pressure on him to preform due to his lackluster performances in previous big non-conference games.
| | | | | |
| --- | --- | --- | --- | --- |
| Year | Opponent | Rushing yards | Average | Touchdowns |
| 2009 | Ohio State | 70 | 4.7 | 0 |
| 2010 | Auburn | 49 | 3.8 | 0 |
| 2011 | LSU | 54 | 3.0 | 1 |
Those three games have arguably been Oregon's most important during this three-year span. Whether it was injuries or opposing defense's revolving their game plan around stopping James, he has yet to show up for the big ones.
Not only will a great performance cement his legacy as the best running back in school history, but it'll prevent him from being labeled a system back who only excelled in games against conference opponents.
One who watched James play throughout his career would beg to differ no matter the outcome of this game, but that will be the national perception if James does not have a good game against Wisconsin.
I do, however, like this matchup for James. Out of the three teams previously listed, Wisconsin has the worst defense out of the four. Not only is Wisconsin not big enough on defense to disrupt the flow of the offense, but they are no where near as fast.
If Oregon wins this game, it will be because the offense got in rhythm, and James was able to run wild on the Badgers defense. An Oregon victory will inevitably mean James was the MVP.
Montee Ball, RB
Andy Lyons/Getty Images
It's a shame that Montee Ball didn't win the Heisman Trophy. Out of the five candidates, Ball had the best statistics and it wasn't even close. Yes, Robert Griffin III did have a good season, but Ball had one of the best seasons at the running back position in the history of college football.
His 38 touchdowns in 13 games this season was just one shy of Barry Sanders' record set in 1998. Yet, he finished in fourth place in the final voting. He even placed behind Trent Richardson who had far inferior statistics compared to Ball. And I don't want to hear anymore about the SEC defenses. Ball had the best season in college football and deserved to be recognized for it.
So now Ball, who is out to prove to the country that he was deserving of the Heisman Trophy, must be licking his chops now looking at Oregon's undersized defense. Oregon has struggled to stop the run at times this year.
They aren't necessarily a bad run defense; they excel in gang tackling and bring the ball carrier down in packs. However, I would not venture to say that run defense is a strength of the Oregon defense.
I predict Ball is going to have a field day. I know it isn't the biggest prediction in the world, but the matchup just looks like a nightmare for the Ducks. Not only will they have to maneuver around the mammoth offensive line of Wisconsin, but all 210 lbs. of Ball will be running behind it.
Keep Reading