2011 Bowl Predictions: Champs Sports Bowl Preview from the Sports Mac
December 28, 2011
Doug Benc/Getty Images
There are at least a couple of occasions every bowl season where you end up with a big matchup before New Year's Day. 
Whether it's a game that features two programs that have had very good seasons or there are two big names in college football getting together, these games are usually one of the highlights of Christmas Week. 
The latter scenario is exactly what we have for this year's Champs Sports Bowl. 
Florida State and Notre Dame renew a rivalry that has had some signature moments—including the Game of the Century in 1993, to the great matchup in the 1996 Orange Bowl.  The announcement of this game has helped the Champs Sports bowl immensely: It is sold out for the first time in its history.
Florida State was considered to be one of the favorites for the ACC title this season and they cruised to the first two victories.  But then came the stretch that put a damper on the season. 
The Seminoles suffered consecutive losses to Oklahoma, Clemson and Wake Forest and found themselves under .500 approaching the halfway mark. 
They then found their stride and rolled off five wins in a row.  But a tough home loss to Virginia in their ACC finale gave them their fourth defeat on the season.  However, they did manage to win eight games and are playing in their 32nd straight bowl game.
Notre Dame got off to the opposite start of Florida State this year. 
There was the shocking home loss to South Florida in a game that was delayed twice by storms and then came the blown lead against Michigan in the first ever night game in Ann Arbor.  The Fighting Irish then started to find their footing and won four straight games against teams that made bowl games this season. 
Then came the latest chapter in the rivalry with USC. 
A 14-point loss at home meant no BCS game this season, but Notre Dame ran off another four wins in a row before losing the regular season finale at Stanford.  The Fighting Irish also won eight games this season and are playing in their second straight bowl game. 
So, who will win the first meeting between these two storied programs since 2003?  Read on for the preview of the 2011 Champs Sports Bowl.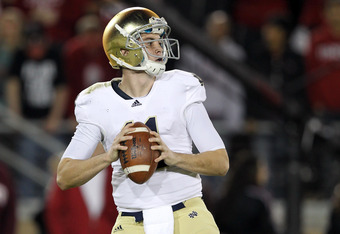 Ezra Shaw/Getty Images
Florida State offense vs. Notre Dame defense
The Seminoles offense has struggled for most of the season—finishing just 75th nationally in total offense.  They especially had problems running the ball, averaging just 118 yards per game. 
E.J. Manuel is the man under center, and he's been the main catalyst this season, finishing in the Top 20 in passing efficiency.  They have had to throw the ball a lot with so many problems in the running game this season.  Rodney Smith and Christian Green are the main targets for Manuel and will need to be on their games to help out the offense. 
The Notre Dame defense has been fairly good all season and have given up more than 30 points just three times, and managed to hold Stanford to 28 points in the regular season finale.  This looks to be a fairly even matchup, and whoever can make a couple of big plays will get the advantage.
Edge: Even
Notre Dame offense vs. Florida State defense
Notre Dame's offense has had an up and down season.  They did score more than 30 points in half of their games, but there were struggles as well.  They managed just 15 points in the win over Pittsburgh, 17 in the loss to USC and only 16 in the win over Boston College. 
Tommy Rees has won the QB battle and is entrenched as the starter.  Cierre Wood and Jonas Gray are the two-headed attack running the ball, and Michael Floyd has been the star on offense—averaging almost eight catches and 90 yards receiving per game this season. 
The Florida State defense is the unit to watch in this game, however. 
One of the best defenses in the country, the Seminoles are second in rushing defense, fourth in scoring defense and sixth in total defense.  They're averaging three sacks per game and almost eight tackles for loss per game. 
This is going to be a major challenge for the Notre Dame offense and they might have to play their best game of the season to have a chance to win this game.
Edge: Florida State
Special Teams
Florida State has a big advantage here in this area, and it starts with the best punter in the country.  Shawn Powell led the nation in punting at 47 yards per kick. 
K Dustin Hopkins finished tied for ninth in field goals per game and Greg Reid finished just outside the Top 15 in punt returns.  The Seminoles also finished just outside the Top 20 in kickoff returns as well. 
The best that Notre Dame can counter with is KR George Atkinson III, who was 15th nationally at more than 27 yards per return.  FSU is the much better unit here and could play a huge role in this ballgame.
Edge: Florida State
Coaching
Jimbo Fisher has done a nice job in his two seasons at the helm of Florida State.  He has won at least eight games in each season and led the team to two straight bowl games.  He is already 10 games over .500 and looks like a worthy successor to Bobby Bowden in the years to come. 
Brian Kelly is in his second year at Notre Dame and is trying to continue his success at every stop in his career.  He's won conference championships at Central Michigan and Cincinnati, and while he has no conference to win here, he's had the Fighting Irish close to BCS bids his first two seasons. 
He has the advantage here by having more experience and knows how to get his team ready for a bowl game, with this being his seventh in a row.
Edge: Notre Dame
This and That
As mentioned above, this will be a sellout for the first time in Champs Sports Bowl history, and the majority of fans should be from Tallahassee.  It's only a four hour drive and there should be plenty of garnet and gold in the stands. 
For all of the problems Notre Dame had winning bowls in the past, they've won their last two and are playing the second straight opponent from Florida after defeating Miami (Fla.) in last year's Sun Bowl.  The Seminoles also have a bowl winning streak on the line in this game—they have won their last three bowl contests.
So, what will happen in the 2011 Champs Sports Bowl?
This game really comes down to the Notre Dame offense, and if it can move the ball against a very good Florida State defense.  This will probably be the best defense the Fighting Irish will have faced this year and if they struggle, it might be too much to ask the ND defense to keep them in the ballgame.
Throw in one or two big plays by the FSU special teams and this will end up being a somewhat comfortable victory for the in-state school.
Line: Florida State by 3
The Sports Mac Prediction: Florida State 31, Notre Dame 17