Chicago Bulls: Reviewing Luol Deng and the Small Forward Situation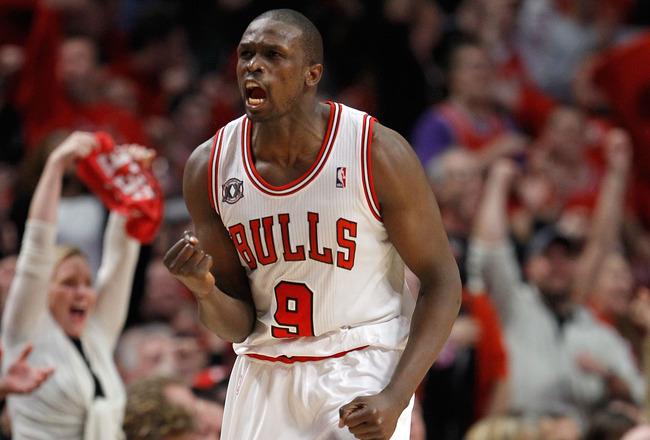 Luol Deng
Gregory Shamus/Getty Images
With the offseason continuing and the NBA lockout in full effect, now is the perfect time to evaluate how the Chicago Bulls roster currently looks and what potential changes we may see.Last season, the small forward position was a one-man show in Chicago, but after drafting two small forwards in this year's draft, some changes may be in store for the season to come.
Continuing from where I left off in my previous review of the Chicago Bulls' Shooting Guard Situation, this week we will be looking at Luol Deng, Jimmy Butler, Nikola Mirotic and the situation at small forward!
Current Roster: Luol Deng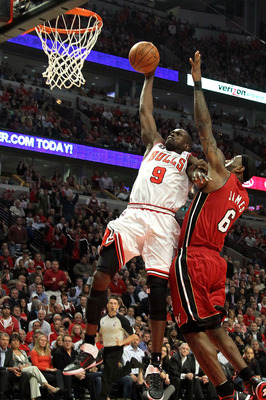 Deng over Lebron
Mike Ehrmann/Getty Images
In all the articles written on Luol Deng over the past year, there have been countless comparisons and analogies used to describe what he means to the Chicago Bulls, but it seems that none of them give him enough credit. If Derrick Rose is the heart of the team and Joakim Noah is the soul of the team, Deng is the skin—the organ that holds everything together.
Luol played more minutes per game than any other Bull last year—playing 39.1 minutes per game, which put him 4th in the NBA behind Monta Ellis, Rudy Gay and LaMarcus Aldridge. Deng averaged 17.4 PPG (third on the Bulls, 37th in the league) while shooting a .460 FG%, a .345 3PT% and a .753 FT%. Deng averaged 5.8 RPG (third on the Bulls, 69th in the league.) To round off these stats, Deng averaged .95 steals per game, .59 blocks per game and 2.9 assists per game.
Maybe the most telling stat of Deng's 2010-2011 season, though, came in the Eastern Conference Finals when the Bulls held LeBron James to a .447 FG% which was significantly worse than the .510 FG% he shot in the regular season—Luol played a big part in this, as he was most commonly the defender guarding James.
This offseason, there has been a lot of talk about trading Deng in order to get Monta Ellis and this would be a mistake. Deng was the sixth-best scoring SF behind Kevin Durant, Lebron James, Carmelo Anthony, Danny Granger and Paul Pierce, he was the sixth-best rebounding SF, the sixth-best assist SF, the 10th-best stealing SF, the 14th-best blocking SF and only one other SF played over 35 minutes per game and averaged less than two turnovers per game. You don't give up that sort of production and consistency for a second scoring threat, and that is all that Ellis would be for the Bulls.
I was not a Deng fan until last season but I now would choose him over any SF whose name doesn't end in James or Durant. Deng is signed through the 2013-2014 season and is scheduled to make $12,341,275 next season. He is as solid and consistent as they come in the NBA and there are only a handful of players who are worthy of the Bulls trading Luol Deng. Along with Derrick Rose and Carlos Boozer, Deng is a critical piece to the Bulls leadership on the court. If the Bulls were to lose Deng, they would be lacking more at the SF position than they did at the SG position this year.
Final note, although Deng's GB team was beaten out of the EuroBasket, the Bulls SF looked solid leading his home country. Another aspect of Deng that is overlooked is the leadership he provides.
Current Roster: Jimmy Butler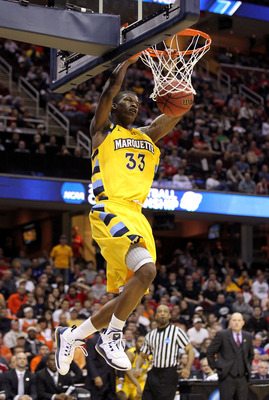 Jimmy Butler - Bulls 30th Pick
Andy Lyons/Getty Images
With the 30th pick in the 2011 NBA Draft, the Chicago Bulls selected Jimmy Butler of the Marquette Golden Eagles. Butler's story has gained a lot of notoriety during the course of this long offseason and you can turn to Chad Ford for a detailed report on Butler's past.
What we are concerned about as Bulls fans is Butler's future and not his past. So, what can we expect from Jimmy Butler?
Offense
Butler has drawn a lot of comparisons to Ronnie Brewer on offense and for the Bulls' sake, I hope these comparisons are unfounded. Last season for the Golden Eagles, Butler averaged a .490 FG% and a .345 3PT% for 15.7 PPG—if these numbers directly translate into the NBA, Butler would be a solid backup for Deng and he could find some minutes at SG.
If you're the Bulls management, you don't want another Ronnie Brewer—if they stress aggressiveness to Butler from the start, they may find themselves with a decent offensive piece to complement Rose and the Bulls offense.
Defense
The Bulls knew when they drafted Butler that they were adding a defensive stopper to back up Luol Deng. In his senior season at Marquette, Butler averaged .4 blocks, 1.4 steals, and 6.1 rebounds per game. Butler was known for matching up against the opposition's best players, be they SGs, SFs, PFs and even PGs at times.
It didn't take long for Butler to come out and say that he was going to work on his defense in order to be able to guard Lebron or Dwayne Wade and it isn't unthinkable to imagine that Butler could play a significant role in helping the Bulls to get past the Miami Heat next season. For more information on Butler, you can read about him in Aggrey Sam's article on CSN.
A couple seasons ago, the Bulls made a defensive-minded solution and drafted Taj Gibson 26th in the NBA draft—not only has he lived up to his defensive potential, he has also contributed offensively through tenacious offensive rebounding and some strong dunking skills. If Butler can follow the example set by Taj and produce at a high level defensively while improving on his offensive skills, the Bulls will be one step closer to raising another championship banner in the United Center.
Future Addition: Nikola Mirotic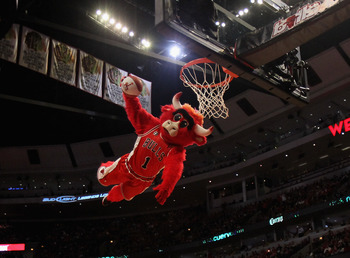 Jonathan Daniel/Getty Images
Little needs to be written about Nikola Mirotic as he is still years away from joining the Bulls due to the necessity of an expensive buyout that would need to be negotiated in order to get him in Chicago sooner.
Mirotic is a great offensive SF who is tall (6'10") for the position. At this point in his career, he needs to improve on rebounding, defense and his footwork, but at 20 years of age, he still has a long time to develop.
Possible Roster Changes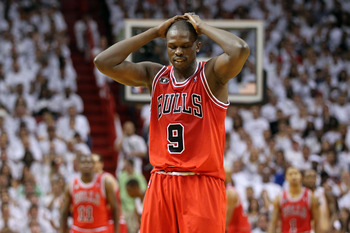 Deng it!
Mike Ehrmann/Getty Images
There has already been a lot of speculation this offseason that Deng could be moved before next season and, frankly, I find that to be wildly unfounded speculation.
One report would have Deng headed to the Orlando Magic as a package to be traded for Dwight Howard. Another report would have Deng headed to the Golden State Warriors as the main piece in a Monta Ellis trade. The most recent report has him headed to the New Jersey Nets for a couple of draft picks and a ton on money for the Bulls.
All of these trades would leave the Bulls with a huge vacancy at the SF position that no combination of Brewer, Gibson, Butler and Kyle Korver would be able to fill.
Deng is a team leader, a friend of Derrick Rose and arguably the second most important piece of the Bulls' starting rotation. It is unlikely that the Bulls would look to add another SF to their roster as they have bigger holes to fill at the SG position and because Brewer, Korver and Gibson can fill the SF position in a pinch.
Don't expect the Bulls to make many changes this year to the SF position.
Keep Reading

Chicago Bulls: Like this team?