Updated Odds to Win 2014 NBA Title, Post-Kevin Garnett, Paul Pierce Blockbuster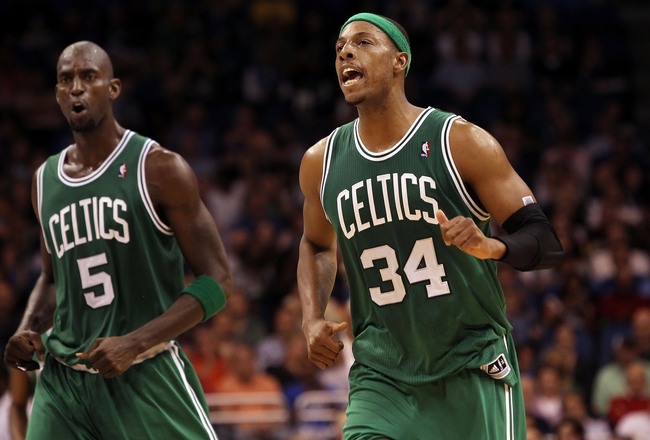 Go ahead and start picturing these two in Brooklyn uniforms.
Kim Klement-USA TODAY Sports
Thursday night was fateful day in NBA history, as the landscape of the league shifted rather dramatically. Between 60 players entering the league through the 2013 NBA draft and the Boston Celtics and Brooklyn Nets agreeing to a blockbuster deal, much changed.
Paul Pierce and Kevin Garnett are set to put on new uniforms for the 2013-14 season as soon as the moratorium lifts in July, and they weren't the only All-Stars on the move. Jrue Holiday was traded as well.
Some teams shored up certain holes by adding quality rookies, while others failed to change their title odds. In fact, the Toronto Raptors were the only team in the Association that didn't make a single move on June 27.
It's only natural that we take a look at the new landscape now. Free agency will certainly alter it throughout once more, but let's get an early picture of the scene.
Philadelphia 76ers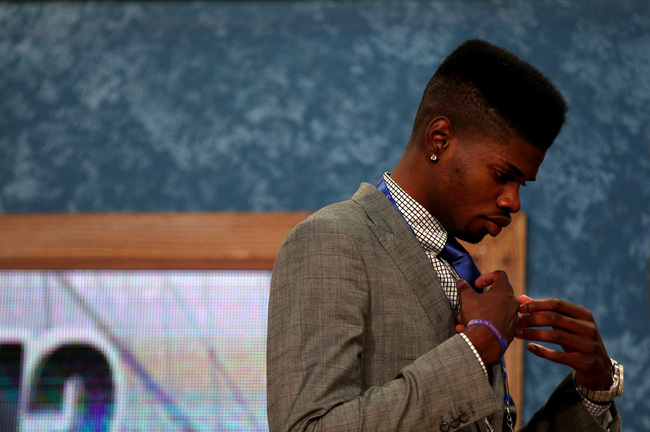 Mike Stobe/Getty Images
The Philadelphia 76ers have gone into full-on tank mode, and the 2013-14 season isn't even close to beginning yet. Kansas' Andrew Wiggins is worth it, and the Sixers aren't going to make much of an effort to pretend he isn't.
Nerlens Noel is a great piece for the future, but he's not going to help this team win now. The No. 6 pick in the 2013 NBA draft will take until December, at the earliest, to recover from his torn ACL, and he'll need a serious adjustment period once he's on the court. Michael Carter-Williams isn't exactly ready to help the team win, either.
To get their hands on the center with the hi-top fade, Philly traded away the face of the franchise: Jrue Holiday. He carried this squad in 2012-13, but he'll now be with the New Orleans Pelicans for the foreseeable future.
Things will look up in 2014-15, especially after the Sixers have added a premier rookie from the stacked class and took the Pelicans' pick (top-five protected), but they'll be in competition for the worst record in the league next year.
Title Odds: 500-1
Charlotte Bobcats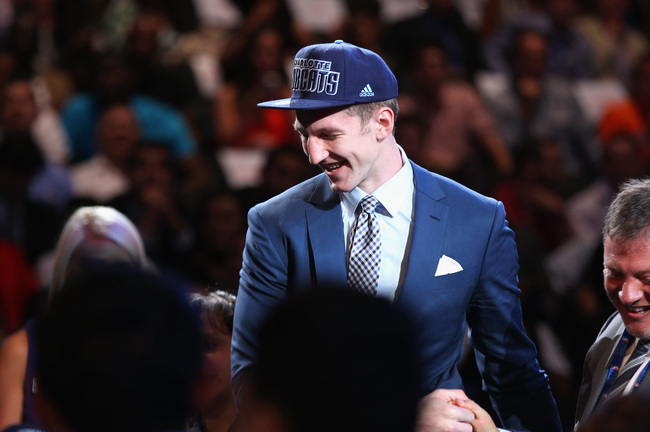 Mike Stobe/Getty Images
Believe it or not, the Charlotte Bobcats don't find themselves in the cellar!
To be fair, that's due more to the tanking strategies of the Philadelphia 76ers than the drafting savvy of this franchise, but I'm sure Bobcats fans will take what they can get.
Cody Zeller was a strange pick at No. 4, especially with Ben McLemore and Alex Len still on the board, but he's an NBA-ready big man who should provide some help to a frontcourt in dire need of offense.
Kemba Walker and Michael Kidd-Gilchrist should continue growing, but Charlotte is still more than a few pieces away from being competitive.
Title Odds: 500-1
Phoenix Suns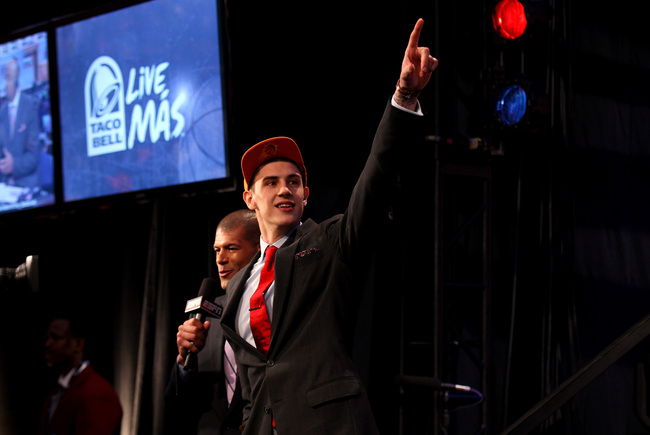 Mike Stobe/Getty Images
It won't be too long before Alex Len takes over as the starting center for the Phoenix Suns, but he's not going to be a franchise-changing player until we're at least a few years down the road. Even once the former Maryland Terrapin fully recovers from the stress fracture in his ankle, he needs a good deal of seasoning.
Phoenix is inevitably going to struggle once more next season, although the team is starting to get deeper. It may be utterly devoid of top-notch talent—unless Goran Dragic takes another step forward—but there are a myriad of quality role players on the roster.
Don't be surprised to see the Morris brothers and Archie Goodwin take on prominent roles immediately. However, even if they do, that's not enough to get very far in a brutal Western Conference.
Title Odds: 300-1
Utah Jazz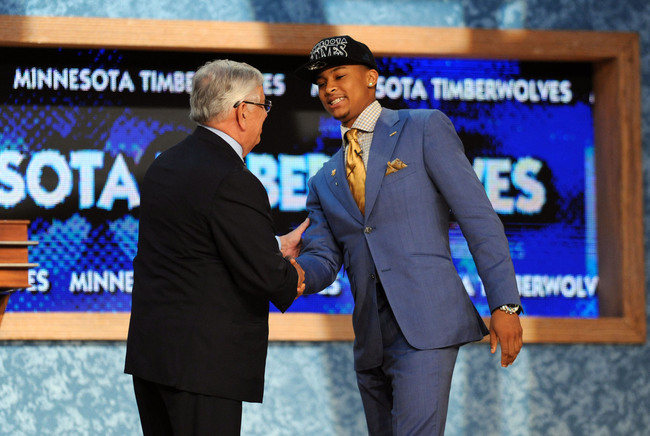 Joe Camporeale-USA TODAY Sports
A lot depends on what the Utah Jazz do with Al Jefferson and Paul Millsap, both of whom are unrestricted free agents this offseason.
If the team brings back either frontcourt member, it will immediately get stronger. But at the same time, it'll limit its long-term growth, which is why I see both standouts going elsewhere over the summer.
Utah should turn it over to its bevy of young players, especially since there's one at every single position. Trey Burke, Alec Burks, Gordon Hayward, Derrick Favors and Enes Kanter would form possibly the youngest starting five in the NBA, but also one with some of the most potential.
Burke should be guaranteed a starting spot after the Jazz traded up to get him, and he brings a lot to the table. Even if he remains in the Rookie of the Year conversation, there's too much growth that needs to happen across the board for Utah to be competitive in 2013-14.
Title Odds: 300-1
Sacramento Kings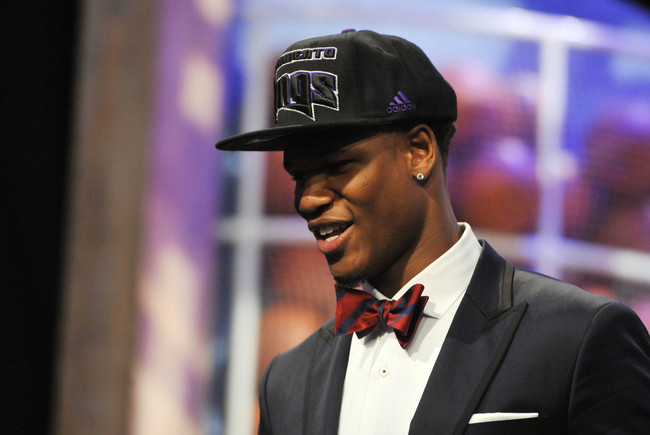 Joe Camporeale-USA TODAY Sports
We once made jokes about how the old Sacramento Kings regime loved drafting guards. So what does the new management do? Uses its two picks on Ben McLemore and Ray McCallum, of course.
Fortunately, there should be a serious culture change in Sactown with new men in charge from the front office to the sidelines. There are many decisions that need making during the offseason, none more important than what to do with Tyreke Evans, who is now a restricted free agent.
If they bring him back, they'll keep one of the team's premier talents, but they'll also make the backcourt even more crowded. McLemore needs to get playing time, after all. Even as a rookie.
With DeMarcus Cousins and McLemore, Sacramento has two major parts for the future, but it still needs to add more.
Title Odds: 225-1
Detroit Pistons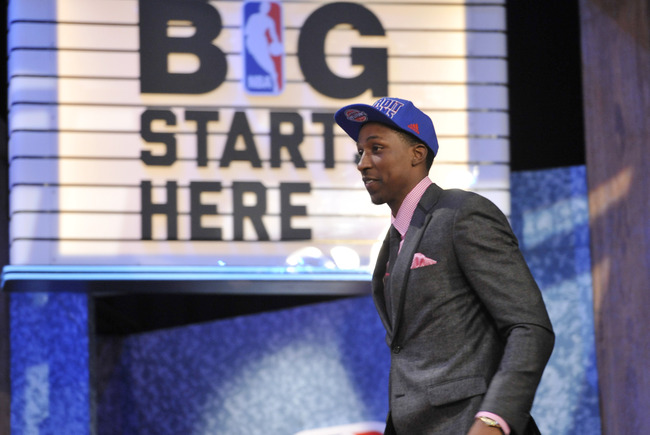 Joe Camporeale-USA TODAY Sports
The Detroit Pistons are definitely a team on the rise. Drafting Kentavious Caldwell-Pope gives the Pistons a potential star while shifting Brandon Knight back over to his more natural position at point guard. One of the two will have to become a much better distributor, though, if things are going to work out.
A lot hinges on the development of Andre Drummond as well, who played fantastic basketball during his rookie season (albeit in fairly limited doses before he was injured). This season, the Drummond-Greg Monroe duo should finally be unleashed in large quantities.
Detroit is trending in the right direction, but the trend has to continue for a while longer.
Title Odds: 200-1
Milwaukee Bucks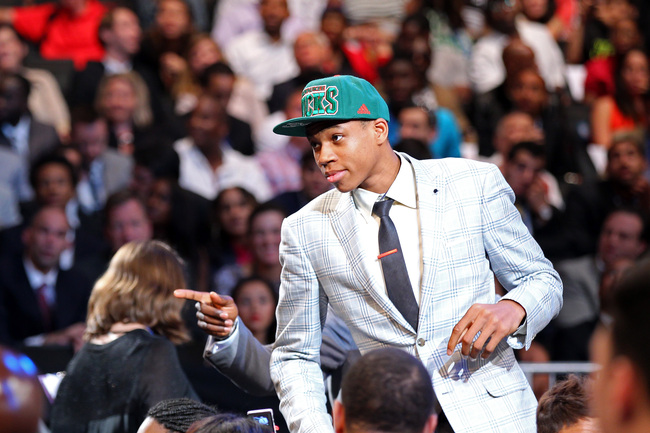 Mike Stobe/Getty Images
Larry Sanders can protect the rim all he wants, but the Milwaukee Bucks have to figure out what's going on with their backcourt.
Brandon Jennings is a restricted free agent, while both Monta Ellis and J.J. Redick are free agents of the unrestricted variety. There's a chance all of them could return, and there's also a possibility none of them could. We just don't know yet.
By drafting Giannis Adetokunbo, Milwaukee is essentially admitting that it's playing for the future, not the present. With ridiculously monstrous hands, the 6'9" forward out of Greece has a ridiculously high ceiling—if one even exists—but he won't reach it for years. He's as raw as any prospect in the NBA.
For that reason, I'd expect Milwaukee to remain fairly inactive during free agency, letting themselves slide out of playoff contention and toward a better pick in the loaded 2014 NBA draft.
Title Odds: 160-1
Orlando Magic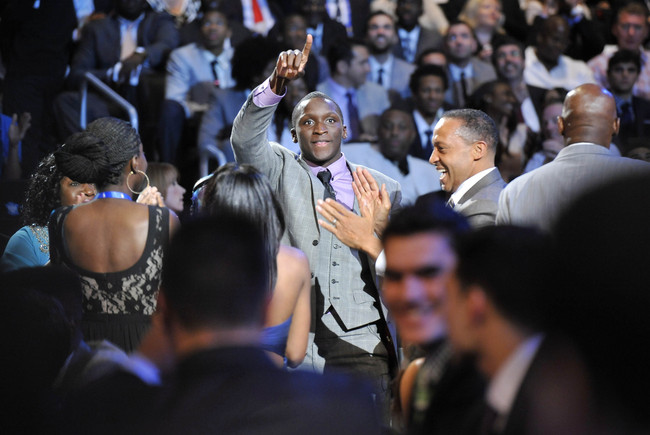 Joe Camporeale-USA TODAY Sports
The Orlando Magic are going to surprise a lot of people during the 2013-14 season. Remember, they got off to a great start last year before falling off the radar.
Young players like Tobias Harris and Moe Harkless were starting to emerge long after Nikola Vucevic established himself as a quality center in this league, but the losses piled up at the end of the season.
After selecting Victor Oladipo with the No. 2 pick, the Magic added another fantastic young player, quite possibly the safest prospect in the entire draft class. The former Hoosier's presence makes Arron Afflalo expendable, and we could soon see him traded to the Los Angeles Clippers for Eric Bledsoe.
Don't be surprised when the Magic win far more games than expected during Oladipo's rookie season.
Title Odds: 150-1
Dallas Mavericks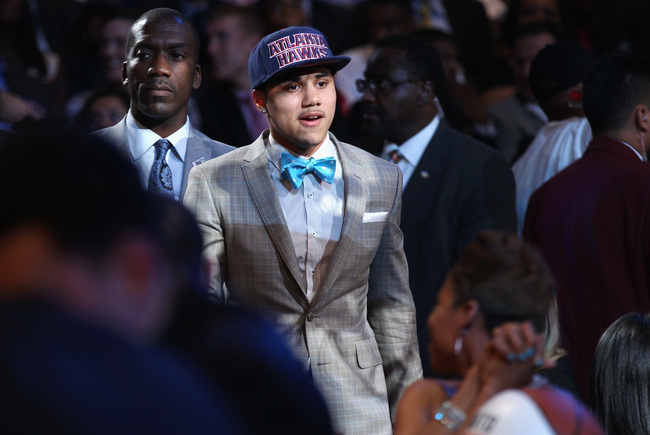 Mike Stobe/Getty Images
The Dallas Mavericks made a solid value pick when they landed Shane Larkin at No. 18 after swinging a few deals on draft night, but he's not going to be a true difference-maker in his rookie year.
If the Mavs hope to remain competitive, they'll need to pull off some big moves over the summer. You know, like convincing Dwight Howard to come to town.
Right now, the roster is looking rather threadbare. Dirk Nowitzki will be another year older, and Shawn Marion and Vince Carter are the next-best players on the squad at the moment. That's problematic.
Dallas has a ton of cap space and should be active in free agency. They have to be in order to remain competitive.
Title Odds: 130-1
Atlanta Hawks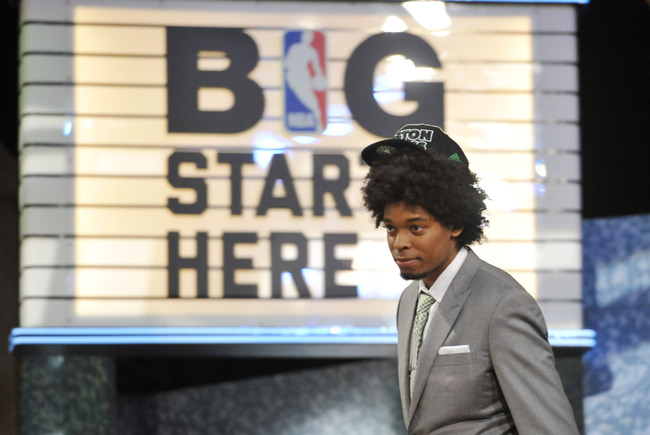 Joe Camporeale-USA TODAY Sports
The Atlanta Hawks can do just about anything during free agency, especially because they have a ton of roster spots to fill and more money to spend than anyone else in the NBA. Chris Paul and Dwight Howard coming to Philips Arena is looking increasingly unlikely, but the Hawks should be making at least one marquee move.
Everything is gearing up for the future, though.
The Hawks didn't draft like a team that wanted to compete right away. Instead, Danny Ferry made value picks at every spot, taking players with high potential. Lucas Nogueira, Dennis Schroeder and Mike Muscala could all be standout contributors down the road, but not in 2013-14.
At least this roster is a bit more complete now. After the rookies sign on, Atlanta will have Al Horford, John Jenkins, Lou Williams, DeShawn Stevenson, Mike Scott, Jared Cunningham, Nogueira, Schroeder and Muscala under contract.
Title Odds: 125-1
Cleveland Cavaliers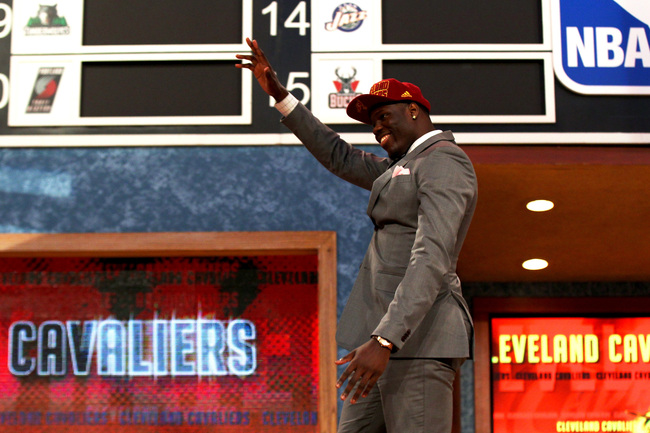 Mike Stobe/Getty Images
Leave it to the Cleveland Cavaliers to make a strange selection with the No. 1 pick. After a week or so of analyzing the Nerlens Noel vs. Alex Len matchup, we all watched with our jaws on the floor as Anthony Bennett strode up to the stage to become the league's newest top selection.
I still don't get it.
Bennett is a solid power forward, although he's a bit undersized. His physical and athletic tools are superb, and he has the jump-shooting capabilities to emerge as a quality pick-and-pop option. But if the Cavs plan on playing him at the 3, that could be problematic.
Sergey Karasev was a better pick, as the Russian forward is ready to compete from Day 1 and presented a nice value outside of the lottery.
Still, while the Bennett pick was a bit shocking, he's a talented player, allowing Cleveland to worry about fit later. With Kyrie Irving and Dion Waiters growing as a backcourt combination, Tristan Thompson continuing to emerge and Anderson Varejao hopefully healthy, the Cavs are starting to creep up into playoff contention.
Title Odds: 125-1
Los Angeles Lakers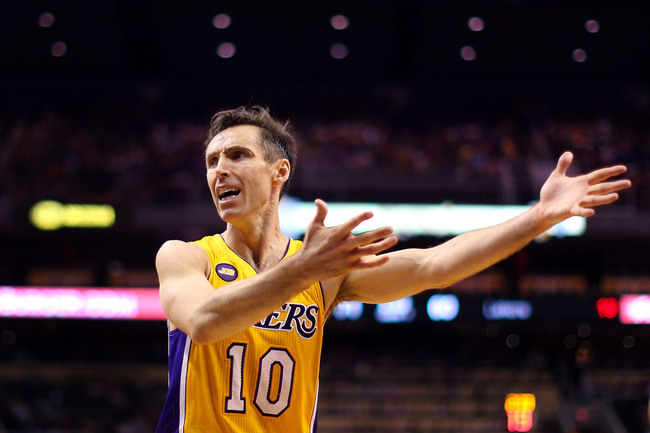 Christian Petersen/Getty Images
For the Los Angeles Lakers, everything hinges on two players.
Steve Nash must return to his old form. If he's healthy and playing at a high level, things will work a lot better for the Purple and Gold. Nash might be an aging veteran, but his game was never based on his athleticism.
The other player, of course, is Dwight Howard.
D12 is an unrestricted free agent, and it's appearing more and more unlikely that he'll re-sign with the Lakers. If he spurns them for the Houston Rockets, Dallas Mavericks, Atlanta Hawks or some other team, they're still well above the salary cap and won't be able to find a viable replacement.
Combine that with Kobe Bryant's attempted recovery from his Achilles injury, and we could be looking at a major down year for the Lake Show. They'll never tank on purpose, but there's no way to add more talent if Dwight chooses to leave town.
Title Odds: 100-1
Boston Celtics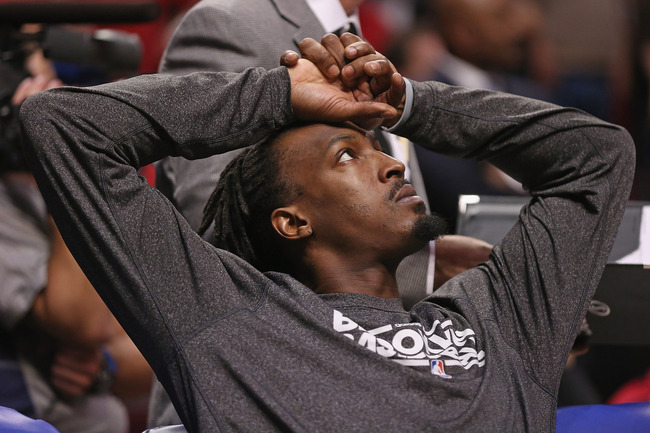 Jonathan Daniel/Getty Images
After over a decade of seeing Paul Pierce wear Celtics green, we're going to have to get used to a roster that doesn't feature "The Truth."
In a trade reported by Yahoo! Sports' Adrian Wojnarowski that stole major headlines from the draft, the C's and Brooklyn Nets agreed in principle to swap Kevin Garnett, Jason Terry and Pierce for a whole bunch of pieces, including Gerald Wallace, MarShon Brooks and the expiring contract of Kris Humphries. The move can't officially be made until the moratorium lifts on July 10, but it's virtually a done deal.
It's the end of an era in Boston, and the pieces that are left aren't all that pretty. This remains true even after adding Kelly Olynyk, Colton Iverson and Phil Pressey (signed as an undrafted free agent) on draft night.
The three future first-round picks that Boston received will help out in the future, but not for the purposes of this article.
Rajon Rondo and Jeff Green are now unquestionably the two best players on the roster, and they don't have all that much support. We could also be seeing more trades pop up in the near future as Boston moves even further into a post-Doc Rivers, post-KG, post-Pierce rebuild.
Title Odds: 90-1
Portland Trail Blazers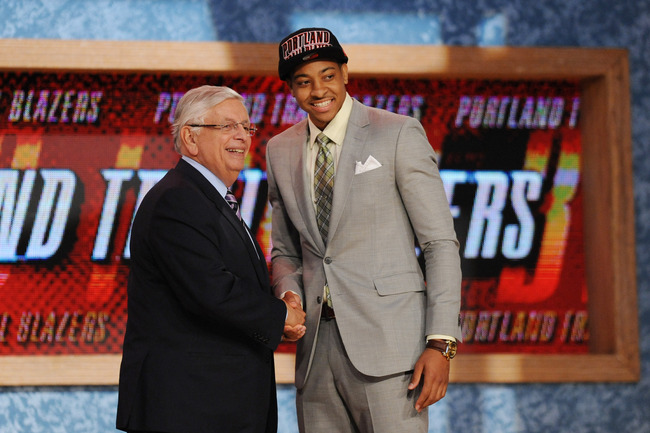 Jerry Lai-USA TODAY Sports
The Portland Trail Blazers successfully added some depth to their squad on draft night, even if their first pick was rather strange.
C.J. McCollum is a heck of an offensive talent, but his skill set doesn't exactly mesh with Damian Lillard's. It's highly unlikely the two guards will be able to coexist on the court, which means that the Blazers used a lottery pick on a guy almost guaranteed to come off the bench for a while.
Allen Crabbe and Jeff Withey were both solid selections later on, but I'm still scratching my head about the first one. And even with the Kansas product protecting the rim, the Blazers still need Meyers Leonard to take major strides forward as the center of the future.
Portland has a good deal of talent on the roster now, but there's still a chance they wear out once the end of the 2013-14 season starts to draw closer.
Title Odds: 85-1
New Orleans Pelicans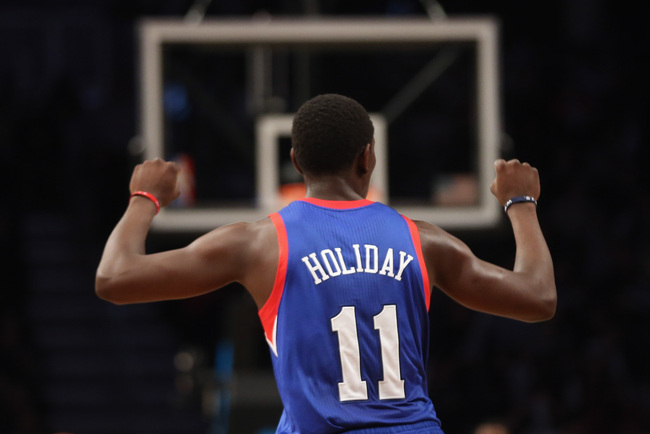 Bruce Bennett/Getty Images
The New Orleans Pelicans were the big winners of the 2013 NBA draft, and the only rookie they added was Pierre Jackson, the diminutive point guard out of Baylor in Round 2.
By trading away Nerlens Noel, who was selected at No. 6, and a top-five-protected pick in the 2014 NBA draft, the former Hornets managed to add a bona fide All-Star in Jrue Holiday.
Holiday's presence will move Greivis Vasquez over to an off-guard role, and Eric Gordon could slide over to small forward in a lineup that will always play small ball. One of the two could also be on the move soon, as NOLA looks to add a true small forward.
Add in Anthony Davis, who was fantastic when healthy as a rookie, and you're looking at true playoff contenders.
Title Odds: 75-1
Toronto Raptors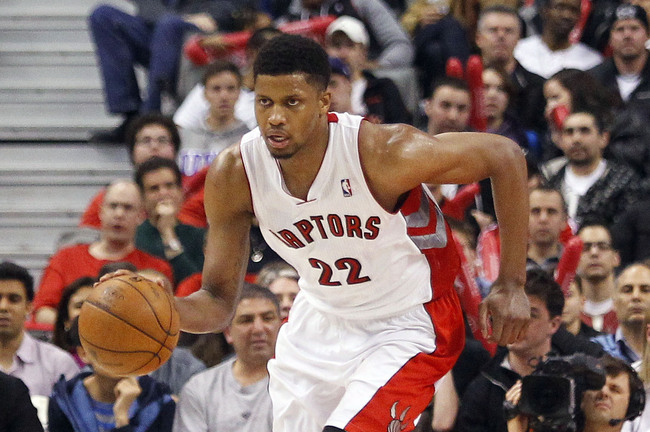 John E. Sokolowski-USA TODAY Spo
The Toronto Raptors didn't make a single move during the draft, and it's highly unlikely the Canadian franchise makes a splash during free agency since there isn't much money to play with.
That said, the Raptors look like they're in pretty solid shape to make a run at the playoffs.
Rudy Gay will be in town for a full season, while Jonas Valanciunas and DeMar DeRozan should continue to making strides. If Terrence Ross can develop as well, which I expect he will, this team becomes even more dangerous.
Toronto doesn't have all that much championship potential, but playoff potential is a different story. There's a good chance I could look back and regret having the Raptors this low in the title-odds picture.
Title Odds: 75-1
Washington Wizards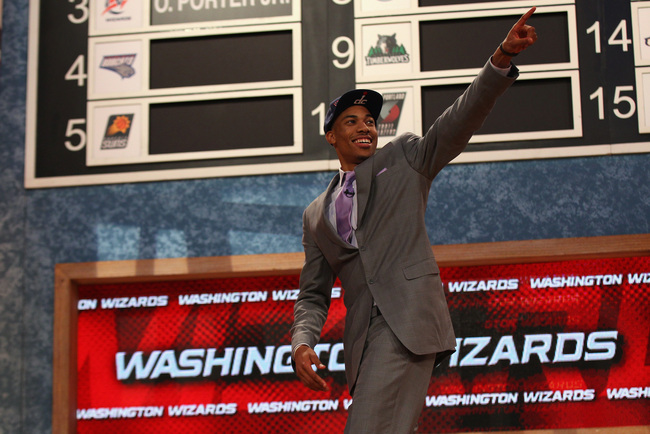 Mike Stobe/Getty Images
The Washington Wizards are no longer living in the basement of the NBA.
John Wall saw to that during the end of the 2012-13 season, and he'll continue to break out during a season that he—fingers crossed—spends with full health. Bradley Beal should be fully recovered as well, taking the next step in his development.
The Wizards added Otto Porter in the draft, a small forward who fits in perfectly with the roster. His versatile two-way skills will be quite beneficial, and he won't have to move far in his relocation from Georgetown.
Washington is going to be a trendy playoff pick in the Eastern Conference, and for good reason. This is a young squad, but it's one overflowing with backcourt talent while featuring two established big men in Nene and Emeka Okafor.
Title Odds: 55-1
Houston Rockets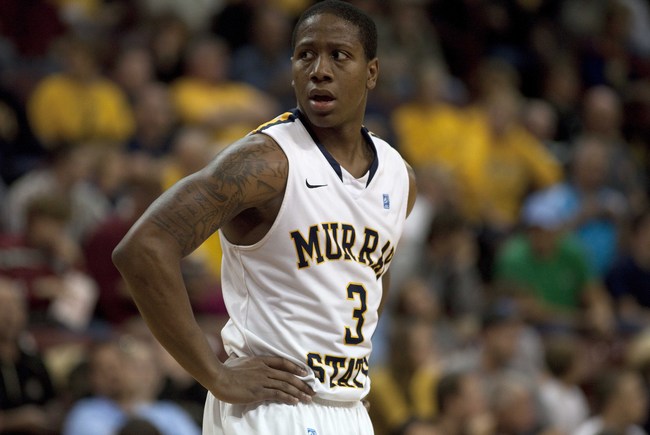 Joshua S. Kelly-USA TODAY Sports
The Houston Rockets drafted Isaiah Canaan, which was a bit questionable because Jeremy Lin and Patrick Beverley are already on the roster.
Ultimately, Houston will be making moves to pursue Dwight Howard, and landing the league's best center would quickly vault them up the rankings. But even if it's Omer Asik who remains the team's 5, this is a dangerous squad.
After a full year of developing chemistry with his new teammates, James Harden is going to look even better next season. His defense should improve as he grows more comfortable functioning as the unquestioned go-to guy on offense.
Additionally, Houston has a ton of young players who are all getting better. Just imagine what happens if Terrence Jones, Thomas Robinson or Donatas Motiejunas breaks out like Chandler Parsons did last year.
Title Odds: 50-1
Minnesota Timberwolves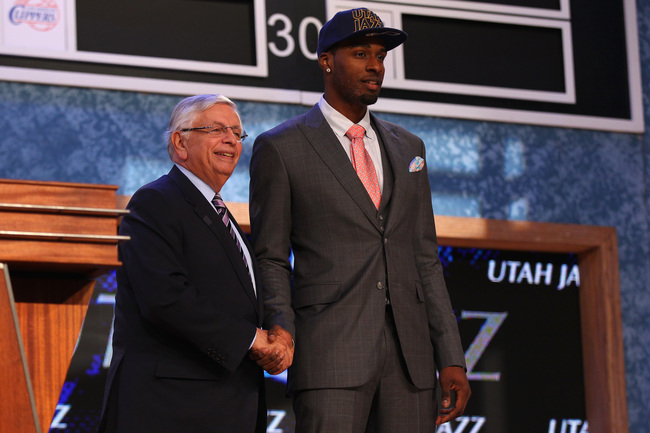 Mike Stobe/Getty Images
The Minnesota Timberwolves couldn't have been much more successful in the draft.
Flip Saunders traded down to pick up an extra first-round pick and then landed Shabazz Muhammad and Gorgui Dieng. The UCLA standout will immediately help out at shooting guard, scoring points in bunches and thriving as Ricky Rubio creates looks for him. The big man from Louisville, meanwhile, gives the 'Wolves some much-needed frontcourt depth.
The biggest key for Minnesota—assuming it re-signs restricted free agent Nikola Pekovic—will just be health, though.
Injuries plagued the up-and-coming Western Conference squad last season. Ricky Rubio's ACL prevented him from regaining his effectiveness until late in the year. Kevin Love barely played. Everyone else seemed to get hurt at some point as well.
If the injury imp stays away, Minnesota has the makings of not just a No. 8 seed in the West, but one that figures to have a serious shot at advancing out of the first round in the postseason.
Title Odds: 40-1
New York Knicks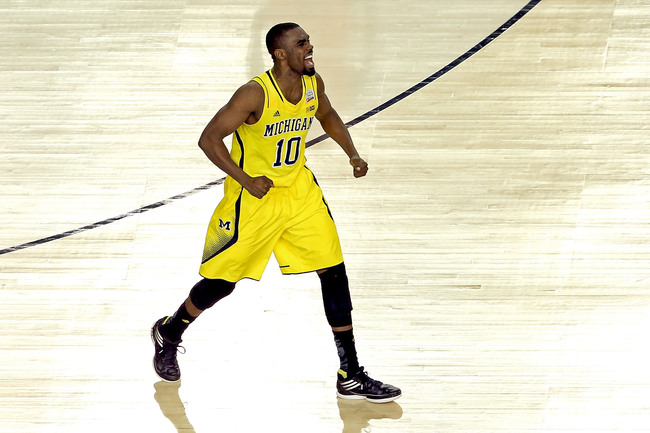 Andy Lyons/Getty Images
The New York Knicks made a great draft-day pickup by selecting Tim Hardaway Jr. out of Michigan with the No. 24 pick.
He's an NBA-ready scorer, and one who can put up points in a variety of ways. His primary asset will be his perimeter shooting, especially on a Knicks squad that loves the three-ball more than any other team.
Hardaway's presence makes re-signing J.R. Smith less of a priority, although the team could certainly use more scoring help for Carmelo Anthony, who shouldered too much of a load during the 2012-13 campaign. A healthy Amar'e Stoudemire, which could just be wishful thinking at this point, would help with that as well.
This Knicks team is talented, but it has to start getting more out of Stoudemire and Tyson Chandler. If they don't live up to their contracts, the whole experiment in Madison Square Garden will flop in rather dramatic fashion.
Title Odds: 25-1
Golden State Warriors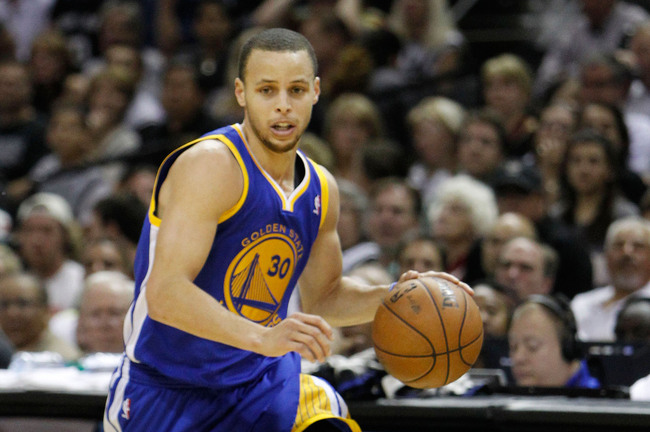 Brett Davis-USA TODAY Sports
It remains to be seen whether the Golden State Warriors' only pick of the draft, über-athletic guard Nemanja Nedovic—will play in the NBA during the 2013-14 season. He'll be evaluated during Summer League, according to ESPN's Chris Broussard.
Even if Nedovic doesn't have a presence or impact next year, the Dubs are here to stay. Their run in the playoffs was no fluke.
Stephen Curry is a bona fide superstar, and it once more looks like Harrison Barnes could be a stud in the near future. With Klay Thompson drilling three-pointers to complete the Splash Brothers duo, David Lee doing his offensive thing, and Andrew Bogut doing his defensive thing, Mark Jackson's squad is a pretty complete one.
Now retaining the primary members of the second unit, Jarrett Jack and Carl Landry, is a must.
Title Odds: 25-1
Memphis Grizzlies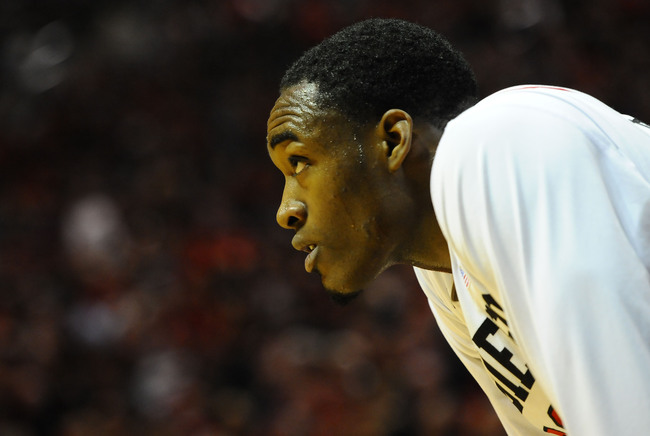 USA TODAY Sports
The Memphis Grizzlies lucked out Thursday night, sitting tight and waiting as a top-notch talent fell into their laps at No. 41. Jamaal Franklin's versatility will make him quite valuable as a rookie, and he'll quickly emerge as one of the event's biggest steals.
If the Grizz can re-sign Tony Allen now, they'll remain one of the true contenders in the Western Conference. Everything else is already in place for another run.
Mike Conley was getting better as the season progressed, while Zach Randolph and Marc Gasol should continue to form a terrifying frontcourt duo.
Memphis' series result against the San Antonio Spurs may have been rather lopsided, but the games were close and competitive. They weren't truly blown out by the eventual Western Conference champions.
Expect a similar run in 2013-14.
Title Odds: 22-1
Los Angeles Clippers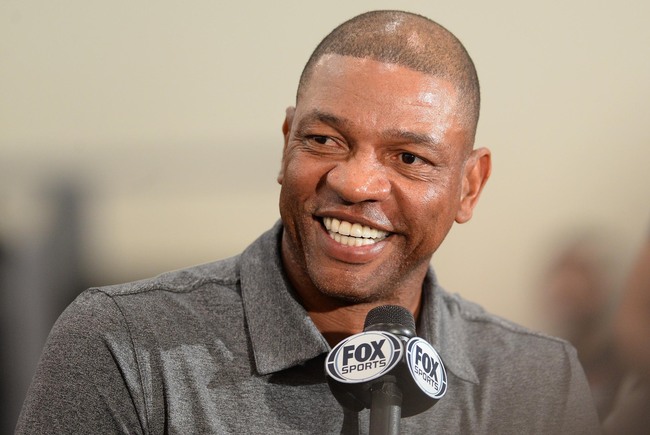 Jayne Kamin-Oncea-USA TODAY Spor
The Los Angeles Clippers may have drafted Reggie Bullock, a small forward out of North Carolina who could be the floor-spacing role player they're looking for, but the big news still revolves around Doc Rivers.
Even if Paul Pierce or Kevin Garnett didn't come with the new head coach, acquiring him lends credence to the view that the Los Angeles Clippers are serious and legitimate contenders. It also seems to be ensuring that Chris Paul will remain in L.A.
Here's the latest on that from ESPN's Marc Stein:
Whole NBA treats CP3's return to Clips on five-year max as done deal. Only one of LA's two unrestricted mega FAs will be courted this July
As long as CP3 is on the roster, this team will be competitive. And if Blake Griffin and DeAndre Jordan can take steps forward under Rivers, the Clippers will be more than just competitive.
They'll be true contenders.
Title Odds: 20-1
Brooklyn Nets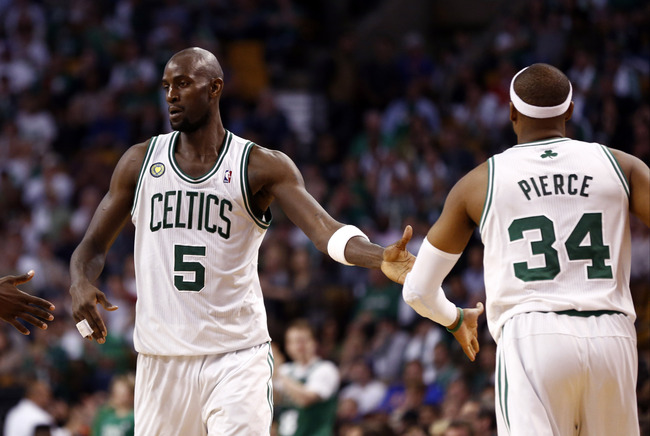 Mark L. Baer-USA TODAY Sports
If you're a Brooklyn Nets fan and didn't remember that your team drafted Mason Plumlee, I wouldn't blame you. While the Duke product is a solid backup center with a chance to be more, he's not as exciting as the other news.
In a deal that will go through after the moratorium lifts, the Nets traded Gerald Wallace, Wallace's mega contract, MarShon Brooks, 358 other players and three future first-round picks for Paul Pierce, Kevin Garnett and Jason Terry. The number of other players is an exaggeration, but only a slight one.
Now, the Nets and head coach Jason Kidd (that still feels weird to type) are looking at a starting lineup that features Deron Williams, Joe Johnson, Paul Pierce, Kevin Garnett and Brook Lopez.
That lineup is unbelievably stacked, but depth and chemistry could both pose potential problems in Year 1.
Brooklyn also didn't win this trade by as much as some think, simply because the title window won't stay open for too long. Johnson, Pierce and KG are aging and losing effectiveness (the latter two more so than Joe), although they're all good enough that the window is firmly open for the 2013-14 season.
Title Odds: 18-1
Denver Nuggets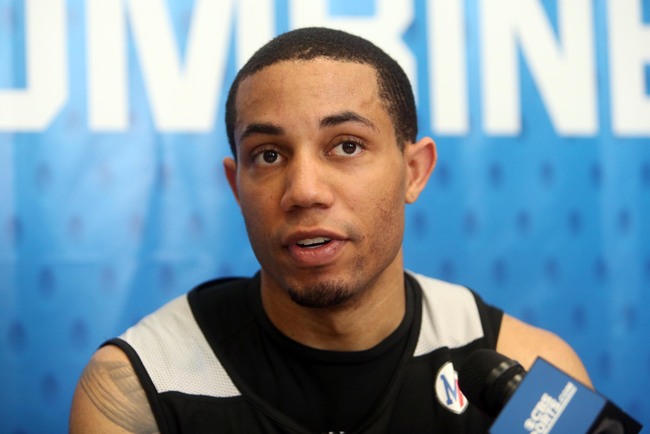 Jerry Lai-USA TODAY Sports
The Denver Nuggets needed to find a perimeter shooter who could add some semblance of spacing off the bench, and that's what they found in Erick Green. This was a savvy pick at No. 46, as it's tough to find a player who led the NCAA in scoring while balling in a major conference.
Now, the priority for Denver becomes re-signing Andre Iguodala, who opted out of the final year of his contract. If the Nuggets can't retain Iggy, they take a tumble down the rankings.
But if they bring him back, this team is truly dangerous, and I'm operating under the assumption that they will. The Nuggets may have been able to emerge out of the Western Conference if Danilo Gallinari's ACLs had remained intact, and he'll be back by the time the 2014 postseason rolls around.
A deep team with plenty of firepower, especially now that Ty Lawson has emerged as a star, the Nuggets are here to stay.
Title Odds: 15-1
Chicago Bulls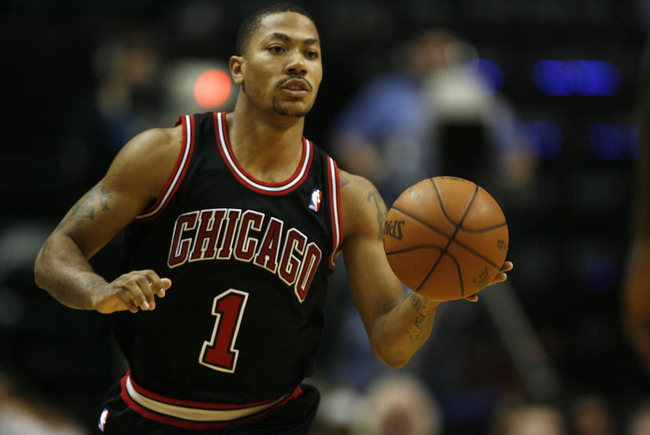 Brian Spurlock-USA TODAY Sports
It's all about Derrick Rose for the Chicago Bulls.
Even though he never managed to suit up for the team last season, and we don't yet know exactly what to expect from No. 1, he's sure to return at an MVP level in the Windy City for the 2013-14 campaign. Let's not forget just how good this guy is when healthy.
With Rose, Joakim Noah, Luol Deng and Jimmy Butler, who appeared to take some major leaps forward in Rose's absence, the Chicago Bulls will once more be in the competition for the top seed in the East. Although drafting Tony Snell and Erik Murphy won't help out much this season, everything is gearing up for another great year.
Title Odds: 8-1
Indiana Pacers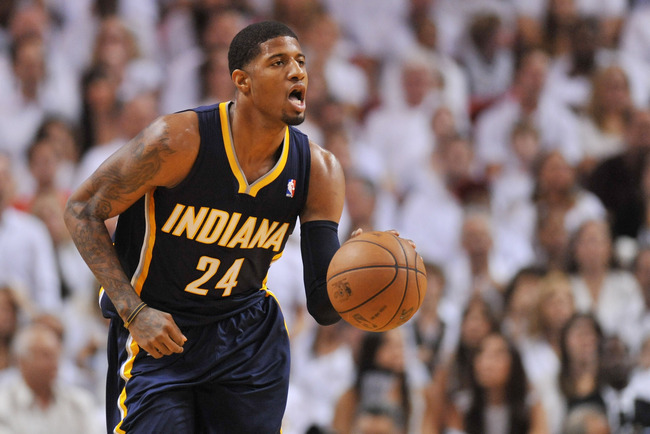 Steve Mitchell-USA TODAY Sports
The Indiana Pacers' selection of Solomon Hill was one of the worst picks in the 2013 draft, but that doesn't knock them down in the order here.
Even without adding a player who will contribute as a rookie, the Pacers remain true contenders in the East. They proved that this past postseason by pushing the Miami Heat to the brink, as Paul George went head-to-head with LeBron James.
George could be a top-10 player if his efficiency and ball-handling improves, and he's joined by Roy Hibbert, who emerged as one of the better centers in the NBA toward the end of the season and during the playoffs.
If David West is brought back—and there's no reason he shouldn't be—all the pieces are in place for another deep playoff run.
Title Odds: 7-1
San Antonio Spurs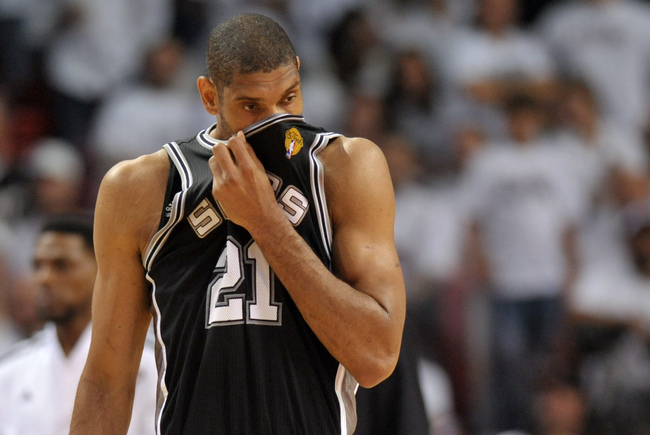 Steve Mitchell-USA TODAY Sports
If we've learned one thing over the last few years, it's not to count out the San Antonio Spurs. No matter how old their core players get, Gregg Popovich and the magical black-and-white jerseys ensure they'll stay competitive.
The Spurs came within just one rebound or one made free throw of winning the 2013 title, but ultimately fell short to the Miami Heat.
That seems to be the impetus necessary for Tim Duncan and Manu Ginobili to stay in the league. Even if their play falls back a bit, or even if Manu leaves in free agency, the rising star named Kawhi Leonard ensures that this squad will remain at or near the top of the Western Conference.
The Spurs have some decisions to make in the offseason, namely what to do with Ginobili and Tiago Splitter, but there's no reason to doubt the capabilities of this organization.
Title Odds: 5-1
Oklahoma City Thunder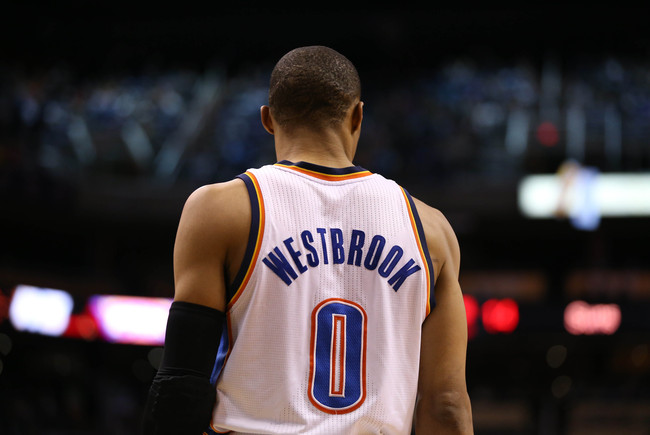 Mark J. Rebilas-USA TODAY Sports
Would the Oklahoma City Thunder have advanced through the playoffs had Russell Westbrook's meniscus not been inadvertently destroyed by Patrick Beverley? Maybe yes, maybe no. It will remain an unsolved mystery.
That said, the Thunder are going to be even better in 2013-14 than they were in 2012-13, and they already had the best record in the West last season.
Kevin Durant, Russell Westbrook and Serge Ibaka are all young enough that they have yet to hit their primes. Perry Jones III and Jeremy Lamb could also become bigger contributors during their second seasons in the NBA, and Steven Adams will be a nice defensive presence off the bench during his first.
If Kevin Martin is brought back, all the key parts are still in place. And even if he isn't, the Thunder have enough firepower to compensate for the loss of their sixth man.
The health of Westbrook and Durant, as we learned in that first-round series against the Houston Rockets, is of paramount importance, but there's no reason to think either will be seriously injured again. After all, Westbrook had never missed a single game in his career before that fateful meniscus injury.
Title Odds: 3-1
Miami Heat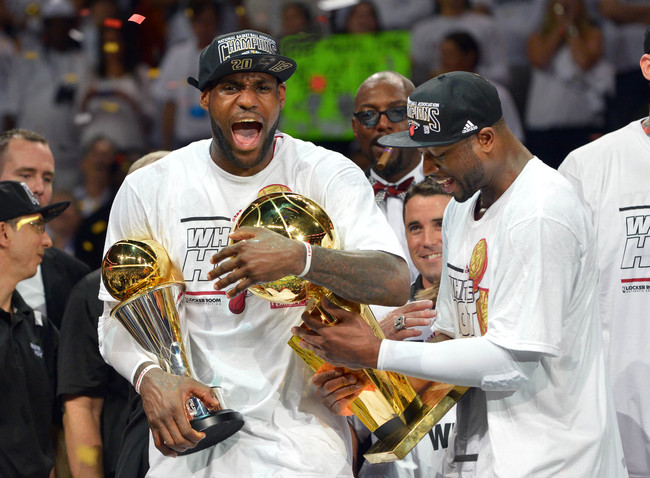 Steve Mitchell-USA TODAY Sports
Did you honestly expect to see anyone else here?
The defending champions usually get the top spot in the title odds, and that's especially true when coming off back-to-back championships. Such is the case for the Miami Heat, who still have LeBron James, Dwyane Wade and Chris Bosh on the roster.
Even though Wade and Bosh declined during the playoffs, this is still the premier Big Three in the NBA. That, of course, is mostly due to LeBron James, who is now head, shoulders and chest above every other player in the league.
Part of Miami's success must be attributed to the quality role players, but even if some leave, others will come flowing in for a chance to be a part of a three-peat.
Until the Heat give us a reason to think they've cooled off, they remain in the No. 1 spot.
Title Odds: 2-1
Keep Reading