NBA Reincarnations: Comparing Top 25 NBA Players to Historical Counterparts
Jamie Squire/Getty Images
First of all, who are the top 25 players in the NBA? Secondly, who does each one remind us basketball fans of?
This article attempts to answer both of those questions, as each slide contains one of the top 25 players in the league today and then provides a description of why he matches up with his historical counterpart.
Some players are unique enough that stretches had to be made to even find that historical counterpart, but others seem to fit perfectly.
For this trip down memory lane that also relates to the present, read on!
Adam Fromal is a Featured Columnist at Bleacher Report and a syndicated writer. Follow him on Twitter @Fromal09.
25. Kevin Love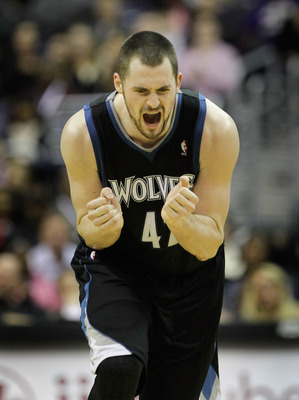 Rob Carr/Getty Images
Coming up with a comparison for Kevin Love wasn't too easy because he's a big man with incredible rebounding prowess who can score both inside and outside.
Love even made 1.2 three-pointers per game during his breakout 2010-11 campaign.
Playing for the Syracuse Nationals from 1949-1963 and then the Philadelphia 76ers during his final season, Love's historical counterpart averaged 18.5 points and 12.1 rebounds per game during his NBA career. In his sophomore season in the league, he actually managed to average 16.4 rebounds per contest.
The 6'7" center, who is now in the Hall of Fame, was also well known for his outside set shot that followed a rainbow-like trajectory en route to the basket. It went so high that his teammates nicknamed the shot "Sputnik."
Historical Counterpart: Dolph Schayes
24. LaMarcus Aldridge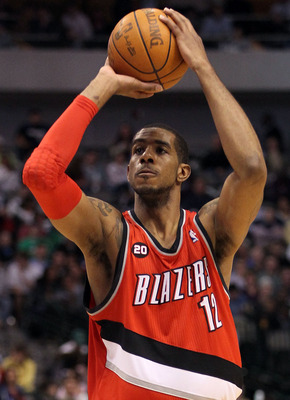 Ronald Martinez/Getty Images
LaMarcus Aldridge shot up the rankings into the top 25 thanks to a breakout campaign that should have landed him a spot on the Western Conference All-Star team. But alas, he was the year's biggest snub.
Aldridge, thanks to his size and athleticism, has the ability to competently play small forward, power forward or center. With a surprisingly good perimeter game, stellar defensive skills and a knack for grabbing rebounds, Aldridge is actually pretty easy to find a counterpart for.
In fact, these two men even have a very similar shooting technique. The only difference is that Aldridge doesn't really have a penchant for racking up the technical fouls.
Historical Counterpart: Rasheed Wallace
23. Zach Randolph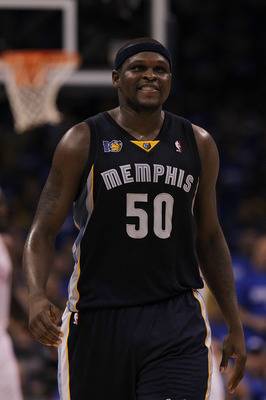 Ronald Martinez/Getty Images
To find a historical counterpart for Zach Randolph, we need to find a big man with a remarkable lack of athletic ability who seems barely able to dunk the ball home, but still manages to score in the low post proficiently, while pulling down a number of rebounds.
That man is none other than the player who Kelly Dwyer of Sports Illustrated once wrote "could have been the best power forward ever; instead he played just well enough to ensure his next paycheck."
Thanks to a lack of work ethic, the 6'10" Syracuse alum was content to be very good but not great. The same has been true about Randolph for most of his career.
Historical Counterpart: Derrick Coleman
22. Pau Gasol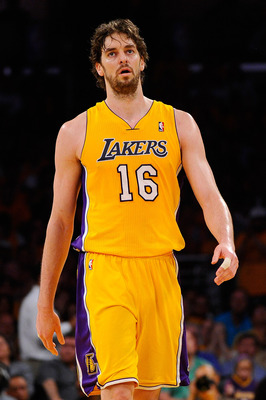 Kevork Djansezian/Getty Images
Right now, there may not be a power forward in the NBA with more low-post moves than Pau Gasol, the high-scoring Spaniard with the Los Angeles Lakers.
It may be breaking the unwritten rules of NBA history to compare a current Laker with a historically great member of the Boston Celtics, but I'm going to have to break it here. After all, Gasol spent most of his career with the Memphis Grizzlies before the Lakers stole him away in 2008.
Although it's over-exaggerating his arsenal of post moves, I have to compare him here to the master of faking out defenders in the paint.
Historical Counterpart: Kevin McHale
21. Rudy Gay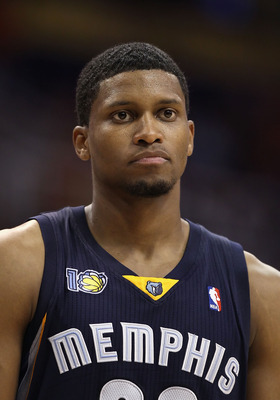 Christian Petersen/Getty Images
Rudy Gay's historical counterpart happens to be the exact same height and almost the same weight as him. Gay is 6'8" and 230 pounds—just seven pounds more than the former Toronto Raptor he's compared to.
Both of these men can shoot the ball proficiently and attack the basket to finish with a rim-rattling slam dunk. Additionally, each plays good defense and has a flair for the dramatic.
While his historical counterpart became a superstar and then disappeared in the wake of some horrible injuries, Gay suffered his injury on the way to becoming a superstar. That's one of the few differences between the two.
Historical Counterpart: Tracy McGrady
20. Paul Pierce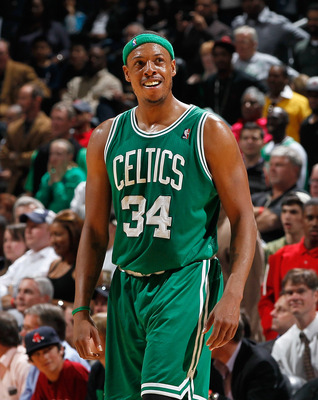 Kevin C. Cox/Getty Images
Paul Pierce is one of the players for whom I had the most difficulty coming up with a historical counterpart.
Pierce's game consists largely of awkward-looking drives to the basket and mid-range jump shots, with the occasional exciting slam dunk or three-point shot added in. But that said, he can score with the best of them.
The man to whom he's being compared thrived while wearing the No. 2 jersey for the Denver Nuggets and was one of the most underrated scorers of the 1980s. The all-time leading scorer in that franchise's history, he was No. 6 in NBA history in points scored at the time of his retirement.
Historical Counterpart: Alex English
19. Chris Bosh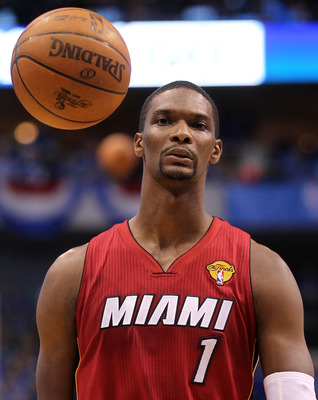 Mike Ehrmann/Getty Images
Both Chris Bosh and his historical counterpart are big men who made their living off mid-range jumpers and quick post moves. Although Bosh was the less powerful dunker (and it wasn't really even close), the rest of their games are quite similar.
Additionally, Bosh and the long-time member of the Los Angeles Lakers are both considered to be fantastic teammates, content to be the man not in the spotlight.
Just like "Big Game James" was the No. 3 guy in LA behind Kareem Abdul-Jabbar and Magic Johnson, CB4 is the No. 3 guy in South Beach behind LeBron James and Dwyane Wade.
Historical Counterpart: James Worthy
18. Stephen Curry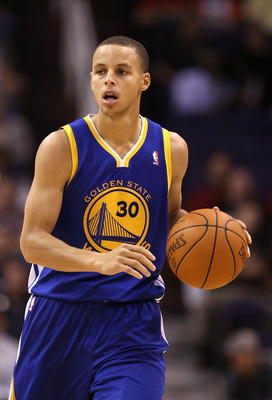 Christian Petersen/Getty Images
At this point in his career, Stephen Curry is still a player who hasn't fully developed. But he already deserves his status as a fringe All-Star at the point guard position in the high-flying Golden State Warriors offense.
With a great three-pointer and a knack for creativity with the ball, Curry is an offensive weapon both in the lane and from downtown. He also may already be the absolute best free-throw shooter that the NBA currently has to offer after blowing the competition away this past season, much like his historical counterpart did during the 1990s.
Famous for his time with the Denver Nuggets, it's pretty amazing how similar the 6'1" point guard's game was to Curry's.
Historical Counterpart: Mahmoud Abdul-Rauf
17. Andre Iguodala
Marc Serota/Getty Images
The versatility of this point-forward is unbelievable. Andre Iguodala is a threat in all aspects of the game. He's a good passer, a great scorer, a solid rebounder and a very gifted perimeter defender.
My one big knock on Iguodala is that he shouldn't be the No. 1 option on a team, as he's been expected to be for the Philadelphia 76ers. He'd be much more successful as the Robin to some other team's Batman.
Let's think for a second. Can you remember any versatile forwards that contributed in every aspect of the game and played better as a second fiddle?
I can.
Historical Counterpart: Scottie Pippen
16. Monta Ellis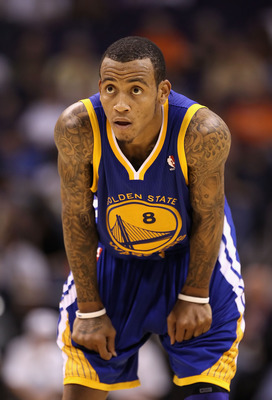 Christian Petersen/Getty Images
One of the premier offensive talents in the league without a shred of hope on the defensive side of the court, Monta Ellis is right at home in the video-game offense of the Golden State Warriors, a team that doesn't even know what the word "defense" means.
Ellis is fast as lightning, both when he has the ball and when he's playing off the ball. His slashing ability is bolstered by creativity in the lane and he just seems to have a knack for lighting up the scoreboard.
Even though he's all of 6'3", The "Mississippi Missile" still reminds me of a showy and blazingly fast guard who played for the Philadelphia 76ers.
Historical Counterpart: Allen Iverson
15. Steve Nash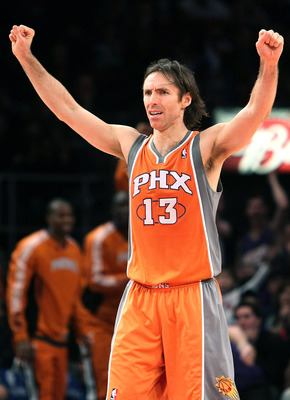 Nick Laham/Getty Images
The best passing point guard in the league for quite some time now (not in terms of excitement, just efficiency) has to be compared to the most efficient assist man of all time.
Steve Nash has averaged over 11 dimes per game since he rejoined the Phoenix Suns, and if any player has a shot at passing the all-time mark in that category, it would be the Canadian point guard. I seriously doubt that he'll reach that unattainable milestone set by the legendary Utah Jazz point guard, but he could at least make Karl Malone's old running mate sweat a little bit.
Both players are known for their fantastic decisions with the ball and ability to make any pass on the court.
Historical Counterpart: John Stockton
14. Russell Westbrook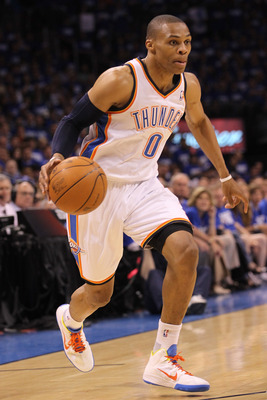 Ronald Martinez/Getty Images
I have to apologize here for making Russell Westbrook's historical counterpart a player that you've already seen on this list, but it was necessary.
Even though they didn't play the same position, both Westbrook and the old Chicago Bull are very versatile players with tremendous athleticism. Other than Derrick Rose, Westbrook is the most athletic point guard in the league right now.
Westbrook also is the second fiddle to Kevin Durant in Oklahoma City, much like his counterpart part was to Michael Jordan back in the day. His defensive skills and offensive versatility, as well as his surprising rebounding prowess, are all reminiscent of the small forward to whom he's being compared.
Historical Counterpart: Scottie Pippen
13. Blake Griffin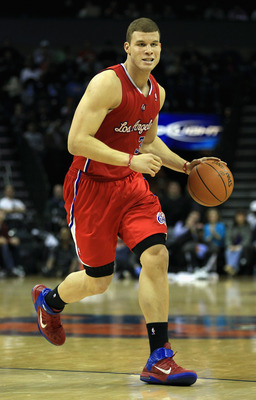 Streeter Lecka/Getty Images
Finding a historical counterpart for the ultra-exciting dunking machine known as Blake Griffin was incredibly hard, but I believe that I found the perfect match in the end.
Griffin, as everyone knows by now, is known for his ridiculously powerful dunks and insane athletic ability. Those two traits allowed him to move all the way to No. 13 in these rankings despite having played only one season in the NBA.
Back in the late 1990s there was another man who was drafted near the top of the NBA draft by the Los Angeles Clippers, although he never played for them. Known for his dunking and athleticism, much like Griffin is, this former Denver Nugget and Phoenix Sun would surely have been as popular as Griffin has become if he had played in the YouTube era.
I really hope that's where the similarities end, though, because this historical counterpart ruptured his patellar tendon and never was the same player again.
Historical Counterpart: Antonio McDyess
12. Rajon Rondo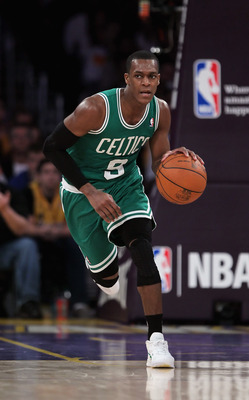 Jeff Gross/Getty Images
More so than any other point guard in the league right now, Rajon Rondo is known for his flair with the basketball.
He has been known to throw quite a few behind-the-back passes during games, and his court vision is unbelievable. But the move I associate the most with Rondo is when he fakes a behind-the-back pass, cradles the ball and finishes with an easy layup.
Who better to compare Rondo to than the original Houdini of the Hardwood?
Historical Counterpart: Bob Cousy
11. Deron Williams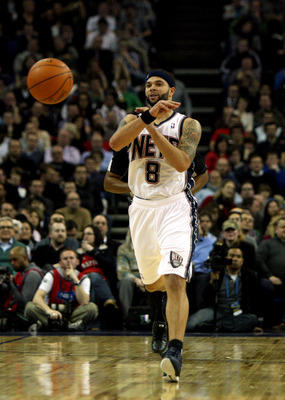 Warren Little/Getty Images
He may not have the same killer crossover as his historical counterpart, but Deron Williams does possess the incredible all-around game necessary to be one of the all-time great point guards that this league has seen.
Williams has the passing ability, the scoring instinct and the athleticism necessary to do anything and everything that you could want your point guard to do.
In a way, Williams is a very unique player because we really haven't seen that many players in the history of the Association that have played point guard, had that fabulous skill set and had the size that Williams possesses.
But I have to pick a guy, so here we go.
Historical Counterpart: Tim Hardaway
10. Amar'e Stoudemire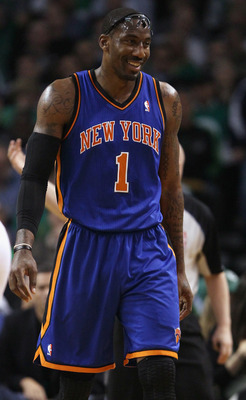 Elsa/Getty Images
With Amar'e Stoudemire, it's all about power. More of a power forward than a center, Stoudemire may have his fair share of finesse finishes around the rim, but the goggled one is much happier when he gets to slam the ball through the rim for two points.
Although he may not have the same athletic ability, the style of play that Stoudemire utilizes is very similar to a former Seattle SuperSonic.
If you watch highlights of the two, you can't help but notice this fact.
Historical Counterpart: Shawn Kemp
9. Carmelo Anthony
Nick Laham/Getty Images
Carmelo Anthony is a fantastic scorer, thanks more to his power than anything else. Although he seems content at various times to settle for jump shots, his unbelievable strength is more than enough to help him bull through defenders at will and finish at the rim.
'Melo also has his fair share of athleticism, although I would by no means say that it's his calling card.
For his historical counterpart, I've chosen a former New York Knick. This small forward spent 1982-1987 in the city that never sleeps and dazzled crowds with his ability to score seemingly at will.
Historical Counterpart: Bernard King
8. Dirk Nowitzki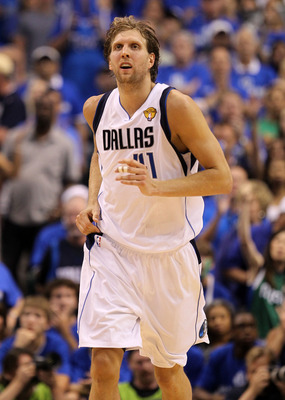 Ronald Martinez/Getty Images
I truly believe that Dirk Nowitzki is a unique player, one who really shouldn't be compared to any other player in the history of the NBA. But just as I've done with the other players, I have to come up with a historical counterpart.
Because they were both bigger players with incredible jump shots, I've selected one of the all-time greats for this role.
Both games could be described as awkward at times and competitive fire oozed out of both players' pores.
Historical Counterpart: Larry Bird
7. Derrick Rose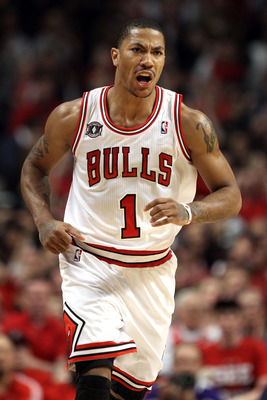 Jonathan Daniel/Getty Images
The NBA's reigning MVP is also the most athletic and explosive point guard in the history of this great sport. Derrick Rose's highlight reel from this past season alone is absolutely jaw-dropping.
With a terrific crossover and blow-by first step, D-Rose can get to the rim at ease.
Who better to compare him to than the man formerly known as the most athletic and explosive point guard ever?
Historical Counterpart: Kevin Johnson
6. Chris Paul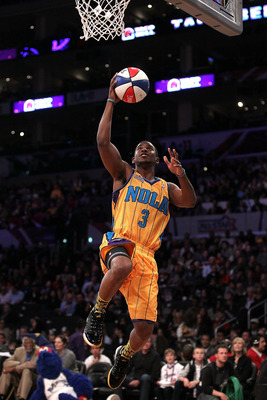 Jeff Gross/Getty Images
A tremendous all-around point guard with an unrelenting desire to come out on top no matter what, Chris Paul had a rather easy historical comparison.
Just like "Zeke," Paul had the deft scoring ability and a distinctive lack of talent in the height department. But the latter characteristic has never mattered to either player.
The Detroit Piston was a lot meaner (or at least seemed so) than the New Orleans Hornet, but that's one of the few differences.
Historical Counterpart: Isiah Thomas
5. Dwight Howard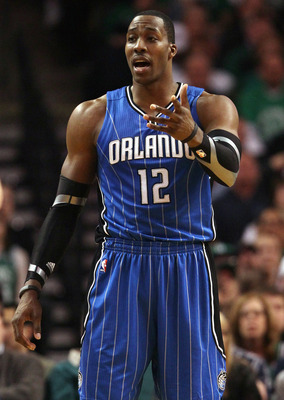 Elsa/Getty Images
From the very get-go you can see the similarities between Dwight Howard and his historical counterpart. You really need to look no further than the shoulders, as "Superman" and "The Admiral" have two of the most massive sets of deltoids you will ever see.
As for their brands of basketball, Howard and the former San Antonio Spur do play rather similarly thanks to their penchant for powerful dunks and defensive highlights.
Both of them are also very well liked and well respected, both on and off the basketball court.
Historical Counterpart: David Robinson
4. Kobe Bryant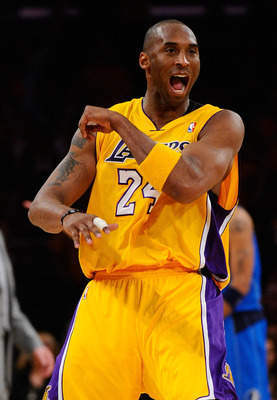 Kevork Djansezian/Getty Images
Let's look at the checklist:
1. The rings (check)
2. The all-around game (check)
3. The scoring ability (check)
4. The killer instinct (check)
5. The ability to come up big when it counted (check)
If any player can be compared to the greatest player to ever pick up a basketball, it would have to be Kobe.
Historical Counterpart: Michael Jordan
3. Kevin Durant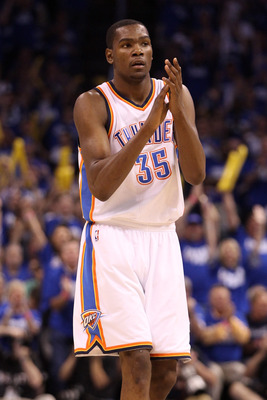 Christian Petersen/Getty Images
With two scoring titles in his four seasons in the league, Kevin Durant is undoubtedly the most talented scorer in the NBA right now.
However, the way he gets his points isn't through a bunch of slam dunks and plays around the rim. Although he has quite a few of those, Durant is much more of a jump shooter than anything else.
His game reminds me a lot of a man who was more famous for his finger roll than his dunking prowess.
Historical Counterpart: George Gervin
2. Dwyane Wade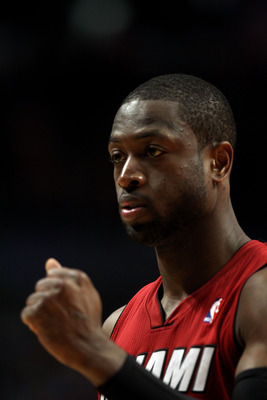 Jonathan Daniel/Getty Images
Dwyane Wade's historical counterpart is remarkably similar to him.
D-Wade is one of the premier slashers in the game today, a player who can seemingly get to the rim at will. His aerial acrobatics are impressive enough before you add in the fact that he's a good passer and a great jump shooter.
If there was any player who could be compared to Wade, it would have to be the longtime small forward for the Lakers who will forever be remembered as one of the most impressive and exciting players to play the game.
Historical Counterpart: Elgin Baylor
1. LeBron James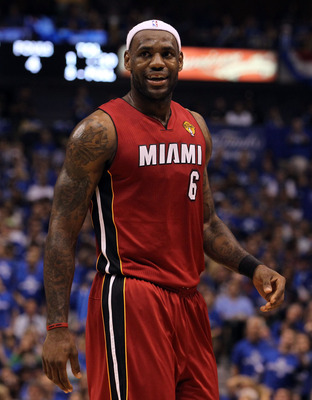 Ronald Martinez/Getty Images
One of the most unique talents in the NBA, LeBron James has a fantastic blend of size, skill and athletic ability. He's a great shooter, scorer, defender, rebounder, passer and chase-from-behind blocker.
It's only fair to James that he is compared to a versatile player like this Los Angeles Lakers great. His historical counterpart basically invented the point-forward role while threatening for a triple-double on a nightly basis.
If anything, LeBron James is a blend of the best aspects of many of the greatest players in the history of the league. The only thing he's missing is Jerry West's clutchness and Reggie Miller's deadly accurate three-point shot.
Historical Counterpart: Magic Johnson
More on the NBA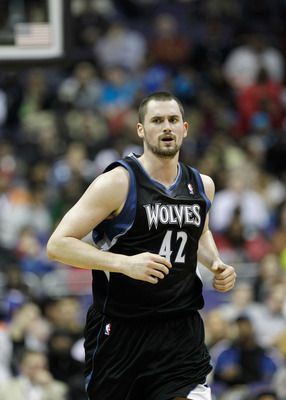 Rob Carr/Getty Images
Keep Reading