NBA Playoffs 2011: Ranking Phil Jackson and Head Coaches for Each Playoff Team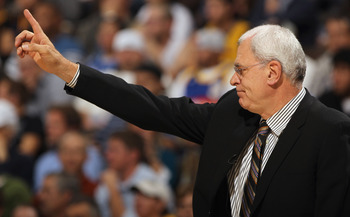 Doug Pensinger/Getty Images
The NBA Playoffs come down to many things. Teamwork, clutch shooting, defense and discipline are just a few of the attributes championship teams need. However, the biggest and possibly most underrated aspect of playoff basketball is coaching.
With such a wide open field in this year's playoffs, the coaching angle of the game will be magnified. Whether a team decides to push the ball, concentrate on defense, lock down the other team's star or simply stick to their brand of basketball will be up to the coaches.
This year's group of coaches is extremely diverse. There are first-year coaches, veteran coaches, coaches on the hot seat, coaches rumored to retire and coaches looking to build a legacy in the NBA.
Let's go ahead and get this playoff party started. Here are the power rankings for the playoff head coaches.
16. Frank Vogel, Indiana Pacers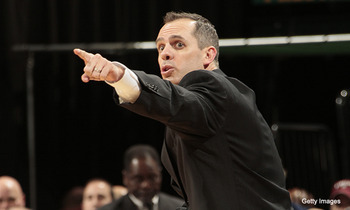 http://cdn.bleacherreport.net/images_root/slides/photos/000/716/734/frank-vogel-pointing_display_image.jpg?1297470758
Career Record: 20-17
Playoff Record: 0-0
Why he goes here: This one is probably the easiest placement. Vogel happens to be the only coach on this list that probably won't have this job at the beginning of next year.
On January 30th, then head coach Jim O'Brien was fired by the Pacers. Subsequently, Indiana hired his assistant Frank Vogel.
Vogel has done a solid job for the Pacers in his short run. He has been able to revive the play of big man Roy Hibbert along with Darren Collison, adding to his short head coaching resume.
However, the front office did not help Vogel in his quest to give the Pacers a chance. They had expiring contracts in Mike Dunleavy, T.J. Ford, and Jeff Foster. For one reason or another, Larry Bird elected to not deal them for quality talent.
Don't expect a lot of playoff victories from Vogel and the Pacers, considering they are easily the least talented and most inexperienced team left.
15. Lionel Hollins, Memphis Grizzlies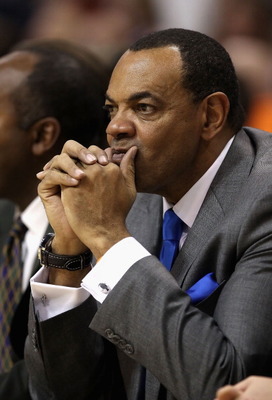 Christian Petersen/Getty Images
Career Record: 117-148
Playoff Record: 0-0
Why he goes here: Lionel Hollins has improved the Grizzlies each of the last three years. However, there is a sense of underachievement when surveying the Grizzlies roster.
With All-Stars like Rudy Gay, Zach Randolph and Marc Gasol, the Grizzlies should be better than eighth in the Western Conference.
Memphis also has a quality point guard they can build around. Mike Conley took a big step forward in 2010-2011, proving to many why the Grizz decided to sign him to a long-term extension.
On top of those four core players, Memphis has plenty of talent surrounding them. Guys like the scoring O.J. Mayo, promising rookie Xavier Henry, quality backup Darrell Arthur, veteran defender Shane Battier and spark plug Tony Allen are all viable players for Memphis.
14. Larry Drew, Atlanta Hawks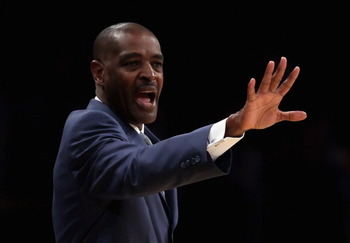 Jeff Gross/Getty Images
Career Record: 44-37
Playoff Record: 0-0
Why he goes here: Most of you will think that putting Larry Drew at 14 is absolutely crazy, and it probably is. However, consider what Atlanta has done in previous years before Drew arrived.
In 08-09 the Hawks went 47-35. In 09-10 Atlanta improved to 53-29. At 44-37 this year, it does not take a rocket scientist to figure out that Atlanta has their worst record in years.
Adding to the case against Drew, the Hawks have a plethora of stellar talent. All Stars Joe Johnson, Josh Smith, and Al Horford make up the core of the Hawks.
Going into the playoffs Atlanta has lost five games in a row, including losses to playoff teams such as San Antonio, Miami, and Indiana. It's safe to say Drew does not have his troops rolling heading into the post season.
13. Monty Williams, New Orleans Hornets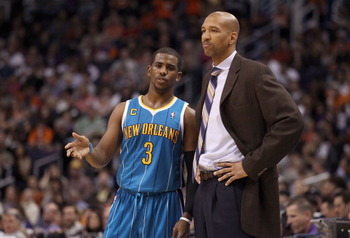 Christian Petersen/Getty Images
Career Record: 46-35
Playoff Record: 0-0
Why he goes here: For being a first year head coach, Monty Williams has done an exceptional job. Outside of Chris Paul, the Hornets can be considered the team with the least talent left in the playoffs.
Williams has established a "defense first" mentality in New Orleans. The Hornets are currently fourth in the league in points allowed per game at 93.7.
New Orleans also does a great job of handling the ball, only turning it over 13 times a game. Role players like Trevor Ariza, Marco Belinelli, and Carl Landry do a great job of playing within themselves.
Unfortunately for the Hornets, they play the Spurs in the first round. A team like San Antonio is a horrible match up for New Orleans. They both play similar "protect the ball" styles, which means Monty Williams won't be able to exploit the Spurs weaknesses.
12. Erik Spoelstra, Miami Heat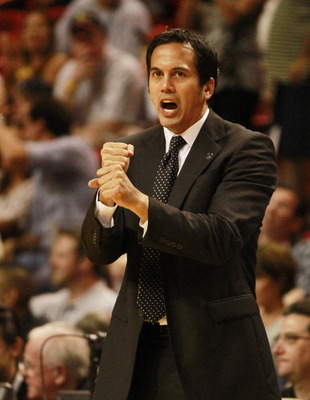 Marc Serota/Getty Images
Career Record: 147-98
Playoff Record: 4-8
Why he goes here: Erik Spoelstra and the Miami Heat are in their most exciting season in franchise history. The Heat signed superstar LeBron James, team captain Dwayne Wade, and All Star Chris Bosh to long term deals this summer.
The move was tabbed the biggest off season free agent signings in NBA history. However, with huge talent comes even bigger expectations.
The Heat got off to a sluggish start to the year. Fans were critical, and many wanted to see Pat Riley control the sidelines instead. Suprisingly, Riley elected to watch from the stands and stick with the young Spoelstra as head coach.
Now that the Heat have been through a roller coaster ride, Spoelstra has the team streaking into the playoffs. Miami has won six of seven and seems poised for a quality playoff run.
11. Scott Brooks, Oklahoma City Thunder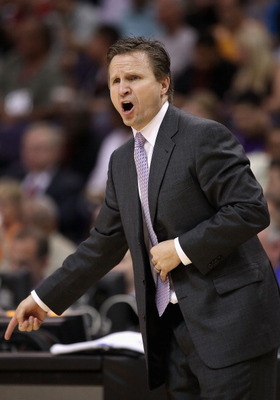 Christian Petersen/Getty Images
Career Record: 127-104
Playoff Record: 2-4
Why he goes here: Like the Thunder's roster, Scott Brooks is a young up-and-coming coach. Just 45 years old Brooks has the Thunder in position to do some very special things.
The Thunder boast a rare combination of youth and talent. They have all world small forward Kevin Durant, who has been unstoppable the last two years. Oklahoma City also has blossoming point guard Russell Westbrook, who is insanely explosive and athletic.
Oklahoma City also made an impactful move before the trade deadline. They shipped forward Jeff Green along with center Nenad Kristic to Boston for bruising center Kendrick Perkins and spark plug Nate Robinson. Perkins has been rounding into form recently, and it will be interesting to see how much impact he has in the playoffs.
Don't sleep on Scott Brooks and the Thunder, especially after they went toe-to-toe with the Lakers in last year's playoffs.
10. Tom Thibodeau, Chicago Bulls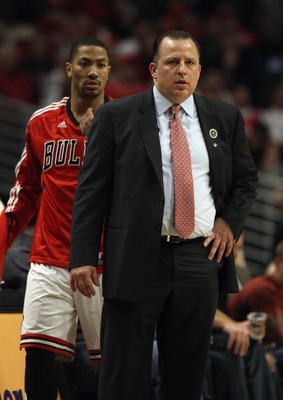 Jonathan Daniel/Getty Images
Career Record: 60-20
Playoff Record: 0-0
Why he goes here: Tom Thibodeau is a first year coach who holds himself like a veteran. He has brought his defensive oriented coaching style to Chicago very successfully.
Although he is a rookie head coach, Thibodeau is not short on experience. He had assistant coaching jobs all over the NBA, most notably in New York, Houston, and Boston.
After continually having New York and Houston as top defensive teams, Thibodeau moved to the sidelines of Boston. In his first season with Boston, the Celtics were dominant on defense and subsequently won the NBA Finals.
Thibodeau now has the pressure of being the number one seed in and having the league's MVP favorite on the team. If you look back at the past number one seeds with the MVP (LeBron in Cleveland), you notice how hard of a feat it is to perform under that pressure.
9. Nate McMillan, Portland Trail Blazers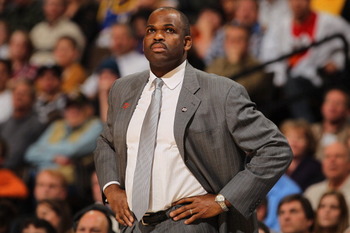 Doug Pensinger/Getty Images
Career Record: 457-428
Playoff Record: 12-16
Why he goes here: McMillan has a very average coaching career on paper. His teams have traditionally been solid, yet never spectacular. In his 11 year career, McMillan's teams have posted seven seasons with at least 40 wins.
However, McMillan's Blazers have been declining the last few years. After posting 50 plus wins from 2008 to 2010, the Blazers won just 47 this season. Not only did his teams peak from 2008 to 2010, they were both eliminated in the first round of the playoffs.
This year's Blazers have the roster to turn some heads. After acquiring Gerald Wallace in the midseason, Portland is now extremely dangerous in the West. Along with Gerald Wallace they have scoring options like LaMarcus Aldridge, Brandon Roy, Andre Miller, Rudy Fernandez, and Wesley Matthews.
Be wary of the Blazers, especially since Nate McMillan's teams have yet to come up big in the playoffs.
8. Doug Collins, Philadelphia 76ers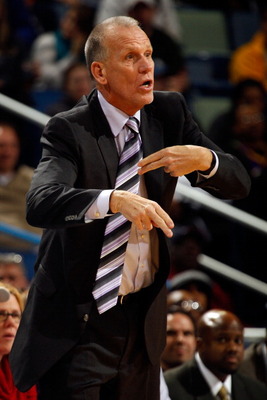 Chris Graythen/Getty Images
Career Record: 373-327
Playoff Record: 15-23
Why he goes here: Like he has accomplished throughout his coaching career, Doug Collins has done a great job of turning around the 76ers in his first year. The team oriented coach has improved the 76ers drastically, going from 27-55 last year to 41-40 this season.
Collins got everyone to buy into the system and it has paid off. The team started off 3-13, then turned it around to lock up the seventh seed in the East.
Collins has also helped Jrue Holliday produce a breakout season. Holliday averages 13.9 points, 6.5 assists, and 4.1 rebounds so far this year.
The 76ers are extremely balanced under Collins. They currently have six players who average over 10 points a game. Don't sleep on Collins and the 76ers, who boast one of the most well-rounded teams in the NBA.
7. Mike D'Antoni, New York Knicks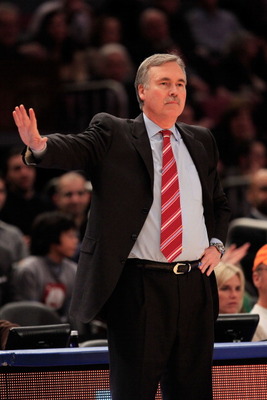 Chris Trotman/Getty Images
Career Record: 370-313
Playoff Record: 26-25
Why he goes here: Mike D'Antoni is best known for his coaching style. Dubbed "seven seconds or less" D'Antoni loves to have his teams get out and run.
D'Antoni is recently famous for turning around the Phoenix Suns. Once the Suns acquired Steve Nash in 2004, D'Antoni had found a point guard who fit his system. The Suns won over 50 games in four straight seasons and D'Antoni was coach of the year in 2005.
Now reunited with power forward Amar'e Stoudemire, D'Antoni has the Knicks running his patented system. New York also obtained superstar Carmelo Anthony courtesy a blockbuster trade, adding to their scoring prowess.
The Knicks have now won seven games in a row, including wins over Orlando, Indiana, and Philadelphia. Anticipate a very exciting first round matchup between Mike D'Antoni and Celtics head coach Doc Rivers.
6. Stan Van Gundy, Orlando Magic
Elsa/Getty Images
Career Record: 333-179
Playoff Record: 45-31
Why he goes here: Stan Van Gundy has had the convenience of never leaving the same state as head coach. Van Gundy coached two and half seasons in Miami, then followed it with four years in Orlando. After going to the Eastern Conference Finals with Miami in 2005, Pat Riley quickly fired Van Gundy and took over coaching duties for the year.
Now in Orlando, Van Gundy has found his stride with dominant big man Dwight Howard. The Magic have won over 50 games in every season with Van Gundy, and went to the NBA Finals in 2009.
You can never count out Van Gundy and Magic, especially with all the weapons they have. Guys like Dwight Howard, Hedo Turkoglu, Gilbert Arenas, Jameer Nelson, Jason Richardson, and JJ Redick are all viable offensive weapons.
The Magic haven't been exactly dominant lately, but the playoff presence will be there.
5. Rick Carlisle, Dallas Mavericks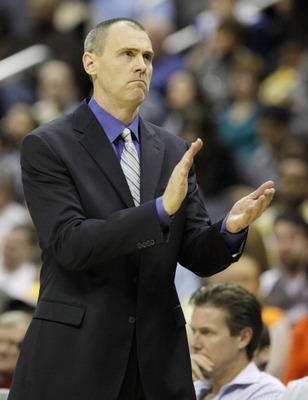 Rob Carr/Getty Images
Career Record: 442-295
Playoff Record: 37-41
Why he goes here: Carlisle has been the model of consistency at coaching in the NBA. In nine seasons, Carlisle's teams have won over 50 games six times. On top of that, Carlisle led teams have not reached 40 wins just once.
The one knack on Rick Carlisle is his playoff coaching. While having great regular seasons, Carlisle's teams have continually come up short in the playoffs.
Now in Dallas working for owner Mark Cuban, Carlisle will need to perform big or go home. Cuban has never been shy to make drastic moves and this off season will be no different.
With franchise player Dirk Nowitzki now 32 years old, the window is closing for Dirk and the Mavs to win a title. Keep a close eye on Dallas, who might be getting a new head coach next year.
4. George Karl, Denver Nuggets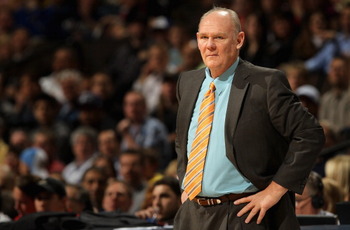 Doug Pensinger/Getty Images
Career Record: 1036-702
Playoff Record: 74-93
Why he goes here: Talk about coaching experience. George Karl has coached over 1700 games in the NBA and it shows. Karl is currently in his fifth head coaching gig, now in Denver.
George Karl and the Nuggets lost small forward Carmelo Anthony to a mega trade this season. Fortunately for Denver, they got tons of quality talent in return. Players like Danilo Gallinari, Wilson Chandler, Raymond Felton, and Timofey Mozgov were all shipped to Denver.
With the addition of those players, the Nuggets became one of the most well rounded teams in the NBA. George Karl has had plenty of loaded teams, but never a team that can score like this. The Nuggets are currently first in the NBA in points per game at 107.5.
The Nuggets have now won nine of their past 11 games, and seem poised for a deep playoff run.
3. Doc Rivers, Boston Celtics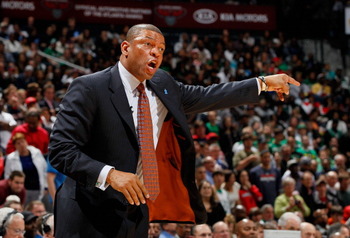 Kevin C. Cox/Getty Images
Career Record: 506-406
Playoff Record: 46-40
Why he goes here: Over the past few years, no coach in the NBA has launched his name into the tops of the league like Doc Rivers. After acquiring the first "Big Three" of Kevin Garnett, Ray Allen, and Paul Pierce, Doc Rivers and company have brought the Celtics back to the top.
After winning 66 games in 2008, the Celtics went on to capture the Finals championship. Boston went back to the Finals last year, but lost to the Lakers in the seventh game.
Now the Celtics are ready for more playoff success. The main core of the group is back, minus one big asset. Boston traded bruising center Kendrick Perkins to Oklahoma City before the deadline. They really have missed his presence, and desperately need a healthy Shaquille O'Neal and Jermaine O'Neal to come in clutch.
With Boston relying on such old players to anchor the middle, don't be shy to doubt Doc Rivers and the Celtics come playoff time.
2. Gregg Popovich, San Antonio Spurs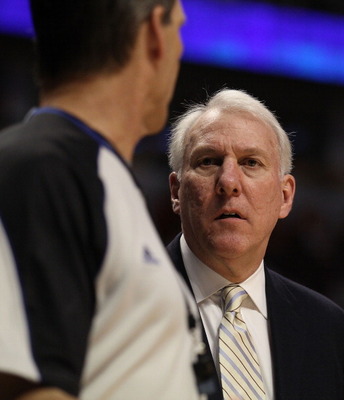 Jonathan Daniel/Getty Images
Career Record: 797-381
Playoff Record: 106-69
Why he goes here: Popovich is continually the most underrated coach in the NBA. Year after year his Spurs are in the playoffs competing for the biggest prize possible. Popovich has been in San Antonio for 15 years, and there is no indication of him leaving anytime soon.
Popovich has won four championship rings, specifically with Tim Duncan anchoring down the interior. Now that Duncan is 34 years old, the chances of "Mr. Fundamental" winning another ring are slimming.
Duncan has also seen by far the least playing time of his career this season. While that may look bad on paper, it's not so bad considering the benefits. The Spurs have been dominant for most of the season, and less minutes now means more minutes later.
Even though Popovich's Spurs have been sliding lately, you should fully expect them to be ready to compete in the playoffs. Don't be the person who overlooks what Gregg Popovich is capable of in the playoffs every year.
1. Phil Jackson, Los Angeles Lakers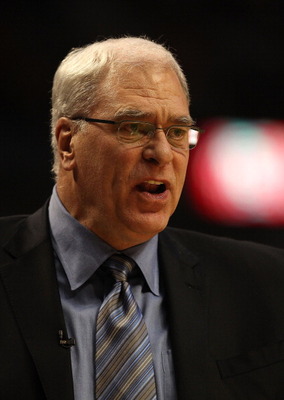 Jonathan Daniel/Getty Images
Career Record: 1153-485
Playoff Record: 225-98
Why he goes here: This is about as easy of a "no-brainer" as there is. Forget best coach in the playoffs, Phil Jackson is considered by many to be one of the best coaches of all time.
Currently boasting more championship rings than fingers (11), Jackson definitely has room for more. After winning six NBA titles with Michael Jordan and the Chicago Bulls, Jackson moved to L.A. where he won five more with Kobe Bryant.
With a stacked roster in Los Angeles, there is no reason to believe that Phil won't have his Lakers back in contention.
Pau Gasol is a top tier power forward, Lamar Odom brings tons of intangibles to the team, and Derrick Fisher is still a great leader. Oh yea, Kobe Bryant is not bad himself.
With Andrew Bynum going down with another knee injury last night, fans in L.A. should be holding their breath.
Keep Reading

Los Angeles Lakers: Like this team?