Updated 2013 Win-Loss Predictions for Every NBA Team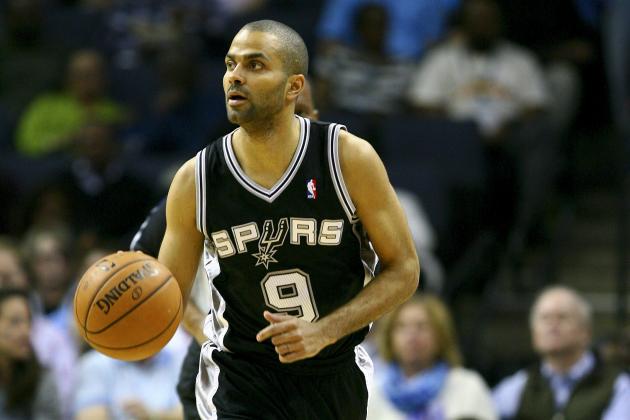 Spruce Derden-USA TODAY Sports
San Antonio Spurs' Tony Parker
With the 2013 NBA playoffs looming, the postseason field is taking shape.
In the Eastern Conference, the major questions revolve around which teams will eventually secure seeds two through six.
In the Western Conference, however, the playoff picture is much more fluid. As the Dallas Mavericks, Utah Jazz and Los Angeles Lakers battle for the final playoff berth, the Oklahoma City Thunder and San Antonio Spurs are in their own fight atop the standings.
Here's how it will all turn out.
Begin Slideshow

»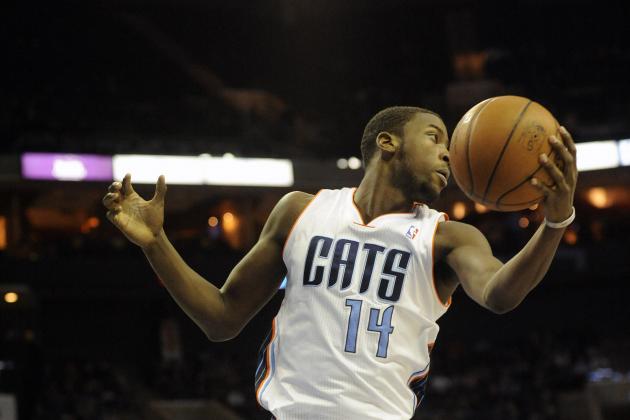 USA TODAY Sports
Charlotte Bobcats' Michael Kidd-Gilchrist
Record Prediction: 19-63
The Bobcats have lost three straight heading into Wednesday's matchup with the Philadelphia 76ers.
They are sitting 41 games out of first place with the NBA's worst record of 17-57.
Prior to missing Monday's loss to the Milwaukee Bucks, however, Michael Kidd-Gilchrist continued to close out a solid rookie campaign by reaching double figures in eight of his last 16 games.
Kemba Walker took a step forward in his second season as well, averaging 17.6 points and 5.7 assists. But the best news for Bobcats fans is that another losing season is almost over.
Expect Charlotte to enter the draft lottery with the best chance of picking first overall come June.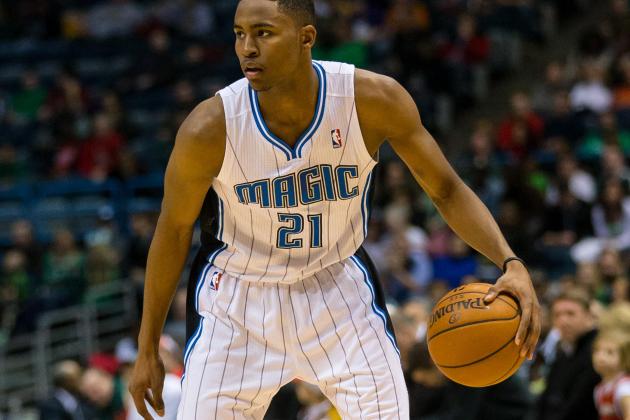 Jeff Hanisch-USA TODAY Sports
Orlando Magic's Maurice Harkless
Record Prediction: 21-61
Maurice Harkless has used the opportunity created by J.J. Redick's departure to consistently demonstrate his scoring ability at the NBA level.
The 19-year-old small forward from St. John's dropped 28 on the Houston Rockets during an eight-point loss on Monday after averaging 13.1 points through the month of March.
Unfortunately, the Magic have continued to lose down the stretch, dropping nine of their last 10 games through Tuesday.
Moving forward with Harkless, Tobias Harris, Andrew Nicholson and Arron Afflalo, however, the Magic may have an opportunity to field a competitive team in 2013-14.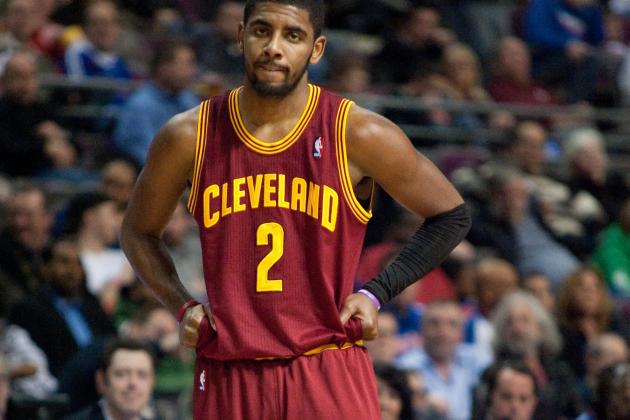 Tim Fuller-USA TODAY Sports
Cleveland Cavaliers' Kyrie Irving
Record Prediction: 23-59
The Cavaliers will begin their first of nine games to close out the 2012-13 campaign on Wednesday against the Brooklyn Nets. While Brooklyn fights for playoff positioning in the Eastern Conference, it appears likely the Cavaliers will lose their 10th straight game to the Nets.
As Kyrie Irving and Dion Waiters continue to miss time with injuries, the chances are also good that the Cavs will win no more than once before the season concludes.
During stretches when Irving, Waiters and Tristan Thompson have all been healthy together, though, Cleveland has shown reason to believe that next year could be different.
Heading into Irving's third season with the Cavaliers in 2013-14, a dramatic improvement in the win column will be required.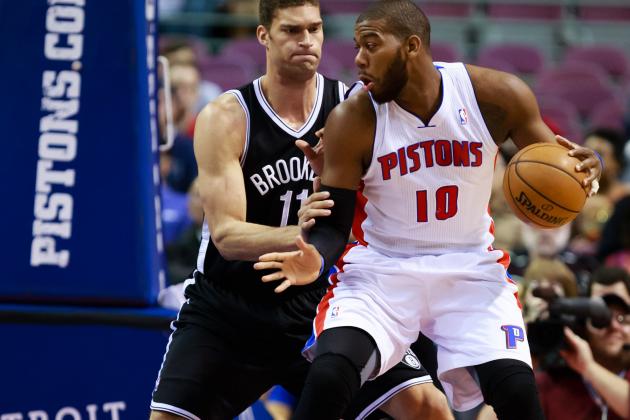 Rick Osentoski-USA TODAY Sports
Detroit Pistons' Greg Monroe
Record Prediction: 27-55
Despite shooting a career-worst 48.1 percent from the floor, Greg Monroe has improved his scoring average to 15.9 points in 2012-13 to go along with 9.5 rebounds.
Though the Pistons have lost eight of their last 10 games, Monroe now has an opportunity to continue developing a chemistry on the interior with rookie teammate Andre Drummond.
Drummond returned from a back injury on March 29 to score 17 points as a starter in a losing effort, alongside a double-double performance from Monroe.
Expect the Detroit Pistons' young, talented bigs to eventually reverse their team's losing ways in 2013-14. Until then, however, they will struggle to break into the win column.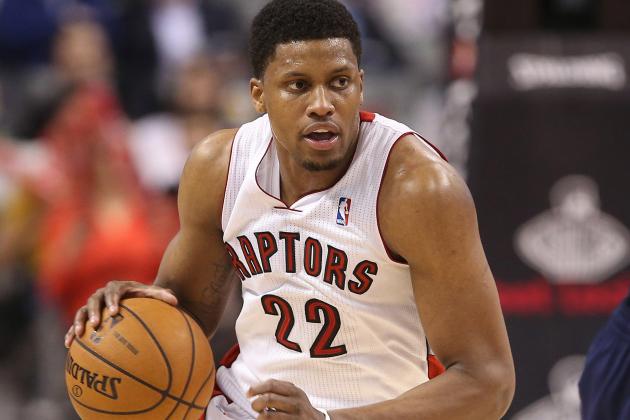 Tom Szczerbowski-USA TODAY Sport
Toronto Raptors' Rudy Gay
Record Prediction: 30-52
Rudy Gay shot 72.2 percent from the field and scored 34 points in the Raptors' 108-98 loss to the Detroit Pistons on Monday.
In 25 games with Toronto, after arriving from Memphis on February 1, Gay has averaged 19.9 points and 6.4 rebounds.
The Raptors have fallen to 2-8 over their last 10 despite that, though, and have since been passed by the Washington Wizards in the Eastern Conference standings.
Expect the Raptors to remain locked into the No. 11 position, even if they do win three more times.
Mark D. Smith-USA TODAY Sports
Washington Wizards' John Wall
Record Prediction: 31-51
The Washington Wizards have performed like a playoff team since John Wall's return on January 12.
After opening the year 5-28 with Wall on the sidelines, the Wizards have gone 23-18 through Tuesday.
Wall has averaged 17.5 points and 7.7 assists, highlighted by a 47-point explosion against the Memphis Grizzlies on March 25.
With games against the Toronto Raptors and Philadelphia 76ers remaining, expect Wall to be the primary reason why the Wizards will eventually surpass the 30-win plateau.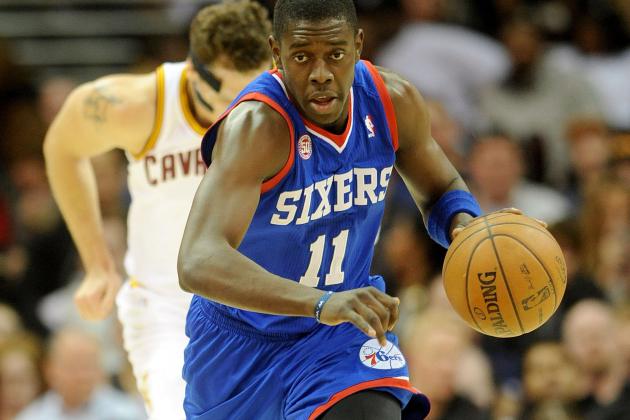 Eric P. Mull-USA TODAY Sports
Philadelphia 76ers' Jrue Holiday
Record Prediction: 34-48
Don't blame Jrue Holiday for the Philadelphia 76ers finishing just outside of the Eastern Conference playoffs. As an All-Star in 2013, Holiday is leading his team with 18.4 points and 8.5 assists per game.
He has helped his Sixers, who trail the No. 8 Milwaukee Bucks by six games, to win their last three games.
If Andrew Bynum had been healthy enough to suit up alongside Holiday, Philly fans could be preparing for a first-round playoff matchup later this month.
Bynum has yet to play a game for Philadelphia, however, and most likely never will.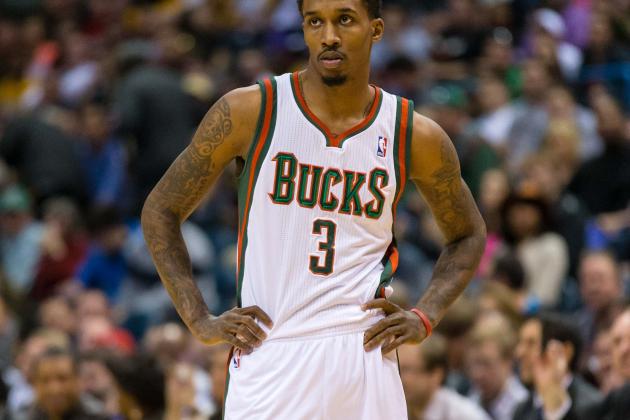 Jeff Hanisch-USA TODAY Sports
Milwaukee Bucks' Brandon Jennings
Record Prediction: 41-41
With games remaining against the Minnesota Timberwolves, Toronto Raptors, Orlando Magic and Charlotte Bobcats, the Bucks will have an opportunity to finish the 2012-13 campaign with a .500 record.
Assuming they are able to capitalize on each of those matchups, the Bucks would need to only beat one playoff team to win the five games necessary to finish 41-41. Despite dropping six of their last 10—along with Brandon Jennings calling out his coach, Jim Boylan, on Twitter recently—I expect the Bucks to do that.
While that will be enough to secure the No. 8 spot, the Bucks will not move past the Boston Celtics in the Eastern Conference standings.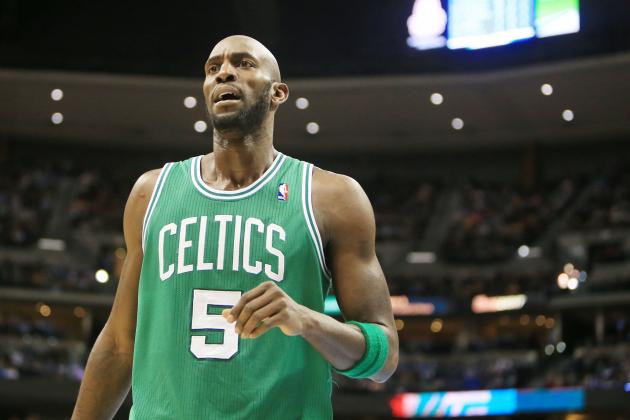 Chris Humphreys-USA TODAY Sports
Boston Celtics' Kevin Garnett
Record Prediction: 42-40
Kevin Garnett has missed the last six games for the Boston Celtics with an ankle injury.
This has led to Boston dropping seven of its last 10 games through Tuesday. But don't expect the Garnett injury to impact the Celtics' No. 7 seed in the Eastern Conference.
Jackie MacMullan of ESPN quoted coach Doc Rivers on Monday as saying that Garnett is fine, adding that if these were playoff games, "Kevin would absolutely be playing."
Though Paul Pierce also sat during Monday's loss to the Minnesota Timberwolves, expect both stars to become available in the event they're needed to hold off the Milwaukee Bucks before the regular season concludes.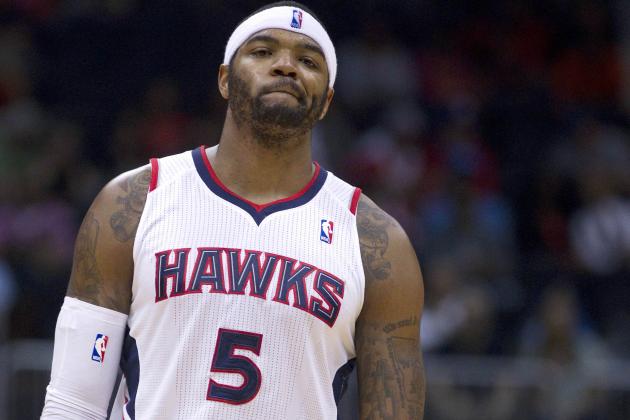 Joshua S. Kelly-USA TODAY Sports
Atlanta Hawks' Josh Smith
Record Prediction: 46-36
The Atlanta Hawks are in a three-way battle with the Chicago Bulls and Brooklyn Nets for the No. 4 seed in the Eastern Conference.
Despite Josh Smith and Al Horford combining to average 35 points and 18.7 rebounds, I expect the Hawks to be the team that ends up with the No. 6 seed.
With four games remaining against teams who are currently in the playoffs, Atlanta would do well to finish 4-3 down the stretch. If that happens, 46 wins may not be enough to hold off the Bulls and Nets.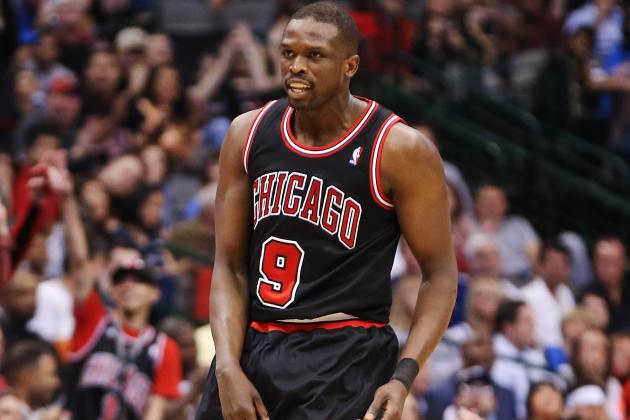 Kevin Jairaj-USA TODAY Sports
Chicago Bulls' Luol Deng
Record Prediction: 47-35
The Chicago Bulls have won only five of their last 10 games through Tuesday. Over their final 10 to conclude the 2012-13 campaign, however, they will play seven games against teams with below .500 records.
Led by All-Star Luol Deng—who has improved his production to 22.2 points and 7.6 rebounds in his last five games—the Bulls are in a position to rip off seven more wins.
By the time the postseason begins, expect Chicago to do enough to move past the Atlanta Hawks and open the playoffs as the No. 5 seed in the Eastern Conference.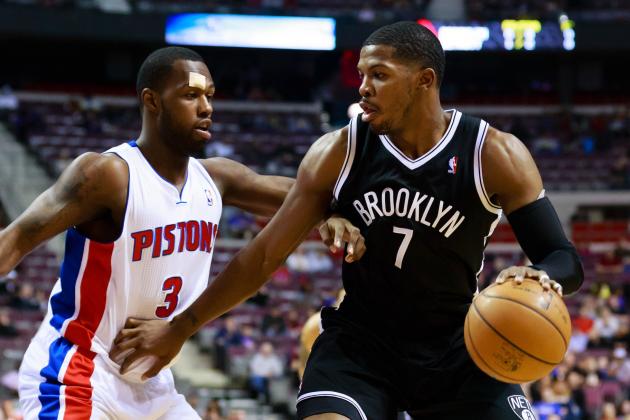 Rick Osentoski-USA TODAY Sports
Brooklyn Nets' Joe Johnson
Record Prediction: 48-34
Joe Johnson practiced for the first time in just more than a week on Tuesday, according to Barbara Barker of Newsday. After being sidelined with injuries to his left heel and right quad, his return could come as early as Wednesday's matchup with the Cleveland Cavaliers.
He is expected to combine with Deron Williams and Brook Lopez, helping the Nets hold onto the No. 4 seed in Eastern Conference.
The Nets own one- and two-game leads over the Atlanta Hawks and Chicago Bulls, respectively, which should be enough to help secure home-court advantage in the first round of the playoffs.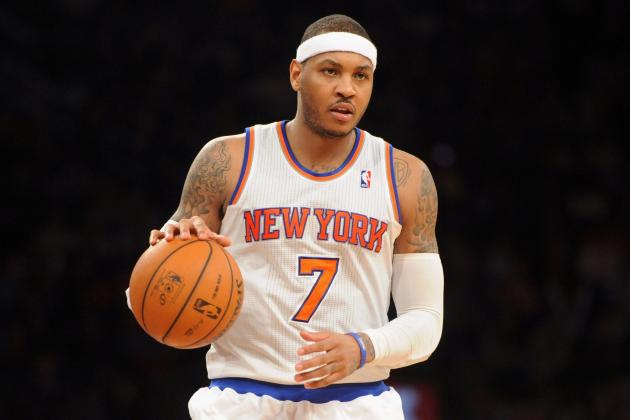 Joe Camporeale-USA TODAY Sports
New York Knicks' Carmelo Anthony
Record Prediction: 53-29
Carmelo Anthony scored 50 points to lead the Knicks past the Miami Heat on Tuesday as LeBron James and Dwyane Wade rested minor injuries. The win marked nine straight for the Knicks, who are battling the Indiana Pacers for the No. 2 seed in the Eastern Conference.
Anthony's 27.9 points per game ranks second in the league behind only Kevin Durant.
With six of their remaining nine games against playoff teams, however—including an April 14 matchup with the Pacers—expect New York to finish behind Indiana by the slightest of margins and open the playoffs as the No. 3 seed.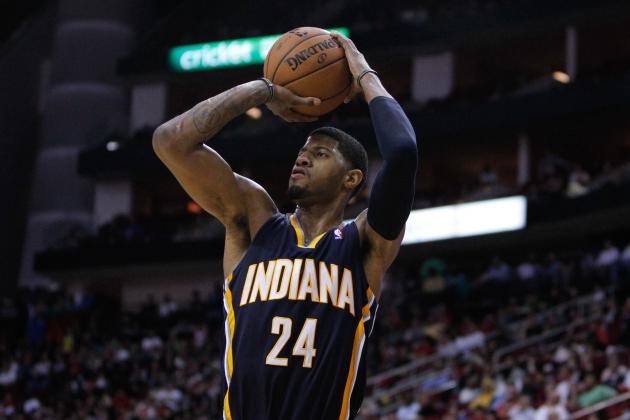 Thomas Campbell-USA TODAY Sports
Indiana Pacers' Paul George
Record Prediction: 54-28
Defense and rebounding will enable the Indiana Pacers to secure the No. 2 seed in the Eastern Conference. The Pacers are holding opponents to 89.9 points per game to lead the NBA defensively while also collecting a league-high 46.3 rebounds.
They've won their last five games through Tuesday and remain only percentage points behind the New York Knicks for the second-best record in the conference.
Over those last five games, Paul George, who is averaging 17.9 points per game, has improved his scoring output to 20.2.
With the help of David West and an improving Roy Hibbert, the Pacers should win enough to hold off the Knicks by the conclusion of the regular season.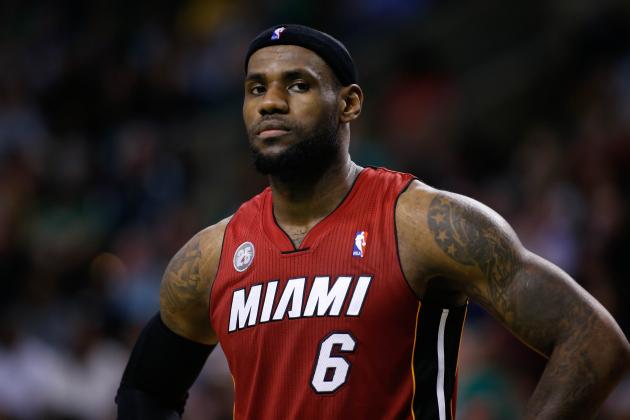 Greg M. Cooper-USA TODAY Sports
Miami Heat's LeBron James
Record Prediction: 64-18
The Heat appear more concerned at the moment with resting their stars for the playoff push than winning as many regular-season games as possible.
Following a 27-game winning streak that propelled Miami to the NBA's best record, this approach couldn't make any more sense. LeBron James, Dwyane Wade and Chris Bosh have accomplished everything they needed to in preparation for the postseason.
Each of Miami's Big Three has shot better than they ever have from the field in 2012-13. They are also playing better than they ever have collectively in their third season together.
The Heat are well on their way to a second consecutive NBA championship in 2013, regardless of what happens in their next seven matchups.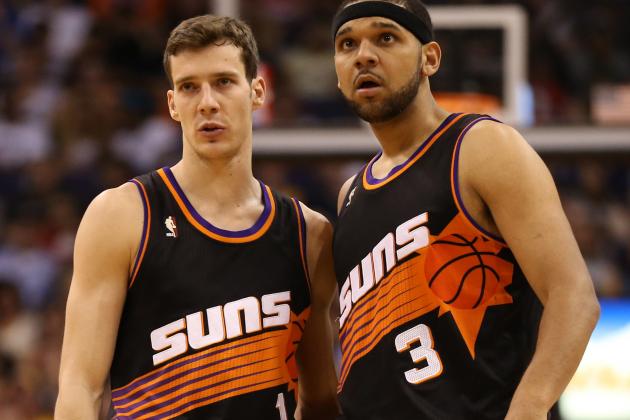 Mark J. Rebilas-USA TODAY Sports
Phoenix Suns' Goran Dragic, Jared Dudley
Record Prediction: 24-58
The 2012-13 campaign soon will come to a merciful end for the Phoenix Suns.
The Western Conference's worst team has lost six straight games through Tuesday and could build on that losing streak to close out the year. Somewhere along the line, however, the law of averages suggests the Suns will win one more time.
In reviewing their remaining schedule, though, I'm not sure when exactly that will occur.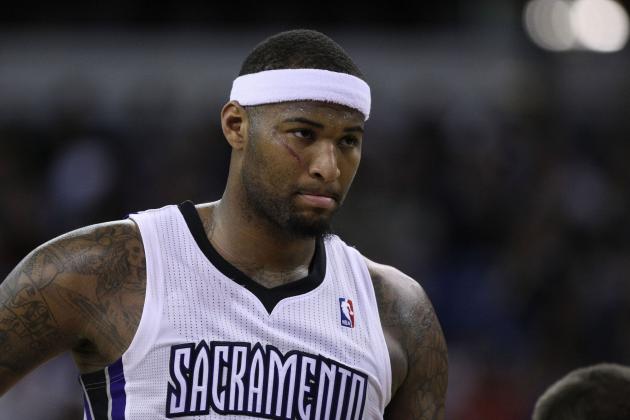 Kelley L Cox-USA TODAY Sports
Sacramento Kings' DeMarcus Cousins
Record Prediction: 29-53
Buried in the disappointment of another season filled with losses, DeMarcus Cousins is closing out the year with a double-double, averaging 17.2 points and 10.1 rebounds. On March 28, he totaled 34 and 14 to help the Kings beat the lowly Suns, 117-103.
Though it marks the lowest scoring total of his career, Tyreke Evans is also averaging a respectable 15.5 points per game.
For the sake of Kings fans, let's hope Cousins and Evans can take that step forward collectively that we've all been waiting for in 2013-14. If not, Sacramento's record next April could be strikingly similar to what it is right now.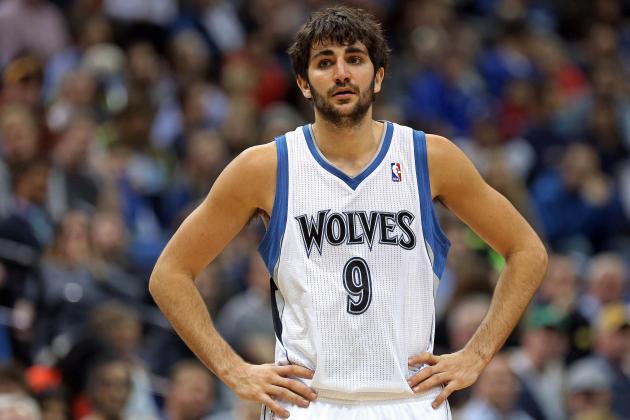 USA TODAY Sports
Minnesota Timberwolves' Ricky Rubio
Record Prediction: 30-52
Ricky Rubio returned from an ACL injury to average 14.1 points and 7.8 assists during the month of March. In 48 games, Rubio is averaging 10.4 points and 7.4 assists.
After missing their 22-year-old point guard from Spain to begin the 2012-13 campaign—followed by the season-ending injury to Kevin Love—Rubio's improvement has at least been encouraging for Timberwolves fans.
With a full complement of healthy players in 2014, expect Minnesota to be back competing for a playoff spot.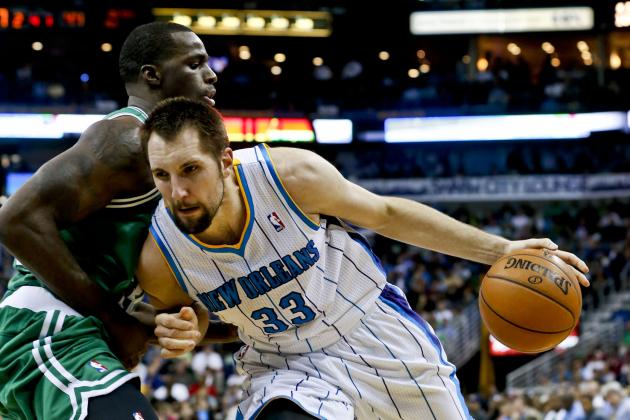 Derick Hingle-USA TODAY Sports
New Orleans Hornets' Ryan Anderson
Record Prediction: 31-51
Ryan Anderson has averaged 21.5 points in the last two games for the New Orleans Hornets.
They've now won four of their last six following a 112-92 victory over the Cleveland Cavaliers on Sunday and should win enough to hold off the Sacramento Kings for the No. 12 spot in the Western Conference.
The 16.6 points that Anderson has averaged this season could've helped his Hornets win more, though, had his teammate Eric Gordon been healthy.
According to John Reid of The Times-Picayune, although Gordon returned to action on December 29, the Hornets guard is not expected to be completely healthy until after a summer of resting his right knee.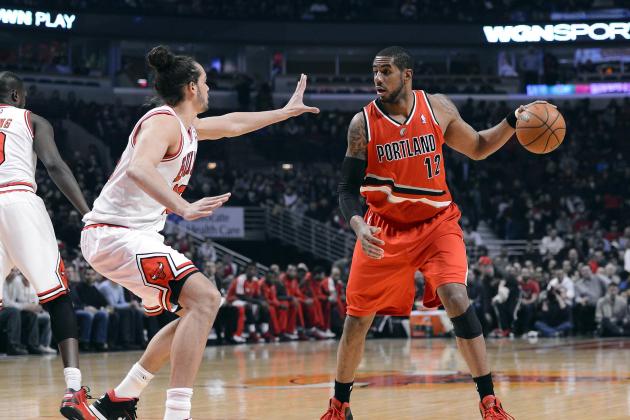 Mike DiNovo-USA TODAY Sports
Portland Trail Blazers' LaMarcus Aldridge
Record Prediction: 36-46
Severely lacking bench support throughout the 2012-13 campaign, the Portland Trail Blazers have now lost five straight games to drop to 33-41.
On the strength of LaMarcus Aldridge and his team-leading 21 points per night, the Trail Blazers should manage three more wins before the regular season concludes. After playing well enough to contend for a playoff spot for a time, however, Portland will finish no better than 11th in the Western Conference.
The Trail Blazers will need to develop an NBA-level reserve unit to have any chance of contending in 2013-14, regardless of how well Aldridge continues to play.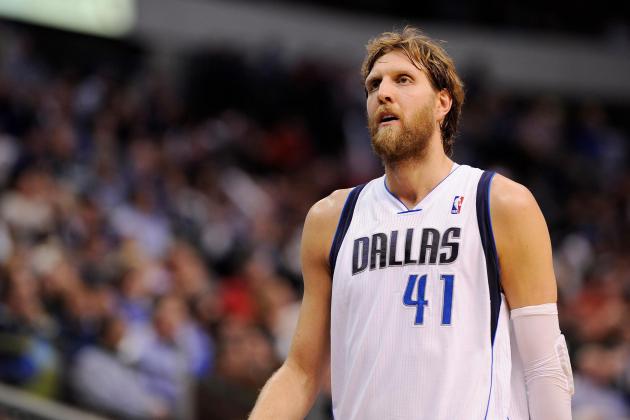 USA TODAY Sports
Dallas Mavericks' Dirk Nowitzki
Record Prediction: 41-41
The Dallas Mavericks' chances of sneaking into the 2013 playoffs were severely impacted by a 101-81 loss to the Los Angeles Lakers on Tuesday night.
After emerging to averaging 20 points and 7.6 rebounds during the month of March, Dirk Nowitzki totaled only 11 and five on 4-of-13 shooting from the field against the Lakers.
The loss dropped the Mavericks to 36-38, 2.5 games out of the No. 8 spot.
Though Dallas can certainly rally to finish 41-41, that will not be enough to qualify for postseason play.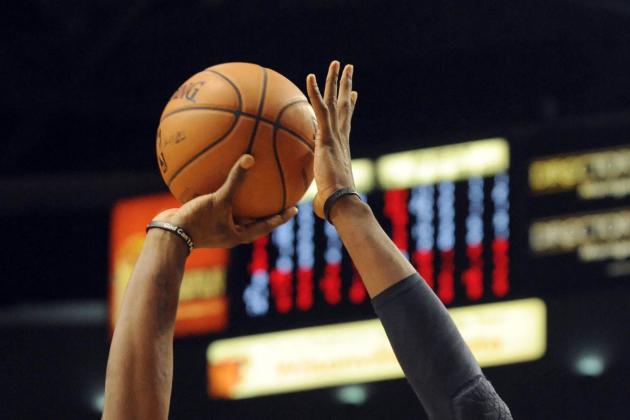 Steve Dykes-USA TODAY Sports
Utah Jazz's Al Jefferson
Record Prediction: 43-39
The Jazz are tied with the Los Angeles Lakers at 39-36 through Tuesday.
With games against the Denver Nuggets, Oklahoma City Thunder and at Golden State remaining, the schedule does Utah no favors down the stretch.
Mo Williams, Paul Millsap and Al Jefferson combined for 60 points in their last game, a win over the Portland Trail Blazers, and that healthy trio does give the Jazz a great chance to secure a playoff berth.
In the end, however, I don't expect Utah to have enough to keep Kobe Bryant out the postseason.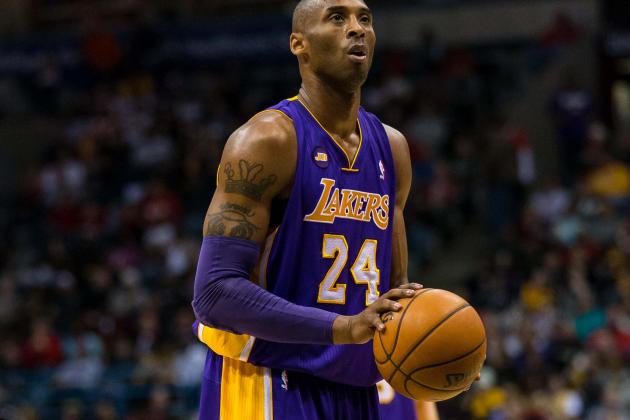 Jeff Hanisch-USA TODAY Sports
Los Angeles Lakers' Kobe Bryant
Record Prediction: 44-38
On a night when former teammate Shaquille O'Neal's jersey was retired in Los Angeles, Kobe Bryant played 47 minutes Tuesday to earn a much-needed win over the Dallas Mavericks.
The Black Mamba scored 23 points after averaging 26.5 during the month of March. The 27 points that Bryant has averaged this season ranks third in the NBA.
Along with Dwight Howard, who is posting a double-double at 16.7 points and 12.7 rebounds, the Lakers simply have too much star power to be denied down the stretch.
Despite matchups against the Los Angeles Clippers and San Antonio Spurs, expect the Lakers to secure the No. 8 seed by season's end.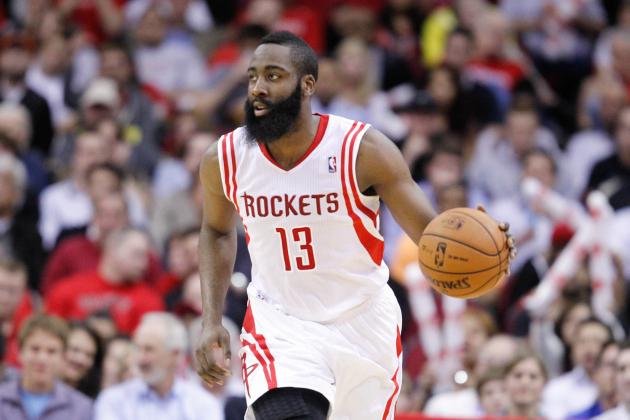 Thomas Campbell-USA TODAY Sports
Houston Rockets James Harden
Record Prediction: 46-36
James Harden has recalibrated expectations for a Houston Rockets organization that is on its way to the postseason. While the Rockets may not catch the Golden State Warriors for the No. 6 seed, do not expect any team to catch them at No. 7.
Though Harden has missed the last two games while resting a foot injury he suffered in practice recently, the Rockets have now won seven of their last 10.
With Harden providing the 26 points and 5.8 assists a game in his first season in Houston, he will continue to make the Rockets a team that nobody wants see in the playoffs.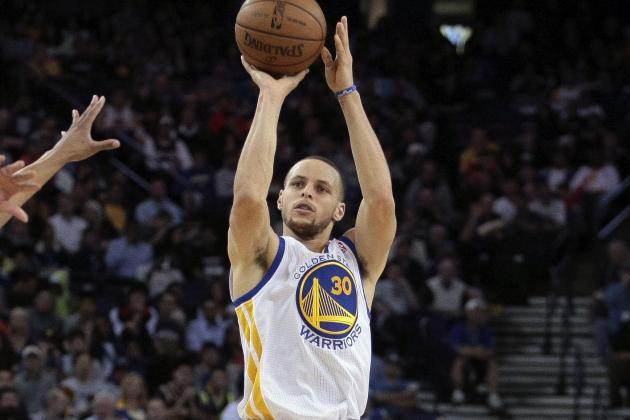 Kelley L Cox-USA TODAY Sports
Golden State Warriors' Stephen Curry
Record Prediction: 47-35
Highlighted by a 39-point performance on March 30, Stephen Curry is coming off a month of March in which he averaged 24.9 points and 7.5 assists. Combining with David Lee, Curry will help make the Warriors one of the most exciting teams to watch in the playoffs.
They have won seven of their last 10 games, hold onto the No. 6 seed in the Western Conference and will continue to win enough to secure that position.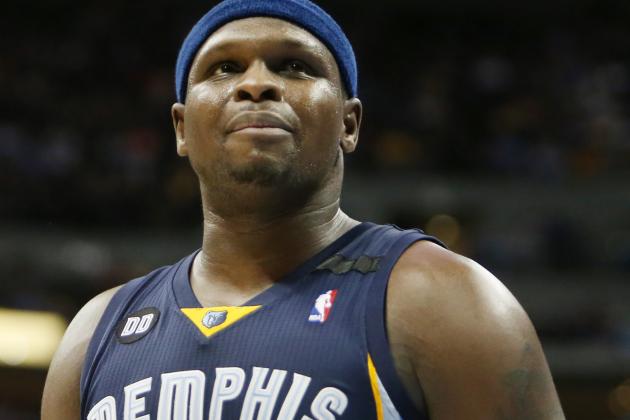 Chris Humphreys-USA TODAY Sports
Memphis Grizzlies' Zach Randolph
Record Prediction: 54-28
With teammate Marc Gasol returning from injury to average 17.8 points in his last four games, Zach Randolph and the Memphis Grizzlies have now won three straight through Tuesday.
They have survived the trade of Rudy Gay, along with a number of injuries, to win 50 games already, and will secure the No. 5 seed in the Western Conference as a result.
Healthy at just the right time, the combination of Gasol and Randolph in the painted area is enough to make the Grizzlies a threat against anyone in the Western Conference once the playoffs begin.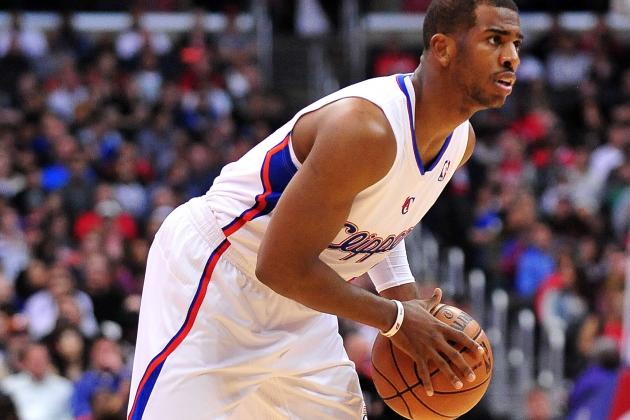 Gary A. Vasquez-USA TODAY Sports
Los Angeles Clippers' Chris Paul
Record Prediction: 55-27
Chris Paul will lead the NBA's deepest team into the postseason with home-court advantage in the first round.
His 9.6 assists are the most among all active players. He is also spearheading his team's efforts defensively by leading the league with 2.4 steals a game.
Paul has brought out the best in Blake Griffin as well while being supported by the star power Jamal Crawford brings off the Clippers bench. In a long series, Paul's ability to help a long list of teammates produce at a high level could enable his team to advance much further than anyone may realize.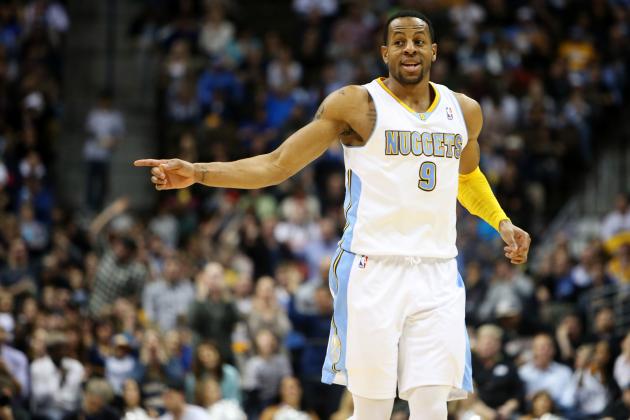 Chris Humphreys-USA TODAY Sports
Denver Nuggets' Andre Iguodala
Record Prediction: 56-26
Like the musician D.J. Khaled once said in 2010, all the Denver Nuggets do is win. While posting a 33-3 record at home, they have now reached the 50-win plateau without sending one player to this year's All-Star Game.
Led by Andre Iguodala, Ty Lawson, Kenneth Faried and a long list of others, Denver's up-tempo style and dedication to defense will be a lot to handle come playoff time.
They will open the postseason as the No. 3 seed in the Western Conference and have demonstrated the potential to advance all the way to the NBA Finals.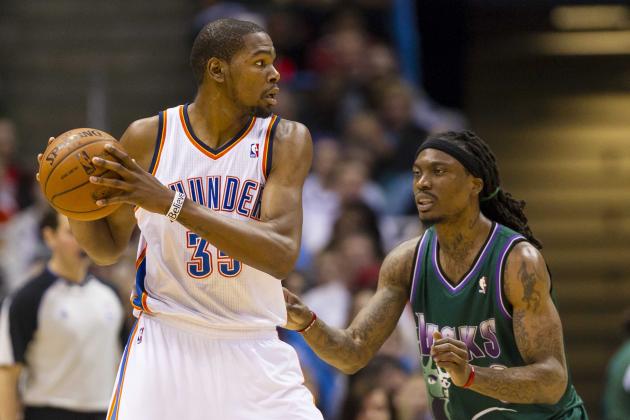 Jeff Hanisch-USA TODAY Sports
Oklahoma City Thunder's Kevin Durant
Record Prediction: 60-22
While I don't expect the Oklahoma City Thunder to win the Western Conference's regular season, they are still my prohibitive favorite to represent the West in the NBA Finals.
On the strength of his league-leading 28.3 points per night, Kevin Durant is combining with Russell Westbrook to form the NBA's highest-scoring duo in 2012-13.
Based on the superstar ability of Durant and Westbrook alone, the Thunder will have enough to combat anything the rest of the conference throws at them in a seven-game series. However, they will have their hands full in potential matchups with the Clippers, Nuggets or Spurs.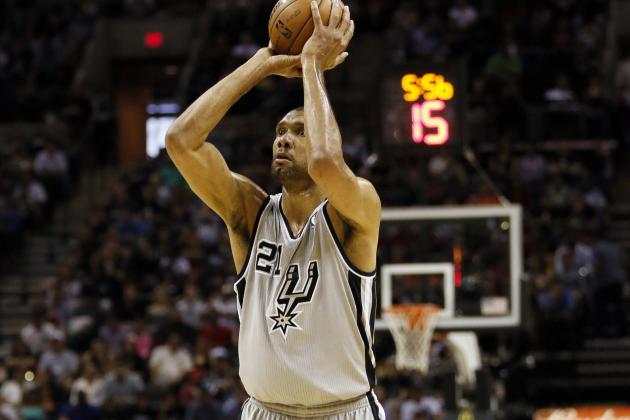 USA TODAY Sports
San Antonio Spurs' Tim Duncan
Record Prediction: 61-21
The Spurs have won six of their last 10 to remain one game up on the Oklahoma City Thunder.
Though this prediction could fall victim to a decision to rest Tim Duncan, Tony Parker and the rest of the San Antonio starters down the stretch, they are certainly capable of earning the No. 1 seed in the Western Conference.
At the age of 36 years young, Duncan has posted a double-double, averaging 17.6 points and 10.1 rebounds.
Just as soon as the postseason begins, he will combine with Tony Parker to form one of the league's most dominant pairings.