Ranking the Most Dynamic Centers in the NBA Today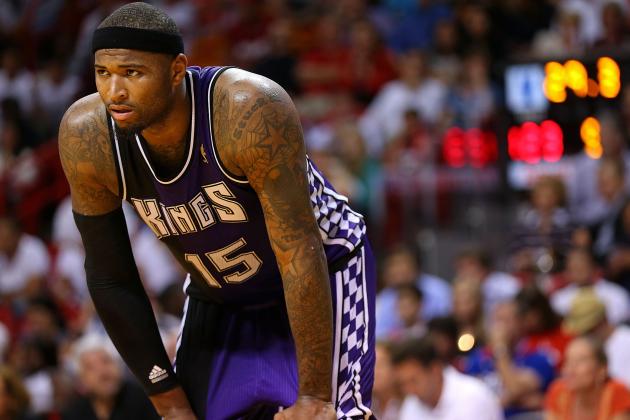 Mike Ehrmann/Getty Images
DeMarcus Cousins is definitely a dynamic offensive player, but where does he fall among the elite centers?
Has Dwight Howard been so affected by injury that he's not even a top-flight offensive center in the NBA?
Does the well-roundedness of Marc Gasol or Joakim Noah allow one of them to jump to the top of the rankings? Is it going to be one of the young up-and-comers like DeMarcus Cousins or Greg Monroe?
Is center really as wide open at the top as it seems?
These are just some of the many questions that total offense created (TOC) will help answer. This stat, developed by fellow Featured Columnist Kelly Scaletta and myself, measures how offensively dynamic each of these players has been during the 2012-13 season.
There are plenty of other offensive metrics, but they all have various biases and fail to account for at least some aspect of a player's performance. This one doesn't.
When you're reading this article—which begins with a two-slide explanation of total offense created that I would highly encourage you to go over carefully—keep in mind what the intention is here. We're measuring how dynamic a player is on offense.
This is not an overall ranking of centers. Defense is not accounted for in any way.
Instead, we're essentially looking at how effective players are at creating offense. This is about how offense is initiated, not finished. Here's where I get to turn to Kelly's cannonball metaphor:
To launch a cannonball you need to light the gunpowder, which creates an explosion and propels the cannonball forward. The cannonball then hits whatever you're aiming for and does damage.

On the one hand, the cannonball does the damage, but on the other hand, the force of it is generated by the explosion which propelled it. That's the "dynamic."

We're not denying the importance of the cannonball here by any stretch. Without the cannonball, the explosion is useless.

Some players are more "explosion" and some are more "cannonball." We're measuring the explosions here.
So, looking at passing, scoring and a number of other factors, which big men produce the biggest explosions?
A total of 46 have both played in at least 20 games this season and averaged at least 15 minutes per game, so read on for the rankings.
Note: All stats are current through Friday, March 22, and come from the various pages of Hoopdata.com, NBA.com's stat resources and Basketball-Reference.com. You can find the point guard rankings, as well as the original version of this introduction, here. The shooting guard rankings can be found through this link, and you can click here for the small forward rankings.
Begin Slideshow

»
Bruce Bennett/Getty Images

The theory behind TOC is to include anything and everything that an individual player does to affect the offense. That results in four components: scoring, teammate boost, assists and other factors.
Scoring
Essentially, you can argue that there are two components to every shot: the creation of the shot, and the execution of the shot itself. Sometimes a player controls both of these components, but in some situations, multiple players are involved.
For example, consider this scenario: Chris Paul penetrates and brings Blake Griffin's defender over to stop him; Paul dishes the ball to Griffin, who throws down the dunk.
In that situation, Paul created the shot and Griffin made it. Most metrics will give two points to both of them, essentially double-counting the basket. Only two points were scored, though, not four. Therefore, we're splitting the two points evenly between the distributor and the finisher.
The field goals that a player made were split into two categories: unassisted and assisted. Players received full credit for unassisted field goals, as they served as both shot-creator and shot-maker. But they received only half-credit for assisted ones. This applies to both two-pointers and shots from behind the three-point arc.
Teammate Boost
One of our major objectives was to account for the impact a player has on his teammates. Players who are asked to generate offense are often faulted for being "high-volume" scorers, but the impact such players have on the game can be immense.
We looked at how a team's effective field-goal percentage—a weighted metric that gives more value to three-pointers—changed when the player in question was on and off the court. If the four teammates joining the player shot more effectively while he was on the court than the average five teammates did while he was on the bench, then the player received a positive "teammate boost."
The number of field goals that teammates attempted while the player was on the court also influenced this part of the metric. An equal change in effective field-goal percentage is more valuable when more shots are taken than when less shots are taken.
Some of the content for this description was provided by Kelly Scaletta, and the description itself comes from a previous article using TOC.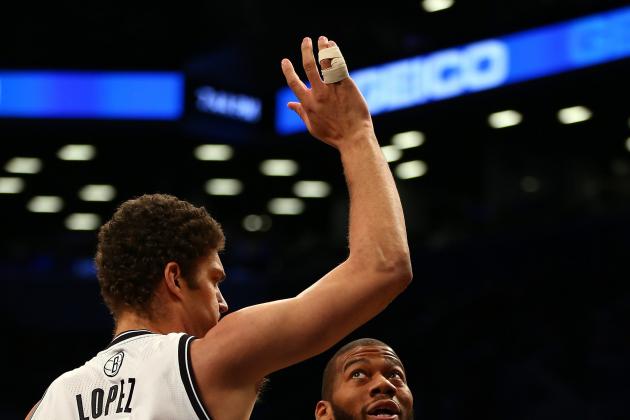 Elsa/Getty Images

Now for the remaining two components of TOC.
Assists
Just like in the scoring component, all credit for assists was split between the person who made the pass and the person who finished the play. After all, every assist results in an assisted field goal; it's impossible for an unassisted bucket to use an assist.
Players also received more credit when assists led to three-pointers, as those shots are worth an extra point on the scoreboard.
Other Factors
Players received positive boosts for free throws made and offensive rebounds. However, not every offensive rebound is equal.
Those boards were weighted according to how successfully teams used possessions. An offensive rebound is more valuable on a team that averages 1.1 points per possession than it is on a team that averages 1.0 point per possession.
The same theory applies to missed shots from the field and turnovers, both of which counted against players in this formula.
However, all missed field goals aren't lost possessions. Many times, teams score on missed field goals. In fact, the tip-in is one of the most efficient shots in the game, and none of those happen without a missed shot.
As a result, missed shots were more detrimental to the cause on teams that were less effective on the offensive glass.
The last factor was free throws missed, which obviously count against a player.
Total Offense Created
Once the four components were all calculated, they were summed to create a measurement of total points created.
Essentially, we added together unassisted points scored, assisted points scored, points created by assists, the teammate boost, free throws made and offensive rebounds, then subtracted free throws missed and the weighted forms of missed field goals and turnovers.
One difference between this version and the one used in the last set of rankings is that offensive rebounding percentage and offensive rating were derived solely from the possessions during which the player in question was on the court.
Some of the content for this description was provided by Kelly Scaletta, and the description itself comes from a previous article using TOC.
For the actual formula, click here.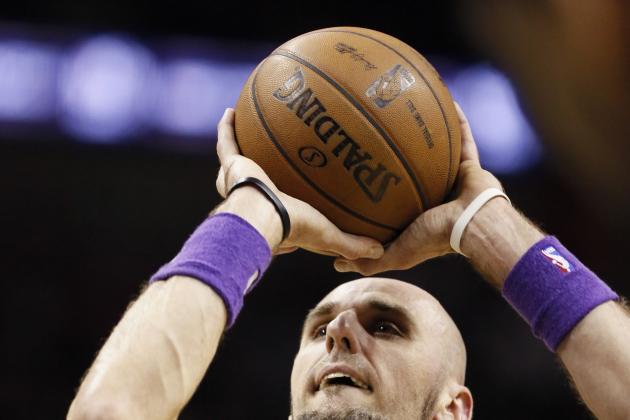 USA TODAY Sports

Team: Phoenix Suns
Age: 29
Traditional 2012-13 Per-Game Stats: 11.1 points, 1.2 assists
Marcin Gortat isn't particularly strong in many areas of the offensive game, but he's a tremendous threat when rolling to the basket after setting a hard screen. During the 2011-12 season, playing with Steve Nash allowed Gortat to assert himself as a dominant big man.
Unfortunately for the Polish Hammer, Goran Dragic isn't quite as adept at running this type of high-low game. The floor general finds Gortat often, but it's clear that Nash's presence had given a false illusion of greatness for the 29-year-old.
The Phoenix Suns are far more effective when Gortat is on the court, and he's a terrific scorer of assisted baskets, but he doesn't bring enough to the table to move higher up in the rankings.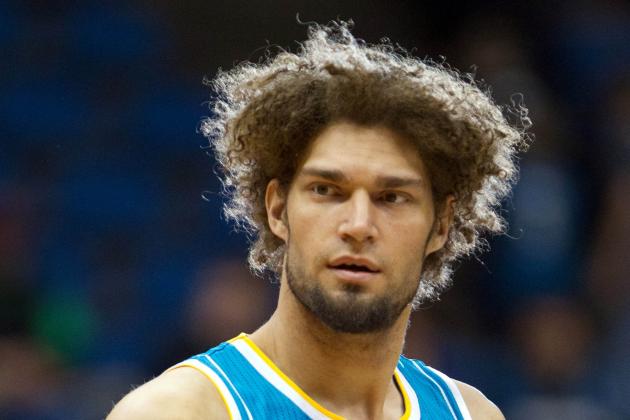 Brace Hemmelgarn-USA TODAY Sports

Team: New Orleans Hornets
Age: 24
Traditional 2012-13 Per-Game Stats: 11.2 points, 0.8 assists
While Robin Lopez's twin brother is a significantly more potent scorer, the New Orleans Hornets version is also pretty good at creating his own shot. Lopez doesn't have any noteworthy go-to moves that he uses on a consistent basis, but he displays good touch and creativity when finishing shots around the rim.
During the 2012-13 season, Lopez has knocked down 200 shots at the rim, and only 56 percent of them have resulted from the passes of his teammates. That's a mark that not many big men have exceeded, as the old-school, back-to-the-basket style of play is dying.
Lopez also has the ability to knock down mid-range jumpers. It's just not his specialty, although the Hornets would rather have him shooting than trying to make plays with his awful passing.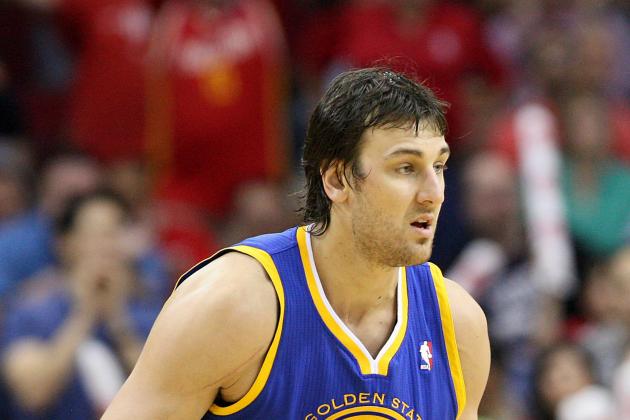 Troy Taormina-USA TODAY Sports

Team: Golden State Warriors
Age: 28
Traditional 2012-13 Per-Game Stats: 6.1 points, 2.2 assists
Andrew Bogut hasn't played all that much for the Golden State Warriors during the 2012-13 season. He's only been a part of 23 contests, and in those games, he's played an average of just 25.3 minutes.
So in a way, it's rather impressive that the Australian big man has even managed to earn a spot within the top 20 centers. After all, he hasn't been able to play as much as those surrounding him in the rankings.
Helping out Bogut is the fact that the Dubs have been more potent offensively when he's on the court. His four teammates have shot with an effective field-goal percentage of 52.7 percent when Bogut has played, as opposed to the 49.9 percent produced when the big man has been out.
That's a sizable difference, allowing the Utah product to earn a 2.13 teammate boost despite his lack of time spent running up and down the hardwood in uniform.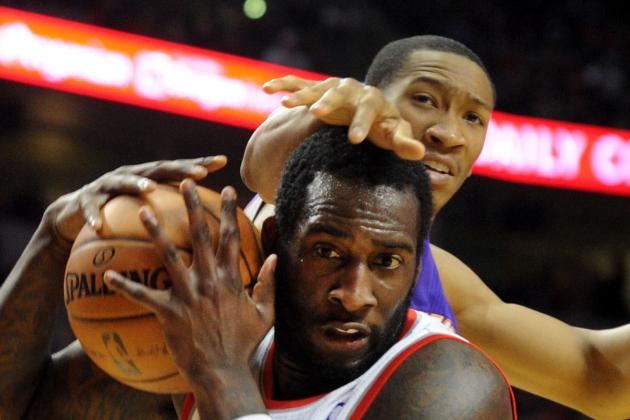 Steve Dykes-USA TODAY Sports

Team: Portland Trail Blazers
Age: 24
Traditional 2012-13 Per-Game Stats: 13.1 points, 1.1 assists
J.J. Hickson's NBA career hadn't exactly been trending in the right direction before the start of his first full year with the Portland Trail Blazers. He'd flamed out with multiple teams, and no one knew whether or not his impressive stint with Rip City during the 2011-12 season was a fluke due to small sample size.
Well, it wasn't.
Hickson is for real, as we all know now.
The 24-year-old big man doesn't create offense traditionally, though. He's not exactly a potent scorer, and his passing is lackluster at best.
It's Hickson's activity that allows him to aid Portland's offense. Take his offensive rebounding, for example. Hickson averages 3.5 offensive boards in only 29.5 minutes per game, which leaves him trailing only five other centers in the category.
Work on the offensive boards might not be thought of as creating offense in the traditional sense, but each board allows the team another shot at generating points.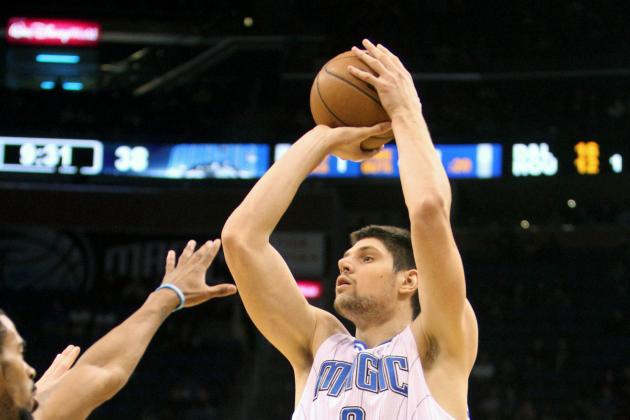 Kim Klement-USA TODAY Sports

Team: Orlando Magic
Age: 22
Traditional 2012-13 Per-Game Stats: 12.4 points, 1.8 assists
Averaging 3.4 rebounds per game on the offensive end, Nikola Vucevic is another player who thrives on the glass. However, this breakout big man brings a bit more to the table than J.J. Hickson.
In particular, he possesses enough offensive range that he can score more effectively and spread things out for the rest of the Orlando Magic. The second-year seven-footer out of USC has actually managed to knock down 65 shots from 16-to-23 feet. They've almost all been in catch-and-shoot situations, but that's still an impressive figure.
Vucevic has used his opportunity with the Magic to establish himself as an up-and-coming center. He's going to be a force for quite some time in the Association.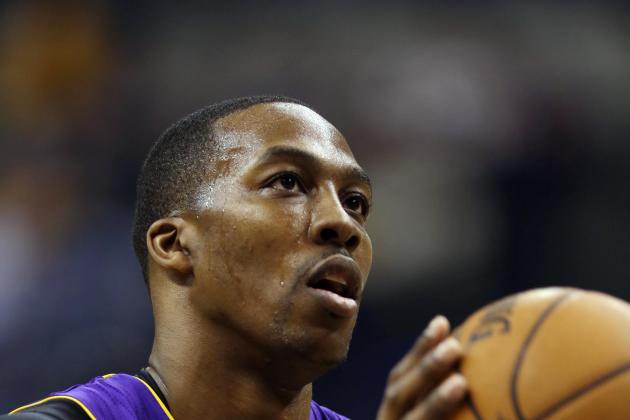 Brian Spurlock-USA TODAY Sports

Team: Los Angeles Lakers
Age: 27
Traditional 2012-13 Per-Game Stats: 16.5 points, 1.4 assists
If nothing else, Dwight Howard's spot at No. 15 in the center rankings should indicate that he's been far from healthy during his first season in purple and gold.
Even while disengaged with the Orlando Magic, D12 put up an 11.99 TOC, leaving him trailing only Roy Hibbert, Greg Monroe and Al Jefferson at his position. This year, Howard obviously falls short of significantly more players, although he'd be at No. 3 if he'd posted an identical 11.99 mark.
His role with the Los Angeles Lakers also hasn't helped too much, as he's been unable to take the necessary volume of shots required for offensive greatness. This has been true regardless of whether Kobe Bryant is on the court, as Howard still only managed a handful of shots when the Mamba was out of the lineup.
He's been an efficient shooter and a monster on the glass, but until Howard reasserts himself as a scoring force from tip-off until the final buzzer, particularly with that surprisingly good-looking jump-hook with either hand, he won't be able to move back up in the rankings.
Improved free-throw shooting might help as well.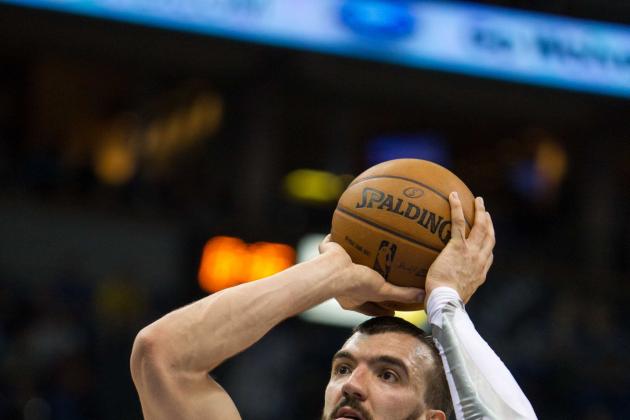 Brace Hemmelgarn-USA TODAY Sports

Team: Minnesota Timberwolves
Age: 27
Traditional 2012-13 Per-Game Stats: 15.6 points, 0.8 assists
Nikola Pekovic has been pretty careful with the ball, averaging only 1.7 cough-ups per game, but he's still a bit of a black hole when he receives the rock in the post.
The 27-year-old either bulls over a defender or struggles to pass it out to a teammate. He's one of the worst facilitating big men out there and hasn't taken the strides in that area some expected leading up to this season.
Pekovic has gotten better at creating his shots, though. Both in the post and in face-up situations, the big man has proven that he doesn't need a teammate to just feed him the ball.
That's resulted in an impressive split: 4.12 unassisted points and 3.98 assisted points per game.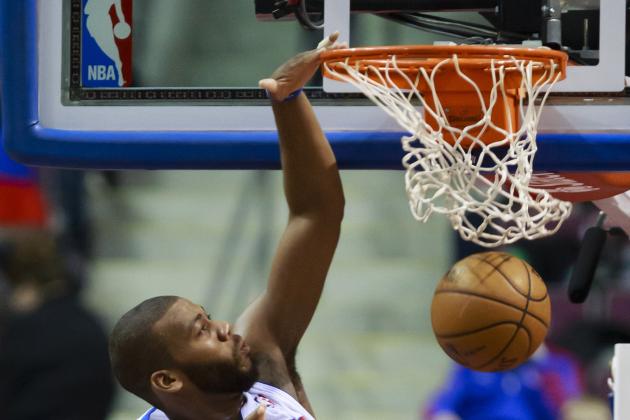 Rick Osentoski-USA TODAY Sports

Team: Detroit Pistons
Age: 22
Traditional 2012-13 Per-Game Stats: 16.0 points, 3.4 assists
Greg Monroe does an absolutely fantastic job creating his own shots, but he's regressed a bit during his latest season at the professional level. During the 2011-12 campaign, his TOC was over 14, and he's well shy of that mark now.
The problem has been the talent surrounding him on the Detroit Pistons.
Despite Monroe's fantastic passing abilities and 3.4 dimes per game, the team shoots significantly worse when he's on the court. The effective field-goal percentage of his teammates actually drops from 49.4 to 47.4 when the Georgetown product steps onto the court.
I know. I'm as surprised as you are.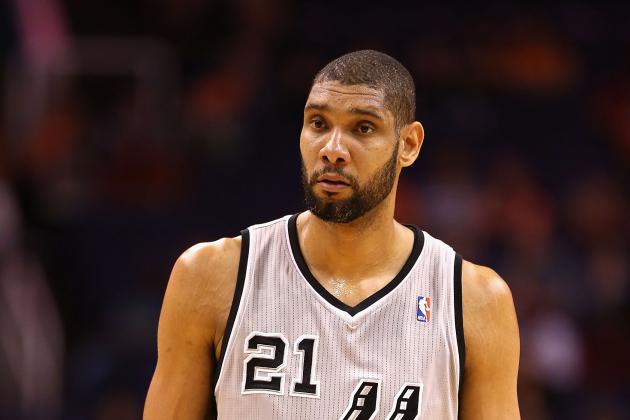 Christian Petersen/Getty Images

Team: San Antonio Spurs
Age: 36
Traditional 2012-13 Per-Game Stats: 17.3 points, 2.8 assists
I've got a while until I'm 36 years old, but I hope that I'm able to maintain whatever athleticism and skill I have now as well as Tim Duncan has for the San Antonio Spurs.
The Big Fundamental is still a dominant player, even though he's more limited, both in terms of physicality and the minutes he gets to spend on the court. Duncan's efficiency numbers in particular are just phenomenal.
He's shot 50.4 percent form the field and 81.1 percent from the charity stripe during the 2012-13 campaign. The latter is easily the best mark of his illustrious career.
In particular, Duncan has thrived when receiving passes from Tony Parker, Manu Ginobili and the rest of his talented teammates. He's scored 4.69 assisted points per game, which leaves him trailing only Al Horford and Kevin Garnett in the category.
If Gregg Popovich allowed Duncan to play more—and I'm by no means doubting Pop's conservative strategy here—then the 36-year-old would most likely rank well within the top 10. But with less than 30 minutes per game on the court, that's just not been possible.
Also, don't make the mistake of thinking that the greatest power forward of all time still lines up at the 4. According to 82games.com, Duncan has played exclusively at center for the Spurs this year.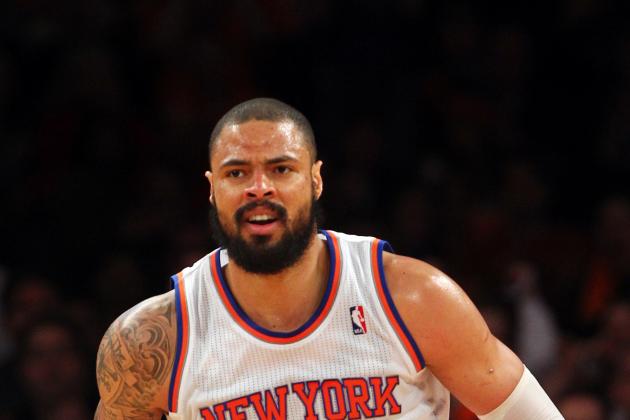 USA TODAY Sports

Team: New York Knicks
Age: 30
Traditional 2012-13 Per-Game Stats: 10.7 points, 0.9 assists
You'd never confuse Tyson Chandler for a terrific offensive player, but he's quite a dynamic one.
Chandler doesn't create shots for himself, and he doesn't score a lot. He's not a particularly great passer either. And yet, none of that matters.
The defensive-minded big man knows exactly what he should be doing on the court, and he sticks to those strengths. Chandler is a proficient pick-and-roll player because of his propensity to finish plays at the rim. He's also a premier lob option.
Defenses have to respect Chandler's ability to slam the ball home, and by accounting for it, they leave New York's bevy of three-point options a bit more open. That's how Chandler was able to earn a slightly positive teammate boost of 0.34.
He also rarely misses shots and grabs 4.2 offensive rebounds per game, more than any center save one.
I know it's strange to see Chandler all the way up at No. 11 in the rankings, but challenge yourself to think of offense as more than just scoring.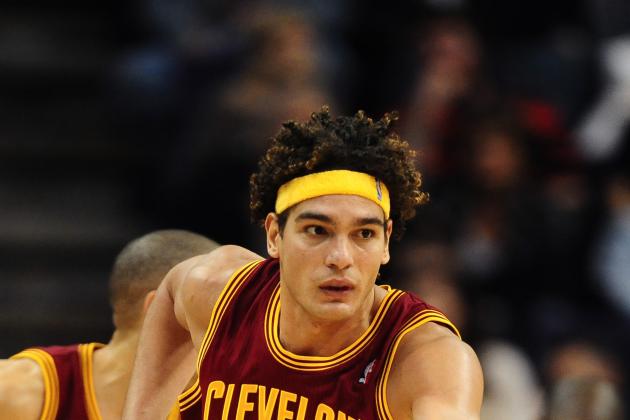 Mark J. Rebilas-USA TODAY Sports

Team: Cleveland Cavaliers
Age: 30
Traditional 2012-13 Per-Game Stats: 14.1 points, 3.4 assists
It's been quite a while since Anderson Varejao has played for the Cleveland Cavaliers because of the blood clot keeping him out for the rest of the 2012-13 season, but don't let that detract from what the floppy-haired center did while in the lineup.
Varejao was one of the league's best big men when healthy, thanks in large part to his multifaceted contributions.
The 30-year-old might not be a great shot-creator, but he's good at finishing around the basket, allowing him to play with quite a bit of efficiency. Varejao also averaged 5.5 offensive rebounds per game, which leaves every other center in the dust since Tyson Chandler checks in at No. 2 with 4.2 per contest.
As for his passing, only two big men in the league average more assists per game than Vareajo's 3.4. Additionally, 1.2 of those dimes go for three-pointers, a mark that only Al Horford has been able to top.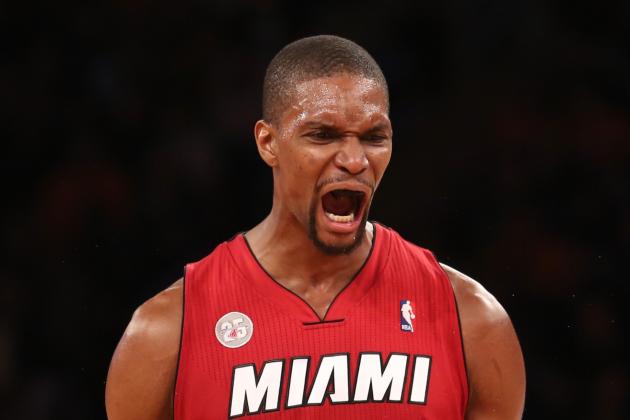 Nick Laham/Getty Images

Team: Miami Heat
Age: 28
Traditional 2012-13 Per-Game Stats: 16.6 points, 1.5 assists
Chris Bosh may be commonly referred to as a power forward, but he's played quite a bit more center for the Miami Heat. According to 82games.com, the 28-year-old photobombing expert has played 63 percent of the available minutes at center and just two percent of them at power forward.
So even if you still want to call Bosh a power forward (and I'm perfectly fine with that), you shouldn't really have any qualms about him being a part of the center rankings.
Even without elite offensive rebounding skills, Bosh has managed to assert himself as a force on offense. He might be the third option for the Miami Heat, but the Georgia Tech product has averaged 16.6 points per game. His mid-range shooting in particular stands out.
Bosh has knocked down 158 shots from 16-to-23 feet, more than any other player at his position in the NBA.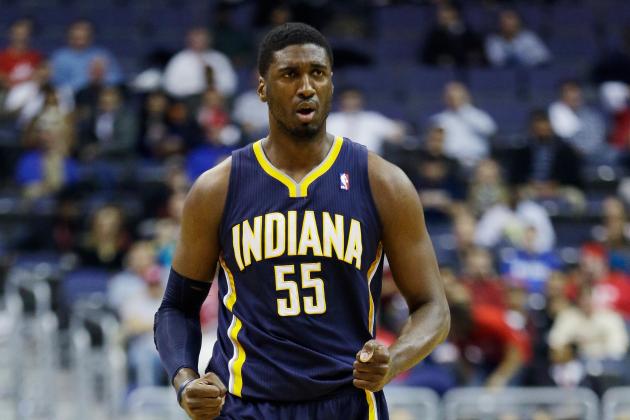 Rob Carr/Getty Images

Team: Indiana Pacers
Age: 26
Traditional 2012-13 Per-Game Stats: 10.8 points, 1.4 assists
As a scorer, Roy Hibbert is having a pretty terrible season. At times, it's looked like he's completely forgotten how to put the ball in the basket. Quite frankly, you could sometimes replace the rim with a hula hoop and it wouldn't make a difference.
However, there are quite a few saving graces for this Georgetown product.
He has a pretty nice jump-hook that he can make with either his left or right hand from the blocks, and it's a nearly unblockable attempt because he typically towers over every defensive player on the court. That allows Hibbert to score a number of unassisted points.
His 4.15 unassisted points per game trail only six centers in the Association, even if he requires a whole bunch of shots in order to get those points.
Additionally, he's an imposing enough presence that the Indiana Pacers shoot significantly better when he's on the court. Of course, his Georgetown-taught passing skills might have something to do with his 3.76 teammate boost as well.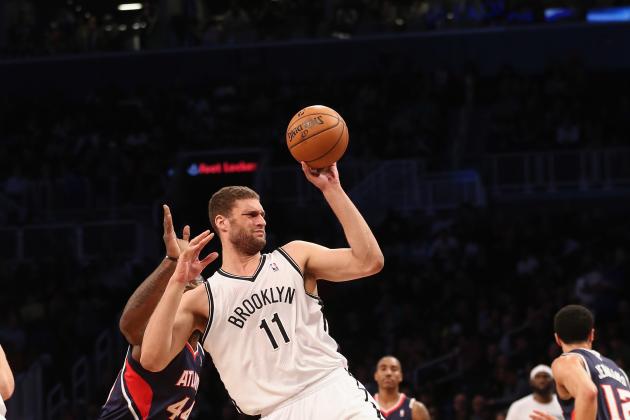 Bruce Bennett/Getty Images

Team: Brooklyn Nets
Age: 24
Traditional 2012-13 Per-Game Stats: 19.0 points, 0.9 assists
Roy Hibbert's presence in the top 10 might have been a bit surprising, but Brook Lopez's absolutely shouldn't be.
He may have his faults, namely his lackluster rebounding skills, the occasional soft play and his defensive shortcomings, but the man is an offensive dynamo. Brook is just a terrific scorer, whether he's shooting mid-ranger jumpers or finishing plays around the rim.
Joe Johnson, Deron Williams and the rest of the Brooklyn Nets have been playing well on offense, but Brook is certainly a tremendous contributor on the more glamorous end of the court.
In terms of pure scoring (unassisted points plus assisted points minus weighted misses*), Lopez is the No. 1 center, and it's not even close. His pure scoring comes in at 8.12, and second place is just 6.95.
*Weighted misses incorporates offensive rebounding and team offensive rating, much in the same way that TOC does.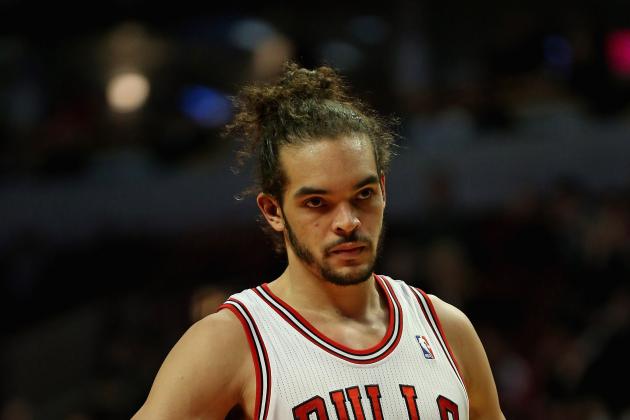 Jonathan Daniel/Getty Images

Team: Chicago Bulls
Age: 28
Traditional 2012-13 Per-Game Stats: 12.1 points, 4.1 assists
During the data collection process, I actually expected Joakim Noah to finish in the top three. I like to predict the rankings before I see where the players fall, and I usually save the top guys in my predictions for the end. Noah was in that category.
He might not be a scorer, but he's absolutely a dynamic offensive player.
It's not an uncommon sight to see the big man leading the charge on a Chicago Bulls fast break. He's just that skilled with the ball in his hands. Tom Thibodeau has the incredible luxury of letting his offense run through his big man quite often.
Noah's passing can be a thing of beauty. He leads all centers with his 4.1 assists per game, and 0.8 of them lead to three-pointers by the Bulls.
Just imagine if Noah became a featured scorer at some point during his career. It seems unlikely, but it's fun to think about.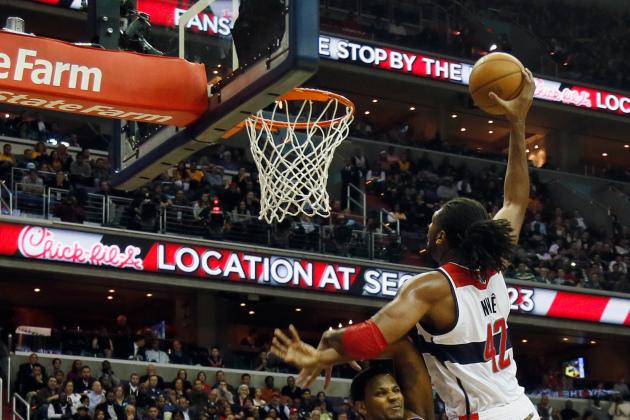 Rob Carr/Getty Images

Team: Washington Wizards
Age: 30
Traditional 2012-13 Per-Game Stats: 13.0 points, 2.9 assists
John Wall and Nene Hilario have been the true difference-makers for the Washington Wizards.
While the point guard opens things up for his teammates with his incredible passing and the threat of his constant athletic drives to the basket, the center does the same with his offensive prowess in the paint. He demands the attention of more than just his assigned defender, and that helps out the other four Wizards on the court tremendously.
When Nene is on the court, the other members of this Washington squad have posted an effective field-goal percentage of 51 percent. When the Brazilian big man rests or sits out with an injury, though, the number drops rather significantly to 45.8 percent.
That gives Nene a 3.99 teammate boost, trailing only the No. 1 player in these rankings.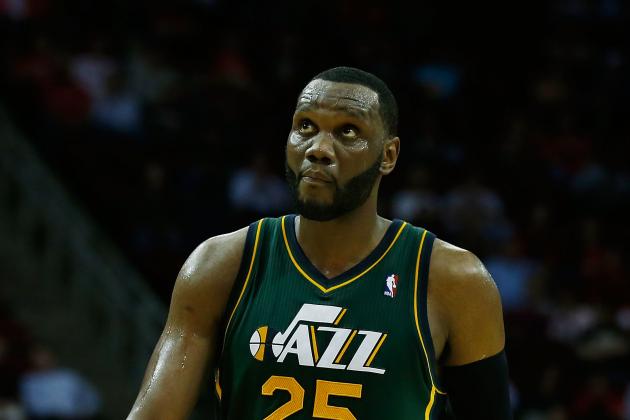 Scott Halleran/Getty Images

Team: Utah Jazz
Age: 28
Traditional 2012-13 Per-Game Stats: 17.3 points, 2.1 assists
Al Jefferson is one of the few remaining back-to-the-basket centers in the NBA, and he's quite good at what he does.
More often than not, the 28-year-old big man runs down the court and plants himself on the left block. No player in the league is better at confusing defenders and finishing the play from that spot. Just take a look at this heat map, courtesy of Basketball-Reference.com.
Watching him use his drop step is just a beautiful sight.
Jefferson has made 131 shots from three-to-nine feet during the 2012-13 season, and far more of them have come from his stronger side of the court. Moreover, only 42 percent of those shots have been assisted.
Among qualified centers, that leaves him at first and third in the two respective categories. Interestingly enough, Enes Kanter, Jefferson's protégé in Utah, is one of the two beating him in the latter one.
As a result, No. 25's 7.02 unassisted points per game are more than any other center has produced.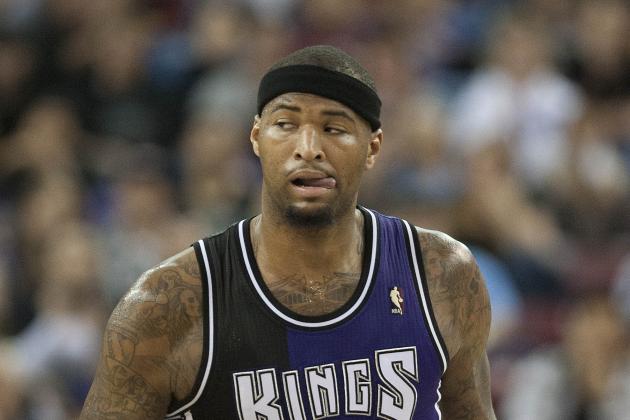 Ed Szczepanski-USA TODAY Sports

Team: Sacramento Kings
Age: 22
Traditional 2012-13 Per-Game Stats: 17.0 points, 2.9 assists
If DeMarcus Cousins could stay on the court—I'm referring to both fouls and the suspensions and benchings that result from losing his head—he'd have already asserted himself as a true superstar in this league. However, he's become quite a frustrating player, demonstrating a level of maturity significantly shy of his 22 years.
When Cousins is completely engaged, he's such a physical presence that he's nearly impossible to slow down, much less stop entirely on a consistent basis. Boogie is a tremendous scorer, and he's actually quite a deft passer.
Plus, the big man does a fantastic job creating his own shot. His unassisted-to-assisted points per game ratio of 2.34 is the best at his position, and he's actually the only guy on the positive side of 1.8. Just take a look at this chart:
| | | | | |
| --- | --- | --- | --- | --- |
| % Assisted | At rim | 3-to-9 feet | 10-to-15 feet | 16-to-23 feet |
| DeMarcus Cousins | 45.8 | 33.0 | 50.0 | 59.5 |
| Qualified Centers Average | 62.11 | 57.90 | 71.61 | 77.06 |
In each area, Cousins is significantly better than average. This is true for his passing, teammate boost and offensive rebounding as well, though you obviously can't find those numbers on the chart.
To improve and eventually challenge for the No. 1 spot, the Kentucky product is just going to have to start shooting more efficiently and avoiding the turnovers.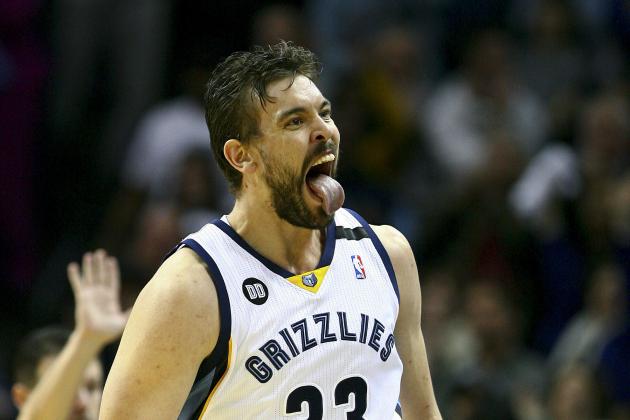 Spruce Derden-USA TODAY Sports

Team: Memphis Grizzlies
Age: 28
Traditional 2012-13 Per-Game Stats: 14.3 points, 3.9 assists
It's a shame that Marc Gasol is out indefinitely with an abdominal tear, because he was a joy to watch when healthy. The Memphis Grizzlies thrived with his steady presence in the paint on both sides of the court.
Of course, we're only talking about offense here, so his DPOY candidacy is irrelevant.
Although the younger Gasol brother is a weak offensive rebounder compared to the other elite centers in these rankings, he does just about everything well. Between his scoring, passing, 1.60 teammate boost and ability to create his own shot, he excels in every category.
I'd still like to see Gasol assert himself a bit more as a scorer, though. He plays passively a bit too often, even though great things tend to happen when he strives to take over the game.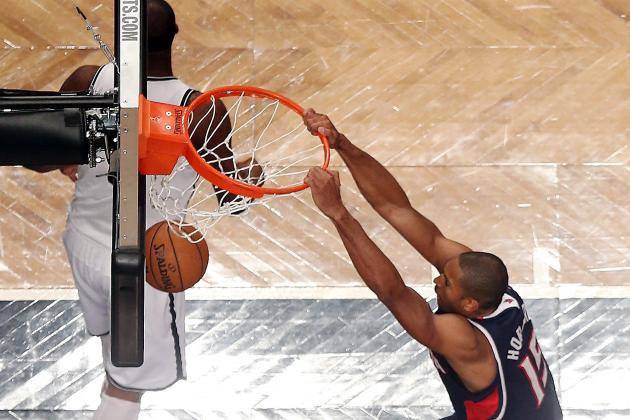 Bruce Bennett/Getty Images

Team: Atlanta Hawks
Age: 26
Traditional 2012-13 Per-Game Stats: 17.4 points, 3.2 assists
If you're trying to find faults with Al Horford's game, it has to start with his ability to create his own shot. The former Florida Gator does tend to rely on Jeff Teague and the other distributors on the Atlanta Hawks, but he's stellar in catch-and-shoot situations.
Horford's shot might be unorthodox, but it still works.
Hawks fans feel quite confident when the ball leaves his hands from outside the paint and inside the three-point line. Thanks to his mid-range capabilities, Horford leads all centers in assisted points per game by a rather significant margin.
He's also a terrific passer, as indicated by his 3.2 assists and 2.0 turnovers per game, giving him a pretty stellar assist-to-turnover ratio for a big man. Larry Drew can feel confident that the Atlanta offense will flow properly when the plays run through Big Al.
That offense is also quite a bit better when Horford plays. His teammate boost is a sky-high 4.87, nearly a full point ahead of Nene Hilario and the rest of the field, thanks to the 4.9 percent jump in the effective field-goal percentage of his teammates when Horford enters the court.
The 26-year-old may not have been an All-Star this year, but he does top the TOC rankings at his position.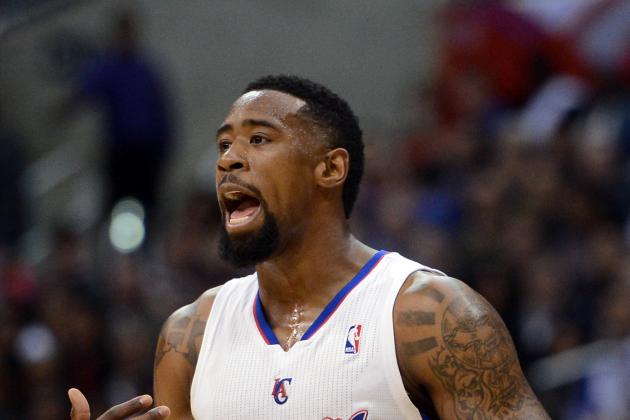 Harry How/Getty Images

The following chart shows a few interesting components of TOC that I've referenced throughout this article for all eligible players. It also reveals the order of each player in TOC from No. 1 through No. 46, even though only the top 20 were featured.
Unassisted points per game, assisted points per game and teammate boost are all essential parts of TOC, but they aren't the only components. That's why you won't produce the final column of the chart if you add up the other numbers.
The top three leaders in each component can be found in bold.
| | | | | | |
| --- | --- | --- | --- | --- | --- |
| Rank | Player Name | Unassisted PPG | Assisted PPG | Teammate Boost | Total Offense Created |
| 1 | Al Horford | 3.59 | 6.01 | 4.87 | 14.68 |
| 2 | Marc Gasol | 3.76 | 3.58 | 1.60 | 12.56 |
| 3 | DeMarcus Cousins | 6.90 | 2.94 | 1.30 | 11.75 |
| 4 | Al Jefferson | 7.02 | 4.06 | 1.84 | 11.45 |
| 5 | Nene Hilario | 3.93 | 2.85 | 3.99 | 11.42 |
| 6 | Joakim Noah | 3.40 | 3.02 | 0.77 | 11.25 |
| 7 | Brook Lopez | 5.87 | 4.64 | 0.74 | 11.12 |
| 8 | Roy Hibbert | 4.15 | 2.39 | 3.76 | 10.66 |
| 9 | Chris Bosh | 3.23 | 5.12 | 2.80 | 10.53 |
| 10 | Anderson Varejao | 3.37 | 3.92 | -2.88 | 10.21 |
| 11 | Tyson Chandler | 2.06 | 2.92 | 0.34 | 9.40 |
| 12 | Tim Duncan | 4.49 | 4.69 | 0.51 | 9.33 |
| 13 | Greg Monroe | 6.05 | 3.89 | -1.73 | 8.96 |
| 14 | Nikola Pekovic | 4.12 | 3.98 | -0.95 | 8.21 |
| 15 | Dwight Howard | 3.69 | 4.15 | 1.43 | 8.00 |
| 16 | Nikola Vucevic | 3.56 | 3.90 | 0.04 | 7.59 |
| 17 | J.J. Hickson | 3.53 | 3.56 | -0.89 | 7.41 |
| 18 | Andrew Bogut | 2.45 | 1.39 | 2.13 | 7.17 |
| 19 | Robin Lopez | 3.66 | 2.83 | -0.42 | 6.89 |
| 20 | Marcin Gortat | 2.62 | 3.52 | 1.43 | 6.84 |
| 21 | Tiago Splitter | 1.85 | 3.00 | 0.50 | 6.72 |
| 22 | DeAndre Jordan | 2.58 | 2.45 | 2.37 | 6.69 |
| 23 | Omer Asik | 2.49 | 2.80 | 1.45 | 6.57 |
| 24 | Kevin Garnett | 2.80 | 4.83 | -0.06 | 6.16 |
| 25 | Andray Blatche | 4.42 | 1.96 | -1.18 | 5.60 |
| 26 | Emeka Okafor | 2.64 | 2.88 | -0.15 | 5.20 |
| 27 | Spencer Hawes | 2.06 | 3.54 | -0.33 | 5.18 |
| 28 | Larry Sanders | 2.52 | 2.84 | 0.67 | 5.15 |
| 29 | Kosta Koufos | 1.91 | 2.81 | -0.59 | 5.10 |
| 30 | Zaza Pachulia | 1.42 | 1.48 | -0.24 | 4.83 |
| 31 | Jonas Valanciunas | 2.59 | 1.67 | -0.54 | 4.54 |
| 32 | Bismack Biyombo | 1.24 | 1.11 | 1.90 | 4.52 |
| 33 | Brandan Wright | 1.37 | 2.86 | 0.09 | 4.29 |
| 34 | Tyler Zeller | 1.22 | 2.45 | -0.4 | 4.17 |
| 35 | Jermaine O'Neal | 3.02 | 1.67 | -0.95 | 3.94 |
| 36 | JaVale McGee | 2.36 | 2.73 | -0.85 | 3.82 |
| 37 | Enes Kanter | 2.70 | 1.57 | -0.95 | 3.80 |
| 38 | Chris Kaman | 3.42 | 3.22 | -0.65 | 3.67 |
| 39 | Lavoy Allen | 1.32 | 2.08 | -0.25 | 3.61 |
| 40 | Andre Drummond | 2.70 | 1.88 | -0.40 | 3.38 |
| 41 | Jason Smith | 0.98 | 2.79 | -0.35 | 3.26 |
| 42 | Kendrick Perkins | 1.10 | 1.32 | 0.47 | 3.15 |
| 43 | Samuel Dalembert | 2.00 | 2.01 | -1.40 | 3.10 |
| 44 | Jordan Hill | 2.28 | 1.52 | -3.13 | 2.15 |
| 45 | Brendan Haywood | 1.31 | 0.87 | -0.47 | 1.92 |
| 46 | Ian Mahinmi | 1.13 | 1.42 | -1.19 | 0.93 |