NBA Power Rankings: Updated Standings for Every Team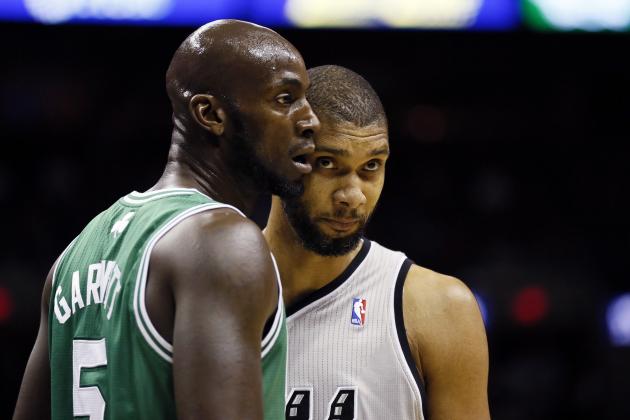 USA TODAY Sports

Who's moving up and down in the NBA Power Rankings as Kobe Bryant, Carmelo Anthony and Kevin Durant continue to light up the scoreboard while LeBron James plays basketball better than anyone else in the world?
Rookies like Anthony Davis and Damian Lillard continue to play well, but they aren't the only first-year players making an impact. In fact, a second-round pick is playing an increasingly large role for a team in the top 10.
So as the wins and losses keep piling up for the 30 teams in the Association, how do they all stack up? How have the rankings changed since the last edition, published nearly a month prior to this one?
You'll have to read on to find out.
Note: All stats, unless otherwise indicated, are current through Wednesday, Dec. 19.
Begin Slideshow

»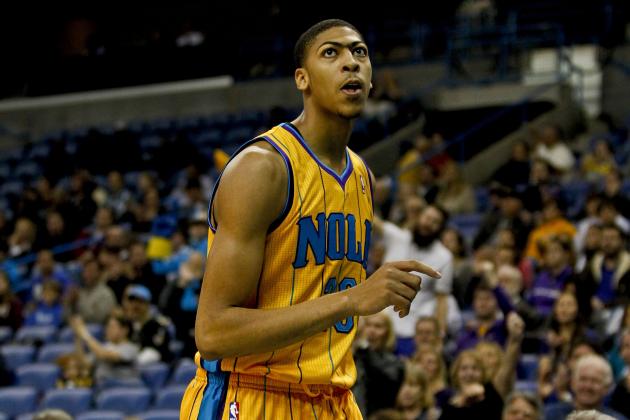 USA TODAY Sports

Record: 5-20
Last 10 Games: 1-9
Last Five Games: 0-5
Even the return of Anthony Davis hasn't been able to save the New Orleans Hornets. Although the No. 1 pick of the 2012 NBA draft has been quite impressive when he's on the court, the Hornets just haven't been able to win games.
The problem isn't that the Hornets are failing to live up to their respective individual expectations. There's just a lack of talent on the roster.
Ryan Anderson has been a great scorer, Greivis Vasquez continues to be one of the more underrated point guards, and so on. It just hasn't been enough.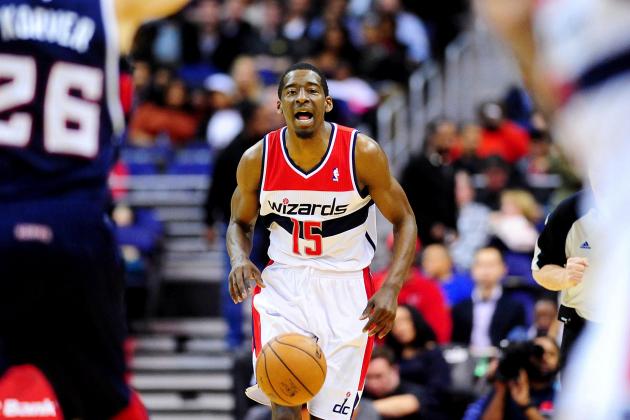 Evan Habeeb-USA TODAY Sports

Record: 3-20
Last 10 Games: 2-8
Last Five Games: 0-5
The Washington Wizards have had a few games on which to hang their collective hat, but that's about it. If I was in D.C., I'd be focusing on the fact that the Wizards beat the Miami Heat more than anything else.
However, that's just not how it works. The multiple lengthy losing streaks, like the current five-game one, are just inescapable.
Bradley Beal has improved a bit, and Jordan Crawford continues to look much improved, but there's not much else in the good-news department here.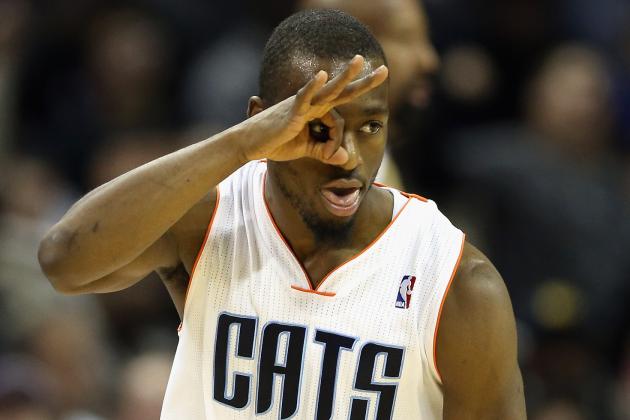 Streeter Lecka/Getty Images

Record: 7-18
Last 10 Games: 0-10
Last Five Games: 0-5
It took the Charlotte Bobcats only 12 games to match their win total from 2011-12, the season in which they set the all-time record for win-loss futility. Since then, they have yet to push past that seventh win.
Of course, I had to go and talk about how the Bobcats were new and improved behind Kemba Walker and Michael Kidd-Gilchrist. That's coming back to bite me.
As my friend Marvin told me via Facebook during their winless streak: "Adam, remember when you said the Bobcats might be good? They've lost nine in a row since that exact day. The Adam curse."
Although there have been a few positive moments—going to overtime with the Portland Trail Blazers and holding a double-digit lead over the Los Angeles Lakers in the second half, to name a couple—it's gotten worse. The string of losses is at 13, and the schedule is about to get even tougher.
With games against the Golden State Warriors, Denver Nuggets, Miami Heat, Brooklyn Nets and Chicago Bulls filling up the rest of the 2012 schedule, the Bobcats will likely need to beat the New Orleans Hornets at home on Dec. 29 to avoid losing out during the calendar year.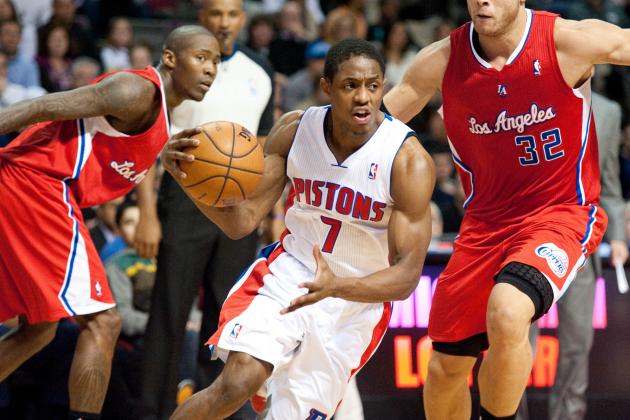 Tim Fuller-USA TODAY Sports

Record: 7-21
Last 10 Games: 2-8
Last Five Games: 0-5
The futility continues for the Detroit Pistons, who have now won just a single game in their last nine attempts. And that solitary victory came against a Cleveland Cavaliers squad that was without Kyrie Irving.
Greg Monroe hasn't been as effective as many expected during the 2012-13 campaign, but the early portion of the schedule has allowed Brandon Knight to take a few steps forward.
Although his 1-of-10 stinker against the Toronto Raptors certainly doesn't help prove my point, the young point guard has looked significantly better during his second season in the NBA. Before that game, Knight was averaging 18.6 points, 4.2 rebounds and 3.9 assists per game during December.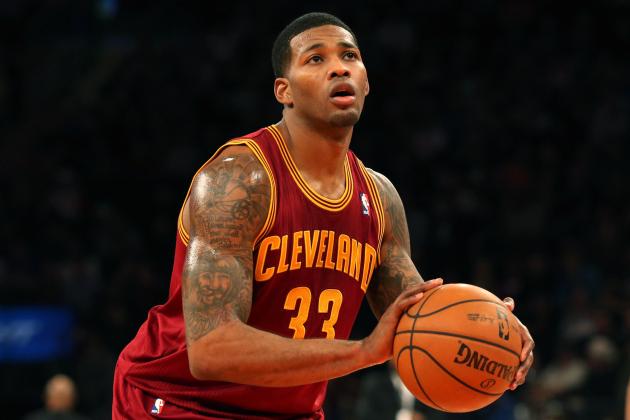 Anthony Gruppuso-USA TODAY Sports

Record: 5-22
Last 10 Games: 1-9
Last Five Games: 0-5
That lone victory against the Los Angeles Lakers is continuing to look like a massive outlier. Although Kyrie Irving successfully returned with 28 points and 11 assists to counter a 42-pount outburst from Kobe Bryant, the 100-94 win was both a fluke for the Cleveland Cavaliers and a testament to how poorly the Lakers were playing.
Irving is sensational. There's no doubt about that.
Other than the second-year point guard and the hustling/rebounding skills of Anderson Varejao, though, there's just not much else on this roster. Dion Waiters will change that soon enough, but he's struggled quite a bit as a rookie.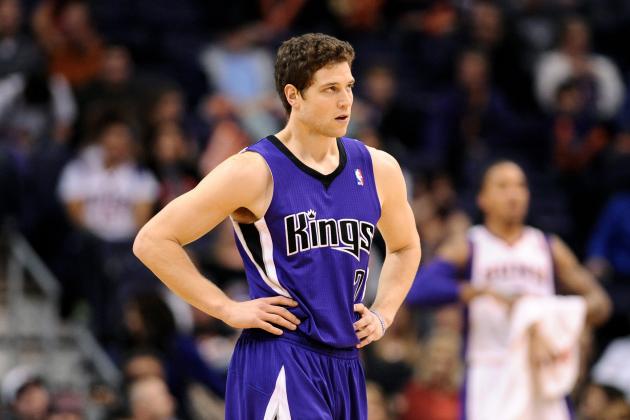 Jennifer Stewart-USA TODAY Sports

Record: 8-17
Last 10 Games: 4-6
Last Five Games: 1-4
Except for the surprising shootout victory over the Golden State Warriors, not much has gone right for the Sacramento Kings lately. They've been on the losing end of most games, and the scores have usually been more on the lopsided end of the spectrum.
Not all has been negative in Kings country, though.
Jimmer Fredette has finally started to live up to the massive potential that caused the Kings to draft him at No. 10 in the 2011 NBA draft. The sharpshooting point guard was averaging 7.6 points per game in just 12.3 minutes per contest going into the game against the Dubs, a number that is only going up after his 15-point performance.
He's playing with confidence, carving out a larger role, scoring some points and producing a few highlights in the process.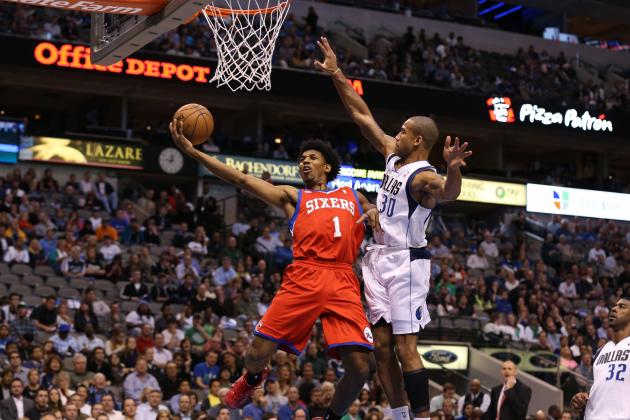 USA TODAY Sports

Record: 12-14
Last 10 Games: 2-8
Last Five Games: 0-5
The Philadelphia 76ers better place some lookouts at every bowling alley in Philly, because they desperately need Andrew Bynum to return and provide them with some inside presence.
Even with Nick Young rising to the challenge in Jrue Holiday's absence as the breakout point guard lets his foot heal, the Sixers haven't been able to snap a losing streak. In fact, despite the continued positive contributions of Thaddeus Young and Evan Turner, the team has only won two of its last 10 games.
And since the victories came in overtime against the Boston Celtics and in a close game against the Detroit Pistons, that's not exactly a good thing.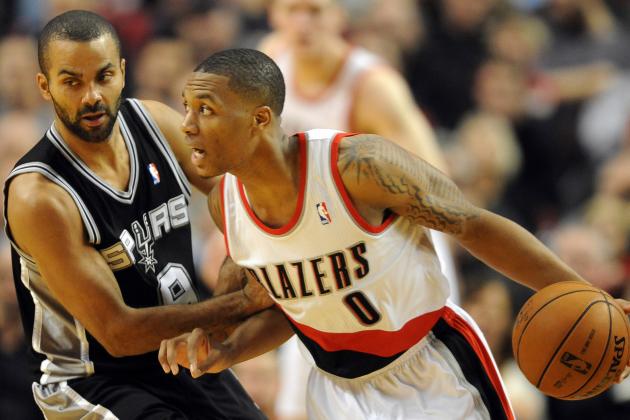 Steve Dykes-USA TODAY Sports

Record: 11-12
Last 10 Games: 5-5
Last Five Games: 3-2
The Portland Trail Blazers lay claim to one of the top starting fives in the NBA, but that hasn't been enough during the 2012-13 season.
LaMarcus Aldridge continues to post double-doubles on a nightly basis, at least when he isn't injured. Nicolas Batum's five-by-five was an incredible statistical achievement, one that truly represents the versatility with which he plays the game.
Perhaps most impressively, Damian Lillard has continued to assert himself not only as the prohibitive favorite for Rookie of the Year, but also as one of the top floor generals in all of the NBA.
However, the Blazers haven't achieved the same level of success that they should because of the reserves' futility. Luke Babbitt and Meyers Leonard are tied for the top PER off the bench at only 12.8. No one else can even break into double figures.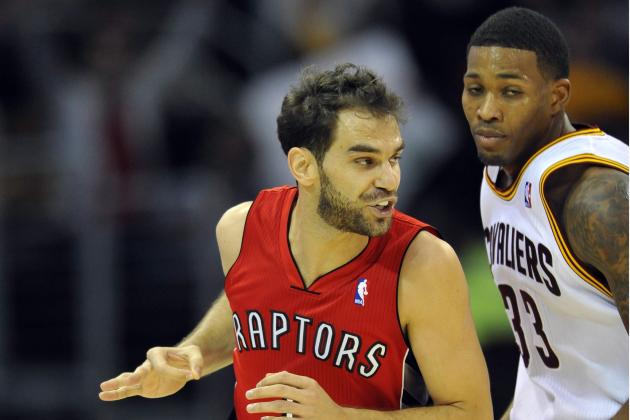 USA TODAY Sports

Record: 8-19
Last 10 Games: 4-6
Last Five Games: 4-1
Well, the Toronto Raptors quickly went from looking completely incompetent to appearing capable of winning games on a nightly basis. All it took was Kyle Lowry getting injured.
Wait, what?
That's right. The Raptors were able to go on a four-game win streak only after their best player—and potential All-Star—went down with a torn right triceps. Then again, it could also coincide with Andrea Bargnani's absence from the lineup.
Regardless of the injuries, Jose Calderon suddenly has this squad humming again. His playmaking has been simply superb as the assists just keep piling up.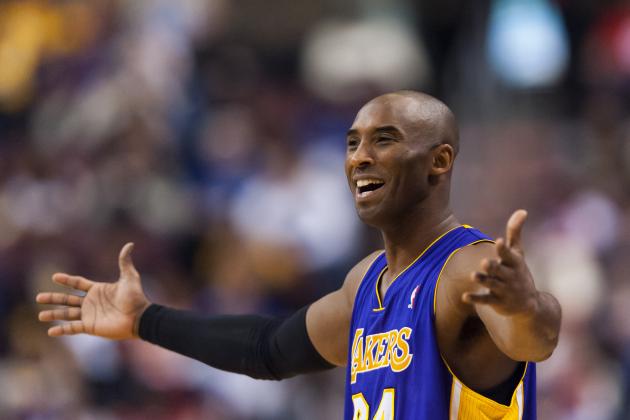 USA TODAY Sports

Record: 12-14
Last 10 Games: 4-6
Last Five Games: 3-2
It's still impossible to know exactly what to make of the Los Angeles Lakers, especially as Steve Nash continues to wear street clothes during games.
On one hand, this is a team that features an offensive genius on the sidelines and Dwight Howard, Kobe Bryant and Pau Gasol on the court. On the other hand, these Lakers have lost to the Orlando Magic and Cleveland Cavaliers in the past 10 games while beating the lowly Charlotte Bobcats by a single point after trailing by double digits in the second half.
After debates raged about whether or not the Lakers should be title favorites going into the 2012-13 season, the Lakers now sit outside the top eight in the Western Conference standings.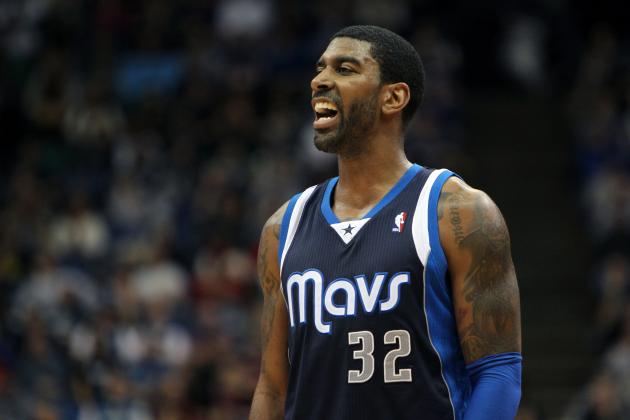 Brace Hemmelgarn-USA TODAY Sports

Record: 12-13
Last 10 Games: 5-5
Last Five Games: 2-3
The Dallas Mavericks continue to hang around right outside the postseason-eligible portion of the Western Conference standings as they await the return of Dirk Nowitzki. However, things haven't been too smooth for many players without a condiment for a last name.
That said, O.J. Mayo continues to be sensational.
A leading candidate for Most Improved Player, Mayo is still averaging over 20 points per game and continues to terrorize nets from the outside. He's hitting a mind-boggling 51.9 percent from downtown.
USA TODAY Sports

Record: 12-13
Last 10 Games: 7-3
Last Five Games: 4-1
Is it possible that this Orlando Magic squad is greater than the sum of its parts?
The Magic don't have much in the way of star power, but they have managed to draw dangerously close to .500 after a four-game stretch of unbeaten play highlighted by a home victory against the Golden State Warriors.
By playing good, fundamental defense and allowing their young, inexperienced players to prove themselves, the Magic have actually remained competitive. Nikola Vucevic, E'Twaun Moore and Andrew Nicholson in particular have been impressive.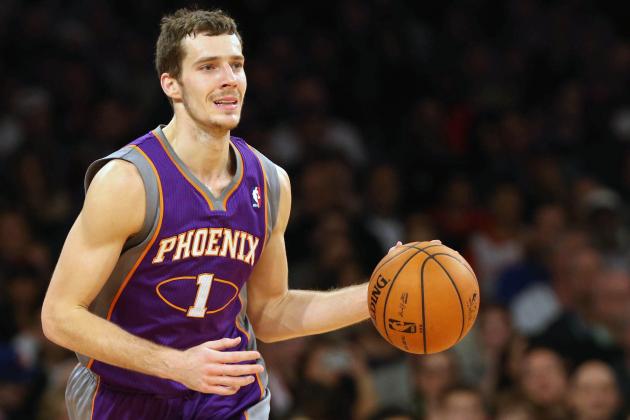 Anthony Gruppuso-USA TODAY Sports

Record: 11-15
Last 10 Games: 4-6
Last Five Games: 4-1
The Phoenix Suns have managed to create a rather large disparity between their performances at home and on the road during the 2012-13 season.
While playing at the U.S. Airways Center, the Suns have gone 9-5. However, they've only managed to win twice in 12 attempts while playing on the road.
Really though, that shouldn't be too surprising, as this is a younger team without much chemistry. Too many pieces are new, and Goran Dragic and company are all learning how to play with each other.
Anthony Gruppuso-USA TODAY Sport

Record: 13-12
Last 10 Games: 2-8
Last Five Games: 2-3
At the end of November, the Brooklyn Nets looked like one of the best teams in the NBA with a sparkling 11-4 record. Since the calendar changed over to December, things haven't gone so smoothly.
The Nets have only managed victories against the Toronto Raptors and Detroit Pistons, and they couldn't get by the Pistons at the Barclays Center without the aid of overtime and a fantastic game-winner from Joe Johnson.
Although the newly acquired shooting guard has been peaking recently, Deron Williams is still struggling. He looks nothing like the player who once balled for the Utah Jazz, and he has yet to find his shot. Until the floor general turns it around, the Nets won't either.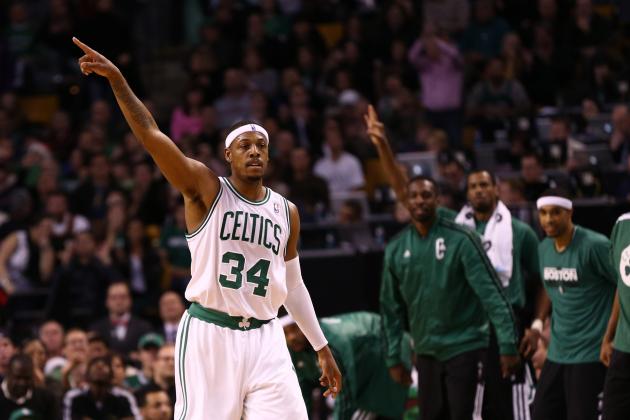 USA TODAY Sports

Record: 13-12
Last 10 Games: 5-5
Last Five Games: 2-3
Paul Pierce's ultra-efficient 40-point outing couldn't have come at a better time. It allowed the Boston Celtics to beat the Cleveland Cavaliers and end a tough four-game stretch that included three road losses and an overtime victory over the Dallas Mavericks.
Despite the great two-way play of Kevin Garnett and the passing brilliance—and I don't mean the fleeting version of that word—of Rajon Rondo, the C's have been surprisingly mediocre during the 2012-13 season.
Until they can get some consistent performances from players who haven't been mentioned in this slide, it's going to be tough to change that.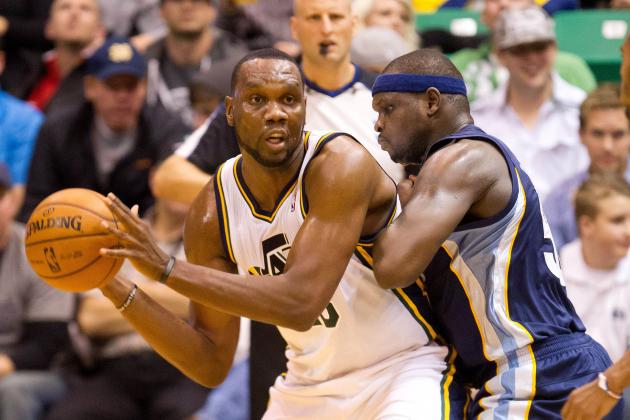 USA TODAY Sports

Record: 14-13
Last 10 Games: 5-5
Last Five Games: 2-3
The Utah Jazz are a hard team to figure out.
First they use a Mo Williams buzzer-beater to knock off the San Antonio Spurs, then they drop a game to the Phoenix Suns, 99-84.
A week later, they get a big win against the Brooklyn Nets in the Barclays Center, and then they lose by 20 points to the Indiana Pacers.
This is a deep team with plenty of young talent, so one of two things is going to happen. The Jazz are either going to start going on winning streaks and looking like they really will make the playoffs, or they'll start cutting into the veterans' minutes more and more in favor of Derrick Favors and company.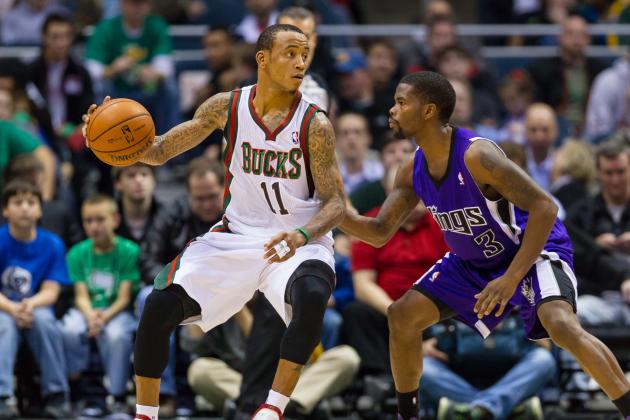 Jeff Hanisch-USA TODAY Sports

Record: 13-11
Last 10 Games: 6-4
Last Five Games: 3-2
The Milwaukee Bucks have actually allowed more points than they've scored this season, but the defense has been good enough recently to climb over .500.
Monta Ellis and Brandon Jennings might not be lockdown perimeter defenders, but they're pesky thieves on the outside who have the luxury of a great defensive frontcourt. Ersan Ilyasova might not be the best defender, but Ekpe Udoh and Larry Sanders are both studs on that end of the court.
Sanders in particular has been impressive during the 2012-13 season, blocking shots with fury throughout the year.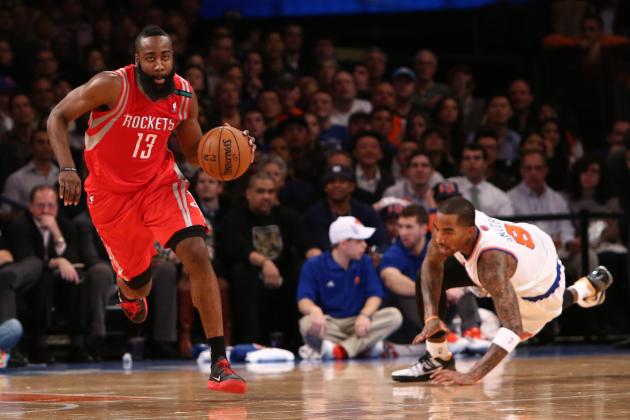 USA TODAY Sports

Record: 13-12
Last 10 Games: 6-4
Last Five Games: 4-1
Things have started to go a bit more smoothly for the Houston Rockets.
Problems arose early in the season when James Harden completely dominated the ball, leaving Jeremy Lin to work off the rock and figure things out for himself. That didn't work so well for Lin, and the Rockets struggled to win games.
The man who inspired Linsanity went off against the San Antonio Spurs when Harden was out with a sprained right ankle. He proved that he still has the potential to be a great player, despite his early-season struggles.
Sharing the ball much more effectively now, the backcourt duo has actually helped Houston push back over .500.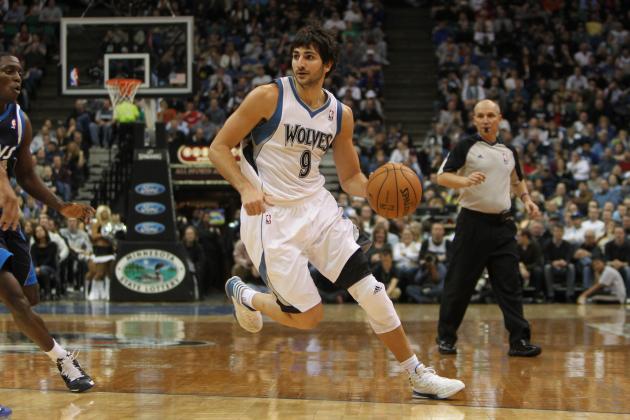 Brace Hemmelgarn-USA TODAY Sports

Record: 12-11
Last 10 Games: 6-4
Last Five Games: 3-2
Ricky Rubio is back, although the Minnesota Timberwolves are easing him back into the everyday routine of the NBA rather than throwing him right into the fire.
For Wolves fans, nothing could have been a sweeter present during the holiday season than the return of the Spanish point guard.
Really, everything in Minnesota has to feel pretty good right now.
Even without Kevin Love and Rubio playing together much at all, this squad sits above .500 in a tough Western Conference. To compound things, Love's shot still hasn't found its way back into his game quite yet.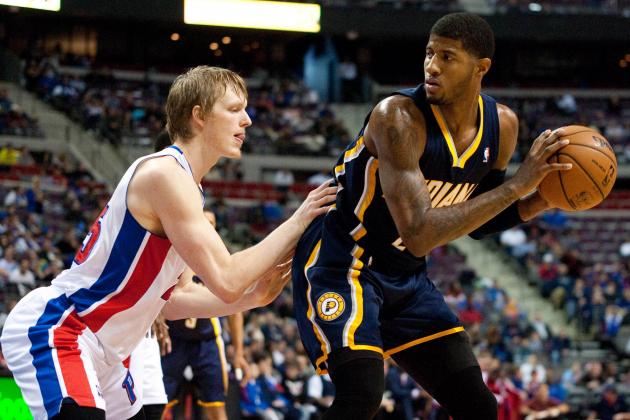 Tim Fuller-USA TODAY Sports

Record: 14-12
Last 10 Games: 6-4
Last Five Games: 4-1
It helps to have the Eastern Conference Player of the Week when you're trying to turn things around. Paul George has been simply sublime for the Indiana Pacers lately, finally living up to those massive expectations heaped upon his shoulders.
Since the beginning of December, George has averaged 20.1 points, 7.8 rebounds, 3.9 assists, 1.3 blocks and 1.4 steals per game. How's that for a nice line?
David West has continued to look great for the Pacers, as has George Hill.
Once Roy Hibbert remembers how to play offense, Indiana becomes scary.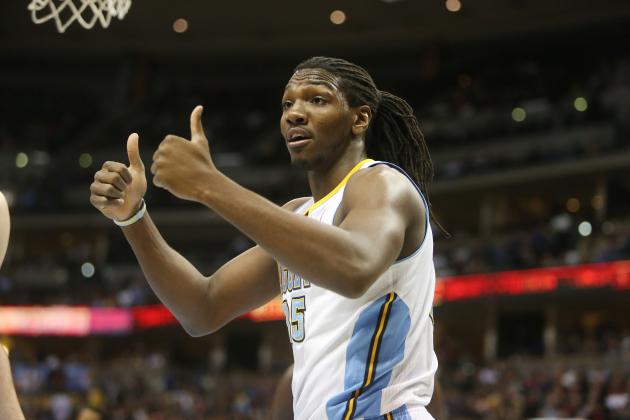 USA TODAY Sports

Record: 14-12
Last 10 Games: 6-4
Last Five Games: 4-1
Everything seems to be clicking for the Denver Nuggets, who have used a 4-1 stretch to climb back over .500. When Andre Iguodala starts to play basketball like he did in Philadelphia, this deep team is going to become even scarier.
Part of the reason for the recent success has been the schedule. Only six of the first 23 contests were within the friendly confines of the Pepsi Center—although they aren't so friendly to Kenneth Faried.
As soon as more games were played at a high altitude, more wins started falling into the victory column. Home contests against the Memphis Grizzlies and San Antonio Spurs, both bona fide contenders for the title during the 2012-13 season, resulted in victories.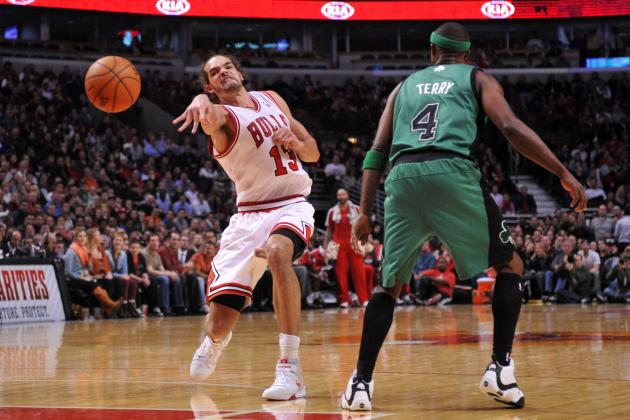 USA TODAY Sports

Record: 14-10
Last 10 Games: 7-3
Last Five Games: 3-2
The Chicago Bulls continue to put themselves in great position for the eventual return of Derrick Rose. Even without the star point guard and former MVP, the team is still sitting pretty atop the Central Division standings.
It's impossible to give Joakim Noah enough praise for his efforts on both sides of the court. The big man has been a primary reason for the success of this squad, and his energy, enthusiasm and overall zeal for the game can't properly be expressed by stats. And that's saying something, as his stats still look pretty impressive.
Tom Thibodeau's handling of his star players—40.2 minutes per game for Noah, 41.0 for Luol Deng—may come back to bite the team down the road, but there's a reason that statement isn't more definitive.
I can't say it "will" harm the Bulls later on because we have no idea if it actually will.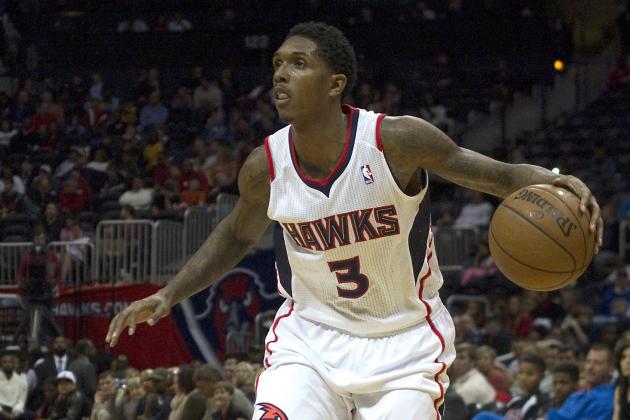 USA TODAY Sports

Record: 15-8
Last 10 Games: 6-4
Last Five Games: 3-2
The Atlanta Hawks appear to be cooling off a bit after their surprising start to the 2012-13 season, but this team still seems to be one of the better squads in the Eastern Conference. That's what a suffocating defense, a deep backcourt and a frontcourt featuring Al Horford and Josh Smith will do for you.
Lou Williams in particular has emerged as one of the most vital players for the Hawks, averaging 15 points per game off the bench in December.
What's going overlooked, though, is that Atlanta doesn't have bad losses, with the exception of an inexplicable failure to show up at home against the Cleveland Cavaliers. The Hawks have also lost to the Golden State Warriors (twice), Oklahoma City Thunder, Miami Heat (twice), Los Angeles Clippers and Houston Rockets.
The Rockets loss is excusable because it was on opening day, when James Harden exploded for 45 points to prove himself in his new home.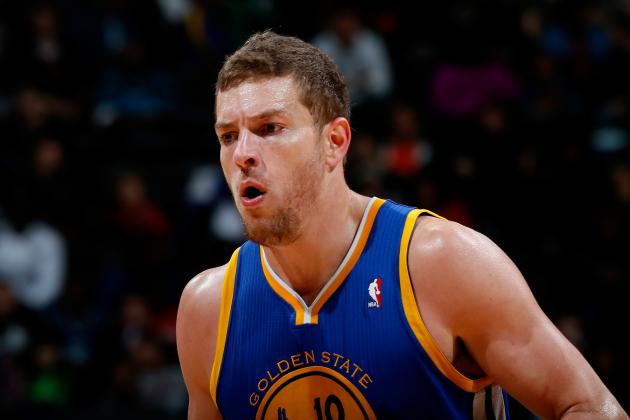 Kevin C. Cox/Getty Images

Record: 17-9
Last 10 Games: 7-3
Last Five Games: 3-2
It seems strange to say this on the heels of a surprising 131-127 loss to the Sacramento Kings, but the Golden State Warriors have been winning with defense during the 2012-13 season. Mark Jackson has had a remarkable effect on this squad.
According to Basketball-Reference.com, Golden State was allowing 104 points per 100 possessions going into that loss to Sacramento, good for 11th in the NBA. The Warriors still run at a breakneck pace, which inflates their per-game points allowed, but they're quite solid on a per-possession basis.
So many of the Dubs are willing to buckle down and stop the opposition from scoring points at a high rate. Draymond Green, for example, has carved out a rather large role for himself because of his defensive nature.
Even Stephen Curry's defense has improved.
The same can't be said about David Lee, but the power forward's offense has been so good that it hasn't even mattered much thus far.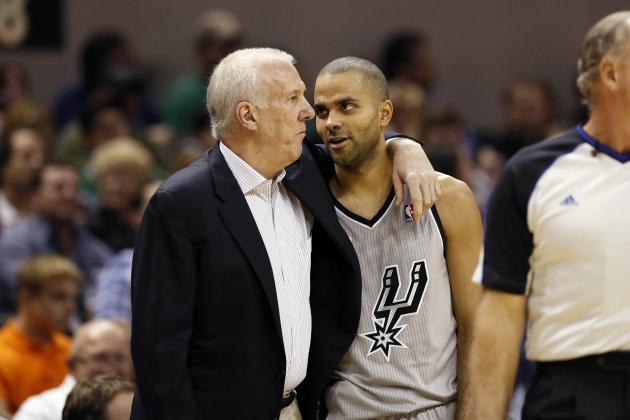 USA TODAY Sports

Record: 19-8
Last 10 Games: 6-4
Last Five Games: 1-4
Despite the continued excellence of Tony Parker and Tim Duncan's defiance of Father Time, the San Antonio Spurs have been struggling lately.
That's more a function of the schedule than anything else, but it's still a bit disconcerting to see any team coached by Gregg Popovich drop four of five games. Six road games in a seven-game stretch caught up to the Spurs, as they lost to the Utah Jazz, Portland Trail Blazers, Oklahoma City Thunder and Denver Nuggets.
I do want to bring up Duncan's performance in that last loss, though. It's almost inconceivable that a 36-year-old big man can record 31 points, 18 rebounds, six assists, two steals and five blocks in two games, let alone in a single contest.
Since the start of the 1985-86 season, only five other performances have matched or exceeded each of those marks: Shaquille O'Neal in 2001, Robert Parish in 1986 (at age 33), David Robinson in 1994 and Duncan twice more in the 2003 postseason.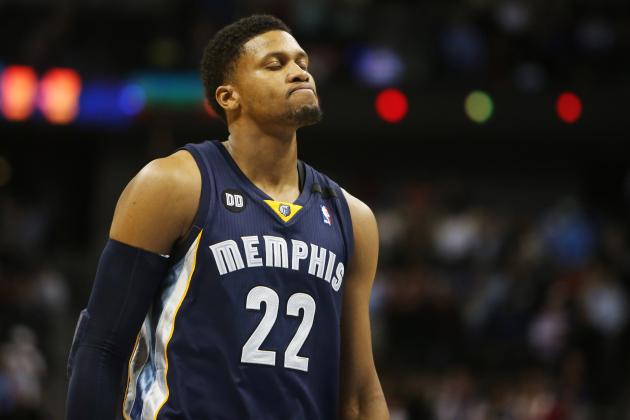 USA TODAY Sports

Record: 17-6
Last 10 Games: 6-4
Last Five Games: 3-2
As long as the Memphis Grizzlies still boast the services of Rudy Gay, Zach Randolph, Marc Gasol, Mike Conley and Tony Allen, they're going to be solid throughout the season.
It also helps that the Grizzlies have a little bit of depth working in their favor.
Regardless of who's on the court, the Grizzlies have been playing tremendous defense throughout the 2012-13 campaign. The 99.1 points per 100 possessions they had allowed going into their 90-80 victory over the Milwaukee Bucks was tops in the NBA (per Basketball-Reference.com).
That's not too shabby, especially since Memphis also has the 11th-best team offensive rating. The Grizzlies are dangerously close to joining the San Antonio Spurs, Los Angeles Clippers and Oklahoma City Thunder as the only teams to rank in the top 10 of both categories.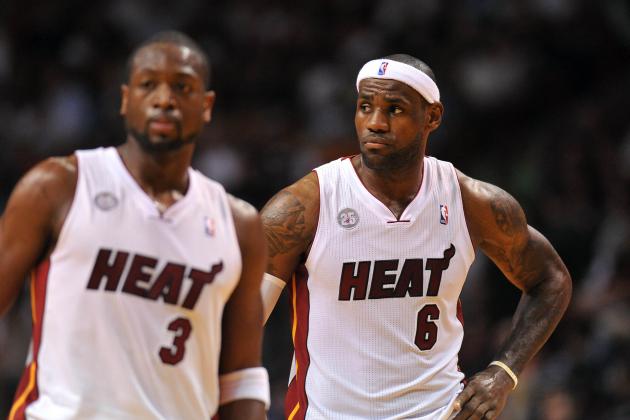 USA TODAY Sports

Record: 16-6
Last 10 Games: 7-3
Last Five Games: 4-1
There's a solid chance that the Miami Heat are just messing around with the rest of the NBA right now. They haven't had the same level of defensive focus, and that's been readily apparent by their inordinate number of lapses on that end of the court.
But does anyone really doubt that LeBron James, Dwyane Wade and Chris Bosh will turn it on when it actually matters in the postseason? They're perfectly capable of almost coasting to a top seed and then dominating during the playoffs.
If that seems overly positive for a 16-6 Miami Heat squad, just take a look at who they've lost to. Other than a surprising loss to the Washington Wizards in what might have been a classic case of looking past an opponent to the next game—in this situation, a looming showdown with the New York Knicks—the Heat have only lost to elite teams.
Miami's five other losses have been to the Knicks (twice), Memphis Grizzlies, Los Angeles Clippers and Golden State Warriors.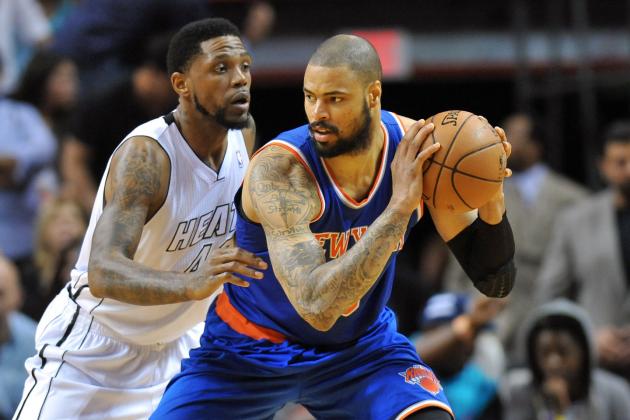 USA TODAY Sports

Record: 19-6
Last 10 Games: 8-2
Last Five Games: 4-1
If it wasn't for a pesky little thing called injuries, the New York Knicks could very well be on a string of victories that would date back all the way to an overtime loss to the Brooklyn Nets on Nov. 26.
Since that game, the Knicks have only lost to the Chicago Bulls, when Tom Thibodeau's defensive strategies neutralized New York's three-point marksmen while Carmelo Anthony nursed a finger injury, and the Houston Rockets, when Melo sat out with a sprained ankle and Jeremy Lin made his old team pay for letting him go.
These Knicks aren't going away anytime soon, especially with Iman Shumpert and Amar'e Stoudemire expected to return in the not-so-distant future.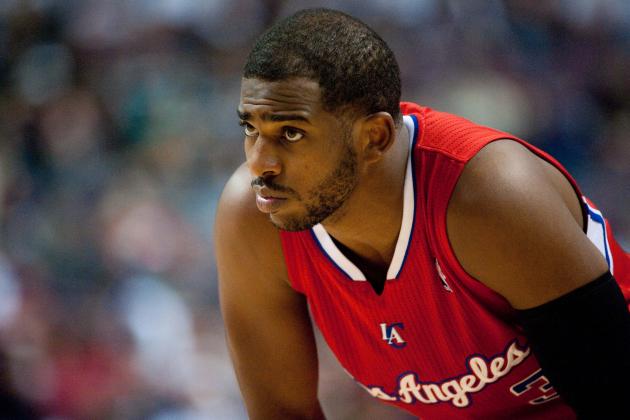 Tim Fuller-USA TODAY Sports

Record: 19-6
Last 10 Games: 10-0
Last Five Games: 5-0
The Los Angeles Clippers just keep on winning.
Chris Paul hasn't broken past the 20-point threshold in any of his last 10 games, but the Clippers haven't dropped a single contest during that stretch. He's been simply masterful managing the game and finding open teammates.
Of course, it helps that Blake Griffin is constantly improving and dominating almost every night. The highlight-producing power forward has made more shots than he's missed during each and every contest of the 11-game win streak.
The depth of this team is also beneficial. Having Jamal Crawford and Eric Bledsoe come off the bench is almost unfair.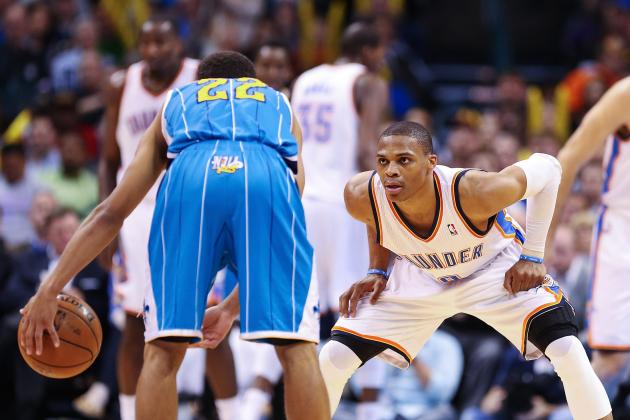 Kevin Jairaj-USA TODAY Sports

Record: 21-4
Last 10 Games: 10-0
Last Five Games: 5-0
It's amazing what a 12-game win streak can do to your spot in the power rankings.
The Oklahoma City Thunder have been on fire for just about a month now, destroying everything in their path. As if the 12-0 run wasn't impressive enough, a number of the victories have been by a rather large margin.
There are a lot of things working in the Thunder's favor.
Kevin Durant has continued to be sensational. If he isn't No. 1 on your MVP ballot, he better at least be in the top three alongside LeBron James and Carmelo Anthony.
Serge Ibaka has also made leaps and bounds on both ends of the court, and Russell Westbrook has improved yet again.
The dynamic point guard's rise in level of play may be the biggest difference-maker for the Thunder during the 2012-13 season, although I'm in no way saying that Westbrook has been their best or most valuable player.
He's remained a threatening scorer, but he's also distributing the ball fantastically while cutting down on his turnovers and playing elite defense. Compared to the 2011-12 season, Westbrook is averaging 3.3 more assists and 0.4 fewer turnovers per game.