NBA's Best Young Stars: Ranking the Top 25 Players Under 25 Years of Age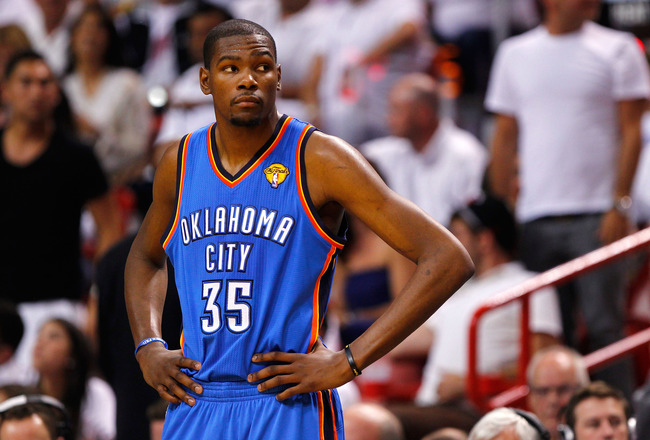 Mike Ehrmann/Getty Images
Building an NBA team is about balancing raw, young talent with experienced, seasoned veterans. You see that happening with teams like the Thunder, Heat and Spurs, all of which did very well in the 2012 NBA Playoffs.
The youth part, however, takes center stage. Talented players who are still young can sustain success for a franchise much longer than veterans. Young talent is the most coveted thing in basketball.
Now, in the age of one-and-done college basketball, you see younger and younger players rising to stardom. The average age of NBA players has dropped since 2006, which suggests all teams have to find a way to develop young talent quickly.
So which young players are the best? Which teams are getting ahead in terms of building up a pool of good players?
Here are the top 25 NBA players who are 24 or younger as of July 30, 2012.
*Note: List does not include players like Rajon Rondo, who are 25 and do not fit the criteria.
Honorable Mention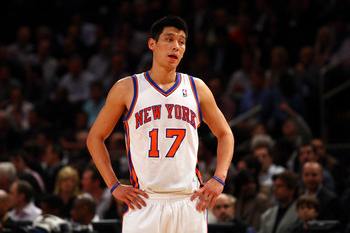 Jeremy Lin.
Chris Chambers/Getty Images
Gerald Henderson (CHA)
2011 Stats: 15.1 PPG, 4.1 RPG, 2.3 APG, 0.7 SPG
When you add in Michael Kidd-Gilchrist and Kemba Walker, both of whom just barely missed making this list, Charlotte currently has one of the better young trios in the league.
Henderson has been a coveted player since his high school days in the suburbs of Philadelphia, bringing athleticism and a nice scoring touch. He finally took another step forward in 2011-12, as he became Bobcats' go-to man when they needed buckets. He'll be a nice player for a number of years going forward.
Thaddeus Young (PHI)
2011 Stats: 12.8 PPG, 5.2 RPG, 1.2 APG, 1.0 SPG, 0.7 BPG
As they say, stats can be deceiving.
Playing a "role" as Philadelphia's second man off the bench for much of his career, Young has put together impressive numbers considering the decrease in minutes over the last couple seasons. He's never been considered "elite," but his combination of length, athleticism and grit have made him one of the more successful projects in Philly since Allen Iverson.
Young, unlike some of the other 24-year-olds on this list, has already played five years in the league. Not only does he have good experience with which he can build on, but he also has plenty left in the tank to extend his number of productive professional seasons further than most his age.
Jeremy Lin (HOU)
2011 Stats: 14.6 PPG, 3.0 RPG, 6.2 APG, 1.6 SPG
Aside from the "Linsanity" craze that swept the nation, Jeremy Lin was actually a pretty solid point guard for the Knicks before he got injured. The man had seven double-doubles (points and assists) in a 20-game stretch, and his only major weakness was turnovers—which can be fixed.
Now he'll be replacing Goran Dragic in Houston, a system Lin will fit in nicely. He might never win a championship or even be selected for an All-Star game, but he has the potential to be a starter for the Rockets for years to come.
MarShon Brooks (BRK)
2011 Stats: 12.6 PPG, 3.6 RPG, 2.3 APG, 0.9 SPG
Even as a sixth man in Brooklyn, tweener MarShon Brooks will continue to thrive. He'll be an excellent scorer off the bench to replace either Joe Johnson or Gerald Wallace, which gives Brooklyn depth, something it needs more of in 2012-13.
25. Nicolas Batum, POR (Age: 23)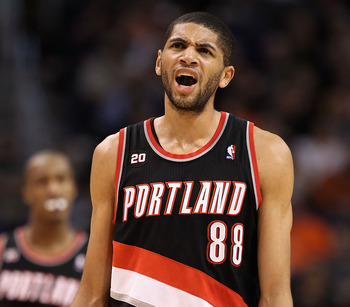 Christian Petersen/Getty Images
2012 Stats: 13.9 PPG, 4.6 RPG, 1.4 APG, 1.0 SPG, 1.0 BPG
Batum has yet to fully live up to his potential, which is quite a lot considering his extreme athleticism and above-average ball skills and shooting range.
I doubt the 23-year-old will ever be a superstar small forward, but the Blazers—who matched Minnesota's four-year offer sheet—will be very happy with what they get.
If Batum continues to develop, he could be an excellent all-around perimeter player, similar to Andre Iguodala—except with a better shooting touch—thanks to his impressive man-to-man defense. Overall, he's a nice young player who could be a mid-level starter for years to come.
24. Jrue Holiday, PHI (Age: 22)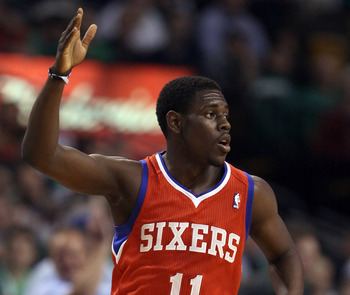 Elsa/Getty Images
2012 Stats: 13.5 PPG, 3.3 RPG, 4.5 APG, 1.6 SPG, 0.3 BPG
Jrue Holiday reportedly asked for a max contract during the offseason, but after a slightly underwhelming season in 2011-12, the 22-year-old point guard will have to put his money where his mouth is.
Holiday showed flashes of brilliance in last season's postseason, hitting several clutch three-pointers and playing good defense on guys like C.J. Watson and Rajon Rondo at times. His ability to facilitate could still use some work, but he's shown the ability to be a decent long-range shooter and an excellent transition player.
As he develops under HC Doug Collins, Holiday will continue to improve. He showed he can be the leader of the offense in 2010-2011, averaging 6.5 assists per game.
Whether he can become one of the league's next superstars is yet to be seen, but an All-Star-caliber season might make the Sixers think twice about denying him a long, lucrative deal.
23. Serge Ibaka, OKC (Age: 22)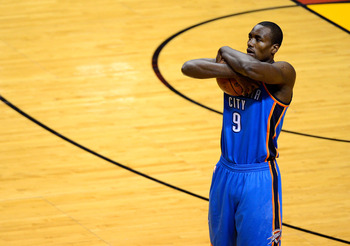 Ronald Martinez/Getty Images
2012 Stats: 9.1 PPG, 7.5 REB, 0.4 APG, 0.5 SPG, 3.7 BPG
Aside from his struggles to rebound the ball, there isn't much to dislike about Serge Ibaka's game.
"Air Congo" is a prototypical big man in today's NBA. He's athletic and long, playing excellent around-the-rim defense and using his athleticism to score in the paint. He is one of the better shot-blockers of the last decade and is an asset to any team defensively.
Even if OKC can't retain Ibaka for the 2013-14 season, wherever he goes, Serge will make an impact. He isn't the best low-post scorer, but his relentlessness on the offensive end coupled with his above-average defense will make him successful for years to come.
22. Danilo Gallinari, DEN (Age: 23)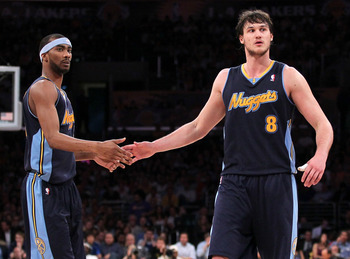 Jeff Gross/Getty Images
2012 Stats: 14.6 PPG, 4.7 RPG, 2.7 APG, 1.0 SPG, 0.5 BPG
Part of the trade that sent Carmelo Anthony to New York, Danilo Gallinari has been one of the reasons Denver continues to rise while the Knicks franchise has yet to recover.
Ty Lawson may have led the team in scoring in 2011, but everyone knows that Gallo is the team's most potent scoring threat. He attacks the rim with ferocity and seemingly draws fouls on every occasion, but he can also pull up and hit a long three with ease.
Gallinari is an inconsistent defender, but when Lawson is getting him the 6'10" swingman the ball and he's putting it in the bucket, he starts to play better on the defensive end as well. And he's only 23, so he has ample time to improve.
21. Tyreke Evans, SAC (Age: 22)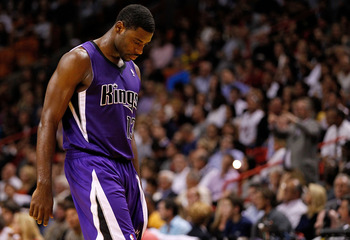 Mike Ehrmann/Getty Images
2012 Stats: 16.5 PPG, 4.6 RPG, 4.5 APG, 1.3 SPG, 0.5 BPG
Tyreke Evans is one of the more unfortunate stories in the league. After two years of prosperity for Evans, Sacramento filled its squad with other young players—Marcus Thornton and DeMarcus Cousins—who want the ball in their hands.
Evans is too much of a playmaker to be yielding to those two. While the Kings haven't pulled the trigger on a trade yet, it makes sense that they'll want to ship him out of town before they lose him for nothing after 2012-13.
Once he receives a change of scenery, all signs point to him being one of the league's better guards. Not only can he dish the ball out by getting into the lane and creating space for his teammates, but he can score from all over the floor and put a team on his back.
20. Michael Beasley, PHX (Age: 23)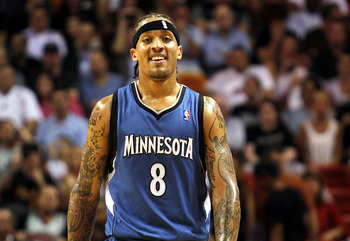 Marc Serota/Getty Images
2011 Stats: 11.5 PPG, 4.4 RPG, 1.0 APG, 0.4 SPG, 0.4 BPG
A lack of motivation on the defensive end is what has held former No. 2 pick Michael Beasley back over his NBA career, but a change of scenery to the Alvin Gentry-led Phoenix Suns should help clean up his attitude and provide the 23-year-old a perfect situation for redemption.
Denying that he has the talent to be a force in Phoenix is simply foolhardy. The guy has only played four years in the league and is still 23, and in that time he's averaged over 15 points per game in only 27 minutes. His mid-range game coupled with strong around-the-rim finishes makes him a viable option for any team as a wing/low block player.
As he matures and continues to develop his offensive game, Beasley will become one of Phoenix's go-to guys along with power forward Luis Scola.
19. Anthony Davis, NOH (Age: 19)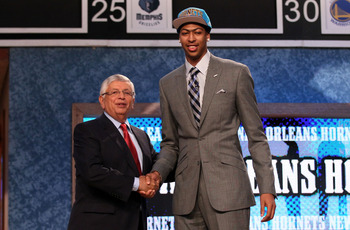 Elsa/Getty Images
2012 Stats: N/A (college)
I simply can't think of many people with a brighter future than Anthony Davis.
Davis is the youngest player ever to participate on Team USA's basketball team, tied with a current teammate, three-time MVP LeBron James. Even though it was due to a rash of frontcourt injuries to guys like Dwight Howard, Andrew Bynum and Blake Griffin, the reality is is that he hasn't stepped foot on an NBA court and is already one of the top low-post defenders in the league.
With the development of a variety of offensive moves, Davis will become one of the most dominant big men in the NBA within the next five years. He is nearly a sure-fire lock to win Rookie of the Year, which will be the start of a career that at the moment has no limits.
18. O.J. Mayo, DAL (Age: 24)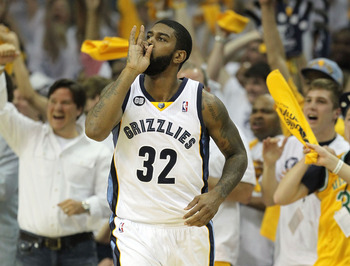 Andy Lyons/Getty Images
2012 Stats: 12.6 PPG, 3.2 RPG, 2.6 APG, 1.1 SPG, 0.3 BPG
With a 2012-2013 season reminiscent of a rookie performance that had him second in ROY voting, O.J. Mayo could definitely improve his standing on this list over the next 82 games.
After an impressive start to his career, Mayo had a falling out in Memphis and was relegated to the role of sixth man under head coach Lionel Hollins.
Now that he's been moved to Dallas, where the departure of Jason "The Jet" Terry leaves a gaping hole at shooting guard, Mayo will get starters' minutes and likely make the most of it like he did a couple years ago. His ability to get to the basket against tight man-to-man defenses coupled with his ability to shoot against zones will make him an offensive threat for the Mavs right away.
17. Brook Lopez, BRK (Age: 24)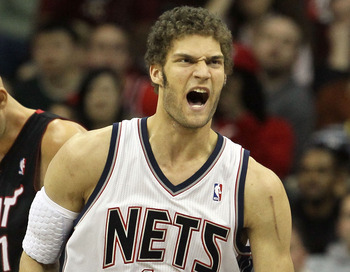 Jim McIsaac/Getty Images
2011 Stats: 19.2 PPG, 3.6 RPG, 1.2 APG, 0.2 SPG, 0.8 BPG
People love to criticize the Brooklyn Nets for the four-year, $61 million contract they handed out to center Brook Lopez this offseason, but when you look at it objectively you see a very good player with the potential to become elite.
Lopez may have struggled with rebounding in 2010-11, his last healthy season, but 20.4 points per game is no joke, even if they're inflated by playing on a bad team.
While he needs to work on toughness down in the low-post area, especially when it comes to rebounding and help defense on drivers, his array of post moves makes him an extremely dangerous offensive threat. With Kris Humphries standing side-to-side with him, Lopez's role fits his skill set since he can worry less about rebounding and more about scoring.
Over the next four years, Lopez will be a big reason why the Nets establish a dynasty and take the Eastern Conference by storm.
16. Ty Lawson, DEN (Age: 24)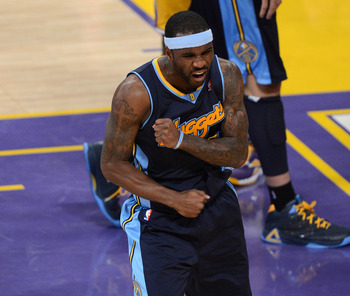 Kevork Djansezian/Getty Images
2012 Stats: 16.4 PPG, 3.7 RPG, 6.6 APG, 1.3 SPG, 0.1 BPG
Even though Ty Lawson has never been given the reins to the Nuggets—he's split point guard duties with Chauncey Billups, Raymond Felton and Andre Miller—he's put up good numbers and led his team to the playoffs in all three of his NBA seasons.
Lawson isn't a prototypical point guard, and he fits more into the mold made by Thunder guard Russell Westbrook, who relies on his athleticism and scoring ability to create the aura of a facilitator. Lawson has transformed this offense from a stagnant one to a fast-paced, transition-based machine that relies on both his scoring and passing, not just one.
He isn't a superstar yet, but he's part of the "next generation of point guards"—including Westbrook, Kyrie Irving and Rajon Rondo—and will continue to thrive in Denver.
15. DeMarcus Cousins, SAC (Age: 21)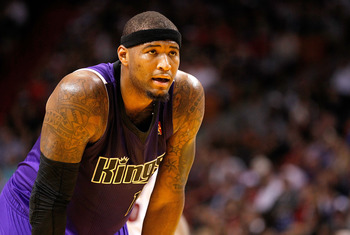 Mike Ehrmann/Getty Images
2012 Stats: 18.1 PPG, 10.9 RPG, 1.6 APG, 1.5 SPG, 1.2 BPG
He may be a diva that got his coach fired—remind anyone of Dwight Howard?—but DeMarcus Cousins has one of the brighter futures in the NBA.
When you look through all the dense fog created by the negative hype about his personality, you find a hard-nosed player with serious talent down in the low-block area. He can score inside with the best of them, and his rebounding numbers show an ability to crash the glass and make an impact.
I seriously doubt personality problems—which will really only lead to more effort on the court—can stop someone as talented as Cousins. He's another success story for the Kentucky Wildcats and head coach John Calipari.
14. Kyrie Irving, CLE (Age: 20)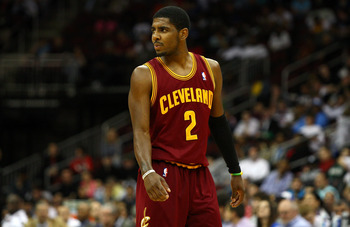 Chris Chambers/Getty Images
2012 Stats: 18.5 PPG, 3.8 RPG, 5.4 APG, 1.1 SPG, 0.4 BPG
Kyrie Irving won Rookie of the Year in 2011-12, and there's no reason to believe the point guard will take a step back as a sophomore in 2012-13.
While he certainly isn't an elite point guard yet, many consider him to be in the top 10 already. Even on a team that went 21-45, Irving managed to shine. He had 18.5 points and 5.4 assists per game on a team that had only other healthy, viable scoring option in Antawn Jamison. Irving will be even better this year with the additions of Tyler Zeller and Dion Waiters, the recovery of Anderson Varejao and the development of forward Tristan Thompson.
With two athletic big men who can run the pick-and-roll and another young guard who can take some of the defensive pressure off of him, I don't see anything but success for Irving and the Cavaliers as they continue to separate themselves from the LeBron James Era.
13. John Wall, WAS (Age: 21)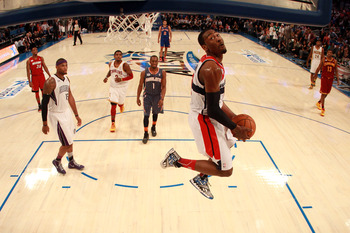 Wall, 21, dunks during the BBVA Rising Stars Challenge.
Mike Ehrmann/Getty Images
2012 Stats: 16.3 PPG, 4.5 RPG, 8.0 APG, 1.4 SPG, 0.9 BPG
While it may be somewhat hard to imagine a situation tougher than what Irving went through, I think John Wall in Washington might have been one.
Wall was in an extremely tough spot, seeing he was relied upon for scoring, facilitating, leadership and perimeter defense on a team that lacked any other stars or even capable role players. His turnover numbers took a hit as a result, and his efficiency can be improved as he continues to improve.
What people can be certain of, however, is that he will indeed improve. With improved teammates—including first-round pick Bradley Beal—Wall can work more within himself and run the point with more caution and prudence. He's ready to take the next step towards stardom.
12. Greg Monroe, DET (Age: 22)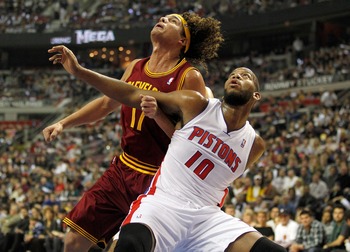 Gregory Shamus/Getty Images
2011 Stats: 15.4 PPG, 9.7 RPG, 2.3 APG, 1.3 SPG, 0.7 BPG
It's hard to call someone underrated after only two years of professional basketball, but the lack of media attention focused on Greg Monroe has led to the Pistons forward quietly putting together one of the stronger resumes in the NBA.
Even though he was left off the USA Olympic men's basketball team, Monroe has been a pleasant surprise for a Detroit team that has struggled since the days of Rip Hamilton, Ben Wallace and Chauncey Billups. While playing the unnatural position of center, he still racked up 15.4 points and 9.6 rebounds per game in 2011-2012.
With first-round draft pick Andre Drummond set to see a decent amount of time at center, the question isn't, "Will Greg Monroe be a dominant power forward in 2012-2013?" anymore.
It is, "By what margin will Greg Monroe dominate in 2012-2013?"
11. Ricky Rubio, MIN (Age: 21)
Mike Ehrmann/Getty Images
2011 Stats: 10.6 PPG, 4.2 RPG, 8.2 APG, 2.2 SPG, 0.2 BPG
For NBA teams who still question the effectiveness of the draft-and-stash technique, Ricky Rubio is a living example of why it is worth it to use a first-round draft pick on an European player when there is no better alternative.
Taken fifth overall in the 2009 NBA Draft, playing two more seasons for his Spanish club before finally arriving in Minnesota. The drawbacks were few, the potential nearly unlimited. Joining fellow under-25s Kevin Love, Michael Beasley and Derrick Williams, Rubio nearly led the T'Wolves to their first playoff appearance since Kevin Garnett won his only MVP award.
Even though Beasley is gone and Williams was somewhat underwhelming, the pick-and-pop duo of Rubio and Love is extremely dangerous. Even though his shooting is still inconsistent—a trait shared by All-Star Rajon Rondo—Rubio has shown a knack for facilitating what could become one of the West's most potent offenses.
10. Stephen Curry, GSW (Age: 24)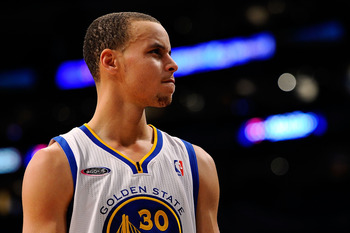 Kevork Djansezian/Getty Images
2011-12 Stats: 14.7 PPG, 3.4 RPG, 5.3 APG, 1.5 SPG, 0.3 BPG
Stephen Curry is one of the more underrated players in the league, partially due to his nagging injuries and partially due to his lack of conventionality.
People like to point to his inability to facilitate as a weakness in his game, but in my opinion his ability to spread the floor with a smooth, flawless jump shot is nearly as valuable as Rajon Rondo's ability to thread the needle with his passes. Rondo has to do that in most occasions because teams don't respect his outside shot, but defenses know to play up against Curry which opens up opportunities for his teammates.
Like Rose, injuries could take their toll on the young guard, but Curry will still develop into an All-Star-caliber guard for the improved Dubs.
9. Brandon Jennings, MIL (Age: 22)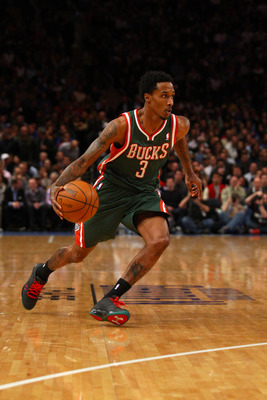 Chris Chambers/Getty Images
2011-12 Stats: 19.1 PPG, 3.4 RPG, 5.5 APG, 1.6 SPG, 0.3 BPG
Brandon Jennings took the odd route to the NBA. Instead of going to an American college where he'd receive premium exposure, Jennings decided that his international experience would be more valuable to an NBA team, so he went to Italy to play for a season.
However unconventional, it seems that Jennings' plan is working.
He isn't a prototypical point guard, at least one who looks for the pass first and the shot second or even third. That is evidenced by his 19.1 points and 5.5 assists per game. No, he is a guard not unlike the aforementioned Stephen Curry, one who uses a nice scoring attack to open things up for teammates and then move the ball around.
With another star, Monta Ellis, alongside him for half of the year, Jennings looked completely different. He still showed an ability to get to the rack and score around the rim, but he also showed that he could develop a penchant for passing the ball without hesitation. He still has a way to go before being considered "elite," but Jennings certainly is one of the brighter young players in the league.
8. Eric Gordon, NOH (Age: 23)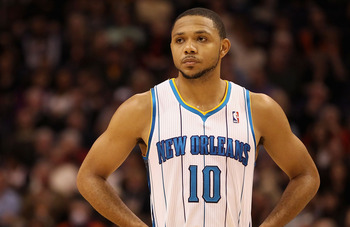 Christian Petersen/Getty Images
2011 Stats: 20.6 PPG, 2.8 RPG, 3.4 APG, 1.4 SPG, 0.4 BPG
Eric Gordon has never played a full season in his NBA career, and that fact is what is holding him back in terms of production and on this list.
In four seasons that should've warranted 312 games from him, Gordon has only appeared in 205 while missing 57 last season due to cartilage damage in his already-weakened knee.
However, when you put aside the injuries and the immaturity he showed during this year's free agency period, you have a budding young superstar with scoring prowess that could lead New Orleans in the future.
Paired with fellow comb-guard Austin Rivers and dominant big man Anthony Davis, Gordon will look to improve on his 2010-2011 campaign in Los Angeles in which he averaged 22.3 points and 4.4 assists per game. His ability to both shoot the three-pointer and get to the basket are his biggest assets, allowing him to take over games like few his age can.
As he continues to develop into a better all-around player, Gordon will make teams regret not taking him before guys like Danilo Gallinari, O.J. Mayo and Michael Beasley in the 2008 NBA Draft.
7. James Harden, OKC (Age: 22)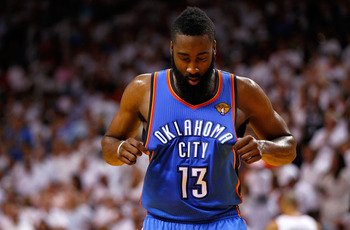 Mike Ehrmann/Getty Images
2011 Stats: 16.8 PPG, 4.1 RPG, 3.7 APG, 1.0 SPG, 0.2 BPG
Apart from the complete disaster that was James Harden's NBA Finals performance, there isn't much to dislike about OKC's third of four U-25 players.
Harden showed last season what a reliable scoring option off the bench can mean for a team as talented as Oklahoma City. He scored 16.8 points per game as the team's third option on offense. That is more than the top scorer for six other teams.
Winning the Sixth Man of the Year isn't as easy anymore as it was a decade ago, with more and more stars coming off the bench in a bid to win the prestigious honor. It showed a certain level of talent that Harden can only build on with improved toughness, consistency and defense, three things that could take him to the next level as far as shooting guards go.
6. Blake Griffin, LAC (Age: 23)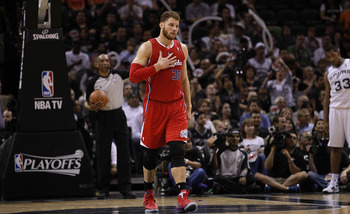 Ronald Martinez/Getty Images
2011 Stats: 20.7 PPG, 10.9 RPG, 3.2 APG, 0.8 SPG, 0.7 BPG
Blake Griffin is a marvelous athlete with undeniable marketability, and unless he's posterized one of your favorite players, it's hard to hate what the youngster has done in his two healthy NBA seasons.
Critics love to point to his raw offensive game and poor low-post defense, but there is nothing fake about Rookie of the Year, two All-Star games and a double-double average. Not many players can boast those kind of accolades after only two seasons in the league.
With Chris Paul running the point and DeAndre Jordan locking down the paint defensively, Griffin's role on the Clippers has been more streamlined: He's used his spin-bank shot combo often, and mostly successfully, to score 20 points and has used his overwhelming athleticism to grab rebounds on both the offensive and defensive ends. He's been as dominant over the last two years as anyone.
Sure, he could use some more post moves to help keep defenses guessing, but with Griffin you still never know when he'll bust down the lane for a highlight-reel jam. Watching him over the next decade will be one of the main reasons I continue to love the NBA.
5. Russell Westbrook, OKC (Age: 23)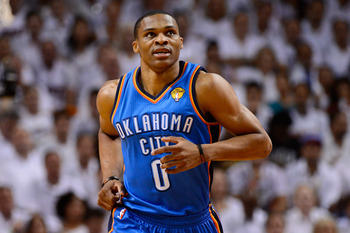 Ronald Martinez/Getty Images
2011 Stats: 23.6 PPG, 4.6 RPG, 5.5 SPG, 1.7 SPG, 0.3 BPG
People have often found ways to criticize the eccentric, sometimes out-of-control game of Thunder point guard Russell Westbrook, but in reality he is one of the better point guards in the league.
His athleticism and explosiveness make him tough to guard, and while he's struggled at times to stay under control and deliver the ball to open teammates, the defensive attention he attracts allows players like James Harden and Serge Ibaka to flourish in the wide-open Thunder offense. Scoring 23.6 points per game is no easy feat, yet Westbrook managed to do that even with a scoring champ and Sixth Man of the Year playing alongside him.
As he continues to develop under Scott Brooks, Westbrook will make it known why he was worth an early first-round pick. He's already become one of the league's young, elite players.
4. Andrew Bynum, LAL (Age: 24)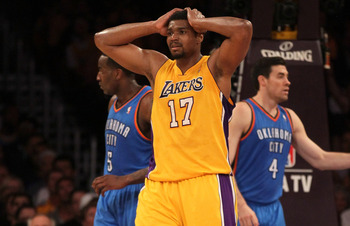 Stephen Dunn/Getty Images
2011 Stats: 18.7 PPG, 11.8 RPG, 1.4 APG, 0.5 SPG, 1.9 BPG
You must be thinking: How can Andrew Bynum still be only 24?
The center has already played seven productive seasons in the league, but still is considered one of the league's best, young big men. Not many have as many honors as he does by his age—a trait I mentioned with Blake Griffin. He already has two NBA championships, an All-NBA second-team mention and one All-Star Game appearance.
With so much potential left to realize, it's been hard for Lakers fans to cope with the nagging knee injuries that have caused Bynum to miss 130 regular-season games over the last five seasons. He's shown an aptitude for scoring and rebounding, two things that have made him a nice compliment for Kobe Bryant over the years.
Even though pairing up with Steve Nash, a transition-based facilitator, won't necessarily help Bynum's game, rumors have floated around mentioning a Howard-for-Bynum and others trade which would benefit both Orlando and Los Angeles. Howard's mobility will help Nash improve LA's stagnant offense while Bynum will be the center of attention as he mentors and develops first-round pick Andrew Nicholson.
No matter who ends up with him, Andrew Bynum will likely make a city happy for a long, long time to come.
3. Kevin Love, MIN (Age: 23)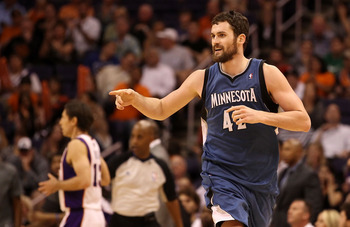 Christian Petersen/Getty Images
2011 Stats: 26.0 PPG, 13.3 RPG, 2.0 APG, 0.9 SPG, 0.5 BPG
For all the pain Minnesota fans have gone through since the egress of Kevin Garnett, young stars Kevin Love and Ricky Rubio have the Timberwolves franchise back on the road to recovery.
Now that Love is locked up for four additional seasons, there is nothing standing between the 23-year-old and even more greatness. He's developed into one of the best players at power forward—the second-best, in my opinion, behind LaMarcus Aldridge—over his first four seasons, making the Wolves happy they picked him over guys like Joe Alexander, Jason Thompson and others.
He showed dominance last season, averaging 26 points and 13.3 rebounds per game, numbers that were fourth and second in the league respectively. No other big man in the league can score and rebound like Love, even if a couple do come close.
He could use a better defensive effort at times and a more consistent low-post game, but Minnesota should be quite happy to build a team around someone as talented and hard-working as Love.
2. Derrick Rose, CHI (Age: 23)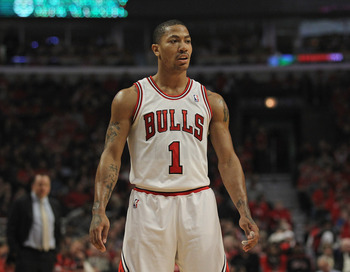 Jonathan Daniel/Getty Images
2011 Stats: 21.8 PPG, 3.4 RPG, 7.9 APG, 0.9 SPG, 0.7 BPG
Derrick Rose is one of the unfortunate stories in the league, having his MVP-worthy excellence overshadowed by a nagging knee injury that caused him to miss nearly half of last season and most of the playoffs.
What he's done when healthy, however, is impressive.
In 2010-2011, his last healthy campaign, Rose was terrific. He used an incredibly explosive first step to blow-by would-be defenders, scoring 25 points per game on his way to the MVP over Durant and LeBron James. With Rose in the lineup, the Bulls become one of the league's serious championship contenders.
However, isn't expected back until midway through the season, and even if he does come back early it won't be at 100 percent. With his offensive game relying on him getting by defenders, a sore, tender knee isn't necessarily going to help.
1. Kevin Durant, OKC (Age: 23)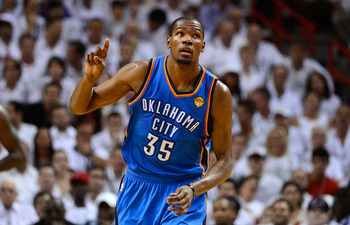 Durant in the 2012 NBA Finals.
Ronald Martinez/Getty Images
2011 Stats: 28.0 PPG, 8.0 RPG, 3.5 APG, 1.3 SPG, 1.2 BPG
The statistics pretty much speak for themselves, but if you need more assurance then check out Durant's postseason performances, where he averaged more than 25 points per game in every series.
In the Finals, where it mattered most, he scored 30.8 points per game as he kept his team in nearly every game. If you weren't able to appreciate his overall offensive dominance, you can't truly be a fan of basketball. He is simply the purest scoring threat the game has seen since the 2008 version of Kobe Bryant, and I'd argue he's even more talented with the ball in his hands.
Durant's scoring touch combined with his ability to get rebounds from the small forward position makes him the best player on this list. When you add his humility and clutch ability, he is a prototypical No. 1 player.
Mr. Durant will get his MVP, but like LeBron, he only has one thing left to book his spot in the Hall of Fame: an finals ring. Once he proves he can take OKC to the promised land, there will be no denying that Kevin Durant is one of the greatest players in the history of the game.
Oh, and he's only 23.
Follow @KhandymanSports and check more of my work out here.
Keep Reading