2012 NBA Mock Draft: Predicting Every Bust in the First Round
June 16, 2012
Chris Graythen/Getty Images
The 2012 NBA draft may boast one of the deepest classes in years, but that doesn't mean there won't be some duds.
Whether it be a prospect's character concerns, lack of athleticism or unrealistic expectations, there are a few players in the draft who will flop compared to their hype.
Here's my latest 2012 NBA mock draft, complete with future busts (in italics). 
1. New Orleans Hornets: Anthony Davis, PF, Kentucky
The Hornets need a superstar after Chris Paul left for the Clippers, and Anthony Davis' explosiveness, post defense and elite shot-blocking ability could make him an All-Star in no time.
2. Charlotte Bobcats: Thomas Robinson, PF, Kansas
Thomas Robinson not only has elite athleticism and explosiveness, he figures to be a dominant rebounder in the NBA. The Bobcats could certainly use that - they ranked 29th in rebounds per game this season.
3. Washington Wizards: Michael Kidd-Gilchrist, SF, Kentucky
The Wizards need help all over the board. In that sense, selecting a do-it-all prospect like Michael Kidd-Gilchrist makes a lot of sense. MKG can rebound, play solid man-to-man defense, score, get to the free-throw line and play within the game.
4. Cleveland Cavaliers: Bradley Beal, SG, Florida
Bradley Beal is widely considered to be the best shooting guard in the draft. His inside-outside scoring ability, combined with his defense, makes him a prime candidate to pair with Kyrie Irving in Cleveland.
5. Sacramento Kings: Andre Drummond, C, Connecticut
Andre Drummond raises red flags due to his inconsistent and, at times, lazy play at UConn, but he has Dwight Howard-like athleticism. The prospect of him growing alongside DeMarcus Cousins is too tempting to pass up.
6. Portland Trail Blazers (via NJ): Damian Lillard, PG, Weber State
The Trail Blazers need a point guard, and Damian Lillard, with his electric scoring and ability to get into the paint almost at will, makes a lot of sense for Portland.
7. Golden State Warriors: Harrison Barnes, SF, North Carolina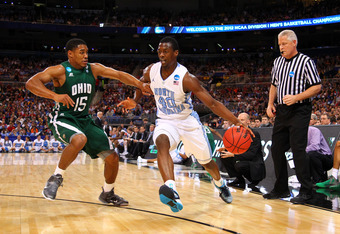 Dilip Vishwanat/Getty Images
I wouldn't be surprised if the Warriors traded this pick for a proven veteran, but if they keep the pick Harrison Barnes is a logical choice. I'm not too high on Barnes (he's a one-dimensional player on offense), but his scoring ability is hard to pass up, especially for a Warriors team that needs to upgrade at small forward.
8. Toronto Raptors: Dion Waiters, SG, Syracuse
Dion Waiters has soared up draft boards since the NCAA tournament, given his explosiveness on offense and ability to be a nuisance on defense. Given Waiters dropped out of the combine, I wouldn't be surprised if he got a promise from the Raptors that they'd draft him in the Top 10. The team has denied the speculation, but I don't know why else Waiters would drop out of the combine.
9. Detroit Pistons: Andrew Nicholson, PF, St. Bonaventure
This is purely a speculative pick and most draft experts don't have Andrew Nicholson here, but hear me out. The Pistons need a shot-blocker next to center Greg Monroe. That could see them pick North Carolina's John Henson, but Andrew Nicholson is a shot-blocker and he has more potential offensively, drawing rave reviews at the combine.
10. New Orleans Hornets (via MINN): Kendall Marshall, PG, North Carolina
Kendall Marshall is the best pure point guard in the draft. Pairing him up with Anthony Davis would be a great step in the right direction. Imagine all the alley-oops that would ensue.
11. Portland Trail Blazers: Jeremy Lamb, SG, Connecticut
With the Trail Blazers needing an upgrade at shooting guard, pairing a lengthy, smooth scorer like Jeremy Lamb with Lillard could provide a dynamic backcourt.
12. Milwaukee Bucks: Tyler Zeller, C, North Carolina
Tyler Zeller continues to be my pick here. His ability to run the floor and scoring touch around the basket makes him a great complement to speedy guards Brandon Jennings and Monta Ellis.
13. Phoenix Suns: Austin Rivers, SG, Duke
If the Suns are able to hang on to Steve Nash, they are going to want to give him a weapon at shooting guard. Austin Rivers still needs to develop and play better within the game, but who better to teach him than Nash? He has the potential to be an explosive shooter.
14. Houston Rockets: Meyers Leonard, C, Illinois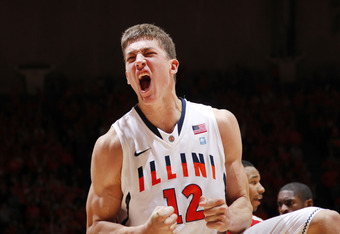 Joe Robbins/Getty Images
Meyers Leonard is raw, but he has the potential to be a complete player in the post. He has eye-opening athleticism and size at center, and he can score, rebound, block shots and defend the paint.
15. Philadelphia 76ers: Terrence Jones, F, Kentucky
I'm a big believer in Terrence Jones, and if he falls this far I think he'll be the steal of the draft. He reminds me of pre-Dallas Lamar Odom, given his point-forward ability. He could either succeed Elton Brand at power forward or fill in for Andre Iguodala if he's traded.
16. Houston Rockets (via NY): John Henson, PF, North Carolina
John Henson would be a nice addition to the Rockets' frontcourt, given his post defense and shot-blocking ability. He would add another dimension coming off the bench for Luis Scola. 
17. Dallas Mavericks: Terrence Ross, SG, Washington
The Mavericks could also use a point guard here, but Tony Wroten Jr. has slid a bit and his teammate at Washington, Terrence Ross, has the ability to be a dynamic scorer in the NBA at shooting guard.
18. Minnesota Timberwolves (via UTAH): Perry Jones III, F, Baylor
The Timberwolves would ideally want a shooting guard, but there isn't anyone left here that truly excites. Perry Jones is raw and needs to play better within the game, but if he can get his head on straight he could be a steal here. He can play both forward spots and has tremendous athleticism and explosiveness. This would allow the Timberwolves to do a sign-and-trade with small forward Michael Beasley.
19. Orlando Magic: Fab Melo, C, Syracuse
With the Magic likely to lose Dwight Howard down the line, they need to start thinking about their next center of the future. Fab Melo is a work-in-progress on the offensive side of the ball, but his defense and elite shot-blocking ability could make him a starting center in the NBA anyway.
20. Denver Nuggets: Arnett Moultrie, PF, Mississippi State
The Nuggets could go with Jared Sullinger, but Arnett Moultrie has more potential in my opinion given his overwhelming athleticism, explosiveness and length. He stands to be an above-average rebounder in the NBA and he can even knock it down from the perimeter. Not bad depth for George Karl.
21. Boston Celtics: Jared Sullinger, PF, Ohio State 
We all know Jared Sullinger has a nice post game, rebounds well and knows how to play the game, but his lack of athleticism is concerning at the NBA level, and I see him dropping down draft boards as a result. Nonetheless, the Celtics like guys who have their heads on straight, and Sullinger is a shining example.
22. Boston Celtics (via LAC): Royce White, F, Iowa State
Again, the Celtics would like a shooting guard here to succeed Ray Allen, but there aren't many that jump out at you in this draft. Instead, I expect the Celtics to work with Royce White's well-documented anxiety disorder and try to develop him into the dynamic point-forward he can become. He could succeed Paul Pierce in Boston.
23. Atlanta Hawks: Tony Wroten Jr., PG, Washington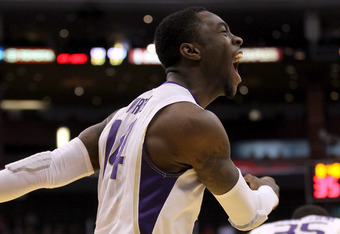 Stephen Dunn/Getty Images
The Hawks need a star point guard, and Tony Wroten, with his explosiveness and passing ability, can be that guy. He's not a very good outside shooter, and he has a reputation as a tough player to coach, but if he can stay focused he has the potential to do big things in the NBA. Key words: "If he can stay focused."
24. Cleveland Cavaliers (via LAL): Moe Harkless, SF, St. John's
At this point, Moe Harkless could go much earlier than this, but if he falls to the Cavaliers you'd have to think they'd gobble him up. He's long, athletic, explosive and attacks the glass. He also proved to be a good shot-blocker at St. John's.
25. Memphis Grizzlies: Doron Lamb, SG, Kentucky
With O.J. Mayo being a restricted free agent this summer, I wouldn't be surprised if the Grizzlies let him walk. In that case, adding depth with a pure, silky-smooth shooter in Doron Lamb would be a nice pick.
26. Indiana Pacers: Marquis Teague, PG, Kentucky
It's hard to see Marquis Teague slipping past here. He grew exponentially in his first year at Kentucky, balancing his shooting ability with his passing and he would add depth at point guard, giving the Pacers the option to trade Darren Collison.
27. Miami Heat: Jeffrey Taylor, SF, Vanderbilt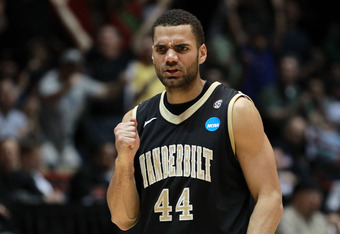 Ronald Martinez/Getty Images
Adding depth behind LeBron James would be a good way to go for the Heat. I really like Jeffrey Taylor's game. He's not only an elite athlete who can slash to the rim, he has the potential to be a lockdown defender and he improved his jump shooting significantly in his senior season at Vanderbilt.
28. Oklahoma City Thunder: Festus Ezeli, C, Vanderbilt
The Thunder really only need depth. With Moe Harkless and Jeffrey Taylor gone at small forward, why not add depth at center? Festus Ezeli has an NBA body who crashes the glass and would add another impressive shot-blocker to the Thunder's roster. Plus, he has an emerging offensive game.
29. Chicago Bulls: John Jenkins, SG, Vanderbilt
I actually like Memphis' Will Barton better overall, but John Jenkins is a spectacular outside shooter, and that's really what the Bulls need at shooting guard. Jenkins made 12-of-15 NBA three-pointers at the Santa Barbara workout in late May.
30. Golden State Warriors (via SA): Kyle O'Quinn, C, Norfolk State
The Warriors would like to nab Ezeli to back up Andrew Bogut, but Kyle O'Quinn could be the pick here instead. O'Quinn has soared up draft boards after the NCAA tournament, the Portsmouth Invitational and pre-draft workouts. O'Quinn isn't very athletic and is a little undersized at center (6'10", 241 pounds), but he has good length, scores well in the paint, crashes the glass and is a good defender and shot-blocker. The Warriors could always use more defense in the post.
Follow me on Twitter. We can talk about the NBA together.