2012 NBA Mock Draft: Definitive Guide to the Entire First Round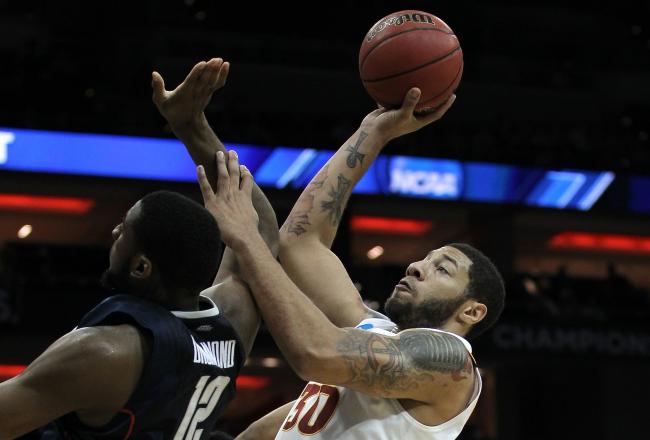 Jonathan Daniel/Getty Images
The 2012 NBA draft is absolutely stacked.
As I dig through the list of prospects and where they are slated to go, I continually find guys near the end of the first round who would usually be lottery picks and guys in the second round who would usually be first-rounders.
Seriously, no matter what happens in this draft, you are going to see top talent slide further than you thought. There are just too many intriguing options for each team.
With that being said, let's take a look at my newest first-round mock draft.
Note: All following stats come from DraftExpress.com.
1. New Orleans Hornets (21-45): Anthony Davis, PF, Kentucky
You'd be hard-pressed to convince me this pick won't happen.
The Hornets need some consistency down low, and Davis is easily the best prospect in this draft. He's long, athletic and smart. Not only can he dominate on the defensive end, Davis has a developing offensive game that will soon turn him into a weapon from mid-range.
This is a no-brainer.
2. Charlotte Bobcats (7-59): Thomas Robinson, PF, Kansas
This is where things already get a little dicey. The Bobcats missed out on Davis, but they can't sulk on that fact, because the worst team in NBA history needs help.
Now.
Candidates for this pick include Robinson, Andre Drummond, Michael Kidd-Gilchrist and Bradley Beal, but Robinson is the one who can contribute from day one.
There are some concerns about Robinson's height (6'7.75" without shoes), but his domination of the glass this year likely put those concerns to rest. Robinson pulled down 14.6 rebounds per 40 adjusted minutes, which is the best of anyone in the draft.
Throw in his terrific athleticism, range extending to the three-point line and all-around love for the game, and Robinson is the perfect candidate to be a monster in the NBA right away.
You can't teach passion, and Robinson has that in bunches. Of course, he also combines that passion with a unique, impressive skill set.
3. Washington Wizards (20-46): Michael Kidd-Gilchrist, SF, Kentucky
Giving John Wall, arguably the most exciting point guard on the break, a running partner like Michael Kidd-Gilchrist is going to be downright exciting.
MKG needs to improve his shooting (25.5 percent from long range), but his energy, defense, rebounding and attacking skills are second to no one.
4. Cleveland Cavaliers (21-45): Bradley Beal, SG, Florida
A backcourt of 20-year-old superstar Kyrie Irving and future lights-out shooter Bradley Beal? Yes, please.
The Cavs have some defensive stalwarts down low like Anderson Varejao, but they could use some more scoring help next to Uncle Drew.
Enter Beal.
The Florida freshman wasn't as consistent from the three-point line (33.9 percent) as most were expecting, but he has a silky-smooth stroke that will easily translate as he gets more reps.
Throw in a good NBA body, and Beal will able to score in the lane and provide solid defense on NBA 2-guards.
He's a future star on both ends of the court, and the Cavs won't be able to pass that up at No. 4.
5. Sacramento Kings (22-44): Andre Drummond, PF, Connecticut
I honestly wouldn't be surprised if the Kings end up trading this pick. Drummond is a special talent, but according to Pro Basketball Draft via Twitter, Sacramento wants a good locker-room presence.
Indications are that Sacramento wants to add a player at 5, who is a winner & mature.Locker room concerns seem factor into Kings decision.

— Probasketballdraft (@Probballdraft) June 11, 2012
That's not Drummond, and honestly, the Kings likely won't find someone like that at this pick unless Robinson or Kidd-Gilchrist fall to them.
Plenty of teams will be willing to move up to take Drummond, who has a unique blend of size and athleticism.
The Kings are already super young and full of high-ceiling guys, so trading for a veteran would make sense.
6. Portland Trail Blazers (via 22-44 Brooklyn Nets): Damian Lillard, PG, Weber State
Portland needs a point guard, and while it could conceivably wait until No. 11 and probably grab Kendall Marshall, Lillard has been shooting up draft boards.
The Blazers won't pass on this elite scorer.
7. Golden State Warriors (23-43): Harrison Barnes, SF, North Carolina
Barnes could easily go in the top three, and there is no way the Warriors will pass on him here.
The North Carolina product has prototypical NBA-small-forward size (6'7" without shoes, 6'11" wingspan) and a beautiful long-range jumper. He sometimes struggles to get his own shots, but that shouldn't be a problem in Golden State.
Steph Curry and Barnes will develop a highly efficient combo for a long time.
Best shooting guard in the draft besides Bradley Beal?
8. Toronto Raptors (23-43): Jeremy Lamb, SG, UConn
Lamb is only 6'4" without shoes, but he has a wingspan of 6'11". That's going to make him a pesky defender in the NBA, which is something the Raptors value.
Throw in his smooth offensive game and high-flying athleticism, and the Raps, who need a guard to push DeMar DeRozan to small forward, won't pass.
9. Detroit Pistons (25-41): John Henson, PF, North Carolina
Henson, who is long, springy and athletic, would do well down low next to Greg Monroe.
He doesn't have the most polished offensive game, but much like Anthony Davis, Henson can block a lot of shots and hit the open mid-range jumper when called upon.
10. New Orleans Hornets (via 26-40 Minnesota Timberwolves): Jared Sullinger, C, Ohio State
After getting the franchise-changer in Davis, the Hornets could go a number of different directions here.
Even with Davis, however, New Orleans needs frontcourt depth. Jared Sullinger doesn't have ideal height, but putting him at center will help make up for his lack of athleticism.
Also, having Davis next to him will help cure Sullinger's defensive woes and would let him do work in the post, where he is most effective.
Davis and Sullinger complement each other very well, and the Hornets would do well to grab both of them.
11. Portland Trail Blazers (28-38): Meyers Leonard, C, Illinois
If the Blazers get a point guard with their first pick, the next logical choice is to get a center. That leaves Leonard or North Carolina big man Tyler Zeller.
I used to have Zeller at this spot, but Leonard, according to ESPN's Chad Ford, is rising up boards:
Meyers Leonard the other big riser here. Think his range is closer to 9-14 now.#NBACombine

— Chad Ford (@chadfordinsider) June 8, 2012
I like Leonard here, even though he is a bit of project.
12. Milwaukee Bucks (31-35): Perry Jones III, PF, Baylor
The Bucks need some frontcourt depth, and although Jones is a huge bust candidate, there's no questioning how big of a force he can be in the NBA.
He has a crazy combination of size and athletic ability, but his lack of motor suggests he might be more of a small forward at the next level.
No matter where he ends up, the Bucks will be happy to get someone this talented at this pick.
13. Phoenix Suns (33-33): Dion Waiters, SG, Syracuse
Because Waiters cancelled his workouts last week, most people believe he was promised a pick. ESPN's Chad Ford speculates that Portland, Toronto and Phoenix are all suspects.
Waiters showed during his days with Syracuse that he can be an absolutely electric scorer, both by shooting the ball and by getting into the lane.
The Suns need some type of athleticism on the wing, so this makes sense.
14. Houston Rockets (34-32): Tyler Zeller, C, North Carolina
Samuel Dalembert and Marcus Camby are not future centers for the Rockets. Tyler Zeller, who stands at 7'0" and has good offensive skills, is a future center.
The Rockets don't have many glaring needs after center, so they'll likely just take the best available one here. That's Zeller.
15. Philadelphia 76ers (35-31): Austin Rivers, SG, Duke
This is a pure value pick for the Sixers, who could probably use frontcourt depth but will find it hard to pass on Rivers, who could easily go in the top 10.
Don't be surprised if someone trades up to get Rivers if the scoring combo guard starts to slip on draft day.
16. Houston Rockets (via 36-20 New York Knicks): Terrence Ross, SG, Washington
Ross is another player who will slip a little too far simply because of the excess of talented shooting guards in this draft.
The Rockets have Kevin Martin, but they showed little to no confidence in him this season, so grabbing a shooting guard would make sense.
At No. 16, Ross is an absolute steal.
The Washington product is arguably the most athletic player in this draft, and he uses that athleticism to rise over defenders on his jump shot and rebound very well for his size.
In addition to his skillful offensive game, Ross is a good on-ball defender. He is going to outplay this draft position from day one.
17. Dallas Mavericks (36-30): Kendall Marshall, PG, North Carolina
As I continue to list talented players who I think are falling too far, it becomes apparent just how absolutely stacked this draft is.
There are about 20 players who could easily be drafted in the top 10, and Marshall is one of them.
He's easily the best pure point guard in this draft, and the Mavericks, who need a replacement for Jason Kidd, will consider themselves lucky to land him here.
18. Minnesota Timberwolves (via 36-30 Utah Jazz): Moe Harkless, SF, St. John's
If Moe Harkless develops a jump shot, he's going to be a dangerous player in the NBA.
Even if he doesn't, he has the length, rebounding, athleticism and defense that suggest he'll still be a Josh Smith-type player.
19. Orlando Magic (37-29): Terrence Jones, SF, Kentucky
Jones didn't have a great sophomore year at Kentucky, but there's no doubting his unique skill set.
He's 6'9" and strong, but he can also handle the ball fairly well and knock down the outside shot. The Magic will get the talented wing player they so desperately need.
20. Denver Nuggets (38-28): Quincy Miller, SF, Baylor
Miller needs to improve his outside shooting if he's going to play small forward in the NBA, but he will be a defensive nightmare for opposing teams.
Miller measured at 6'10" in shoes and has a wingspan of just over 7'1", but he has the quickness necessary to guard opposing shooting guards or small forwards.
Seriously, he's going to be an absolute terror on the defensive side of the ball.
Arnett Moultrie will go in the top 20
21. Boston Celtics (39-27): Arnett Moultrie, PF, Mississippi State
Yup, another player who could conceivably go in the lottery.
The Celtics need a power forward to eventually replace Kevin Garnett, and Moultrie is long, athletic, rebounds well, and he has a jumper that will stretch the floor.
22. Boston Celtics (via 40-26 Los Angeles Clippers): John Jenkins, SG, Vanderbilt
Oh yes, and the Celtics also need someone to replace Ray Allen.
Why not replace arguably the greatest outside shooter ever with the best shooter in the draft?
Jenkins shot a ridiculous 44 percent from three-point range, even though he attempted 8.7 per game and was constantly Vanderbilt's main threat on offense.
He's as pure of a shooter as it gets, and his quick release makes him a good fit for the Celtics.
23. Atlanta Hawks (40-26): Royce White, SF, Iowa State
The biggest concern regarding White, who can do absolutely everything on the court, is his anxiety problems, which meant his interviews would be crucial.
According to ESPN's Chad Ford, White aced his interviews:
But the star of the interviews was Iowa State's Royce White. Not only did he shine in an on-camera interview with ESPN's Andy Katz during the draft combine broadcast on ESPNU, but a number of NBA teams reported being spellbound by White's interview.

He was candid about his past problems, was witty and in several talked about his passion for music. During his break from basketball after being dismissed from the University of Minnesota, White taught himself how to play the piano. His favorite band is the Beatles, and during the telecast, he told Katz that his beard is an attempt to honor John Lennon.
That will secure his spot at No. 23.
24. Cleveland Cavaliers (via 41-25 Los Angeles Lakers): Tony Wroten, PG/SG, Washington
Wroten's inability to hit a jump shot is a little scary, but the rest of his game is just as scary for defenders.
The Washington product has the quickness and vision necessary for point guards, but he stands at 6'6" in shoes and has scary athleticism.
If he ever develops a jumper, Wroten will be a top-five player from this draft.
25. Memphis Grizzlies (41-25): Marquis Teague, PG, Kentucky
John Calipari's point guards never seem to fail in the NBA, and the Grizz need a backup point guard in a bad way.
You know, unless they are comfortable with Gilbert Arenas or Josh Selby.
This makes sense.
26. Indiana Pacers (42-24): Draymond Green, PF, Michigan State
Green is a prototypical point-forward, as he excels at passing and ball-handling from the power forward position.
The Pacers need some consistent frontcourt depth, and Green is just the player to provide it.
27. Miami Heat (46-20): Andrew Nicholson, PF, St. Bonaventure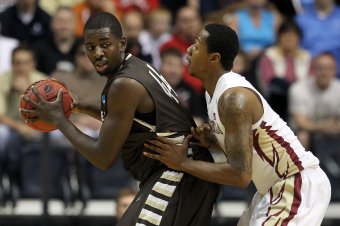 Jamie Squire/Getty Images
Nicholson does a lot of things very well. He's smart, has tremendous footwork in the post, and his jump shot extends out to the three-point line.
The Heat need a scoring big man, so this should be the pick.
28. Oklahoma City Thunder (47-19): Evan Fournier, SF, France
The Thunder are proving during the NBA playoffs that they are stacked throughout the lineup.
Therefore, OKC can afford to take on a project in Fournier, who has terrific scoring skills but won't contribute in the NBA for a year or two.
29. Chicago Bulls (50-16): Doron Lamb, SG, Kentucky
Richard Hamilton's future with the Bulls is up in the air, and no matter what happens, Chicago will need a shooting guard eventually.
Lamb is a lights-out shooter and makes for a solid pick here.
30. Golden State Warriors (via 50-16 San Antonio Spurs): Fab Melo, C, Syracuse
Melo is raw on the offensive end, and he's a bit of a headcase, but Mark Jackson will be able to get the most out of the Brazilian.
The former Syracuse big man is simply too talented on the defensive end to pass up.
This article is
What is the duplicate article?
Why is this article offensive?
Where is this article plagiarized from?
Why is this article poorly edited?