NBA: David Stern, Chris Paul, and the New Competitive Balance Agreement
December 9, 2011
Ronald Martinez/Getty Images
For the last several months, the NBA had been debating over a new CBA. On December 8, 2011, we found out exactly what those letters stood for.
Competitive Balance Agreement

In a year marked by the Occupy rallies on Wall Street and the 20-person bi-weekly rallies held in Grand Rapids, Mich., the United States has been divided into the noble 99 percenters and the evil corporate one percent. The sentiment has funneled into the realm of the NBA and has created somewhat of a strange dilemma.
The conflict? Well, here we have 30 billionaires who all have a very expensive toy-chest called an NBA sports team. These 30 billionaires spent the entire summer/fall figuring out how to pay their action figures—err I mean players—five percent less, because, well, can you imagine filling up a yacht with today's gas prices?
Before the Competitive Balance Agreement was signed, 29 of the owners looked around at Miami Heat owner Micky Arison—the evil 3.3 percenter if you will—and said, in a very that girl-who-turns-into-a-blueberry in the Willy Wonka movie type of way, "Hey, I want a LeBron James and Dwyane Wade, too!"
Slowly, Lakers owner Jerry Buss and Celtics owner Wycliffe Grousbeck looked at their old Kobe Bryant and Big Three toys in the way a college student looks at their old Power Rangers action figures; sure, they're old and busted up, but dammit, they were, and still are, pretty awesome.
Dallas Mavericks owner Mark Cuban felt no envy toward Arison. He taunted the Heat owner, strutting around the room, confidently proclaiming that he clearly had the best toys around. Chicago Bulls owner Jerry Reinsdorf was satisfied with his Derrick Rose, and New York Knicks owner James Dolan was just happy he got rid of all his expensive toys from the early '00s.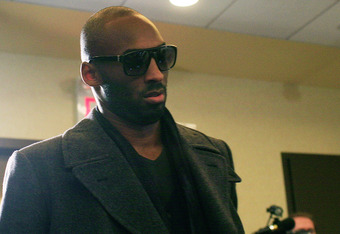 Patrick McDermott/Getty Images
The only other happy owner was Oklahoma City Thunder's Clayton Bennett. But even here, Bennett finds himself in a rather awkward situation. His group of friends, or at least the ones he can most identify with, are the other small-market guys. Oklahoma City has much more in common with Memphis, Sacramento and Salt Lake City than New York, Chicago and Los Angeles.
Key difference: Bennett isn't like the rest of them. He has a legitimately good set of toys. Bennett is like Lindsay Lohan's character in Mean Girls: starts out with the outcasts, moves up to the plastics, but finds out that she doesn't really fit in with either one.
This leaves 23 other disgruntled billionaires shouting out, "Hey, this isn't fair!"
Who are they yelling to?
Enter David Stern.
Stern has become the leading advocate of competitive balance. He wants to be seen as the heroic voice of the working class owners and abolish this system where the top guys greatly benefit. Everybody should have equal results. Small market, big market, there should be no difference between anyone's level of success. All billionaires should be created equal.
Insert Chris Paul trade to the Los Angeles Lakers. The Lakers were going to send Lamar Odom to the Hornets, Pau Gasol to the Houston Rockets and receive Chris Paul and Emeka Okafor from New Orleans. The Rockets were going to send Kevin Martin and Luis Scola to the Hornets, and probably throw in a couple other players and draft picks, and there was the deal. The teams seemed to agree upon it, the news was reported as fact and people began analyzing who got the best end of this deal.
But then came the outcry of Dan Gilbert. "I just don't see how we can allow this trade to happen."
Gilbert reportedly wrote in an e-mail to David Stern. "I know the vast majority of owners feel the same way that I do. When will we just change the name of 25 of the 30 teams to the Washington Generals?"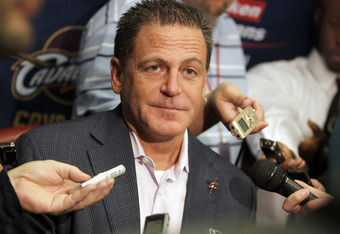 Gregory Shamus/Getty Images
(The Washington Generals were the team that used to go out and get embarrassed by the Harlem Globetrotters.)
Now, as you may know, this isn't the first time Gilbert threw a significant temper tantrum. His reaction after LeBron James left Cleveland was little kid in the cereal aisle-esque. Ever since The Decision, Gilbert believes a narrative has been unleashed that ultimately ends in him winning an NBA title before LeBron. This destiny is why the stars aligned and gave him two of the top four picks in the 2011 draft.
In fact, this was going to be that magical year when Kyrie Irving and Tristan Thompson led the formerly 19-63 Cavs past Rose in Chicago, past the Big Four in Boston and past the Miami Heat to reach the NBA Finals.
But Chris Paul and Kobe Bryant, together in Los Angeles, now that's just too far! Even a team of destiny like Cleveland can not overcome those types of odds. So the cries were made, and Stern took care of the little guy in the name of competitive balance.
Here's what I wonder: What if you take the Lakers out of this deal and insert the Memphis Grizzlies. Switch out Pau Gasol and Lamar Odom for Marc Gasol and Rudy Gay? Would this still be met with such outrage? The Grizzlies, after all, were only one game away from the Western Conference Finals last season (the Lakers were four games away). Adding in Chris Paul would push them over the edge. They could also deal away Mike Conley for an effective big man, and suddenly, the Grizzlies would have too much of a competitive edge. Right?
If the blockade of this trade serves as any type of precedent for future transactions, the message from Stern seems to be clear: The rich shall not get richer. Even though in this trade, the Lakers would be making a significant sacrifice in their frontcourt, the Rockets would be a Nene signing away from being a top three seed in the playoffs, and the Hornets would have a decent lineup of Kevin Martin, Luis Scola and Lamar Odom.
It doesn't matter. The red flags are already up because two major stars are playing together in beautiful sunny Los Angeles while the rest of the country is covered in snow.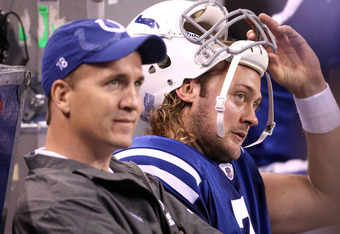 Andy Lyons/Getty Images
The ultimate goal of the NBA is to become "balanced" like the NFL. The problem here is the NFL is not actually balanced; it just does an incredible job of creating an illusion of balance.
Last year's NFL playoffs looked like this:
NFC
Chicago
Seattle
New Orleans
Green Bay
AFC
New England
Pittsburgh
Indianapolis
Kansas City
Baltimore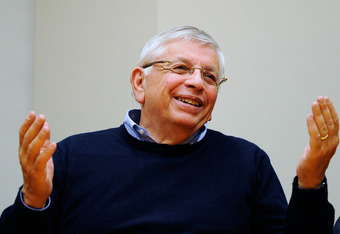 Patrick McDermott/Getty Images
New York Jets
The only difference in the NFC right now, versus last year, is swapping the Dallas Cowboys or New York Giants in for the Eagles and the San Francisco 49ers for the Seahawks. And it's a good thing too, because the Cowboys and 49ers should really have an opportunity to win their sixth Super Bowl ring, and it's been too long for the Giants, who haven't won a title since 2008.
Over in the AFC, the playoff picture from then to now has only changed because Peyton Manning missed the season in Indy and the gift of Tim Tebow arrived in Denver. It could be argued that the only reason the teams who made it last year, with the exception of the Seahawks, who won't make it this year (Kansas City, Indianapolis, Philadelphia and Chicago. I think the Jets will ultimately edge out the Bengals) are only absent because their starting quarterbacks when down to injury.
But do we as football fans notice this? Of course not. The Lions are so close to being a contender. Cam Newton is going to turn the Panthers into a dynasty. The young Colt McCoy and Peyton Hills will lead to a dominant Cleveland Browns era. The NFL will even deliver high ratings for this Monday night's Rams (2-10) vs. Seahawks (5-7) game.
Thirty-two owners and fanbases all believe they have a legitimate chance of winning a Super Bowl even though only three owners can say they have elite, Super Bowl-caliber quarterbacks (Tom Brady, Aaron Rodgers, Drew Brees). Three haves with 29 have-nots; where have we seen those numbers before?
Ultimately, it looks like the NBA is choosing to become a December 26 league. What I mean by this is Christmas Day, the schedule is jam-packed with all the stars. LeBron James, Dwyane Wade, Chris Bosh, Carmelo Anthony, Amare Stoudemire, Dirk Nowitzki, Paul Pierce, Ray Allen, Kevin Garnett, Dwight Howard, Kevin Durant, Kobe Bryant, Derrick Rose and nearly Chris Paul are all going to be in action.
There's enough talent there to field two Olympic gold medal teams. This is must-see television at its finest. It's the type of star-loaded basketball that makes the NBA Playoffs so compelling.
December 26 has games like Toronto vs. Cleveland, Washington vs. New Jersey and Milwaukee vs. Charlotte. Very few people in the country, even fans in these six cities, will watch those opening games. Almost anything on TV will be more entertaining.
But that's not OK with David Stern. The December 26 games need to carry Monday Night Football type of excitement, because every team in the competitive balance agreement should be able to achieve the same type of success.
For this Christmas season, get ready for a lot of (forced) sharing of toys.