Why Botched Chris Paul Lakers Trade Was Best Possible Outcome for NBA
December 9, 2011
Ronald Martinez/Getty Images
It may not be entirely fair that the NBA vetoed a proposed trade that would have sent New Orleans Hornets guard Chris Paul to the Los Angeles Lakers—in fact, it's arguably collusion on behalf of the owners, and it's akin to the majority of a fantasy sports league nixing a trade just to spite the owners involved—but everyone is missing the larger point of the entire CP3 trade fiasco:
The NBA isn't fair. It isn't balanced or competitive. And frankly, it isn't fun anymore. Not for me, at least.
Even if the trade had gone through—and if it would have, it would have only been a matter of days until Orlando Magic center Dwight Howard followed—it would have represented the worst of what the NBA has become: a league where the Los Angeleses, Miamis and New Yorks of the world dictate the player economy and where the Milwaukees, Charlottes and Minnesotas have no choice but to develop their own talent and pray to Jerry West's gym socks that those players don't eventually price themselves, both in terms of value and brand, out of their market.
It should be a concept this country is quite familiar with. The 99 percent vs the 1 percent. Occupy Staples Center.
Of course, it wasn't always like this. There used to be balance, or at least a spirited attempt at something resembling an even playing field.
I know, because back when I used to love the NBA, back when this league mattered to me, I sketched it out on the back of my trading card binder.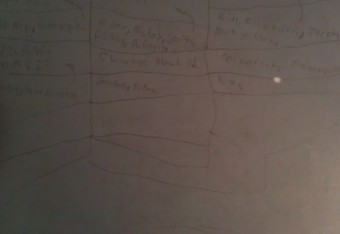 You'll excuse me if the handwriting is in no way legible. I doubt I was far past kindergarten when I began collecting cards, and that ink has had 20 years to fade. But if they gave spelling tests on player names, I would have passed them with flying colors. I knew my NBA. Loved it. 
As you can half-see above, my chart of favorite players included Shawn Kemp, Reggie Miller, Jason Kidd, Jamal Mashburn, Charles Barkey, Dan Majerle, Danny Manning, Shaquille O'Neal, Anfernee "Penny" Hardaway, Michael Jordan, Scottie Pippen, Hakeem Olajuwon and some ill-advised names etched in pencil which, combined with the poor coordination of a seven-year-old's handwriting, will remain enshrined in the tomb on the unknown baller.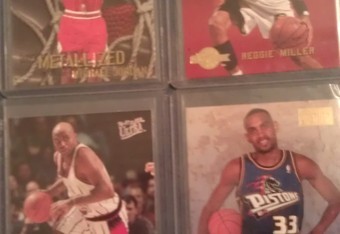 Were all of these players superstars? Of course not. If you were a 90s kid, you knew the simple truth of it all: it was Michael Jordan's league, everyone else was just invited to play in it. There's a reason I don't hesitate to name Jordan the greatest to ever play the game. A lot of great players and teams who never won championships understand my thinking all too well.
But were it not for Jordan's greatness standing in the way of the Larry O'Brien Trophy, the 90s could have been anyone's league. Anyone could have hung banners, shook hands with the U.S. President and gone on to inspire Lil' Wayne rap lyrics.
Think about it. There's a reason you had your share of selections in NBA Jam back in the Sega Genesis days. Larry Johnson and Alonzo Mourning. Isiah Thomas and Bill Laimbeer. Tim Hardaway and Chris Mullin. Karl Malone and John Stockton. Reggie Miller and Detlef Schrempf (okay, maybe not Detlef).  
And those were just some of the smaller markets.
It may just have been the optimism of my youth, before I fully understood that the world is not fair, but it just seemed like the NBA was more fun. More complete. More meaningful.
Teams were more interesting. Players were more interesting. There was a reason to tune into NBA on NBC broadcasts and listen to Marv Albert and Mike Fratello call a game featuring the Utah Jazz and Indiana Pacers. Modern NBA fans have only seen those teams when skipping through the selection screen to select the Lakers, Heat or Celtics in NBA 2K12.
In terms of competition, every night seemed to matter, and every team seemed to have a star it could turn to, whether the stadium was surrounded by skyscrapers or cornfields.  
Denver Nuggets needed a stop? They could look to Dikembe Mutombo. Utah Jazz needed to run a play to score the go-ahead basket? John Stockton was their man. Seattle SuperSonics needed to pad a lead? They needed look no further than Gary Payton to Shawn Kemp.
The list goes on, of course. Yes, the Chicago Bulls had Pippen and Jordan. Yes, the Knicks had Patrick Ewing and Charles Oakley. Yes, the Lakers traded for Shaq. But even beyond the large-market teams, everyone seemed to have someone they could lean on, someone who had some semblance of star power.
Someone who made games worth watching.
These were guys you wanted to imitate on the playground, and it didn't just involve one or two teams. One kid would proclaim himself to be Penny Hardaway. Another would choose Joe Dumars or Grant Hill. Personally, I went with Kemp, though it's likely that I kept that imitation limited to name-only.
These were guys who you wanted in your card collection. Guys like Karl Malone, Clarence Weatherspoon, Clyde Drexler and, if my binder is any indication, Chris Gatling. Guys you knew to look for in broadcasts, who could step up and be "the man" at any given moment.
So where did it go wrong?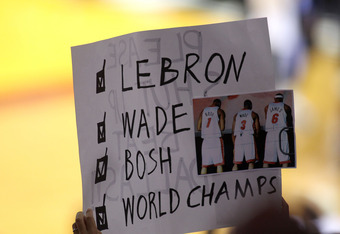 Marc Serota/Getty Images
It's easy to point fingers at Kobe Bryant and Shaq, claiming that was the first blockbuster union of note. But everyone wanted to team up with Jordan too, and the NBA still managed a heightened level of competition back then.  
At some point, superstars decided they didn't want to put the weight of a team on their shoulders. The most obvious example, of course, was LeBron James with the Cleveland Cavaliers. Players began to back down at the idea of carrying their teams, of being the undisputed centerpiece.
Instead, they found safety in numbers. Dwyane Wade here, Chris Bosh there. Kobe Bryant here, Shaquille O'Neal there.  Amar'e Stoudemire, Chauncey Billups, Carmelo Anthony...you get the picture. Loyalty was proven a thing of the past, something that died in the Reggie Miller days of playing with one team for the entirety of your career and never giving in to the temptation to chase easy rings elsewhere.  
And it wasn't even all about winning. Few would begrudge a player for wanting to win. It was about winning in style, winning in a town with the most glitz and glamour, the best beaches, the best settings for reality TV shows and endorsement deals.
Above all else, it was about the money. Not the purity of the game. Not the quest for a ring, which became secondary. It became about open checkbooks, about towns that would pay and jerseys that would sell. None of which, of course, could be found in cities like Minnesota or Denver.
It's not as if players in the 90s weren't playing for money, but it seemed there was something else too. Something missing today. It might have been the pride of representing a franchise, of players assuming unquestioned leadership roles on their own team and—paraphrasing noted scholar Jay Wayne Jenkins—putting on for their cities.
That pride, that widespread sense of stardom and ability for every team to rise to the occasion on any given night, seems notably absent in today's NBA. And I'm just not sure where folks see the fun in that.
Maybe you're a fan of video game basketball, of superpowers and holy triumvirates of hoops heroes. Maybe you're last year's Celtics fan, last month's Knicks fan, yesterday's Heat fan and tomorrow's Lakers fan. And it's not my place to tell you you're doing it wrong.  
But at some level, I wonder where the yearning for the old game is, and why anyone would support a league that would gladly reduce itself to a handful of competitive ball clubs. It's not as if this trend is subtle. I'm not sure these moves, or lack thereof in this case, could receive any more media attention.  
We should, as fans, want a competitive NBA, a league where anything is possible. When teams like Milwaukee and Toronto can compete with giants like Los Angeles and Miami, it means better match ups, better games. Better basketball.
Had the CP3 trade gone through, I'm not sure we would have advanced toward that goal at all. In fact, I'm quite sure we would have taken a giant step backwards, and added another when the Magic inevitably shipped Howard in the days following (not that such a move is now unthinkable).
So, maybe in the end, it's a good thing that the NBA fell flat on its face.  Perhaps this gives us a chance to examine some of the league's larger problems in terms of balance and competition.
Maybe, when the ink on my card binder finally fades away, there's a chance the NBA will be fun again.