NBA Lockout: Who Would Each Team Cut If the Amnesty Clause Happens?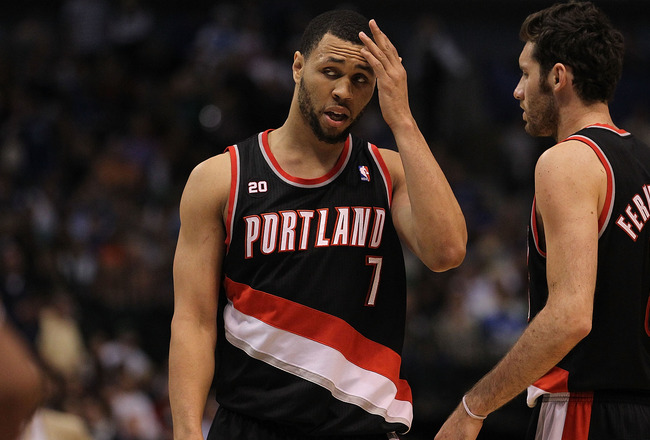 Could Portland's Brandon Roy see himself cut from the Trailblazers if the new CBA includes an Amnesty Clause?
Ronald Martinez/Getty Images
Amidst all the NBA lockout drama and the possibility of a shortened/cancelled season, some interesting news was brought to light from John Canzano at The Oregonian.
Two NBA sources told me Tuesday that they believe there's consensus among owners on a few important lockout issues. One of those issues being an amnesty clause that would give NBA teams the ability to release one player, pay his salary, take no luxury tax liability, and also, not have that player count against the season salary cap...This is different than the last round of amnesty, which didn't give the cap relief.
NBA owners have all agreed that they want an amnesty clause, and unlike the clause that was in the 2005 CBA (nicknamed the Allan Houston rule), this one will not count against the NBA Salary cap. In 2005, teams could waive players and only save money off the luxury cap; the provision provided only luxury-tax relief, with no salary-cap relief. A team couldn't release a player to gain cap space.
The amnesty clause in 2005 saw the release of 18 players, according to the USA Today. Over $212 million in future tax payments was saved in the waiver. Guys like Michael Finley from Dallas (who was owed $51.8 over three years at the time), Jerome James from New York ($21.3 million over three years) and Pacers legend Reggie Miller ($6 million over just one year) were waived to help teams save on the luxury cap.
Now, they seem to be seeking a more complete eraser, one that would wipe the players off the teams total cap entirely. It's important to note, however, if an amnesty clause does happen, players that are cut WILL still be paid their full contract.
They will, however, be completely gone from the team's official cap. Unlike 2005, if the total amnesty is included in the new CBA, a team could release a player and gain that cap space. That could potentially help some teams go out and sign better players..
But for a lot of smaller market teams, or any, in fact, just looking to save money, would likely use an amnesty cut not as a chance to go out and get better talent, but as a great cost cutting tool. For fans, lowering the teams talent pool without intention of getting anything in replacement isn't a good thing; it's a bad thing. Teams cutting salary without intention of using the gained cap seems counter-intuitive to winning.
Still, 18 players were cut last time, and this blanket-slate approach could see even more gone if the clause is added to the CBA. Let's take a look at who each of the 32 teams might amnesty—all salary information is credit to Hoopshype.com.
Atlanta Hawks: Joe Johnson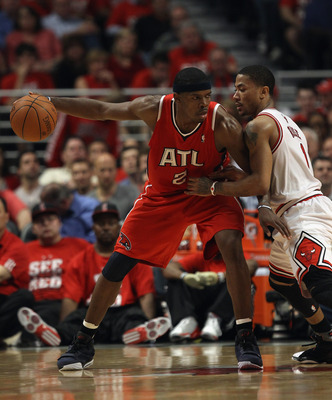 Jonathan Daniel/Getty Images
Joe Johnson was paid the most out of the 2010 NBA Free Agent class that included LeBron James, Dwyane Wade, Chris Bosh and Amare Stoudemire. How crazy is that?
And Johnson was utterly disappointing this season, averaging just 18.6 points (lowest in his Hawks career) on 43 percent shooting and 30 percent from downtown.
It's not entirely convincing that Atlanta would part with arguably their best player, even if he isn't worth three fourths of what he's paid. Certainly not if they still hope to win. But if Atlanta has any desire to start rebuilding, this would be an excellent first step: kicking a $107 million, five-year contract off their books.
You could also easily make the argument for Marvin Williams, who is owed $24 million over three years, but getting rid of a bad max contract now would be the best course. Remember how it's panned out for Rashard Lewis.
Boston Celtics: No One
Christian Petersen/Getty Images
While Boston could save some immediate dough with the release of big man Jermaine O'Neil, Boston doesn't have a really poor contract and are still in win now mode. The release of anyone, except perhaps O'Neil, would be detrimental to Boston's hopes of remaining a top team in the East.
Unless Boston suddenly decides to flip the switch and rebuild, it's hard to see them using the clause. Even if they did decide it was time to rebuild, most of their expensive talent—Paul Pierce, Ray Allen and Kevin Garnett—all have sufficent trade value.
Given that Boston will be one of the teams hit hardest by a lowered salary cap/possibility of a hard cap, they'll need to start reducing expenditures, but with the probability of the NBA giving teams a few seasons to lower their salaries, nothing would be totally imminent for the Celtics. Both Kevin Garnett and Ray Allen are expiring contracts as of next season.
Charlotte Bobcats: Corey Maggette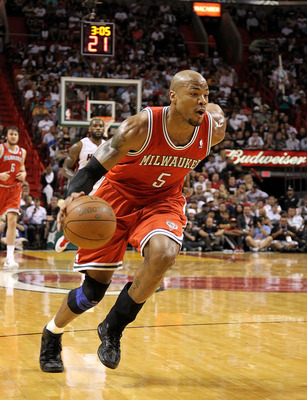 Mike Ehrmann/Getty Images
Corey Maggette, just brought over from Milwaukee, is on the books for $20 million over the next two years. With Charlotte seeking to rebuild around rookies Kemba Walker and Bismack Biyambo, getting Maggette out would be a decent use of the Amnesty.
Maggette averaged 12 points and three boards a contest for the Bucks last year, shooting a respectable 47 percent clip. But he can be a serious black hole on offence at times, and was never a consistent defender. You could make the argument for Tyrus Thomas, who is owed $24 million over the next four years, but he was decent in reserve minutes for the Bobcats.
Chicago Bulls: No One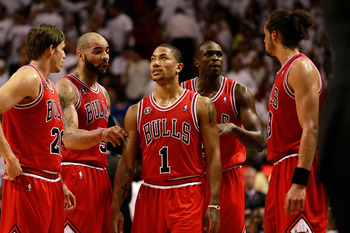 Marc Serota/Getty Images
I imagine many would expect the Bulls to hack off the contract of Carlos Boozer, who went exceptionally quiet in the Bulls playoffs last season.
And I'm really not sure the Bulls would even amnesty anyone. They don't really have a player on their team they don't need or want. Even if they cut someone like, say, CJ Watson, Ronnie Brewer or Kyle Korver, they wouldn't be close enough to the salary cap line NOW—let alone whatever it becomes when the CBA is published—to sign a shooting guard they so desperately need.
The Bulls are best served staying pat and hoping they can sign more depth anyway.
Cleveland Cavaliers: Baron Davis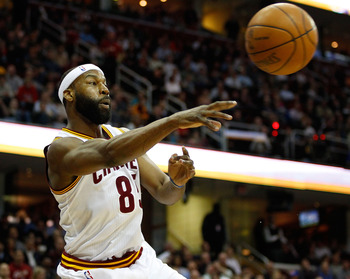 Jared Wickerham/Getty Images
How cool is this for Cleveland? They take on Baron Davis and get the Clippers 2011 first, watch the pick jump to No. 1 and now have a chance to get Davis and the $27 million, two-year contract he is owed off their books.
It really allows Cleveland to begin moulding the team as Kyrie Irving's and gets a consistent headcase off their teams. It turns a great trade on the Cavaliers end into a fantastic one.
Dallas Mavericks: Brendan Haywood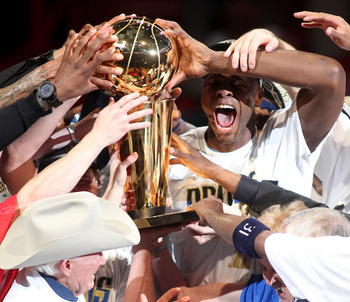 Marc Serota/Getty Images
I know Mark Cuban would pay good money to keep his Mavericks at the top of their game, and certainly the Mavs' biggest weakness is lack of big man depth. But even Cuban would have to see Brendan Haywood isn't worth the money.
Haywood averaged four points, five boards and a block a game last year, and those would be excellent numbers for a backup big if he wasn't owed over $45 million dollars over the next five years. Unless the Mavericks think he's a replacement should Tyson Chandler get away, they could save a bundle by letting Haywood go.
Denver Nuggets: No One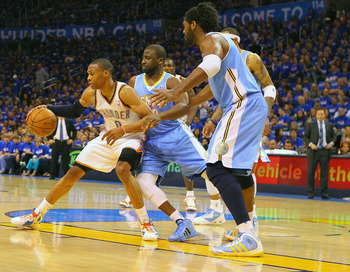 Dilip Vishwanat/Getty Images
Denver has the lowest amount of guaranteed salary going into the season and just saw guys like Wilson Chandler and Kenyon Martin sign overseas with Chinese basketball leagues.
Needless to say, Denver really isn't hurting for money; they're hurting for players. So I'd be surprised if Denver uses a amnesty on any player.
If they were going to, it would probably be Al Harrington, who is on the books for over $27 million in the next four years.
Detroit Pistons: Ben Gordon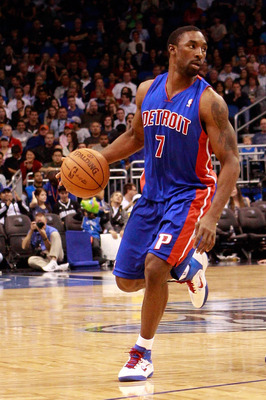 Sam Greenwood/Getty Images
You could argue for Charlie Villanueva ($24 mil over 3 years) or Rip Hamilton ($25 million over the next two) but I believe it has to be Ben Gordon. He is owed over $37 million over the next two years and averaged just 1.6 points last season on a team that desperately needed a leader.
There's nothing about Ben Gordon's game that is worth half of what he's getting paid, and with Detroit going into a full youth movement with Brandon Knight and Greg Monroe, getting Gordon out of Detroit would be a great step.
Golden State Warriors: Andris Biedrins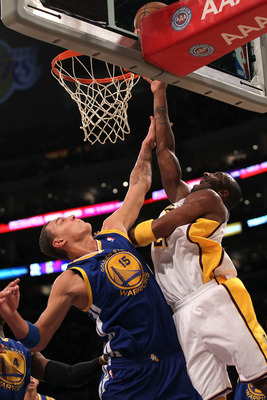 Stephen Dunn/Getty Images
You could make the argument for David Lee, who definitely did not live up to the exorbitant contract he was given last offseason. But over the last two years, Andris Biedrins has been an utter disappointment for the Warriors and never lived up to the contract extension he signed.
He averaged around five points and seven boards over each of the last two seasons, but played in less than half of the combined games while battling injuries. If amnestied, Beadrins would save the Warriors $27 million over the next three seasons, with which they could hopefully find a less-injured and more productive center.
Houston Rockets: No One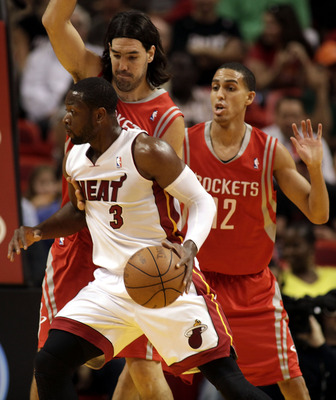 Marc Serota/Getty Images
Houston, like Boston, really doesn't have a bad contract. Each of their players, from Kevin Martin to Kyle Lowry to Luis Scola, are all worth their pay rate or are even underpaid. Sure, the Rockets could release Hasheem Thabeet, who is on a one year, $5 million dollar deal unless the Rockets pick up his next rookie year, but it seems unlikely.
Credit to the Rockets organization for keeping their salary so well managed.
Indiana Pacers: James Posey
Christian Petersen/Getty Images
Just like the 2005 Amnesty, the Pacers would cut off a aging veteran making a one-year, $6 million contract. Unlike 2005, though, it won't be a really productive player they'd be letting go.
Indiana certainly doesn't have to cut Posey if they believe he is worth it, but he averaged just five points and four rebounds on 36 percent shooting and plays a fairly deep position for the Pacers. Letting home go wouldn't really hurt Indiana and may save them a bit of money to help bulk up their depth.
Los Angeles Clippers: Ryan Gomes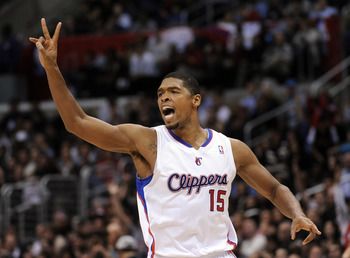 Harry How/Getty Images
Boy, you gotta feel bad for the Clippers. If only they'd known about a possibility of Amnesty in February, they could have avoided trading Baron Davis and maybe (if the lottery balls bounced the same) gotten Kyrie Irving to boot. Instead, they have Mo Williams.
The Clippers really don't NEED to cut anyone; they don't really have a bad salary on the books. But it's hard to see Donald Sterling passing up on this, and Ryan Gomes would be their best fit. He's owed $8 million over the next two years and averaged seven points on 41 percent shooting for the Clippers last season. Certainly replaceable for Los Angeles.
Los Angeles Lakers: Luke Walton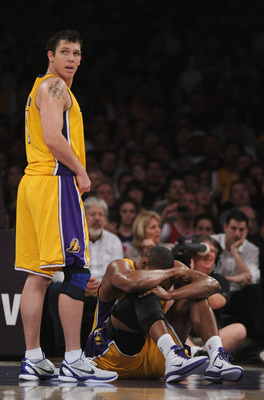 Harry How/Getty Images
If the Lakers could get two Amnesties, they would try. They really have two small forwards on "oops, wish we hadn't done that" contracts, but Metta World Peace (formerly Ron Artest) actually produces and Luke Walton does not.
When the new CBA takes effect, it will hit hard on the Lakers, who will need to lower their finances over the next few years to compensate for a lowered salary cap and the possibility of a hard cap. That instance, ditching Metta World Peace (Artest) may be smarter as he is potentially owed near $22 million over the next three years.
But unlike World Peace, Walton isn't any good. He has been stuck on the bench the last two seasons, getting just nine minutes a contest for Los Angeles. He's owed $12 million over the next two seasons to basically sit on the bench. Where Metta World Peace actually has value, Walton does not.
Besides, could you imagine the headlines if the Lakers cut World Peace?
Memphis Grizzlies: No One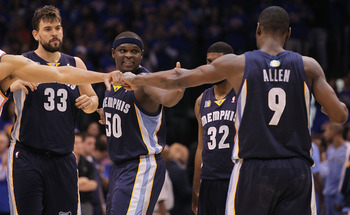 Ronald Martinez/Getty Images
Memphis will be hard pressed fiscally if they resign both center Marc Gasol and power forward Zack Randolph this offseason, but really, none of Memphis' players seem Amnesty plausable.
Some might say Rudy Gay, who was granted a max contract last season and then watched his team's magical playoff run from the bench as he suffered a left shoulder injury. But even if the Grizzlies wanted to trade Gay and save on some cap, he'd be worth a pretty penny to many teams on the trading market.
Another consideration may be Mike Conley Jr., who isn't worth the lucrative $40 million over five years he currently gets, but he is still a fine player, and it would be hard to see Memphis parting with him.
Miami Heat: Mike Miller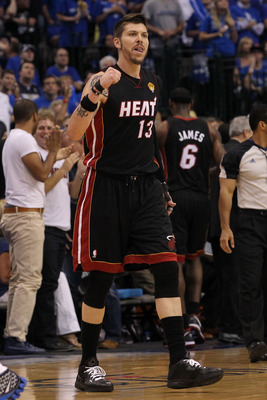 Ronald Martinez/Getty Images
Mike Miller was supposed to be the perfect role player for the Heat, but injures and less than stellar play found him with reduced minutes in the regular season and barely any time in the playoffs.
He's owed $24 million over the next four years, which seemed like a nice deal when it was signed. Then he played just 41 games last season, getting just five points and four boards in about 20 minutes of playing time. He shot just 40 percent from the field and 36 percent from downtown. In the playoffs, his numbers dropped even more, to just 2.6 points in 12 minutes of action while shooting 36 percent.
Miami would still be over the current salary cap and will be far over a lowered cap. It's hard enough now to have three max contracts and find depth around them; imagine how hard it will be with a cap lowered from it's $56.1 position in 2010-11 to something like $45 million or so under a new CBA.
Miami needs to cut costs as it is. They're struggling enough with a lack of role players, and to keep a vastly overpaid and underperforming one would make no sense for the Heat.
Milwaukee Bucks: Drew Gooden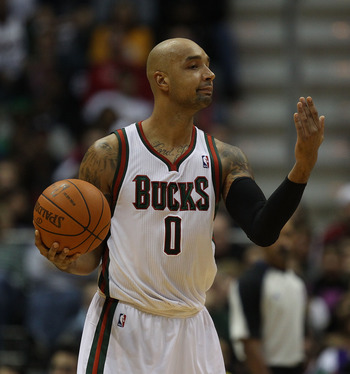 Jonathan Daniel/Getty Images
Drew Gooden is set to make over $26 million in the next four years, which is absolute highway robbery considering how poorly he plays.
Last season for the Bucks, he averaged 11.8 points and 6.8 boards, OK numbers as they stand, but adding in his 43 percentage shooting, a.5 block average and below average defense, you have to wonder what the Bucks saw in him.
Milwaukee needs bigs, but they should let this one go.
Minnesota Timberwolves: Nikola Pekovic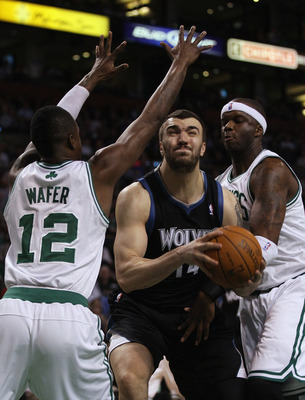 Elsa/Getty Images
Could you imagine of David Kahn cutting Darko Milicic, aka "Manna from heaven?" Neither can I.
That leaves Nikola Pekovic, whose two-year, $8 million contract is hardly problematic but remains the worst on the team. He averaged just five points and three boards in 13 minutes for the Wolves.
For teams like Minnesota, or most small market teams as they stand, it's hard to see teams cutting the salary in order to go out and spend more money elsewhere. After all, aren't the owners arguing they spend to much money on players as it is? For a lot of small market teams, the amnesty clause would be a hatchet to cut down a tree without the intention of planting something in it's place. And a cut like Pekovic would certainly be one of those.
New Jersey Nets: Travis Outlaw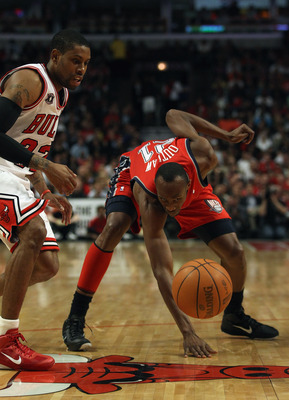 Jonathan Daniel/Getty Images
In the world of Monoply, this would count as giving newbie owner Mikhail Prokhorov a "Get Out of Jail Free" card.
Outlaw is perhaps the single most obvious Amnesty likely player in the league. In their hurry last offseason to prove their newfound wealth, they signed a bunch of role players to exuberant contracts, none more so than the four years and $28 million that Travis Outlaw got. He then proceeded to average just nine points on 37 percent shooting and become one of the ugliest contracts in the league.
The chance to undo that mistake is one the Nets would jump at.
New Orleans Hornets: Trevor Ariza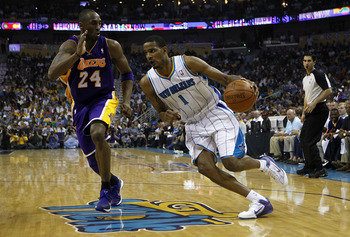 Jeff Zelevansky/Getty Images
Trevor Ariza has gone a long way from the sparkplug Lakers substitution he was just two seasons ago—a huge step backwards, that is.
Ariza averaged just 11.8 points on 39 percent shooting—and 30 percent from downtown—for the Hornets last season. The Hornets currently sit at $42 million in salary, but if they cut Ariza's two-year, $21.7 million dollar contract off the books, they might have some more money with which to potentially resign David West and bring in more talent to appease Chris Paul.
New York Knicks: Renaldo Balkman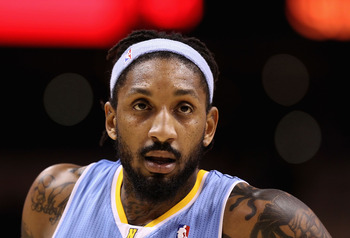 Christian Petersen/Getty Images
Unlike 2005, when they would have basically amnesty their whole team if they could, the modern day Knicks don't really have a candidate for an amnesty cut. So we'll go with Renaldo Balkman, who has a minimal two-year, $3 million dollar deal. He won't see any playing time whatsoever, and it helps shave some money (however minimal) for the Knicks in their desperate attempts to get Chris Paul.
Ronnie Turiaf is another candidate, but he's an expiring one-year, $4 million dollar contract and would be plenty easy to trade anyway.
Oklahoma City Thunder: No One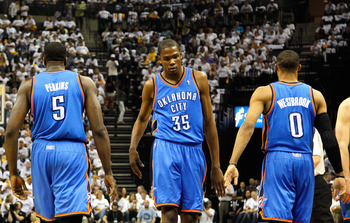 Kevin C. Cox/Getty Images
Again, here sits a team without a player they don't want or need. The Thunder have either young studs still on rookie contracts (Russell Westbrook, Serge Ibaka) or role players on decent contracts (Nick Collison, Thabo Sefolosha) and lack a poor contract. The Thunder need to add and grow, not subtract.
Orlando Magic: Gilbert Arenas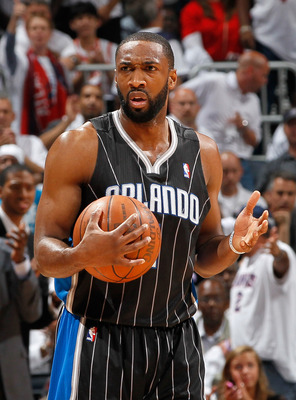 Kevin C. Cox/Getty Images
This is a conflicting decision in two ways. One, Gilbert is a decent player and his cut might alienate Dwight Howard even more than he already is. Even chopping off Gilbert's three years, $62 million dollars contract wouldn't get them any cap room in which to sign someone with. They could also consider Hedo Turkoglu, but Gilbert's contract is far worse.
Gilbert is a bit of a headcase (see his former Twitter account), and is certainly not worth his ugly contract. Any hope that he could revitalize his career after being traded from Washington quickly evaporated when he averaged just a paltry eight points on 34 percent shooting and 8.6 points on 43 percent shooting in the playoffs.
Even if it pisses off Dwight, it'd be a bitter pill Orlando would probably swallow.
Philadelphia 76ers: Elton Brand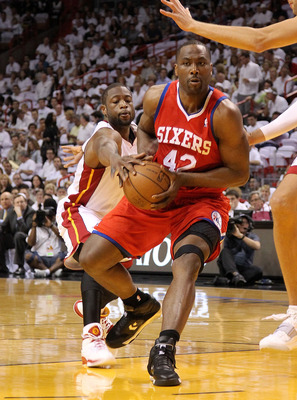 Mike Ehrmann/Getty Images
Brand somewhat revitalized his career this season, averaging 15.0 points and 8.3 boards on 51 percent shooting. After a very disappointing few years in Philadelphia, it was good to see Brand pick it back up. He was especially efficent in the five playoffs games against Miami, averaging 15.8 points, 8.4 boards and 1.6 blocks a game on 55 percent shooting.
But he's owed over $35 million dollars over the next two years, sitting on the end of his max contract. If Philadelphia wanted to save some money and were willing to sacrifice talent to do it, Brand seems the most obvious choice.
Phoenix Suns: Hakim Warrick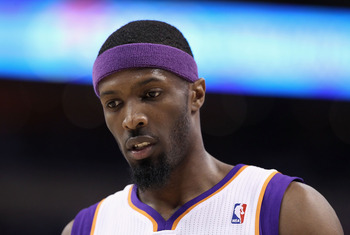 Christian Petersen/Getty Images
If only dominating dunks were a statistic, then Hakim Warrick may be worth his contract.
As it is, he isn't terribly overpaid. He is owed slightly more than $15 million over the next three years, but plays a position at small forward that Phoenix already has a plethora of. He avareged 8.4 points and three boards in 17 minutes for the Suns.
If Phoenix feels they'd rather keep all their pieces, it would hardly be surprising—no one really is vastly overpaid for the Suns. But Warrick seems the best bet.
Portland Trailblazers: Brandon Roy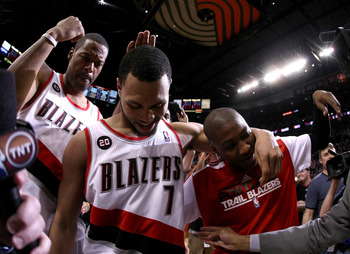 Jonathan Ferrey/Getty Images
You have to feel bad for Brandon Roy and the Trailblazers. We know how good he was (and could have been) if he remained healthy. He showed it in the playoffs, when he single handedly stole a game from the soon-to-be-champion Mavericks. He was and still remains the heart and soul of that team even while hampered by the knees of an 80-year-old.
But Portland would have to amnesty him. It wouldn't even really be a question.
He's owed four more years of max contract (over $68 million), and while it certainly wouldn't be a cupcake for Portland to pay that and let Roy walk, it's better than riding on lady luck and praying his knees suddenly heal themselves. While it would certainly be the biggest name dropped by an amnesty clause and the loyal Portland fans would hate to see it happen, it would have to happen.
Sacramento Kings: Francisco Garcia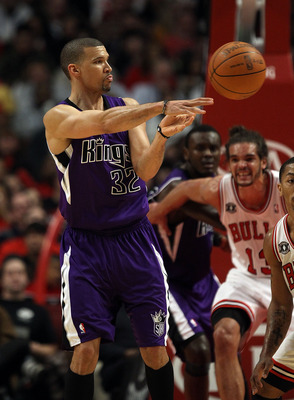 Jonathan Daniel/Getty Images
It should be John Salmons in that title. Every Kings fan would agree with me. Alas, the Kings management seems to think Salmons is a wonderful fit and a great starter dispite an ugly four-year, $24 million dollar contract he totally does not deserve.
So it comes down to Garcia, and that hurts in the worst way possible. Garcia isn't a great player, but he's solid, a fine role player and a fantastic leader on a otherwise young team. His leadership has been evident since he was drafted and he's been a fan favorite.
Still, he would be the most likely to be cut, and the Kings owners, given their recent history of money saving moves, would probably do it. But it should be Salmons they cut.
San Antonio Spurs: Richard Jefferson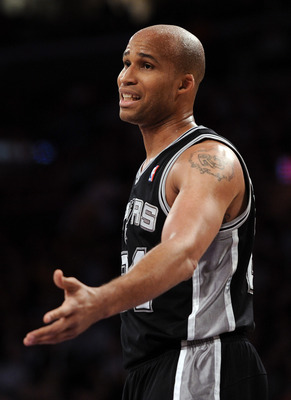 Harry How/Getty Images
When Richard Jefferson came over to San Antonio, he was supposed to be the missing piece that would help keep the Spurs as total contenders for the next few years.
Now he's one of the most overpaid players in the league. He's owed over $30 million over the next three years and averaged just 11 points and 3.8 boards a contest last season for the Spurs.
Letting him go would hardly close the Spurs window of opportunity faster than it already is.
Toronto Raptors: Linas Kleiza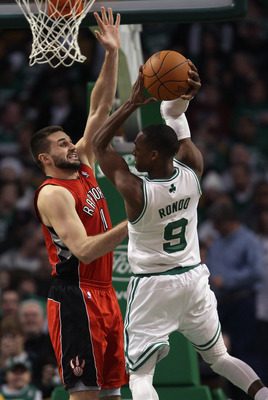 Elsa/Getty Images
This was a tough one. On one had, you have Amir Johnson averaging nine points and six boards on 57 percent shooting and set to earn $24 million over the next four years. On the other, you have Linas Kleza, who averages 11.4 points and 4.5 boards on 44 percent shooting and particularly poor defense.
Both are not worth their contracts, but at least Amri is particularly effective. If the Raptors could bear to tear asunder their European core, letting Kleza go would be a fairly good decision.
Utah Jazz: Mehmet Okur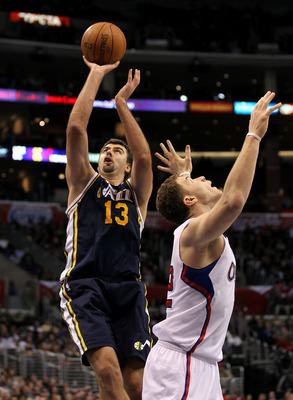 Stephen Dunn/Getty Images
Mehmet Okur suffered a ACL tear near the end of the 2009-2010 season and didn't come back till the end of 2010-2011. He's set to make over $10 million next season, and even though it's a one year contract, he is utterly replaceable for the Jazz at this point.
With the Jazz stockpiling bigs—Al Jefferson, Paul Milsap, Derrick Favors and now rookie Enes Kanter—it seems redundant to think the Jazz will stay pat with all of their bigs. Unless they think they could get fair market value for Okur as a trading piece, letting his contract go wouldn't be that big of a issue, and he's probably the most likely Jazz to be amnestied.
Washington Wizards: Rashard Lewis
Rob Carr/Getty Images
Rashard Lewis should go down in NBA history as the worst contract ever signed. He's owed nearly $46 million dollars over the next two years and will severely hamper any chance the Wizards have of signing actual talent to put around John Wall.
He averaged just 11.8 points and 5.8 boards on 44 percent shooting in a Wizards uniform and serves no point for Washington other than as a block from signing any real talent. Hopefully, when a new CBA is agreed upon, owners won't give out maximum contracts to guys like Rashard.
Keep Reading