NBA Predictions: Who Will Lead the League in Each Stat in the 2011-2012 Season?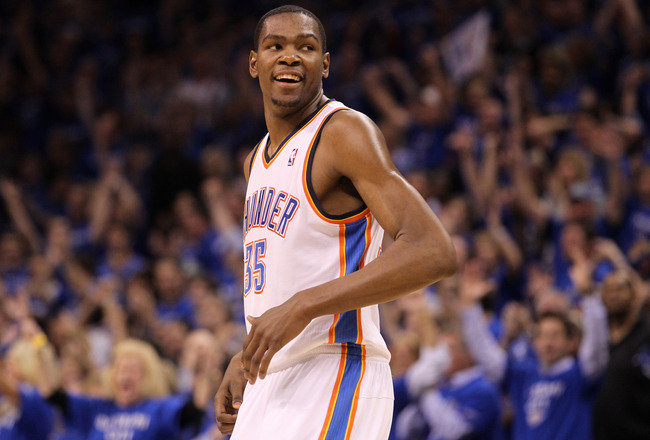 Ronald Martinez/Getty Images
These days, statistics are such an integral part of sports that it's impossible to fully analyze the top players in the NBA without looking at the stats.
While it's unclear how long next season will be, one thing is for sure. Players will be scoring points, grabbing rebounds, making passes, blocking shots and filling up the stat sheet no matter how many games are played.
Players like Kevin Durant, LeBron James and Dwight Howard are all dominant forces on the court, but how do they measure up to the competition? Will Kevin Love have another record breaking season? How will Derrick Rose follow up his MVP campaign?
Well, I don't know...but I have looked at the numbers and abilities of each player to come up with my predictions for each major statistical category.
Without further ado, let's take a look at who could be leading the league in each stat next season.
Fouls Per Game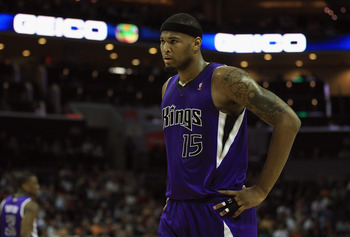 Streeter Lecka/Getty Images
Top 3 Contenders:
1) DeMarcus Cousins
Prediction: 3.9 PFPG (4.1 in 2010-2011)
Cousins has the potential to be a special big man in this league, but he still has a propensity for dumb personals that will likely decrease as he matures.
Since he's learning on the job and only 20 years old, expect Cousins to once again be the NBA's most foul-prone player.
2) Amir Johnson
Prediction: 3.6 PFPG (3.7 in 2010-211)
Johnson did a nice job cutting down on his fouls last season, but he still was one of the league's top players in the fouls per game category. He saw a career high 25.7 minutes last season and has emerged as a legitimate power forward option for the Toronto Raptors.
Though he's become a smarter player, he'll probably play slightly more minutes next season so his fouls should stay about the same.
3) Paul Millsap
Prediction: 3.4 PFPG (3.6 in 2010-2011)
A lot of Millsap's foul trouble comes from covering for Al Jefferson's horrendous defense. He often has to help on Jefferson's man and rotate over which causes him to pick up cheap, avoidable fouls.
Millsap has incredible potential and could become a star player, but he has to work on avoiding foul trouble...and hopefully Jefferson's defense improves.
Other possibilities include Amar'e Stoudemire (3.5 PFPG in 2010-2011) and Channing Frye (3.5 PFPG in 2010-2011).
Turnovers Per Game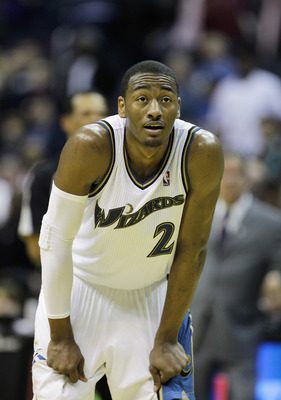 Rob Carr/Getty Images
Top 3 Contenders:
1) John Wall
Prediction: 3.6 TOPG (3.8 in 2010-2011)
Don't get me wrong, I think John Wall will absolutely be an elite point guard in a year or two, but he's still got a ways to go as far as keeping a tight handle on the ball goes. His turnover number will likely decrease slightly, but he'll still be around the top of the list.
2) Russell Westbrook
Prediction: 3.4 TOPG (3.9 in 2010-2011)
Westbrook will likely take his criticism from last season to heart and become a better ball-handler and decision maker on the court, but his flashy style of play lends itself to a high number of turnovers.
3) LeBron James
Prediction: 3.2 TOPG (3.6 in 2010-2011)
One of the few flaws in LeBron's game (besides his...clutch...issues) is his high turnover rate, but that's a small price to pay for a one-of-a-kind talent like LeBron.
With Mike Miller healthy I expect LeBron's minutes to drop slightly and his turnovers too, but he'll still contribute over three TOs a game.
Other possibilities include Dwight Howard (3.6 TOPG in 2010-2011) and Deron Williams (3.5 TOPG in 2010-2011).
Minutes Per Game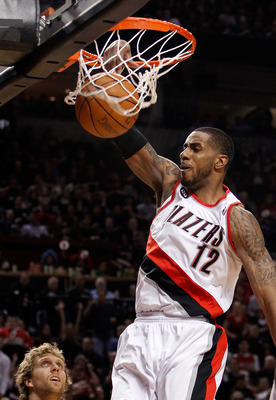 Jonathan Ferrey/Getty Images
Top 3 Contenders:
1) LaMarcus Aldridge
Prediction: 40.0 MPG (39.6 in 2010-2011)
Aldridge was the anchor on a Portland Trail Blazers team that could have easily floundered due to the major injuries of stars Brandon Roy and Greg Oden. He was a leader on the court, a dominant player on offense and a highly improved defender as well.
The Trail Blazers are on their way to becoming a true contender in the West, and they need Aldridge to be on the floor for major minutes next season.
The Blazers don't have a reserve power forward, and while as a Portland fan, I hope they find a way to get L.A. some rest, his value while on the court is simply too great for them to leave him out for extended periods of time.
2) Luol Deng
Prediction: 39.1 MPG (39.1 in 2010-2011)
Luol Deng is the quintessential "glue" player (hence his nickname, "Glue-ol") and his presence on the floor was crucial to the surprising success of the Chicago Bulls last season.
Deng's defensive prowess made him a key piece of Tom Thibodeau's rotation as he was relied on to often defend the opposing team's best player.
Deng often played extended minutes as the anchor of the Bulls second unit and should continue to do so next season. Though rookie Jimmy Butler from Marquette could potentially take some minutes away from Deng he should still be near the top of the list.
3) Kevin Durant
Prediction: 38.5 MPG (38.9 in 2010-2011)
For this spot I was torn between Durant and LeBron James, but ultimately I figured that if Mike Miller is healthy for the majority of next season then Erik Spoelstra will be able to rest James a bit more then he did last season.
The Thunder still lack a legitimate backup for Durant, and since their offense is so centered on his presence, I expect him to see slightly more time than LeBron.
Contrary to what anyone (including Russell Westbrook) may believe, the Thunder are Durant's team and his presence on the floor is crucial to the success of Oklahoma City.
If he improves defensively he could potentially see even more time than I've predicted but either way expect Durant to get little rest in the 2011-2012 season.
Other possibilities include LeBron James (38.8 MPG in 2010-2011) and Blake Griffin (38.0 MPG in 2010-2011). With Klay Thompson on board, I don't think the Warriors will depend as heavily on Monta Ellis (last year's league leader at 40.3 MPG) as they did last season.
Also, though I think Rudy Gay (39.9 MPG, second in the league) will be back with the Grizzlies, the team's success in the playoffs without him will allow them to play him less.
Free-Throw Percentage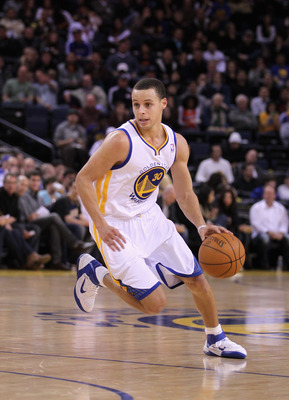 Ezra Shaw/Getty Images
Top 3 Contenders:
1) Stephen Curry
Prediction: 92.5 percent (93.4 in 2010-2011)
Free-throw percentage is admittedly pretty difficult to predict, so I'm basing this mostly on the numbers from last season.
Steph Curry led the league in free throw percentage last year and in all likelihood he'll do it again. The open offensive style of the Warriors suits Curry fairly well and allows him to consistently drive to the basket and draw fouls.
Hopefully new coach Mark Jackson can get the team to commit at the same level on the defensive end, so they can really contend for a playoff position.
The only reason I have his numbers going down is because if the team does pull the trigger on a Monta Ellis trade, Curry will have to shoulder more of the offensive load, and his percentages will likely go down across the board.
Not that shooting at almost 93 percent is a bad thing.
2) Dirk Nowitzki
Prediction: 91.0 percent (89.2 in 2010-2011)
Nowitzki went on a free-throw rampage during the Mavericks championship postseason run, hitting 175 of 186 attempts for a 94.1 percent clip, and I believe he'll keep up that hot shooting as the Mavericks look to defend their title.
Nowitzki's shooting ability for a player his size is incredible and hasn't diminished over time, so it's unlikely that his numbers will highly fluctuate at this point. His foul shot motion is perfected to the point where it looks like you're watching him shooting one shot on a loop.
Dirk's ability to draw fouls and knock down shots from the charity stripe should continue to be a key part of Dallas' offense next season.
3) Chauncey Billups
Prediction: 90.6 percent (91.6 in 2010-2011)
Billups will turn 35 this season and while he may not be as spry as he once was, he can still make the vast majority of his foul shots.
He shot 90.2 percent in his time with the Knicks and a career high 92.3 percent as a Nugget, and I expect him to be right around there in 2011-2012.
Other possibilities include Steve Nash (91.2 percent in 2010-2011) and DJ Augustin (90.6 percent in 2010-2011).
Field-Goal Percentage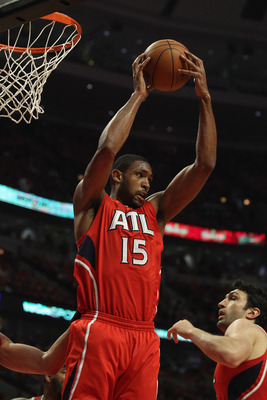 Jonathan Daniel/Getty Images
Top 3 Contenders:
1) Al Horford
Prediction: 58.5 percent (55.7 in 2010-2011)
It's not that I think Al Horford is going to improve that drastically but that last season's top three in this category (Nene, Dwight Howard and Emeka Okafor) will all drop for various reasons.
Horford's already an extremely efficient player playing out of position, so if the Hawks can get a true center to play alongside him, he'll be even more effective.
He has a solid jump shot and a developing post game, though Atlanta used him far too much on the perimeter last season.
His range is solid, but if Horford can work on his interior play and ability to get past defenders and attack the basket, I could definitely see him leading the league in field-goal percentage next season.
2) Dwight Howard
Prediction: 57.8 percent (59.3 in 2010-2011)
Dwight Howard's offensive versatility is improving quickly, and he's gone from just being a dunking machine to being a well-rounded big man. He has a consistent hook shot, can use fakes to get to the basket and demonstrated solid patience on the block instead of forcing the issue.
Still, I expect his overall percentage to drop because using a variety of moves will always be less efficient than pure force, even if it is better for his game.
Also, the Magic should hopefully get him more touches down low, so his percentage may drop slightly as a result of that.
Regardless, there's no way the NBA's hands-down, most dominant center can be left out of the conversation for most efficient shooters.
3) Marcin Gortat
Prediction: 57.0 percent (56.1 in 2010-2011)
Marcin Gortat was the main beneficiary of the Magic-Suns trade in December as he got out from under Dwight Howard's shadow and really thrived in Phoenix.
Gortat and Steve Nash were a surprisingly good pick and roll duo, and should Nash stay with the Suns next season, I could really see their chemistry getting even better.
Gortat has a nice touch around the basket and is very aggressive at rolling to the basket, two great qualities for a center. He's also spending some time this summer working with Hakeem Olajuwon, which should be great for his overall game and his work in half-court sets.
Also, for the love of God, can the Suns make him the full-time starter over Robin Lopez?!
Other possibilities include Nene (61.5 percent in 2010-2011) and Greg Monroe (55.1 percent in 2010-2011).
I don't think Okafor will be near the top because with David West likely to sign elsewhere he'll have to do more on the offensive end, and his field-goal percentage in the regular season after West's injury was 52.4 percent, so I expect it to be around there.
Three-Point Percentage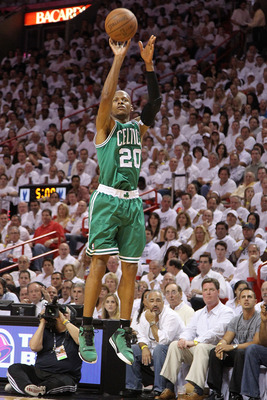 Mike Ehrmann/Getty Images
Top 3 Contenders:
1) Ray Allen
Prediction: 45.5 percent (44.4 in 2010-2011)
At 35 years old last season Allen, the all-time leader in three-pointers made, had a career year percentage-wise, and I believe he'll even improve next season and take the percentage crown one last time.
Allen is one of the best conditioned players in the NBA, so he should have no problem putting up solid numbers through the 2011-2012 season.
Even though his physical abilities aren't what they once were, Allen's textbook shooting form and quick release still make him one of the league's deadliest distance shooters.
He's also not afraid to take shots in big moments. Look at Game 1 against the Knicks when he hit the game-winning three with 12 seconds to go.
While it's unclear whether he'll retire after next season or sign a new contract, we can all count on one more year of picture-perfect Ray Allen buckets.
2) Mike Miller
Prediction: 43.8 percent (36.4 in 2010-2011)
The first year of Mike Miller's five-year, $25 million contract with the Miami Heat didn't exactly pan out, but that was due to a series of thumb and hand injuries that limited Miller to 41 games last season.
Though his percentage from beyond the arc dipped considerably last year, it's pretty hard to shoot when your hands are taped up.
If Miller can stay healthy for an entire season he should thrive in his role on the Heat as a three-point specialist stationed on the perimeter ready to receive kick-out passes from LeBron James and Dwyane Wade.
With Mike Bibby possibly gone this summer, Miller will see more open looks on the perimeter, and I believe he'll be able to bury them at an impressive rate.
3) Arron Afflalo
Prediction: 43.0 percent (42.3 in 2010-2011)
This pick may be a bit of a reach, but I have a feeling that next season will be Afflalo's breakout year, where he cements himself as a cornerstone for the Nuggets franchise.
The Nuggets have some solid long range shooters in Ty Lawson and Danilo Gallinari, but Afflalo is still likely to be their main option for three-point baskets.
He has excellent shooting form and can easily elevate over a defender to knock down the shot. He's also become a bona-fide closer, hitting timely jumpers in tight games against the Mavericks and Jazz last season.
Expect Afflalo to become one of the main options on offense next season and for his knack of hitting threes to be a major part of the Nuggets moving forward.
Other possibilities include Matt Bonner (45.7 percent in 2010-2011) and Stephen Curry (44.2 percent in 2010-2011).
Double-Doubles
Kevin C. Cox/Getty Images
Top 3 Contenders:
1) Dwight Howard
Prediction: 68 Double-Doubles (66 in 2010-2011)
Nobody notches double-doubles quite like Dwight Howard, he's such a dominant force in the paint that I just can't see anyone earning the double-double title in his place.
The Magic don't have anyone who can snatch rebounds from Howard and no team has really found a way to guard him effectively and keep him off the glass.
As I said earlier, I have a feeling that Howard will come back next season with a renewed sense of focus, and his statistics should reflect that.
2) Kevin Love
Prediction: 60 Double-Doubles (64 in 2010-2011)
Kevin Love had an incredible season rebounding and scoring the ball last season, and it seems the Timberwolves' All-Star is poised to pick up where he left off in 2011-2012.
I have Love's total going down slightly only because, as I talk about on the rebounding slide, he was in the best possible situation last year not really having another quality rebounder playing alongside him.
This year, with Derrick Williams coming to town and Anthony Randolph still brimming with potential, his total number of double-doubles should decrease by just a few.
3) Blake Griffin
Prediction: 58 Double-Doubles (63 in 2010-2011)
Griffin's rebounding his rookie year was stellar and he should keep it up in his sophomore campaign. Still, with the emergence of DeAndre Jordan as a potentially elite center capable of playing major minutes, I expect the rebounds to be just a little bit harder to come by.
Just like Love, expect Griffin to have another impressive year rebounding the basketball, but he won't reach the same level he did last season.
Other possibilities include Zach Randolph (53 double-doubles in 2010-2011) and Steve Nash (41 double-doubles in 2010-2011).
Triple-Doubles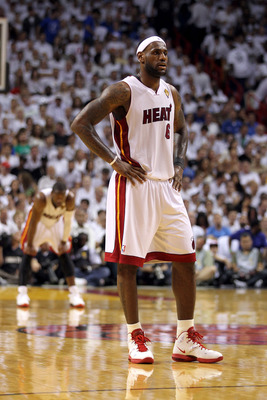 Mike Ehrmann/Getty Images
Top 3 Contenders:
1) LeBron James
Prediction: Five Triple-Doubles (four in 2010-2011)
There's not a ton to say on this subject. LeBron is simply the most versatile player in the NBA. He can pass, shoot and rebound as well as anyone and he should be able to lead the league once more next season.
As for why I think he'll have a slight increase, I have a feeling that Chris Bosh will be featured in the offense more and LeBron will shoot the ball a little less and focus more on facilitating and rebounding.
While I doubt he'll ever average a triple-double like some believed he would in Miami, he should still be the league leader in this stat for years to come.
2) Rajon Rondo
Prediction: Four Triple-Doubles (three in 2010-2011)
Rondo is widely renowned as a top notch passer, but he's a highly underrated rebounder and one of the best from the point guard position.
He's excellent at sneaking into the paint to snatch offensive rebounds, and his strength and long arms allow him to grab boards away from much larger players.
He'll likely be featured more in the offense if he can improve his jump shot and as the Big Three slow down, so another well-rounded season from Rondo is pretty likely, punctuated by several triple-doubles.
3) Russell Westbrook
Prediction: Three Triple-Doubles (three in 2010-2011)
Like Rondo, Westbrook is a highly underrated rebounder and that should culminate in several huge games next season. He isn't quite the passer that Rondo is, but he's more than capable of getting to double digits with regularity.
After a postseason where he made some poor decisions and shot the ball a bit too much, people have forgotten about his multifaceted game, but his 4.6 rebounds per game led all point guards last season.
Hopefully he becomes more of a pass-first point guard and not score-first because if he accepts his complimentary role to Kevin Durant, they could become the best guard-forward due on the league.
Other possibilities include Andre Iguodala (three triple-doubles in 2010-2011) and John Wall (one triple-double in 2010-2011).
Steals Per Game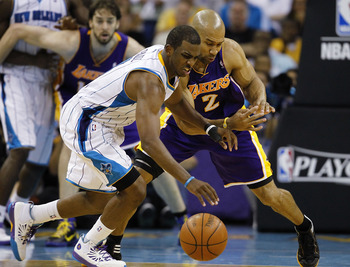 Jeff Zelevansky/Getty Images
Top 3 Contenders:
1) Chris Paul
Prediction: 2.5 SPG (2.4 in 2010-2011)
While I think Rajon Rondo is the best on-ball defensive point guard in the NBA, Chris Paul has the quickest hands and will likely add a fourth steals title to his list of accomplishments.
No matter how tight a player's handle on the ball is, CP3 always seems to pry the ball loose and ignite a fast break for his team.
Paul was able to stay healthy last season and should he be able to again in 2011-2012 there's simply no reason he can't lead the league in steals again next season.
Whether he stays on the Hornets or ends up on the Knicks, Lakers or another team, his role as a tenacious on-ball defender and the NBA's premier pickpocket.
2) Rajon Rondo
Prediction: 2.3 SPG (2.3 in 2010-2011)
I said it before, but Rajon Rondo is, at least in my opinion, the best defensive point guard in the NBA, he has excellent hands, great lateral quickness and overall defensive sensibilities. He led the league for much of last year, and there's no reason to think he won't be near the top again.
Rondo was a huge part of why the Boston Celtics' defense was so effective last season, and at only 25, he should only get better as he leads the Celtics into the post-Big Three era.
3) Tony Allen
Prediction: 2.1 SPG (1.8 in 2010-2011)
If there was any chance that Tony Allen would play 30-plus minutes a night I would give him the title by a wide margin. Allen averaged 1.8 steals per game in only 21 minutes a night, and with OJ Mayo likely to be traded this offseason, look for Allen to get even more minutes in the crowded Grizzlies rotation.
Allen's main role in Memphis is to provide tough perimeter defense, and he does so whenever he's out on the court. Because the team doesn't count on him to score much, he can focus on what he does best, shutting down opposing wings and swiping loose balls whenever possible.
Other possibilities include Gerald Wallace (1.5 SPG in 2010-2011) and Monta Ellis (2.1 SPG in 2010-2011).
Blocks Per Game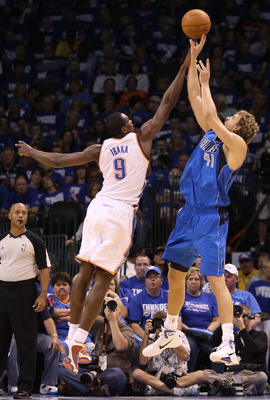 Christian Petersen/Getty Images
Top 3 Contenders:
1) Serge Ibaka
Prediction: 3.0 BPG (2.4 in 2010-2011)
Ibaka became the Thunder's starting forward after Jeff Green was traded to Boston, and his blocks per game shot up to 2.8 as he became the go-to shot challenger for Oklahoma City.
Ibaka is one of the league's most athletic big man and has incredible timing when going up to contest a shot. Couple that with his leaping ability, and I see no reason why Serge "Iblocka" can't lead the NBA in rejections next season.
It helps that there isn't another dominant shot-blocker in Oklahoma City since Nazr Mohammed doesn't play a ton of minutes and Kendrick Perkins is a much better defender on the ground than in the air. Expect Ibaka to be an anchor for the Thunder's defense and send back shots left and right.
2) Andrew Bogut
Prediction: 2.6 BPG (2.6 in 2010-2011)
Over the last two seasons Bogut has emerged as one of the best shot blockers in the league and a true defensive force if he can stay healthy. His interior defense is excellent, and at 7'0", he can camp out in the paint and wait to contest shots from any opposing player.
The Bucks lack another skilled shot blocker, Larry Sanders was the only other player to average over a block per game and he only averaged 14.5 minutes in 60 appearances last season.
If Bogut's elbow is really fully healed and he can play without any inhibitions, he'll easily be one of the most feared shot swatting big men in the NBA.
3) Dwight Howard
Prediction: 2.5 BPG (2.4 in 2010-2011)
How could Dwight Howard be left out of the top three shot blockers? While I think his reign as the best shot blocker in the NBA may be over, that doesn't mean he won't be a defensive force for the Magic, Lakers, Knicks or whatever team he ends up on.
Like I talked about on the rebounds slide, Dwight has a mix of pure strength, athleticism and quickness that along with his excellent timing allows him to contest any shot in his vicinity.
As with Bogut and Ibaka there isn't really another player on his team that can block shots, Brandon Bass is the only other decent swatter the team has.
Wherever Dwight Howard plays next season, expect him to continue to play top notch defense and make as many ridiculous into-the-stands blocks as humanly possible. Now if he could only direct those to his teammates...
Other possibilities include JaVale McGee (2.4 BPG in 2010-2011) and DeAndre Jordan (1.8 BPG in 2010-2011).
Rebounds Per Game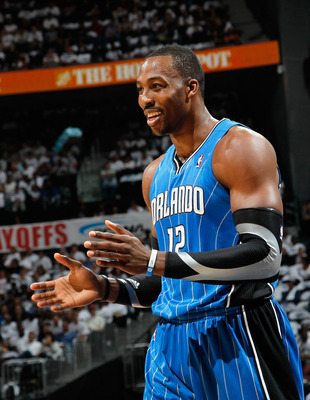 Kevin C. Cox/Getty Images
Top 3 Contenders:
1) Dwight Howard
Prediction: 15.1 RPG (14.1 in 2010-2011)
I went back and forth between Superman and the Double-Double Machine Kevin Love for a while, but ultimately, I figured that with the logjam at forward in Minnesota, the team may opt to give some of his minutes to young players with potential like Derrick Williams and Anthony Randolph.
After last season's first-round playoff loss to the Atlanta Hawks, I expect Howard to come back with a renewed sense of focus and urgency on the court.
Since Howard is the anchor of Orlando's defense he's always stationed in the paint ready to snatch a defensive board and the Magic lack another dynamic rebounder to take the ball away from Howard.
Ryan Anderson and Brandon Bass are solid rebounding forwards, but neither are going to log much time at center.
There really isn't another player of Dwight Howard's caliber at the center position and his mix of pure strength and athleticism allows him to overpower other players on the offensive and defensive glass.
He averaged four offensive rebounds a game last season, and there's no reason that number should decrease given his knack for grabbing boards and the dearth of quality centers in the league.
2) Kevin Love
Prediction: 14.4 RPG (15.2 in 2010-2011)
Love led the league in rebounds last season and while there's no question that he has a nose for rebounds that very few in the NBA can match, I just can't see him getting another rebounding title next season.
He was in the best possible situation in Minnesota. No other strong rebounders at either forward position or center and he often padded his stats by not playing great defense and getting instead focusing on getting into prime rebounding position even if it meant not guarding his man as closely as he should.
With the arrival of Derrick Williams and the emergence of Anthony Randolph and Anthony Tolliver the Timberwolves will have more players capable of going after boards meaning that Kevin Love won't be the sole man in Minneapolis on the glass next season.
3) Joakim Noah
Prediction: 12.1 RPG (10.4 in 2010-2011)
This really was a toss up between Noah and Marc Gasol, but I think if Noah can stay healthy this season, he has a slight edge because he isn't playing with as strong of a rebounder as Zach Randolph at the power forward spot.
Noah's one of the few truly dominant centers in the NBA besides Dwight Howard and his energy on both ends of the floor is a huge asset to a Chicago Bulls team that looks to be title contenders for years to come.
Though his rebounding numbers regressed last season that was partially due to various injuries that sidelined him for a good part of the season and limited his effectiveness on the floor.
When he's healthy though Noah's intensity on the boards is incredible, making multiple efforts on the offensive glass as well as snatching difficult defensive rebounds in traffic, he has an excellent motor and has fully committed to doing the dirty work and making hustle plays for his team.
He's 6'11" and has great size and strength, as well as excellent hands, and I don't think it'd be too difficult for him to grab a dozen boards a game.
Other possibilities could be Marc Gasol (7.0 RPG in 2010-2011) and Tyson Chandler (9.4 RPG in 2010-2011).
Assists Per Game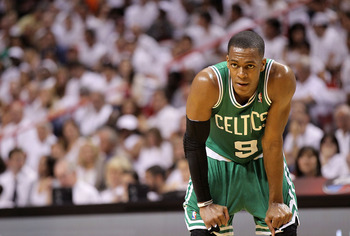 Mike Ehrmann/Getty Images
Top 3 Contenders:
1) Rajon Rondo
Prediction: 11.1 APG (11.2 in 2010-2011)
Rondo led the league for most of last year before a midseason slump likely brought on by the Kendrick Perkins trade cost him the assist title to Steve Nash.
Though I have Rondo's total going down slightly from last season, that is by no means a knock on his playmaking abilities. It's simply because with Paul Pierce, Ray Allen and Kevin Garnett a year older, they'll be a year slower on the offensive end.
Still, Rondo's court vision is second to none, he's excellent at finding cutters in halfcourt sets, driving and kicking to the perimeter, throwing alley-oops and pretty much any kind of passing possible.
Out in transition his mix of athleticism and unselfishness always lead to highlight reel Bob Cousy-style passes to open teammates running the break with him.
Hopefully Jeff Green can come into his own on the team and the Celtics can add a few more young pieces as the team transitions to the post-Big Three era. Look for the Celtics to make one last title run and Rondo's elite passing to be a huge part of that.
2) Deron Williams
Prediction: 10.7 APG (10.3 in 2010-2011)
Williams only played 12 games in New Jersey after he was traded to the Nets but in them he played the pure point guard role to perfection, averaging 12.8 assists per game and providing a serious spark to the ailing franchise.
He's one of the league's top point guards and can run an offense with the best of them.
While I don't think he can keep up that pace for an entire season I expect him to stay right up near the top of the league. With a dynamic offensive big man like Brook Lopez capable of scoring in the paint and hitting open jumpers, the Nets seem to have an excellent big man-point guard combo who Williams really seems to thrive with.
However, at least as of right now the Nets just don't have enough offensive firepower for Williams to lead the league in assists.
Though players like Jordan Farmar and Anthony Morrow can drill shots from beyond the arc and rookie Marshon Brooks should be able to translate some of his collegiate scoring success to the pros, the roster isn't loaded with players capable of scoring like the Celtics have.
Perhaps if the Nets can sign an impact player like David West or Andrei Kirilenko that'll be different. Or... if Dwight Howard comes to Newark.
3) Steve Nash
Prediction: 10.2 APG (11.4 in 2010-2011)
Steve Nash led the league in assists last season despite turning 37 in February, so there's no reason to think he'll slow down much next year. Nash is one of the greatest point guards to ever play the game and has the ability to improve the play of everyone around him.
His stellar play was the reason Phoenix was still competing for a postseason berth despite the loss of Amar'e Stoudemire and not just waiting for the draft lottery.
The main reason that Nash won't be leading the league again besides his age is that though he's a passing virtuoso, he doesn't exactly have a ton of players to pass to.
Vince Carter will likely be bought out given his absurd $18 million contract and Grant Hill may make one last run at a championship with another team, meaning Nash could be stuck with a lot of subpar offensive players.
Jared Dudley is a rapidly improving player and works well with Nash, so does center Marcin Gortat, who had excellent chemistry with Nash in pick and roll situations, but there aren't many other major offensive options on the team.
It's unlikely the Suns can sign one of the summer's bigger free agents, and so Nash will have to make due with what they have. There is the possibility of Nash being dealt to a true title contender, in which case he could very well have one more league leading year in him.
Other possibilities include Chris Paul (9.8 APG in 2010-2011) and Russell Westbrook (8.2 APG in 2010-2011).
Points Per Game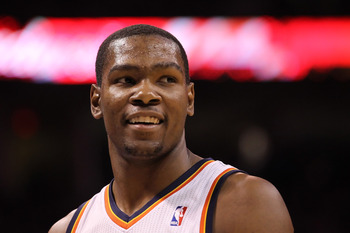 Ronald Martinez/Getty Images
Top 3 Contenders:
1) Kevin Durant
Prediction: 28.5 PPG (27.7 in 2010-2011)
There simply isn't a better scorer in the NBA right now than the Durantula, and that's why I foresee him taking a third consecutive scoring title.
He has range beyond the three-point arc, great length that allows him to get off tough mid-range jump shots, and he's not afraid to attack the basket and finish or go to the free-throw line.
He's one of the most versatile offensive talents in the league, and there's no reason to expect him to be any less prolific next season than he has been thus far.
Though there were some issues in the postseason about Westbrook taking shots that Durant should have been taking and about who was the team's leader, I expect those to get sorted out and Durant to resume his reign as the Thunder's No. 1 offensive option.
Also, I think the likely insertion of James Harden into the starting lineup will help boost Durant's scoring. Harden is an excellent playmaker in his own right and worked very well with Durant during the playoffs, particularly during their Game 4 victory over the Dallas Mavericks in the Western Conference Finals, when Scott Brooks left Harden in to play with KD for the entire fourth quarter.
The only thing Durant's offensive game is really lacking is a solid set of post moves, which he will hopefully develop as he adds more muscle to his lanky frame, since his size, length and quickness could really make him a tough cover for a defender on the block.
While that may not come next season, Durant has plenty in his arsenal to lead the league again and potentially carry his Thunder team to the finals.
Prediction: 26.6 PPG (25.8 in 2010-2011)
'Melo averaged a stellar 26.3 points a game as a New York Knick last season and there's no reason to think his numbers will decrease. 'Melo's offensive game is actually more well rounded than Durant's, he has a solid set of post moves and an excellent jab step that's very tough to guard.
If he can keep up the three-point shooting hot streak he had going in New York (42.4 percent), then the Knicks really have the potential to go much further than they did last season.
All that being said, Anthony is playing with another elite offensive player in Amar'e Stoudemire who will also likely be putting up 20-plus points a night. Carmelo will still probably be the main offensive option, but Stoudemire is no slouch in his own right and his ability to play in the paint and hit perimeter jumpers is just as important to New York going forward.
Hopefully 'Melo can find a balance between scoring and the improving the other facets of his game (a little defense would be nice), so he can maximize his effectiveness next season.
He also has the potential to put up huge numbers if he embraces Mike D'Antoni's run-and-gun offensive system, though that might not be the best thing for the team's overall success. One of the big issues the Knicks faced last season was that D'Antoni's style of play didn't really suit Anthony or Chauncey Billups very well as neither player really gets out in transition.
Expect another superb offensive season from Anthony, and maybe the Knicks won't get swept out of the postseason this time.
2) Blake Griffin
Prediction: 25.8 PPG (22.5 in 2010-2011)
Griffin was the hottest player in the league last year, making the All-Star Game winning Rookie of the Year decisively and reviving a dormant Clippers franchise that hasn't seemed remotely competitive in years.
His dunks were incredible feats of athleticism and pure strength, but I believe that in the next few years he can easily become one of the league's top three scorers by improving his offensive versatility.
Last season, Griffin scored over 22 points a game on alley-oops, transition and buckets and by overpowering his defenders, if Griffin can develop his still raw offensive game he could really be unstoppable.
He lacked a consistent mid-range or perimeter jump shot and shot a mere 64.2 percent from the free- throw line, so there's a lot of room for him to improve his shooting. With his natural abilities and strength Griffin could also develop a killer set of post moves, something he showed flashes of last season but should really work to develop this offseason and the coming year.
I also see Griffin becoming the clear cut No. 1 option for L.A., with Eric Gordon focusing more on facilitating and still putting up around 20 per game. Griffin won't have scraped the ceiling of his potential by next season, but that doesn't mean he won't be one of the league's most dominant offensive big men.
Other possibilities include Derrick Rose (25.0 PPG in 2010-2011) and LeBron James (26.7 PPG in 2010-2011)
Keep Reading