Philadelphia 76ers 2010-11 Preview: Point Guard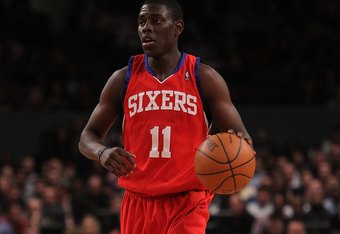 Nick Laham/Getty Images
When you think about the history of the Philadelphia 76ers guard position, you often think of a few names. If you're between the ages of 16 and 30, you mostly think of the name Allen Iverson. If you reside somewhere between the ages of 30 and 55, the name Maurice Cheeks comes to mind.
In the case of the new-age Philadelphia 76ers roster, the team is hoping to replicate that history as they begin to develop their newest cast of a backcourt for the future.
Just like at shooting guard, the Sixers are looking at a possible three-to-four man rotation at the point with multiple options off the bench. This does not necessarily lead to depth as three of the players listed are either in their first or second seasons in the league.
The Sixers will have a group of first round picks (Holiday and Turner) as well as a duo of second round after thoughts (Williams and Meeks) who will platoon at the point position.
Jrue Holiday—(6'4' 180 lbs.) 8 ppg., 3.8 asst.
Lou Williams—(6'1" 175 lbs.) 14 ppg, 4.8 asst.
Jodie Meeks—(6'4" 208 lbs). 5.9 ppg in 16 games (midseason trade)
Evan Turner—(6'7" 205 lbs.), 2010 first round selection (second overall)

Jrue Holiday (6'4" 180 lbs.) 8ppg., 3.8 asst.
After a mediocre 2008-09 season the Sixers, looking for a point guard to grow with, selected Jrue Holiday from UCLA with the 17th overall pick. Holiday came into the NBA as an 18-year-old with only one year of college under his belt and faced a trial-by-fire during his first season in the league.
What position is the Sixers weakest?
Holiday began the season on the bench as a five-to-eight minute sub as he adapted to the NBA game, but when Lou Williams fractured his jaw midseason the young guard was propelled into the starting lineup.
The season did not get easier for the rookie as he had to share time with Williams and a returned Allen Iverson for a portion of 25 games during Iverson's welcome back tour. Despite the varying lineups and constant confusion in Eddie Jordan's offensive strategy, Holiday played respectably, finishing the season with eight points and just under four assists a game.
The team likes the future they see in Jrue Holiday and have publicly stated that he will be the teams opening day starting point guard. He has the tools to develop into a solid guard in the NBA and it seemed that every game his on-court abilities were improving.

Lou Williams (6'1" 175 lbs.) 14 ppg, 4.8 asst.
Just as the Sixers did in 1978, when they took Maurice Cheeks in the second round of the NBA draft, the Sixers were hoping for a draft day steal when they took Lou Williams in the second round (45th overall) in the 2005 NBA draft.
Coming out of high school in Gwinnett, GA, Williams was a highly touted prospect and committed to the University of Georgia before deciding to enter the NBA. He began his Sixers career on a rocky standpoint and, at one time, was sent down to the Fort Wayne Flyers of the NBDL to develop his raw basketball abilities.
Williams has developed into an under-appreciated talent in the NBA in the last few years and was even one of the team's top offensive producers last season. Unfortunately for Williams, the team is committed to Jrue Holiday as their point guard of the future and with the development of Jodie Meeks you may see Williams time diminish.
Worst case scenario: Eight to 10 minutes a game.

Best Case Scenario: Look for a trade. There are many teams in the NBA with a need for a point guard.

Jodie Meeks (6'4" 208 lbs). 5.9 ppg in 16 games (midseason trade)
Jodie Meeks had the unfortunate distinction as the "other" point guard taken by the Milwaukee Bucks in the 2009 NBA Draft. Coming out of Kentucky, Meeks was not only an AP-All American but made first team All-SEC. On draft night he slipped all the way to the second round (41st overall) and the Bucks selected him in a hope to create competition for the starting point guard spot in Milwaukee.
Meeks and 2009 rookie-of-the-year finalist Brandon Jennings battled for the position in the preseason but after Jennings made his 55-point contest in November the Bucks were quickly losing faith in Meeks. The Sixers and Bucks made a deadline deal sending Meeks and center Francisco Elson to Philly for Primoz Brezec and Royal Ivey.
Due to the confusion in the Sixers' offensive strategy in 2009, Meeks did not see significant time. He contributed to this offseason's Sixers Summer League team, where he flourished as a starter finishing with 14.6 points and just over two assists per game in five games of work.
Jodie Meeks will fall into the same situation with Lou Williams as a content second fiddle within the Sixers this season. Meeks may see playing time late in games but none of it is expected to come as a significant contributor.

Evan Turner (6'7" 205 lbs.), 2010 first round selection (second overall)
The reason I put Even Turner on this list is because of the ability he has as a guard-forward. Within the NBA, players can see time at different positions based not only on the strategy of the coach but also because of bench play and defensive sets.
When the Sixers are facing a team with more solid low-post play, you could see Turner at the point. He plays a more physical style of play than Jrue Holiday and would be a good complement on those occasions when Andre Iguodala is at the two guard position.
Evan played at the point for many parts of his junior year at Ohio State and is a proven collegiate playmaker. A team always has to assess a players versatility at multiple positions, and this is the key with Evan Turner, as he has been mentioned in the point guard, shooting guard, and small forward previews.

Conclusion
The Sixers feel that they have struck gold with Jrue Holiday and Evan Turner as their starting backcourt of the future. Both players are young yet have the ability to develop into proven talents in this league. For those of you that fell within that 30- to 55-year-old age bracket I mentioned in the beginning, the Sixers are hoping this new combo turns into a Maurice Cheeks, Andrew Toney backcourt situation.
Let's just say, if the combo of Turner and Holiday can pull close to that scenario the Sixers will be in a good place for a long long time (sans the injuries).
This is part six of a seven-part Sixers season preview. Stay up to date with all the Sixers season news on my blog Eternal Mulligan or follow me on Twitter.
2010-11 Sixers Previews:
This article is
What is the duplicate article?
Why is this article offensive?
Where is this article plagiarized from?
Why is this article poorly edited?

Philadelphia 76ers: Like this team?