Philadelphia 76ers 2010-11 Preview: Shooting Guard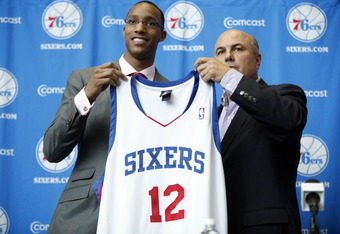 "The biggest gap we have in the roster is at the shooting guard position."—Head Coach Doug Collins before the NBA Draft.
(Philadelphia, PA)—Just as a bad trade can set a franchise back for years a solid draft pick can do the opposite, and that is what the Philadelphia 76ers are hoping happens with their shooting guard position.
After last seasons 17-55 record the Sixers secured a coveted top 10 position in the NBA draft lottery. As the lottery balls shuffled the team made a dramatic upgrade from their pre-lottery seventh selection to the second overall pick. Seeing as the team did not have a second round pick they pushed all of their chips on Evan Turner, the consensus all-American from Ohio State, with their second overall pick.
Not only was Turner the best collegiate player last season many basketball scouts and NBA officials thought that Turner was a potential first overall selection.
With the addition of Evan Turner the Sixers have expanded their options at the shooting guard to three players. As you will see from the list the depth is not beneficial for the team as one of the other options at the shooting guard position is expected to be the teams opening night small forward forward in Andre Iguodala.
Evan Turner (6'7, 205lbs.) No. 2 NBA Draft.
Willie Green (6'3 201lbs.) Seventh NBA Season.
Andre Iguodala (6'6 207lbs.) Sixth NBA Season.
1. Evan Turner: 2009-10 stats: 20.3 ppg, 9.2 reb. 54 percent fg.
Because of the drastic differences between the college and pro game the expectations that Turner will be a 20ppg guy right away are a little premature. With the play in the summer league (9.8ppg & 2.4 assists) a 10 point a game expectation seems more logical. Now just like anything it will all be dependent on his ability to adjust into the pro game and mesh with the teams other role players (Jrue Holiday & Andre Iguodala).
Turner is a versatile shooting guard who has the ability to control the point and work in the lane at the same time. He will have his growing pains but with new head coach Doug Collins and playing with a team that has realistic goals he will be allowed to grow into the teams system.
It is always hard to measure a players talent coming out of college and with the type of talent in the summer league those numbers are also hard to use as a production scale. The Sixers are hoping for long term success with Turner and if he develops into the player they hope Philadelphia will have long term success in their backcourt (Jrue Holiday PG, Evan Turner SG).
2. Willie Green: 2009-10 stats: 8.7 ppg, 2.1 asst. 45 percent fg.
As you can see from his numbers Willie will remain as a bench-style role player. He only played in 21.3 minutes a game, most of that was because of a need to move Iguodala to the SF position, last season. In his seventh season in the NBA Willie has never averaged more then 12 points a game and since averaging career highs in 2007-08, his only season as a starter, he has dropped off to a solid to seven-to-nine shooting attempts a game.
Green enacted his early termination clause of his contract in the offseason, in a hope to gain a starting position in the league, but from all signs it seems that he will remain with the Sixers and play out the last year of his contract in Philadelphia.
3. Andre Iguodala: 2009-10 stats. 17.1 ppg, 5/8 asst. 6.5 reb.
For all intents and purposes Andre Iguodala will be the Sixers starter at the small forward position. Coach Doug Collins admitted in his opening press conference that Andre was playing out of position at shooting guard last season and I tend to agree. The reason I put Iguodala in the shooting guard depth chart is because of varying lineups.
In the offseason many teams in the Atlantic division have gotten bigger. More teams will be playing with more solid centers and increased depth at the power forward position. Iguodala will see time at the shooting guard when the team goes to those lineups.
As I stated in my small forward preview Iguodala is expected to improve and take more of a leadership role in the Sixers system this season. With new head coach Doug Collins taking a defensive minded approach and the fact that Iguodala is improving this summer with team USA basketball Iguodala will not only come into the season with fresh legs but a summer full of experienced coaching.
Conclusion:
As you can see the shooting guard position is not the deepest in the Sixers organization but where the team lacks in depth they make up in optimism.
Any time you can bring in a potential career starter into an organization you take it. The Sixers are looking at Evan Turner as the opening day starter, and hopefully, a long term key in the improvement of this organization. The only thing baring this goal is an injury or a complete breakdown of Evan Turners transition to the pro game.
For the sake of the Sixers and all of the remaining basketball fans in the city of Philadelphia lets hope neither of those happen.
This is part five of a seven-part Sixers season preview. Stay up to date with all the Sixers season news on my blog Eternal Mulligan or follow me on Twitter.
2010-11 Sixers Previews:
This article is
What is the duplicate article?
Why is this article offensive?
Where is this article plagiarized from?
Why is this article poorly edited?

Philadelphia 76ers: Like this team?