Two days after the time change and nearly a year since an epic seven-game playoff series, the San Antonio Spurs have sprung forward, while the Los Angeles Clippers have fallen back.
The Spurs clocked the Clippers 108-87 on Tuesday to extend their winning streak at the AT&T Center to 42 games—the third-longest in NBA history.
And behind that of the Golden State Warriors, who've won 46 straight at Oracle Arena in Oakland, California.
The Warriors have overshadowed everyone and everything in the Association this season—and rightfully so. Their historic title defense, led by Stephen Curry's field-lapping MVP campaign and the All-Star seasons of Klay Thompson and Draymond Green, has Golden State winning at a pace even the 1995-96 Chicago Bulls would envy.
That's made it easier than ever for San Antonio to once again fly under the radar, despite a franchise-best 57-10 record through 67 games.
Not that these Spurs need any help dodging the limelight. For all their improvement over last season's squad, which won 55 games before getting ousted by the Clippers in the first round, their sparkle seems tailor-made to avoid wider detection.
No player better exemplifies this dichotomy than Kawhi Leonard. The reigning Defensive Player of the Year and newly minted All-Star continued his rise into the league's elite with a team-high 20 points on 9-of-15 shooting to go along with five rebounds, four assists and three steals in 34 minutes.
In any other year, Leonard's career highs in points (21 per game), assists (2.5) and three-point percentage (46, second-best in the NBA) would be enough to thrust him into the MVP conversation.
Except Curry has all but run away and hid with that award. And when it comes to three-point prowess, even Leonard's prodigious progress from the perimeter pales in comparison to the excitement and energy generated by each of Steph's staggering pull-ups.
The same goes for their profiles off the court. While Curry and his family have fashioned themselves into social media darlings, Leonard is known best for dishing the sort of short, dry soundbites Spurs head coach Gregg Popovich would happily harvest for his next vintage.
No lack of words can detract from Leonard's all-around excellence. And there is no denying the strides LaMarcus Aldridge has made in his newfound role as San Antonio's No. 2. The five-time All-Star flipped in 17 points—just below his season average of 17.7 per game—on 7-of-16 shooting against a Clippers frontcourt that had Paul Pierce join Blake Griffin in street clothes.
Four of Aldridge's field goals came on mid-range jumpers, on which modern NBA offenses supposedly go to die. Aldridge has long thrived on those in-between opportunities and hasn't slipped much in that regard since leaving the Portland Trail Blazers for the Alamo City this past summer.
Those shots aren't sexy, but they've been effective for these Spurs, who've scored more of their points from mid-range this season than all but the New York Knicks, per NBA.com.
Meanwhile, they've scored the sixth-fewest points by percentage from beyond the arc, the 15th-most by percentage in the paint and the eighth-fewest on dunks, per Fox Sports.
That is to say, San Antonio's shooting profile won't soon work fans or nerds into a tizzy.
That doesn't mean the Spurs, who sport the NBA's stingiest defense, are "boring." They move the ball as well as any team, with the fourth-most passes per game spawning the Association's sixth-highest assist percentage.
San Antonio's passing was on brilliant display against L.A. The Spurs dished the ball 298 times to the Clippers' 284 and logged dimes on 25 of their 44 makes from the field, with eight hockey assists (to L.A.'s one) and one pass leading to free throws (the Clippers had three).
Some of San Antonio's best ball movement comes from the team's revamped bench. The Spurs' reserves outscored their Clippers counterparts 51-20, with Texas stalwarts Manu Ginobili (13 points) and Patty Mills (15 points, six assists, five rebounds) pacing the pack.
They got plenty of help from the newer members of San Antonio's bench mob, too.
David West (eight points, six rebounds, two blocks) did so much work the Spurs' Twitter feed (apparently) forgot thesaureses exist. Kevin Martin, recently signed off the scrap heap, chipped in six points of his own. Second-year forward Kyle Anderson (six points, four rebounds) hit a jumper to beat the third-quarter buzzer that erased L.A.'s last lead of the game.
Together, San Antonio's bench, which scores the second-most points of any second unit in the NBA, stretched what was a 71-70 lead to start the fourth quarter into a double-digit advantage by the time the Spurs' starters were ready to check back in.
That kind of depth won't inspire many (if any) soaring hagiographies, but it could prove crucial to San Antonio's title hopes. The more work the bench puts in, the less the Spurs' stars have to do and the more gas they'll have left in the tank come playoff time. San Antonio's spectacular tally of blowouts, per the team's Twitter account, is a testament to as much:
More fun facts…

Most wins by 20+ points this season:

1. Spurs - 20
2. Warriors - 12
3t. Cavaliers - 11
3t. Thunder - 11

— San Antonio Spurs (@spurs) March 16, 2016
The Clippers, on the other hand, are a mess compared to the squad they bested last spring in thrilling fashion. They've now dropped back-to-back games by 20 points or more for the first time since March 2010.
Back then, Blake Griffin was still rehabbing from the knee injury that ended what would've been his rookie campaign before it began. Griffin wasn't available for the Clippers this time either, sidelined not by his once-broken hand but by a quad injury that preceded his embarrassing fisticuffs in Toronto.
Without him, L.A. will be hard-pressed to duplicate last year's postseason heroics, regardless of what Jeff Green (15 points on 5-of-13 shooting) is able to do in his stead and irrespective of the pick-and-roll production of Chris Paul (22 points, eight assists, three steals) and DeAndre Jordan (16 points, 14 rebounds).
At this point, though, the Spurs needn't concern themselves with the Clippers. They have a 2-1 season-series edge against L.A., and barring the Oklahoma City Thunder slipping in the standings, they won't see CP3 and Co. again until the Western Conference Finals at the earliest.
Instead, San Antonio would do well to turn its full attention to the defending champions. The Spurs will have their sights set squarely on the Warriors when Golden State comes to town Saturday, with two more games against the Dubs during the final week of the regular season.
Maybe then, if the Spurs play far better than they did during a 30-point pounding in Oakland on Jan. 25, the basketball world will slice through San Antonio's steady veneer and see a team with legitimate Larry O'Brien aspirations.
Pacers Stop C's in Potential Postseason Preview
Ron Hoskins/Getty Images
If the playoffs started today, the Indiana Pacers and Boston Celtics wouldn't play until the second round, if at all. Which, after the Pacers' 103-98 win over C's on Tuesday, has to come as some relief to the residents of Beantown.
With Jae Crowder and Kelly Olynyk both sidelined by injury, Gang Green struggled to scrounge up points against Indy's third-ranked defense. The Pacers held their visitors to 39 points in the first half and 38.3 percent shooting overall.
Indy, on the other hand, made almost as many free throws (20-of-28) as Boston took (18-of-22), and five of its players reached double figures, led by Paul George's 25 points on 9-of-16 shooting. That doesn't include the style points George earned for throwing down a 360-degree dunk after a whistle late in the fourth quarter, as the team shared on Vine:
At 36-31, the Pacers moved to within a game-and-a-half of the Eastern Conference's No. 6 spot, which is occupied by the Charlotte Hornets.
"We've got a chance to move up," George said afterward, per the Pacers. "Nothing's really set in stone."
Neither is Indiana's playoff berth. Upcoming home games against the Toronto Raptors and Thunder could leave the Pacers, just two games up on ninth place, vulnerable to late pushes by the Bulls and Detroit Pistons.
But if Indiana makes hay against the nine sub-.500 squads it'll face over its final 13 outings, it could see the C's again come April.
Dunk Contest Never Ends for Air Gordon
Don't think the Orlando Magic, at a not-so-robust 29-37 following a 116-110 win over the Denver Nuggets, are worth watching anymore this season?
Aaron Gordon would beg to differ.
The second-year forward was far from the most impactful player on Orlando's stat sheet. His 16 points on 7-of-10 shooting marked a solid night but paled in comparison to Evan Fournier's game-high 30, Victor Oladipo's 23 and six assists or Jason Smith's season highs in points (25) and rebounds (13) off the bench.
But did any of Gordon's teammates do this?
He didn't think so. And lest you view Air Gordon as "just a dunker" after he nearly nipped Zach LaVine in the Slam Dunk Contest, he'd like to show you his smoother handles and sharpening jump shot.
No wonder a certain Bleacher Report scribe had such high praise for the native of San Jose, California.
Bojan Goes Bonkers in Brooklyn
Speaking of players turning garbage games into noteworthy nights, did anyone see what Bojan Bogdanovic did to the Philadelphia 76ers?
The second-year swingman out of Bosnia and Herzegovina had been averaging 14.9 points and 41 percent from three since stepping into the Brooklyn Nets' starting lineup for the bought-out Joe Johnson. Then—perhaps after seeing Johnson light it up for the Miami Heat—Bogdanovic tried to close the gap in one fell swoop, matching his jersey number with a career-high 44 points to lead the Nets to a 131-114 win over the Sixers.
He was hot early, scoring 17 points on perfect 6-of-6 shooting in the first quarter. And, well, he was hot later, with just two misses in seven attempts for 14 points in the third.
Bogdanovic became the first foreign-born Net to score 35 points or more in a game since the late, great Drazen Petrovic dropped 44 against the Houston Rockets in January 1993. He also tied Los Angeles Lakers guard Lou Williams, who burned Oklahoma City for 44 on Jan. 8, in the unofficial Mo Williams Award race for best out-of-the-blue scoring explosion of the season.
Beyond his own exploits, Bogdanovic helped the Nets snap a four-game skid and boosted the franchise to its highest scoring output in regulation since February 2000, when the team still had a dozen more full seasons to play in New Jersey.
For all of that, Bogdanovic earned himself a way-too-hype highlight reel, which the Nets shared on Twitter:
Short-Handed Raptors Blast Bucks
No DeMar DeRozan? No Jonas Valanciunas? No problem for the Raptors. They quickly erased a six-point first-quarter deficit and rode a 19-6 run to start the third quarter all the way to a 107-89 win over the Milwaukee Bucks.
Rookie wing Norman Powell scored a career-high 17 points, with two coming on this thunderous coast-to-coast slam shared by the NBA on YouTube:
Bismack Biyombo stepped into Valanciunas' spot with 12 points, 13 rebounds and two blocks. James Johnson, Toronto's long-time stand-in for the injured DeMarre Carroll, added 11 points, while Patrick Patterson (14 points, six rebounds) and Terrence Ross (11 points) provided a boost off the bench.
That support freed Kyle Lowry for his usual song and dance. The All-Star point guard poured in 25 points on just nine field-goal attempts (he was 11-of-13 from the free-throw line) and notched 11 assists.
Their combined efforts made the absences of DeRozan and Valanciunas moot points while moving the Raptors to within two games of the Cleveland Cavaliers for the top spot in the East.
Kings Make History in L.A.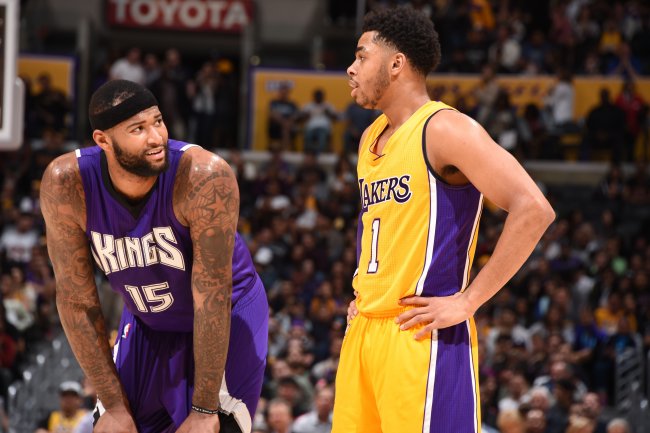 Andrew D. Bernstein/Getty Images
On Tuesday, the Sacramento Kings did something they've never done: sweep the Los Angeles Lakers in a season series, courtesy of a 106-98 win in L.A.
Granted, blanking the Purple and Gold ain't what it used to be. The Kings are just one of 17 teams in the NBA to shut out the Lakers (14-54) this season.
Sacramento didn't exactly pull through in impressive fashion, either. As Kobe Bryant again rested his sore shoulder, the Kings sprinted to a 19-point lead in the first quarter with Darren Collison (22 points, six assists) and rookie Willie Cauley-Stein (eight points, seven rebounds) starting next to DeMarcus Cousins (22 points, eight rebounds, three assists, three steals, four blocks), Rajon Rondo (nine points, 12 assists, six rebounds, four steals) and Rudy Gay (20 points, eight rebounds, three assists, three steals).
The lead was up to 23 less than five minutes into the third, but the Kings—with Boogie practically sleepwalking—nearly surrendered that gaping advantage to the Lakers' spirited second unit. Instead, Gay came through with four quick points after L.A. had closed the gap to 100-94 with 2:46 remaining to put the game out of reach.
Give the Kings a 4-0 mark against the Lakers—an unbeaten run they'd previously failed to nail down in Sacramento, Kansas City, Omaha, Cincinnati or Rochester.
Stats courtesy of NBA.com unless noted otherwise.
Josh Martin covers the NBA for Bleacher Report. Follow him on Twitter (@JoshMartinNBA), Instagram and Facebook.