You'll never convince anyone that the Los Angeles Clippers are better off without Blake Griffin, but for the second game (and year) in a row, it looks like the superstar's absence could be a blessing in the long run.
The Clips put together one of their best top-to-bottom efforts of the season Monday, comfortably dispatching the Washington Wizards in a 108-91 road result that wasn't in doubt at any point beyond the first five minutes of the contest.
Chris Paul only had to log 27 minutes in the rout, but he produced 23 laser-focused points to go along with seven assists and five rebounds. Numbers aside, it was clear CP3 had a mind to control the game with Griffin (sidelined for at least two weeks with a partially torn quadriceps) out of action. Paul got wherever he wanted against a Wizards defense that frequently miscommunicated and lost track of assignments off the ball.
And, perhaps sensing the need to send a message to his teammates, Paul channeled some of Griffin's patented aerial game.
Twice.
"Chris is over 30," Jamal Crawford said on the TV broadcast, via Dan Woike of the Orange County Register. "I'm giving him both. Those are both dunks."
Crawford's assessment aside, neither pseudo slam would have registered as noteworthy if it weren't for the fact that Paul never dunks (he hasn't had two slams in a season, let alone a game, since 2012-13). But so much of CP3's greatness as a point guard and leader is wrapped up in his ability to gauge situations and make the optimal play. So if you don't think he recognized a need to inspire his bench in a time of potential vulnerability, you're probably selling Paul short.
The bench responded, too, as Crawford led three reserves in double figures with 21 points on 9-of-12 shooting. Wesley Johnson (14 points) and Cole Aldrich (13 points, six rebounds, three assists and four steals) had big impacts as well.
At times this year, the Clips have been complacent. They've also appeared fractured, unhappy together and outwardly surly about, well...everything. Officials, opponents, each other—all of it. But maybe Griffin's absence is offering them perspective.
J.A. Adande of ESPN.com has seen enough of this team to recognize a familiar silver lining emerging:
Clippers usually think they're good enough just on talent. When they lose Blake or CP3 it snaps them out of that mentality

— J.A. Adande (@jadande) December 29, 2015
It'll be great if L.A. can play harder and stay focused more consistently. But at some point, trotting out Luc Mbah a Moute and Paul Pierce as starting forwards is going to become a problem. This particular Washington team was beset by its own bevy of injuries and wasn't equipped to do any exploiting. Neither were the banged-up Utah Jazz on Dec. 26—the first game Griffin's bad quad cost him.
But maybe that's not the point. Maybe the real goal the Clippers should be pursuing during Griffin's absence is a sort of general refocusing—a team-wide commitment to basics such as effort and unselfishness. Maybe it's more important to use this stretch as a way to either test other reserves or send a message by sitting big names failing to produce.
That'd be bad news for Josh Smith (DNP) and Lance Stephenson (four minutes).
This is an opportunity for the Clips to sort some things out. For a core as talented as this one, sometimes it's good to endure a stretch without relying on skill to survive.
Funny things can change the course of a season, and maybe Griffin's latest injury is one of them. Funnier still: This wouldn't be the first time.
Remember, when Griffin missed 15 games following elbow surgery last year, L.A. pulled together to go 9-6. And then when Griffin returned, a more dialed-in team erupted, pairing better attention to detail with top-end talent. It finished the season on a 14-2 surge.
It's still too early to officially exclude the Clippers from the elite three-team club of contenders in the West. But they were never going to reach that exclusive group without some kind of catalyzing event—some kind of spark.
For the second year in a row, Griffin's injury might just do it.
We Will Never Understand the East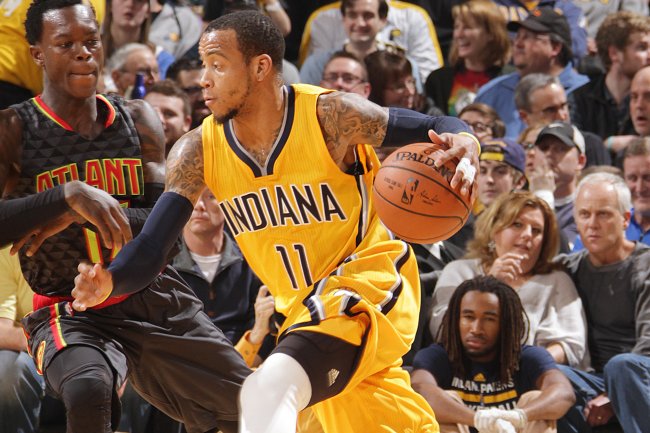 Ron Hoskins/Getty Images
So here come the Atlanta Hawks—winners of six straight. They're rolling, toting 20 victories—the most in the Eastern Conference.
And they're taking on the Indiana Pacers, whom they've beaten four times in a row. And Paul George is going to have a bad night. And Lavoy Allen will score two points as the starting power forward. And C.J. Miles won't play at all.
You get it.
None of it matters, as Monta Ellis will lead the way with 26 points on 10-of-20 shooting. The Indiana bench will score 35 points, paced by 10 apiece from Solomon Hill and Chase Budinger.
And the Hawks will lose, 93-87.
The East is an inscrutable mess right now, littered with teams looking unbeatable one week and totally adrift the next. Ten teams are over the .500 mark, and a dozen are legitimate playoff possibilities. This is a pretty decent problem to have, especially for a conference that has long been frustrating because not enough (rather than too many) teams were good.

Tune in tomorrow when some struggling, short-handed outfit in the East knocks off another apparent powerhouse.
Stephen Curry, Omri Casspi and Glorious Chaos
Omri Casspi caught fire in the second quarter of the Sacramento Kings' 122-103 loss to the Golden State Warriors, hitting six threes from increasingly absurd distances and scoring 21 of his team-high 36 points. It was a beautiful stretch of red-hot shooting, and it had the Kings' bench flipping out.
It also got Stephen Curry's attention, which was less than ideal for Sacramento.
Curry, ice-cold until Casspi heated up, wasn't about to let someone else hit 30-footers in his gym.
So he hit five ridiculous treys and scored 17 points in the final 3:15 of the second quarter, exchanging blows with Casspi on possession after possession to end the half.
It was a delirious, surreal sequence—easily the most feverish of the season.
Oh, and Curry had posted a triple-double by late in the third, as NBA.com/Stats noted, before resting for the final stanza:
#SAPStatLineOfTheNight Steph Curry overcomes slow start, catches fire for 23 PTs, 14 REBs, + 10 ASTs in a victory. pic.twitter.com/lNGToe7pjh

— NBA.com/Stats (@nbastats) December 29, 2015
With incredible displays like this, it almost detracts from the fun to ascribe some kind of lesson. But if you had to pick one, it'd be that it's never a good idea to give Curry or the Warriors a reason to get engaged.
The Pelicans Aren't Ready to Change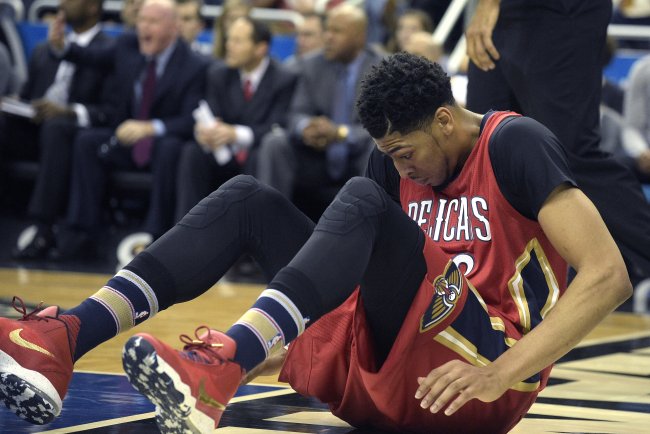 Phelan M. Ebenhack/Associated Press
Whether it was Tyreke Evans forgetting plays and causing head coach Alvin Gentry to burn timeouts or the full-on five-man hockey substitutions designed to send a message to lackadaisical starters, the New Orleans Pelicans' 104-89 loss to the Orlando Magic was full of signs that the Pellies weren't ready to compete.
That's been the story for most of the year.
Though New Orleans started the season without key players and had to adjust to the pressure of expectations, its continually poor effort (even after getting healthy) is cause for concern.
It may be that Gentry is, once again, proving he's better suited as a top assistant. It may be that Davis is showing us that not all ascents to superstardom are smooth ones.
And if you don't want to get all big picture, it may just be that the Pelicans ran into a good Orlando team that got 28 points, seven assists and eight rebounds from offensive stud Nikola Vucevic. That's enough to beat most opponents.
The Pelicans have the second-fewest wins in the West, but they're still alive, trailing the eighth-seeded Utah Jazz by only four games. Considering things could hardly have gone worse to this point, that's encouraging.
But let's not get carried away. New Orleans isn't making up ground on anyone playing like this.
We Will Never Understand the East (Part 2)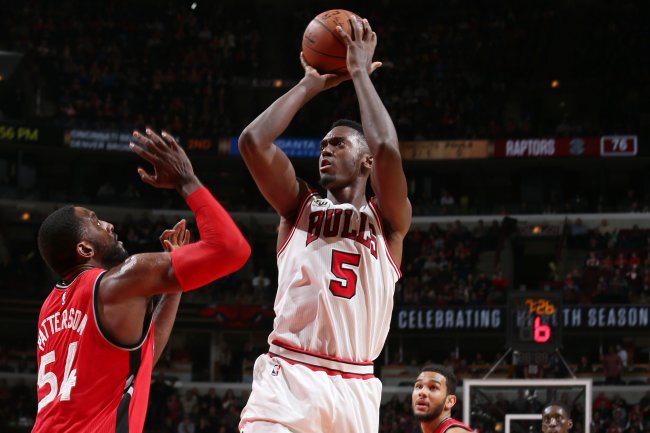 Gary Dineen/Getty Images
The Chicago Bulls, up-and-down all year, defeated the Toronto Raptors by a score of 104-97 on Monday, and the result was every bit as head-scratching as the Indy-Atlanta one above.
The Raps were just recently made whole again, getting Jonas Valanciunas back from a broken hand against Chicago and reintegrating DeMarre Carroll, Patrick Patterson and James Johnson in recent games after missing them all with a variety of maladies. Health aside, Toronto has simply been better than the Bulls for most of this season.
And yet Chicago took care of business behind big nights from Bobby Portis, Tony Snell and Aaron Brooks, who made up for Jimmy Butler's five-point, 2-of-7 night. It helped that Derrick Rose continued his modest resurgence, scoring 20 points on 16 shots. But even that contribution was weird, as Rose didn't play for most of the fourth quarter, and Snell put up 14 of his points in that decisive period.
If you'd wagered on the Bulls' sporadically effective bench bailing them out against one of the East's toughest teams, you would have gotten phenomenal odds. Some of the reasons for Chicago's improbable win feel sustainable, though.
Portis, for example, has reached the point at which his value is no longer debatable, as Nick Friedell of ESPNChicago.com observed:
Portis brings the kind of fire they've been missing most of the year. He energizes the group when he's on the floor.

— Nick Friedell (@NickFriedell) December 29, 2015
Butler is going to give the Bulls better efforts than this almost all the time, but if some of the seeming anomalies (such as good play from Rose and the bench) become staples, Chicago could distinguish itself in the East.
Or, ya know, none of that will happen, and we'll just keep guessing about how this ridiculous conference is going to shake out.
The Spurs Continue to Innovate
It's important not to speculate when it comes to things like this, but I think there's enough evidence to at least entertain the idea that the San Antonio Spurs are pushing the strategic envelope like never before.
Consider: Gregg Popovich was ejected before halftime of San Antonio's 101-95 win over the Minnesota Timberwolves.
Also consider: Tim Duncan didn't suit up because of knee soreness.
And then 7'3" rookie Boban Marjanovic scored 17 points in 15 minutes, many of which came in a stirring third-quarter stretch that had the home crowd in hysterics and the official team Twitter feed giffing up a storm:
BOBAN RIGHT NOW. pic.twitter.com/0qrSaj1DiW

— San Antonio Spurs (@spurs) December 29, 2015
Marjanovic was a flawless 7-of-7 from the field and even sprung Patty Mills for a corner three with a perfect screen on San Antonio's patented hammer play. His Spurs initiation was complete in that moment.
Or...had Marjanovic really been a Spur all along?
seriously prove to me Boban isnt just Pop on Duncans shoulders with a mask on

— Myles Brown (@mdotbrown) December 29, 2015
This is airtight. Don't even bother.
The Cavs Can Breathe
Coming off a disappointing Christmas defeat to the Warriors and an alarming blowout loss against the Portland Trail Blazers, the Cleveland Cavaliers had to have this one.
A loss to the Phoenix Suns—easily the most dysfunctional, visibly crumbling squad in the league right now—would have constituted catastrophe.
Fortunately for the Cavaliers, the fates have conspired to destroy the Suns. And Brandon Knight's potential go-ahead three in the final minute was waved off on a controversial offensive foul call against Tyson Chandler. Kyrie Irving's triple on the ensuing possession iced the contest, and the Cavs salvaged a 101-97 win.
With an offense struggling to score, new pieces rejoining the rotation and the rest of the East making up ground, the Cavs are looking as vulnerable as they have all year. They'll almost certainly be fine, as there's just too much talent on the roster for things to go wrong in any significant, season-altering way.
But it would have been a lot harder to say that after a loss to the Suns.
Presented Without Comment
The BAT returns in San Antonio... but the @Spurs Coyote comes to the rescue! https://t.co/lsz96njhui

— NBA (@NBA) December 29, 2015
Stats accurate through games played Dec. 28.
Follow @gt_hughes on Twitter.