Power Ranking the NBA's Most Unstoppable Moves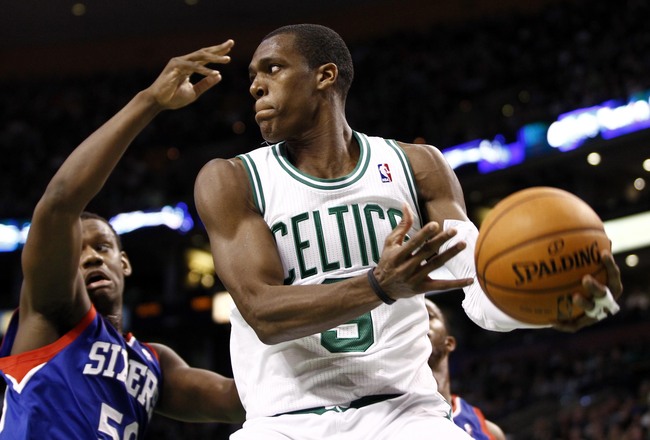 Mark L. Baer-USA TODAY Sports
Every NBA player has a unique arsenal of moves that they've worked on tirelessly, but only the best have elite signature moves that can fool defenses night after night.
Whether it's Tim Duncan's classy bank shot, Dwyane Wade's pump fake or Manu Ginobili's smooth "Eurostep," the Association has its fair share of unique moves patented by some of the game's most gifted athletes and minds.
With the season bearing down on us, it's time to refresh our memories and study up on the NBA's most unstoppable moves.
Honorable Mention: Russell Westbrook's Pull-Up Jumper
What makes Russell Westbrook such a dynamic force is the ability to use his insane change-of-pace to keep defenders off-balance.
Capable of stopping on a dime, Westbrook uses opponents' anticipation of his quickness in his favor, utilizing the pull-up jumper like few other NBA players. And what makes the move even more lethal is that opponents have to respect Westbrook's ability to get to the rim in transition.
Westbrook has used the cushion that opponents often give him, honing his jump-shooting skills with a quick pull-up jumper.
According to HoopData, that's a shot Westbrook should continue to take.
Last season, the Oklahoma City Thunder point guard hit 45 percent of his shots between 10 and 15 feet, the highest mark of his career by nearly eight percent (his previous high was 37.7 in 2011-12).
Honorable Mention: Steve Nash's One-Legged Jumper
Steve Nash is known for being a pick-and-roll wizard. One of the moves that helped earn him that label is his slick one-legged running jump shot. It's one of the most unconventional field-goal attempts you'll ever see, but it's effective nonetheless.
With a high, hard screen from his center, Nash is able to work his way down to the free-throw line with a full head of steam. From there, Nash is able to fade off of one foot and launch the ball over oncoming defenders.
Appearing as if he's driving hard to the basket to finish or dish to the roller, Nash is able to dupe paint protectors into sagging and leaving him extra room to finish.
10. Tim Duncan's Bank Shot
Signature moves don't get much more sublime than Tim Duncan's patented bank shot. Few players in the NBA use the glass effectively, but Duncan has made a living abusing opponents with some trickery off the backboard.
What makes the future Hall of Famer's signature move even scarier is that he can convert it in a variety of ways. Not only can Duncan face up defenders and rise up over them to bank in two easy points, but he can also go to work down on the blocks and put his jump hook to work.
It may not be electrifying or show-stopping, but Duncan's use of the bank shot is unparalleled in the game today and is one of the major reasons he's been able to sustain success well past his prime.
9. Stephen Curry's Behind-the-Back Dribble into a Pull-Up Jumper
Defenders need to respect Stephen Curry's unlimited range so much that the Golden State Warriors point guard has come up with an innovative move to shake those who hound him on a nightly basis.
The solution is a behind-the-back dribble that quickly transitions into a pull-up jumper. While the crossover has long been used to create space for jump shots, Curry has implemented a nifty new move into his arsenal, one that has already been put to use in games plenty. Just ask Mike Conley.
In the realm of crossover dribbles, Curry's behind-the-back move is one of the more unorthodox. However, with some filthy footwork and the league's most pure three-point stroke, it's worked for Curry just fine.
8. Dwyane Wade's Pump Fake
Dwyane Wade is renowned for several signature moves, but the best one is his artfully crafted pump fake.
As his jump shot grew steadier over the course of his career, Wade realized he had an ally in the pump fake, which he's used time and again to deceive opponents. Wade also uses the move to initiate contact and frustrate opponents in a variety of ways.
For one, Wade can use the pump fake to draw fouls and convert on some flashy and-1s (as seen above), and in doing so he has racked up points while putting the opposition in foul trouble.
Once defenders start biting on the pump fake, it's all over. Wade can use his quick first step to drive to the hole and finish with authority, as he's done so often in his career.
7. Paul Pierce's Step-Back Jumper
No matter how old or how slow Paul Pierce gets, he'll always strike fear into his opponents with his beautiful step-back jump shot.
While it often looks like Pierce is moving at half-speed, all he needs is a split second to create a few inches of separation, allowing him to rise and fire daggers over the outstretched arms of defenders.
What's going to be really interesting this coming season is the last-second shot dynamic in Brooklyn. Jason Kidd will have a number of options (namely Pierce, Deron Williams and Joe Johnson) to turn to in the clutch for big buckets.
Pierce is the most seasoned of that trio, and considering the effectiveness of his signature move, he should receive his fair share of looks down the stretch.
6. LeBron James' Drive-and-Kick
LeBron James has gotten used to defenses collapsing on him with three and sometimes four bodies when he drives into the lane.
And if you know James' game at all, it should come as no surprise that he quickly found a way to thwart these efforts by driving and kicking the ball out beyond the three-point line.
James' passing abilities have evolved beautifully over time, and one of the big reasons is that he's always keeping his head up to read defenses. In the clip above, before he starts his drive LeBron surveys the defense and sees Mike Miller situated in the right corner.
Once he draws the attention of three defenders (including Miller's), the reigning MVP hangs in the air and dishes the ball across the court to a wide-open Miller, who drains the three.
Simply put, LeBron has made a living out of torturing defenses with his elite court vision and drive-and-kick ability.
5. Kobe Bryant's Jab Step into a Pull-Up Jumper
The fulcrum of Kobe Bryant's scoring maneuvers is the jab step.
For starters, the jab is a great way to create space and give yourself a little breathing room. But for Bryant, the jab step is more than that. Kobe uses the jab repeatedly in his game to help get defenders off-balance, thus giving him the option to pull back and release a jumper or blow by opponents for layups and dunks.
In each of the moves shown above, the jab is used as the second part of a more complex move, the most polished of which is Bryant's elite jump shot.
As he continues to age, Bryant will become more and more reliant on mid-range shots and less reliant on his explosiveness. So as you watch the Los Angeles Lakers this season, keep an eye on Bryant's use of the jab step and the space it creates for him.
4. Tony Parker's Floater
When you're a 6'2'' point guard like Tony Parker, you need to find creative ways to get the ball up over the monstrous defenders who clog the lane.
For Parker, the move that's diversified his scoring portfolio is the floater.
During the 2012-13 postseason, Parker averaged 20.6 points per game over 21 games, and his floater stood out as his most effective tool. Whether he was hitting it over Chris Bosh, Marc Gasol or Dwight Howard, Parker was unafraid to drive into the teeth of opposing defenses because of his marvelous teardrop.
3. Rajon Rondo's Fake Passes
Before breaking down Rajon Rondo's unstoppable fake pass, first take a look at the clip above.
Rondo and the basketball seamlessly become one as he drives to the cup, and he simply embarrasses Udonis Haslem, who is left out on an island after switching onto the crafty point guard.
The most gifted passer in the NBA, Rondo has not only implemented the no-look pass into his repertoire, but he's taken things to the next level with his fake no-looks that simply demoralize opposing defenders.
Since opponents are taught to defend Rondo for the pass first and shot second, the Boston Celtics' point man has come up with a unique way to use that to his advantage and get easy looks at the rim.
2. Manu Ginobili's Eurostep
There's no more deceiving move in all of basketball than the "Eurostep," and Manu Ginobili has perfected it.
At his best when on the move, Ginobili has found ways to calmly sidestep defenders and create easy looks for himself at the basket. When moving off the pick-and-roll, Ginobili darts into the lane, but even when he's confronted by a stout defender in the lane, he can avoid him with a quick move.
With a hard step to the left and a quick bounce to the right, the Argentinian is able to whiz past opponents and convert at the basket.
While others have imitated it, Ginobili brought the Eurostep to fame with his seamless ability to change directions.
1. Dirk Nowitzki's Fadeaway Jumper
There's no way to defend it.
When a 7-footer like Dirk Nowitzki can pull back off of one leg and create separation while simultaneously arcing a shot over opponents, forget about it.
Seven-footers who can step out and hit threes are one thing, but for a player of Nowitzki's build to be able to use his deft touch from any spot on the floor is an entirely different story.
And as LaMarcus Aldridge notes in the video above, Nowitzki's shot is even tougher to defend because he leans back so far that defenders simply can't reach the ball. Often, Dirk's fadeaways in post-up situations result in fouls because of the angle at which he shoots.
The degree of difficulty on Nowitzki's signature move is unmatched. It will be a long time before we see any player capable of replicating the shot with similar success and grace.
Keep Reading