Debunking 10 Myths in the NBA Today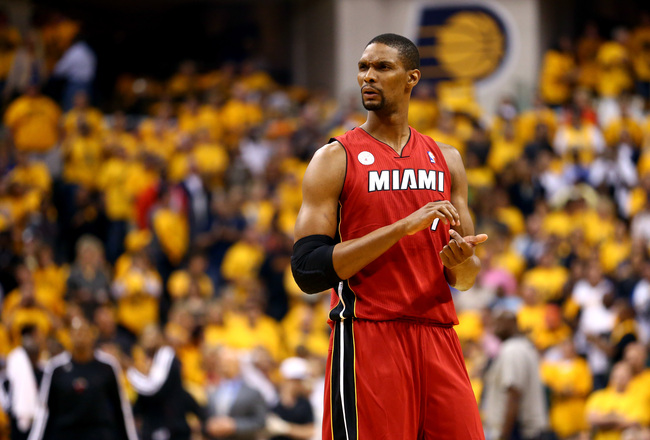 Miami Heat's Chris Bosh
Ronald Martinez/Getty Images
In debunking 10 myths in the NBA today, this list provides clarity to a variety of widely held opinions that are not entirely accurate.
These myths include overstating a legendary superstar's ability in the clutch along with underestimating an All-Star's importance to his team's success.
This article also highlights the under-appreciation for traditional centers along with the perceived requirement of an elite point guard to win a championship.
Each myth is listed according to how popular the debunked opinion appears to be heading into the 2013-14 season.
10. Myth: Kobe Bryant Is the Most Clutch Player in NBA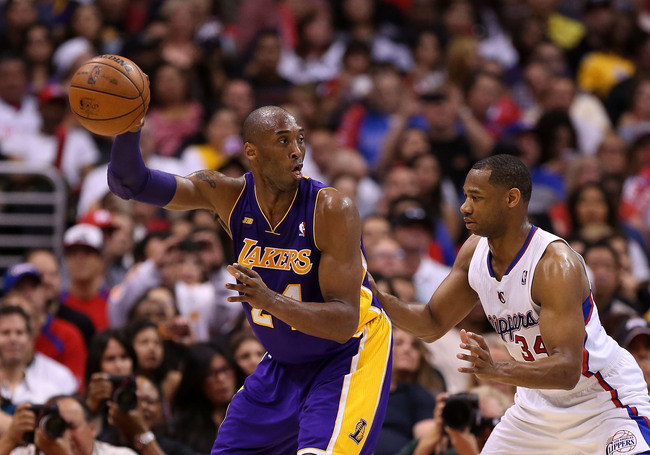 Los Angeles Lakers' Kobe Bryant
Christian Petersen/Getty Images
There is no team in the history of the NBA who would be upset with the idea of putting the ball in Kobe Bryant's hands during a game-deciding moment.
Bryant is obviously a Hall of Famer who has knocked down a long list of critical shots throughout his career.
For a myriad of reasons, however, the mystique of Bryant's clutch ability has seemed to overstate his statistical performance recently.
Among the NBA players who averaged the most clutch points in 2012-13—as defined by scoring during the fourth quarter or overtime with less than five minutes remaining and neither team ahead or behind by more than five points—Bryant ranked just behind Kyrie Irving, according to 82games.com, at 53.3 points per 48 minutes.
Among the top 20 players in that category, however, Bryant's clutch shooting percentage of 42.6 percent, ranked as low as 11th. Irving, Chris Paul, Jrue Holiday, LeBron James and Tony Parker, for example, were five of those 10 players who all shot a better percentage in the clutch than Bryant.
9. Myth: Blake Griffin Ranks Among the League's Elite Players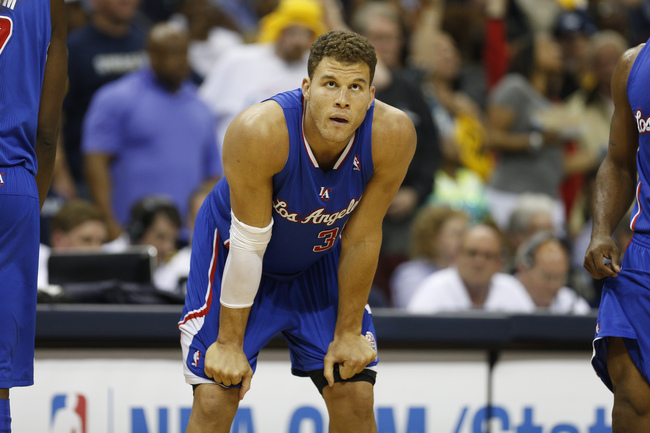 Los Angeles Clippers' Blake Griffin
Joe Robbins/Getty Images
Blake Griffin demonstrated more of a post-up game than ever before in 2012-13.
According to Hoopdata.com, Griffin shot career highs of 76.7 and 50.2 percent, respectively, on field goals attempted at the rim as well as those from three-to-nine feet out last year.
He has taken incremental steps toward becoming more than simply a high-flying power-dunker on an annual basis since breaking into the league in 2010 and projects to continue that progression this season.
But while Griffin has established himself as an All-Star, the idea that his overall game ranks among the very elite players in the league already is a myth.
Despite finishing as an NBA All-Second Team player last season, the truth is that Griffin is more of a top-20 overall talent than he is a top-10. While averaging 18 points and 8.3 rebounds per game last season, for example, Griffin ranked no higher than 19th in each category.
8. Myth: Paul Pierce Is Totally Finished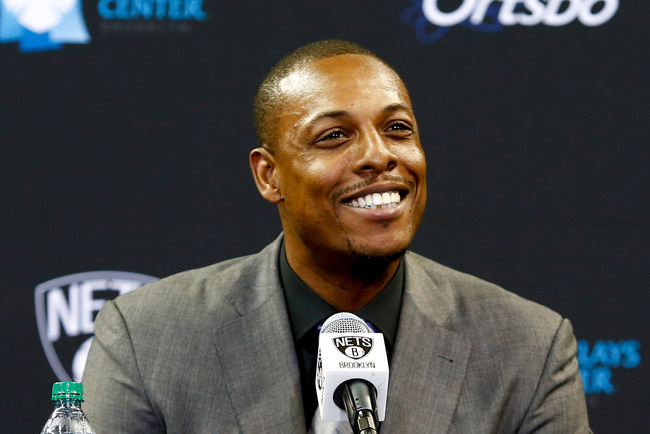 Brooklyn Nets' Paul Pierce
USA TODAY Sports
From a salary cap standpoint, I understand the reasons behind Danny Ainge's decision to trade Paul Pierce along with Kevin Garnett to the Brooklyn Nets.
But while Pierce no longer factors into the long-term plans of the Boston Celtics, the suggestion that he is no longer able to produce at a high level in the NBA is ridiculous.
On a team that suffered multiple injuries throughout the 2012-13 campaign, which included playing the majority of the year without Rajon Rondo, Pierce carried the Celtics with 18.6 points, 6.3 rebounds and 4.8 assists.
Those numbers, for some perspective, ranked the 35-year-old Pierce 14th in the NBA in scoring, tied for 43rd in rebounding and 30th overall in terms of assists.
Though it's fair to assume that Pierce may not average the 33.4 minutes per night he played last year for the Nets, it's also foolish to think that he won't produce at a high level again in 2013-14.
7. Myth: Traditional NBA Centers Don't Help Teams Win Anymore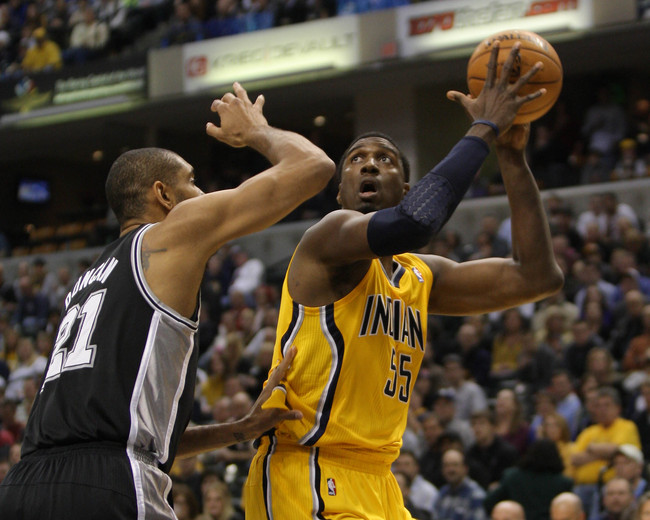 Indiana Pacers' Roy Hibbert, San Antonio Spurs' Tim Duncan
Pat Lovell-USA TODAY Sports
The Miami Heat do not employ a traditional NBA center. They have also won an NBA championship during each of the last two seasons.
Had the Indiana Pacers managed to defeat the Heat in Game 7 of the Eastern Conference Finals, however, we could very well be discussing the resurgence of the center position in today's NBA.
Roy Hibbert averaged 17 points and 9.9 rebounds during 19 postseason games for Indiana. Tim Duncan, meanwhile, averaged 18.1 points and 10.2 rebounds during the playoffs while embracing much more of a center role than anything else.
After Hibbert and Duncan helped their teams to winning seasons, another center in Dwight Howard went on to be the most sought-after free agent this summer because of how he projects to help the Houston Rockets win in 2013-14.
Led by LeBron James, Dwyane Wade and Chris Bosh, Miami has proved it's possible to win without a traditional center. Players like Duncan, Hibbert and Howard, however, continue to prove it certainly helps when you have one.
6. Myth: Derrick Rose Helps to Spread the Floor Effectively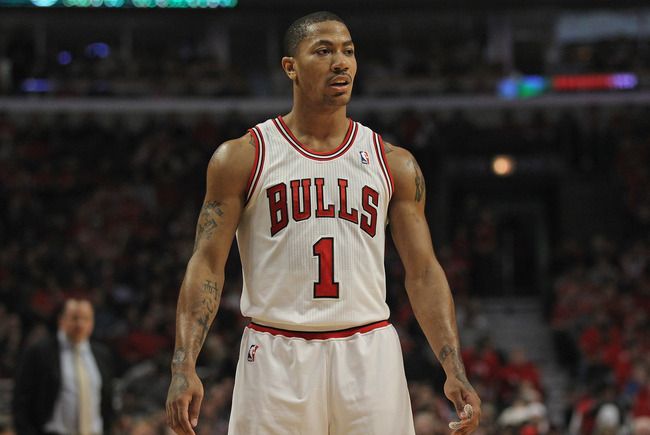 Chicago Bulls' Derrick Rose
Jonathan Daniel/Getty Images
For as effective the Chicago Bulls were at times last season on the defensive end of the floor, they struggled equally as much offensively.
The return of Derrick Rose in 2013-14 will dramatically improve that aspect of Chicago's all-around game for obvious reasons.
But the idea that Rose will help the Bulls spread the floor offensively from the point guard position is a myth.
As great as Rose is, he is a driver first offensively. According to Hoopdata.com, Rose attempted 6.1 shots at the rim during the 2011-12 campaign. From locations three-to-nine feet out, 10-to-15 and 16-to-23 he combined to attempt an average of 7.3.
While he projects to have success scoring off the dribble upon his return, the threat he poses defenses in that respect will also increase the likelihood that teams will overload the paint to stop the Bulls.
As opposed to spreading out defenses with an ability to score from the perimeter, Rose's presence will force defenses to defend the interior against Chicago now more than ever.
5. Myth: Mark Cuban Has Made Mavericks a Destination Team for Free Agents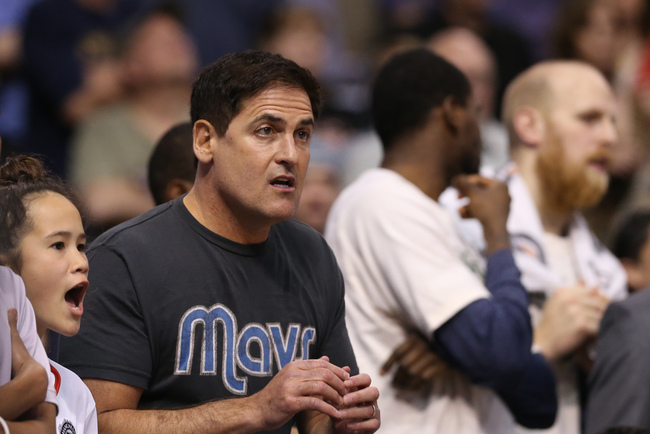 Dallas Mavericks' Owner Mark Cuban
USA TODAY Sports
There is no denying the fact that Mark Cuban has transformed the Dallas Mavericks into a world-class NBA organization under his ownership.
Led by a player in Dirk Nowitzki who spent his entire career in a Dallas uniform, the Mavericks were crowned NBA champions as recently as 2011.
But the idea that Cuban's resources, bravado and dedication to winning have also turned Dallas into a destination team for marquee NBA free agents hasn't been playing out accordingly.
After positioning themselves to sign an elite free agent this summer, the Mavericks were spurned by both Dwight Howard and Chris Paul.
Josh Smith ended up signing with the Detroit Pistons, too, and Dallas settled for Jose Calderon and Devin Harris as a result.
Last summer, even after winning a championship with the Mavericks, Jason Kidd turned down a free-agent offer from the Mavs to play his final professional season with the New York Knicks.
LeBron James, Chris Bosh and Carmelo Anthony never seriously considered signing with Cuban, Nowitzki and the Mavericks, either. Only time will tell if any marquee free agents actually do in the future.
4. Myth: Kyrie Irving Is Injury Prone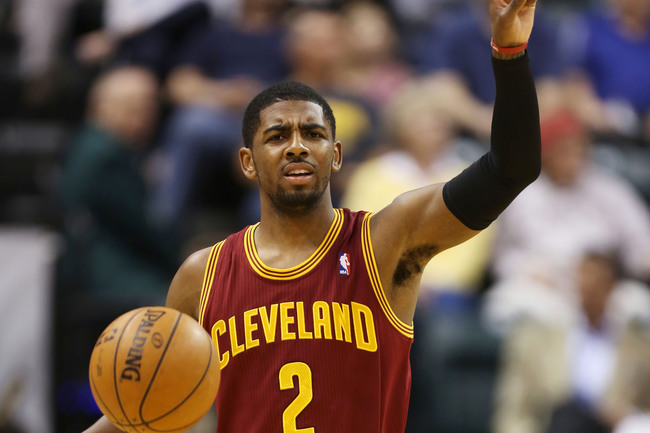 Cleveland Cavaliers' Kyrie Irving
Brian Spurlock-USA TODAY Sports
An injury to his toe prevented Kyrie Irving from appearing in any more than 11 collegiate games for Duke just prior to his arrival in the NBA.
After being selected first overall by the Cleveland Cavaliers in 2011, he's gone on to play in 110 of the possible 148 games. He's missed time with injuries that related to his finger, knees, shoulders and nose.
The result of which has left some to suggest that Irving is injury prone. The truth is, however, the sample size used to make that assumption is dramatically incomplete.
This year will be the first time that Irving's Cavaliers plan to make a push toward the playoffs since he's arrived in the NBA.
During his first two seasons, the Cavs have operated with extreme caution in terms of Irving's health. Injuries that the young superstar may have wanted to play through, possibly, he didn't.
We won't find out how Irving's body will truly hold up until there is a compelling reason for him to play through those nicks, dings and injuries over the course of an 82-game season moving forward. Thus far, while finishing in the lottery during the last two years, that reason hasn't existed.
3. Myth: LeBron James Won't Get Any Better This Year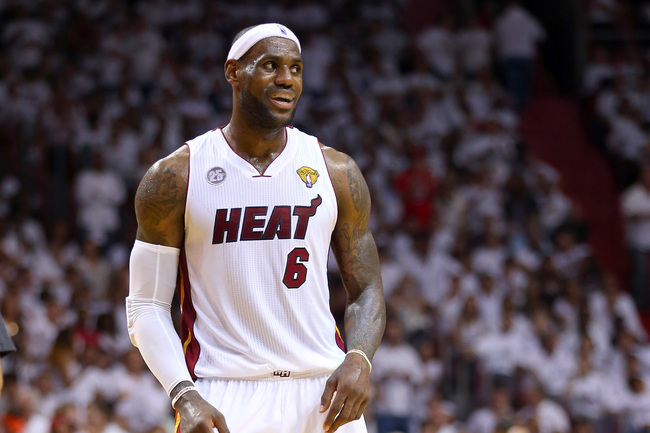 Miami Heat's LeBron James
Mike Ehrmann/Getty Images
LeBron James has broken through to secure his place as a two-time NBA champion.
He is no longer playing with the burden of never having won an NBA title hanging over his shoulders. As a result, James is more free than ever to simply focus on the game he loves without the fear of failure surrounding his every misstep.
This mind state will allow James to improve his overall game during the 2013-14 season and beyond.
For as great as James was statistically last year—leading the league again in PER at 31.67, shooting a career-best 56.5 percent from the floor and 40.6 percent from three while collecting a career-high eight rebounds per night—he will have the opportunity to improve those numbers even more moving forward.
The myth that James has reached his peak in terms of production couldn't be further from the truth.
2. Myth: An Elite Point Guard Is Necessary to Win Big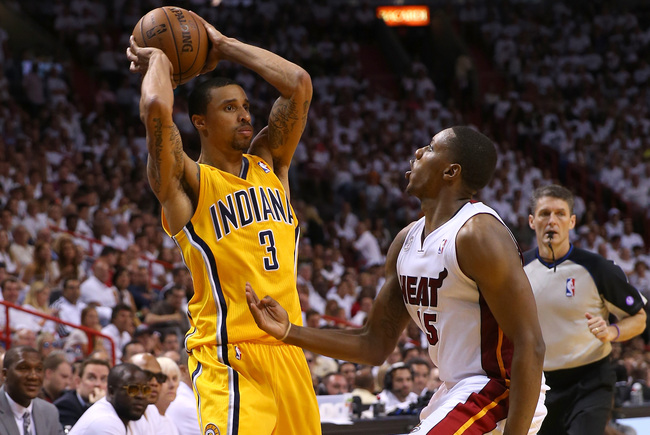 Indiana Pacers' George Hill, Miami Heat's Mario Chalmers
Mike Ehrmann/Getty Images
Mario Chalmers and George Hill are not elite point guards.
Mike Conley is comparatively better, but he too has not yet emerged as an elite player at his position.
Despite that, however, these three point guards—Chalmers, Hill and Conley—started for three of the four teams (Miami Heat, Indiana Pacers and Memphis Grizzlies, respectively) who competed for a conference championship in 2012-13.
Tony Parker of the San Antonio Spurs was the only elite point guard represented among the final four teams the NBA last season.
The least productive of those point guards, at 8.6 points and 3.5 assists per game, was Chalmers who also went on to win his second NBA championship.
1. Myth: Chris Bosh Is Extremely Overrated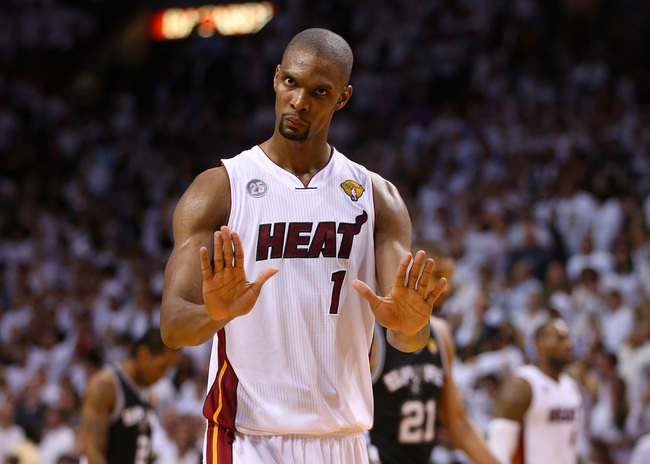 Miami Heat's Chris Bosh
Mike Ehrmann/Getty Images
Chris Bosh might be a little bit overrated.
To suggest that he wouldn't be able to average somewhere in the neighborhood of 20 points and 10 rebounds while being more of a focal point on a team not named the Miami Heat, however, is completely unfair.
Though Bosh's scoring numbers have dipped on an annual basis since averaging 24 points during his final season with the Toronto Raptors in 2009-10, he has become a more efficient scorer with the Heat.
As the third option for Miami, Bosh improved to a career-high field-goal percentage of 53.5 percent during the 2012-13 campaign.
It stands to reason, according to the laws of simple math, that Bosh's scoring average would improve he attempted more shots at that efficiency number.
Bosh's rebounding production, however, is admittedly more difficult to defend. While playing the center position for Miami last year he averaged 6.8 rebounds per night.
Though a player of his skill and athleticism shouldn't be quite that low, matching up against opposing centers has contributed to his inability to get on the glass as much as he's used to while matched up at his more natural position of power forward.
Keep Reading