10 Takeaways from Sunday's Blockbuster NBA Action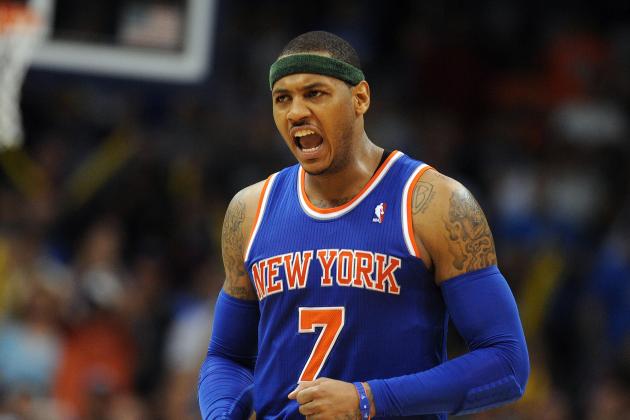 Mark D. Smith-USA TODAY Sports

Sunday's blockbuster NBA action had everything you'd expect from a high-octane thriller or a shoot 'em up action flick in the theaters.
Kevin Durant and Carmelo Anthony squared off with the league's scoring title hanging in the balance, and the Los Angeles Lakers and Los Angeles Clippers played the final contest of their four-game turf war in Los Angeles.
The Cleveland Cavaliers and Orlando Magic filled out the comedic genre, getting together for a painfully unfunny affair that almost nobody with any taste saw. You know, like anything Adam Sandler has done since 1996.
Plus, the Memphis Grizzlies took care of the horror, gutting out a gory victory over the Sacramento Kings.
Grab your popcorn and try not to step in gum as we roll tape on a busy Sunday slate in the NBA.
Begin Slideshow

»
Mark D. Smith-USA TODAY Sports

The New York Knicks have spent the season playing small, with Carmelo Anthony stretching the floor as an undersized power forward. The strategy has been effective, as the Knicks have put together plenty of high-scoring stretches this year and rank No. 3 in the NBA in offensive efficiency.
But in a 125-120 road win against the Oklahoma City Thunder, Anthony was dominant in the paint, pulling down a whopping nine offensive rebounds and out-muscling everyone around him in pursuit of the ball.
Thanks to Melo's interior effort (and J.R. Smith's pair of enormous shots in the final two minutes), the Knicks moved two-and-a-half games up on the Indiana Pacers in the East, extended their winning streak to 12 and may have even officially re-inserted themselves into the discussion of fringe championship contenders.
The Heat remain a cut above everyone else in the Eastern Conference, but Anthony is playing brilliantly. His 167 points over the past four games have been spectacular, and his new bruising style might ultimately mean even more to the Knicks.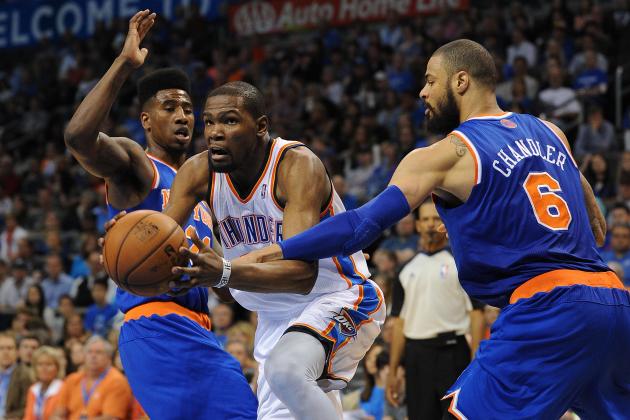 Mark D. Smith-USA TODAY Sports

It might be tempting to spin Oklahoma City's five-point home loss to the Knicks in a way that calls into question its fitness as a title contender.
But really, there's no reason to be concerned if you're a Thunder fan.
As a team, the Thunder shot nearly 58 percent from the field, pumped in 120 points and limited the Knicks to just five corner-three attempts.
Sure, the Thunder's defense could have been better, and it would have been nice to keep Anthony off of the offensive boards. But the team simply ran into a great player in the middle of a wicked hot streak. Combined with a couple of low-percentage makes at crucial moments by J.R. Smith, there was little OKC could have done differently to win this game.
And besides, the Thunder took two out of three during a brutal trio of consecutive games that included the San Antonio Spurs, Indiana Pacers and the Knicks.
Oklahoma City may not be able to make up enough ground to secure the No. 1 seed in the West, but it's in fine shape even after a disappointing loss to a scorching New York club.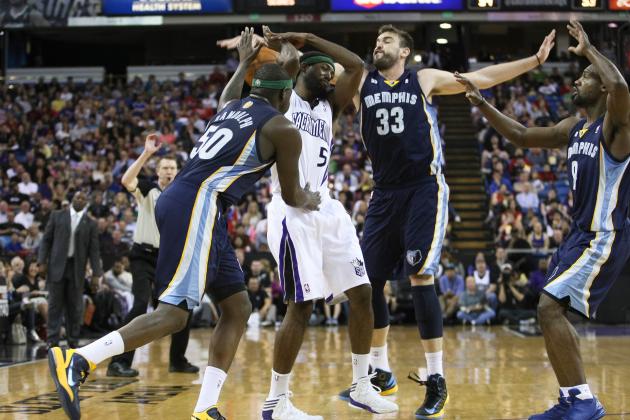 Kelley L Cox-USA TODAY Sports

If you're a fan of high scores and fast paces, it might be best to avoid any future Memphis Grizzlies games.
Marc Gasol and Co. employ a plodding style that doesn't make for great viewing—unless you're a big fan of timely help rotations and rugged perimeter defense. On the season, Memphis plays at the third-slowest pace in the NBA and holds its opponents to just 97.9 points per 100 possessions, which is good for No. 2 in the league.
The Grizzlies certainly dictated the terms of their surprisingly close 89-87 win over the comically disorganized Sacramento Kings on Sunday, holding Keith Smart's club to just 36 percent shooting and grinding the game down to a painfully deliberate pace.
In the end, Mike Conley's bucket put the Grizzlies up by two with less than 30 seconds to play, and a pair of blocks by Gasol on the Kings' last possession sealed it.
The game was a halting, low-scoring bore. You know, just the way Memphis likes it.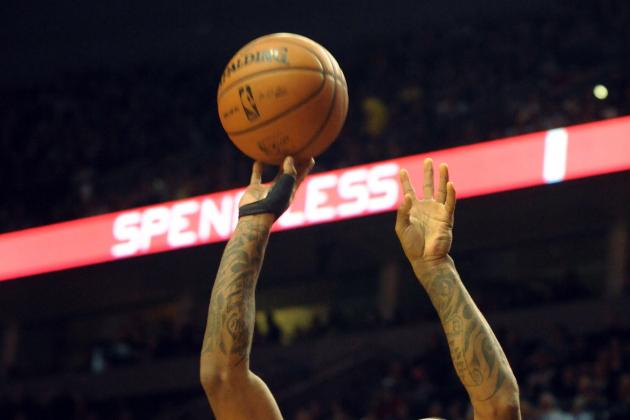 Steve Dykes-USA TODAY Sports

Coming into the Utah Jazz's critical road contest against the Golden State Warriors, Mo Williams hadn't exactly been having a season to remember. With averages of just 12.4 points per game and a 42 percent field-goal accuracy rate, Utah's veteran point guard appeared to be quietly heading into the twilight of his career.
That might still be true, but Williams' 25-point effort on a season-best 11 made field goals helped the Jazz notch a 97-90 victory that moved them a half-game ahead of the Lakers in the race for the final playoff spot out West.
Toss in the tie-breaker Utah owns over the Lakers, and the half-game lead essentially turns into a full-game advantage.
Williams hit a huge triple to extend the Jazz's lead from three to six with less than 15 seconds remaining, a basket that ultimately put the game out of reach for the Warriors. The Utah victory prevented Golden State from clinching its first playoff berth since 2007.
But the Warriors are in no danger of missing the postseason, so the outcome wasn't particularly significant for the Dubs.
The Jazz, though, left Oracle Arena with a new lease on life.
With four games remaining in its season, Utah is in full control of its playoff destiny.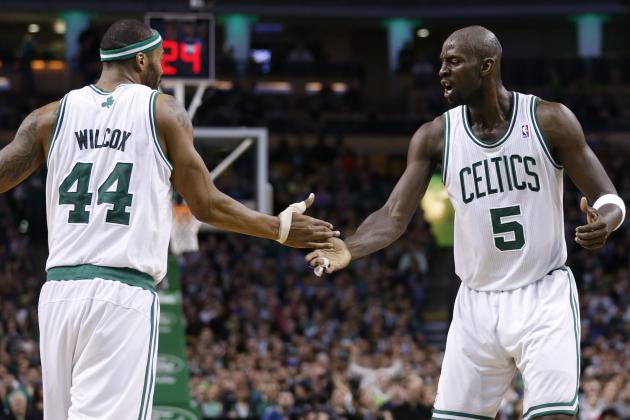 David Butler II-USA TODAY Sports

Kevin Garnett returned after an eight-game hiatus and Paul Pierce suited up after missing a contest with a bum ankle. And thanks to the joint comeback of its veteran duo, the Boston Celtics notched a solid 107-96 win over the visiting Washington Wizards.
Garnett finished with 12 points and six rebounds in just 24 minutes, while Pierce chipped in 15 points, five assists and four boards in his 30-minute stint. Don't be mistaken, though; the aging tandem was far from the only reason the Celtics collected win No. 40 on the year.
Avery Bradley played phenomenal defense on the recently unstoppable John Wall, holding him to just 16 points on 20 shots. And Brandon Bass narrowly missed a season high with 20 points on 9-of-12 shooting.
Ultimately, the victory was a result of an ideal blend for Boston; it featured a heavy dose of veteran grit with a shot of youthful tenacity from a couple of role-playing reserves.
With a potential first-round matchup with the New York Knicks looking more and more likely, the Celtics are going to need consistent production from players like Bradley, Bass and Jeff Green (who actually didn't play particularly well, finishing with just eight points).
Still, the Celtics sure were happy to see a couple of familiar faces return to the lineup.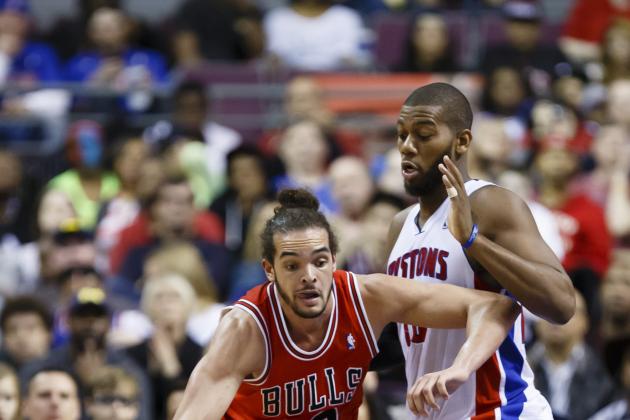 Rick Osentoski-USA TODAY Sports

It'd make sense to file the statement in the title under the heading "Blatantly Obvious NBA Truisms" right alongside things like "LeBron James is a Good Player" and "Mike D'Antoni Looks Like the Pringles Guy."
But just because something's obvious doesn't mean it's not worth highlighting.
Joakim Noah had missed the Chicago Bulls' last eight games with plantar fasciitis. And for the first time in recorded history, coach Tom Thibodeau took it easy on his big man, limiting him to just 21 minutes in a 99-85 loss to the Detroit Pistons.
Based on the outcome—and particularly on Noah's on- and off-court splits, it seems like Thibs will be removing the training wheels from his center posthaste.
In those 21 minutes, Noah made all four of his shots, got to the line eight times, pulled down seven boards, dished out three assists and recorded a steal and a block. It's no coincidence that he posted a plus-seven plus-minus figure, by far the highest of any Bull on the night.
Sure, the Bulls could have fed Carlos Boozer a little more. And yes, some semblance of bench production would have helped. (Chicago's reserves combined to shoot just 4-of-16 from the floor.)
But Noah's presence on the court was the one unequivocal positive for Chicago. You can bet he'll be out there for much longer stretches as the Bulls play out the final six games of the regular season.
And when the playoffs start, Chicago's equipment managers might as well leave Noah's folding chair in the tunnel; he's never going to sit.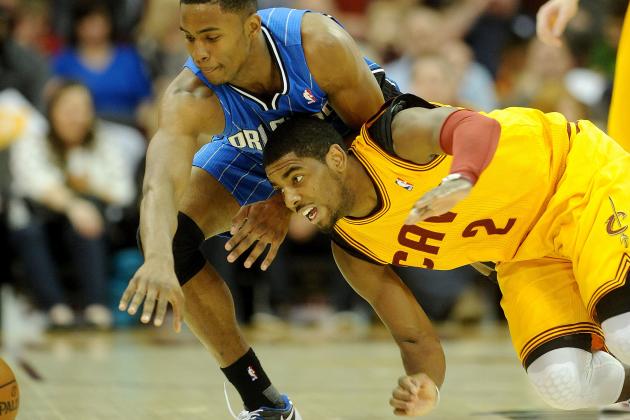 Eric P. Mull-USA TODAY Sports

When the Cleveland Cavaliers hosted the Orlando Magic on Sunday, every critic who had spent the last two weeks burying the collegiate game for its inferior quality had to eat a little crow.
Although, eating a literal crow might have been more palatable than watching the abysmal 91-85 "victory" by the Cavs. This game featured some of the poorest NBA action imaginable.
Not even Kyrie Irving's star power could save this contest, as the young star hit just three of his 15 field-goal attempts in 36 minutes.
Neither team shot better than 38 percent, the game was marked by a consistent diet of awful shot selection and really, neither club had anything to gain by winning.
Say what you want about the college game; at least there's no such thing as tanking in the amateur ranks.
If it's possible for there to be bright spots in a dismal game like this, I guess Nikola Vucevic's 21-point, 21-rebound effort would qualify.
Let's just move on. This game was an affront to the eyes on all counts, so there's no reason to give it another moment's thought. We can agree that this never happened, right?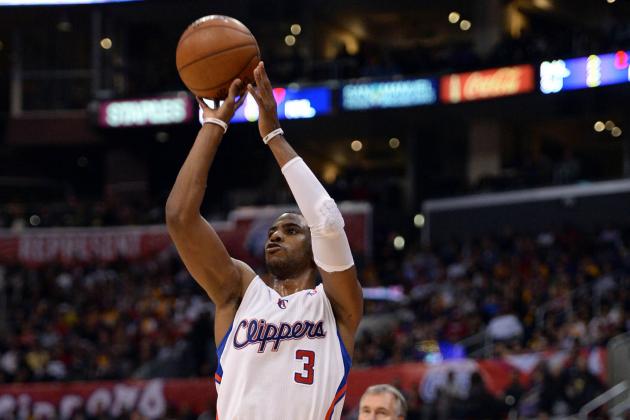 Jayne Kamin-Oncea-USA TODAY Spor
Mike D'Antoni is not amused.
The L.A. Clippers laid claim to the city of Los Angeles, nailing down a four-game sweep of the season series against their Staples Center co-tenants by notching a comfortable 109-95 win over the L.A. Lakers.
The victory not only gave the Clips their first sweep of the Lakers since 1974-75, it also secured their first ever Pacific Division title and extended their franchise record for wins to 51.
Chris Paul's 24 points and 12 assists certainly helped the Clippers make some history. But more importantly—especially to those Clippers supporters harboring resentment toward the Lakers—the outcome of this game went a long way toward making the Purple and Gold history this season.
With the Jazz beating the Warriors a few hours later, the Lakers' loss dropped them a half-game out of the No. 8 spot with just five games to go.
Banners and franchise records are nice, but the Clippers were probably just as happy to stick it to their intracity rivals.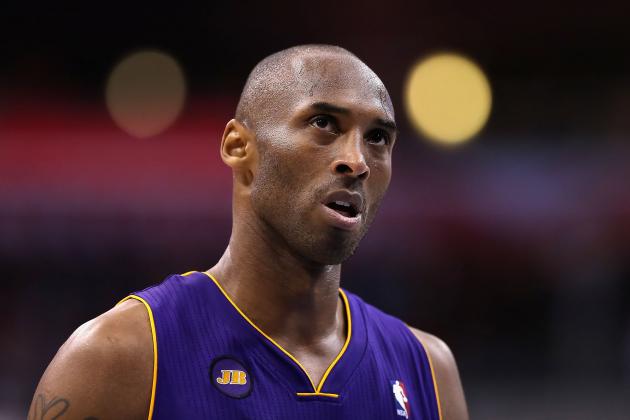 Christian Petersen/Getty Images

There's really only one way to spin the Lakers' latest loss to the Clippers: Kobe Bryant's team is now simply the second-best professional basketball team in L.A, and it's not particularly close.
After the game, it was clear that the Lakers understood how desperate their circumstances were:
Very tense Laker lockeroom after the game. after all this time, the reality of missing playoffs is upon them

— Ramona Shelburne (@ramonashelburne) April 7, 2013
And now, mistakes and lapses in effort—even if caused by fatigue—aren't an option:
And that's the tough part of leaving no room for error this late in the season; LAL (necessarily) feeling that pressure.

— Mike Trudell (@LakersReporter) April 7, 2013
A perfect final push from a team as old and infirm as the Lakers is asking a lot, but there are no other available options if they want to avoid the embarrassment of watching the postseason from home.
L.A. is out of excuses. Unfortunately, Dwight Howard's bland postgame comments seem to indicated that they're also out of answers:
Dwight was not happy, saying repeatedly that Lakers need to "play the right way as a team."

— KEVIN DING (@KevinDing) April 7, 2013
At the end of a bleak season, things are looking as hopeless as ever for the Lakers.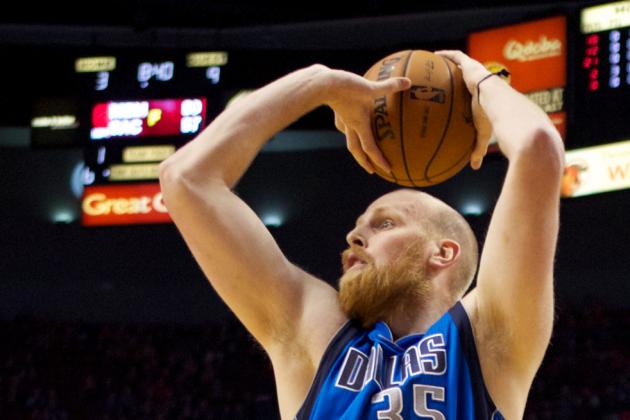 Jaime Valdez-USA TODAY Sports

Sure, they're on life support and every doctor in the hospital is encouraging fans to pull the plug, but the Dallas Mavericks' playoff hopes still have the faintest whisper of life.
Thanks to a "where did that come from?" 26-point, 11-rebound effort form Chris Kaman, the Mavs knocked off the Portland Trail Blazers by a final score of 96-91. The win kept Dallas within two-and-a-half games of the eighth-seeded Jazz with just five games left.
If Dallas wins the remaining games on its schedule, it'll finish with a final record of 43-39. Because Utah holds the tie-breaker with the Mavs, the Jazz would have to go 1-3 over their final four games for the Mavs to make the playoffs.
That's an unlikely scenario, but stranger things have happened.
Like Kaman scoring 26 points, for example.