Updated Report Card Grades for Every NBA Team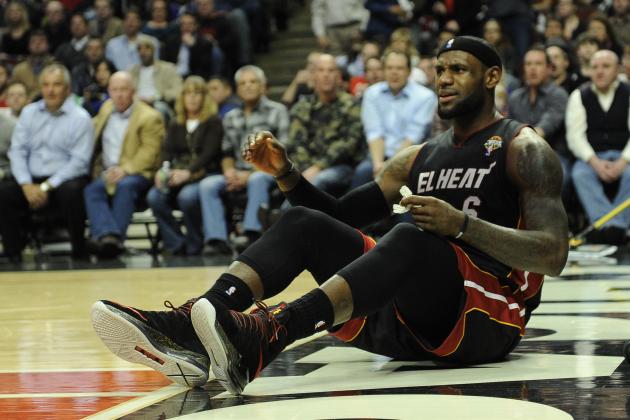 David Banks/Getty Images

Now that the Miami Heat and the Denver Nuggets are no longer running roughshod over the NBA, it'd be hard to begrudge anyone for turning his/her attention back to the NCAA tournament.
Except, the Association is gearing up for a Sweet 16 of its own. Of the league's 16 playoff spots, 11 have already been clinched, though, aside from the Miami Heat having all but sewn up the top seed in the Eastern Conference, there remains plenty of room in which teams will be jockeying for position right through mid-April.
Not to mention what's shaping up to be a riveting race for eighth place in the Western Conference, between the Los Angeles Lakers, the Utah Jazz and the Dallas Mavericks.
The ends of old streaks and the beginnings of new ones have done plenty to shake up report card grades from last week until now. So, before you delve into a weekend consumed by the likes of Florida Gulf Coast and Wichita State on the collegiate level, why not catch up on how the pros are doing these days?
Begin Slideshow

»
USA TODAY Sports

Record: 17-54 (.239)
Offensive Efficiency: 98.0 (28th)
Defensive Efficiency: 109.1 (30th)
The Charlotte Bobcats have come crashing back down to Earth since we last reviewed each team's grades. They followed up consecutive wins over the Washington Wizards and the Toronto Raptors with a heartbreaking loss to the Detroit Pistons on a late layup by Charlie Villanueva and a predictable blowout defeat to the Dwyane Wade-less Miami Heat.
If nothing else, Charlotte's own proto-streak was sacrificed in service of two other lengthy trends. The Pistons had lost 10 straight before beating the Bobcats, and the Heat extended their historic run to 27 consecutive wins at Charlotte's expense.
And, after all that, they managed to pull out a win over the Orlando Magic, behind 34 points apiece from Kemba Walker and Gerald Henderson.
Though, ultimately, that may not be a good thing, given how "close" those two teams are in the late-season battle for ping-pong balls.
Grade: F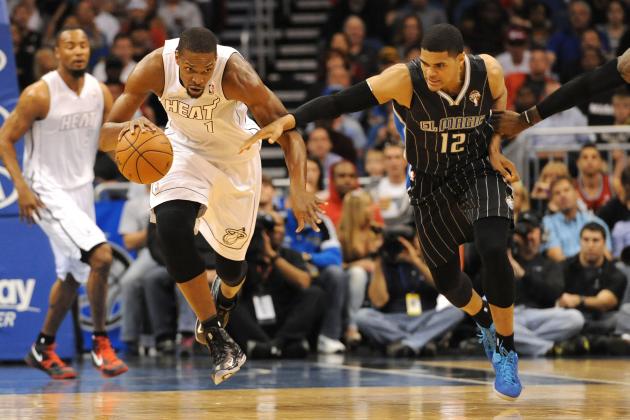 Gary Bogdon/Getty Images

Record: 18-54 (.250)
Offensive Efficiency: 99.5 (26th)
Defensive Efficiency: 107.0 (27th)
Seven straight games against playoff teams. Seven straight losses for the Orlando Magic.
It's tough to fault a franchise in full free fall for losing to teams to whom they're supposed to lose, especially with Arron Afflalo on the shelf. At the very least, the Magic have shown some serious spirit in making their opponents, including the Oklahoma City Thunder and the Miami Heat, sing for their supper.
Of course, none of that seems to matter quite as much when an eighth loss in a row comes by way of a 19-point giveaway against the Bobcats.
Grade: D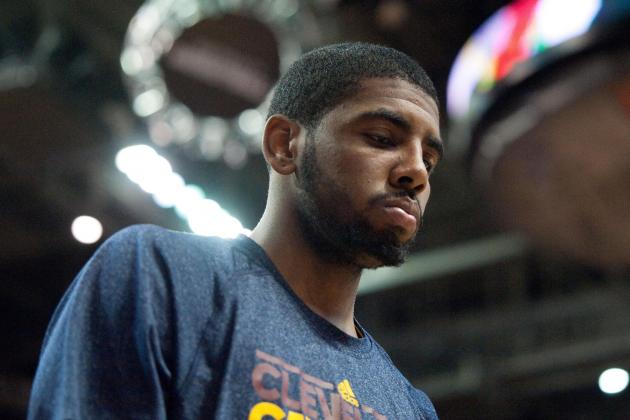 Tim Fuller-USA TODAY Sports

Record: 22-48 (.314)
Offensive Efficiency: 101.3 (20th)
Defensive Efficiency: 106.9 (26th)
Kyrie Irving's absence appears to have caught up to the Cleveland Cavaliers, and then some. They've lost six in a row since upending John Wall and the Washington Wizards on March 12, with Shaun Livingston standing in for Irving.
To be fair, five of those losses have come against playoff-bound opponents, while the sixth was doled out by the Dallas Mavericks, who are making a late push for the postseason themselves. In that case, it's more than possible (if not downright probable) that the Cavs' latest skid isn't just about Kyrie's bum shoulder.
Grade: D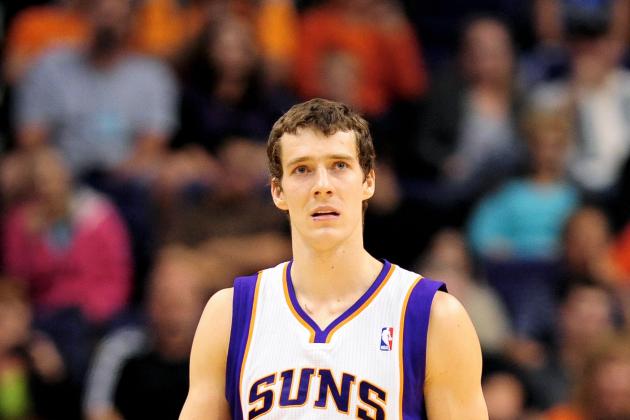 Jennifer Stewart-USA TODAY Sports

Record: 23-49 (.319)
Offensive Efficiency: 97.6 (29th)
Defensive Efficiency: 104.9 (22nd)
The Phoenix Suns have a strange habit of challenging quality opponents on the one hand and stinking it up against fellow cellar dwellers on the other.
Consider, for instance, the Suns' last six games. They've won just one of those, a 99-76 blowout of the visiting Los Angeles Lakers, and came within two points of upending the Brooklyn Nets in their most recent outing.
The other three? Two losses to the Wizards—by 22 points and nine points, respectively—a 31-point thumping at the hands of the Minnesota Timberwolves, and a 15-pointer opposite the underwhelming Utah Jazz.
Methinks Alvin Gentry doesn't miss his old job too much.
Grade: D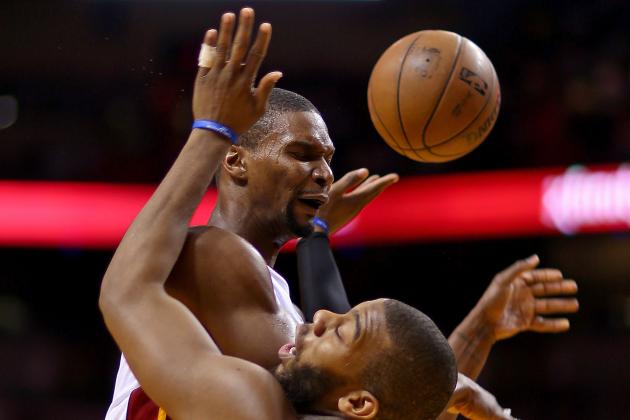 Mike Ehrmann/Getty Images

Record: 24-48 (.333)
Offensive Efficiency: 100.1 (23rd)
Defensive Efficiency: 105.9 (25th)
THE STREAK IS OVER!
The Detroit Pistons' streak, that is. And not a good one, either.
The Pistons had lost 10 in a row before eking out a win over the bumbling Bobcats on a last-second score by Charlie Villanueva.
Three nights later, Detroit returned to its losing ways in a 23-point pounding from the Minnesota Timberwolves. The result marked the Pistons' seventh straight loss at home and gave the T-Wolves their first string of consecutive road wins in a year.
Grade: F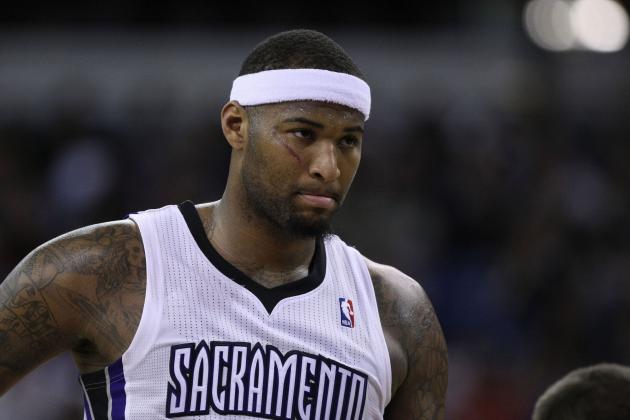 Kelley L Cox-USA TODAY Sports

Record: 26-46 (.361)
Offensive Efficiency: 102.7 (15th)
Defensive Efficiency: 108.3 (29th)
Wonder whether DeMarcus Cousins can still be a difference maker for the Sacramento Kings?
Consider his impact on the Kings' fortunes this past week. Sacramento lost both of its games, to the Denver Nuggets and the Philadelphia 76ers, but did so in decidedly different fashion. They actually held the lead over the streaking Nuggets going into the fourth quarter before Denver finished off a six-point win. The Kings then started fast against the stumbling Sixers before fading down the stretch and helping to end Philly's 15-game road losing streak in the process.
In the former game, Boogie tallied 24 points, 15 rebounds, three assists and five blocks in 36 minutes. In the latter, Cousins wound up with a distinctively more modest line of eight points, nine rebounds, two assists, a steal and a block in 27 minutes.
Correlation is a long way from causation, but it's not difficult to imagine how good the Kings might be if DeMarcus could ever keep his head on straight for more than a minute or two.
Grade: D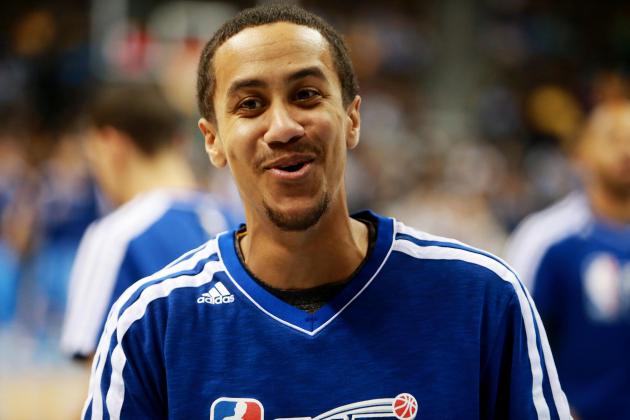 USA TODAY Sports

Record: 25-47 (.347)
Offensive Efficiency: 102.9 (14th)
Defensive Efficiency: 107.4 (28th)
Apparently, the New Orleans Hornets didn't get the message about the whole "tanking" thing. They'd ripped off three wins in a row over playoff-bound opponents before succumbing to the Los Angeles Clippers on March 27. That run included a decisive, 24-point snapping of the Denver Nuggets' 15-game winning streak in the Crescent City.
It certainly helps that Brian Roberts had the game of his life. The 27-year-old rookie point guard tallied 13 points and a career-high 18 assists while subbing in for the injured Greivis Vasquez.
Though, if we're being honest here, the more impressive first-year performance of the week for the Hornets came from Anthony Davis, who withstood the bullying of Marc Gasol and Zach Randolph on the way to 18 points, 15 rebounds, two assists and two blocks during New Orleans' 90-83 win over the Memphis Grizzlies.
Grade: C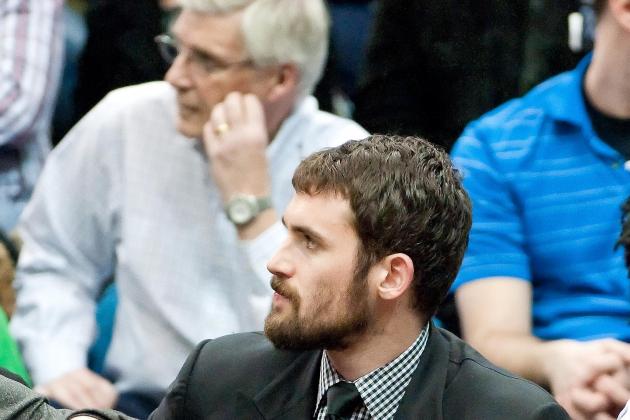 Greg Smith-USA TODAY Sports

Record: 25-45 (.357)
Offensive Efficiency: 99.8 (25th)
Defensive Efficiency: 102.9 (14th)
The Minnesota Timberwolves aren't waiting for Kevin Love to return before they start playing competitive ball again. They made that much clear this past week, when they beat the Suns and the Pistons on the road by a combined 54 points and nearly upended the Chicago Bulls and the Los Angeles Lakers on their own home floor.
Moreover, those two wins away from the Target Center were Minny's first road victories in succession since beating the Dallas Mavericks and the Houston Rockets in late January of 2012.
Baby steps for the T-Wolves, but progress nonetheless.
Grade: C-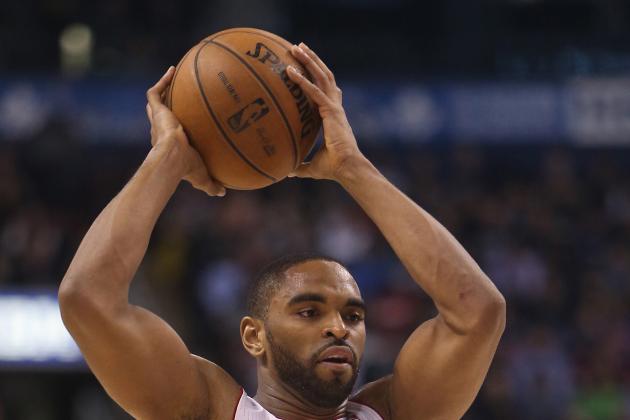 Tom Szczerbowski-USA TODAY Sport

Record: 26-45 (.366)
Offensive Efficiency: 102.7 (16th)
Defensive Efficiency: 105.1 (23rd)
The Toronto Raptors have all but ensured that the Oklahoma City Thunder will be picking in the lottery during the 2013 NBA Draft. Remember, Toronto gave up a "guaranteed" lottery selection in acquiring Kyle Lowry from the Houston Rockets, who subsequently flipped the pick to the Thunder in the James Harden trade.
To be sure, a pick in the latter half of the lottery in a particularly weak draft probably wouldn't do much to right the Raptors' long wayward ship nor to strengthen the Thunder's hold among the Western Conference elites.
But, if the Raps keep losing, as they have in their last five games, the embarrassment of surrendering their selection will only grow as the pick itself grows more and more valuable.
Grade: D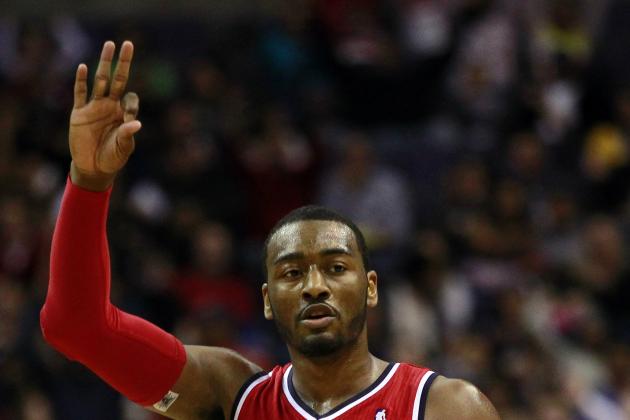 Geoff Burke-USA TODAY Sports

Record: 26-45 (.366)
Offensive Efficiency: 97.5 (30th)
Defensive Efficiency: 100.2 (7th)
Larry David, your thoughts on the Washington Wizards with John Wall?
Pretty good, indeed. The Wizards are 21-17 when Wall plays this season, as opposed to 5-28 without him.
The third-year guard out of Kentucky has been particularly impressive of late. In his last 10 games, Wall has averaged 24.3 points, 4.8 rebounds, 9.6 assists and 1.9 steals while shooting 51.2 percent from the field, 58.3 percent from three and 82.4 percent from the free-throw line. Those numbers were boosted considerably by Wall's career-best 47-point outburst against the Memphis Grizzlies, whose defense had been (and still is) the second-most efficient in the NBA.
Perhaps the kid deserves a max contract after all.
Grade: C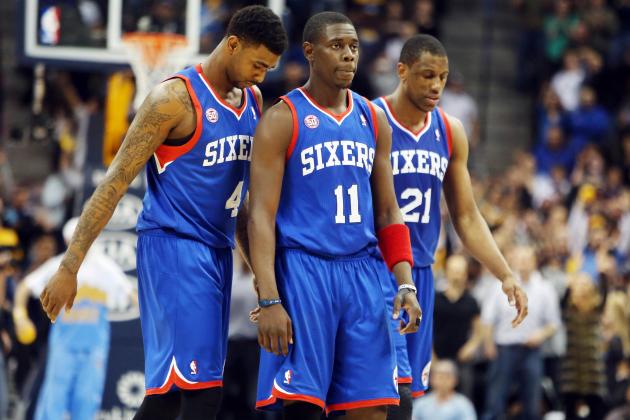 Chris Humphreys-USA TODAY Sports

Record: 28-43 (.394)
Offensive Efficiency: 99.2 (27th)
Defensive Efficiency: 103.0 (16th)
Doug Collins isn't the only one on whom the Philadelphia 76ers' futility has exacted a terrible toll.
Take Jrue Holiday, for instance. This last week saw the first-time All-Star turn in two of his worst performances of the season—a two-point, four-assist, four-turnover fiasco in a beatdown against his hometown Los Angeles Clippers, and a seven-point, one-assist, four-turnover disaster in a 16-point road loss to the Utah Jazz.
But the first of those came immediately after a four-game stretch in which Jrue played brilliantly enough to lead the Sixers to three wins and come within sniffing distance of a fourth against the streaking Miami Heat. And the second followed Philly nearly ending Denver's streak and getting a 14-point win in Sacramento, thanks no small part to Holiday.
Perhaps we should all shed a tear for Jrue. Clearly, his talents are wasted on this terrible team.
Grade: C-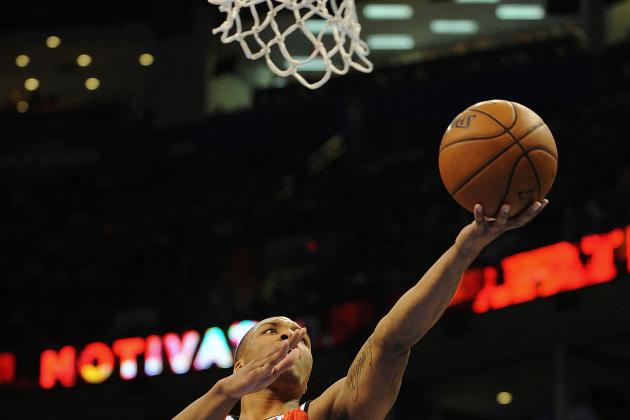 Mark D. Smith-USA TODAY Sports

Record: 33-38 (.465)
Offensive Efficiency: 103.4 (12th)
Defensive Efficiency: 105.7 (24th)
It's not all that far-fetched to suggest that Damian Lillard has been the Portland Trail Blazers' most consistent player this season. He's failed to score in double digits just four times and is the only Rip City resident to have featured in all of the team's games so far this season.
That reliability has vaulted Lillard into a category in which only LeBron James can also claim to be a member: that of a player who's already run away with a major regular-season award.
Which, of course, in Damian's case, means the Rookie of the Year.
Grade: B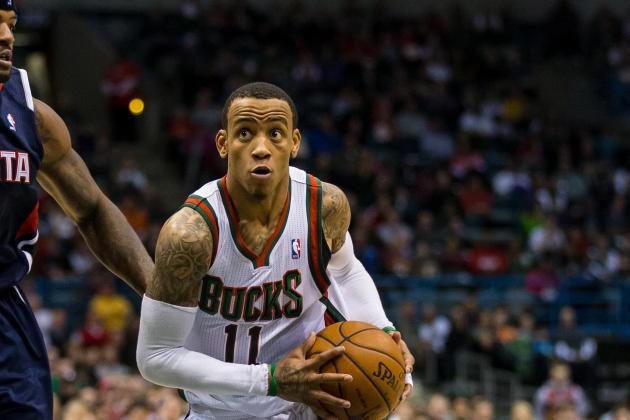 Jeff Hanisch-USA TODAY Sports

Record: 34-36 (.486)
Offensive Efficiency: 100.8 (21st)
Defensive Efficiency: 102.3 (12th)
The Milwaukee Bucks are fortunate that the rest of the Eastern Conference is so terrible. Otherwise, they'd be clinging to their playoff lives right about now.
Though, with the way they've been playing, the Bucks' big lead on the eighth seed in the East may not be as safe as it once seemed. Milwaukee's dropped four in a row and seven of its last nine to fall under the .500 mark for the first time since...well, late February.
Which, on second thought, doesn't seem like such an extensive drought, does it?
In any case, perhaps it's just as well that the Bucks are doing their best to make the East's postseason race interesting. Surely, Milwaukee's likely first-round series against the defending champs won't be.
Grade: C+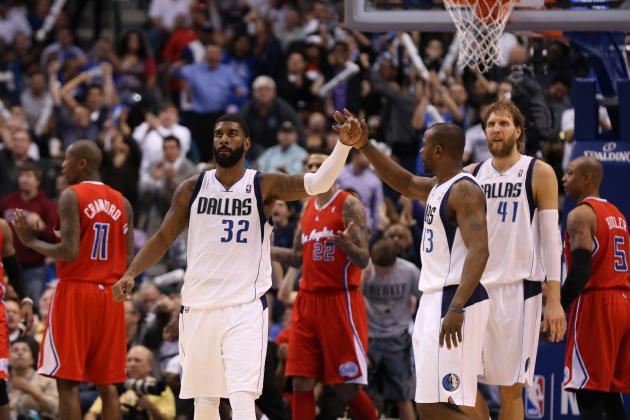 USA TODAY Sports

Record: 35-36 (.493)
Offensive Efficiency: 103.7 (10th)
Defensive Efficiency: 104.0 (20th)
It was only a matter of time before the Dallas Mavericks made a push into the Western Conference playoffs. A 109-102 overtime win against the Los Angeles Clippers was Dallas' ninth win in its last 12 games and moved the Mavs to within a game-and-a-half of the eighth-place Los Angeles Lakers.
Coincidentally (or not), that stretch coincides with Mike James' ascent into Rick Carlisle's starting lineup. The 37-year-old veteran hasn't exactly been blowing up the box score—10.3 points and 4.9 assists in his last 12 games—but his steady leadership on the ball appears to have re-established a winning order in Big D.
Also coincidentally (or not), Dirk Nowitzki has averaged 19.7 points and 7.9 rebounds with .538/.444/.950 shooting splits and hasn't fallen short of double digits in scoring since Mike James took on a more prominent role.
Grade: B-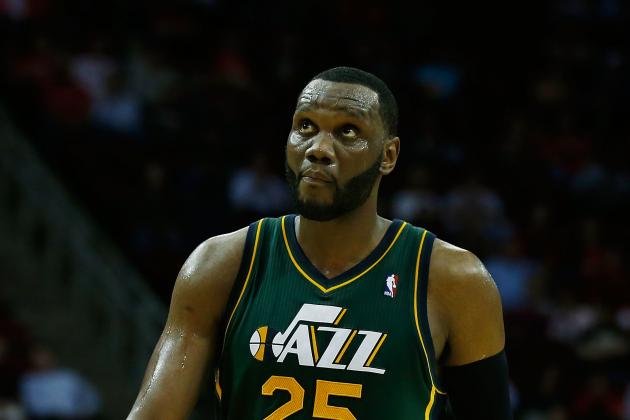 Scott Halleran/Getty Images

Record: 36-36 (.500)
Offensive Efficiency: 103.2 (13th)
Defensive Efficiency: 104.2 (21st)
Elsewhere on the fringes of the Western Conference playoff picture, the Utah Jazz are finally off the schneid. They trampled the visiting Sixers—with plenty of help from the young bench trio of Derrick Favors, Enes Kanter and Alec Burks—in a 107-91 win that snapped a four-game skid, and followed that up with a 15-point win over the Suns.
Whether these victories kickstart an upward trend or simply constitute another blip in a stretch that's seen the Jazz lose 12 of 17 since the All-Star break will go a long way toward determining Utah's postseason viability.
Grade: C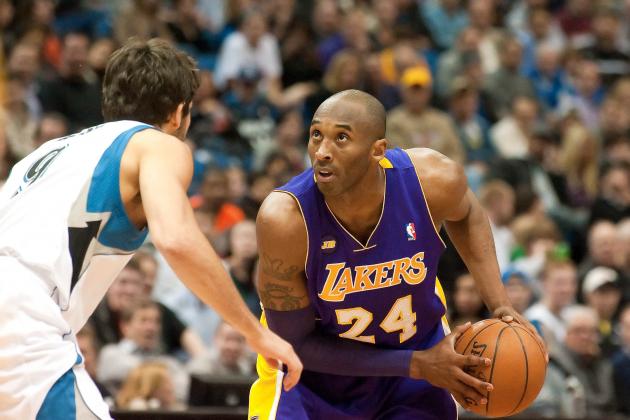 Greg Smith-USA TODAY Sports

Record: 37-35 (.514)
Offensive Efficiency: 105.4 (8th)
Defensive Efficiency: 103.6 (18th)
Good news: Kobe Bryant and Pau Gasol are back in action for the Los Angeles Lakers.
Bad news: The Lakers lost their first two games with those two back in the lineup, and are now 7-13 on the season when their four All-Stars feature in the action.
(Maybe) good news: Earl Clark shouldn't lose too much playing time as a result.
(Definitely) bad news: Metta World Peace is done for the next six weeks or so after undergoing surgery on his left knee.
Worse news: The Utah Jazz and the Dallas Mavericks are hot on their heels.
Grade: C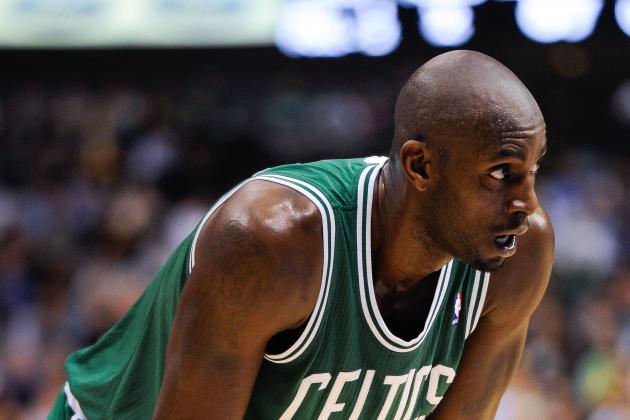 USA TODAY Sports

Record: 37-34 (.521)
Offensive Efficiency: 100.4 (22nd)
Defensive Efficiency: 99.6 (5th)
Yeah, so, this whole "Kevin Garnett not playing" thing doesn't seem to be sitting well with the Boston Celtics. They needed a last-second layup from Jeff Green to avoid a loss to the Cavs, which would've been Boston's third straight defeat overall and fourth without KG.
To be fair to the rest of the roster, the C's have lost five in a row overall, two of which saw the Big Ticket play for 29 minutes apiece.
Perhaps, then, Boston's problems extend beyond just one fallen Hall of Famer, though Garnett's absence certainly doesn't help matters.
Grade: B-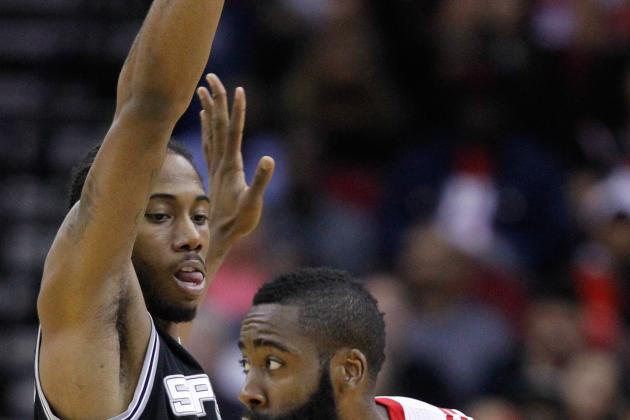 Thomas Campbell-USA TODAY Sports

Record: 39-32 (.549)
Offensive Efficiency: 107.0 (7th)
Defensive Efficiency: 103.8 (19th)
Hey, everyone! James Harden is a legitimate candidate in the race to finish second (or third) in the MVP voting behind LeBron James.
His masterful performance against the San Antonio Spurs was evidence of as much. Harden racked up 29 points and got to the free-throw line an astounding 17 times—to go along with nine rebounds, six assists, two steals and two blocks—while leading the Houston Rockets to a surprising 96-95 win over the Spurs.
At the very least, Harden has established himself as no worse than the second-best of the blue chippers to have been drafted and groomed by the Oklahoma City Thunder over the last five years.
Grade: B+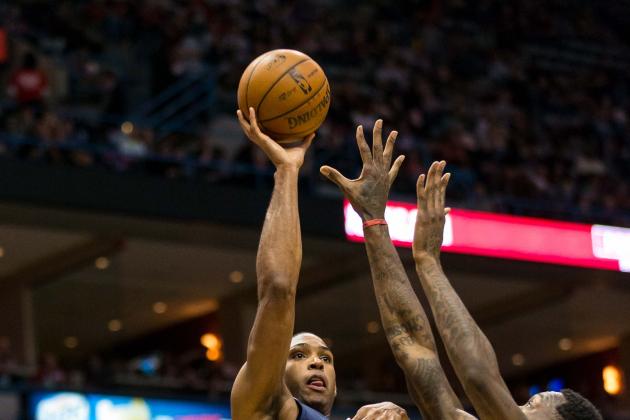 Jeff Hanisch-USA TODAY Sports

Record: 40-32 (.556)
Offensive Efficiency: 102.7 (17th)
Defensive Efficiency: 101.4 (10th)
Evidently, life would be much easier for the Atlanta Hawks if they played the Milwaukee Bucks every night. The Hawks have come out on top in all three of their meetings with the Bucks so far this season, including twice in the last week alone.
That may not seem like much to most teams, but considering how close Milwaukee had been to usurping Atlanta's playoff positioning prior to those last two tiffs, the results were surprisingly crucial.
Especially if the Hawks would, indeed, rather face either the New York Knicks, the Indiana Pacers or the Brooklyn Nets in the first round of the playoffs, rather than go toe-to-toe with the Miami Heat.
Grade: B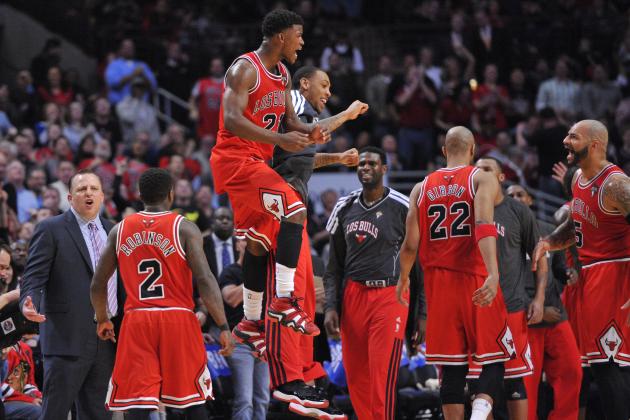 Rob Grabowski-USA TODAY Sports

Record: 39-31 (.557)
Offensive Efficiency: 100.0 (24th)
Defensive Efficiency: 99.8 (6th)
It was "just another week" without Derrick Rose for the Chicago Bulls, though this time, they managed to come out ahead.
In a big way, no less. The Bulls eked out wins over the Indiana Pacers and the Minnesota Timberwolves—with Joakim Noah sidelined, no less—to stay within striking distance of home-court advantage in the weak East.
Then, with Rose, Noah and Richard Hamilton still sidelined, Chicago made a bit of history by bringing the Miami Heat's 27-game winning streak to a screeching halt. If that win, and the energy that filled the United Center throughout the game, can't convince D-Rose to bust his butt even harder to get back, then I don't know what will.
Grade: A-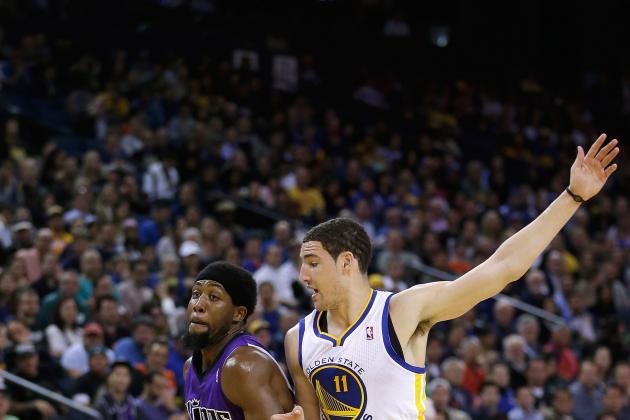 Ezra Shaw/Getty Images

Record: 41-32 (.562)
Offensive Efficiency: 103.7 (11th)
Defensive Efficiency: 102.6 (13th)
The Golden State Warriors seemed out of the woods of their month-long swoon. They'd won four of five, six of eight and eight of 12 since suffering through a stretch of 10 losses in 13 games.
Then, a 105-98 home loss to the semi-surging Sacramento Kings sent all of the above notions into some measure of doubt. Granted, it's tough to glean too much from a game in which Klay Thompson takes 13 shots and hits one of them, or even in which Stephen Curry misses 13 of his 18 attempts.
Nonetheless, the loss was a dangerous one for the Warriors, who sit just a game up on the Rockets in the race for the sixth seed.
A race that figures to have dire consequences for the loser—assuming, of course, the team that finishes seventh would rather not face the Oklahoma City Thunder in the first round.
Grade: B+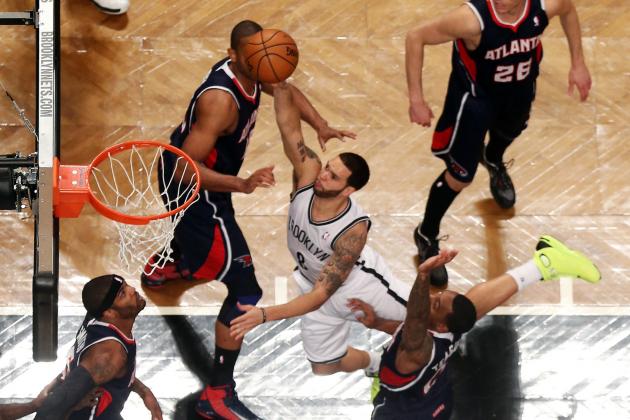 Bruce Bennett/Getty Images

Record: 42-29 (.592)
Offensive Efficiency: 104.4 (9th)
Defensive Efficiency: 103.4 (17th)
You know what would really make the end of the season interesting in the Eastern Conference? How about a battle for the Atlantic Division between the Brooklyn Nets and the New York Knicks?
As it stands, less than three games separate the Big Apple's biggest basketball draws. They won't face each other again during the regular season. But if Deron Williams and Brook Lopez continue to run roughshod over the rest of the league as they have lately, there's a good chance that these two rivals will meet in a Subway Series come playoff time.
With a score to settle over the division crown, no less.
Grade: B+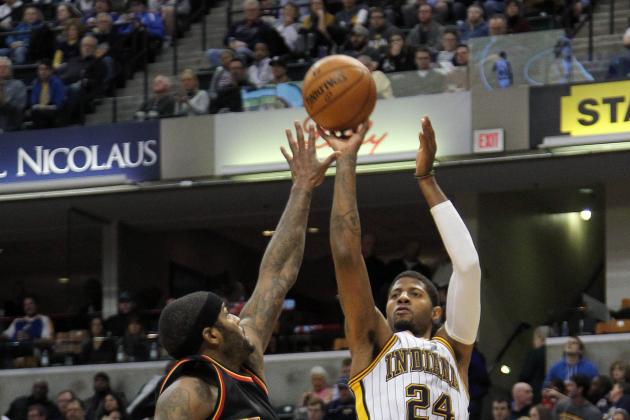 Brian Spurlock-USA TODAY Sports

Record: 45-27 (.625)
Offensive Efficiency: 101.3 (19th)
Defensive Efficiency: 95.4 (1st)
You'd probably have a hard time telling that Paul George was playing with an injured finger if nobody told you. Since spraining that left pinkie of his, George has averaged 17.5 points, 6.7 rebounds, 3.5 assists and 1.7 steals.
Those are hardly world-beating numbers for the All-Star forward, though the fact that he's posted them while playing through pain—and leading the Indiana Pacers to five wins in those six games—speaks volumes of his future as a franchise superstar and leader-by-example.
Grade: B+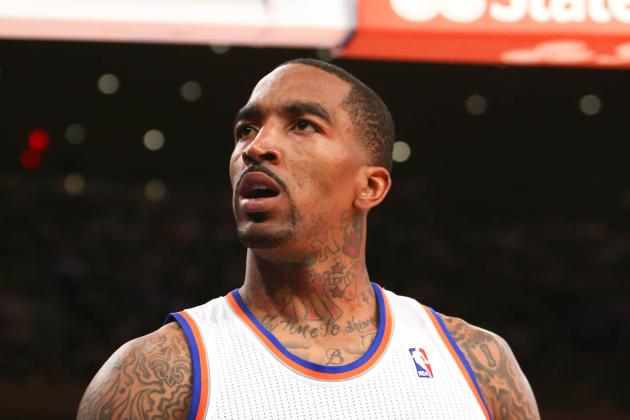 USA TODAY Sports

Record: 44-26
Offensive Efficiency: 107.7 (3rd)
Defensive Efficiency: 103.0 (15th)
The New York Knicks are officially on a roll, even without the help of Tyson Chandler. They've now won six games in a row to once again stake their claim to the No. 2 seed in the East.
Carmelo Anthony has been instrumental in the last five of those, scoring 27.4 points and ripping down 7.4 rebounds. We'd be remiss, though, if we didn't give a big shout-out to JR Smith. The Knicks' free-shooting swingman has been on a scoring binge of late, pouring in 24.7 points on 51.5 percent shooting (including a pair of 30-plus-point games) off the bench during New York's latest run.
If Smith continues to put up points and the Knicks keep winning as a result, then the Sixth Man of the Year award will be his to lose.
Grade: B+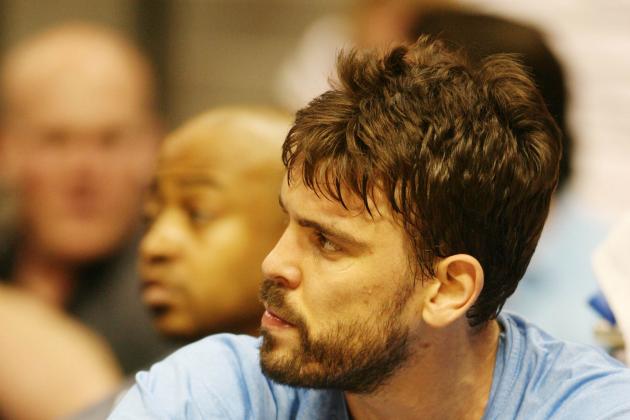 Chris Humphreys-USA TODAY Sports

Record: 47-24 (.662)
Offensive Efficiency: 101.4 (18th)
Defensive Efficiency: 98.1 (2nd)
The Memphis Grizzlies have officially fallen on hard times. They've lost three of their last four and five of eight dating back to mid-March, during which time they've slipped from third to fifth in the Western Conference standings.
The Grizz showed some serious spirit during their furious second-half rally against the Knicks, though that proved too little, too late, given the 30-point hole they'd already dug for themselves. Memphis may be happy to have Marc Gasol back from his abdominal injury now, but if his return turns out to have come too soon—and if Zach Randolph continues to struggle as he has of late—the Grizz may soon regret their decision to rush their All-Star center back into the lineup.
Grade: A-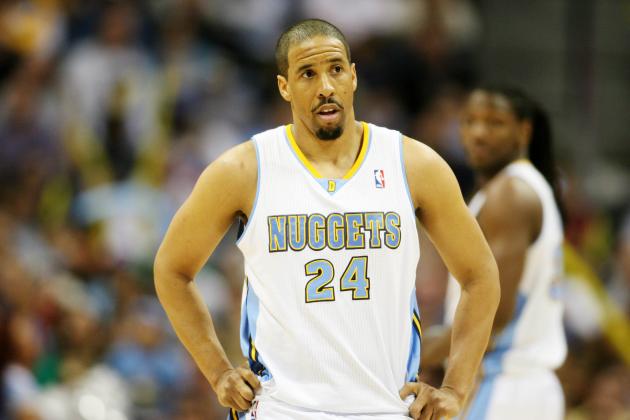 Chris Humphreys-USA TODAY Sports

Record: 49-24 (.671)
Offensive Efficiency: 107.2 (4th)
Defensive Efficiency: 102.2 (11th)
We all knew that the Denver Nuggets' 15-game winning streak was going to come to an end sooner or later. We all knew the Nuggets were playing over their heads and had caught more than a few lucky breaks along the way to keep the good times rolling. And, hey, if the loss came to a tough Hornets team, so be it.
But by 24 points? Really, Nuggets? You couldn't shoot better than 37.9 percent from the field against the third-least efficient defense in the NBA?
Denver must've been dog tired from all the pressure and attention. That's the only explanation that makes any sense, especially after watching the Nuggets nearly knock off the Spurs in San Antonio just two nights later.
Grade: A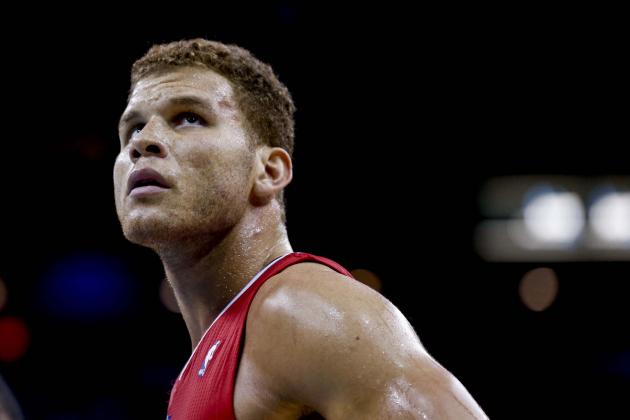 Derick Hingle-USA TODAY Sports

Record: 49-23 (.681)
Offensive Efficiency: 107.1 (5th)
Defensive Efficiency: 100.6 (8th)
The Los Angeles Clippers' overtime loss to the Dallas Mavericks might've been more damaging to their playoff positioning, if not for a few key points:
1. The Mavs have been playing some great basketball of late, and may well wind up as the eighth seed in the West as a result.
2. The Nuggets have followed up their 15-game winning streak with two straight losses.
3. The Grizzlies have dropped three of their last four outings.
As a result, the Clips are back in the three-spot in the standings, albeit with only a half-game cushion on Denver and a game-and-a-half lead over Memphis.
Moreover, you don't have to be McKayla Maroney to be left unimpressed by Blake Griffin's recent run of play. Over his last four games, Griffin's poured in a far-from-superstar-like 12.8 points (on 36.4 percent shooting), 7.5 rebounds and 3.8 assists in 34.4 minutes.
Grade: B+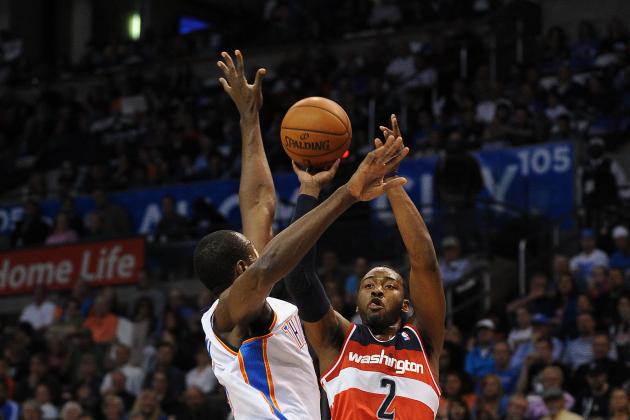 Mark D. Smith-USA TODAY Sports

Record: 53-19 (.736)
Offensive Efficiency: 110.1 (2nd)
Defensive Efficiency: 99.0 (4th)
If you're a young talent looking to make a name for yourself in the NBA, you'd do well to steer clear of the Oklahoma City Thunder right about now. They've won their last three games rather handily and put the clamps on at least one budding star in each of those.
First, it was Tobias Harris of the Orlando Magic, who scored just 10 points on 3-of-17 from the field and fouled out. Then, it was Damian Lillard of the Portland Trail Blazers, who accounted for a respectable 19 points and six assists but couldn't keep his club within 20 points of OKC in the end.
Most recently, the Thunder put the kibosh on John Wall's hot streak. The speedy point guard for the Washington Wizards piled up 18 points and 12 assists, but shot just 3-of-18 and was ultimately helpless to keep the Thunder from sprinting away in the second half.
Grade: A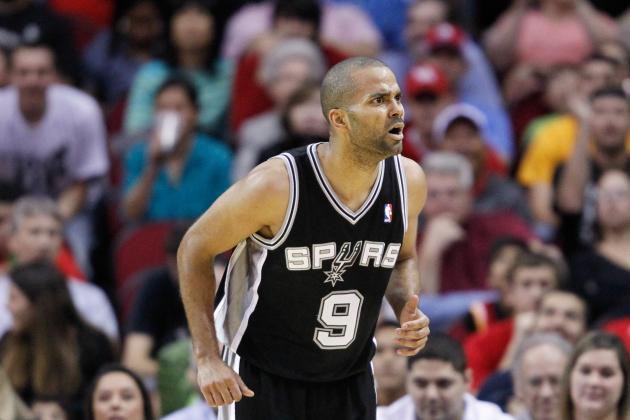 Thomas Campbell-USA TODAY Sports

Record: 54-17 (.761)
Offensive Efficiency: 107.0 (6th)
Defensive Efficiency: 98.7 (3rd)
Pity the poor San Antonio Spurs. No, really...
Okay, so maybe not really, but still! The Spurs came into the week thinking they'd have a crack at not one, but two historic winning streaks. Instead, the Nuggets got knocked off in New Orleans and the Miami Heat couldn't get out of the kitchen in Chicago.
Then again, merely beating both of those top-tier teams, even without massive streaks at stake, would be a nifty feather in San Antonio's cap. The Spurs have already taken care of Denver, and need "only" match up with Miami at home, after hosting the Clippers, to make the race for the best record in the NBA a mighty interesting one down the stretch.
Grade: A+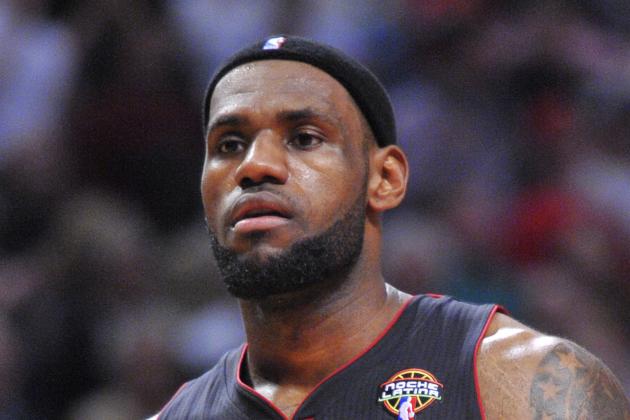 Rob Grabowski-USA TODAY Sports

Record: 56-15 (.789)
Offensive Efficiency: 110.5 (1st)
Defensive Efficiency: 100.6 (9th)
Welp, the streak was fun while it lasted, wasn't it? Where usually the month of March is largely a boring and inconsequential one in the NBA, the Miami Heat managed to make the league must-see TV during a time when public attention tends to swing rather violently toward the NCAA tournament.
Now that the Heat's run will go down as "merely" the second-longest in the history of North American professional sports, LeBron James and company can refocus their efforts and attention on what really matters: photobombing defending their title.
Grade: A