Updated Rankings of the Top 5 NBA Players at Every Position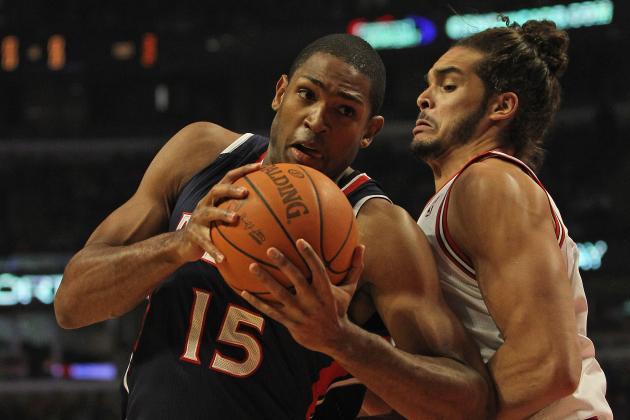 Jonathan Daniel/Getty Images

Considering that there are more than 360 players in the NBA, being labeled in the top five at a given position puts a player in elite company.
To make a top-five list at his position, an NBA player has to be among the best of the best from either an offensive or a defensive standpoint—and usually he has to be great on both ends.
The NBA All-Star Game gives fans a good barometer of who the best players in the league are, but sometimes fan voting and egregious snubs can confuse the process.
In the following rankings, players who have been sidelined due to major injuries will not make the cut. For example, Derrick Rose (who hasn't played at all this season), Rajon Rondo (torn ACL) and Kevin Love (broken hand) are all players who can't currently put themselves in the conversation for health-related reasons.
Despite those absences from players who could make these lists when healthy, the competition for the top five at each position is still quite fierce in a league loaded with stars.
Note: All statistics in this article are accurate as of March 11, 2013 (prior to games played).
Begin Slideshow

»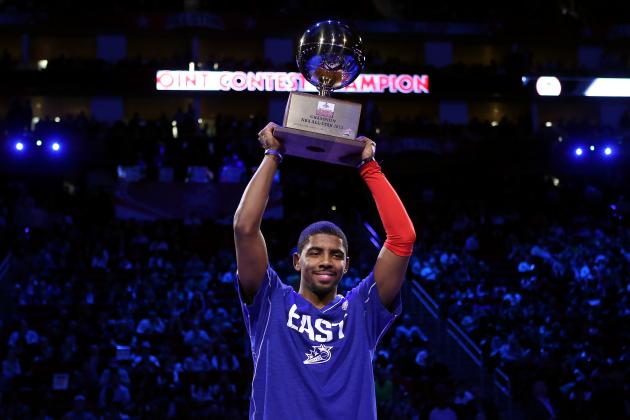 Ronald Martinez/Getty Images

Team: Cleveland Cavaliers
Age: 20
2013-13 Per-Game Stats: 23 points, 3.7 rebounds, 5.7 assists, 0.3 blocks, 1.6 steals, 22.26 PER
At just 20 years old, Kyrie Irving is an All-Star, Three-Point Shootout champion and Rookie of the Year award winner.
Although Irving has missed 14 games this season due to a variety of injuries, he's managed to build upon a phenomenal rookie campaign that earned him ROY honors a year ago.
He's bumped his points-per-game average from 18.5 during his rookie year to 23 points per game (nearly a five-point increase).
Additionally, Irving is shooting 46.6 percent from the field and 41.4 percent from beyond the three-point arc. His tremendous play hasn't led Cleveland to many wins, but it's abundantly clear that Irving has an incredibly bright NBA future.
His 3.2 turnovers per game aren't great, but that's not something that overrides everything else he's been able to do on the court.
The Cavaliers appear to have success on the horizon with Irving at the helm. Cavs fans just have to hope the franchise continues with patience. After all, Irving is still just 20 years old. With that fact in mind, it's amazing what Irving has been able to do to this point of his young NBA career.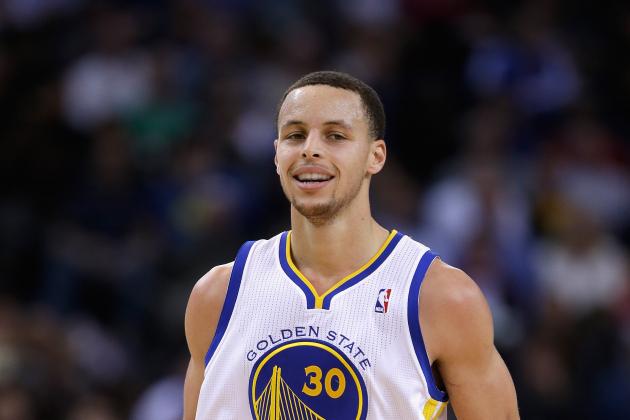 Ezra Shaw/Getty Images

Team: Golden State Warriors
Age: 24
2012-13 Per-Game Stats: 22 points, 4.0 rebounds, 6.8 assists, 0.2 blocks, 1.6 steals, 20.27 PER
Stephen Curry is arguably the purest shooter in the NBA today. He's shooting 44.2 percent from the field, a ridiculous 44.8 percent from three-point land and 90.4 percent from the free-throw line.
Now that Curry's ankles are healthy (knock on wood, Warriors fans), the sharpshooter out of Davidson is having a career year.
Although the high point of Curry's 2012-13 campaign has been leading Golden State to a possible playoff berth, his greatest individual achievement came during a four-point loss to the New York Knicks.
In the Warriors' final game in the month of February, Curry played all 48 minutes and ended up with a career-high 54 points. Curry added seven assists, six rebounds and three steals, but the most impressive feat in the box score was shooting 11-of-13 from three-point range.
It's laughable to think that Curry couldn't win the Three-Point Shootout during All-Star weekend when you consider he shot better than 84 percent from deep in an actual regular-season game.
Curry is averaging more assists and rebounds per game when compared with Kyrie Irving, and his team has notched 14 more wins than the Cavaliers.
You could argue for either guy being ranked at No. 4, but you honestly can't go wrong with either of these two lights-out shooters.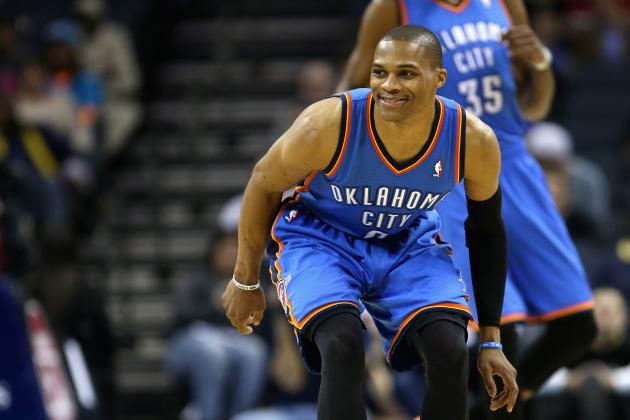 Streeter Lecka/Getty Images

Team: Oklahoma City Thunder
Age: 24
2012-13 Per-Game Stats: 23.3 points, 5.2 rebounds, 7.7 assists, 0.3 blocks, 1.8 steals, 23.63 PER
Russell Westbrook is an incredible NBA athlete. Sure, he has his fair share of critics for being trigger-happy with his shot at times, but Westbrook is a dominant force on both ends of the court.
His lightning-quick first step is virtually impossible to defend. The former UCLA Bruin's ability to get to the basket and finish is rivaled by very few NBA players (and even fewer NBA point guards).
Although Westbrook is putting up great stats once again, there are a few stats that highlight his immaturity.
First off, Westbrook is attempting 3.7 three-point shots per game. OKC's eccentric point guard is making just 33.9 percent of them. Although his field-goal percentage of 43.7 isn't fantastic, it's much better than his percentage from distance.
Despite the fact that Westbrook is shooting nearly 10 percent better from inside the arc, he continues to jack up nearly four three-pointers per game. It's easy to become enamored with the appeal of the three-point shot, but Westbrook needs to understand that his team is better off when he's attacking the basket.
Still, Westbrook is an elite NBA point guard. He's one of just two NBA players averaging more than 23 points and seven assists per game (the other being LeBron James). So obviously Westbrook is making a huge impact.
That said, he's also averaging 3.5 turnovers per game. Only Jrue Holiday, James Harden and Kobe Bryant average more turnovers per game.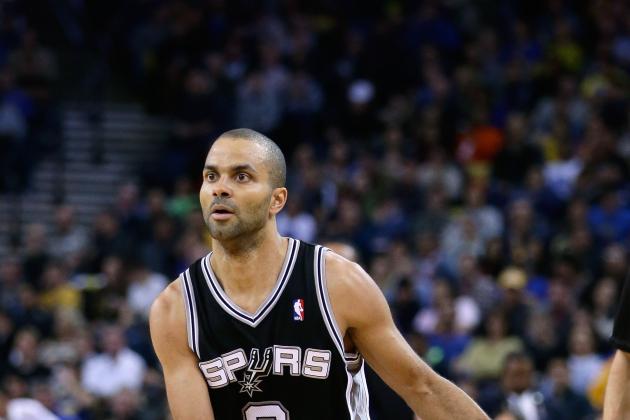 Ezra Shaw/Getty Images

Team: San Antonio Spurs
Age: 30
2012-13 Per-Game Stats: 21 points, 3.1 rebounds, 7.6 assists, 0.1 blocks, 0.9 steals, 24.38 PER
Unlike Westbrook—a volume scorer who still needs to mature in some areas—Parker understands exactly what his game brings to the table.
Parker is shooting 37.9 percent from beyond the arc this season. That's not great, but it's much better than Westbrook's percentage from deep. Instead of shooting from downtown 3.7 times per game, however, Parker attempts just one three-pointer per game on average.
It becomes obvious that Parker doesn't shoot many threes when you see that he's shooting a ridiculously efficient 53.3 percent from the field (nearly 10 percentage points better than Westbrook).
He's averaging 7.6 assists per game versus just 2.5 turnovers per game and putting up arguably his best NBA season ever at 30 years old.
The Spurs continue to be one of the league's most competitive teams year in and year out despite constant injury to Manu Ginobili and a plethora of young role players. The presence of Parker is a major reason for San Antonio's success.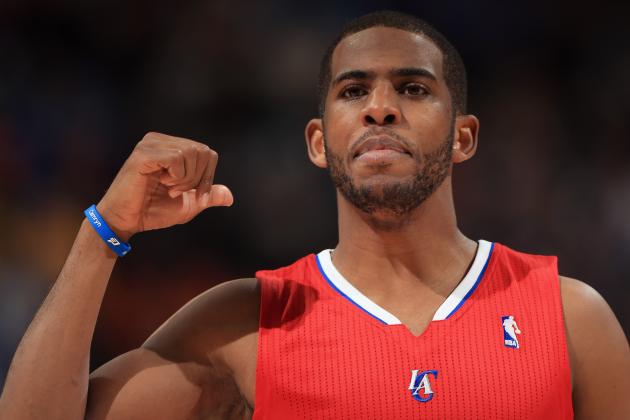 Doug Pensinger/Getty Images

Team: Los Angeles Clippers
Age: 27
2012-13 Per-Game Stats: 16.4 points, 3.5 rebounds, 9.6 assists, 0.1 blocks, 2.4 steals, 26.25 PER
It should not come as a surprise that Chris Paul lands at No. 1 in the NBA point guard countdown. His presence has flipped the Los Angeles Clippers' script from NBA laughingstock to NBA title contender.
Before his arrival, the Clips were stuck in the NBA basement. They managed just 32 wins during the 2010-11 campaign. With CP3, despite enduring a lockout-shortened schedule, the Clippers still managed to win 40 of a possible 66 games.
Paul is averaging 9.6 assists per game, which is second in the league behind the injured Rajon Rondo. What's more impressive, though, is that Paul is averaging a career-low 2.1 turnovers per game simultaneously. Rondo, the league's assists leader, on the other hand, is averaging 3.9 turnovers per game.
Paul has the most win shares among point guards (10.5), and the best Player Efficiency Rating among point guards (26.25).
His points-per-game numbers are not even close to career highs, but by getting his teammates involved and playing a rock-solid all-around game, Paul has proven how incredibly valuable he is to the Clippers.
Team: Brooklyn Nets
Age: 31
2012-13 Per-Game Stats: 16.5 points, 3.2 rebounds, 3.6 assists, 0.2 blocks, 0.6 steals, 13.95 PER
I wouldn't argue if you felt that the No. 5 shooting guard in the league was Jamal Crawford or J.R. Smith. Both of those guys have carved niches off the bench for their respective teams, and both are having great years.
Joe Johnson, meanwhile, has certainly had better statistical years in the past. He averaged 25 points per game with the Atlanta Hawks during the 2006-07 season and shot 47.8 percent from three-point range in his final season with the Phoenix Suns.
He's shooting just 42.3 percent from the field and 37.5 percent from three with the Brooklyn Nets this season. Despite that fact, he's had more than a few clutch moments.
Johnson may have earned his "clutch" label in the Feb. 19 win against the Milwaukee Bucks. He buried a fadeaway three to send the game to overtime, then provided Brooklyn with the W by knocking down a buzzer-beating jumper.
As the video dictates, though, Johnson has been big in the clutch all season long. It didn't start with that game against Milwaukee.
Johnson has stepped up with the game on the line, but his overall play relative to his contract would make the CBA cringe. In fact, Bill Simmons of Grantland.com wrote in a recent column that Johnson's contract is the worst in the NBA.
Although Johnson has a lackluster 13.95 PER and is one of the most overpaid athletes in the sport, his cold-blooded moments have helped the Nets in the win column.
Knicks fans will argue that J.R. Smith has been just as clutch due to his game-winning baskets, but his shooting percentages are lower across the board when compared with Johnson.
Team: Denver Nuggets
Age: 29
2012-13 Per-Game Stats: 13 points, 5.3 rebounds, 5.0 assists, 0.6 blocks, 1.7 steals, 15.15 PER
It's true that Andre Iguodala has had some ups and downs since joining the Denver Nuggets via trade. His shooting percentages are down across the board compared to a season ago, but Iggy makes a lasting impact by playing lockdown defense and contributing in a variety of statistical categories.
When Iguodala is on the court for the Nuggets, the offensive rating (points per 100 possessions) of opponents is 104.6. When Iguodala heads to the bench, the offensive rating of opponents jumps to 108.3. That's nearly a four-point defensive differential when Iggy in on the court versus when he's off it, according to Basketball Reference.
In addition to Iguodala's defensive impact, Denver is shooting 52.1 percent from the field with him on the court and 50.9 percent when he's on the bench.
It's clear that the Nuggets are a better team when Iguodala is playing.
Iggy's season high in scoring this season was 29 points on Feb. 27. He's not a guy who will go for 40 or 50 points, but he's notched four or more steals in a game seven times so far.
Often times, Iguodala is the unsung hero in Denver's wins.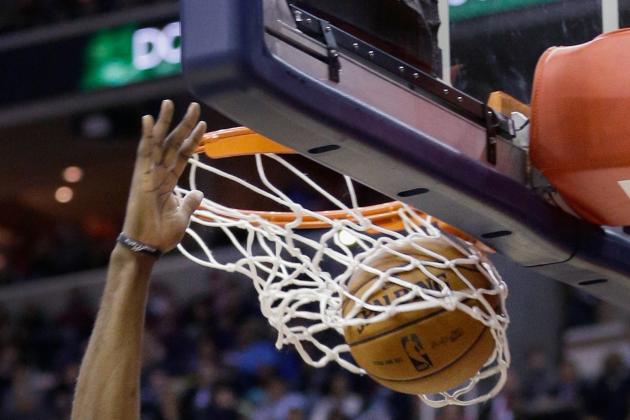 Rob Carr/Getty Images

Team: Houston Rockets
Age: 23
2012-13 Per-Game Stats: 26.4 points, 4.8 rebounds, 5.9 assists, 0.4 blocks, 1.9 steals, 23.77 PER
Since being traded from the Oklahoma City Thunder to the Houston Rockets, James Harden has solidified his place as an NBA superstar.
A Rockets team that appeared poised to finish near the bottom of the Western Conference is now competing for a playoff berth thanks to the bearded one. Harden is averaging 26.4 points per game, which puts him in fifth place for the NBA scoring title.
Not only is Harden scoring in bunches, but he's also scoring quite efficiently. He's shooting 45 percent from the field, 36.8 percent from beyond the arc and 85.4 percent from the charity stripe. That last percentage is important because Harden has been to the free-throw line a whopping 625 times this season. That leads the entire NBA and leads second-place Kevin Durant by more than 30 attempts.
Harden's relentless ability to attack the basket and get to the free-throw line has put pressure on opponents all season long.
However, even the bearded wonder has an Achilles' heel. That weakness has been turnovers.
Perhaps a high turnover total is to be expected from a guy like Harden. He's playing huge minutes consistently for the first time in his career, and he attacks the rim like a rabid mongoose pursuing a cobra. Even so, Harden's 3.7 turnovers per game on average is only eclipsed by Philadelphia's Jrue Holiday (3.9 turnovers per game).
The Rockets have been very impressive this season considering how young they are. However, a recent loss to the lowly Phoenix Suns epitomizes both Harden and the Rockets.
Harden finished with 38 points while shooting 7-of-10 from beyond the arc. That's a phenomenal game until you factor in that Harden had eight turnovers, which crippled the Rockets. By losing to Phoenix, Houston dropped to 4-12 on the season in the second game of back-to-backs.
With a young and inexperienced team like Houston, there are sure to be bumps in the road. Although that's a hard truth, the Rockets continue to exceed expectations.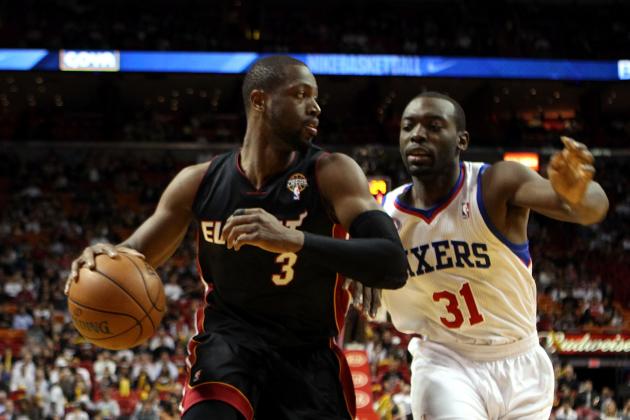 Marc Serota/Getty Images

Team: Miami Heat
Age: 31
2012-13 Per-Game Stats: 21.8 points, 5.0 rebounds, 4.9 assists, 0.8 blocks, 1.8 steals, 24.72 PER
Even though Dwyane Wade gets overshadowed to some extent because of perennial MVP favorite LeBron James, he's still one of the best shooting guards in the game of basketball.
Wade already proved in 2006 that you can win a championship with him as your team's alpha dog. With the help of James and Chris Bosh, Wade now has two championship rings to his name.
Even at 31 years old, Wade continues to prove how impressive he can be out on the court, as he's shooting a career-high 52.3 percent from the field.
His Achilles' heel is three-point shooting, as he is shooting just 26.2 percent from downtown this season. However, like Tony Parker, Wade has limited his attempts from beyond the arc to 1.1 per game.
Unlike the end of last season, Wade has been able to stay healthy. He's missed just four games this season and looks much fresher than he did in the playoffs in 2012.
He's shooting 58.3 percent from the field in March.
Team: Los Angeles Lakers
Age: 34
2012-13 Per-Game Stats: 27.7 points, 5.5 rebounds, 5.8 assists, 0.3 blocks, 1.3 steals, 23.71 PER
If we ever get to a point where an eccentric billionaire emulates John Hammond by creating Jurassic Park, and the raptors somehow get loose and start terrorizing people, I vote to send in Kobe Bryant for damage control.
Bryant's phenomenal, circus-shot-laden clutch performance Friday joined his 81-point game on the list of times the Black Mamba has dismantled the Toronto Raptors.
The 15-time All-Star and five-time NBA champion has almost single-handedly willed the Los Angeles Lakers back into the playoff picture (with some help from the choking Utah Jazz).
Despite being 34 years old and in his 17th professional season, Bryant is having arguably his best statistical year. He's scoring 27.7 points per game on a career-high 47.5 percent shooting from the field. His play has earned him the new nickname "Vino," meaning wine, because Bryant just seems to get better with age.
We'll just have to wait and see when Bryant starts to break down physically (if he ever does). In any case, it appears as if Bryant will have to retire for a different guy to take the title of best shooting guard in the NBA.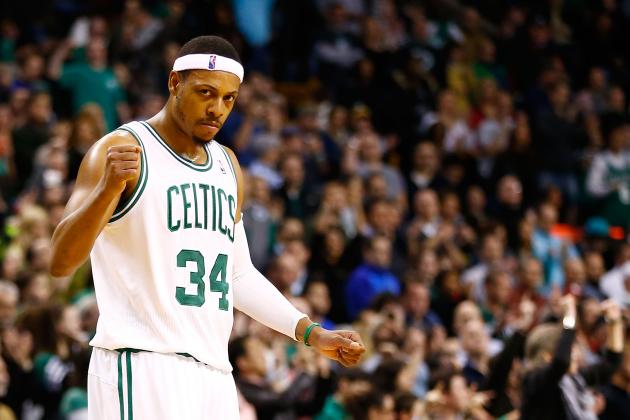 Jared Wickerham/Getty Images

Team: Boston Celtics
Age: 35
2012-13 Per-Game Stats: 18.7 points, 6.4 rebounds, 4.6 assists, 0.3 blocks, 1.2 steals, 18.64 PER
Paul Pierce may not be on the level of Kobe Bryant, but he's certainly in the conversation with NBA ageless wonders.
When news broke that Rajon Rondo tore his ACL, many pundits and fans were putting a fork in the 2012-13 Boston Celtics. Despite losing their floor general, however, the Celtics are 14-5 since Rondo's season ended.
Boston's unexpected success can be attributed to contributions all over the roster, but Pierce is one of the key leaders.
In addition to being an underrated defender, Pierce is never one to shy away from taking big shots in close games.
Although Rondo is the Celtic best known for notching triple-doubles, Pierce has two triple-doubles of his own this season.
Retirement is on the horizon for Pierce, but he continues to show he belongs among the league's elite with his stellar play and leadership in the face of adversity.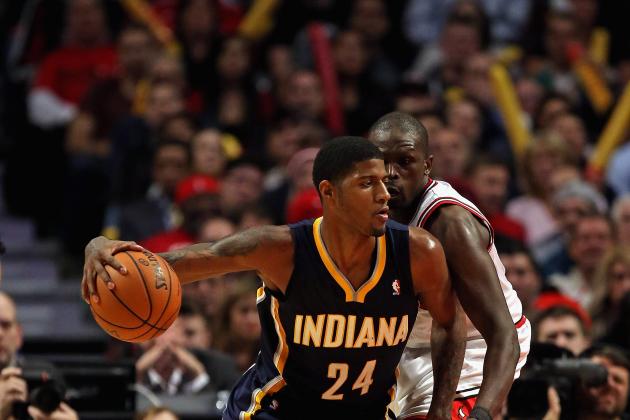 Jonathan Daniel/Getty Images

Team: Indiana Pacers
Age: 22
2012-13 Per-Game Stats: 17.6 points, 7.8 rebounds, four assists, 0.7 blocks, 1.8 steals, 17.07 PER
Danny Granger has been a complete non-factor for the Indiana Pacers this season due to injury, but Indiana hasn't missed a beat because of the breakout performance from 22-year-old star Paul George.
George is getting strong consideration for the Most Improved Player award due to his offense. He's averaging 17.6 points per game to lead Indiana, but he's shooting a lackluster 42.4 percent from the field (a career low). His 38.5 percent shooting from beyond the arc is solid, but where George has truly impressed is on the defensive end.
George leads all NBA players with 5.1 defensive win shares, according to Basketball Reference. Also, when George is on the court for the Pacers, opponents are shooting 44.8 percent with an offensive rating of just 98.3.
So while George's offense has been good, his defense has been even better.
George is averaging career highs this season in points, rebounds, assists, steals and blocks. He also made his first All-Star appearance.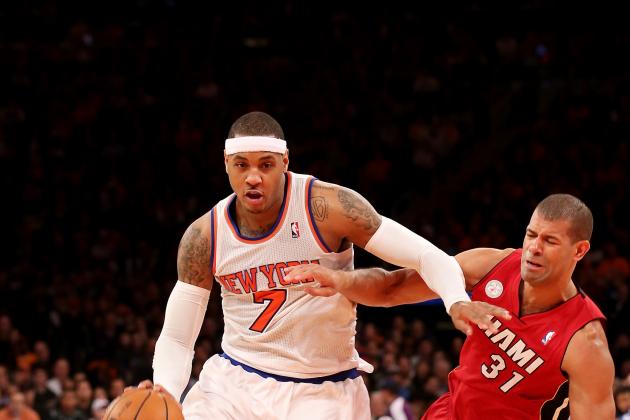 Nick Laham/Getty Images

Team: New York Knicks
Age: 28
2012-13 Per-Game Stats: 28.2 points, 6.2 rebounds, 2.8 assists, 0.5 blocks, 0.8 steals, 23.22 PER
Carmelo Anthony is a scoring machine. His ability to pull up from anywhere on the court (usually with a defender in his face) and still knock down shots is rivaled by very few NBA players.
Anthony has missed a handful of games this season due to injuries, but when he's played, he's scored 30 or more points a ridiculous 22 times. Game-planning to stop Anthony on the offensive end is basically a lost cause. He's going to get his points whether you want him to or not.
Despite the fact that Anthony is having a great offensive year, though, he doesn't even rank in the top 20 in the NBA in total win shares (an estimate of the number of wins contributed by a player), according to Basketball Reference.
He's a tremendous player and a lights-out scorer, but he's not in the MVP discussion in my opinion.
That said, he's one of the top small forwards in the game who can beat you single-handedly with his offensive prowess.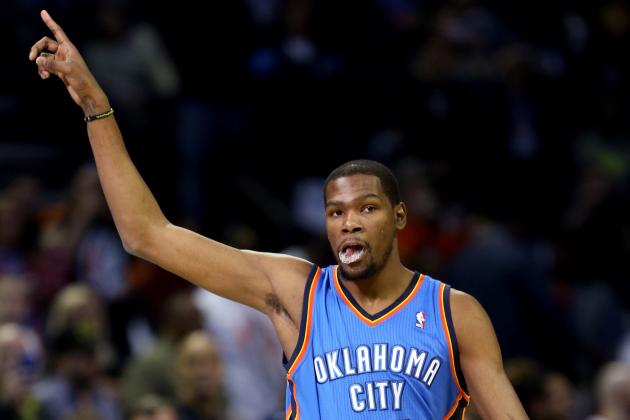 Streeter Lecka/Getty Images

Team: Oklahoma City Thunder
Age: 24
2012-13 Per-Game Stats: 28.4 points, 7.9 rebounds, 4.7 assists, 1.2 blocks, 1.5 steals, 28.59 PER
The accolades just continue piling up for Kevin Durant. He's a three-time NBA scoring champion (leading the way to earn a fourth this season), a four-time All-Star and former Rookie of the Year winner.
An accomplishment that Durant still doesn't have, however, is a championship win.
The Oklahoma City Thunder competed admirably last year before falling to LeBron James and the Miami Heat. They are out to prove that this year will be different.
KD has been playing with a vengeance and an intense emotional passion this season. His 13 technical fouls are second in the league to Kobe Bryant's 14. On the court, Durant no longer appears to be the soft-spoken phenom. Instead, he's wearing his heart on his sleeve and takes it personally when his team comes up short.
OKC will have a tough time coming out of a loaded Western Conference, but with KD leading the way, it has to like its chances.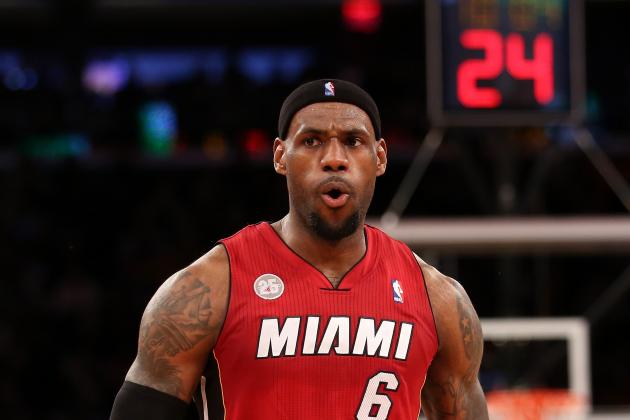 Nick Laham/Getty Images

Team: Miami Heat
Age: 28
2012-13 Per-Game Stats: 26.7 points, 8.1 rebounds, 7.1 assists, 0.9 blocks, 1.7 steals, 31.20 PER
If you're surprised to see LeBron James in the No. 1 spot among NBA small forwards, you should probably start watching a different sport, because James would be in the top spot regardless of position.
LBJ routinely posts box scores with 26 points, eight rebounds and seven assists per game. Amazingly, he makes it look so effortless that there are actually people picking other candidates for the NBA MVP award.
To me, there's no debate. James is far and away the best player in the NBA today. His absurd 31.20 PER should be evidence enough of that fact.
Love him or hate him, if you're a fan of basketball, you have to appreciate his talents. (Unless, of course, you're a Cleveland Cavaliers fan, in which case you can carry on).
In addition to his league-leading PER and near triple-double averages, James is shooting 56.2 percent from the field and 40.4 percent from three-point range. Those percentages are both career highs.
The three-time MVP award winner is out-performing himself. If that isn't proof of his greatness, I don't know what is.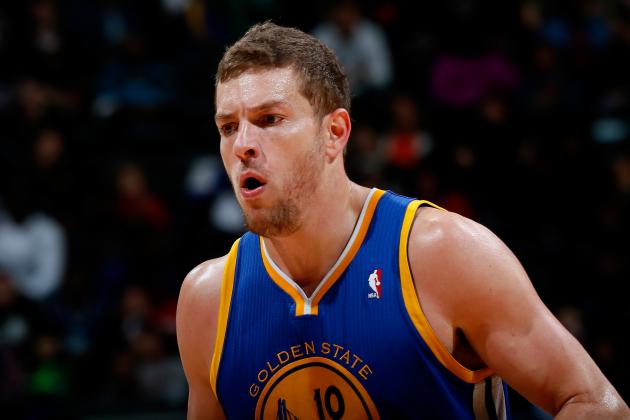 Kevin C. Cox/Getty Images

Team: Golden State Warriors
Age: 29
2012-13 Per-Game Stats: 18.9 points, 11.1 rebounds, 3.7 assists, 0.2 blocks, 0.9 steals, 19.37 PER
David Lee is a great interior NBA player. He's a walking double-double with averages of 18.9 points and 11.1 rebounds per game, and he made his second career All-Star appearance this year.
I've seen some of my writing peers rank David Lee higher than this in the power forward rankings, but I have a hard time doing so for a couple reasons.
First off, as a 6'9" power forward, Lee averages a pathetic 0.2 blocks per game. In translation, Lee will block one shot every five games. Sure he doesn't have a height advantage on his defensive matchups, but he should be able to average more than 0.2 blocks per game simply by being active in help defense.
Additionally, according to a Sports Analytics Conference paper by Kirk Goldsberry and Eric Weiss, opponents shoot incredibly high percentages (60 percent or higher) when Lee is close to the basket on defense. When Goldsberry and Weiss compare Lee's defensive presence to the Milwaukee Bucks' imposing big man Larry Sanders and even the league average, Lee's numbers look downright abysmal.
In many ways, Lee's offense and rebounding make up for his poor defense. However, his bad defensive play almost knocked him out of the top five altogether. It's probably fair to say that Lee wouldn't be hanging around the top five if Kevin Love was healthy. He's on thin ice at No. 5.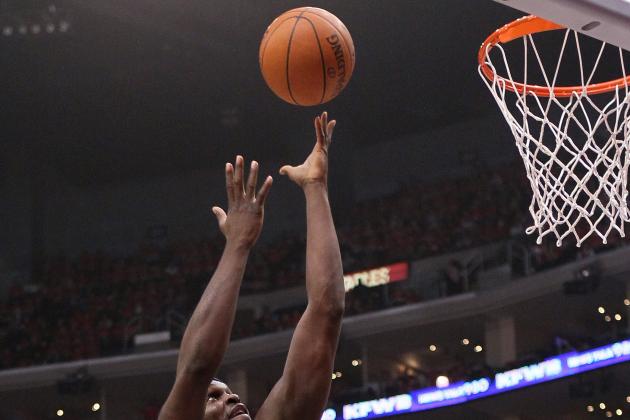 Stephen Dunn/Getty Images

Team: Memphis Grizzlies
Age: 31
2012-13 Per-Game Stats: 15.7 points, 11.6 rebounds, 1.5 assists, 0.5 blocks, 0.8 steals, 18.14 PER
Zach Randolph, otherwise known as Z-Bo, is an absolute load on the interior. His bulk and high basketball IQ make it relatively easy for him to out-muscle and outwork players in the low post.
The presence of Randolph and teammate Marc Gasol in the paint basically made Rudy Gay expendable in Memphis (at least in the eyes of front-office personnel). Although the trade wasn't very popular at the time, the Grizzlies have continued their winning ways without Gay.
With just 0.5 blocks per game, Randolph may have a hard time jumping over a ham sandwich. That said, he averages more blocks per game than David Lee. So that should count for something…I guess.
As is often the case, Randolph has dealt with sporadic injuries throughout the season. However, he's been healthier overall this year than in years past, so that's got to be a positive sign for the Grizzlies even though he's currently out with an ankle injury.
Like Lee, Randolph made his second career All-Star team in 2013.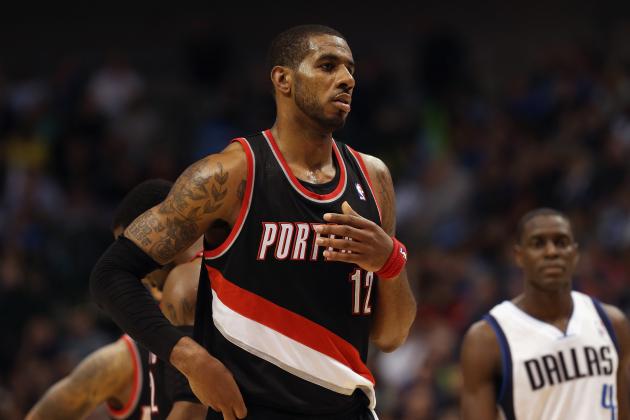 Ronald Martinez/Getty Images

Team: Portland Trail Blazers
Age: 27
2012-13 Per-Game Stats: 20.6 points, 8.6 rebounds, 2.6 assists, 1.2 blocks, 0.8 steals, 19.70 PER
LaMarcus Aldridge may be one of the most underappreciated All-Stars in the NBA. He has steadily averaged 20 or more points and eight or more rebounds for three straight seasons, but he's definitely under the radar compared to other NBA stars.
Aldridge is known for his offensive prowess and tissue-soft touch with his shot. Despite his reputation as a great offensive talent, Aldridge is shooting a career-low 47.5 percent this season on a career-high 17.6 attempts per game. That's not exactly what you want to see if you're a Portland Trail Blazers fan.
Also, despite being 6'11" and averaging more minutes per game by a wide margin, Aldridge is getting out-rebounded rather convincingly by teammate J.J. Hickson (8.6 rebounds per game versus 10.6 rebounds per game). Hickson is two inches shorter than Aldridge and plays 29.6 minutes per game compared to the 37.7 minutes per game Aldridge gets.
So Aldridge may be viewed as underrated around the NBA community, but perhaps there's a good reason for that. For whatever reason, Aldridge has never averaged more than 8.8 rebounds per game over the course of a season. He's also shooting a career low from the field during the 2012-13 campaign and doesn't make a huge impact on the defensive end (just 1.2 blocks per game).
Aldridge is a dynamic NBA talent, but there's certainly some room for him to improve.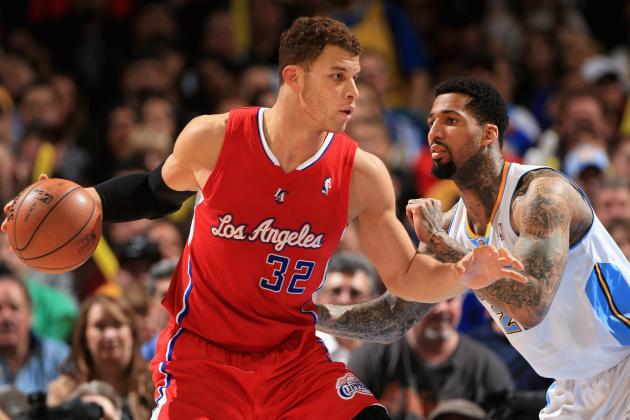 Doug Pensinger/Getty Images

Team: Los Angeles Clippers
Age: 23
2012-13 Per-Game Stats: 18.7 points, 8.7 rebounds, 3.7 assists, 0.7 blocks, 1.4 steals, 24.03 PER
Blake Griffin may not be close to reaching the career highs for points and rebounds that he averaged during his rookie year, but the maturation we've seen with Griffin is hard to ignore.
The 18.7 points and 8.7 rebounds per game are both career lows for the highlight reel, but Griffin is playing fewer minutes and scoring more efficiently than ever before. While taking the fewest shots per game of his young career, Griffin has amped up his field-goal percentage to a career-high 55.1 percent.
Additionally, his free-throw percentage (which was abysmal last year) has bounced back to a career-high 65.9 percent. That's not great, but an improvement nevertheless.
Because the Los Angeles Clippers are one of the deepest teams in the entire NBA, Griffin hasn't needed to log huge minutes for the team to get wins. However, when the postseason rolls around, I'd expect Griffin to get ample minutes.
Considering that he's scoring efficiently and knocking down the mid-range jumper with more regularity, the Clippers are more dangerous than they were a season ago.
Griffin takes a lot of grief for being obsessed with the slam dunk, but he's continued to evolve his game to break away from that negative stigma.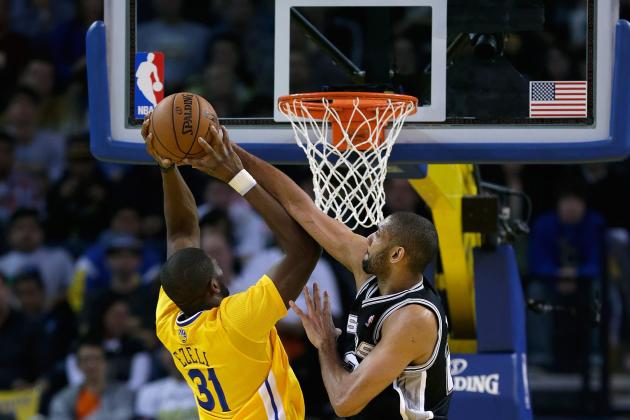 Ezra Shaw/Getty Images

Team: San Antonio Spurs
Age: 36
2012-13 Per-Game Stats: 16.7 points, 9.7 rebounds, 2.7 assists, 2.7 blocks, 0.8 steals, 24.27 PER
Even at 36 years old, Tim Duncan continues to prove that he's a living basketball legend.
Statistically speaking, TD is having his best season since the 2009-10 campaign. He went on a tear to start this season, posting averages of 18.1 points and 9.7 rebounds in November. Injuries hindered his numbers at the end of January, but despite missing 10 games on the season, Duncan has played phenomenally well on both ends of the court.
Duncan's 2.7 blocks-per-game average puts him at third in the NBA behind block-specialists Larry Sanders and Serge Ibaka. He's not what he once was athletically, but Duncan's astronomical basketball IQ has kept him at peak form as a defender.
The San Antonio Spurs have the best record in the Western Conference, and the leadership of Duncan is a gigantic reason why.
His presence has kept the Spurs in the NBA title conversation for over a decade. In my mind, he's still the best power forward in the game.
Jonathan Daniel/Getty Images

Team: Memphis Grizzlies
Age: 28
2012-13 Per-Game Stats: 14.1 points, 7.9 rebounds, 3.9 assists, 1.7 blocks, 0.9 steals, 19.66 PER
The NBA All-Star ballot may no longer consider center to be a position, but I still do. In fact, competition at the 5 is still very tight.
Marc Gasol earns my No. 5 spot over defensive powerhouses like Roy Hibbert and Tyson Chandler because Gasol has proven to sport a steady all-around game. Not only can he score, defend and pass, but he's also a tremendous leader for a gritty Memphis Grizzlies team.
The Spaniard isn't having a career year in 2013 by any stretch of the imagination, though. His 48.9 percent shooting from the field is nearly 10 percentage points lower than his career-high mark of 58.1 percent (set during the 2009-10 campaign).
His rebounds, blocks and points are all down from a year ago, but the Grizzlies continue to win games despite the dips in those numbers.
Gasol solidifies an elite one-two interior punch beside Zach Randolph in Memphis. The Rudy Gay trade brought out the doubters, but don't be surprised if the Grizzlies advance deep into the playoffs with their remaining two stars running the show.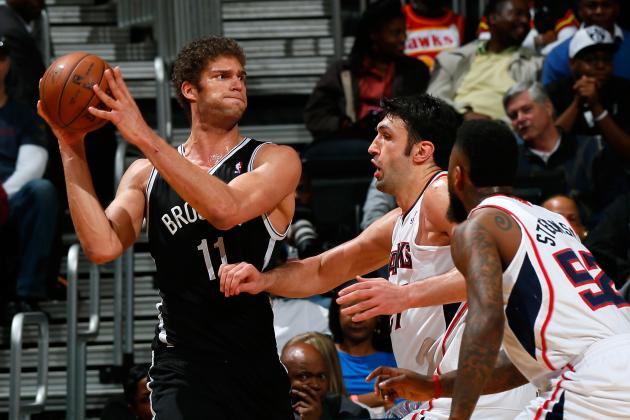 Kevin C. Cox/Getty Images

Team: Brooklyn Nets
Age: 24
2012-13 Per-Game Stats: 18.6 points, 7.1 rebounds, 1.0 assists, 2.1 blocks, 0.5 steals, 24.30 PER
Thankfully, Brook Lopez has managed to pull down 7.1 rebounds per game this season. That number isn't great—or even good—considering that Lopez is a seven-foot center. However, it's much improved from the 3.6 rebounds per game he grabbed in five games last season, and the six rebounds per game he averaged in 82 games the season before that.
I still have a hard time understanding how Lopez can't grab at least eight rebounds per game with his height, but perhaps Reggie Evans can give him a few pointers moving forward.
Anyway, Lopez has been injury-free and made the first All-Star appearance of his career in 2013 (despite being snubbed initially). His fantastic 24.30 PER is the statistic his supporters love to point to, but I really wish Lopez would grab more rebounds to help their argument.
The Brooklyn Nets wanted to add Dwight Howard to the roster, but getting "stuck" with Lopez is far from a bad consolation prize.
Lopez is one of the best offensive centers in the game today, and at 24 years old, he still has plenty of time to improve.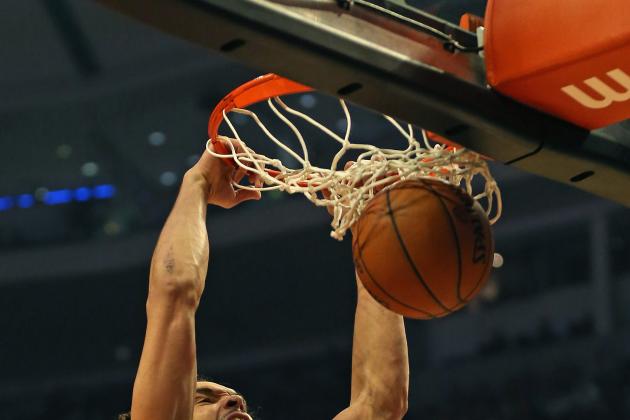 Jonathan Daniel/Getty Images

Team: Chicago Bulls
Age: 28
2012-13 Per-Game Stats: 12.1 points, 11.5 rebounds, 4.1 assists, 2.3 blocks, 1.3 steals, 17.88 PER
I wrote about it extensively in this article, but it's worth repeating that Joakim Noah is having a phenomenal defensive year.
Amidst the glamour and praise for the NBA's elite scorers, Noah has dominated on defense for the Chicago Bulls. Sure, there are the basic stats like Noah's 2.3 blocks and 1.3 steals per game, but his advanced defensive stats are truly eye-opening.
For example, Noah's defensive total (steals, blocks and charges taken) is a whopping 3.74 per game, according to Hoop Data. That's second only to Larry Sanders of Milwaukee, who gets 3.13 of his 3.94 number from blocked shots alone (a luxury that Noah does not have).
Instead of making a huge mark in one defensive category, Noah makes a big impact in all of them.
In addition to his defensive total, his on-court/off-court stats are impressive. When Noah is on the court for the Bulls, the opponents' offensive rating is 100.5. When Noah heads to the bench, that number skyrockets to 105.6. In other words, Bulls opponents are scoring more than five points per 100 possessions better when Noah is watching from the sideline.
Opponents' field-goal percentage relative to Noah tells a similar story. When the former Florida Gator is on the court, opponents' field-goal percentage is 46 percent. When he's not on the court, that number jumps to 49.6 percent.
When it comes to Noah, I admit that I nerd out a bit with advanced statistics. However, I think they're extremely important to explain just how good Noah has been defensively.
If he doesn't win Defensive Player of the Year, it would be a travesty.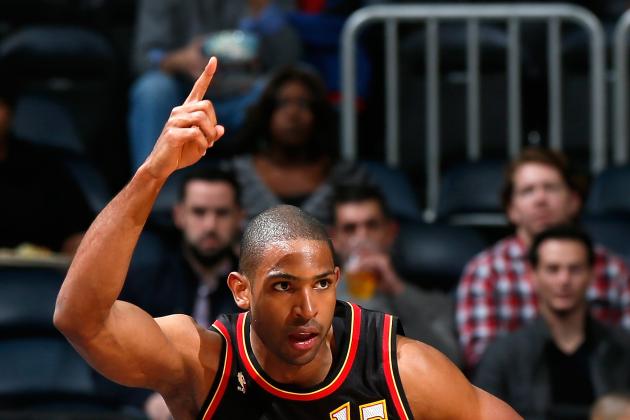 Kevin C. Cox/Getty Images

Team: Atlanta Hawks
Age: 26
2012-13 Per-Game Stats: 17.4 points, 10.1 rebounds, 3.3 assists, 1.2 blocks, one steal, 20.26 PER
Al Horford may not have been a name you were expecting to see this high (or a name you were expecting at all), but Joakim Noah's former teammate at Florida is every bit deserving of this spot.
As Jacob Eisenberg of SheridanHoops.com points out in this insightful article, Horford has been putting up numbers since the All-Star break that compete valiantly with the competition.
In a "who's who" segment of stats, Eisenberg's piece explains that in Horford's first nine games after the All-Star break, he averaged 23.8 points on 63 percent shooting, 11.3 rebounds, 3.8 assists and two blocks per game. Those are elite numbers by any standard.
As Bleacher Report featured columnist and Atlanta Hawks fan Adam Fromal gushed via Twitter, the pick-and-roll between Josh Smith and Horford has been incredibly effective for Atlanta.
Horford is in the midst of the best stretch of his entire career right now. The high point was undoubtedly a win against the Utah Jazz in which Horford posted 34 points, 15 rebounds and five blocked shots.
He may be under the radar, but Horford has been an absolute beast.
Team: Los Angeles Lakers
Age: 27
2012-13 Per-Game Stats: 16.2 points, 12.3 rebounds, 1.4 assists, 2.4 blocks, 1.1 steals, 19.01 PER
Dwight Howard is certainly having a lackluster season by his immaculate standards, but he's still the best center in the NBA.
With his rebounding prowess and interior presence alone, D12 is able to change the outcome of games. Case and point was his game-saving block on Robin Lopez to cap off a 25-point comeback win against the New Orleans Hornets (see video).
It's abundantly clear that Howard has struggled to regain his peak physical form following back surgery. He's shooting a career-low 47.8 percent from the charity stripe, while notching a career-high 3.8 personal fouls per game.
With those negatives in mind, no other player in the NBA could make as big of an impact as Howard has with the same physical hindrances (keep in mind Howard is also playing with a torn labrum in his shoulder).
Howard will continue to take heat for the boneheaded things he says off the court, but I truly believe he's still working his way back to the player he used to be following a severe injury.
If the Los Angeles Lakers hold on to a playoff seed, they have a shot at a title with Kobe Bryant and Howard on board.