How LeBron James Would Have Stacked Up in Every NBA Era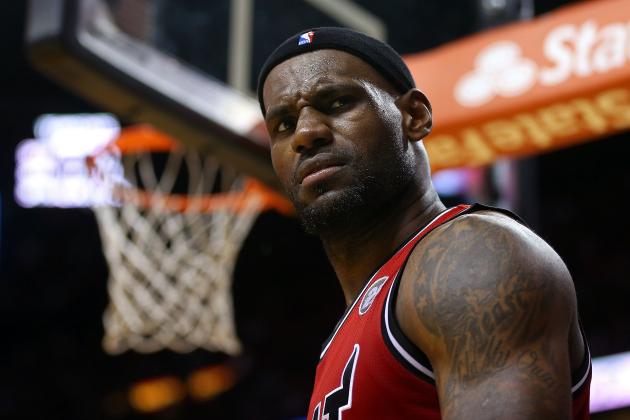 Mike Ehrmann/Getty Images

When it comes to LeBron James, there's no better question to pose than "what if?"
Watching him break a number of records that it seems will inevitably culminate in his fourth league MVP award, we've learned so much about the Chosen One this season alone.
But while we know all there is to know about James and his place in the game today, what if he had played yesterday? What if he had gone up against Oscar Robertson? Or Julius Erving? Or Magic Johnson? Or Michael Jordan?
James has spent a large portion of his career not necessarily being overshadowed, but being pitted against some of the all-time greats. Past stars like Robertson, Magic and Jordan are ones he has garnered direct comparisons to.
With His Airness recently asserting that Kobe Bryant is better than James now while also declaring that the King wouldn't be as successful in previous eras, the intrigue behind where LeBron would stand in years past is beginning to peak.
LeBron is, without a doubt, the best player presently in the NBA, but what if he were to take his talents to a decade when his greatest competition wasn't that of Kevin Durant, Kobe Bryant or Chris Paul?
*Unless otherwise noted, all stats from this article were gathered from Basketball-Reference.com.
Begin Slideshow

»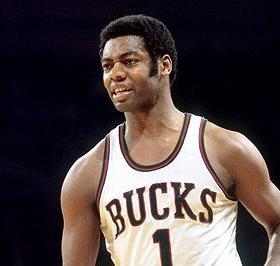 Photo credit: Vernon Biever/NBAE via Getty Images (via ESPN.com)
1960s Per-Game Stat Projections: 30.4 points, 14.9 rebounds and 5.8 assists on 51.3 percent shooting
Projected Rank: Top Three
Michael Jordan would probably berate the ba-jebus out of me for saying this, but I envision LeBron James playing a similar style to that of Robertson (ducks for cover).
As it stands, the Big O remains the only player in NBA history to have averaged a triple-double over the course of an entire season. If you've watched LeBron play even a little bit over the last 10 years, you know he toils with triple-doubles on a nearly nightly basis.
My trepidation behind imagining that James could do the same is his size. At 6'8" and with a then-unprecedented athletic build, he'd be tasked with manning the post. In shacking up with the likes of Wilt Chamberlain and Bill Russell, the opportunity to dish out assists wouldn't be as abundant.
Still, given that players routinely averaged over 40 minutes a game back then, LeBron would get his dimes, just not as many. I'd definitely expect his rebounding numbers to skyrocket, though, and if anything, I'm shortchanging him on those 30.4 points per game.
As for where he would rank, there just isn't a scenario where I can see him surpassing the 7'1" Chamberlain. The game was different back then, yes, but averaging 50 points a night and tallying 100 points in a single game remains no joke.
I'd say much of the same for Robertson. James wouldn't have the opportunity to be the triple-double machine he is today, and it's conceivable he'd spend his time looking up at both him and Wilt Chamberlain, but (rings aside) no one else. Not Russell, not Jerry West, not Walt Bellamy.
Projected Top Five of the 1960s
No. 5: Jerry West
No. 4: Bill Russell
No. 3: LeBron James
No. 2: Oscar Robertson
No. 1: Wilt Chamberlain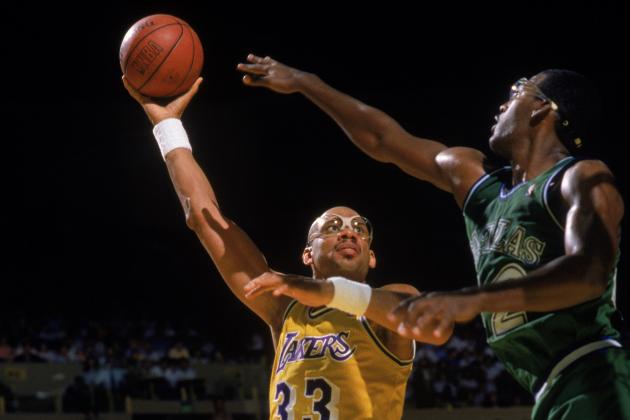 Mike Powell/Getty Images

1970s Per-Game Stat Projections: 26.2 points, 8.1 rebounds, 6.7 assists, 1.9 steals and 1.1 blocks on 52.6 percent shooting
Projected Rank: Top Two
You have to hand it to the players of this era; they helped redefine the game of basketball as we know it. The 1970s saw an influx of versatile players, most notably with the infusion of the three-point shot and the increased use of transition buckets.
With the addition of the three-pointer, some might expect to see James' field-goal percentage suffer somewhat, but it's tough to envision him hoisting up too many threes in this era. Again, I feel like a post style of play is one that would be favored here.
Surrounded by talents like Julius Erving, though, I could see James being ushered into the role of point-forward slightly more. Erving set the tone for versatile wings who could score, dish and rebound, and LeBron would have done much of the same.
Would there have been a chance for him to pass Kareem Abdul-Jabbar as the greatest of this time period?
I'd say no. Much like Wilt Chamberlain, there just wasn't anyone during this time who could even graze the level Abdul-Jabbar played at.
Being that this era saw the inception of the dunk contest, it would have been interesting to see if James would have succumbed to the intrigue the way Dr. J did.
Similar acrobatic stylings aside, LeBron had the edge when it came to perimeter shooting, and his current tactics would have rendered him perhaps the most versatile talent of the period. Crafty athletes like Walt Clyde Frazier and the Kevin Love-esque Elvin Hayes would have still received their due, but it's difficult to imagine anyone (save for Abdul-Jabbar) trumping LeBron.
Projected Top Five of the 1970s
5. Walt Clyde Frazier
4. Elvin Hayes
3. Julius Erving
2. LeBron James
1. Kareem Abdul-Jabbar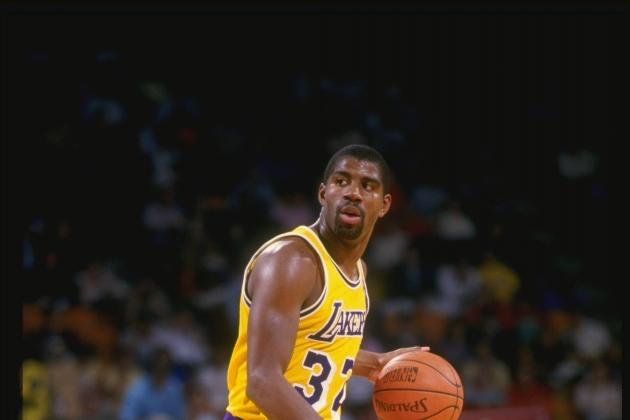 Stephen Dunn/Getty Images

1980s Per-Game Stat Projections: 29.1 points, 7.9 rebounds, 6.4 assists, 1.9 steals and 1.0 blocks on 50.2 percent shooting
Projected Rank: Top Four
If there was a past era to see LeBron James play in, it would be the 1980s.
Seeing James go head-to-head against the likes of Magic Johnson, Michael Jordan and Larry Bird, among others, would have made for some of the most compelling basketball ever. It also would see LeBron square off against a number of all-around players like himself.
Though we tend to compare James to Jordan, he's really more Magic with his ability to defend and play every position. Witnessing these two duke it out for the most versatile star of the ages would have been more awe-inspiring than watching James and Kevin Durant wage war today.
I wonder if James would have rivaled Magic's assist totals. Johnson never attempted more than 16.4 shots per game over his career and averaged a double-double (assists and points) nine times.
LeBron hasn't posted a season-long double-double thus far. Not that he couldn't (or wouldn't) during this era, but he's never been put in a position to grab rebounds or dish assists excessively. He's always needed to score like Jordan while assuming a Magic-like point-forward role.
Ultimately, I could actually see that hurting him when being compared to Magic and Bird. Not to mention, I could see he and Jordan getting caught up in a scoring battle for the five years MJ was haunting the court during this decade.
I have to side with Jordan here. I'm not saying LeBron would have had any less success playing during this time, but this is easily the most competitive era (in terms of individual talent) he would have played in.
Before you go calling for my job for including Jordan at all, understand that he played half the decade and averaged 37.1 points in just his third season. He's definitely a part of this conversation.
As such, LeBron would have been top five for sure, but he wouldn't have eclipsed Jordan, Magic or Bird.
Projected Top Five of the 1980s
5. Moses Malone
4. LeBron James
3. Michael Jordan
2. Larry Bird
1. Magic Johnson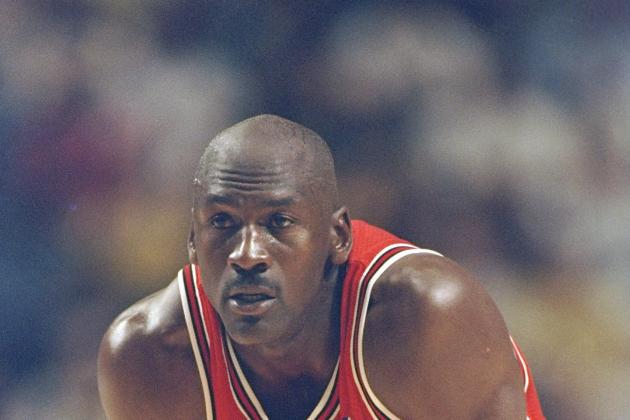 Vincent Laforet/Getty Images

1990s Per-Game Stat Projections: 28.9 points, 6.2 rebounds, 9.7 assists, 2.1 steals and 0.9 blocks on 48.9 percent shooting
Projected Rank: Top Two
I would have loved to see this.
The 1990s were dominated by Michael Jordan and physical bigs. It is a decade where LeBron James would have been facing the most arduous of conditions. Not because the talent was greater—one could argue the '70s and '80s would have been more difficult there—but because the game was so different.
I see James as more of a facilitator than a scorer in this period. With Hakeem Olajuwon, David Robinson, Shaquille O'Neal, Patrick Ewing, Karl Malone and Charles Barkley patrolling the post, I'm not sure LeBron could have scored as easily as he does now.
That said, it's worth noting that Jordan found cracks in defenses. He was never an especially deft three-point shooter (32.7 percent for his career) and instead relied on his speed and fearlessness to get to the rim.
Playing in the '90s, James would have been the sole Magic Johnson of his era. Imagine him dishing out career highs in assists, perhaps even averaging a double-double during such a time.
I definitely believe he would have attempted to challenge Jordan for scoring titles, but no one would be able to score like Jordan. I also doubt James could hoard rebounds as easily. So many talented bigs were found in the paint, and the term "stretch 4" was hardly a fixture.
Let's also not forget there were more enforcers back then. Would LeBron's points or rebounds come as easily against the likes of defenders who sought to instill pain?
If there was an underrated aspect of Jordan's scoring, it was his ability to elude the bounty hunters of the hardwood. I'm not sure if James could have done the same.
I am certain, however, that he would have been second in command.
Project Top Five of the 1990s
5. David Robinson
4. Karl Malone
3. Hakeem Olajuwon
2. LeBron James
1. Michael Jordan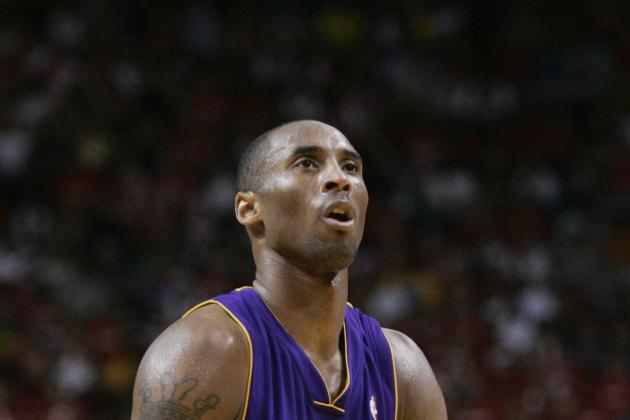 Eliot J. Schechter/Getty Images

2000s Per-Game Stat Projections: 29.1 points, 6.7 rebounds, 7.3 assists, 1.7 steals and 0.7 blocks on 49.7 percent shooting
Projected Rank: No. 1
Admittedly, we've seen what LeBron James could do during this era already. He played six seasons in it. The point here, though, is to go on the assumption that he would have been in his prime.
Say he had started when Kobe Bryant did. Where would he be ranked?
At the top.
In an era where there were still plenty of defensive-oriented bigs floating around, James would have been forced to the perimeter a tad more. But while I don't see him shooting 50-plus percent from the field, I imagine him dominating in every other aspect.
Perhaps rebounds don't come quite as easy for the full 10 years, and maybe he's forced to play only small forward. Even still, he would be able to score as much as Kobe, yet dish like Magic Johnson at a time where no one really could.
Facing the Tim Duncans, Kevin Garnetts and Shaquille O'Neals of the era wouldn't (and weren't) have been a walk in the park, but much of what LeBron does today could have been done throughout the decade.
As it stands, Bryant easily could be considered the greatest player of the decade.
Had he been forced to face an in-his-prime LeBron for a full 10 years, though, it would have been a different story, much to the chagrin of the ousted Allen Iverson.
Projected Top Five of the 2000s
5. Tim Duncan

4. Shaquille O'Neal
2. Kobe Bryant
1. LeBron James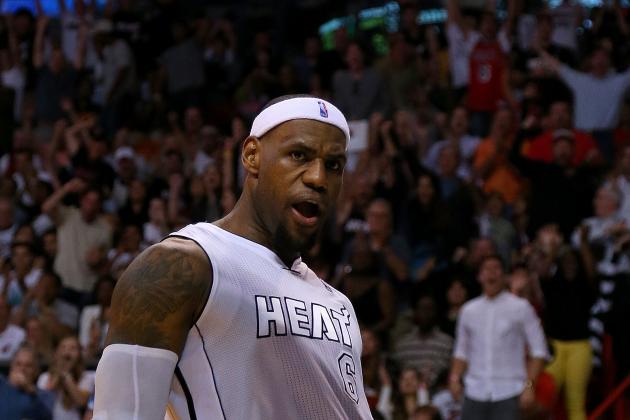 Mike Ehrmann/Getty Images

2010s Actual Per-Game Stats: 27.7 points, 7.7 rebounds, 7.3 assists, 1.7 steals and 0.8 blocks on 52.3 percent shooting
Actual Rank: No. 1
No need to imagine anything here.
LeBron James has absolutely picked apart the competition throughout this decade so far, and it would be shortsighted to assume it will cease any time soon. He's already won two MVPs in the decade (going on three?) and continues to shatter records.
As much as some would like to try and prove that Kevin Durant or Kobe Bryant actually has an edge, there's really not a definitive case to be made.
James has continued taking his game to new heights and is playing at a level no one of his generation can match. With more than half the decade still to go, things could change, but I wouldn't hold my breath.
At a time when the game is constantly changing and evolving, LeBron's place atop the NBA's hierarchy has been reserved for the foreseeable future.
Or rather, at least the rest of the decade.
Current Top Five of the 2010s
5. Dwyane Wade
4. Chris Paul
3. Kobe Bryant
2. Kevin Durant
1. LeBron James