Winners and Losers from the 1st Half of the 2012-13 NBA Season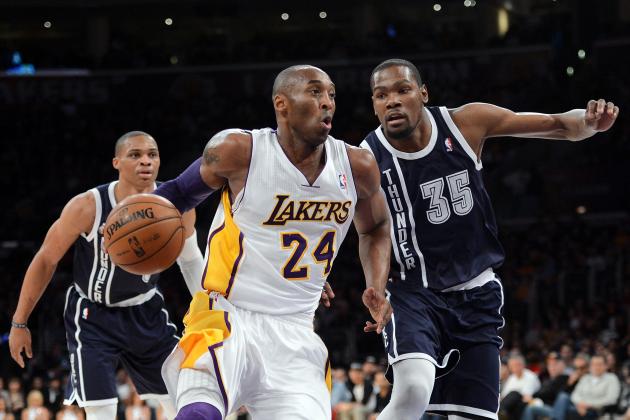 Harry How/Getty Images

It seems like only yesterday that the Miami Heat were ready to dominate the NBA with small ball, the Los Angeles Lakers were legitimate title contenders and James Harden was going to haunt the Oklahoma City Thunder while they watched someone else win the Western Conference.
What a difference three months make.
To be sure, the Heat are still the team to beat in the East and one team from L.A. (the Clippers) is in the hunt out West. But the Thunder are back in business, as are the San Antonio Spurs. New contenders continue to rise from the depths of both conferences with each passing day.
Before the next few months fly away, let's have a look back at the biggest winners and losers from the first half of the campaign.
Begin Slideshow

»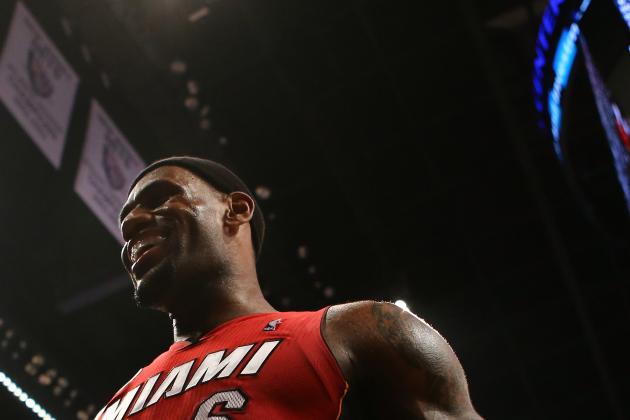 Al Bello/Getty Images

Mel Brooks was right: It's good to be the King.
Just ask LeBron James. An NBA title, an NBA Finals MVP, a third league MVP in four years and a second Olympic gold medal were apparently all he needed to finally free himself from the crushing pressure and scrutiny that had dogged him throughout his historic career.
With the lackluster Lakers and the transcendent Kevin Durant hogging the headlines, LeBron has had the privilege of operating in relative anonymity this season.
That has worked out rather well for him and the Miami Heat.
James' scoring is down, but he's shooting career-best percentages from the field (54.8) and from three (40.4) while chipping in 7.1 assists, 1.7 steals and a personal-best 8.3 rebounds. Along the way, he's surpassed the 5,000-career-assist mark and become the youngest player to score 20,000 points.
As for the Heat, they've shown themselves to be rather vulnerable this season, particularly for a defending champion. That, too, works right into LeBron's hands; the better he plays and the more Miami wins in spite of its struggles against teams with size, the more credit James garners for leading the way.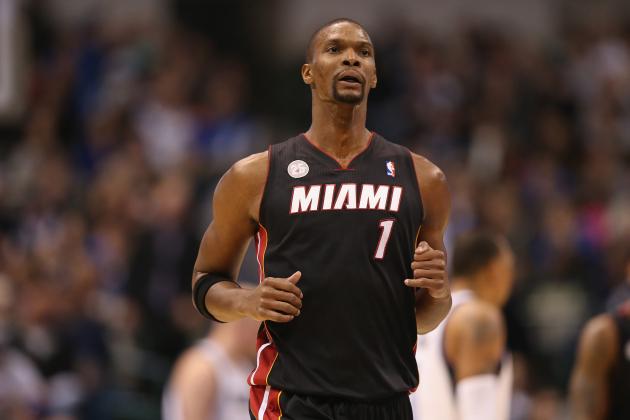 Ronald Martinez/Getty Images

While LeBron is clearly winning in terms of public perception, Chris Bosh seems to be losing ground at every turn.
Statistically speaking, Bosh is scoring (17.2 points) and rebounding (7.4 boards) less than he has in years, even though the Heat need his contributions upfront more than ever amid their small-ball bonanza. His odd exploits and shameless self-promotion have only exacerbated his status as Miami's most prone punching bag.
This, despite the fact that Bosh is putting together a substantial case for the Hall of Fame and that his contributions have been sneaky-spectacular for the Heat. Miami needs Bosh to stretch opposing defenses with his shots from the "elbow," and he's delivered, shooting a league-high 56 percent from his midrange sweet spot (per Grantland's Kirk Goldsberry).
The criticism of Bosh may be unfair, but such is the price to be paid when playing next to a pair of superstars like LeBron and Dwyane Wade.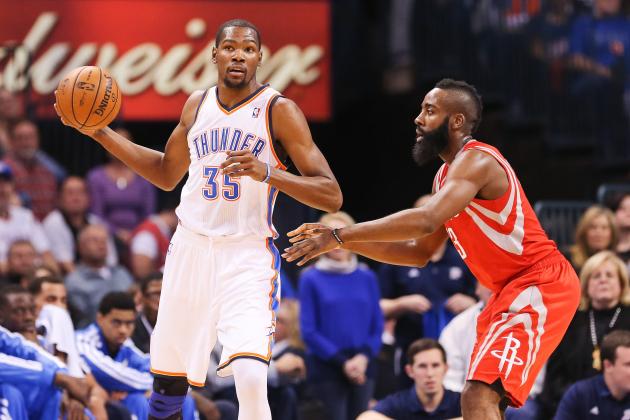 Kevin Jairaj-USA TODAY Sports

Remember when some of us thought the Houston Rockets hoodwinked the Oklahoma City Thunder by snatching James Harden on the eve of the season? Remember when that same some of us thought the Thunder would take a big step back in the absence of their Sixth Man of the Year and third Olympian?
As it happens, some of us were wrong—dead wrong, even.
The Thunder haven't skipped a beat sans The Beard. They've looked like the best team in the NBA all season. Kevin Martin is mounting a Sixth Man case of his own while slipping seamlessly into Harden's place. Kevin Durant and Russell Westbrook have stepped up their respective games considerably, assuming many of the ball-handling and distribution duties that belonged to their now-departed comrade.
And that's without mentioning Jeremy Lamb (a nonfactor thus far) and the guaranteed lottery pick that OKC nabbed in the trade.
The Rockets have made out well too. They're on track to make their first postseason appearance since 2009, thanks in no small part to Harden. He's establishing himself as a bona fide superstar (fifth in scoring, tops among guards in free-throw rate) and will make his All-Star debut in Houston as a result.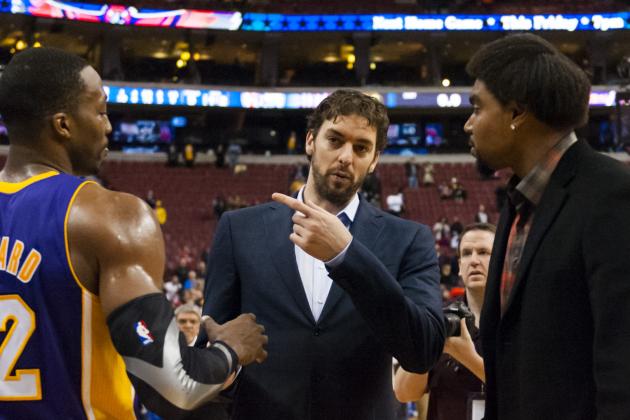 USA TODAY Sports

It's easier to find losers than winners from among those who took part in the four-team blockbuster that landed Dwight Howard with the Los Angeles Lakers.
The Lakers' season-long struggles have been well-documented, and Howard hasn't been free from blame. He's dogged it at times, complained at others and looked like a mere facsimile of the three-time Defensive Player of the Year (on account of his surgically repaired back) in between.
He's also been hampered of late by a torn labrum that will nag him the rest of the way. That's assuming it doesn't land him back on the operating table...and stick one last knife into the Lakers' fading postseason hopes.
The Orlando Magic, for whom Howard previously played, have tanked as expected. They've followed up a surprising 12-13 start by losing 19 of 21 since to lodge themselves in the thick of the race for the No. 1 pick in the 2013 NBA draft.
The Philadelphia 76ers may well be counting ping-pong balls of their own come lottery time. They've yet to squeeze a single minute out of All-Star center Andrew Bynum, for whom they gave up Andre Iguodala, Nikola Vucevic, Maurice Harkless and a draft pick in the Howard deal. Bynum's been plagued by knee problems (surprise!), but he appears to be on the mend.
At least he's made productive use of his time on the bench to test the boundaries of tonsorial taste.
At this point, the Denver Nuggets stand out as winners by default. They've won 11 of their last 13 games to vault to within a game of home-court advantage in the Western Conference. Truth be told, though, their resurgence has had much more to do with a more home-heavy schedule and the improved play of Danilo Gallinari than it does with anything in particular that Andre Iguodala's done just yet.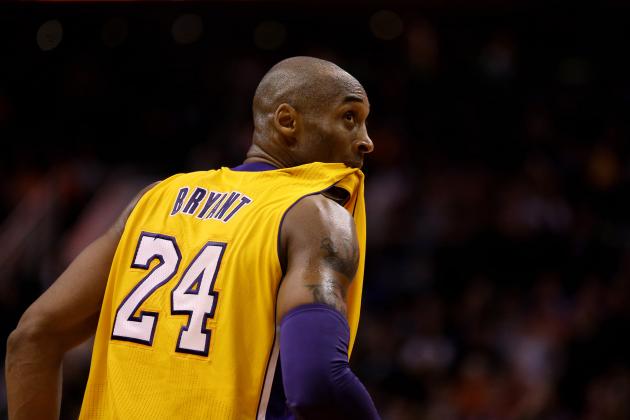 Mark J. Rebilas-USA TODAY Sports

Kobe Bryant may not be pleased with the outcome of that trade (or the Lakers' play) so far.
On an individual level, though, the Black Mamba has only bolstered his case for inclusion among the NBA's all-time greats. He led the league in scoring while posting career-best efficiency numbers for most of the first half.
Bryant's stats have since tailed off in this regard, though it's clear that he's still the best shooting guard around and one of the top players on the planet at any position, even at the age of 34. With his recent turn as "Point God," Kobe has managed to dispel many of the prevailing myths about his selfishness while reinventing his entire game for the good of his team.
Sure, Bryant's defense has been lackluster at best, but even that (along with the team's overall stench) can't wipe out just how good he's been while carrying the Lakers through a disappointing first half.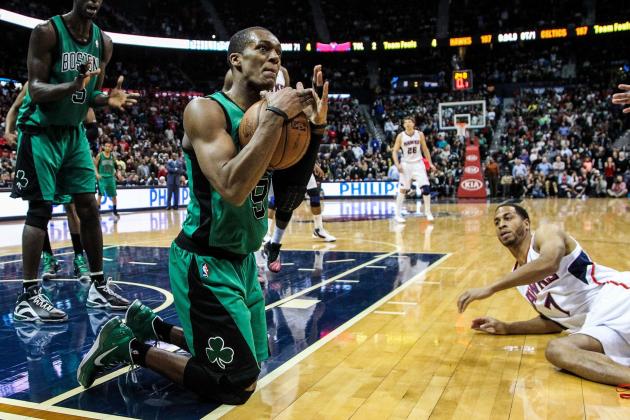 USA TODAY Sports

At least Kobe can take comfort in knowing that his Lakers aren't the only historic squad to have fallen short of great expectations so far.
The Boston Celtics, too, have seen their fortunes fade faster than anyone originally anticipated. They came into the 2012-13 campaign with high hopes after nearly sneaking into the 2012 NBA Finals and retooling their roster with a deeper, younger group, particularly in the backcourt.
But Avery Bradley's slow recovery from double shoulder surgery set this squad back defensively, and the loss of Ray Allen to the rival Miami Heat made it tough for the C's to find proper spacing on offense. Not even resurgent seasons from Paul Pierce and Kevin Garnett could make up for Jason Terry's ineptitude off the bench and Rajon Rondo's only part-time superstardom.
Losing Rondo for the rest of the season to a torn ACL (and rookie Jared Sullinger to back surgery) seemed to ensure Boston's total collapse, though the team has strung together three wins in a row sans Rajon.
Still, this squad clearly isn't about to contend for a title. That's led many to call for the Celtics to "blow it up" and begin a long, slow and painful rebuilding process.
Certainly not what Danny Ainge (and Bill Simmons) had in mind.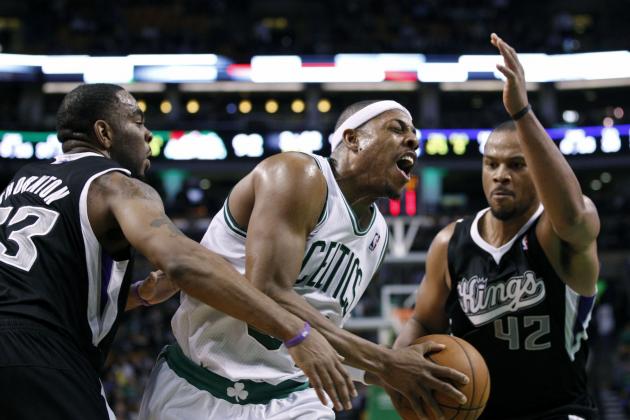 USA TODAY Sports

So many of those calls for roster detonation inevitably lead to the same, sad conclusion: If the Celtics were to hold a "fire sale," Paul Pierce would probably be the first to go.
He's been the Celtics' most/only productive offensive player, even at the age of 35. He's also much easier to move since he doesn't have a no-trade clause in his contract, unlike Kevin Garnett.
That Pierce's contract is only partially guaranteed (for $4 million) in 2013-14 makes him particularly intriguing for a title contender—like, say, the Los Angeles Clippers—in need of a solid veteran presence on the perimeter.
Of course, that would mean prying Pierce from the only organization he's ever known, and the one in whose history books he stands as the second-leading scorer—behind only John Havlicek and ahead of Larry Bird, Robert Parish and Kevin McHale. It would also mean taking The Truth away from a fanbase in whose eyes he is and will always be a legend.
Plus, how weird would it be to see Pierce in anything but Celtics green?
For the sake of the basketball world, let's hope Boston's downturn doesn't result in Pierce's untimely departure.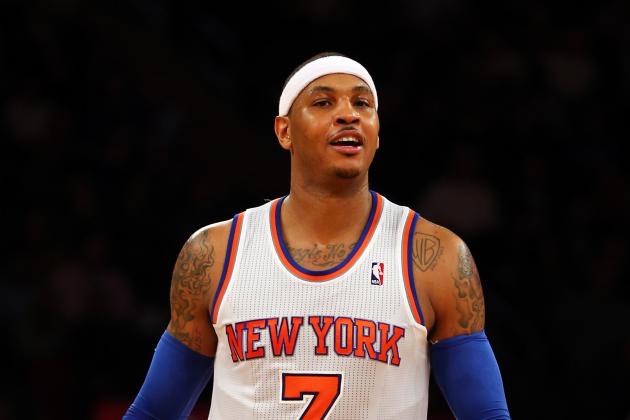 Elsa/Getty Images

Carmelo Anthony, on the other hand, won't be leaving the Big Apple any time soon.
After slogging his way through his first season-and-a-half with his hometown team and even inspiring some folks to consider (if not encourage) his ouster, Anthony has finally established himself as the superstar the New York Knicks have been longing for.
'Melo's on pace to set career highs in points (29.1) and three-point percentage (41.6). He's done a fantastic job of moving the ball when he's not busy scoring, even though his assist numbers (2.7 per game) would suggest otherwise.
More importantly, the Knicks look like a legitimate threat to go deep into the playoffs for the first time in more than a decade. Anthony's improved play on both ends of the floor, along with his growth as a leader in the locker room, has catalyzed that progression.
It also has him in the running for MVP.
Christian Petersen/Getty Images

It's tough to tell whether the legendary "Clipper Curse" is in remission or stronger than ever. On the one hand, the Clippers are well on their way to the most successful season in franchise history.
They're 34-14, good enough for third in the competitive Western Conference. Their roster is stacked from top to bottom with legitimate, productive pros who are ready, willing and able to take this club from league laughingstock to title contender.
On the other hand, Chris Paul's knee is giving him trouble. So are Chauncey Billups' foot and Matt Barnes' temper.
Clearly, though, the greatest concern rests with CP3. He's the undisputed leader of this team and a top-five MVP candidate in the NBA this season. L.A. can challenge the Thunder and Spurs for supremacy out West with him, but it will have a snowball's chance in you-know-what of surviving past the second round of the playoffs without him.
This may well be the ultimate test of the Clipper Curse's staying power.
If Paul comes back healthy in time for the playoffs and the Clips do some serious work, perhaps the curse will have been broken. But if his knee (surgically repaired in the past) proves troublesome for too long, the franchise's hex will likely be deemed alive and well.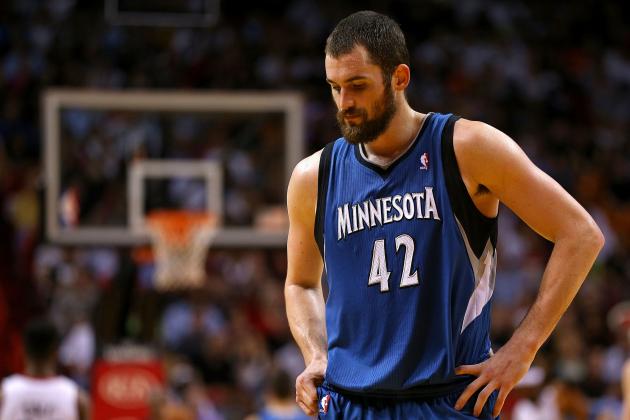 Mike Ehrmann/Getty Images

Contrary to popular belief, now isn't the best time to be young and talented in the NBA, what with the way the injury bug has been getting around recently.
Kevin Love spent most of the season sidelined by broken bones in his hand. Kyrie Irving was set back by a similar injury and has been in and out of the Cleveland Cavaliers lineup with a myriad maladies. Rajon Rondo and Lou Williams are both done for the year with torn ACLs.
The two best centers in the league—Dwight Howard and Andrew Bynum—have been limited by back, shoulder and knee problems. Stephen Curry's ankle remains as bum as ever.
And let's not forget about the ligament tears suffered last season by Ricky Rubio, Iman Shumpert and, of course, Derrick Rose. The former two are back in action after long, painful recoveries, and the latter is due to return after the All-Star break.
Of course, injuries aren't limited to the under-30 crowd and certainly don't discriminate by age. Still, breaks, tears, sprains and bruises seem most devastating to the basketball world at large when they strike the young.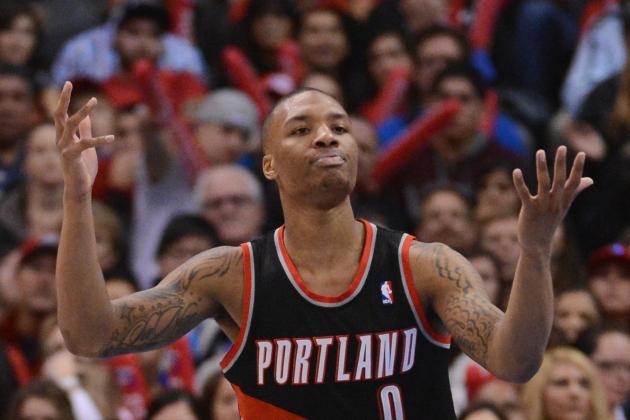 Harry How/Getty Images

It seems like only yesterday that the Portland Trail Blazers were a mess unto themselves. LaMarcus Aldridge was hurt, Jamal Crawford and Raymond Felton were both mired in the worst seasons of their respective careers, and the Blazers were collapsing in the wake of Nate McMillan's ouster.
But the deadline deal that sent Gerald Wallace to the then-New Jersey Nets netted the Blazers the No. 6 pick in the 2012 NBA draft, which the team promptly turned into rookie sensation Damian Lillard.
He leads all first-year players in points (18.1) and assists (6.5) while propping himself up as the early favorite for Rookie of the Year honors.
Lillard is but one of five steady-to-spectacular contributors in Rip City these days. Aldridge is back in the All-Star Game, Nicolas Batum is finally living up to his considerable potential (and his massive new deal), J.J. Hickson has morphed into a double-double machine and Wesley Matthews has emerged as a sharpshooting assassin, particularly in crunch time.
The only problem? All five of those guys start in Portland. The Blazers bench, meanwhile, is by far the least productive in the NBA today.
Not to worry, though. The Blazers are already well ahead of schedule in their rebuilding project and now sport the sort of quality core that can keep LMA happy in PDX for years to come.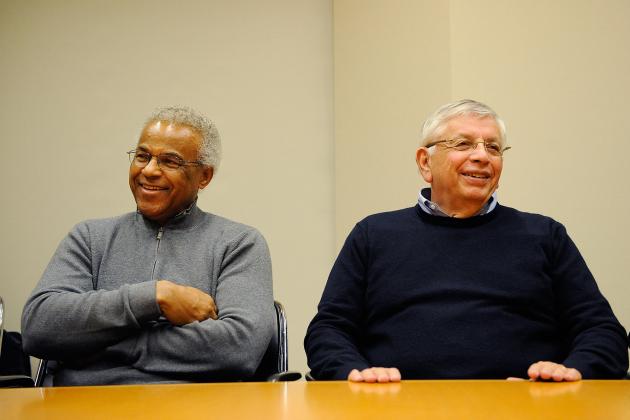 Patrick McDermott/Getty Images

The new collective bargaining has been hard at work shaping the way teams do business this season.
The implications of a more punitive luxury tax and stricter salary-cap rules led the Thunder to deal James Harden to the Rockets in October and the Memphis Grizzlies to offload Rudy Gay to the Toronto Raptors at the end of January.
By the same token, those same rules have hurt the hard-luck Boston Celtics in their pursuit of help without Rajon Rondo and left the Los Angeles Lakers to wonder whether a future with Dwight Howard in the middle is what's best for the franchise.
That, in the end, is what the owners wanted all along. To be sure, they pushed for ways to limit their own costs and obligations, first and foremost. But they also sought to spread talent around more evenly and have seen that dream come to fruition in certain instances.
Whether that's good or bad for the NBA itself remains to be seen. For now, though, it's made following HoopsHype and the like that much more interesting for basketball junkies.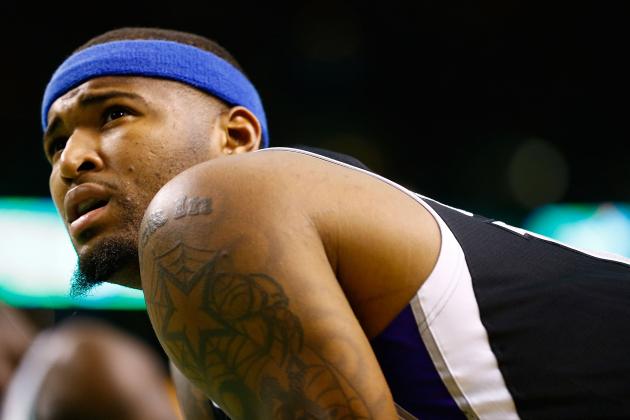 Jared Wickerham/Getty Images

Are the Sacramento Kings staying, or are they moving up north to become the Seattle SuperSonics 2.0?
There remains no definitive answer to that question, though it seems likely that the Maloofs will wind up selling the team to a group of investors led by hedge-fund mogul Chris Hansen and Microsoft CEO Steve Ballmer.
The goal of that collection of powerbrokers is to bring pro basketball back to the Emerald City, where the Sonics were ripped away by Clay Bennett and Co. to become the Oklahoma City Thunder. Losing the Kings would be devastating for the city of Sacramento, since they constitute the only major professional sports franchise in California's capital.
But even if the Kings wind up in the hands of local magnates like Ron Burkle and Mark Mastrov, the changeover won't have come without serious consequences. The 2012-13 season was likely lost for the Kings already, given the mish-mosh of me-first shooters and slovenly bigs on the roster.
However, the dark cloud of relocation that's hung over the team all season hasn't made it any easier for the Kings to string together any sort of positive momentum as they look to turn the franchise's forlorn fortunes around.
Stay or go, then, there will be no true winners in all of this. At best, there will be a destitute franchise left to play in front of disappointed fans at a dilapidated arena outside of Sacramento.
At worst, those same disappointed fans will be left lonely and abandoned while the good folks of Seattle rejoice.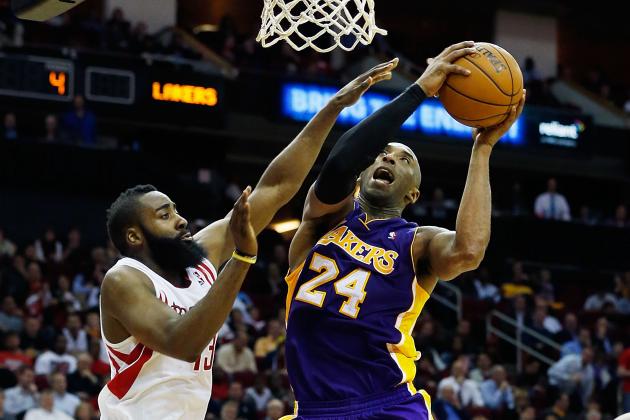 Scott Halleran/Getty Images

Kings fans aside, it would seem that most (if not all) who enjoy basketball have won big so far this season. The long malaise of the 2011 lockout has long since dissipated, leaving behind no shortage of exciting and compelling hoops to keep the masses happy through the spring.
The drama in Boston and Lakerland has done plenty to fuel the NBA's underlying web of soap-operatic storylines. So, too, has Ray Allen's move to South Beach, Josh Smith's on-again, off-again relationship with the Atlanta Hawks and Kevin Love's all-too-public falling-out with the Minnesota Timberwolves.
For those who prefer actual basketball to off-court conflicts, there's been plenty of which to keep track. The rise of young stars like Kyrie Irving, James Harden, Jrue Holiday and Paul George—coupled with the continued dominance of Kobe Bryant, Tim Duncan, Kevin Garnett and Paul Pierce—has given way to a sort of battle between basketball's generations throughout the campaign.
Only on the fringes, of course. This sport still belongs to LeBron, and watching him blossom into the all-time great that his talent would portend has been the greatest joy of all to watch.