NBA Power Rankings: Grading Every Team's Performance Thus Far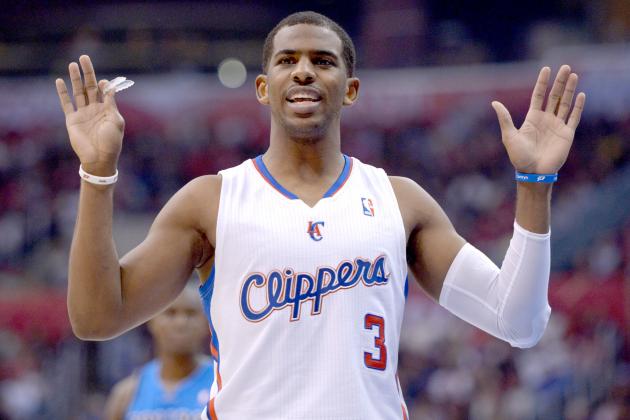 USA TODAY Sports

The picture at the top of the NBA just continues to get muddied up, and you'll see that in the latest edition of the NBA Power Rankings.
More than a few teams have established themselves as contenders while the wannabes are slowly being exposed, but only a select group has started to emerge as truly elite.
A lot has changed since the last edition of these power rankings, which came back on Dec. 20.
So, has your favorite team risen or fallen? How do they stack up against the rest of the squads in the Association?
For the answers to those questions, as well as grades for each team's performance thus far, you'll have to read on.
Note: All stats, unless otherwise indicated, are current through Jan. 10.
Begin Slideshow

»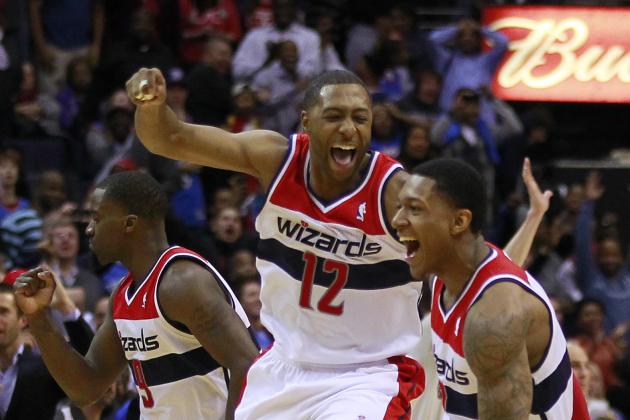 Geoff Burke-USA TODAY Sports

Record: 5-28
Last 10 Games: 2-8
Last Five Games: 1-4
John Wall—especially a potentially out-of-shape John Wall—isn't going to be the savior for an almost completely incompetent Washington Wizards squad. He'll help, but he won't turn things around entirely.
The only thing that can really help the Wizards is playing elite teams, apparently. Two of the team's five victories have come against the Oklahoma City Thunder and Miami Heat.
Maybe it would help if everyone looked past them.
Grade: C-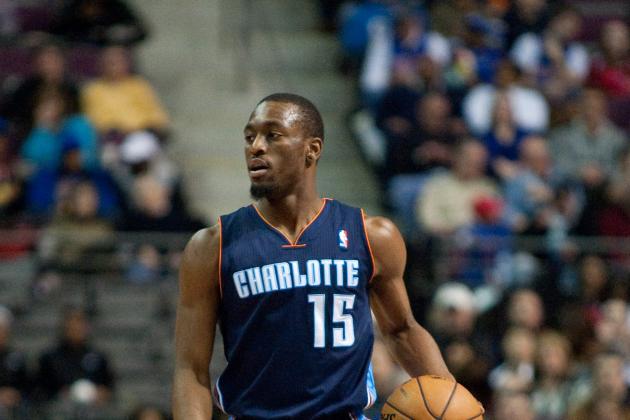 Tim Fuller-USA TODAY Sports

Record: 9-25
Last 10 Games: 2-8
Last Five Games: 2-3
Before the shocking 91-81 victory over the Chicago Bulls in the United Center, the Charlotte Bobcats were looking like, well, the Charlotte Bobcats. Gone was the team that sprinted out to a 7-5 start.
In fact, that version was so far in the dust that the dust had settled.
Since then, the Kemba Walker-led Bobcats have managed to win an overtime contest on the road against the Detroit Pistons and have generally kept things at least relatively close.
Charlotte is by no means ready to even dream of a playoff spot, but it still isn't quite back in the league's cellar.
Grade: C+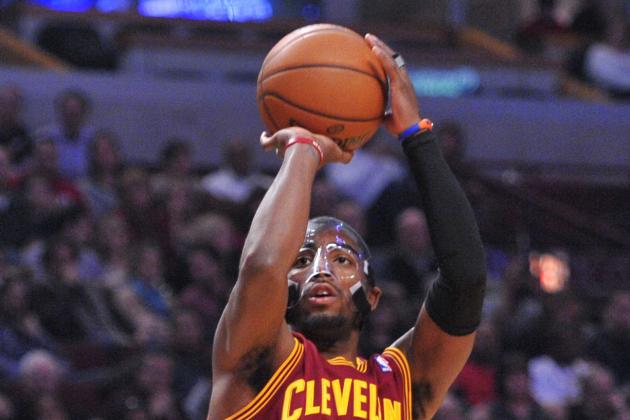 Rob Grabowski-USA TODAY Sports

Record: 9-28
Last 10 Games: 4-6
Last Five Games: 2-3
Losing Anderson Varejao for around two months is going to be a tough blow to overcome for a Cleveland Cavaliers team struggling to stay afloat.
As well as Kyrie Irving is playing, and even with Tristan Thompson performing admirably, there just isn't enough talent in Cleveland right now. Dion Waiters and a few other guys could stick around, but it's quite clear that this team is in need of a makeover.
Cleveland managed to earn a surprising win over a slumping, but talented, Atlanta Hawks squad on Jan. 9. Now we get to figure out whether or not the Cavs can consistently perform well.
Grade: C+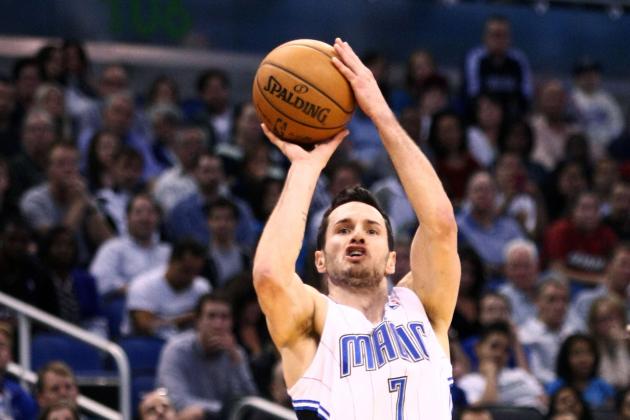 Douglas Jones-USA TODAY Sports

Record: 12-23
Last 10 Games: 0-10
Last Five Games: 0-5
Now that the sample size isn't too small anymore, the Orlando Magic have become exactly who we thought they would be going into the 2012-13 season.
Once 12-13, the new-look Magic have now lost 10 games in a row against an admittedly difficult gauntlet of opponents. With games against the Charlotte Bobcats and Washington Wizards coming up, the Magic could end the streak of futility soon, but there's no guarantee.
Not everything has been negative in Orlando, though. J.J. Redick has been lighting it up from downtown, and Nikola Vucevic continues to emerge as one of the league's up-and-coming centers.
Grade: B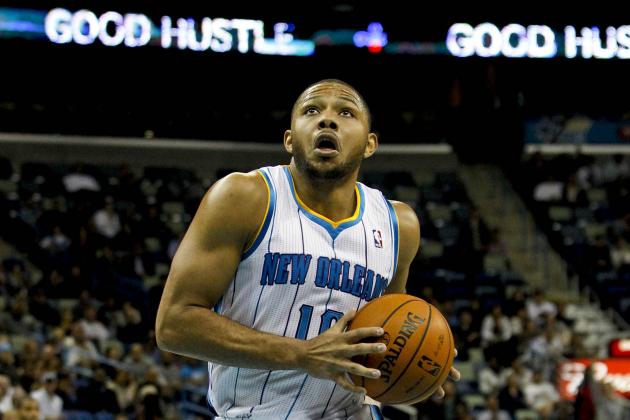 USA TODAY Sports

Record: 10-25
Last 10 Games: 5-5
Last Five Games: 3-2
Even though Eric Gordon hasn't looked particularly impressive, the New Orleans Hornets have been winning basketball games while he's on the court. Since he returned from his prolonged knee injury, the Hornets have gone 4-1, including impressive wins over the San Antonio Spurs and Houston Rockets.
As Gordon is averaging only 15.6 points, 1.8 rebounds, 4.4 assists, 0.6 blocks and 1.0 steals per game on 32.5 percent with a 12.33 PER, this is probably more correlation than causation.
Still, with the superstar returning and Greivis Vasquez, Ryan Anderson, Robin Lopez and Anthony Davis, things are finally looking good in New Orleans.
Grade: C+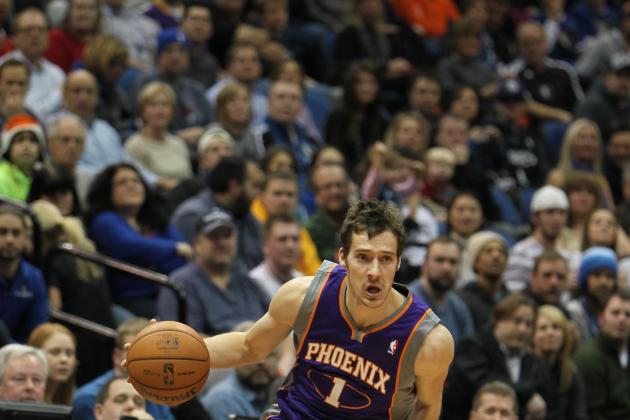 Brace Hemmelgarn-USA TODAY Sport

Record: 12-25
Last 10 Games: 1-9
Last Five Games: 1-4
The Phoenix Suns have mustered up only a single win—a 95-89 victory over the Philadelphia 76ers—in their last 11 tries. More than anything else, the offense has just been struggling tremendously.
Goran Dragic continues to play well, but fans in the desert would probably like it if the other members of the Suns would turn it up a notch.
For a great look at the Suns' locker-room problems, I'd highly recommend checking out Zach Buckley's piece on Bleacher Report.
Grade: C+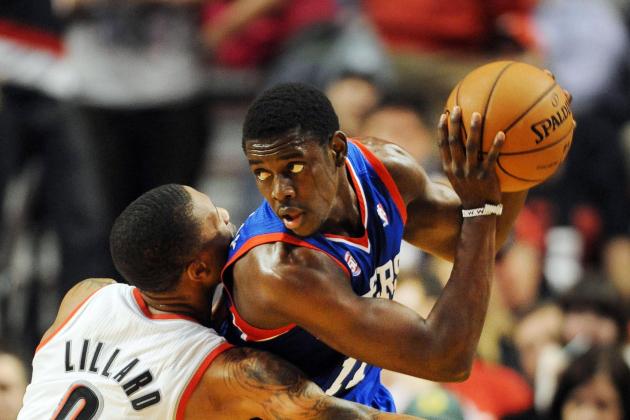 Steve Dykes-USA TODAY Sports

Record: 15-22
Last 10 Games: 2-8
Last Five Games: 0-5
Jrue Holiday has continued to find success whenever he takes the court, but his mates on the Philadelphia 76ers haven't been able to live up to the expectations lately. Evan Turner, in particular, is struggling with his shot.
The Sixers enjoyed a fairly promising start to the season; although that .500 start through 24 games is looking like a figment of the imagination at this point.
Maybe having Andrew Bynum back would be helpful.
Grade: C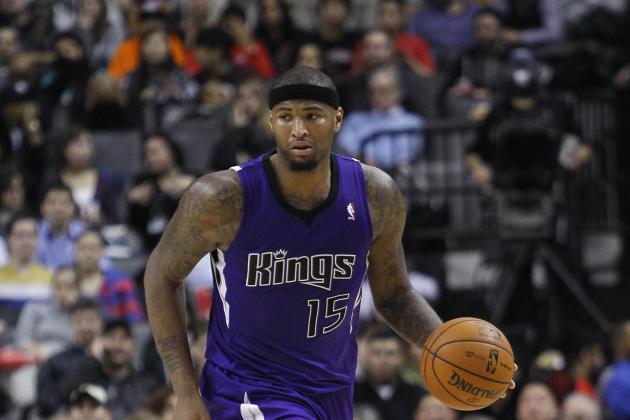 USA TODAY Sports

Record: 13-23
Last 10 Games: 5-5
Last Five Games: 2-3
Things appeared promising for the now-Sacramento Kings, but a three-game losing streak culminating in an overtime loss to the Dallas Mavericks proved that DeMarcus Cousins and the rest of the players on this team aren't ready to turn the corner.
Boogie has been playing well when not suspended, and the guards have performed admirably in their ridiculous time shares, but the chemistry still isn't conducive to victorious basketball.
Until the Kings make a major move—personnel, not location—it's hard to envision them having much success.
Grade: C+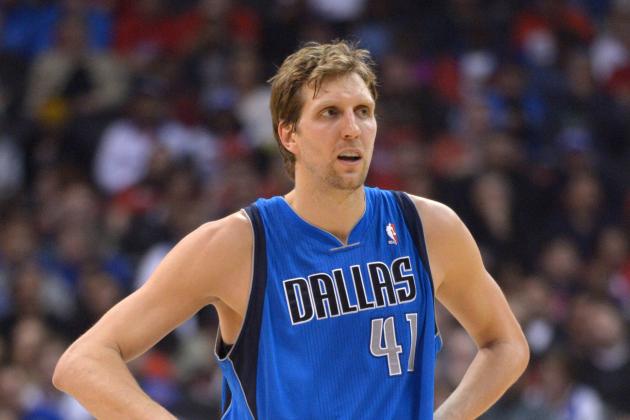 USA TODAY Sports

Record: 14-23
Last 10 Games: 2-8
Last Five Games: 1-4
Dirk Nowitzki may be back and regaining his old skills, but the veteran power forward isn't going to be enough to help right the ship for the Dallas Mavericks. A playoff spot remains highly unlikely.
O.J. Mayo is starting to regress, and fans around the NBA are quickly starting to realize that there just isn't all that much talent present on the roster. Mark Cuban is going to need to change things up dramatically in the near future if he hopes to win another ring anytime soon.
The Mavs have only won two of their past 12 games, and those victories have come in overtime against the Sacramento Kings and against the lowly Washington Wizards.
Grade: C-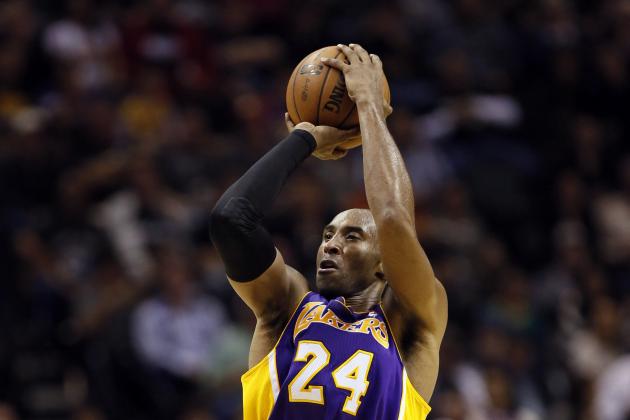 USA TODAY Sports

Record: 15-20
Last 10 Games: 4-6
Last Five Games: 0-5
Things are ugly in the Staples Center when the Los Angeles Lakers are the home team. Although, come to think of it, the same can be said when the Lakers are the visiting team and the Los Angeles Clippers are wearing the home uniforms.
Kobe Bryant has kept up his torrid offensive pace—playing some of the best basketball of his career on that end of the court—but his defense has been rather lacking. He's not the only player failing to produce on defense, though.
Despite the never-ending stream of injuries, the Lakers have consistently played well on offense, but they've struggled to stop their opponents from putting up gaudy point totals.
Grade: F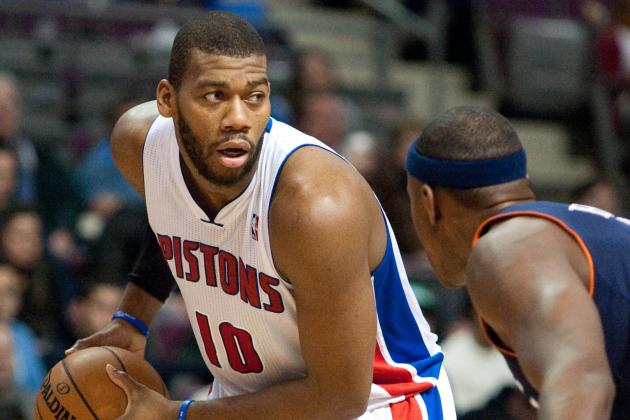 Tim Fuller-USA TODAY Sports

Record: 13-23
Last 10 Games: 6-4
Last Five Games: 4-1
Amazingly enough, the Detroit Pistons are a few unlucky bounces away from an eight-game winning streak. If just a few extra shots had fallen against the Atlanta Hawks and Charlotte Bobcats—thereby preventing two overtime losses—the Pistons wouldn't have lost since Dec. 19.
For the most part, the schedule hasn't been overwhelmingly difficult, but the almost-streak did include a victory over the Miami Heat.
Greg Monroe in particular has played well. The team's best player struggled a bit during December, but he's stepped it up during the end of 2012 and put up 18 points in each of the first three games in January.
Grade: B-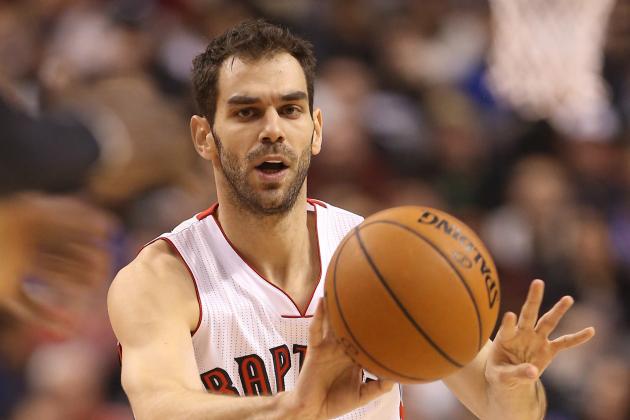 Tom Szczerbowski-USA TODAY Sport

Record: 13-22
Last 10 Games: 7-3
Last Five Games: 3-2
Remember when the Toronto Raptors were one of the worst teams in the league, dealing with chemistry issues and an ugly 4-19 record?
If that seems like it's a long time ago, it's because it was.
Since that 94-88 loss to the Brooklyn Nets, the Jose Calderon-sparked Raptors have gone 9-3 and are closing in on the Philadelphia 76ers in the Atlantic Division.
Grade: C+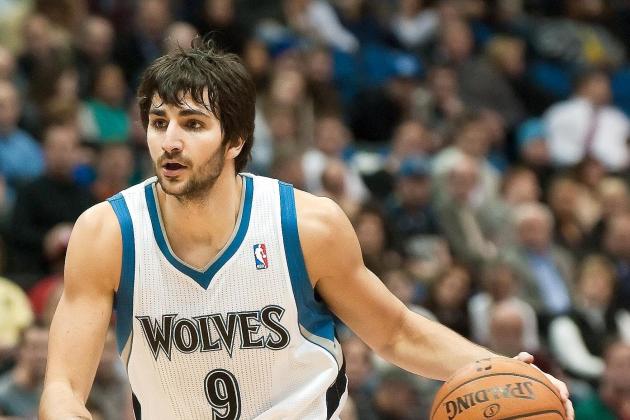 Greg Smith-USA TODAY Sports

Record: 16-16
Last 10 Games: 4-6
Last Five Games: 2-3
The Minnesota Timberwolves just can't catch a break.
Well, actually, Kevin Love can. But you know what I mean.
Even with Ricky Rubio returning to form, Derrick Williams starting to show some promising signs, Andrei Kirilenko continuing to play underrated basketball on both ends of the court and Nikola Pekovic pushing everyone around, the Wolves aren't going to remain in playoff contention without Love.
The team has gone 1-2 since his injury, and it will be a struggle to remain at or above .500 for the next few months.
Grade: B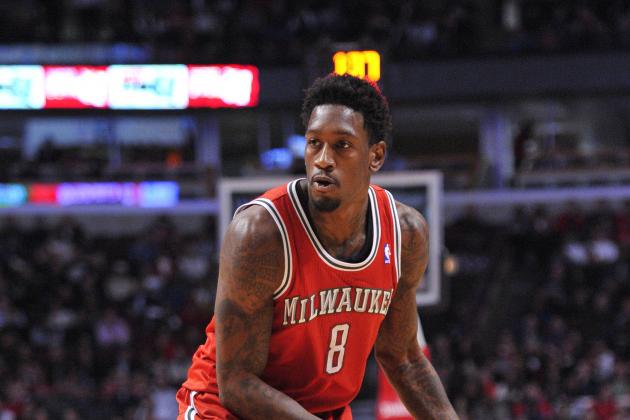 Rob Grabowski-USA TODAY Sports

Record: 18-16
Last 10 Games: 5-5
Last Five Games: 2-3
If you haven't watched Larry Sanders play for the Milwaukee Bucks yet, go ahead and change that as soon as you can. You'll enjoy watching him, although not quite to the same extent that the Bucks enjoy having him on the roster.
Sanders has been a block machine in the frontcourt, and his defensive presence has complemented the offensive prowess of Brandon Jennings and Monta Ellis in the backcourt quite well.
This team could make a bit more noise if Ersan Ilyasova starts living up to the preseason expectations.
Grade: B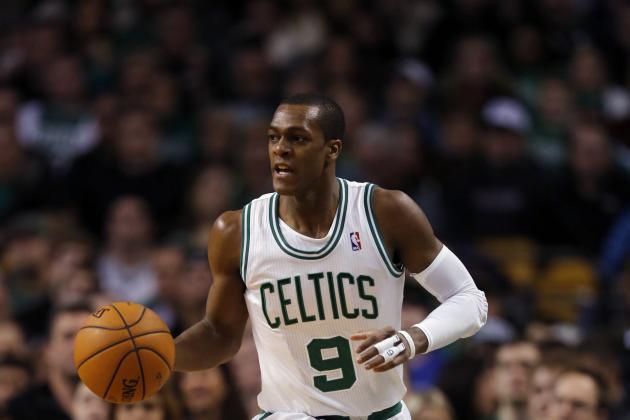 Greg M. Cooper-USA TODAY Sports

Record: 18-17
Last 10 Games: 5-5
Last Five Games: 4-1
Things have been looking up for the Boston Celtics, who are on a four-game winning streak.
Rajon Rondo hasn't been quite up to the level that he started the season at, but the role players are finally starting to figure out their jobs just a little bit more. Adding Avery Bradley to the mix is only going to help.
I'm not convinced that these C's can truly compete with the elite teams in the Eastern Conference over a prolonged period, but they aren't going to be too far away if things continue trending in a positive direction.
Grade: B-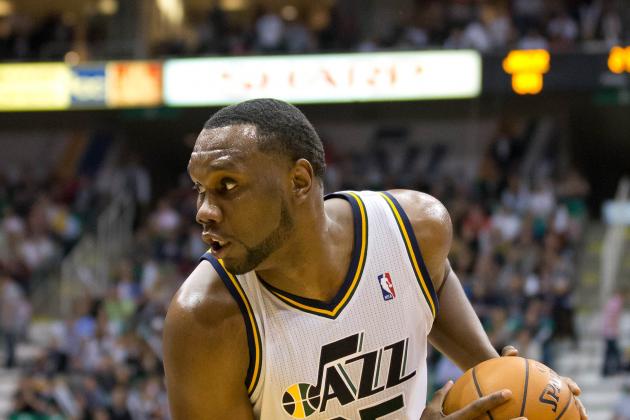 USA TODAY Sports

Record: 19-18
Last 10 Games: 5-5
Last Five Games: 4-1
It may be hard to believe, but Al Jefferson and the Utah Jazz are better than their 19-18 record would indicate. Dec. 14, when the team dropped a game to the Phoenix Suns, was the date of the squad's last bad loss.
Sure, the Jazz have lost seven times since then, but they've all been to top-notch teams.
This is a very deep team, one in possession of a roster filled with established low-level stars and bench players with the potential to break out in a big way at any moment.
Grade: B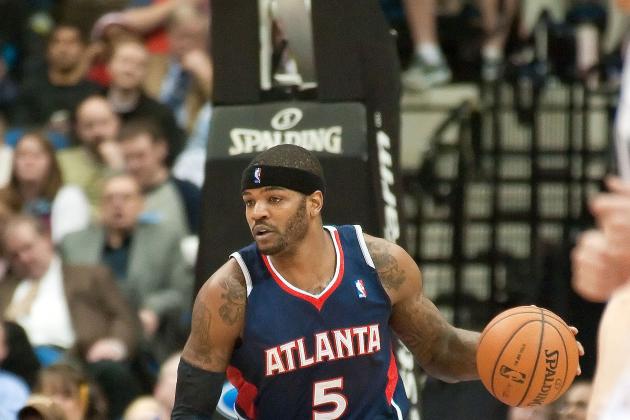 Greg Smith-USA TODAY Sports

Record: 20-14
Last 10 Games: 5-5
Last Five Games: 1-4
The lack of scoring ability and the difficulty they've had slowing down opposing big men on the glass has started to catch up to the Atlanta Hawks.
After surprising many at the start of the 2012-13 season and inserting their name in the conversation at the top of the Eastern Conference, the Hawks have started to slump. Josh Smith and Co. have dropped five of their last six games, including inexplicable failures against the Detroit Pistons, Kevin Love-less Minnesota Timberwolves and Cleveland Cavaliers.
Playing a few more games at Philips Arena should help out, but the Hawks must make a concerted effort to improve on the glass.
Grade: B+
USA TODAY Sports

Record: 20-15
Last 10 Games: 7-3
Last Five Games: 4-1
Led by LaMarcus Aldridge and standout rookie point guard Damian Lillard, the Portland Trail Blazers are proving that success can be found even when your bench is a relative non-factor. Hell, you can even beat the defending champions.
Meyers Leonard has the top PER off the bench through Wednesday, Jan. 9, posting a 13.0 in his first campaign. Luke Babbitt's 10.7 is the only other PER off the pine in double figures.
Ouch.
Yet despite the inadequacy of the second unit, the starters have still managed to make the Blazers into a strong contender for the playoffs in the Western Conference.
Grade: A-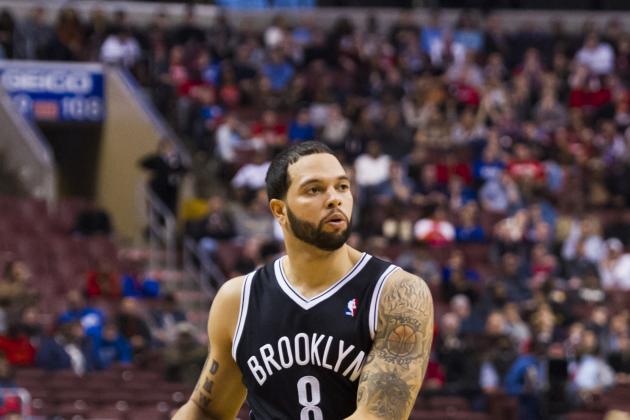 USA TODAY Sports

Record: 20-15
Last 10 Games: 7-3
Last Five Games: 4-1
The Brooklyn Nets are finally starting to figure things out during their first season outside of New Jersey. As a result, they've been steadily climbing up the ranks of the Eastern Conference.
Just imagine what could happen if Deron Williams and Gerald Wallace finally start living up to the expectations. Brook Lopez and the role players have already exceeded them, after all.
The defense in particular has been clicking, which is somewhat surprising since Lopez plays such a large part in the team's performances.
Grade: A-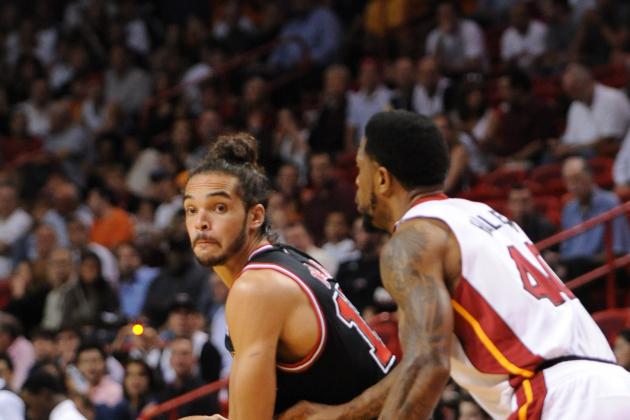 USA TODAY Sports

Record: 19-14
Last 10 Games: 6-4
Last Five Games: 3-2
Here's a stat I bet most of you didn't know: In the Eastern Conference, only the New York Knicks have put together a better in-conference record than the Chicago Bulls' 15-6 mark to start the season.
Joakim Noah's well-rounded play and intensity coupled with Luol Deng's ability to put his body at risk and contribute throughout the game at a high level have done wonders for Tom Thibodeau's squad while Derrick Rose continues to recover from his torn ACL.
When the former MVP returns to the lineup, even if his game isn't quite where it used to be, this will be a team to look out for in the postseason.
Grade: A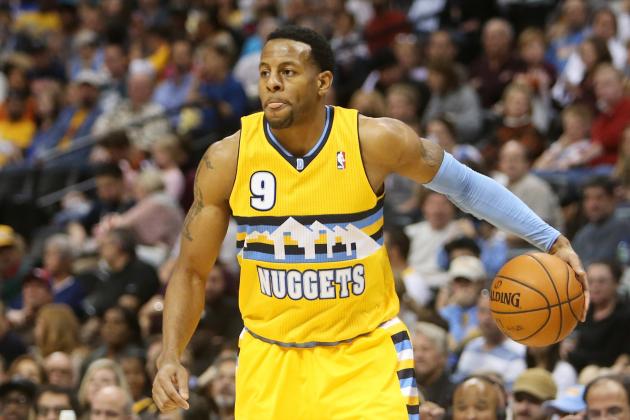 Chris Humphreys-USA TODAY Sports

Record: 21-16
Last 10 Games: 7-3
Last Five Games: 4-1
Now this is the version of the Denver Nuggets that all of us stat nerds were expecting to see once Andre Iguodala joined the team.
Iggy still hasn't been able to consistently find his shot, but his defensive abilities on the perimeter and versatility on the other end of the court have both proved to be beneficial during the Nuggets' hot start to the new year.
Of course, not having to play what seems like every single game on the road might have something to do with that as well.
Grade: B+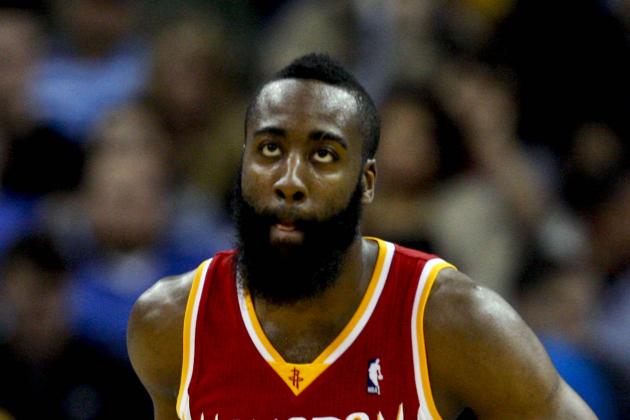 USA TODAY Sports

Record: 21-15
Last 10 Games: 7-3
Last Five Games: 4-1
It's true that James Harden's offensive responsibilities have resulted in a decreased level of defensive play, but that's not of much concern right now for the Houston Rockets.
Things are clicking for this team, and it's due primarily to the exploits of the bearded shooting guard. He's proving on a nightly basis that his scorching start to the 2012-13 season was no fluke.
He's scored at least 25 points in 14 straight games and is showing no signs of slowing down while maintaining his trademark efficiency. Harden's field-goal percentage might not be sky high, but his three-point shooting and ability to get to the free-throw line and convert on the freebies makes up for his missed shots.
Grade: A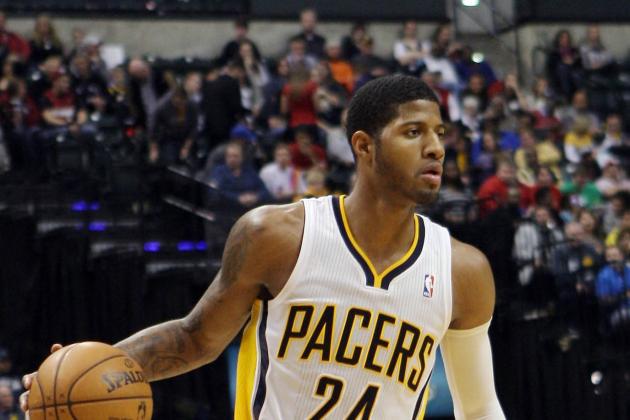 USA TODAY Sports

Record: 22-14
Last 10 Games: 8-2
Last Five Games: 4-1
Even though Roy Hibbert still can't make a basket with anything even resembling consistency, the Indiana Pacers have started to pick things up and take their rightful place among the Eastern Conference elite.
Paul George, who has finally started to live up to the lofty preseason expectations, has been a major part of the rise. His well-rounded game has helped the Pacers win back-to-back-to-back games against the Milwaukee Bucks, Miami Heat and New York Knicks—although the Knicks were playing without Carmelo Anthony.
Defense and rebounding have been the keys for the Pacers, and they ranked first and second in rebounds and points allowed per game, respectively, going into the showdown with the Knicks.
Grade: A-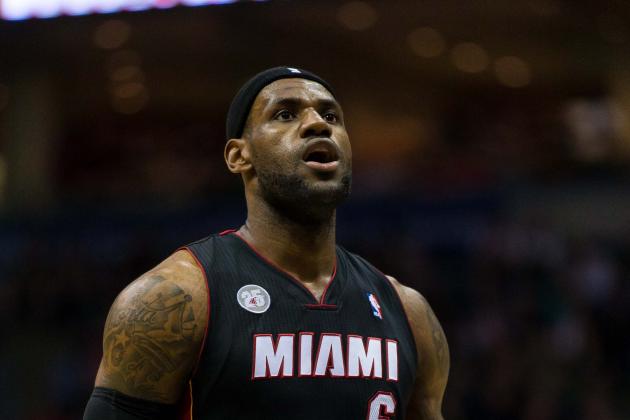 Jeff Hanisch-USA TODAY Sports

Record: 23-11
Last 10 Games: 5-5
Last Five Games: 2-3
It's not time to panic yet, but the Miami Heat have struggled quite a bit over their past eight games. That stretch has included five losses and two overtime victories. Nothing has been easy for the defending champions.
LeBron James is playing even better offensive basketball than he did during last season's MVP-winning campaign, but his defense has been sloppy and, at times, uninspired. The same can be said for most of the members of the Heat.
Much has been made about the Heat's struggles to rebound the ball effectively, but they won with that formula during the 2011-12 season. The lack of defensive identity and effort is much more disconcerting, although they still remain one of the league's top squads.
If you forced me to pick a champion right now, I'd still place my bet on the Heat, but their cold stretch has necessitated a drop in the power rankings.
Grade: B+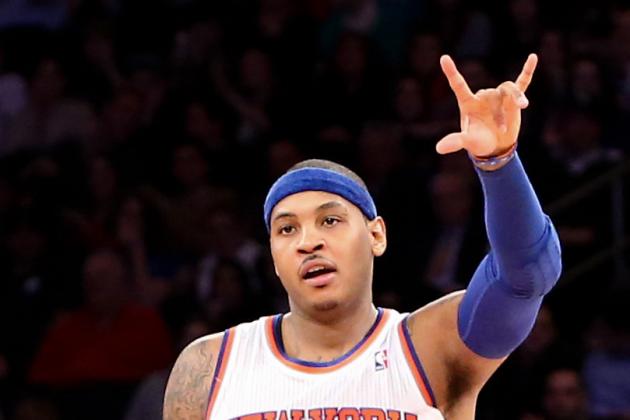 USA TODAY Sports

Record: 23-12
Last 10 Games: 4-6
Last Five Games: 2-3
The 4-6 record that the New York Knicks have mustered over their past 10 games is a bit misleading because the team has been without its unquestioned superstar for a few of the games due to injuries and an interesting suspension.
Two of the losses, and a close victory over the Phoenix Suns, came while Melo was unable to suit up and provide his normal offensive output.
The Knicks' red-hot start to the season was always a bit of a mirage due to their insane ability to knock down three-pointers and limit turnovers to historic extremes, but it's clear that this is still a team capable of winning a title.
While the holiday season knocked them down a peg or two, the Knicks are still contenders.
Grade: A
USA TODAY Sports

Record: 22-12
Last 10 Games: 6-4
Last Five Games: 3-2
As Stephen Curry continues to challenge everything we knew about how good three-point shooters could be, the Golden State Warriors continue to win games.
Neither Curry nor David Lee will end up making much noise in the league-wide race for MVP, but both players are deserving of a bit of hype. And if Jarrett Jack isn't up there for Sixth Man of the Year, it will be an absolute travesty.
A pair of losses against the Los Angeles Clippers and Memphis Grizzlies have forced the Dubs to take a step back, but it won't derail them by any means.
Grade: A+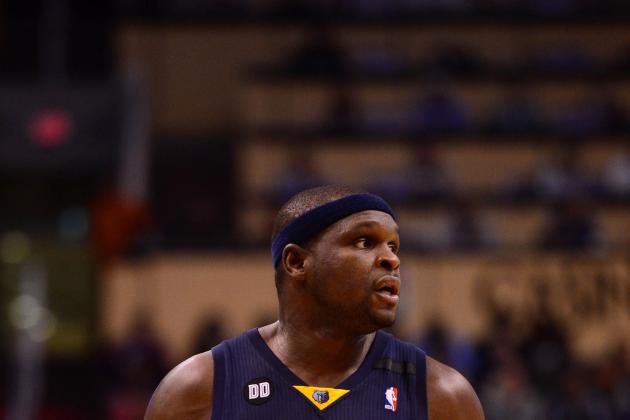 Mark J. Rebilas-USA TODAY Sports

Record: 23-10
Last 10 Games: 6-4
Last Five Games: 4-1
Yahoo! Sports reports the Memphis Grizzlies are apparently shopping Rudy Gay, while the Memphis Commercial-Appeal claims Zach Randolph also might be moved—I'd assume that Marc Gasol is almost completely off the table. Still, I highly doubt that any of them are moved while the Grizz still remain near the top of the Western Conference.
With Zach Randolph providing the energy, Gasol doing everything, Rudy Gay underwhelming but still playing solid basketball and the rest of the roster contributing, Memphis just keeps winning.
It's hard to imagine the roster shifting drastically while that remains true.
Grade: A-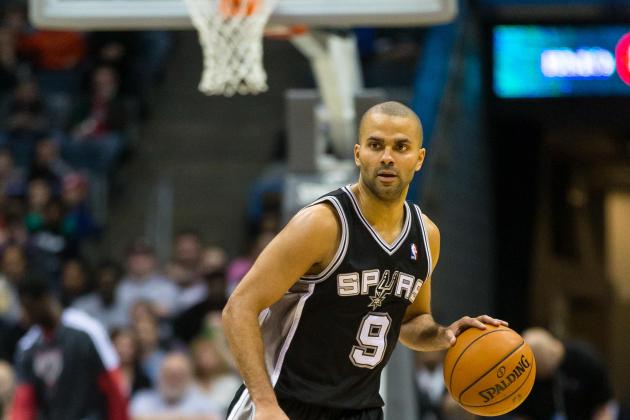 Jeff Hanisch-USA TODAY Sports

Record: 28-10
Last 10 Games: 8-2
Last Five Games: 3-2
Why do we do this to ourselves each and every year? Why is it that no one talks about the San Antonio Spurs until it's too late and the team has already established itself as one of the true elites in the Association?
Let's attempt to avoid a similar mistake during 2012-13 and actually recognize how excellent this team has been once more.
Led by a resurgent Tim Duncan and Tony Parker, who's been having a career year at point guard, the Spurs have once more become a force to be reckoned with. They've already put together three streaks of at least five consecutive wins, and they certainly won't stop there.
Grade: A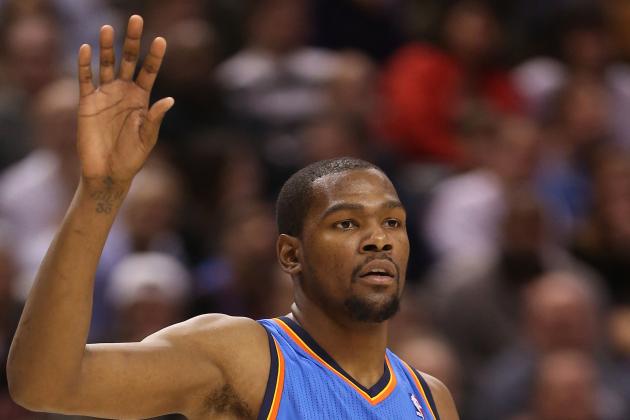 Tom Szczerbowski-USA TODAY Sport

Record: 27-8
Last 10 Games: 6-4
Last Five Games: 3-2
It's tough to stop a quartet of star players, especially when two of them happen to be Kevin Durant and Russell Westbrook. Last time I checked, both of them were fairly unstoppable on the offensive end of the court.
Durant in particular continues to be sensational as the Oklahoma City Thunder rack up the wins. He's improved as a facilitator, rebounder, defender and, scarily enough, as a scorer. If the season ended today, the NBA's second-best player would become an exclusive member of the 50/40/90 club.
If it wasn't for a shocking loss to the Washington Wizards, the Thunder would still be holding down the fort at No. 1. But now it's time for some new blood at the top.
Grade: A+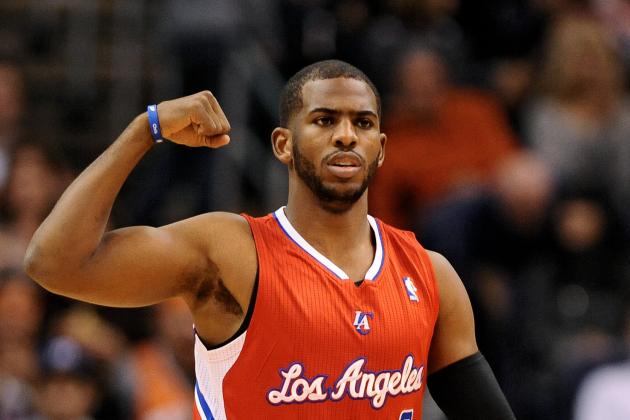 Jennifer Stewart-USA TODAY Sports

Record: 28-8
Last 10 Games: 8-2
Last Five Games: 3-2
If Chris Paul isn't at least at No. 4 on your MVP ballot, then we haven't been watching the same point guard throughout the 2012-13 campaign. The order you have Carmelo Anthony, LeBron James, Kevin Durant and CP3 is irrelevant at this point, but those four need to be the leading candidates.
We can point to the great play of Blake Griffin, the incredible success of the Los Angeles Clippers bench or a number of other factors when trying to identify the reason for the ascension of this team, but it all starts with Paul.
If they're winning, he's usually playing well. And if they're close to losing, well, let's just say that you wouldn't like him when he's angry.
Grade: A+