Ranking the Superstars in NBA's Star-Studded Christmas Showdowns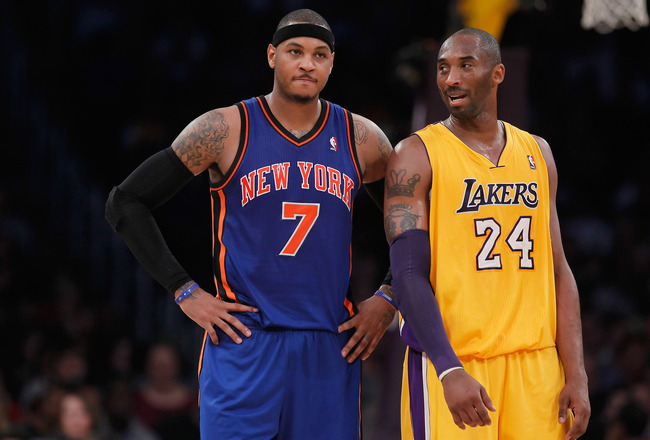 Jeff Gross/Getty Images
The NBA has given its fans a tremendous gift this holiday season, as the star-studded lineup on Christmas Day features must-see matchups throughout.
The superstars will be out in full force, as the five games on board feature perennial All-Stars almost every way you look. What constitutes a superstar is for each individual to decide, but at this point in the 2012-13 season, we have a pretty decent idea of who we want to see on national television.
The Christmas Day games are some of the best of the year, so prepare yourself for a day-long marathon of NBA stars doing what they do best.
*Statistics and standings are accurate as of Dec. 24, 2012, at 11:59 p.m. ET.
17. Steve Nash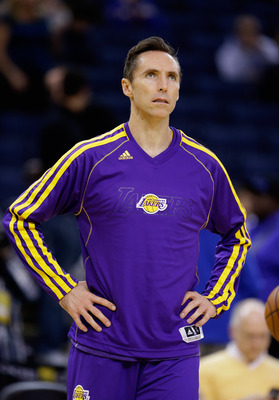 Ezra Shaw/Getty Images
2012-13 Stats: 7.0 PTS, 5.7 AST, 42.9 3PT%
Steve Nash earns the final spot on this list simply because he hasn't played in enough games to rank any higher.
The point guard has played in just three games for the Los Angeles Lakers, but fans in L.A. are excited about the possibilities. He is still a deadly three-point shooter, is a clear upgrade from the team's other facilitators and could be the guy who finally gets Pau Gasol back into a rhythm.
It's certainly possible that Nash and Kobe Bryant collide, but in the floor general's return against the Golden State Warriors, he showed that he can help create open looks for his teammates—Bryant included.
Nash could be the one who helps pull the Lakers back together, but he has to stay on the court long enough to prove it.
16. Pau Gasol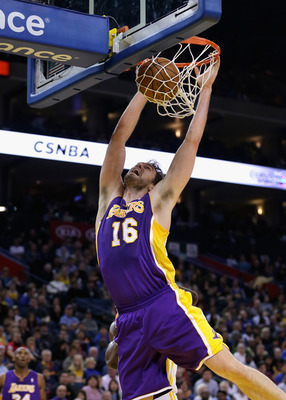 Ezra Shaw/Getty Images
2012-13 Stats: 12.3 PTS, 8.9 REB, 41.2 FG%
Pau Gasol is having the worst season of his NBA career, and if it weren't for the negative storylines surrounding him, he'd be one of the least interesting players to watch come Christmas Day.
Like Steve Nash, Gasol has dealt with injuries in the 2012-13 season. He missed eight games with tendinitis in both knees, and while he's a vital part of Los Angeles' rotation, his future with the team is seemingly always in question.
On Christmas Day, Gasol will most likely be matched up against Carmelo Anthony, who has been playing the power forward spot for the New York Knicks. Both players have skill sets that will help them take advantage on offense, but both could struggle defensively in one-on-one situations.
If Gasol can get into the paint, he'll look to score and get Anthony in foul trouble. If he can't, it's going to be another long game in what's been a surprisingly long start to his season.
15. Kevin Garnett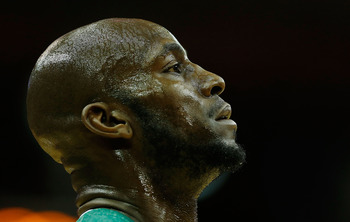 Scott Halleran/Getty Images
2012-13 Stats: 15.2 PTS, 7.0 REB, 51.7 FG%
The question of whether or not Kevin Garnett is a superstar in today's NBA is a fair one. Like Pau Gasol, his production hasn't been what it once was, but there's a reason Boston wanted him back for the 2012-13 season.
Garnett gets a lot of credit for his toughness and leadership. There's no denying that the big man is both tough and a leader, but those things are often emphasized so much that we forget he can still produce on the court.
Although his rebounding hasn't been too impressive, he is shooting the ball well and is still one of the best players on a rebuilding Boston Celtics squad.
The big man isn't as high profile as he used to be, and he certainly won't be the focus of the casual fan on Christmas Day, but he still has the ability to impact a game. You never know when he might go off, and the Brooklyn Nets had better be ready.
14. Deron Williams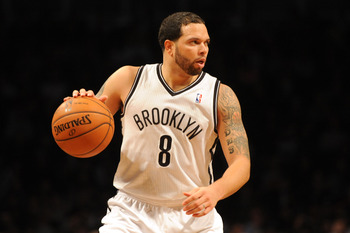 USA TODAY Sports
2012-13 Stats: 16.8 PTS, 8.1 AST, 3.2 REB
Deron Williams is one of the best point guards in the NBA, and while a bit of a slump this year won't change that, it will put him on the lower end of this list of superstars.
One of the reasons he just doesn't look like himself could be a lack of aggression. He's not taking the similarly effective shots he has in the past, and he's not getting to the rim the way we've seen throughout the years.
Williams has two players on his team who are scoring more points and shooting a higher percentage than he is. While neither Joe Johnson nor Brook Lopez should be considered true superstars, they're both producing on a near equal level as the All-Star point guard.
Williams needs to assert himself as the star of this team to have success, and there's no better time to start than Christmas Day against the Boston Celtics.
13. Paul Pierce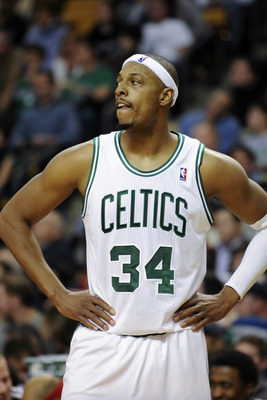 USA TODAY Sports
2012-13 Stats: 21.0 PTS, 5.7 REB, 3.7 AST
The Boston Celtics said goodbye to Ray Allen in the 2012 offseason, and while their record isn't what they were hoping for, Paul Pierce is having a great season as the team's No. 1 scorer.
The 35-year-old small forward is averaging his highest points-per-game average since the 2006-07 season, which ironically enough was the last time the team played a whole year without Allen.
He is also rebounding the ball at his usual rate, and he doesn't appear to be slowing down too much as he never played with great athleticism to begin with.
Pierce began the season shooting the ball inefficiently, but he's gotten hot as we head into the matchup between the Celtics and the Brooklyn Nets.
12. Chris Bosh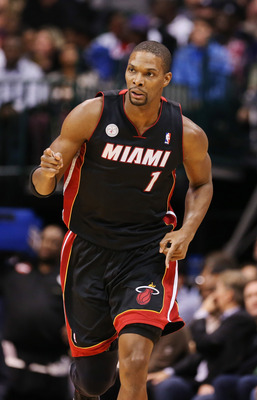 Kevin Jairaj-USA TODAY Sports
2012-13 Stats: 18.0 PTS, 7.9 REB, 1.3 BLK
Chris Bosh may be the lowest-ranked Miami Heat player heading into the Christmas Day lineup, but that's more a testament to how his superstar teammates have played, not a knock on his own performance.
Bosh has made the transition to center, and he's done it more effectively than most would have imagined. His numbers are right on par with what he posted in the 2011-12 season, yet he's taking two fewer shots per game.
Seeing his defensive stats jump back up above one block per game is great, but it's his efficiency on offense that has been the biggest improvement.
The big man has begun drifting away from the basket as the season has progressed, but he is shooting a career-high 54.8 percent from the field, and he's helping spread the floor with his ability to draw big men to the outside.
11. Dwyane Wade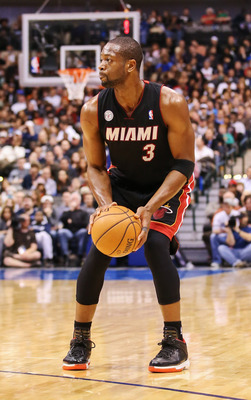 Kevin Jairaj-USA TODAY Sports
2012-13 Stats: 19.7 PTS, 4.6 AST, 3.9 REB
Dwyane Wade may not be putting up the kinds of numbers we've seen from him in the past, but the truth is that he doesn't have to with LeBron James asserting himself as the clear-cut leader of the Miami Heat.
Despite his points being as low as they've been since his rookie season, Wade is shooting the ball at a high percentage. He is shooting 51.5 percent from the field, and he is trending in the right direction with a points-per-game average of 21.4 in December.
Defensively is where Wade is really disappointing.
He's posting 0.6 blocks per game, which is his lowest average since his rookie season, and he's averaging a career-worst 1.3 steals per game. It's possible that the Heat are coasting their way through the regular season, but if you're a Miami fan, you'd better hope that the team can flip the switch when it starts to count.
The 2-guard battle on Christmas Day won't have the same flair as it did when James Harden was with the Oklahoma City Thunder, but Kevin Martin has been a solid third scorer, and there is potential for a great matchup once the sixth man checks into the game.
10. Dwight Howard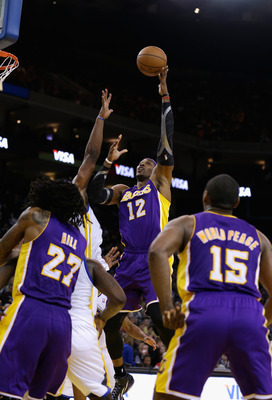 Ezra Shaw/Getty Images
2012-13 Stats: 17.8 PTS, 11.9 REB, 2.6 BLK
Dwight Howard has slowly been working his way back into basketball shape, and while he still shows signs of struggling athletically, there's no question he is the most dominant center in the NBA regardless of how healthy he is.
Howard has been rebounding the ball extremely well, and he's even managed to block more than two-and-a-half shots per game despite being a bit slow on that end of the floor.
Offensively, Howard is the No. 2 option behind Kobe Bryant, and he's fifth in the NBA in field-goal percentage.
The big man still has areas where he needs to improve, but he'll likely prove to the league that no one can stop him once he's 100 percent.
9. Blake Griffin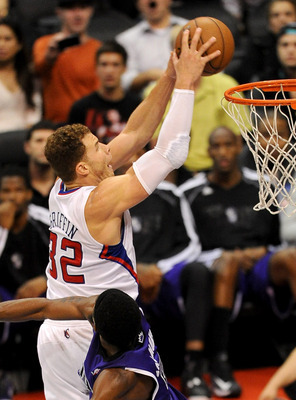 Jayne Kamin-Oncea-USA TODAY Spor
2012-13 Stats: 18.3 PTS, 8.9 REB, 0.7 BLK
From a purely statistical standpoint, Dwight Howard deserves to be ahead of Blake Griffin. However, it's the impact on their teams' success that earns Griffin the nod on this list.
The Los Angeles Clippers are the hottest team in the NBA entering Christmas Day, and Blake Griffin is continuing to show that he is more than just a high-flying highlight reel. His offensive game is continuing to expand, and he is both the leading scorer and leading rebounder on a talented roster.
Griffin will be matched up against another high-energy player in Kenneth Faried on Christmas Day. Both players are aggressive and willing to put their bodies on the line, but as much as we talk about how Griffin needs to polish his offense, he's a step ahead of Faried and will have the advantage come tipoff.
8. Rajon Rondo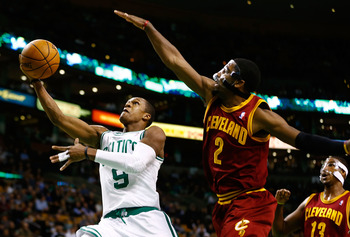 Jared Wickerham/Getty Images
2012-13 Stats: 13.5 PTS, 12.2 AST, 5.0 REB
In case you haven't heard, Rajon Rondo is an assist machine.
The 26-year-old point guard is leading the league in assists, averaging a career-high 12.2 per game. He's also boosted his field-goal percentage to 51.2 percent, which is also a career best.
Defensively, Rondo still looks strong, but he's given up some surprising performances to opposing point guards as of late. He is still a threat to lock down on defense, as he's averaging two steals per game, but you'd like to see his opponents struggle a little more on the offensive end of the floor.
Rondo is going to be matched up against Deron Williams on Christmas Day, which should be the best point guard battle on the schedule.
7. James Harden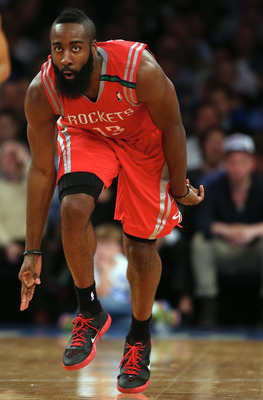 Elsa/Getty Images
2012-13 Stats: 25.6 PTS, 5.4 AST, 4.4 REB
James Harden began this season by showing the world that he was indeed worthy of a max contract, and while he's certainly had problems with inconsistency and inefficiency, he's also shown that he is one of the best one-on-one scorers in the NBA.
Harden's jump shot can be deadly given the right situation, but he's at his best when he puts his head down and attacks the rim. His aggression has earned him easy looks at the rim and 10.0 free-throw attempts per game.
The Houston Rockets play the Chicago Bulls on Christmas Day, and while that won't be the most highly publicized game of the evening, there's no denying that the potential for fireworks is there.
It's the kind of game where Harden can truly take over, and having averaged 30 points in his last four games, he'll try to keep that momentum going.
6. Russell Westbrook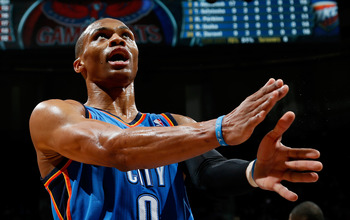 Kevin C. Cox/Getty Images
2012-13 Stats: 21.4 PTS, 8.8 AST, 4.9 REB
Russell Westbrook has been fantastic this season, and quite frankly, if you want to place him higher on this list you won't hear any arguments here.
He has averaged career bests in assists, steals and three-point percentage, and he is proving that he and Kevin Durant can work together better than ever before.
His turnovers are still too high for a player of his position, but he is the epitome of today's NBA point guard, and he needs the ball in his hands to produce the kinds of numbers he's shown up to this point.
The point guard still has a tendency to take unnecessary risks on both ends of the floor, and while the safer play is sometimes the better one, that's something Westbrook has yet to fully learn.
That being said, he is making plays on both offense and defense and is one of the most exciting players to watch in the entire NBA.
5. Kobe Bryant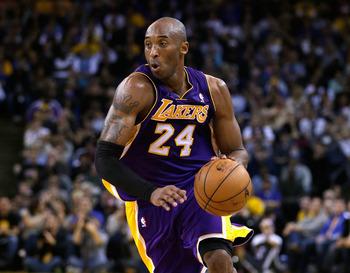 Ezra Shaw/Getty Images
2012-13 Stats: 29.7 PTS, 5.4 REB, 5.0 AST
To those who said Kobe Bryant was too old to thrive among the stars, the man himself says, "Check the stats."
Bryant may be taking 21.5 shots per game, but it's tough to deny the impact he can still have. While he's still known to hoist difficult shots and have inefficient outings, his field-goal percentage is the highest of his career, and even his deep-range shot has fallen up to this point.
It's true that the Los Angeles Lakers aren't winning at the rate they expected, but looking at what Bryant has done, it's easy to say that this is one of the best seasons he's had individually in quite some time.
The Lakers need to get it together if they want to make noise out West, and that may mean fewer shots for Bryant down the road. For now, though, his game is at an elite level, and he is easily a top-five player in the lineup on Christmas Day.
4. Chris Paul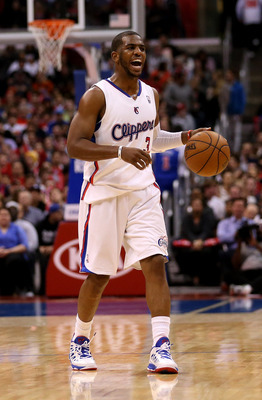 Stephen Dunn/Getty Images
2012-13 Stats: 16.1 PTS, 9.6 AST, 2.7 STL
The 2012-13 season has seen Chris Paul's scoring drop off a bit compared to what we're used to, but it's been more of a sacrifice than a dip in production.
The 27-year-old is taking 3.1 fewer shots per game than he did in the 2011-12 season, and the reason for that is simply because he can.
The Clippers are scoring more than 101 points per game, they're the No. 2 team out West and their rotation is deep enough to allow the point guard to create for others.
Paul has been one of the best all-around players since the start of the year. His assists are near the top of the NBA, his 2.7 steals lead the league and his leadership on the court continues to propel the Los Angeles Clippers to higher levels.
The Clippers have won a franchise-record 13 straight games heading into Christmas Day, and they'll look to keep the streak rolling against the Denver Nuggets.
3. Carmelo Anthony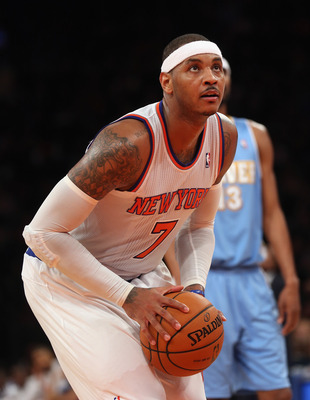 Bruce Bennett/Getty Images
2012-13 Stats: 28.3 PTS, 6.1 REB, 43.7 3PT%
The New York Knicks may be the biggest surprise of the 2012-13 season, and they've been led the entire way by a player who truly is a superstar in this league—Carmelo Anthony.
The small forward has been the focal point of criticism for as long as most fans can remember, and while he certainly has his flaws, he's stepped up his game with fellow All-Star Amar'e Stoudemire stuck on the bench.
Melo is shooting extremely well from the three-point line, his points-per-game average is nearly a career high and he's got the Knicks only half a game behind the Miami Heat for first place in the Eastern Conference.
Anthony enters Christmas Day as a legitimate candidate for early-season MVP, and he'll be the one who earns the credit or takes the blame depending on how the team plays against the Los Angeles Lakers.
2. Kevin Durant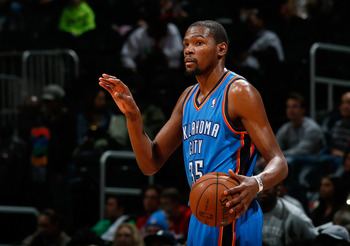 Kevin C. Cox/Getty Images
2012-13 Stats: 27.9 PTS, 8.4 REB, 4.2 AST
Despite being arguably a top-three player in the entire NBA throughout the 2011-12 season, Kevin Durant has started the new season by improving in nearly every major statistic there is.
While currently standing one-tenth of a point below the previous season's points-per-game average, the 6'9" forward has boosted his field-goal percentage, three-point percentage and free-throw percentage. He's also increased his rebounds, assists and steals, even if the increase is less noticeable.
The matchup that everybody wants to see Christmas Day is Durant versus LeBron James. The Miami Heat forward is having another MVP season, and while there are few players in the league who can rip that title away from him, Durant appears to be one of them.
The two will likely go head to head most of the game, and you have to wonder if we won't be getting a sneak peek at the 2013 NBA Finals.
1. LeBron James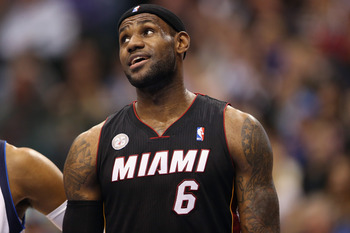 Ronald Martinez/Getty Images
2012-13 Stats: 25.4 PTS, 8.5 REB, 6.8 AST
Love him or hate him, LeBron James is the best player in the NBA today, and he will be the best player on the court when he faces off against the Oklahoma City Thunder on Christmas Day.
Despite his points dropping from his 2011-12 season levels, his field-goal efficiency is up yet again following a career high the year before. His three-point shot has never looked better, and while free throws are still an issue, there is virtually no way to stop him if he is getting to the rim and hitting the deep ball in the same game.
James is leading the league in PER (29.15), and his defense has looked sharp as he continues to dominate both ends of the floor.
The Miami Heat are set to face off against OKC in a 2012 NBA Finals rematch, and despite all the talent that will be on the floor, James will be the game's best player until proven otherwise.
Keep Reading