Updated 2012-13 NBA MVP Odds: Top Contenders for the Coveted Award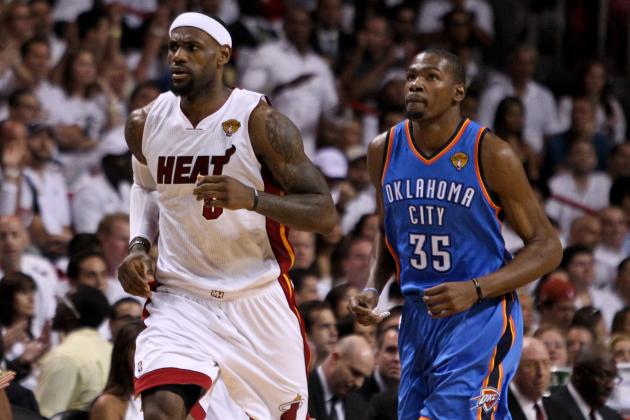 Derick E. Hingle-US PRESSWIRE

If LeBron James thought retaining his MVP award would be a cakewalk in 2012-13, the first few weeks of the season have proven that it'll be anything but that.
With the Los Angeles Lakers' ship somewhat righted, the New York Knicks off to a scintillating 8-1 start, and several other teams leading their respective divisions, there's no shortage of MVP candidates to date.
It's too early to count any team out of the playoff race (well, besides maybe the Washington Wizards), but keep in mind that it's highly unlikely that the league MVP will come from lottery team.
If players like Kyrie Irving and James Harden want to stay in the thick of the race, they're going to need to get on the right side of .500, and quick.
With Thanksgiving nearly upon us, let's take a look at how the NBA's MVP race is shaking up.
Note: Statistics are current through games on Nov. 21. Last week's rankings here.
Begin Slideshow

»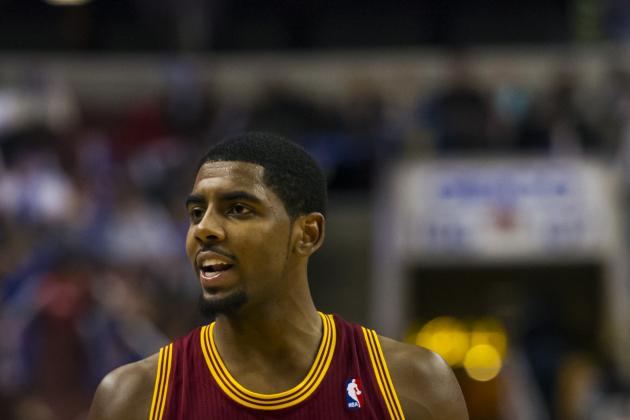 Howard Smith-US PRESSWIRE

In alphabetical order:
Jrue Holiday, Philadelphia 76ers: Holiday has been the major bright spot for the Sixers amidst the flurry of soul-crushing Andrew Bynum injury news that the team's been dealing with.
After averaging 12.2 points, 5.2 assists and 3.4 rebounds per game over his first three seasons, Holiday finally appears to have made "the leap" in 2012-13, averaging 18.6 points, 8.9 dimes and 4.4 rebounds per game. He's the main reason the Sixers have run out to a 7-4 record and have stayed afloat in the absence of one bowling connoisseur.
Kyrie Irving, Cleveland Cavaliers: Irving was ranked No. 6 on this list last week, but news that he'll miss the next month with a finger fracture puts a serious halt on his MVP candidacy.
Before the injury, Irving was averaging a stellar 22.9 points, 5.6 assists, 3.7 rebounds and 1.8 three-point field goals per game for the Cleveland Cavaliers, who will mightily struggle in his absence over the next four weeks.
Zach Randolph, Memphis Grizzlies: After tearing the MCL in his right knee in January 2012 and never feeling 100 percent after his return in March, the dominant Randolph of 2010-11 has returned for Memphis in 2012-13.
He's posted a double-double in each of the Grizzlies' first 10 games, averaging 16.7 points and a league-high 13.8 rebounds per game. Having him back fully healthy is a huge reason the Grizzlies have been able to shock the rest of the league and sprint out to an 8-2 record.
Rajon Rondo, Boston Celtics: Rondo's averaging a league-high 13.1 assists per game and has at least 10 assists in each of his past 34 games, including two 20-assist efforts in 2012-13 against the Philadelphia 76ers and Toronto Raptors.
Unfortunately, his early-season scoring prowess has taken a dive since he injured his ankle against the Utah Jazz. He attempted at least nine shots per game in all eight of the Celtics' games before injuring his ankle; in his two games since returning, he's taken 11 total shots.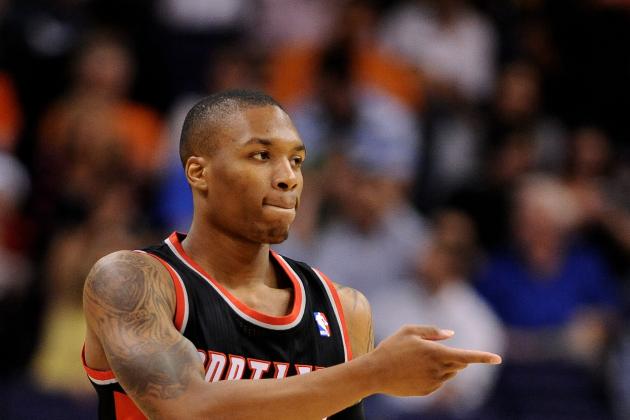 Jennifer Stewart-US PRESSWIRE

Last week's rank: N/A
To everyone who thought Anthony Davis would run away with the 2013 Rookie of the Year award, Damian Lillard appears intent on destroying your preseason prediction.
The rookie from Weber State has averaged an eye-popping 19 points, 6.1 assists, 3.2 rebounds and 1.5 steals per game through 10 games for the Portland Trail Blazers, leading them to a 5-5 record despite low expectations surrounding the team in 2012-13.
He's knocked down 38.7 percent of his 6.2 three-point field goal attempts per game and is shooting 44.7 percent from the field overall, not to mention his 83.3 percent average from the free-throw line.
He's also shooting 52 percent from mid-range, according to NBA.com.
In short, Lillard is playing far beyond his years, making him not only a serious threat to Davis' presumed Rookie of the Year award, but also a sleeper for the league MVP race.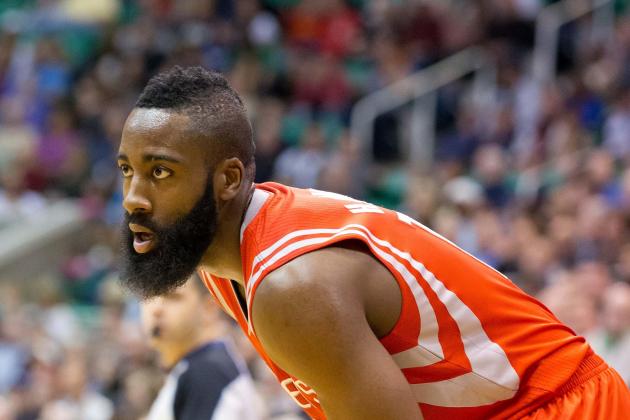 Russ Isabella-US PRESSWIRE

Last week's rank: 5
After two mind-blowing performances to open the season, James Harden has started to come back down to earth for the Houston Rockets.
The bearded one dropped 37 points, 12 assists, six rebounds and four steals in the Rockets' opening game, and followed that up with a 45 point-effort in his team's next contest.
Since then, Harden has only cracked the 30-point plateau once (in a win against the New Orleans Hornets), proving that he hasn't fully acclimated to being the team's No. 1 option on a nightly basis.
Including the aforementioned 45-point game where he attempted just 19 shots, Harden has only knocked down 40.8 percent of his field goals in November, and has been struggling all year from three-point range, shooting only 28.6 percent.
His per-game averages of 24.2 points, 4.7 assists, 4.3 rebounds and 1.4 steals per game will keep him in the MVP race, but he will need to boost those shooting percentages to have a real shot at taking home the award when the season comes to a close.
The Rockets, will also need to at least hover around .500 and challenge for a playoff spot to give Harden a chance at winning MVP.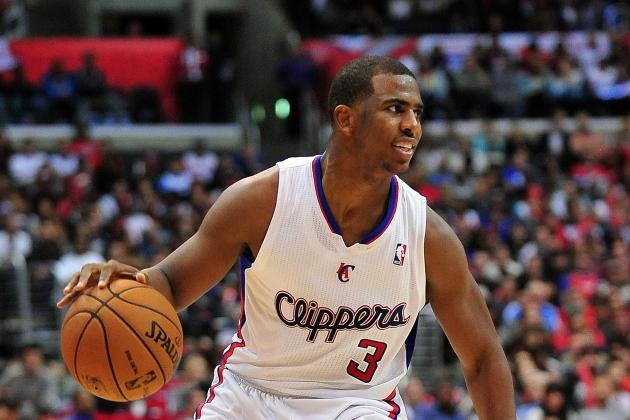 Gary A. Vasquez-US PRESSWIRE

Last week's rank: 9
Despite playing a career-low 32.8 minutes per game in the first 10 games of the season, Chris Paul has been nothing short of sensational for the Los Angeles Clippers.
He has posted six double-doubles (points and assists) in those 10 games, and is averaging 16.3 points, 10.0 assists and 2.2 steals per game overall.
Paul, a noted perfectionist when it comes to ball-control and turnovers, has also only had one game where he's turned the ball over more than three times.
He hasn't yet seemed to find his three-point stroke yet, shooting only 30.8 percent from downtown, but shooting 48.7 percent from the field and 87.8 percent from the free-throw line helps make up for his long-range struggles.
There's a reason the Clippers have the lead in the Pacific Division, and his name is CP3.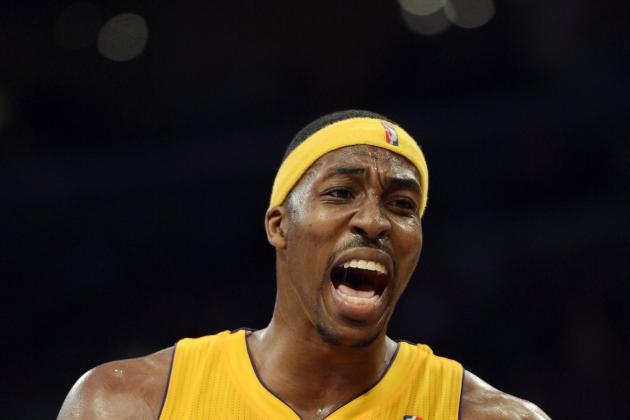 Richard Mackson-US PRESSWIRE

Last week's rank: 10
If the early results from the Los Angeles Lakers' Mike D'Antoni era are any indication, Dwight Howard and the rest of his teammates are about to experience a major spike in their season averages.
After stumbling out to a 1-4 start to the season and struggling offensively, the Lakers dropped over 110 points in their first two games after installing some of D'Antoni's offensive schemes.
Howard, particularly, was a monster in those matchups, putting up a combined 46 points, 25 rebounds and 7 blocks against the Phoenix Suns and Houston Rockets. The big man followed that up with a 23-point, 12-rebound and 4-block effort in the Lakers' most recent game with the Brooklyn Nets.
From this point forward, 20 points, 10 rebounds and 2-3 blocks should be expected from Howard on a nightly basis, a line that no other players in the league can maintain.
If Howard can effectively anchor the revamped Lakers' defense, he will be receiving some serious MVP consideration with the impact he's making on both ends of the court.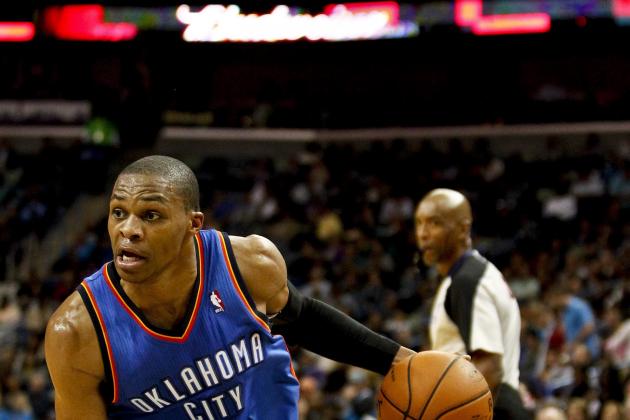 Derick E. Hingle-US PRESSWIRE

Last week's rank: N/A
Both Russell Westbrook and Kevin Durant have been going through some growing pains as they learn to compensate for the loss of James Harden, who was traded to the Houston Rockets a few days before the start of the season.
Through 11 games, Westbrook's shooting percentage has plummeted to just over 40 percent, the lowest it's been since his rookie season. Russ has only converted 53.7 percent of his shots at the rim, according to HoopData, after shooting 60 percent or higher from there in the 2010-11 and 2011-12 seasons.
He's also attempting a career-high 4.1 three-point field goals per game with little success (31.1 percent on the year) and shooting a career-low 75.8 percent from the free-throw line.
In that case, why is he even on this MVP list? Well, Because he's becoming a more well-rounded point guard, which can only benefit the Oklahoma City Thunder for the long term.
Westbrook is averaging a career-high 8.4 assists and a career-low 2.8 turnovers per game, while chipping in over a steal and a half per game, too.
As he and Durant grow more comfortable with Harden's absence, Westbrook's scoring is likely to return to the 22.0-24.0 points per game range.
Throw in over eight assists, five rebounds and nearly two steals per game, and Westbrook's somewhat quietly putting together an MVP resume that's difficult to ignore.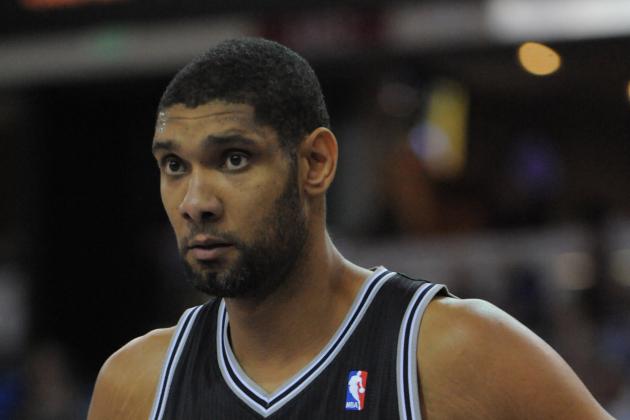 Kyle Terada-US PRESSWIRE

Last week's rank: 4
Can someone please explain how a 36-year-old man with 15 full seasons of NBA experience under his belt can be averaging 18.0 points and 10.0 rebounds in just a hair over 30 minutes per game?
Tim Duncan hasn't just been defying Father Time; he's been flipping Father Time off while dominating like it's the turn of the century all over again.
Along with being a nightly 20-10 threat for the San Antonio Spurs, Duncan has chipped in nearly three blocks, two or more assists and a steal per game through 11 games in the 2012-13 season.
And again: The man is 36 years old.
With Tony Parker struggling, Duncan has helped lead the Spurs to an 8-3 record, trailing the Memphis Grizzlies for the division lead by only half a game.
The only thing that will keep Duncan from seizing control of the MVP race is the minutes restriction that Spurs coach Gregg Popovich is likely to keep on him, as other contenders will play 5-10 more minutes per game.
If Duncan keeps being this productive on both ends of the court during his limited playing time, however, there's no way he should be counted out of the MVP race.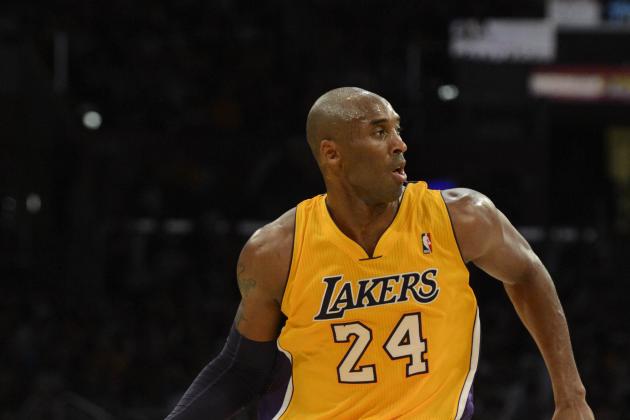 Richard Mackson-US PRESSWIRE

Last week's rank: 7
Lost in the mess that's been the early part of the Los Angeles Lakers' 2012-13 season is the phenomenal year that Kobe Bryant has been having.
Before this season, Bryant never shot higher than 46.9 percent from the field. Through 11 games, he's shooting 52.9 percent, while knocking down a career-high 39.1 percent of his three-point tries.
The three-point percentage might not be sustainable, but the boost in field-goal percentage is no fluke. Bryant has thrived with the attention being diverted toward Dwight Howard, allowing him to drastically improve his shot selection.
Since the 2006-07 season, Bryant hasn't attempted more than 5.1 shots per game at the rim; this season, he's averaging six. Since 2006-07, he hasn't attempted fewer than 5.9 shots per game from 16-23 feet; this year, he's averaging 3.6.
Throw in 5.5 rebounds, 5.4 assists and 1.5 steals per game, and somehow, after 16 seasons in the NBA, Bryant is having one of his best seasons as a professional.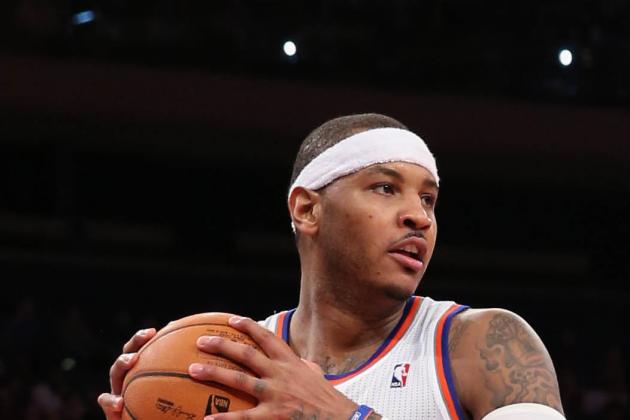 Anthony Gruppuso-US PRESSWIRE

Last week's rank: 1
As expected, Carmelo Anthony couldn't maintain his status as MVP favorite this week, but he's one of the most realistic candidates an eighth of the way through the season.
After a scorching start to the season where he led the league with 27.3 points per game through two weeks, Anthony and the New York Knicks hit a rough patch.
After scoring just nine points on 3-of-12 shooting against the San Antonio Spurs, Melo followed that up by hitting only 16-of-36 shots in his next two games.
The Knicks also lost their first game of the season, thanks to a road trip to the Memphis Grizzlies' house. Anthony had 20 points in that game, but also finished with five fouls, five turnovers and one technical foul for good measure.
In that same Memphis game, the Knicks' early-season ball rotation seemed to suddenly disappear, leaving the dreaded Iso-Melo to come roaring back. The more Anthony can resist the temptation to go into that mode, the better off the Knicks (and his MVP candidacy) will be this season.
Amar'e Stoudemire's return to the Knicks lineup still lurks as a major hurdle to overcome.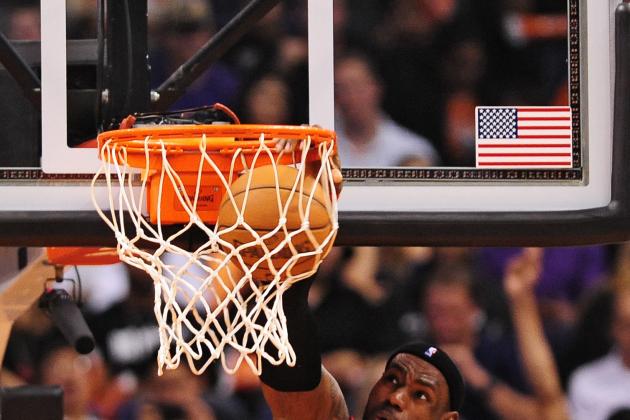 Jennifer Stewart-US PRESSWIRE

Last week's rank: 2
LeBron James and the final player on this list are virtually interchangeable in terms of being the current MVP favorite. They're 1A and 1B, basically.
James has earned his place here by averaging a career-high nine rebounds per game and by shooting a career-high 43.8 percent from three-point range through 11 games.
His scoring averages have dropped a few points, along with a similar drop in free throw attempts per game, which could be cause for concern later in the season if it becomes a trend and not a small-sample-size anomaly.
But James is also only averaging just over two turnovers per game, after never finishing with fewer than three turnovers per game through his first nine seasons in the NBA.
Overall, he looks more efficient than ever, and is putting in the work down low that critics have been begging for since his days with the Cleveland Cavaliers.
In short, James is as close to unstoppable on both ends of the court as there is in the NBA. Only injuries can derail the reigning league MVP from averaging somewhere around 25.0 points, 8.0-10.0 rebounds and 6.0-8.0 assists per game this season.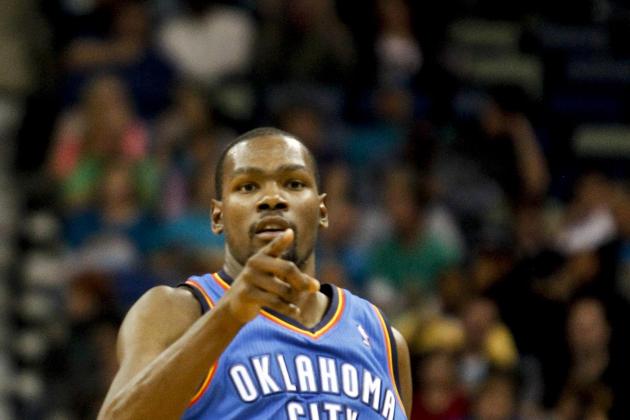 Derick E. Hingle-US PRESSWIRE

Last week's rank: 3
As of now, Kevin Durant has the slight edge over LeBron James in the MVP race for two main reasons: James' dip in scoring and James Harden's absence from the Oklahoma City Thunder.
If James decides to turn it up on the offensive end, it's game over for the rest of the MVP candidates. He's entirely capable of doing so—it's just a matter of whether he decides to save most of those nights for the 2013 NBA playoffs.
Durant, on the other hand, appears to be adopting more of a leadership role in the wake of the trade that sent Harden to the Houston Rockets and brought back Kevin Martin and Jeremy Lamb (along with a handful of draft picks) to Oklahoma City.
Like James, Durant's scoring has dipped a bit in the early portion of the 2012-13 season, as he's only averaging 24.5 points per game through 11 games.
However, he's shooting a career-high 51.1 percent from the field, a career-high 46.9 percent from three-point range, and averaging a career-high 10.4 rebounds, 4.6 assists, 1.6 steals and 1.4 blocks per game.
In short, Durant's making a conscious effort to shed the "pure scorer" label and evolve into a player like James, who's able to pick defenses apart in any number of ways.
Considering Durant just finished with his first career triple-double on Sunday against the Golden State Warriors, he gets the nod as MVP favorite this week, but James isn't far behind.