Updated 2012-13 NBA MVP Odds: Is the Award LeBron James' To Lose?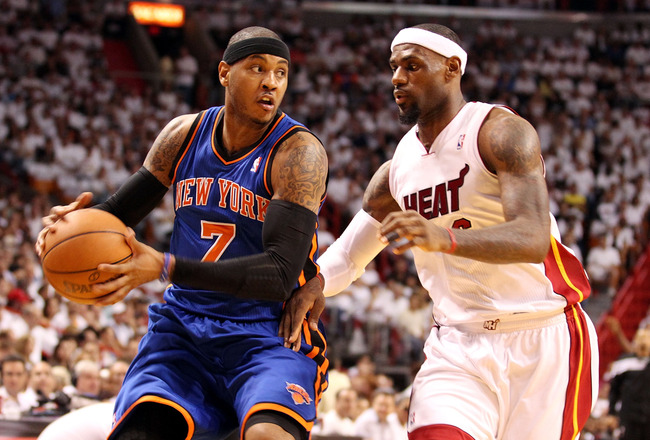 Marc Serota/Getty Images
During the 2012 NBA preseason, Kevin Durant appeared to be the only true 2013 MVP contender aside from the reigning MVP himself, LeBron James.
With the 2012-13 regular season now in full motion, it's become clear that the MVP won't be only a two-man race this time around.
James and Durant each helped their respective teams get off to a solid 6-2 start, but neither player can boast about having the league's only remaining undefeated record, like Carmelo Anthony of the New York Knicks can.
In the early goings of the 2012-13 regular season, we've also seen an uber-efficient Kobe Bryant, one of the most memorable debuts on a new team in recent history from James Harden and plenty of MVP-caliber play from the point guard position.
Let's break down the top 10 leading candidates for MVP, as of the week of Nov. 12.
(Note: Statistics and records are current through games on Nov. 12.)
Honorable Mention: Rajon Rondo, Boston Celtics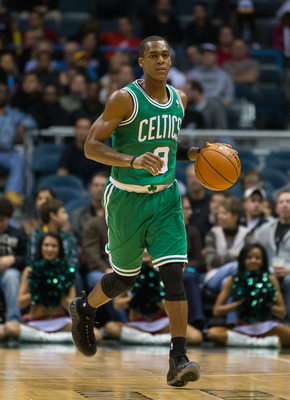 Jeff Hanisch-US PRESSWIRE
Rajon Rondo kicked off the 2012-13 season with a near triple-double against the Miami Heat on opening night (20 points, 13 assists and seven rebounds), and he hasn't looked back.
Through seven games, he's posted double-digit assist figures in every game, led by a 20-assist effort in a 106-100 loss to the Philadelphia 76ers.
In his most recent game—Monday against the Chicago Bulls—Rondo finished one rebound shy of a triple-double, with 20 points, 10 assists and nine boards. (Five steals, too.)
With third-year guard Avery Bradley still sidelined by offseason shoulder injuries and Ray Allen now playing for the Miami Heat, Rondo appears to have recognized the Celtics' need for him to step up as the true leader in the backcourt.
He's averaging 15.4 points per game (nearly four points higher than his career average) on 52.8 percent shooting, and he has knocked down three of his 10 three-point tries thus far.
Throw in 2.3 steals per game game, and Rondo's proving once again that the future of the Boston Celtics revolves around him.
10. Dwight Howard, Los Angeles Lakers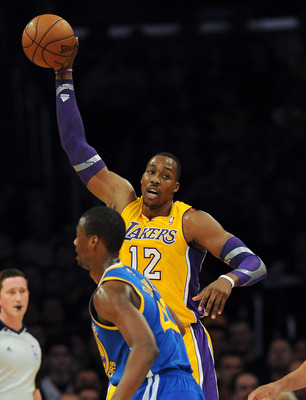 Jayne Kamin-Oncea-US PRESSWIRE
The Los Angeles Lakers may be mired in a ghastly 3-4 start, but Dwight Howard certainly can't shoulder all the blame for that.
In fact, while Howard's scoring numbers have dipped a bit from his career averages (not unexpected, given the presence of Kobe Bryant, Steve Nash and Pau Gasol on his team), he's still managing a more-than-respectable 20.1 points, 10.6 rebounds and 2.4 blocks per game through seven games.
His free-throw percentage is embarrassingly low, as usual (50.6 percent), but to Howard's credit, he's shooting a career-high 63.3 percent from the field as a Laker.
In theory, this is what the addition of Nash and Howard was supposed to do for the Lakers—open up easier shots and increase the efficiency of all the team's players.
While Mike Brown and Eddie Jordan appeared intent on slamming the brakes on the Lakers' offensive potential by implementing a backdoor cut-heavy, pick-and-roll-light Princeton offense, the hiring of new Lakers coach Mike D'Antoni should get the Lakers' offense oriented back toward their strengths soon enough.
As Howard continues to work his way back into game shape after recovering from offseason back surgery, he's likely to only get stronger and more able to play long minutes. That only spells trouble for the rest of the MVP candidates.
9. Chris Paul, Los Angeles Clippers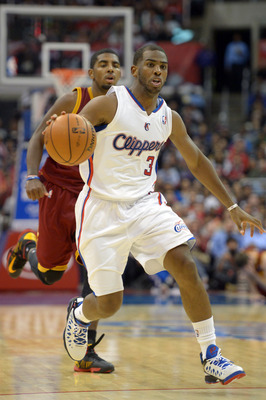 Kirby Lee-US PRESSWIRE
Chris Paul and the Los Angeles Clippers haven't quite been dominating the early-season headlines like the crosstown Los Angeles Lakers, but Paul's been quietly stringing together an MVP-caliber season nevertheless.
Through seven games, Paul has helped the Clippers burst out of the gates to a 5-2 record with averages of 17.1 points, 10.3 assists, 3.6 rebounds and two steals in just under 33 minutes per game.
Paul ranks second in the league in terms of assists per game, trailing only Rajon Rondo (13.3). He also ranks ninth in terms of PER, according to ESPN.com's John Hollinger.
In short: Despite averaging a career low in minutes per game thus far, Paul has managed to keep his production relatively steady.
That's only going to give more confidence to his Clipper teammates come crunch time, as the team will know that it won't just be the CP3 and Blake Griffin show in 2012-13.
8. Jrue Holiday, Philadelphia 76ers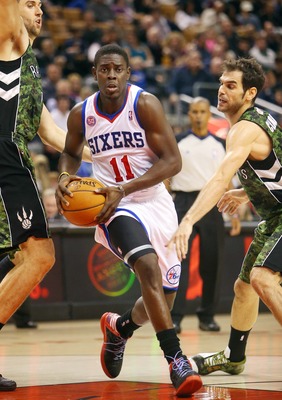 Tom Szczerbowski-US PRESSWIRE
The Philadelphia 76ers handed Jrue Holiday a four-year, $41 million extension perilously close to the Oct. 31 midnight deadline, locking up their point guard for the immediate future.
While some in the NBA blogosphere believed Holiday shouldn't have gotten more than $8 million per year, he's done all he can in the early part of the 2012-13 season to prove that the Sixers may have actually gotten a steal with that contract.
Through seven games, Holiday has helped the Sixers weather the storm of having Andrew Bynum, their shiny new offseason acquisition, still riding the bench due to a bone bruise in his right knee.
Holiday has averaged 19.1 points, nine assists, 3.4 rebounds, nearly two steals and nearly one block per game for the Sixers as they've raced out to a 4-3 record, despite the absence of Bynum. Holiday had never averaged higher than 6.5 assists per game before the 2012-13 season.
Here's the telling stat: Holiday finished with a PER of 14.8 (below league average) in 2011-12. In 2012-13, ESPN.com's John Hollinger projected that he'd have a PER of 16.10.
Mind the small sample size, but before the Sixers' loss to the Milwaukee Bucks on Monday, Holiday's PER was 22.1, good for 26th in the league. It's now 17.09 following the loss, according to Hollinger.
7. Kobe Bryant, Los Angeles Lakers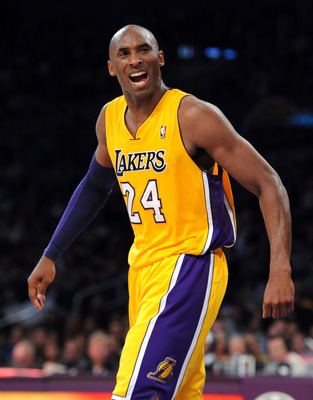 Jayne Kamin-Oncea-US PRESSWIRE
Fun fact about Kobe Bean Bryant: Through his 16 career seasons before 2012-13, Bryant had never shot higher than 46.9 percent from the field (during the 2001-12 season) or 38.3 percent from three-point range (the 2002-03 season) over the course of a full year.
Through seven games in the 2012-13 season, Bryant has knocked down 53.8 percent of his shots from the field and 43.3 percent of his three-point tries.
Throw in his free-throw percentage of 91.7 percent, and thus far in the season (small sample size warning!), Bryant's a member of the exclusive 50-40-90 club.
With the additions of Steve Nash and Dwight Howard, Bryant has been averaging roughly six fewer shots per game than he did in the 2011-12 season, but his scoring totals haven't plummeted precipitously.
In fact, through Nov. 12, Bryant ranked third in the league in scoring behind only Carmelo Anthony and James Harden, and he's ranked second in the league in PER behind only Jimmer Fredette of the Sacramento Kings, according to ESPN.com's John Hollinger.
Once the rest of the Lakers cure their offensive ills, the hyper-efficient Bryant could be more dangerous than ever, despite all the tread on his 34-year-old tires.
6. Kyrie Irving, Cleveland Cavaliers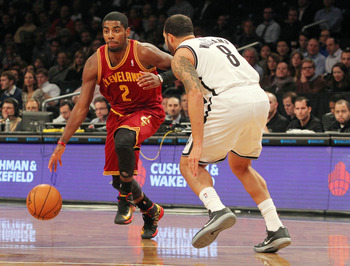 Brad Penner-US PRESSWIRE
After winning Rookie of the Year in the 2011-12 season, Cleveland Cavaliers fans were left to pray all summer that Kyrie Irving wasn't just a flash in the pan, a la Tyreke Evans of the Sacramento Kings (potentially).
The video of Irving deking around Kobe Bryant, Kevin Durant and James Harden in Team USA training camp assuaged most of those fears, as did the Pepsi MAX "Uncle Drew" videos where Irving put his immense talent on display for the world.
Cleveland's off to another rough start this year, going 2-5 in its first seven games, but Irving has been otherworldly, as usual.
After averaging 19 points, 5.5 assists and 3.8 rebounds per game in his heralded rookie season, Irving has bumped those averages up to 22.9, 6.3 and 4.1, respectively, in the first few weeks of the 2012-13 season.
He's shooting over 47 percent from the field and over 45 percent from three-point range (even while he's attempting over four three-point tries per game), making him a brutally dangerous offensive weapon for the rebuilding Cavaliers.
5. James Harden, Houston Rockets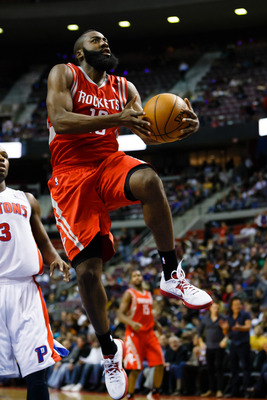 Rick Osentoski-US PRESSWIRE
So... James Harden had a pretty crazy start to the season, huh?
After failing to come to terms on an extension with the Oklahoma City Thunder before the Oct. 31 deadline, OKC traded Harden and a few role players to the Houston Rockets for Kevin Martin, Jeremy Lamb and a few draft picks.
Suddenly, instead of being on a team that was three wins from an NBA championship in 2012 with two of his Team USA teammates, Harden found himself on a roster with nothing but young players and new additions, such as Jeremy Lin and Omer Asik.
How did Harden respond? Masterfully.
He erupted for 37 points, 12 assists, six rebounds, four steals and a block against the Detroit Pistons in his first game as a Rocket. We've since learned that the Pistons are terrible, but still... that line doesn't exactly happen on a nightly basis in the NBA.
In his next game, against the Atlanta Hawks, Harden managed to drop 45 points on only 19 shots. Think Rockets general manager Daryl Morey was having buyer's remorse after those first two games? Not quite.
Through seven games, Harden is managing a sensational 25.9 points, 4.9 rebounds, 4.6 assists and 1.6 steals per game. He's third in the league in scoring, behind only Kobe Bryant and Carmelo Anthony (and yes, ahead of former teammate Kevin Durant).
He's only shooting 43.2 percent from the field and 25.6 percent from three-point range, both below his career averages, but as he adjusts to being his team's No. 1 offensive option on a night-in, night-out basis, he's likely to improve his shooting percentages across the board.
4. Tim Duncan, San Antonio Spurs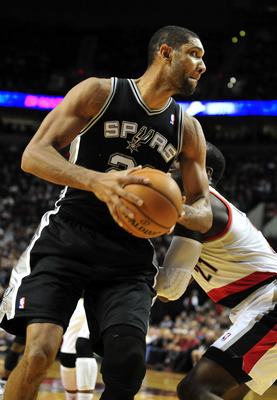 Steve Dykes-US PRESSWIRE
When Tim Duncan's skills finally start declining due to age (you know, in 2030), can scientists take him aside to figure out his superhuman ability to evade Father Time?
Despite being 36-and-a-half years old, Duncan is averaging 18.9 points, 9.7 rebounds, 2.4 blocks, 2.3 assists and 1.4 steals in only 30 minutes per game to date in the 2012-13 season.
He's shooting 53.1 percent from the field through seven games, too.
Extrapolated over 36 minutes, Duncan is averaging 22.5 points, the highest in his 16-year career. He's averaging 11.6 rebounds and 2.9 blocks per 36 minutes, too.
In short, he's virtually the same player he's always been for the San Antonio Spurs, but he's getting it done in 30 minutes per game instead of 35, keeping himself fresh for the long haul, too.
I'd say Duncan's insane efficiency would be unsustainable, given that he's in his mid-30s, but I've learned long ago what happens when you doubt Duncan or the Spurs, especially due to age.
You end up with egg in your face.
3. Kevin Durant, Oklahoma City Thunder
Tim Fuller-US PRESSWIRE
Early in the preseason, I personally picked Kevin Durant as my 2013 MVP favorite, figuring that LeBron James would be content to somewhat coast through the regular season until the playoffs started.
Once James Harden was traded from the Oklahoma City Thunder to the Houston Rockets, I figured Durant was even more of an MVP favorite, as he'd be expected to shoulder additional responsibilities given the loss of Harden.
While the latter has come true, James' predicted coasting hasn't yet come to fruition, as evidenced by his 38-point, 10-rebound, six-assist eruption against the Houston Rockets on Monday night.
Durant hasn't been shabby in his own right, averaging 23 points, 10.4 rebounds, 3.9 assists, 1.5 blocks and 1.4 steals per game through eight games in the 2012-13 season.
He's taken at least 15 shots in all but two games, shooting 48.1 percent from the field and drawing seven free-throw attempts per game thus far.
What's holding him back from moving higher? Turnovers. Through eight games, Durant has 33 total turnovers, or 4.1 per game.
When K.D. cuts down on the TOs and turns those into a few more points per game, he'll rise up and challenge these next two players for the MVP.
2. LeBron James, Miami Heat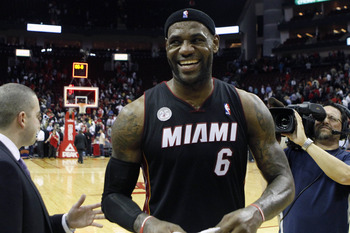 Brett Davis-US PRESSWIRE
Remember the 2011-12 season, when LeBron James turned in one of the most insanely efficient seasons of all time, averaging 27.1 points, 7.9 rebounds, 5.2 assists and nearly two steals per game on 53.1 percent shooting?
Don't look now, but in the 2012-13 season, James could be outdoing that performance.
In only 34.5 minutes per game (a career low, by far), James has averaged 23.9 points, 10 rebounds and 6.1 assists in eight total games, shooting 55 percent from the field.
He's never had a season where he didn't average at least three turnovers per game; to date in 2012-13, he's only averaging 1.8 per game.
Oh, and by the way: James has been shooting 52 percent on his 3.1 three-point attempts per game, too.
If Miami Heat coach Erik Spoelstra decides to crank up James' minutes, or James gets into the "zone" he got into Monday night while obliterating the Houston Rockets (38 points, 10 rebounds, six assists), James could well be on his way to his fourth regular-season MVP award.
He just has to hope this next player comes back to Earth at some point.
1. Carmelo Anthony, New York Knicks
Douglas Jones-US PRESSWIRE
If anyone's subject to small-sample-size theater on this list to date, it's Carmelo Anthony, who's only played four games in the first two weeks of the 2012-13 NBA season.
In those four games, however, Anthony has appeared to be almost an entirely new player.
"Iso Melo" still rears his ugly head from time to time, but through four games, Anthony is drawing a career-high nine free-throw attempts per game.
He's currently leading the league in scoring with 27.3 points per game, and he blew up with a 30-point, 10-rebound performance against LeBron James and the Miami Heat in the Knicks' first game of the season.
The Knicks' schedule gets much tougher starting this week, with three road games in four nights (including Tuesday's game in Orlando), so we should know much more about both Anthony and the Knicks by the weekend.
Do I expect Anthony to remain at the top of the MVP favorites list all season? Not exactly.
But given what he's accomplished in the season's first two weeks, guiding the Knicks to the only remaining undefeated record, Anthony deserves recognition as the MVP favorite.
Keep Reading