NBA Power Rankings: Early Season Standings for Every NBA Team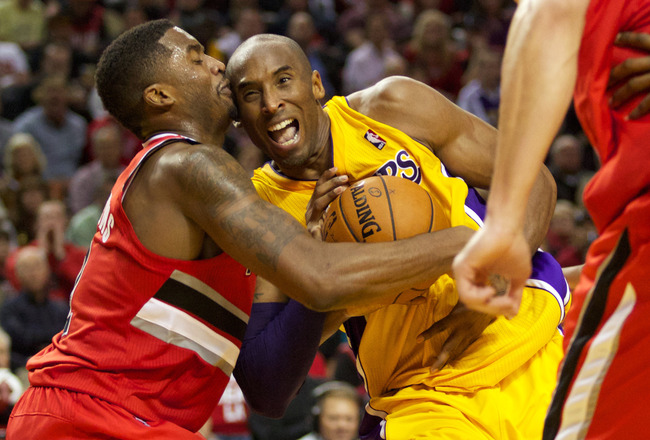 Jaime Valdez-US PRESSWIRE
As point after point is scored during the NBA's regular season, the hierarchy of the 30 teams is starting to become increasingly apparent. Of course, it will take a long time for everything to be completely sorted out, but we do at least have a bit of an idea about how the squads stack up.
From the cellar-dwellers of The Association to the reigning champions and other elite teams, these are the latest power rankings after most teams have had an opportunity to play one or more teams.
The rankings are no longer solely based on preseason expectations but they aren't comprised entirely from the performances of the teams thus far. After all, we're dealing with an extraordinarily small number of games that have been played.
Instead, the rankings were determined by an admittedly subjective mix of preseason expectations and performances up to this point.
So, where does your favorite team land?
30. Charlotte Bobcats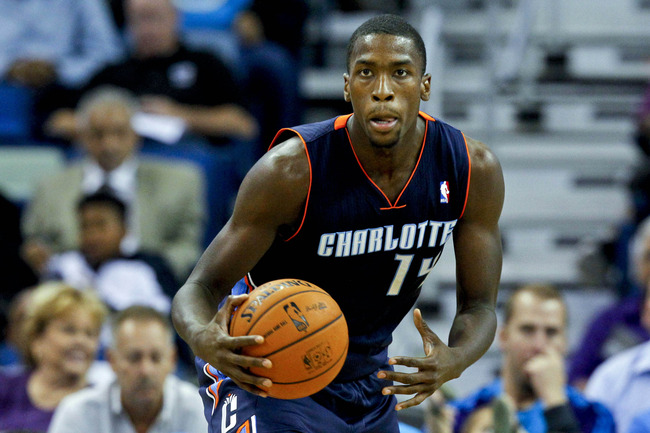 Derick E. Hingle-US PRESSWIRE
The Charlotte Bobcats have reasons to be excited during the 2012-13 season, but it's hard to move them out of the bottom spot before they've proved that they aren't the same squad that set the record for worst single-season winning percentage in NBA history.
Michael Kidd-Gilchrist is bound to be exciting. He never stops hustling, so he's going to look good both from a statistical and highlight-reel perspective. However, he just doesn't possess the necessary offensive game to help the Bobcats take the next step.
Between MKG, Ben Gordon, Kemba Walker, Ramon Sessions and the extremely underrated Byron Mullens, the Bobcats do have some talent on the roster.
Now they just need a few wins to push themselves out of the No. 30 spot that they've occupied for so long now in NBA power rankings.
29. Orlando Magic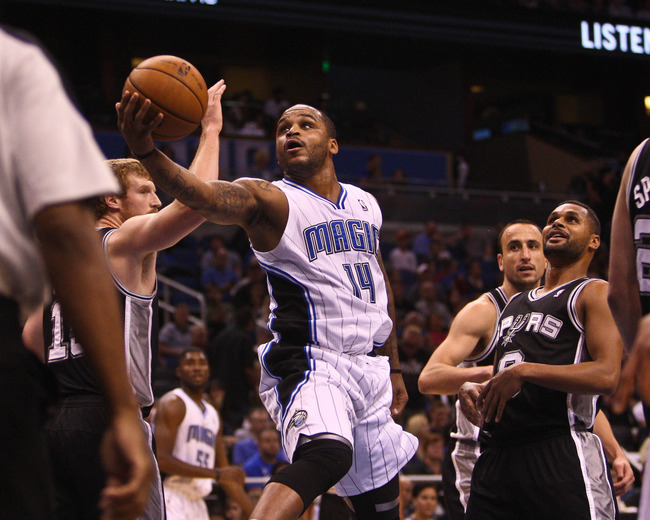 Rob Foldy-US PRESSWIRE
It wouldn't surprise me in the slightest if the Orlando Magic ended up holding down the fort at No. 30 before too long. They just can't move to the bottom until the Charlotte Bobcats loosen their hold on the spot.
The problem in Orlando is obvious, and it stems from an extreme lack of talent.
Arron Afflalo, the "prize" in the Dwight Howard trade, is a solid player, but he hasn't exactly indicated that he's worth being considered a franchise centerpiece. The same "solid player" label can also be applied to Glen Davis and Jameer Nelson, but that's about it.
Nikola Vucevic and Gustavo Ayon will earn the label by the end of the season, but that will be accompanied by a lot of losing.
28. Washington Wizards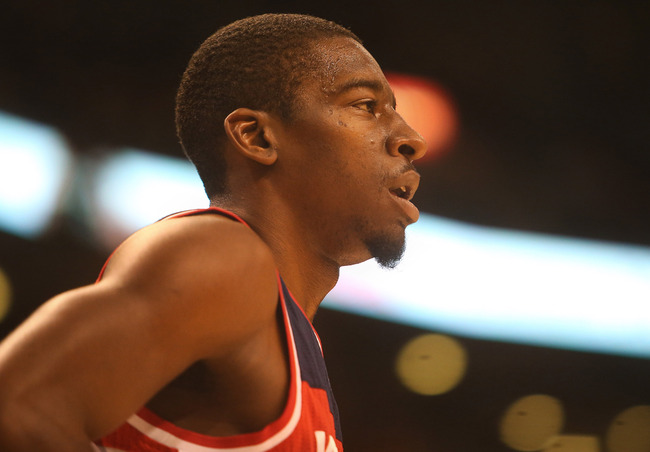 Tom Szczerbowski-US PRESSWIRE
John Wall is the engine that makes the Washington Wizards go, so it shouldn't be so surprising that the team has slipped to No. 28 in his absence.
After all, his teammates (minus Kevin Seraphin and Nene, who were also recovering from injuries), began the season with a double-digit loss to the Cleveland Cavaliers and won't fare much better until the dynamic point guard returns.
Let's put it this way: Jordan Crawford was the guy taking shot after shot in an attempt to drag the Wizards back into a close game.
It didn't work.
27. Sacramento Kings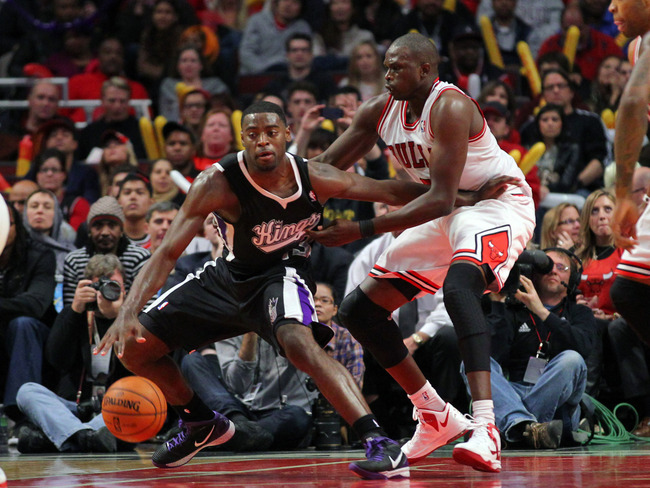 Dennis Wierzbicki-US PRESSWIRE
The Sacramento Kings have a lot of potential on the roster, but they don't have any chemistry.
First, there's the logjam in the backcourt. With Tyreke Evans, Marcus Thornton, Aaron Brooks, Jimmer Fredette (not so much) and Isaiah Thomas all fighting for valuable but limited minutes, there's bound to be a decline in chemistry. You know, assuming there was any to begin with.
There also just aren't enough shots to go around, especially when you add mercurial big man DeMarcus Cousins into the mix.
As impressive as he may be on the glass, I'm still not convinced that Cousins has developed into a leader for the Kings. He might be physically imposing on both ends of the court, but his mental game still lags behind.
Sacramento could put it all together at any point during the season, but there's a reason I can't be definitive with that statement.
26. Detroit Pistons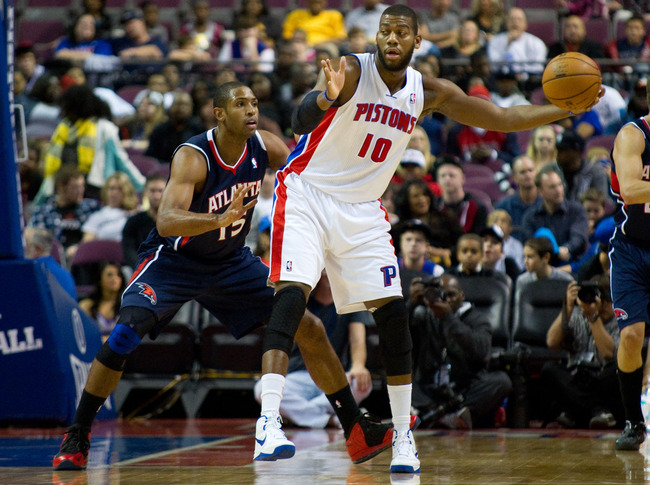 Tim Fuller-US PRESSWIRE
The Detroit Pistons are a team capable of challenging mid-level squads in the NBA, but the young players aren't quite ready to pull out too many victories yet.
Greg Monroe is a bona fide star already, between his technical brilliance on offense and his Georgetown-inspired passing skills. There's still room for him to improve, but it's already clear that he's one of the best young big men that the league has to offer.
Brandon Knight still has tantalizing potential at point guard, and Jonas Jerebko, Kyle Singler and Andre Drummond could all develop into positive contributors this season alongside the other established players.
The Pistons are going to be surprisingly fun to watch, although they'll struggle on defense and fail to produce a sparkling win-loss record.
25. Toronto Raptors
Tom Szczerbowski-US PRESSWIRE
The Toronto Raptors are missing two things on offense: consistent perimeter scoring from the wings and a consistent low-post threat.
Terrence Ross and Jonas Valanciunas have the ability to fill both of those voids, but both players are rookies and can't be counted upon for consistent production. As the repetition should have indicated, consistency is kind of important.
Kyle Lowry will certainly make this team look good at times, as will Andrea Bargnani. It just won't be enough to make the Raptors into a fringe playoff contender in the weaker of the two conferences.
In a year or two, Toronto will be a legitimate threat for the No. 8 seed, but we aren't there yet.
24. New Orleans Hornets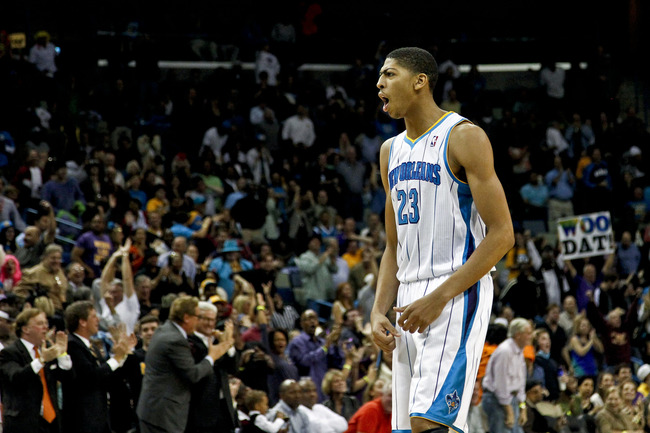 Derick E. Hingle-US PRESSWIRE
Now is your chance to repent and retract your statements that Anthony Davis is offensively incompetent. After scoring a team-high 21 points in the season opener against the San Antonio Spurs with a combination of alley-oops and contested jumpers, The Unibrow is already proving doubters wrong.
Obviously we're dealing with a small sample size here, but it's pretty clear that Davis has the tools necessary to succeed on offense as well as defense. His jumper looks smooth and he's still ridiculous athletic and explosive, especially off the second jump.
No matter how good Davis might be, though, it won't matter if Eric Gordon can't get on the court.
The shooting guard was supposed to be the leader of the team—even if he wasn't considered the savior of the franchise—and there's now a chance that he sits out the entire 2012-13 season.
23. Cleveland Cavaliers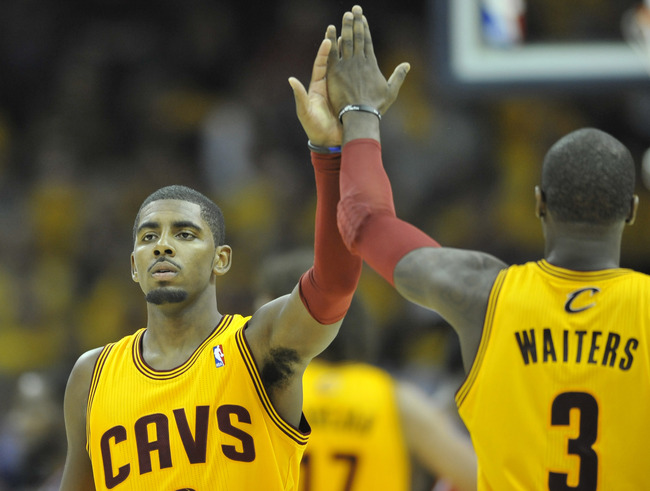 David Richard-US PRESSWIRE
In case you've been living under a rock, Kyrie Irving is really good at basketball.
The reigning Rookie of the Year's skills were on full display during the first game of the 2012-13 season, as he exploded for an efficient 29 points, six rebounds and three assists in 35 minutes of action. Before you complain about his lack of dimes, keep in mind that a bunch of Anderson Varejao and Tristan Thompson's assists were the result of Irving's passes and penetration.
Speaking of Varejao, the floppy-haired big man was sensational in his debut as well, racking up nine points, 23 rebounds and nine assists.
This Cavs squad is quite young, but there's a lot of underrated talent present as well. It wouldn't surprise me to see Cleveland climb the ladder throughout Irving's sophomore season.
22. Minnesota Timberwolves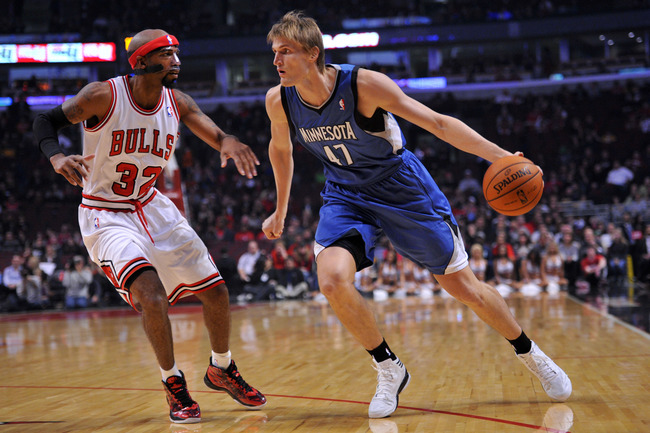 Rob Grabowski-US PRESSWIRE
The Minnesota Timberwolves were a trendy pick to make the playoffs in the Western Conference at the conclusion of the 2012-13 regular season, and some prognosticators went so far as to say that it wouldn't just be the eighth seed that they'd qualify for.
However, that was before Kevin Love broke his hand, knocking him out of the early action. Without Love and Ricky Rubio, who is recovering from a torn ACL, the Wolves don't have enough talent to hang with the other postseason contenders in the league's tougher conference.
Minnesota is still deep and features a number of intriguing parts, but the current goal is to remain within striking distance until the two stars are able to suit up again.
When that's the goal—it won't be explicitly stated, but we know better—it's tough to earn a spot much higher than this in the power rankings.
21. Phoenix Suns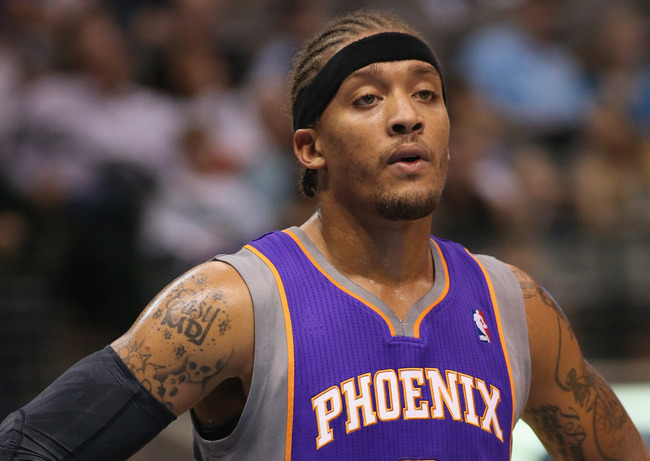 Ronald Martinez/Getty Images
Phoenix Suns head coach Alvin Gentry summed it up best after the team's opening-night loss to the Golden State Warriors (via ESPN.com):
We looked like a team that had nine new players tonight. I really feel that we're going to become a good team. I really feel that we're going to have to play together and we're going to have to learn each other and know each other and as a coach, I have to learn the guys.
Note that Gentry never said "great," but rather stuck with "good."
Goran Dragic, Jared Dudley, Luis Scola, Marcin Gortat and Michael Beasley are all good players but none of them have established themselves as great at this stage of their careers.
Phoenix is going to experience some growing pains in the desert, but there will be moments of brilliance as the squad adjusts to life after Steve Nash.
20. Houston Rockets
Rick Osentoski-US PRESSWIRE
The Houston Rockets are one of the more difficult teams to place in the power rankings because of their recent acquisition of James Harden and the overall novelty of the roster.
We still don't know how The Beard will fare over the course of a season as the No. 1 option, although he was simply terrific in his Rockets debut. We also have no clue how sustainable Jeremy Lin's success is, or how good Omer Asik and the other young players can be.
However, Lin and Harden's games appear to mesh quite well in the backcourt, complementing each other to perfection.
The Rockets are at least one piece away from being a serious postseason threat, but they're going to play entertaining basketball and frighten a number of teams throughout the year.
19. Dallas Mavericks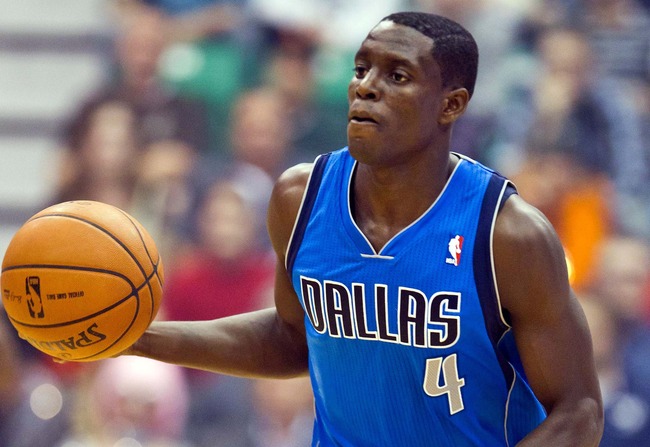 Russ Isabella-US PRESSWIRE
The Dallas Mavericks will move up in the rankings as soon as Chris Kaman and Dirk Nowitzki return to both health and the lineup. I can pretty much promise that.
Right now, the team is kind of confusing, with a media friendly win against the new-look Los Angeles Lakers and a 19-point loss to the Utah Jazz.
Jae Crowder hasn't shown any fear during his initial foray into the NBA, and he has been joined by Darren Collison and O.J. Mayo as solid additions to Mark Cuban's franchise.
This team is still learning how to play together and will inevitably experience some growing pains as it copes without the offensive brilliance of the 7-foot German.
The Mavs' ranking is going to fluctuate quite a bit throughout the season.
18. Milwaukee Bucks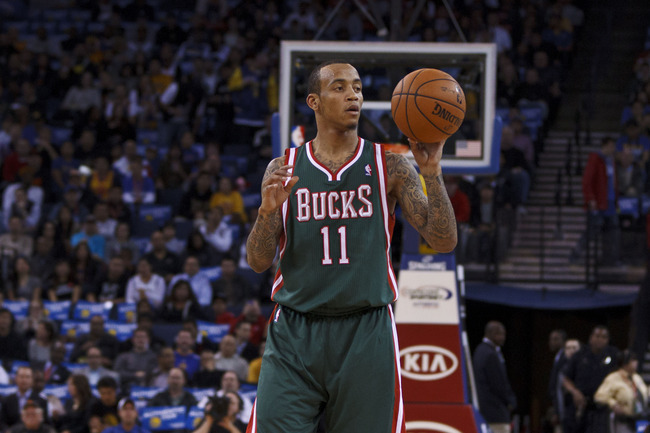 Jason O. Watson-US PRESSWIRE
The Milwaukee Bucks have a backcourt that could either light up the scoreboard or destroy the team's chemistry on a nightly basis.
Monta Ellis and Brandon Jennings are extraordinarily talented scorers, but they both require the ball in their hands and love jacking up shots whenever they get the opportunity.
The Bucks will need one or more of their frontcourt players to step up on offense if they're going to earn a much sought-after playoff spot, but that may be wishful thinking.
Ersan Ilyasova must continue to improve his all-around game, as he did last year, and the same can be said about Ekpe Udoh. As good as the big man's defense may be, he'll need to improve his offensive game to earn enough minutes.
17. Golden State Warriors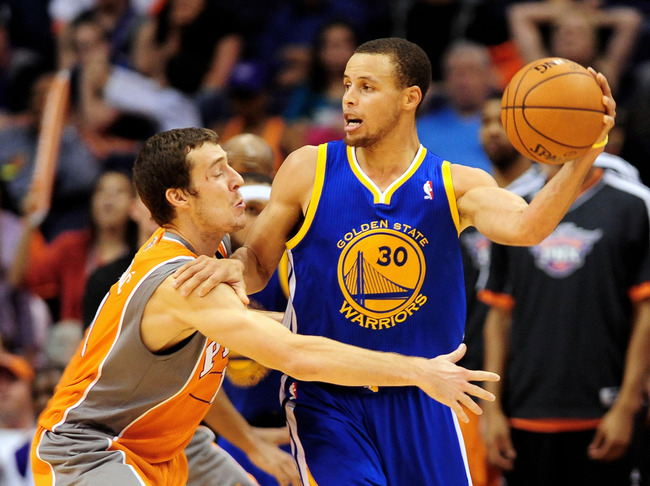 Jennifer Stewart-US PRESSWIRE
It's a great sign for the Golden State Warriors that they got a win against the Phoenix Suns during the first game of their 2012-13 campaign despite a 2-of-14 shooting performance from Stephen Curry.
The oft-injured point guard is the premier offensive option on the team when he's on the court, so the team started to prove that it has the talent to win games even on his off nights. Additionally, Curry was actually on the court.
That in itself is a good sign.
Between Curry, Klay Thompson, Harrison Barnes and David Lee, there will be offense galore from this team. Would you expect the Dubs to produce anything else?
The difference between this team and Warriors teams of the past is the presence of Andrew Bogut. If the big Australian can stay healthy, he'll provide the team with a terrific stopper in the paint.
16. Portland Trail Blazers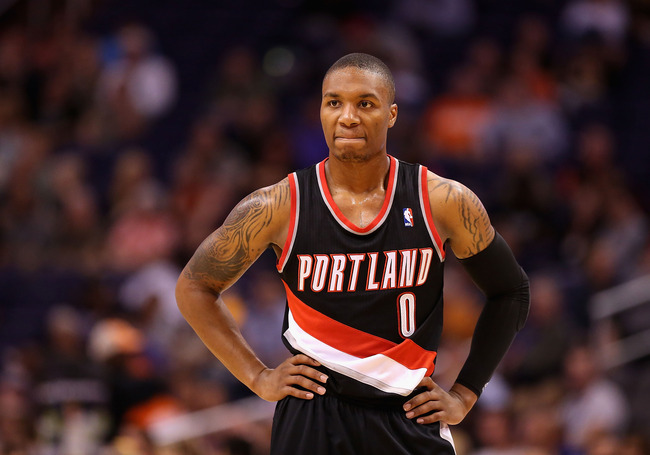 Christian Petersen/Getty Images
I've been claiming that Damian Lillard would win Rookie of the Year ever since he was first drafted by the Portland Trail Blazers, and he started off the pursuit in fantastic fashion with his debut performance in the Blazers' 116-106 win over the Los Angeles Lakers.
The former Weber State point guard stood out to the tune of 23 points and 11 assists, making him one of three players in NBA history to break 20 and 10 in his first game.
Isiah Thomas and Oscar Robertson were the other two, so Lillard is already in some pretty decent company.
He won't be able to keep that level of play up throughout the 82-game campaign (I think), but even an average performance from the rookie, when coupled with typical play from LaMarcus Aldridge, Wesley Matthews and Nicolas Batum, will mean good things for the Blazers.
15. Los Angeles Lakers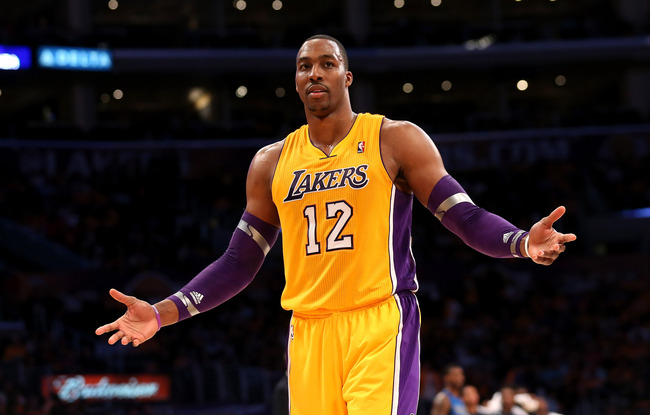 Stephen Dunn/Getty Images
Los Angeles Lakers fans, go ahead and tell me why I'm completely selling this team short. Let me know that I don't watch basketball and don't understand the covert brilliance of the Lakers.
Los Angeles Lakers haters, by all means, tell me how I'm massively overrating a team that is 0-2 and has looked completely inept. Explain how I'm biased toward large-market teams or whatever.
I'm sure that this ranking is simultaneously upsetting both contingents.
To be perfectly honest, I have no idea where to put the Lakers. No one does.
This team is talented enough to dethrone the Miami Heat and claim the No. 1 spot in the power rankings—sorry for the lack of a "spoiler alert," but we all knew that it was coming—but its play thus far has it looking more like a challenger to the Charlotte Bobcats' throne.
As many individual stars as the team may have, there isn't anything resembling an offense in place yet, and the defense has been just as bad. I'm not entirely sure what Mike Brown is thinking about on the sidelines, but I'm going to assume he just hasn't noticed that he's wasting Steve Nash's talents by having him play off the ball.
The Lakers are experiencing an early-season swoon, albeit a two-game one so far, that shouldn't be unexpected for a team with so many new crucial parts.
The Lakers could very well rocket up the rankings into the top five in as few as a couple games, but they must show that they understand how to play together first.
14. Utah Jazz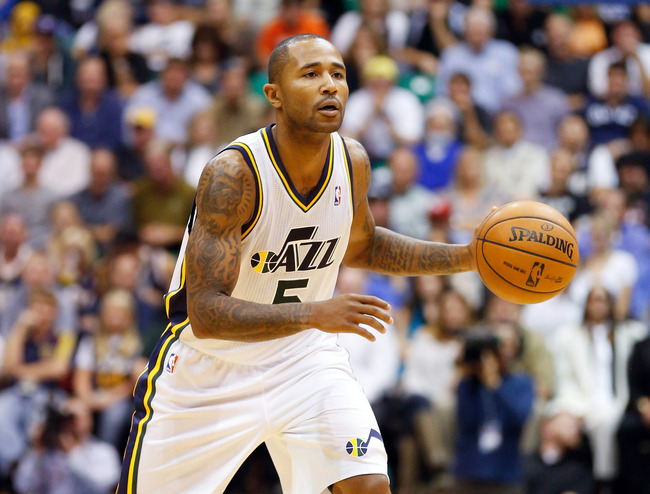 Russ Isabella-US PRESSWIRE
The Utah Jazz are one of the most sneaky-good teams in The Association after one of the most underrated offseason signings, bringing back Mo Williams to run the show at point guard.
Now, between Williams and Randy Foye, the Jazz have scoring out of the backcourt to complement the greatness of the frontcourt.
As long as Paul Millsap and Al Jefferson are in the lineup, the Jazz are going to remain a competitive team. Even if the Jazz start using Enes Kanter and Derrick Favors a bit more, the frontcourt will still be a dominant force against almost any opponent.
You aren't going to hear a lot about the Jazz throughout the season and they won't often be on SportsCenter, but they will be right there in the Western Conference playoff picture after 82 games.
13. Atlanta Hawks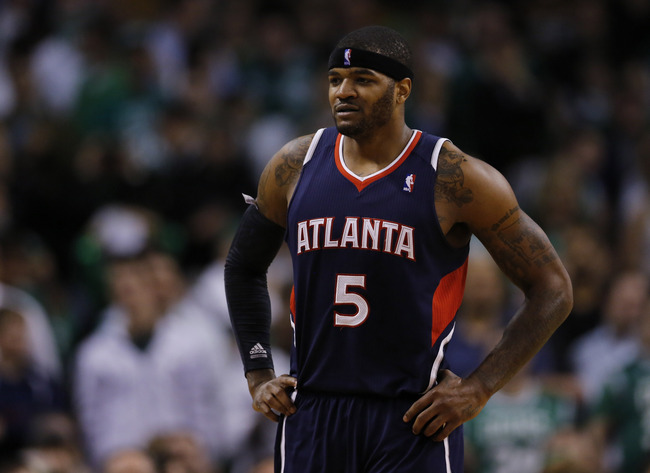 Greg M. Cooper-US PRESSWIRE
Speaking of underrated and overlooked teams, we have the Atlanta Hawks, who have almost been completely dismissed after trading away Joe Johnson to the Brooklyn Nets.
However, the composition of this team is still fantastic, assuming you're looking for a team to compete for a middle-of-the-pack seed in the Eastern Conference playoffs.
Josh Smith and Al Horford form one of the most dynamic and versatile frontcourt tandems in the league, as both players should be in the running for an All-Star spot. If Larry Drew knows what he's doing—and I'd like to believe that he does—Jeff Teague will be running pick-and-rolls with those two so often that he dreams about curling around screens.
Atlanta also possesses a host of shooters who can light up the scoreboard from the outside.
Let's see just how well the Ewing Theory works.
12. Chicago Bulls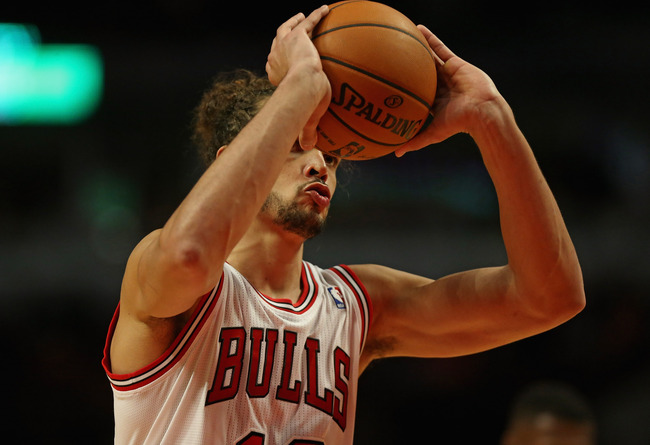 Jonathan Daniel/Getty Images
Even without Derrick Rose, the Chicago Bulls are a dangerous team. And keep in mind that this spot in the rankings is the one earned by the team without the MVP point guard in the lineup, as you can tell by looking at my opening week title odds.
Luol Deng and Joakim Noah form a terrifying duo on the defensive end of the court, and the offensive game of both players is only improving. Noah's passing in particular is going to make him a very valuable player.
Plus, the new bench mob could be just as good as the old one, especially with Tom Thibodeau continuing to pace the sidelines.
It's all about keeping pace until #TheReturn, though.
11. Indiana Pacers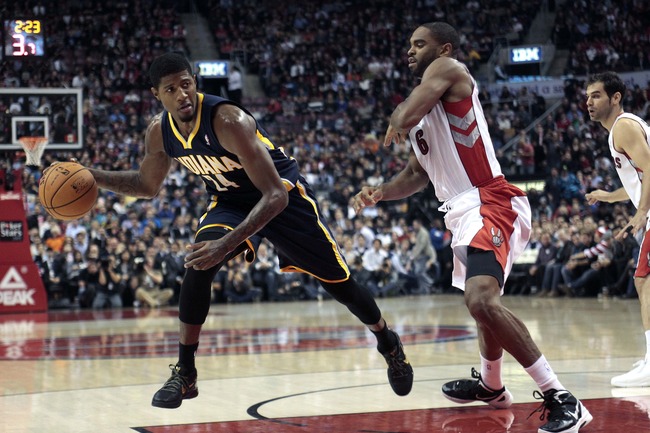 John E. Sokolowski-US PRESSWIRE
The Indiana Pacers have one of the best starting fives in the league, although it still took a late basket from George Hill to put away the Toronto Raptors in the first game of the 2012-13 campaign.
Paul George is expected to have a monster season and win the Most Improved Player award, and he showed exactly why in that game against Canada's NBA representative. The humongous wing player recorded 14 points, 15 rebounds and five assists in his debut.
The Pacers will only get better when Danny Granger returns, but his absence could prove to be a blessing in disguise as George gains confidence and the bench players gain valuable experience in key situations.
Indiana plays hard-nosed basketball and is going to be contending throughout the season.
10. New York Knicks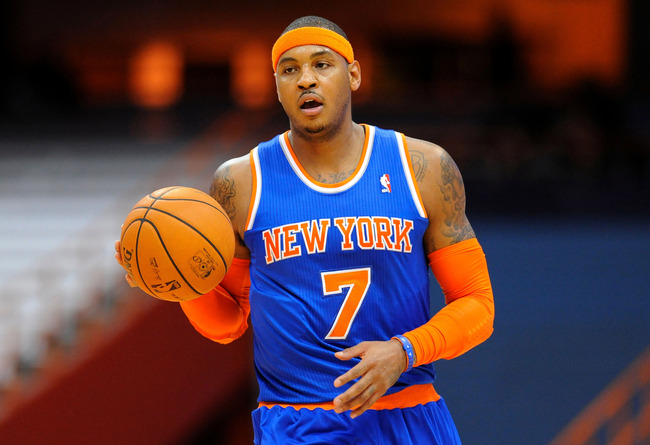 Rich Barnes-US PRESSWIRE
The New York Knicks' first game of the season was postponed by Hurricane Sandy, but Carmelo Anthony will have a chance to start the most important season of his career in style against the Miami Heat.
Melo will have an increased role now that Amar'e Stoudemire is out for an extended period of time to start the season. There's also a chance that STAT isn't the STAT of old because of his degenerating knees.
Anything short of a postseason series victory isn't going to cut it during the second season of the Melo-Stoudemire-Tyson Chandler era in New York. They got a singular playoff victory in the first try, but that won't do in 2012-13.
9. Brooklyn Nets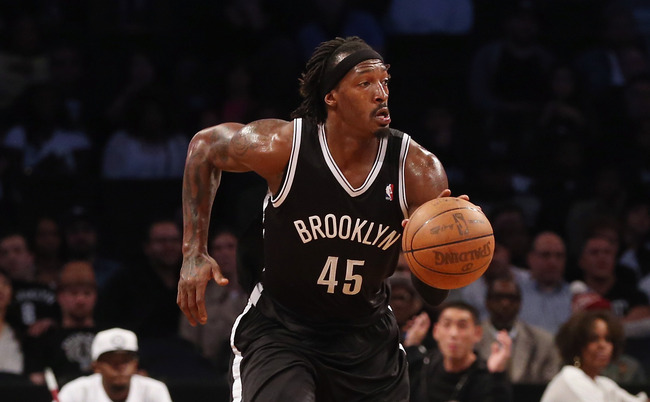 Bruce Bennett/Getty Images
Due to the postponement of the Barclays Center opener, we still don't have any true indication of how well the Brooklyn Nets are going to mesh during the regular season.
Deron Williams was a bit shot-happy in the preseason, but when everything starts to count, he should be able to make the correct decisions and involve his talented teammates.
The Nets have a ton of offensive firepower at their disposal. Between D-Will, Joe Johnson, Brook Lopez, Gerald Wallace and the intriguing bench options, points should come in bunches. Defense will be a struggle at times, however.
Brooklyn remains a bit mysterious, but the talent is certainly there.
8. Philadelphia 76ers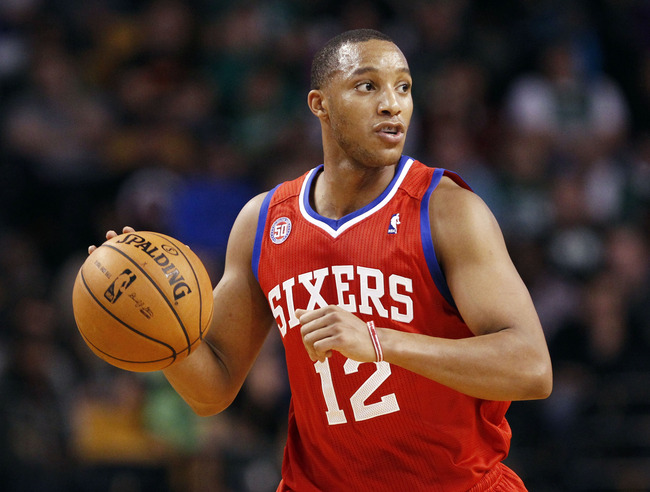 Mark L. Baer-US PRESSWIRE
Even with Andrew Bynum sitting out to let the bone bruise in his right knee recover, the Philadelphia 76ers were still able to open their 2012-13 campaign in strong fashion, spoiling the return of Andre Iguodala to his old stomping grounds in the process.
Spencer Hawes, in particular, was impressive for the Sixers as he filled in for the injured All-Star. With 16 points and 12 rebounds, the supposedly soft big man banged around on the inside and stretched out the Denver Nuggets' defense with his perimeter game.
The Sixers have a deep squad filled with athletic wing players but they still don't have a go-to guy while Bynum recovers. Even when the 7-footer enters the Philly lineup for the first time, we still don't know how he's going to handle his new role as the No. 1 guy.
A victory against a strong Denver team is certainly a terrific start to the season, but that issue still must be resolved before the Sixers can consistently threaten the league's top teams in close games.
7. Memphis Grizzlies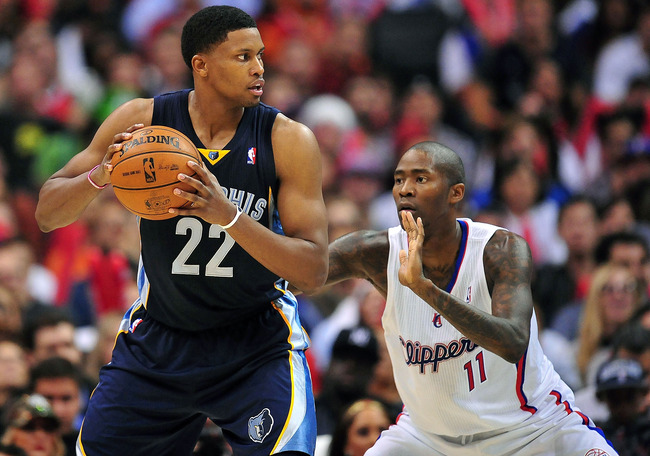 Gary A. Vasquez-US PRESSWIRE
The Memphis Grizzlies have one of the best cores in the NBA, and Mike Conley, Rudy Gay, Zach Randolph and Marc Gasol will only look better as the season progresses.
Talented as they all may be, they have a startling lack of experience playing together due to a number of unfortunately timed injuries.
This is a versatile team with plenty of potential on both ends of the court. When all four stars are on at the same time—both in terms of playing time and level of play—the ability to blow out the opponent is going to be nearly limitless.
Memphis may have struggled in the season opener against the Los Angeles Clippers, but that's nothing new for Grizz fans, who haven't witness an opening-day victory since the franchise moved out of Vancouver.
Z-Bo struggled in every facet of the game save rebounding against the Clippers, but that obviously won't continue to happen.
6. Denver Nuggets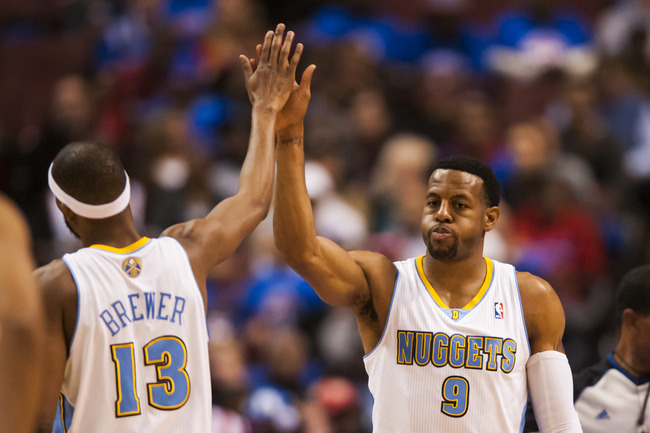 Howard Smith-US PRESSWIRE
The Denver Nuggets might not have been victorious against the Philadelphia 76ers in their first game of the season, but they're still a better and more talented team.
It takes time to bring in new pieces when they play as prominent a role as Andre Iguodala does, and the Nuggets were by no means impotent on either end of the court. Plus, the team was without the services of high-scoring small forward Danilo Gallinari.
With Ty Lawson running the show at point guard, this is a quick, athletic and explosive team capable of putting up a ridiculous number of points on any given night. Plus, the Nuggets are quite deep.
Even without Gallo in the lineup, George Karl brought in Andre Miller, Corey Brewer, JaVale McGee, Wilson Chandler and Evan Fournier off the bench. Not many teams have that type of luxury at their disposal.
5. Los Angeles Clippers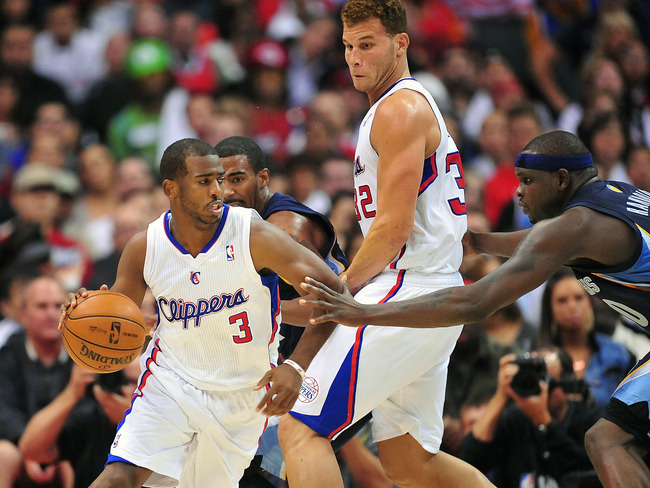 Gary A. Vasquez-US PRESSWIRE
Speaking of bench depth, the Los Angeles Clippers boast the best corps of reserves that the NBA has to offer.
On a subpar scoring night from Blake Griffin and Chris Paul—not that either of them played particularly poorly—it was the bench that stepped up to help open the season with an impressive 101-92 win over the Memphis Grizzlies.
New acquisition Jamal Crawford poured in 29 points off the pine to lead the team in scoring, and Eric Bledsoe was sensational in his 17 minutes, dropping 13 points and four dimes with only one turnover. Lamar Odom showed off his versatile skill set as well, recording two points, six rebounds, two assists, two steals and four blocks in his return to L.A.
Plus, the team was somehow able to overcome nine turnovers from DeAndre Jordan.
Try not to sleep on the Clippers this year. You'll regret it if you do.
4. Boston Celtics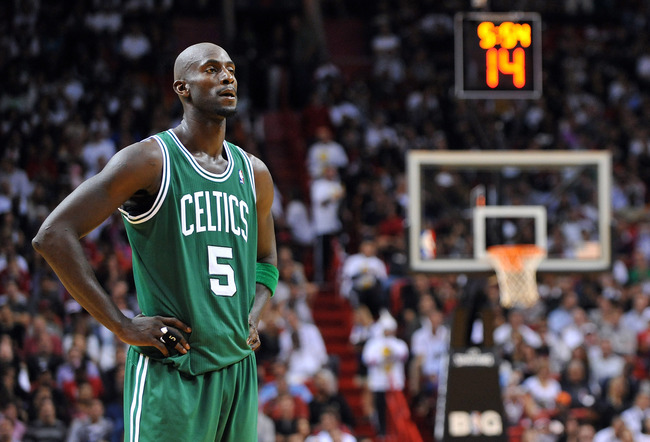 Steve Mitchell-US PRESSWIRE
The Boston Celtics are quite comfortably the second-best team in the Eastern Conference right now. As they proved on opening night, that works in both directions.
They don't have many challengers from below at this stage of the season, but there's also a sizable gap between themselves and the Miami Heat, who beat them by 13 points while LeBron James missed much of the second half with cramps.
Rajon Rondo should be a solid MVP runner-up candidate during the 2012-13 season, especially if his jumper continues to improve, but the success of the Celtics will depend largely upon Paul Pierce and Kevin Garnett's ability to remain healthy and effective.
The Celtics are an impressive team on both sides of the ball, but they're still the only occupant of the East's second tier.
3. San Antonio Spurs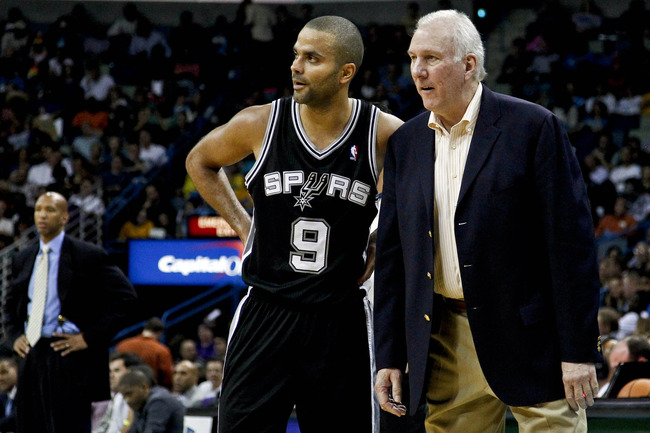 Derick E. Hingle-US PRESSWIRE
Even though Tony Parker has been lights out in crunch time during the early goings of the 2012-13 season, including a buzzer-beater against the Oklahoma City Thunder to extend the San Antonio Spurs' record to 2-0, he's not the guy who has impressed me the most.
The same can be said about Tim Duncan, who is challenging everything at or around the rim and appears to have shaved a decade off his age.
San Antonio's lesser-known contributors have been the most impressive.
Kawhi Leonard has been everywhere, providing constant sparks of energy and doing all the little things. Danny Green and his smooth jumper have provided a consistent threat from the outside.
Boris Diaw's versatility has been vital to the cause. Stephen Jackson has played great defense and performed admirably off the bench.
Even without Manu Ginobili, this has been a deep team with a great coach on the sidelines. Just like the rest of the last decade-plus, the San Antonio Spurs cannot be overlooked.
2. Oklahoma City Thunder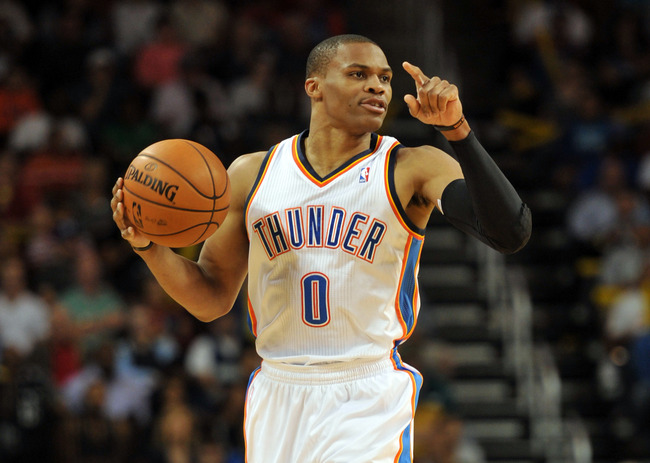 Peter G. Aiken-US PRESSWIRE
Even though the Oklahoma City Thunder lost their opener to the Manu Ginobili-less San Antonio Spurs, they still come in one spot above Gregg Popovich's squad.
The Thunder may have lost, but it required a buzzer-beater by the Spurs at their home court to take them down. And that's after OKC coughed up the ball and failed to get off a shot with a handful of seconds left in a game that was all square. For the record, that turnover will be credited to Russell Westbrook, but it was Kevin Durant's fault for lazily coming around a screen and allowing his defender to catch up.
Oklahoma City couldn't have played worse.
Westbrook made a number of bad decisions, shot poorly throughout the game, made crucial mistakes and was completely out of position on Tony Parker's game-winner.
The rest of the team wasn't much better. As a whole, the Thunder shot just 37.7 percent from the field and had 18 turnovers to pair with their 18 assists. That's just awful.
Plus the team is still learning how to use Kevin Martin after dealing away James Harden and his amazing beard.
And they still lost to my No. 3 team on a buzzer-beater in a road game.
1. Miami Heat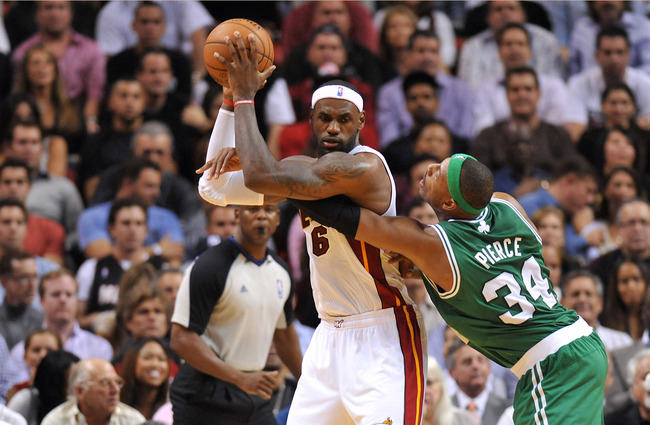 Steve Mitchell-US PRESSWIRE
After winning a title at the conclusion of the 2011-12 season and then getting better during the offseason, it's clear that the Miami Heat stand alone in the No. 1 spot at the beginning of the new campaign.
If anything, they're significantly more dangerous.
Dwyane Wade finally looks healthy, slashing to the basket at will, playing good defense and affecting the game across the board. Chris Bosh's jumper looks unbelievably deadly. LeBron James is, well, LeBron James.
The addition of Ray Allen paid off when he faced his former team to open the season, as the shooting guard came off the bench to eardrum-shattering cheers and promptly dropped 19 points. Fellow acquisition Rashard Lewis was impressive in limited action as well.
Miami's chemistry is still improving, and the Heat are starting to put a gap between themselves and the rest of the NBA.
It's going to take a lot to dethrone them in the near future.
Keep Reading