Jeremy Lin and the 10 NBA Stars with Most to Prove in 2012-13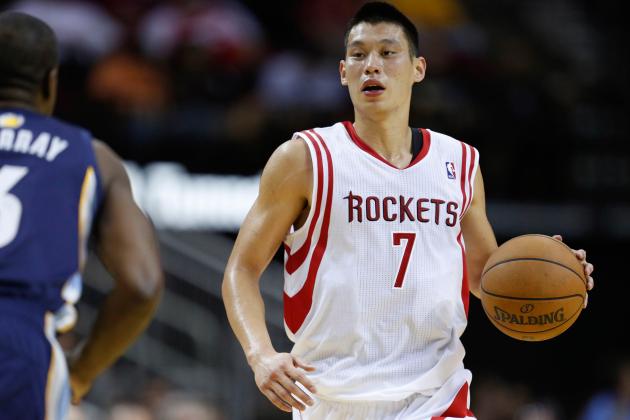 Thomas Campbell-US PRESSWIRE

The 2012-13 NBA season has the potential to be the most captivating one we've seen in more than 20 years. The storylines are plentiful, and they certainly don't lack for intrigue.
Will LeBron James and the Heat repeat? Will Kevin Durant and the Thunder redeem themselves and achieve greatness? Are the new-look Lakers as good on the court as they appear on paper? Who will be the dominant team in New York?
However, these are just the headlines that will receive the most national attention. In a league replete with stars, there are more than a few entering seasons that could help shape or destroy their legacies.
Here, we present to you a list of NBA stars with the most to prove in 2012-13.
Begin Slideshow

»
New York's media darling has moved south, where he will assume the role of franchise cornerstone with the Houston Rockets. Well, that's what Daryl Morey and the Rockets front office are hoping at least.
As many are aware, Lin was a backcourt revelation during his brief stint in Manhattan, posting averages of 14.6 points, 6.2 assists and 1.6 steals in 35 games last season.
However, all of the good that came with Lin's game was accompanied by some troublesome habits. Lin had a notoriously bad turnover problem, averaging 3.6 per game a year ago. If he's going to be the floor general the Rockets want him to be, that number needs to be cut in half.
For Lin to prosper in Houston, he will need to show the fearlessness attacking the rim that he did in New York, but he will also have to learn to distribute effectively and mold himself into a more conventional point guard.
We saw a consistent outside shot in Lin's repertoire last year, and according to HoopData, the youngster converted on 43 percent of his shots from 16-23 feet and posted an effective field-goal percentage of 48 percent from beyond the arc.
If Lin can build on those numbers in Houston, the hype will be well deserved.
Joe Johnson enters year one of the Brooklyn Nets era on a roster loaded with offensive talent, yet sorely lacking defensively.
After signing (via ESPN.com) a six-year, $124 million contract with the Atlanta Hawks in the summer of 2010, Johnson failed to reach lofty expectations and was ultimately dealt (via ESPN.com) to the Nets this summer by new GM Danny Ferry. In a move that freed up cap space in Atlanta, Brooklyn acquired the complement it desired alongside point guard Deron Williams.
Now, with four years and roughly $90 million remaining on his contract, it feels impossible for Johnson to live up to the hefty contract that was bestowed upon him in Atlanta.
The fear with Johnson is that he will revert to "Iso-Joe" (via The New York Times), which will inhibit the Nets offense from establishing chemistry. However, on an offense that has one of the league's elite point guards, Johnson has an opportunity to expand his offensive horizons.
What Johnson needs to prove is that he's a more complete offensive player than his "Iso-Joe" label indicates while committing more effort on the defensive side of the ball.
If you didn't know any better, you may have thought Josh Smith was playing for a new contract last season. However, that wasn't the case. Smith has one year remaining on his current deal and is playing for a massive new contract, whether it's from the Atlanta Hawks or another NBA franchise.
Smith posted impressive regular-season numbers a year ago, but the postseason was where he truly shined. Averaging 16.8 points, 13.6 rebounds, 4.8 assists and one block per game against the Boston Celtics in the first round of the playoffs, Smith showed what a versatile forward he can be.
The big knock on Smith is that he's in love with outside jumpers, and it's a fair criticism. Smith shot 37 percent between 16-23 feet last season (via HoopData), which is by no means bad, but it doesn't warrant 6.3 attempts per game from that range.
If Smith can hone his offensive game to match his All-NBA defense, there's no doubt that he will be worthy of a max deal next summer.
Just when you thought the NBA couldn't add any more elite talent at point guard, Kyrie Irving came along.
Irving, not yet of the legal drinking age, was phenomenal in his first NBA season, taking home the league's Rookie of the Year hardware in 2011-12.
After averaging 18.5 points, 5.4 assists and 1.1 steals per game last season, Irving made sure people were aware that he was worthy of the No. 1 overall selection in the 2011 NBA draft.
Now, with a full offseason to hone his game, Irving is ready to prove that he's worthy of mention alongside names like Deron Williams, Russell Westbrook, Rajon Rondo, Chris Paul and Derrick Rose.
In 2012-13, the sky's the limit for Irving. With an improved supporting cast that boasts rookies Dion Waiters and Tyler Zeller, the Cleveland Cavaliers have a bright future ahead, with Irving spearheading the revitalization.
There's a simple way to classify the Amar'e Stoudemire era in New York. There's BC (Before Carmelo), the brief period in which Stoudemire saw his numbers balloon to the point where he was considered one of the NBA's most dominant offensive players, and AC (After Carmelo), the troublesome period in which New York's star duo has failed to mesh.
Before Carmelo, we saw a confidence about Amar'e that was reassuring. Since Carmelo arrived in the Big Apple, that confidence has decided to take a vacation. Amar'e and Carmelo have struggled to coexist, and Stoudemire no longer feels like the Alpha Dog.
In their second full season together, things are already looking pretty bleak. According to ESPN.com, Stoudemire will be sitting out the first six to eight weeks of the regular season due to nagging knee issues:
New York Knicks forward Amar'e Stoudemire will be sidelined approximately six to eight weeks after he has a surgical procedure to repair his injured left knee, the team announced Tuesday.

Stoudemire will undergo a debridement -- a procedure that cleans out dead tissue or foreign material -- for his troublesome left knee.
With Amar'e out for an extended period, Carmelo will dominate the offensive touches, which could prove detrimental to their chemistry upon Stoudemire's return.
It remains to be seen whether it's Anthony or Stoudemire who needs to make concessions, but some middle ground will have to be met to ensure Knicks fans that Stoudemire still has the game he flashed in 2010-11.
Other than LeBron James, was there a more scrutinized player in the NBA last season than Russell Westbrook? The criticism was warranted at times, but Westbrook is a dynamic athlete with a nose for the basket and can score at will when he's in the right frame of mind.
Westbrook earned his reputation as a gunner during the 2012 playoffs, where he viewed himself as a one-man wrecking crew—bringing the ball up the floor, dribbling out most of the shot clock and hoisting up questionable jumpers, many of which were contested.
The Thunder are clearly at their best when there's a comfortable equilibrium between Kevin Durant and Westbrook, but make no mistake about it: Westbrook doesn't see himself as a second option. If Durant is option No. 1, than Westbrook is option No. 1A.
Westbrook has a propensity to dominate the ball, but his elite combination of athleticism, quickness and fearlessness are matched by few in today's game. The fifth-year point guard will be under an intense microscope, and while many will clamor for Westbrook to change his reckless ways, don't count on it happening.
Asking Westbrook to scale back his intensity is like asking J.R. Smith to cut back on contested threes. It's not plausible.
Let's not forget that Westbrook is one of the league's dominant two-way players, and if he can harness his energy to produce any bit of the prototypical point guard play many want to see out of him, we'll have a beast on our hands.
Just when it looked like the flurry of offseason activity had slowed down, the Oklahoma City Thunder dropped a bombshell on the NBA.
According to Yahoo's! Adrian Wojnarowski, James Harden was dealt to the Houston Rockets amid long-term financial concerns and Harden's desire for a max contract:
Contract extension talks between the Thunder and Harden broke down, and Thunder general manger Sam Presti moved quickly to trade the guard. Harden rejected a four-year offer that would have paid him a base salary of $53 million to $54 million, league sources said. That offer would have pushed OKC's payroll to $95 million, and Thunder officials weren't willing to go any higher. The 2012-13 salary cap is set at just over $58 million, and the luxury tax kicks in at $70.3 million, while a four-year max deal is worth $60 million.
While Harden no longer has to prove he's worthy of a max deal (via NBA.com), he's going to be playing with a mean streak down in Houston. And hey, it's not like Harden's surrounded by a bunch of nobodies in Texas.
There's a real possibility Harden and Jeremy Lin could propel the Rockets into playoff contention in the Western Conference. Who wouldn't love to see a Thunder-Rockets first-round matchup? I can't say I'd be too upset.
The savior of Philadelphia basketball has arrived (via NBA.com). Well, at least that's what fans thought three months ago.
After years in Los Angeles playing second and third fiddle to Kobe Bryant and Pau Gasol, Andrew Bynum is the unquestioned star of the Philadelphia basketball scene.
Rehabilitation from knee discomfort (via The Washington Post) has meant no preseason action for Bynum, which has meant little to no time getting acclimated with his new teammates.
There has been an expectation that Bynum's arrival will propel the Sixers into immediate Eastern Conference contention, but right now, that's still to be determined. The Sixers are being cautious, which is absolutely the proper course of action, but it's clear that year one of the Bynum era may not go as planned.
Assuming Bynum remains relatively healthy during the 2012-13 season, he will then have to handle the pressure of being the team's offensive and defensive lynchpin.
For the first time, Bynum will have to learn how to handle double-teams in the post, and his development as a passer out of the low blocks will be crucial to his development as a franchise centerpiece.
Paired up with Kobe Bryant, Steve Nash and Pau Gasol, what could possibly go wrong for Dwight Howard in Los Angeles?
There's no question that Howard is the best center the Lakers have had since that guy named O'Neal, but there's an expectation that the Lakers will not only win the Western Conference, but battle the Miami Heat for ultimate NBA superiority.
Coming off a winless preseason (via USA Today) and with an 0-2 start to the regular season, it's clear that the Lakers' sleek new core has still has some work to do to achieve the greatness they're ultimately striving for.
Howard has always been accustomed to being option No. 1 on the offensive end, but things are going to change on a team that boasts Bryant, Gasol and Nash. In the Princeton offense, Howard will be an integral component of the high-low pick-and-roll with Nash but will have to deal with Bryant dominating the ball at times.
Expectations are sky-high, but as the Miami Heat showed us two years ago, there's no guarantee that newly assembled super-teams are destined for greatness in year one.
Now that LeBron James has his title, get ready for the Carmelo Anthony bashing to begin. Not only does Anthony not have a ring, but his playoff record is simply abysmal.
According to Howard Beck of the New York Times, concerns about Anthony's playoff failures are a legitimate cause for concern:
In nine postseasons, Anthony is 16-36 — the worst record among active players with at least 50 playoff games. He has won a first-round series only once, in 2009. Since then, he has lost 11 of 13 playoff games.
For Anthony, this season has nothing to do with personal statistical achievements. It's all about the team. How will he jell with a cast of mixed characters, and how can the Knicks can maintain superiority over the Brooklyn Nets?
'Melo may have to dip out of his comfort zone if he wants to achieve the success he's only been able to dream of thus far. A nice start would be playing an undersized 4, adapting his game to the post.
We saw it throughout the 2012 Olympic Games. Carmelo can be a devastating inside-outside threat if he wants to be. He can knock down threes with the best of them, and he has the strength to establish optimal post position. If he strives to be, Carmelo can become the sort of dominant offensive weapon we have seen LeBron James become. It may just take some compromising.