Bleacher Report's Preseason 2012-13 All-NBA Teams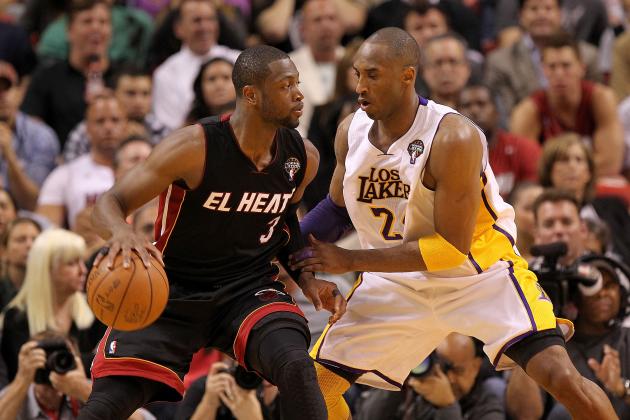 Mike Ehrmann/Getty Images

After each NBA season, 15 players are selected to the three All-NBA teams, honoring them for their performances on the hard court. Well, the 2012-13 season hasn't begun, but let's find out who the preseason favorites are for those 15 spots.
These are Bleacher Report's Preseason All-NBA teams for the 2012-13 campaign, as determined by a select group of voters.
Each of the 11 writers selected their first, second and third teams, and players received three points for a first-team nomination, two points for a second-team nomination and one point for a third-team nomination.
Players' points were summed, and then they were placed into the official teams accordingly.
Did your favorite player get snubbed, or is he prominently featured? You'll have to read on to find out.
Voters included Joel Cordes, Michael Dunlap, Peter Emerick, Dan Favale, Adam Fromal, Bryant Knox, Ben Leibowitz, Ethan Norof, Maxwell Ogden, Chris Trenchard, Mike Walsh.
Begin Slideshow

»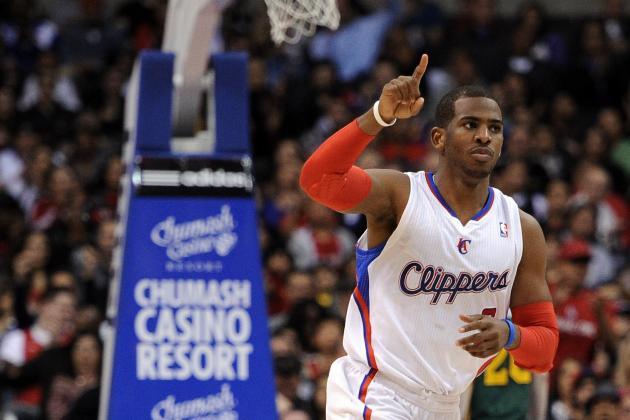 Harry How/Getty Images

Team: Los Angeles Clippers
Position: PG
Age: 27
2011-12 Per-Game Stats: 19.8 points, 3.6 rebounds, 9.1 assists, 0.1 blocks, 2.5 steals
With 29 of a possible 33 points, Chris Paul received more support by the voters than any other guard in the league, including both point guards and shooting guards.
CP3 was sensational during his first season running Vinny Del Negro's offense for the Los Angeles Clippers, although there were certainly times when he was given free rein to do as he pleased in the half-court sets. The best point guard in the league during the 2011-12 campaign, Paul dominated defenses with his scoring and passing from tipoff until the final buzzer sounded.
Not much will change when the 2012-13 season begins. Paul will continue to thrive as the floor general, wreaking havoc on both ends of the court. He'll provide wins, massive statistics and quite a few highlights when Blake Griffin and DeAndre Jordan end up on the receiving end of his picture-perfect alley-oop lobs.
If Paul has a significant weakness on the hard court, the rest of the NBA has yet to find it.
Fromal's Choice: Chris Paul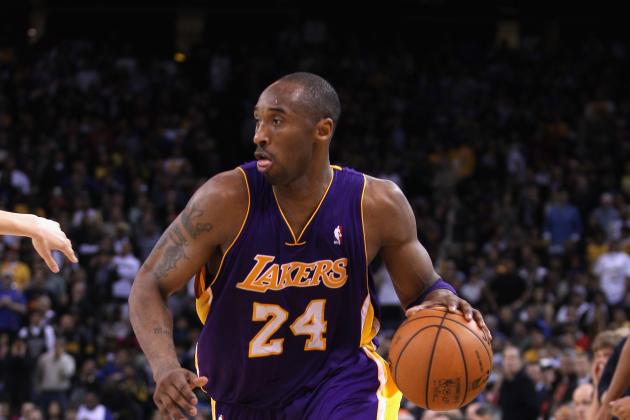 Ezra Shaw/Getty Images

Team: Los Angeles Lakers
Position: SG
Age: 34
2011-12 Per-Game Stats: 27.9 points, 5.4 rebounds, 4.6 assists, 0.3 blocks, 1.2 steals
Kobe Bryant had a chance to beat out Kevin Durant for the NBA scoring title at the conclusion of the 2011-12 season, but he chose to sit out the final game and rest for the playoffs. The strategy backfired as Durant walked away with the title and then helped knock Kobe and the Los Angeles Lakers out of the playoffs far earlier than No. 24 would have liked.
The Black Mamba is ready for revenge, and he'll have two new toys to play with when regular-season action gets underway at Staples Center. Dwight Howard and Steve Nash are both going to be wearing purple and gold, joining Pau Gasol and Kobe in the quest to start a ring collection on the shooting guard's second hand.
While Kobe will have to take more of a back seat than he's needed to in the past, he'll still remain a valuable player. If anything, you might see his per-game stats go down while his efficiency metrics go up, meaning that he'll appear worse on the surface but actually be playing the game more effectively.
The acquisitions of Nash and D12 will only help Kobe in his quest to stave off Father Time. He has at least one more stellar season left in the tank.
Fromal's Choice: Dwyane Wade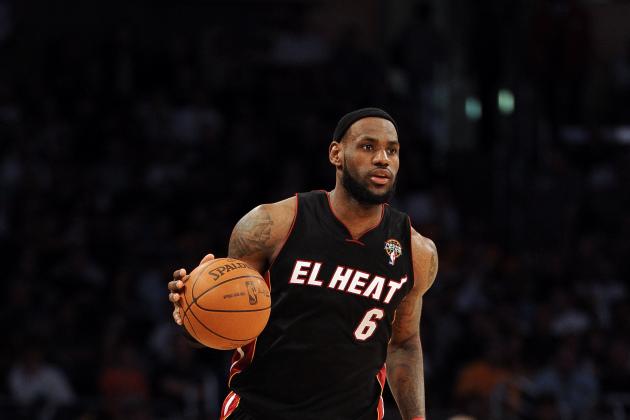 Harry How/Getty Images

Team: Miami Heat
Position: SF/PF
Age: 27
2011-12 Per-Game Stats: 27.1 points, 7.9 rebounds, 6.2 assists, 0.8 blocks, 1.9 steals
LeBron James is the clear-cut best player in the world, so it makes sense that he was the only unanimous member of the Preseason All-NBA First Team, earning a top spot on each of the 11 ballots.
Coming off one of the most fantastic seasons in basketball history, LeBron has all of us speculating as to what he might do for an encore. After all, how can he possibly top a season with a 30.80 PER in which he was named regular-season MVP and Finals MVP, contended for Defensive Player of the Year, won his first ring and earned a gold medal at the Summer Olympics?
Well, if he keeps improving his post game and completing the transition to what a friend of mine calls "power point forward," he may very well top his 2011-12 campaign of terror through the basketball world.
There aren't enough superlatives that you can heap in LeBron's general direction right now, so I won't even try. The unanimity of the vote should speak for itself.
Fromal's Choice: LeBron James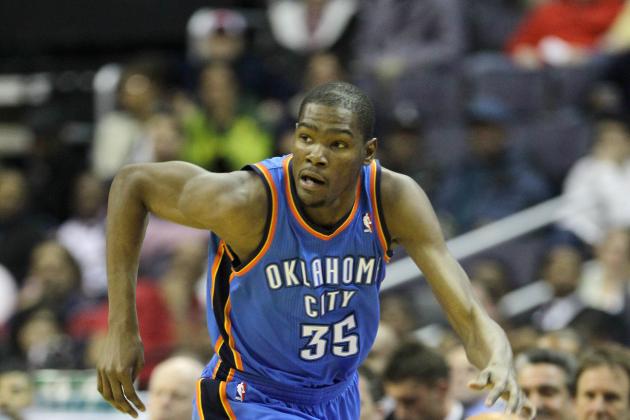 Rob Carr/Getty Images

Team: Oklahoma City Thunder
Position: SF
Age: 24
2011-12 Per-Game Stats: 28.0 points, 8.0 rebounds, 3.5 assists, 1.2 blocks, 1.3 steals
The scariest thing about Kevin Durant is that he's still only 24 years old and won't hit the quarter-of-a-century mark until the next offseason. LeBron James might be at or nearing his peak, but Durant still has plenty of improving left to be done.
Despite the room for growth, the three-time scoring champion is already widely considered the No. 2 player in the world. This, of course, is after considering his solid, albeit unspectacular, defensive play and his limitations as a facilitator.
What if Durant suddenly learns how to pass the rock effectively to his teammates? What if he develops a back-to-the-basket game and starts dominating from the post and the perimeter?
Durant has undoubtedly earned a spot on the All-NBA First Team, where he's resided ever since 2010, but he's still going to get better.
Fromal's Choice: Kevin Durant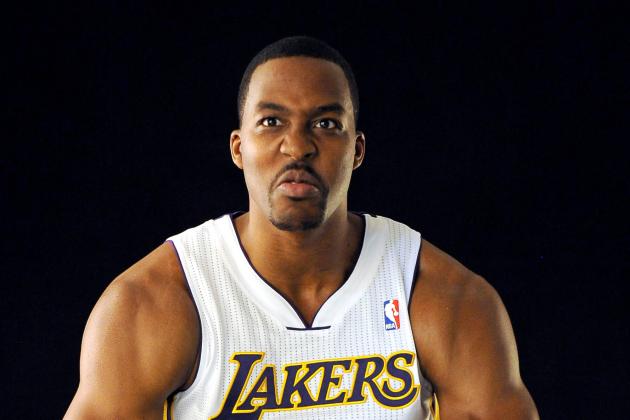 Jayne Kamin-Oncea-US PRESSWIRE

Team: Los Angeles Lakers
Position: C
Age: 26
2011-12 Per-Game Stats: 20.6 points, 14.5 rebounds, 1.9 assists, 2.1 blocks, 1.5 steals (for Orlando Magic)
Dwight Howard's balky back didn't seem to sway voters much, myself included. Despite the fact that he might be limited for the beginning of his first season in purple and gold, Howard was still the overwhelming choice as the All-NBA First Team center.
Howard is able to affect the game in myriad ways. He's a solid passer out of double-teams and from the blocks, plays defense as well as anyone in the league and is an offensive force.
Although his blocked shots might draw most of the attention when he's playing defense—and he still needs to get rid of that unfortunate habit of swatting the ball out of bounds—it's Howard's off-ball defense and ability to stay in position on pick-and-rolls that truly make him the player that has the most impact on defense in the NBA.
Howard should thrive on a Los Angeles Lakers squad that is far more talented than any Orlando Magic unit he played with. Defenses can no longer commit to solely focusing on D12 but must pay attention to the other offensive weapons as well.
Fromal's Choice: Dwight Howard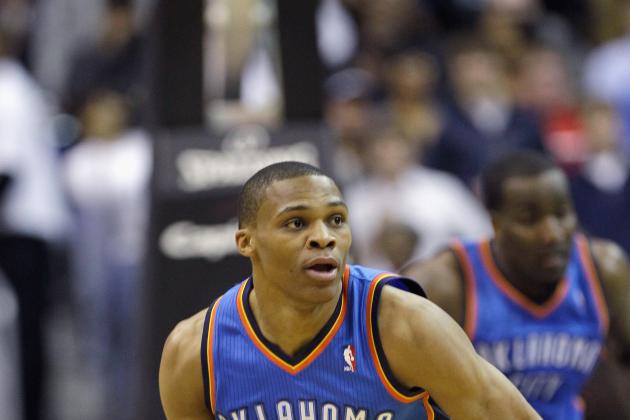 Rob Carr/Getty Images

Team: Oklahoma City Thunder
Position: PG
Age: 23
2011-12 Per-Game Stats: 23.6 points, 4.6 rebounds, 5.5 assists, 0.3 blocks, 1.7 steals
Truthfully, Russell Westbrook wasn't even close to missing out on this honor. The rest of the guards trailed both he and his second-team companion by a significant margin, and Westbrook even received some first-team nominations.
The dynamic point guard is one of the best athletes to ever line up as a floor general, and his shoot-first mentality has made him into one of the league's most successful players. He might draw some flak for his tendency to pull up early in the shot clock, but his pull-up jumper from mid-range is one of the most deadly and unstoppable shots in basketball when he's on fire.
Westbrook has improved by a significant margin during each of his post-UCLA seasons, and the 2012-13 season shouldn't prove to be any different as he cements his status as a top-10 player in the Association.
Fromal's Choice: Russell Westbrook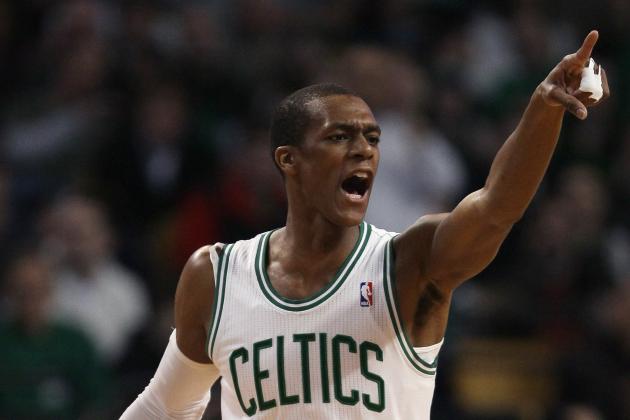 Elsa/Getty Images

Team: Boston Celtics
Position: PG
Age: 26
2011-12 Per-Game Stats: 11.9 points, 4.8 rebounds, 11.7 assists, 0.1 blocks, 1.8 steals
Rajon Rondo isn't exactly a threat to pull an Oscar Robertson and average a triple-double over an entire season, but he is good enough to lead the league in that unique feat over the course of 82 games.
The Boston Celtics floor general was quite close to moving past Kobe Bryant and claiming a spot on the Preseason All-NBA First Team, but he'll have to settle for the secondary squad going into the 2012-13 season.
Rondo's court vision is unmatched in the league right now, and he possesses the pure passing skills to work the ball into the tiniest of windows. Thanks to the addition of a healthy Jeff Green, Rondo is finally going to have an elite athlete to lob the ball to in fast-break situations as well.
Although he's not the greatest scorer and has limited range on his jumper, Rondo's passing and defensive skills have elevated him up the point guard rankings. He currently resides in the upper tier and should be there for a long time.
Fromal's Choice: Kobe Bryant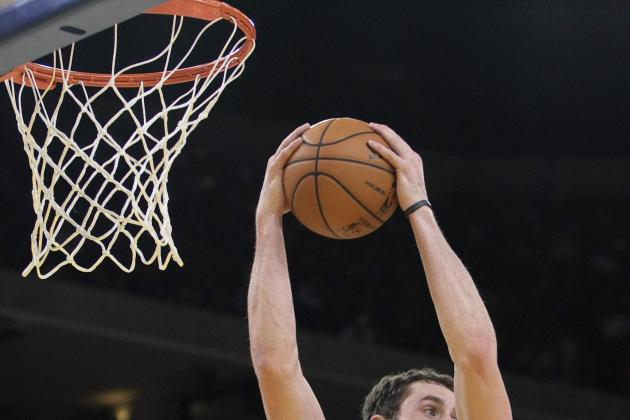 Kelley L Cox-US PRESSWIRE

Team: Minnesota Timberwolves
Position: PF
Age: 24
2011-12 Per-Game Stats: 26.0 points, 13.3 rebounds, 2.0 assists, 0.5 blocks, 0.9 steals
Kevin Love is an All-NBA First Team forward. At least, that's what his play seems to say.
However, Love just happens to play in a version of the NBA that prominently features LeBron James and Kevin Durant at forward. Seeing as they're the two best players in the world, it's awfully hard for this top-10 baller to break into the actual first team.
He might not ever get that first-team title, but he really does play at that level.
During the 2012-13 season, Love gets a chance to show that he can play for a winner and not just put up meaningless stats on a lottery team.
With his relentless work on the boards and soft touch from the perimeter, the big man from UCLA is one of the most uniquely talented players in the Association.
Fromal's Choice: Kevin Love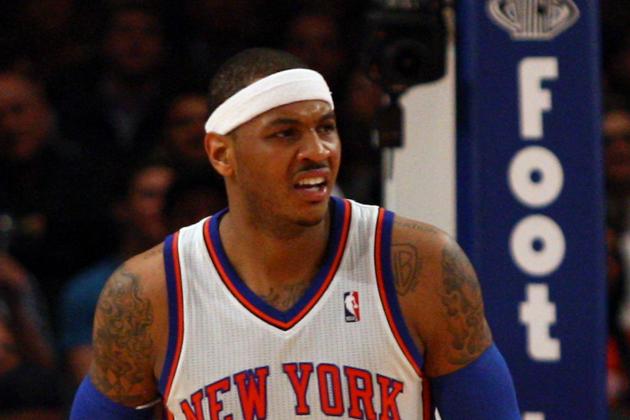 Chris Chambers/Getty Images

Team: New York Knicks
Position: SF
Age: 28
2011-12 Per-Game Stats: 22.6 points, 6.3 rebounds, 3.6 assists, 0.4 blocks, 1.1 steals
Carmelo Anthony and Kevin Love were both near-consensus picks for the All-NBA Second Team.
Just as Love did, Anthony also deserved the spot, thanks to his well-rounded offensive game. Anthony is one of the more complete scorers in all of basketball, utilizing a deadly jumper, a killer isolation game and post moves that are more commonly found with bigger players.
Melo might be a ball-stopper and play lackluster defense, but his offense can usually manage to trump his flaws on the hard court. He was the spark that the New York Knicks needed to win the franchise's first playoff game in what seems like forever, and he'll have to keep performing at a high level if the Knicks hope to actually win a series.
Fresh off a record-setting performance in London, Melo is poised to tear it up with his jumper once more when play begins during the 2012-13 campaign.
Fromal's Choice: Carmelo Anthony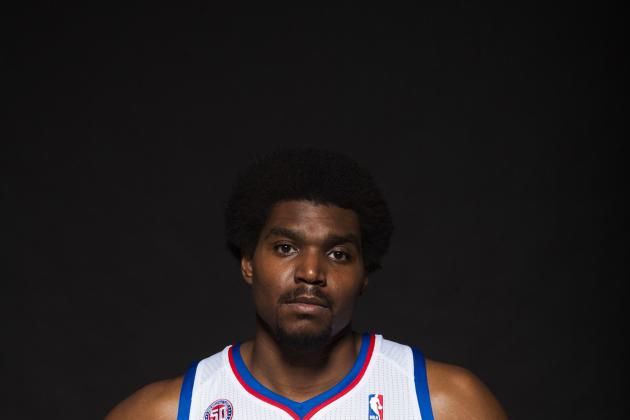 Howard Smith-US PRESSWIRE

Team: Philadelphia 76ers
Position: C
Age: 24
2011-12 Per-Game Stats: 18.7 points, 11.8 rebounds, 1.4 assists, 1.9 blocks, 0.5 steals
If there's any player who has a chance to dethrone Dwight Howard as the best center in the league, it's the man he's replacing. Andrew Bynum has left the Los Angeles Lakers for the Philadelphia 76ers, but he'll still retain the dominance that makes him that challenger to Superman's throne.
A good post defender with excellent offensive moves when he puts his back to the basket and goes to work from the blocks, Bynum stayed healthy and on the court for the vast majority of the 2011-12 season. As a result, his improvement and dominance were palpable.
Bynum must improve his range—but still realize that he's not a three-point shooter—but he'll also have to improve the mental aspects of his game before he can dream of pushing past Howard. A sometimes immature and temperamental player, Bynum will have to adjust in Philly.
He's no longer playing in the long shadow cast by Kobe Bryant but will instead be the unquestioned star and No. 1 player on his team. How he handles that, along with the inevitably fickle Philly fans, will determine the level of success during his first go-around in a new jersey.
Fromal's Choice: Andrew Bynum
Chris Trotman/Getty Images

Team: Miami Heat
Position: SG
Age: 30
2011-12 Per-Game Stats: 22.1 points, 4.8 rebounds, 4.6 assists, 1.3 blocks, 1.7 steals
Dwyane Wade created the largest discrepancy between the panel of voters and myself. I had the Miami Heat shooting guard on my All-NBA First Team, but he was only able to earn enough points to merit inclusion on the third team.
Still, that's nothing to feel bad about if you're Wade. He's still one of only two shooting guards filling up one of the six guard spots on the All-NBA squads.
When healthy, Wade is one of the most productive players in the league, slashing to the basket in devastating fashion and wreaking havoc on the defensive end of the court. He remains the best shot-blocking 2-guard in the league even though he's now on the wrong side of 30.
However, Wade's days with a spotless health record aren't occurring as often as the Heat would like.
Fromal's Choice: Rajon Rondo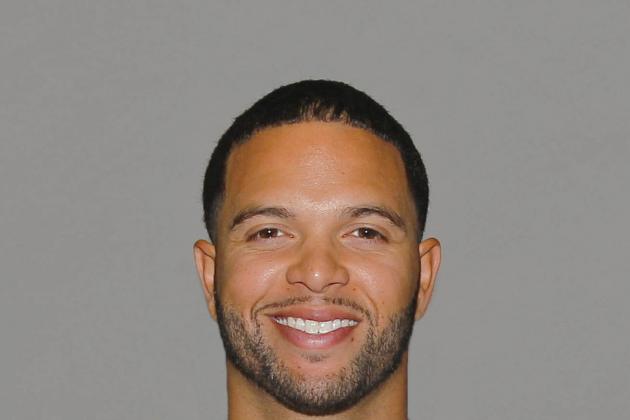 Jim O'Connor-US PRESSWIRE

Team: Brooklyn Nets
Position: PG
Age: 28
2011-12 Per-Game Stats: 21.0 points, 3.3 rebounds, 8.7 assists, 0.4 blocks, 1.2 steals
Deron Williams is one of the players I'm most excited about watching during the 2012-13 season because of his inevitably changing role.
The point guard put up impressive—but empty—statistics for the New Jersey Nets throughout his first full year with the team, even when Brook Lopez was sidelined with a foot injury. Despite his sensational numbers, D-Will was snubbed from the All-NBA teams entirely.
He'll now be surrounded with potent offensive weapons, thanks to the addition of Joe Johnson, the return of Gerald Wallace, the return to health of Lopez and the other members of the Brooklyn Nets.
Williams won't be forced into taking bad shots and depressing his field-goal percentage out of necessity. He'll be able to focus on his facilitating skills and increase both his efficiency and the team's win total.
Fromal's Choice: Deron Williams
Other Guards Receiving Votes: Manu Ginobili, Kyrie Irving, Brandon Jennings, O.J. Mayo, Tony Parker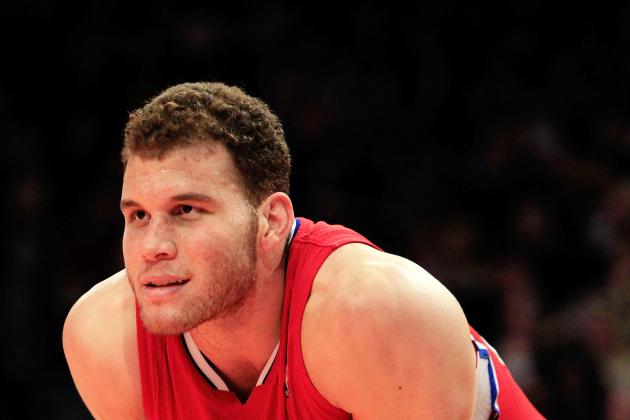 Chris Trotman/Getty Images

Team: Los Angeles Clippers
Position: PF
Age: 23
2011-12 Per-Game Stats: 20.7 points, 10.9 rebounds, 3.2 assists, 0.7 blocks, 0.8 steals
I still fail to understand why so many people have a problem with Blake Griffin's reliance on dunks to score his points. A dunk is worth just as many points as a deep two-pointer, and it's a far more efficient shot. If it was so easy to score 20.7 points per game with so many dunks, then why exactly don't more people do it?
Other gripes against Griffin are fair, though. Yes, he plays lackluster defense. Yes, his post moves are limited—although his spin is absolutely devastating and remains effective even though everyone and their mothers know that it's coming. Yes, he flops excessively.
Despite his flaws, Griffin remains an elite forward in this league, even at the tender age of 23. Fortunately, our B/R voters were able to recognize this and voted Griffin onto the All-NBA Third Team, which is actually a downgrade from last year's second-team inclusion.
Griffin is still improving, which is a scary thought for the league he's dominated during each of his two professional seasons.
Fromal's Choice: Blake Griffin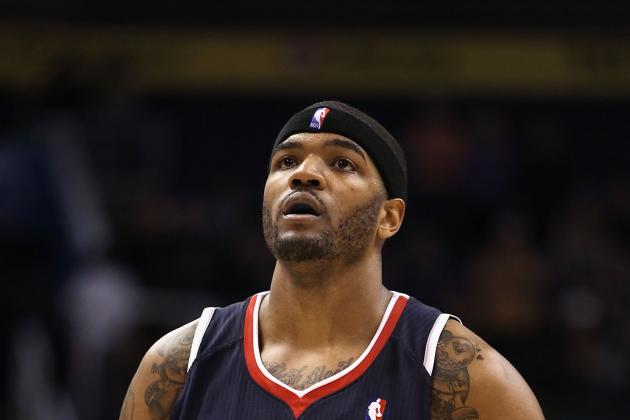 Christian Petersen/Getty Images

Team: Atlanta Hawks
Position: SF/PF
Age: 26
2011-12 Per-Game Stats: 18.8 points, 9.6 rebounds, 3.9 assists, 1.7 blocks, 1.4 steals
When I saw that Josh Smith had made B/R's Preseason All-NBA Third Team, I couldn't help but laugh out loud at the hilarity of the situation.
I've complained about the frequency of Smoove snubs in the past, and now I'm the one doing the snubbing, according to the results of the ballots.
I, the Atlanta Hawks fan in the group, didn't vote for Josh Smith. I, the NBA writer whose most recent purchase is a throwback Hawks jersey with Smith's name on the back, was one of the few to leave a personal favorite player off all three teams.
Don't get me wrong, though. I desperately hope that Smoove earns this spot and ends up holding it at the conclusion of a successful 2012-13 campaign. I have my fingers crossed that he can step up his game now that Joe Johnson has departed for the Brooklyn Nets.
If he can stop shooting perimeter jumpers and focus on utilizing his insane athleticism more often, Smith could be one of the more dangerous offensive players in the league. He's already an above-average one, and he couples those skills with tenacity on the glass and premier defense at a number of positions on the court.
Smith is elite. It's just not every night that he chooses to be.
Fromal's Choice: LaMarcus Aldridge
Other Forwards Receiving Votes: LaMarcus Aldridge, Rudy Gay, Dirk Nowitzki, Zach Randolph
Kelley L Cox-US PRESSWIRE

Team: Sacramento Kings
Position: PF/C
Age: 22
2011-12 Per-Game Stats: 18.1 points, 11.0 rebounds, 1.6 assists, 1.2 blocks, 1.5 steals
DeMarcus Cousins only has two years of experience in the NBA, but he's already proven that he's a dominant big man in this league. His third season should be nothing short of sensational, especially if he increases his shooting efficiency and starts to show a bit more of a conscience.
The former Kentucky Wildcat has terrific footwork in all areas of the game, and that tends to pay dividends when he's playing with his back to the basket or positioning himself for rebounds. Cousins might be the most impressive offensive rebounder in all of basketball by the time the upcoming 82-game stretch draws to a close.
A physical specimen who needs to keep his head screwed on straight and improve his conditioning, Cousins has all the tools necessary to take a massive step forward during his junior season in the Association.
It's also worth noting that this was easily the toughest spot to earn on the All-NBA teams. Cousins' name only appeared on two ballots, as he earned one second-team vote and another third-team selection. Despite the infrequency with which he appeared, he was just able to nudge past a host of other talented centers.
Fromal's Choice: Greg Monroe
Other Centers Receiving Votes: Andrew Bogut, Tyson Chandler, Tim Duncan, Marc Gasol, Roy Hibbert, Serge Ibaka, Al Jefferson, Greg Monroe