The Most Overrated and Underrated Players at Every Position in the NBA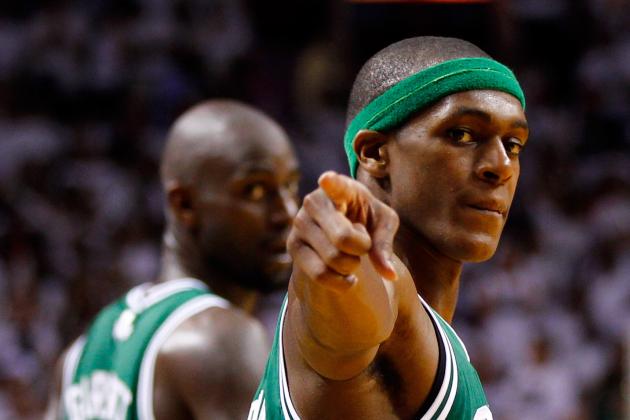 Mike Ehrmann/Getty Images

We should be clear about this before we get into talking about which players at each position are the most underrated and overrated guys: It is is completely subjective.
I can think a guy is underrated because all I hear, read and consume are fans and pundits talking about how a player isn't really that good. You may think that same player is overrated because the people you encounter on a daily NBA discussion basis always talk him up as being one of the better players.
In instances like that, whose reality is wrong?
There are plenty of times in which the two worlds intersect in a balanced way. We may think Ty Lawson is underrated because not enough people talk about him. It's also possible we find Kendrick Perkins to be overrated because his defense isn't made for the more athletic NBA we watch today, and his offense makes puppies sad.
However, getting people to agree universally on which players are and aren't rated properly is never going to happen. People have biases in favor of their favorite players and against those players they choose to dislike.
Want to see people freak out about how good or bad a player is? Ask them who the top five point guards in the NBA are and what the order is.
My method for determining who is overrated and underrated at each position is going off what I encounter on a daily basis. Through Twitter and my job with ESPN, I end up getting a ton of different opinions on a weekly basis about which players are bad and which players are good. I also hear a lot about which players aren't as good as we think and are much better than we think.
Then I compare them with how I view them within the grand scheme of NBA effectiveness and importance.
Many of you will agree with me and many of you will disagree with me. Let's do this.
Begin Slideshow

»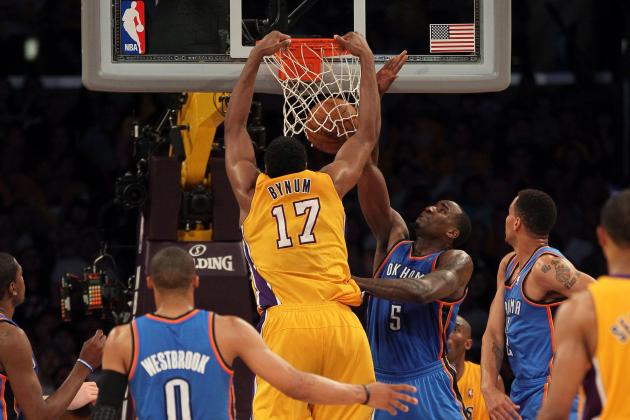 Stephen Dunn/Getty Images

Let's get another thing out of the way right up front. Me saying a guy is overrated doesn't necessarily make him bad. You can still be really good and be overrated. You can still be one of the best at your position in the NBA and be overrated.
Andrew Bynum is arguably the second-best center in the NBA. Some people seem to think it's a lock for him to be right behind Dwight Howard, and some people actually pretend he's better than Dwight Howard, which is completely boggling to minds. Bynum is an extremely good player and one of the better centers in the league, but he's not hands down the second-best center.
Bynum can't be covered one-on-one in the post. He's simply too strong and has too good of a touch around the rim to be handled by one big man. In fact, I've broken down before just how good he can be for Philadelphia if he's used properly.
Bynum is one of the better big men in the league at moving without the ball. He knows how to take up space in the paint and when to get there. He cuts to the basket perfectly and does a great job keeping the ball high when he receives the pass.
It wouldn't shock me if he averaged more than 20 points per game this season.
What would shock me is if he remained as efficient as he's been with the Lakers the last couple years.
Bynum flat-out couldn't handle a double team in Los Angeles. It didn't matter that he was playing with two of the best players in the world at the time either. If the defense threw a double at him in the post, it looked like he'd rather be in the fetal position than post position. You can get by with that deficiency when you're playing with Pau and Kobe, but what happens when you replace them with Evan Turner and Spencer Hawes?
Bynum will still be really good, and maybe Doug Collins can figure out how to break his new big man's timidness in the post when doubles come his way. But there are still a lot of people who tend to believe he's on par with Dwight Howard.
That's pretty overrated in my book.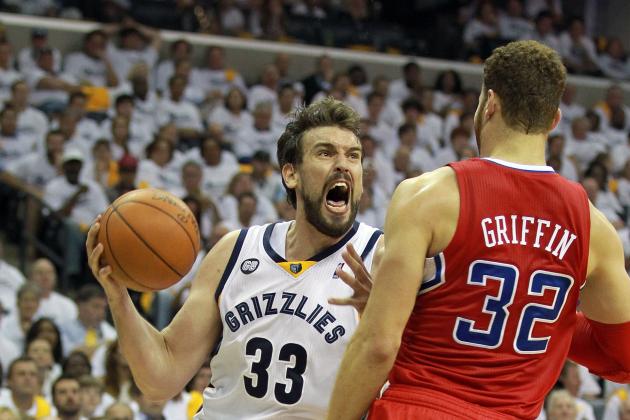 Andy Lyons/Getty Images

If you ask me who the second-best center in the NBA is, I'll say Marc Gasol gets the slight nod over Bynum.
There's not really anything Marc can't do on a court. His versatility and lack of needing to dominate the ball to influence a game are reasons I think so highly of him.
The value of a guy who doesn't try to do too much and can seamlessly float in and out of the offense is often underrated. Marc can run the big-man role of the offense out of the post and in the midrange areas of the floor. You can't leave him open around the top of the key because he shot 43.6 percent last season.
This makes it even harder to double the post because you know he'll pick you apart if you leave him. He can drive the ball if you close out too hard on him. He can find the cutter or throw a perfect pass after his teammate re-posts. And considering Rudy Gay and Zach Randolph are two of the best post players at their respective positions, having a big man that complements them so perfectly is a huge weapon for Memphis.
And that's really what makes Gasol so great as a big man in today's NBA. He's a perfect complementary player.
You could probably feature him in an offense and get 20 points per game if you needed to, but that's how you bog down an offense. In today's NBA, help defense schemes are so good that you don't allow offenses to just pound the ball into the post like you could 10 to 20 years ago. Because of that, you need big men who are more versatile.
You need guys who can pass, dribble and knock down a 15-footer. The game has evolved into fewer positional standards, and more finding guys who can do a bit of everything and keep the offense moving.
Gasol was one of four guys in the NBA last year to average at least 14 points, eight rebounds and three assists per game. He's also one of the best defensive centers in the league. He can defend the pick-and-roll, is one of the best perimeter defensive centers and is often in great help position.
Memphis missed Z-Bo for 58 games last season and won at a higher clip than the previous breakout season. Part of that was having Gay back for a full year, but the biggest part of that was Gasol being the anchor everywhere the Grizzlies needed him to be.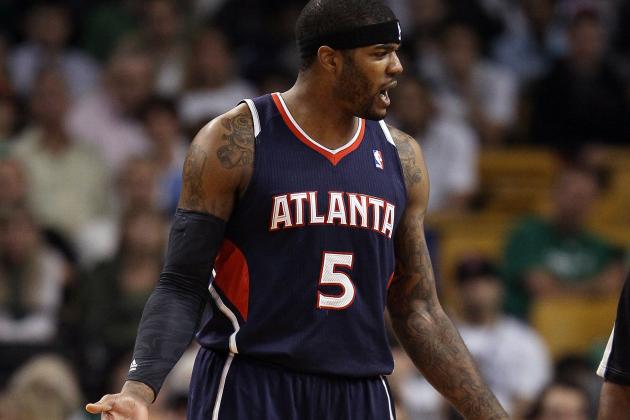 Elsa/Getty Images

Josh Smith is one of the most dynamic help defense players in the NBA.
He can guard small forwards, power forwards and the occasional center, while still providing coverage all over the floor when the ball swings to the other side. Opposing teams can never feel great about a shot getting off cleanly when he's on the court because he uses his long, man-on-stilts strides to cover ground in the blink of an eye before he swats away whatever you've thrown up.
He's lurking in the half court, and you can hear his footsteps in transition. He's the NBA equivalent of the defensive end rushing the quarterback from the blind side. More often than not, he's not going to get to you, but that doesn't mean you don't feel his presence on every play.
My problem with his game is on the offensive end. He just doesn't seem to know how to even approach his potential.
He's in love with a jumper that doesn't fall that often. He needs to know it's not him, it's the jumper. The jumper doesn't love him nearly as much as he loves it and it's become an unhealthy relationship.
Last season, Smith had a true shooting percentage of 49.9 percent—the worst mark of his career. According to HoopData.com, he attempted 6.3 shots from 16 to 23 feet per game. He made just 37 percent on those long two-pointers. Of the players that attempted six or more shots from that distance, only Monta Ellis (38 percent) joined Smith by shooting less than 40 percent.
Nearly half of his shots (7.9 of his 16.5 per game) come from beyond 15 feet, even though he makes just 34.4 percent of those shots. It's this horrendous shot selection that he insists on settling for that keeps me from thinking he's an elite player at his position.
Also, he's practically useless on offense at the end of games. Look up nearly any breakdown of X amount of minutes (five or fewer) and a score within plus/minus five points, and he's shooting less than 40 percent.
If Smith could figure out how to do more pick-and-roll instead of pick-and-pop, he'd be a devastating offensive weapon. Hopefully, that can change with the ball in Jeff Teague's hands more this year and less in Joe Johnson's mitts. Otherwise, Smith is going to continue to be a one-way player when he thinks he's a two-way guy.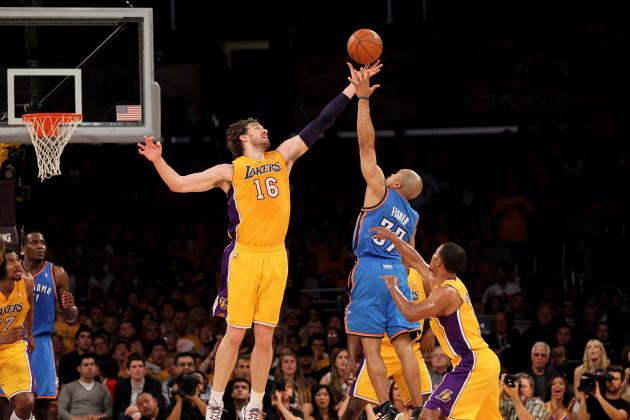 Stephen Dunn/Getty Images

OK, I swear to you I haven't been paid off by the Gasol family.
I just happen to think they're two amazing and under-appreciated basketball players.
There's the idea out there that Pau Gasol is soft, not really that good and he no longer can get the job done. I happen to think all of those statements are nonsense. I'm on record saying I think Pau should be the No. 2 option for the Lakers this coming season.
Some people took that as me thinking he should take the second most shots on the team. That's not the case at all. It means he should be given the decision-making process within the offense the second most of anyone. Whether he decides to shoot the ball or pass it off for a scoring option is up to him. And I trust Pau to make the correct decision with the ball.
Gasol's skills are so vast that there really isn't one way to use him. Often with a big man, people assume you should just pound the ball into the post and get out of the way. But why would you ever limit Pau's game that way?
His post game moving toward the baseline might be better than anybody else in the league. That's mainly because his face-up game is so incredible.
With Pau, you have to defend against his lanky steps toward the lane off the dribble. But you can't back off and give him the jumper. He shoots more than 40 percent from everywhere inside the three-point line—other than the left corner.
Because of this versatility, Pau is able to face-up against defenders, get them off balance and then immediately pivot into a post-up situation and gain the advantage. It's the best way for him to often post-up in the half court because he isn't great at rooting himself into deep post position.
Then you have the passing skills that come with his post-up and face-up games.
But what's really the most underrated part about Pau's game is his defensive ability. He's one of the better big men defenders in the NBA and people don't seem to realize it. He defends the pick-and-roll better than most big guys, and he's an elite defensive player when it comes to guarding the post.
Opponents shot just 36.1 percent against him in the post last season. He challenges shots extremely well. Even though he doesn't block a ton of shots, he's consistent at changing shots to get them over his reach.
I'm not sure I'd necessarily agree if you called him the best power forward in the NBA, but I'd have a hard time coming up with an definitive argument against such a claim.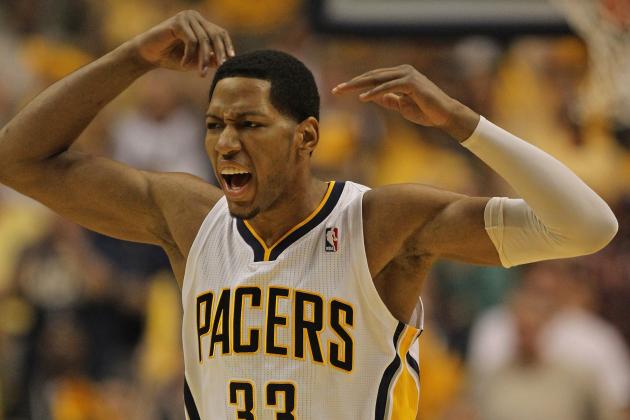 Jonathan Daniel/Getty Images

I'll admit this one is a bit of a stretch, but there really aren't a ton of small forwards that people are more polarized about.
The reason I picked Danny Granger here is because there are people out there who still want him to be involved in their favorite team's offense. And he's really not that good anymore.
Granger used to be a budding star. In fact, he was turning into a walking dagger on the court. He was a guy who couldn't be guarded effectively in the half court. He could bury you on the perimeter, take you into the post or just leave you on an island while he isolated against you.
As Granger has approached the age of 30, he's become less and less effective on offense, and yet he still insists on taking a lot of shots. Most guys hit their prime between 27 and 30 during their NBA careers, but Granger seemed to peak at 25. Since then, it's been a steady decline toward "My god, why is he taking so many bad shots?" territory.
Last season, he had the second worst shooting performance of his career. His true shooting percentage was at 54.2 percent (worst since his rookie year) and his field-goal percentage was a career-low 41.6 percent. What's odd is he's still an effective three-point shooter (38.1 percent).
The reason for his steady decline is he's no longer a threat to beat you at the rim. HoopData had him last season with the second fewest attempts at the rim per game and the lowest percentage made at the rim for his career. You don't have to worry about him blowing by you, so now you can contest his jumpers off the dribble with a lot more aggressiveness.
So how does he remain with a usage rate of more than 25 percent?
That's the question I actually have for head coach Frank Vogel.
Here's the list of guys who shot less than 42 percent from the field while having a usage rate more than 25 percent. How many of those guys do you want heavily involved in your offense outside of Deron Williams and maybe, Lou Williams?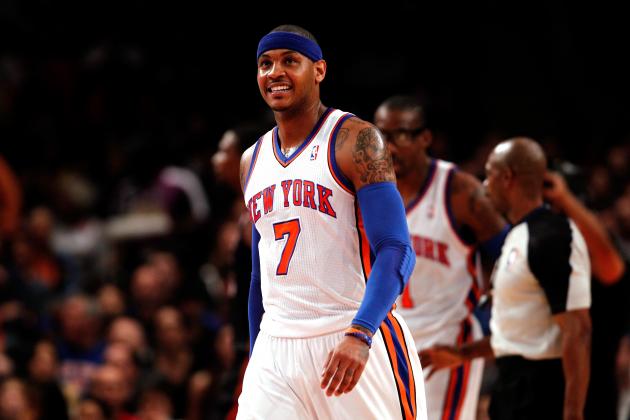 Jeff Zelevansky/Getty Images

Before you freak out at this (it's actually probably too late but I'm going to pretend you want my reasoning for this before you react), hear me out on Carmelo Anthony.
I think the negativity thrown at Melo's game has swung too far on the spectrum of what is and isn't reasonable criticism for a player. Is Carmelo a great all-around player who can rival the production and effectiveness of LeBron James, Kevin Durant, Chris Paul and other stars in the NBA?
Absolutely not.
Is Anthony still one of the most effective players in the world?
I say he is.
Melo is a ball-stopper on offense. Last season, he did try to make more of an effort to move the ball and be a distributor. His assist percentage skyrocketed from 15.3 percent in 2010-11 to 21.0 percent in 2011-12. This increased passing effectiveness was accompanied by just a small increase in his turnover percentage (9.4 percent to 10.8 percent).
But Melo is actually at his best when he's a ball-stopper because the focus that opposing defenses have put on him. That is a very underrated aspect in evaluating players today. With a guy like Melo, who can score from anywhere on the court, it puts an extreme amount of pressure on the defense to take away his scoring chances.
He hasn't diminished athletically to where he can't still get to the basket. Yes, he's more likely to take a jumper than he is to attack the basket, but he still attacks the basket quite a bit. And he can score on you in the post, which is probably his most effective way of attacking a defense. You have to key in on him and that allows everyone else to play with more freedom.
For all of the bad press that Melo gets as a selfish basketball player, he doesn't seem to negatively affect his team's offensive production. Two years ago, when Denver traded Melo to New York, everyone lauded the play of the Nuggets after he left because they were the most efficient offense in the league by season's end.
What people fail to remember is they were still the best offense in the NBA when Melo was there that season. Denver had an offensive rating of 109.8 before it traded Anthony, and was at 108.7 after the trade. The Knicks had a 107.8 offensive rating before he arrived and a 109.8 after he got there.
Last season, offense around the league fell, most likely due to the lockout effects. The Knicks had an offensive rating of just 101.4, which was good for 19th in the NBA. But with Melo on the court, they had an offensive rating of 102.5.
If his teams are consistently playing better offensively with him on the court, is he really hurting his team when he's stopping the ball on offense?
He is a poor defender, although he was pretty decent playing power forward last season. He's never going to make you think about Michael Jordan or Larry Bird when you watch him, but to pretend he's a guy that doesn't help his team (like many do) seems to be ignoring the evidence in front of our faces.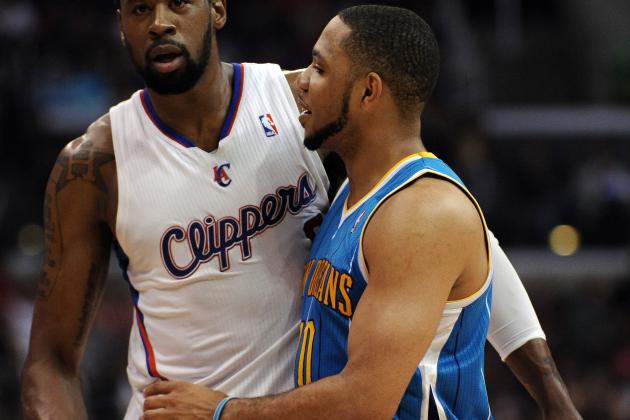 Harry How/Getty Images

Do you realize how few really good shooting guards we have in the NBA right now?
This used to be one of the sexy positions in the league—a position that left us dreaming about flight, dribbling and shooting ability all wrapped into one god-like basketball player. Now, everyone has either become a big point guard or a smaller small forward. There is a dearth of great shooting guards in the league, probably because of the game's evolution.
There are so few good shooting guards that I almost tried to make a case for DeMar DeRozan being the most overrated shooting guard before I realized: One, I don't think people really believe he's that good and two, nobody really even cares about reading things on DeRozan right now.
Eric Gordon made the list simply because he's always injured.
This is a fact that many remember, but there is still a solid contingent that maintains he's one of the elite shooting guards we have in the game.
There's no denying his skills on the hardwood. He's a bulldozer in the half court who ends up being stronger than most bigs at the rim. He can absorb your contact like Shang Tsung taking your soul, and still finish the play before heading to the free-throw line, where he's a career 80 percent shooter.
He's also a legitimate threat at the three-point line. He's a career 37 percent shooter, which means he's effective enough to keep you honest and your defensive slides uncomfortable. You have to close out on Gordon, but you have to be careful in how you do it because he'll blow right by you.
But I probably don't have to tell you how good he is as a player.
The problem is we rarely get to see it. Before the Chris Paul trade, there were Clippers fans furious at the idea of giving up Gordon in the package for CP3. It was giving up too much for "an injury-prone guard."
What's amusing about that line of thinking is since Gordon has been in the league, he had missed more games (50) in three years than Paul had missed (43).
Gordon was the guy missing significant numbers of games over the previous seasons and yet, Paul possessed faulty health because he had a recovering knee injury?
Last year, he played in just nine games. Part of this was due to injury and I'm sure part of it was due to letting the young guys play to see who belonged next year. Regardless, it was another year of Gordon missing a big number of games, while we wondered what it would be like if he stayed on the court.
Hopefully this year, we'll finally get to see that and put him in the class with the few remaining elite shooting guards.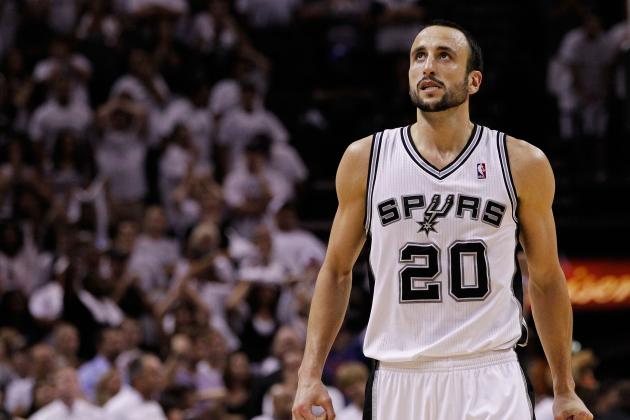 Tom Pennington/Getty Images

Some day, we're going to look back at Manu Ginobili's career, look at his overall numbers and there will be people who wonder why we thought he was so special.
This kind of drives me insane.
His career averages of 15 points, 4 rebounds and 3.9 assists per game aren't anything to truly marvel at. His career shooting percentages of 45.2 percent from the field, 37.3 percent from the three-point line and 83.5 percent from the charity stripe are very good, but nothing otherworldly.
And really, it's all because he's been the perfect example of why the Spurs system works better than almost any other organization year in and year out. Manu is willing to sacrifice his own personal glory for the betterment of the team.
When you think about it from his perspective, he has nothing to gain by being selfish and wanting to be the star in the NBA. If he becomes a superstar in the NBA by logging more minutes and demanding the ball more, he gains a few more fans while probably ruining the system. Considering he's a God in his home country and will never have to buy another Argentinian meal the rest of his life, he's perfectly comfortable playing the role of complementary assassin.
I always knew Manu was one of the better players in the league during the 2006 and 2007 seasons, but it wasn't until I saw Kobe Bryant on Inside the NBA during the 2007 Playoffs that I recognized how truly special Ginobili is. Kobe was brilliantly breaking down various aspects of Manu's game and doing so with such delight and enjoyment. He talked about how unorthodox and brilliant Manu's ability was to get free for shots.
When you have Kobe in his prime marveling at how good a player is, that guy is truly one of the elite.
Fast forward to 2012 and Manu hasn't really fallen off that much, despite being 34 years old. He went through some injuries last year, but it didn't stop him from putting up ridiculous shooting percentages of 52.6/41.3/87.1 when he was on the court.
When you push his production out to per 36-minute numbers, he averaged 20 points, 6.9 assists and 5.3 rebounds per game. Only LeBron James put up per 36 minutes numbers similar to Ginobili.
Yes, Manu is getting older and he isn't dominating the ball when he's on the court, but he makes everybody on his team a lot better. The Spurs operated with an absurd 118.0 points per 100 possessions last season when Manu was playing.
He's still one of the best weapons in the league and he leaves opponents wondering if that last move that sliced them up was legal or not. It was legal and it was spectacular.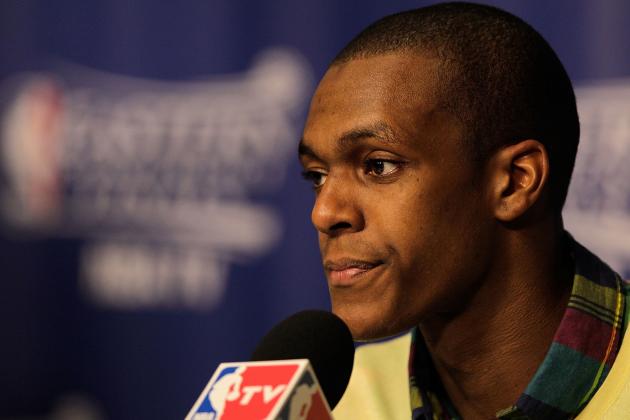 Mike Ehrmann/Getty Images

Rajon Rondo is one of the most overrated players in the league, primarily because the Boston Celtics fan base seems to be so vast and loud on whichever medium they're using to talk about their favorite team.
Celtics fans are everywhere and they love to defend their players. The problem with this is because we've become such a "shout over the next guy and take your point to the extreme" society, you have a lot of Celtics fans claiming Rondo is the best point guard in the NBA.
There isn't a single thing Rondo can do that Chris Paul can't do, and do at the same level. Both are bothersome and effective defenders at the point-guard position. Both are two of the best passers in the NBA who can turn almost anyone into an offensive weapon. Both players can break down a defender with ease.
But Rondo does struggle shooting the ball at a high volume and he can't make free throws. You don't say that about Chris Paul.
Rondo is incredibly dynamic on the court and is a great weapon, even though he's often passing up scoring opportunities to get others involved. He could stand to be a bigger weapon scoring the ball because it will probably keep defenses honest.
You don't want the ball anywhere near his massive hands at the end of games because he might go to the free-throw line, which has to scare you a bit as his fan.
Rondo greatly benefited by going through his growing NBA years with three Hall of Fame players flanking him on both sides of the ball. It accelerated his growth in terms of being an effective NBA player and catapulted him into the limelight.
Just because he's a triple-double machine doesn't mean he's the best point guard in the NBA. He has big flaws in his game that still need to be addressed.
For being such a great distributor, his team still was 24th (98.9) in the NBA in offensive rating last season, and not even a top 15 offensive team when he was on the court (101.5).
Because Celtics fans can reach so far with their voice and make it so loud, he's really become the most overrated point guard in the NBA.
Which leads us to...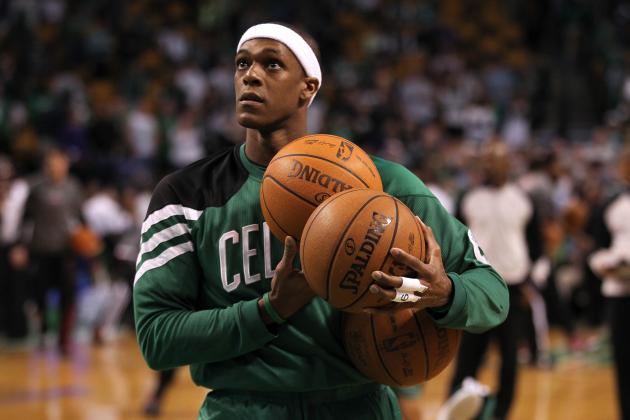 Jim Rogash/Getty Images

Rajon Rondo is also the most underrated point guard in the NBA.
The Rondo discussion is actually probably the most ridiculous argument we have in the "NBA lexicon" outside of rings determining how good a player is.
It could be because Celtics fans are so adamant and loud in favor of Rondo that the discourse swung too far the other way. Or maybe it's because Rondo is so under appreciated by fans around the NBA who don't love the Celtics that it caused Boston fans to rise up and scream to the heavens proclaiming Rondo's greatness.
It's the classic case of "Which made you want to bang your head against the wall first: The chicken or the egg?"
The argument I just relayed against Rondo is certainly valid on some level. And yet, it completely ignores many tenets of basketball who also root themselves into the importance of what happens on the court.
Rondo is arguably the best defensive point guard in the NBA. Others vying for the title are Chris Paul, Mike Conley and Kyle Lowry. If you want to call Avery Bradley more of a point guard than an undersized shooting guard, then it would be him. But Rondo is certainly in the discussion.
Some people would argue that point guard defense doesn't have a big effect on the game, but I disagree with that a lot.
Rondo gambles an incredible amount on the defensive end because he is quick enough to recover and long enough to really bother opposing lead guards. But because he's such a nuisance on the defensive end, it causes initiators to be more cautious with protecting the ball. When that happens, you have a defender harassing the dribbler, moving them farther out toward the half-court line and making longer passes to initiate the offense.
That most likely leads to shots later in the shot clock because the offensive sets take longer to get into. Doesn't that sound like something you'd want your defense to do? Harass the ball and make them shoot later into the clock?
Yes, the Celtics are better defensively when Rondo's on the bench. Overall, they're the second best team in the league defensively with a 95.5 rating, and that rises to 96.4 when he's on the court. By the way, a defensive rating of 96.4 is still good for second in the NBA. So they lose zero ground in the league rankings defensively when he's on the court.
Offensively, he's not a great shooter but he's also not a guy who takes a lot of shots. He knows his limitations on offense and doesn't try to do anything he thinks is a bad idea. Over the last two years, he's shot 40 percent from 16 to 23 feet. He just doesn't take many of those shots because he's more of a quality over quantity type of player.
The argument that he's only good because of his teammates also needs to end. KG isn't even close to the offensive player he was in Minnesota. Ray Allen was a shell of his former self last year and Paul Pierce isn't exactly a greatly efficient scorer anymore. Rondo may have been helped in his development because of the Hall of Fame players he teamed up with, but that has nothing to do with him playing at a high level as those guys significantly decline.
There are people out there who think it's ridiculous to have Rondo in the top five point guards conversation. Maybe it's a response to those Celtics fans who think he's the best. Maybe it's not.
For every argument against Rondo, there seems to be a completely divergent set of standards that pump up his standing in the league.
For all of these reasons, Rondo manages to be the most overrated and underrated point guard at the same time.
It's really quite impressive.