Ranking the 10 Best Bench Units in the NBA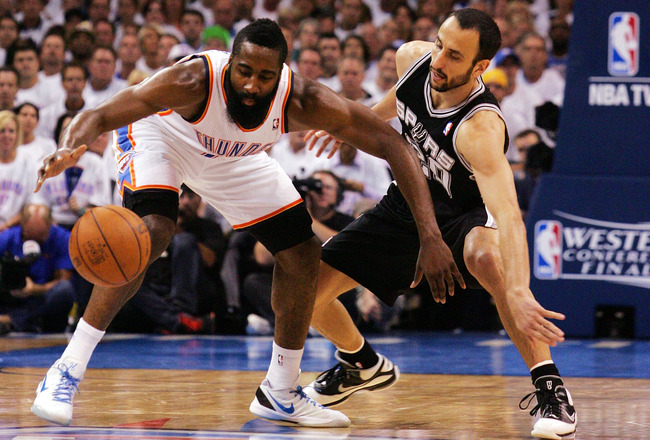 Brett Deering/Getty Images
The NBA is considered by many to be a star-driven league, filled with tremendous talents and astounding athletes, but one would be hard-pressed to find a title contender or even a true quality team that doesn't have some decent depth.

Because of the grueling nature of the NBA season, it is almost impossible to expect key players to hold up for all 82 games, and having players in the rotation that can contribute significant minutes and fill a specific role is integral in a team's success.
Just look at the Chicago Bulls from 2010-2012, who thrived thanks to their depth even as their stars spent time in street clothes.

The quality of a bench is not just determined by the overall talent, but by how the squad plays together and the role that they fill while out on the court.

Although not every team has a transcendent sixth man like James Harden or Manu Ginobili to rely on, that doesn't mean that they cannot go 10- or even 11-deep on any given night.

Without further ado, let's take a look at the 10 best bench units in the league.
No. 10: Memphis Grizzlies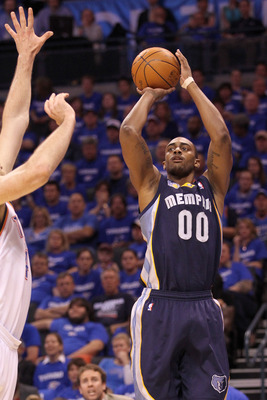 Ronald Martinez/Getty Images
Key Reserves: Jerryd Bayless, Marreese Speights, Darrell Arthur, Josh Selby, Tony Wroten.

Although they lost sixth man extraordinaire O.J. Mayo to Dallas, the Memphis Grizzlies still have enough potency off the bench to present problems for their opponents.
The team, known for its size and ability to control the paint, returns talented scorer Marreese Speights and interior defender Darrell Arthur, who missed all of last season after tearing his Achilles' tendon, but also features some improved depth on the perimeter.

The team's biggest free agent acquisition, Jerryd Bayless, will fill Mayo's role as scorer and first guard off the bench. In Toronto last season, he averaged 11.4 points, 2.1 rebounds and 3.8 assists while shooting 42.4 percent from the field and a stellar 42.3 percent from three-point territory.

Bayless can spend time at both guard spots and will see minutes spelling Mike Conley and Tony Allen. The lightning-quick guard can push the pace, hit shots from the perimeter and also knife his way into the lane. As a playmaker, Bayless has improved every season in the league and is now quite the talented passer.

Arthur had a breakout 2010-2011 season where he averaged 9.1 points and 4.3 boards while guarding the post, providing solid help defense and scoring around the rim. He will provide insurance for Zach Randolph, who missed the majority of last season with a knee injury.

Speights was brought over from Philadelphia last season, and his ability to draw opposing big men out of the paint and attack the offensive and defensive glass is certainly a valuable piece to have off the bench.

Add to that intriguing prospects Tony Wroten, who has tremendous upside but needs to be developed, and Josh Selby, who was used sparingly in his rookie year but is coming off of being named the Summer League co-MVP, and it's easy to see why many have the Grizzlies penciled in as a top-five playoff seed in the tough Western Conference.
No. 9: Chicago Bulls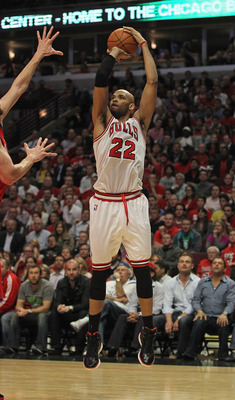 Jonathan Daniel/Getty Images
Key Reserves: Taj Gibson, Nazr Mohammed, Marco Belinelli, Nate Robinson, Jimmy Butler.

The Chicago Bulls' "bench mob" underwent a serious makeover this offseason and while they no longer have the NBA's deepest squad, the team still features some premier talent outside of the starting lineup. The departures of Omer Asik, C.J. Watson and Ronnie Brewer certainly hurt the team, but they regrouped admirably.

Taj Gibson is the anchor of the Bulls' bench and is such a talent defensively that many believe the team should either trade or amnesty Carlos Boozer and make the fourth-year forward the new starter. Gibson averaged 7.7 points, 5.2 rebounds and 1.3 blocks per game in 2011-2012 while shooting 49.5 percent from the field.

He is not a great offensive player, but he's good in the pick-and-roll finishing at the rim and runs the floor extremely well to create easy transition baskets. He has an improving set of post moves and has decent hands around the rim as well.

Defensively, Gibson can guard the four and five spots, protect both the basket and the low post and is even a shot-blocking threat. He moves his feet extremely well and makes few mistakes or careless fouls. He also carves out great position and attacks both the offensive and defensive glass with relish, making multiple efforts consistently.

Sophomore Jimmy Butler, who hardly played last season, is expected to see increased minutes and will make an impact both as a swingman defender and a slasher. The 22-year-old is gritty and should fit in as a perfect hustle player for Tom Thibodeau.
New guard acquisitions Nate Robinson and Marco Belinelli will provide floor spacing thanks to their three-point shooting and though streaky, both can carry an offense for stretches and will open up space for the team's big men to work down low.

Nazr Mohammed will fill Asik's role as a bruiser off the bench and though this unit lacks the suffocating defensive punch of Chicago's past reserve units, their depth will still be a tremendous asset next season as Derrick Rose heals.
No. 8: Los Angeles Lakers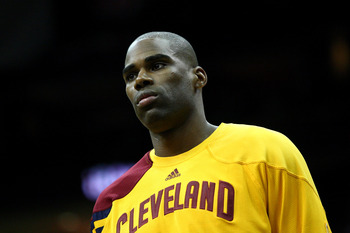 Chris Chambers/Getty Images
Key Reserves: Antawn Jamison, Jodie Meeks, Jordan Hill, Devin Ebanks, Steve Blake.

The Los Angeles Lakers had one of the most active and impressive offseason runs of any team, bringing in not just a pair of transcendent players in Steve Nash and Dwight Howard but also signing and retaining a number of rotation pieces that significantly improved their once-questionable depth.

The L.A. second unit will be led by Antawn Jamison, a former Sixth Man of the Year who took a significant pay cut in order to have another shot at contending for a championship. Last season, the sharpshooting stretch-4 averaged 17.2 points, 6.3 rebounds, two assists per game while shooting 40.3 percent from the floor and 34.1 percent from three-point range.

Jamison will log time at both forward spots and will be able to stretch an opposing defense with his shooting, create mismatches to open up driving lanes and should see plenty of open looks given the Lakers' offensive firepower. He is more than just a spot-up shooter, though, and he can also put the ball on the floor and get to the rim if needed.

Though Jamison is a mediocre defender, he can chip in on the glass and will thrive in his role as Los Angeles' second-unit leader.

The team also brought in Jodie Meeks, a sharpshooting 2-guard who will spell Kobe Bryant, run the floor and hit his share of open three-pointers. Steve Blake, too, can hit from the perimeter while also making running the offense for stretches of time to spell Steve Nash.

With a pair of quality defense/hustle guys in Jordan Hill and Devin Ebanks that can guard multiple positions, attack the glass and finish at the rim, the Lakers' bench is fearsome, not just offensively but defensively.

Their lack of depth was one of the reasons many thought Los Angeles was no longer a title contender, but after revamping their roster, they have emerged as one of the NBA's championship favorites.
No. 7: Golden State Warriors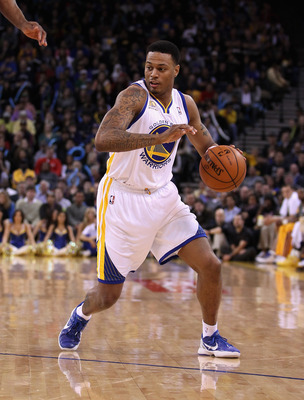 Ezra Shaw/Getty Images
Key Reserves: Jarrett Jack, Richard Jefferson, Carl Landry, Brandon Rush, Andris Biedrins.

The Golden State Warriors had a surprisingly successful offseason, bolstering both their starting lineup with the addition of Harrison Barnes and their depth by trading for Jarrett Jack, retaining Brandon Rush and snagging Carl Landry for far less than he's worth.
The team is still incredibly young but now boasts an extremely talented second unit that will give opponents fits.

Jack is coming off of his best professional season, as he averaged 15.6 points, 3.9 boards and 6.3 assists per game for New Orleans while stroking 45.6 percent of his shots from the floor and 34.8 percent from three-point territory.

He will play backup to Stephen Curry, but given Curry's injury-prone nature should see significant minutes on the court. He has great court vision and can read a defense but is also capable of attacking the basket and connecting on his outside shots.

Jack should see time at the shooting guard position as well and provides Golden State with some excellent backcourt insurance.

The Warriors also picked up an excellent piece in Carl Landry, who will provide depth at power forward and is a great post scorer, mid-range jump shooter and is physical and aggressive on the glass. He managed to average 12.5 points and 5.2 rebounds last season despite battling with injuries and already has good chemistry with Jack.

Brandon Rush was a breakout player for the squad last season as he hit 45.2 percent of his threes and was extremely active out on the court, while Richard Jefferson should still be a capable scorer off the bench.
Golden State may not be a playoff team next season, but with the development of their young players and a much-improved bench, they certainly will be in the postseason conversation sooner than later.
No. 6: Los Angeles Clippers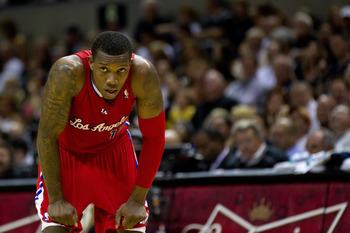 Justin Edmonds/Getty Images
Key Reserves: Eric Bledsoe, Jamal Crawford, Lamar Odom, Grant Hill, Ronny Turiaf.

Though the Los Angeles Clippers' starting lineup will look identical to last season's top five, the team completely retooled their bench, bringing in veterans with playoff experience to aid the superstar tandem of Chris Paul and Blake Griffin.
These Clippers used their contender status to bring in a number of quality pieces that will be instant impact players in the rotation next season.

The team signed Jamal Crawford, a former Sixth Man of the Year and one of the streakiest shooters in the league. Crawford had a disappointing season with Portland, averaging 14 points, two boards and 3.2 assists but shot just 38.4 percent overall and 30.8 percent from beyond the arc.
Still, he's undeniably explosive, can play both guard spots and if he gets hot, he can carry his team's offense single-handedly.

Although he is a poor defender and can be too selfish at times, Crawford has good court vision, is always a threat to score and has a reputation as a clutch player. The 32-year-old veteran will make a nice addition to a stellar L.A. backcourt.

Eric Bledsoe struggled with injuries last season but made an impact once he was healthy in the postseason. Bledsoe is a phenomenal athlete and one of the best young wing-defenders the NBA has to offer.
Though his minutes and numbers regressed with the arrival of Chris Paul, he is still an intriguing talent and deserves his share of time on the court.

Lamar Odom is the X-factor for the team, as he had easily his worst professional season last year, but if he comes back to Los Angeles focused and motivated, he gives the Clippers a versatile frontcourt player that can stretch a defense, play as a point-forward and even log time at center.
Ronny Turiaf provides the hustle, Grant Hill provides the defense and veteran leadership and this L.A. bench features a little bit of everything to complement the superb starting five. The team can finally afford to rest their starters and has quality insurance at every position on the court, something few clubs can brag of.
No. 5: Denver Nuggets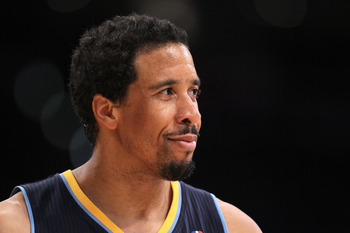 Jeff Gross/Getty Images
Key Reserves: Andre Miller, Wilson Chandler, Corey Brewer, Anthony Randolph, Kosta Koufos.
The Denver Nuggets improved their team by dealing for Andre Iguodala but lost some of their depth by parting ways with Arron Afflalo and Al Harrington, and with JaVale McGee on a four-year, $44 million deal, you better believe he'll be the team's new starting center.
While they have moved closer to contention status, their bench is not the infinite pool of talent it has been over the past two seasons.

Wilson Chandler, who spent the brunt of last season playing in China, is the team's second-unit anchor. He appeared in just eight contests last season, averaging 9.4 points, 5.1 rebounds and 2.1 assists but boasts a career scoring average of 13.8 points on 45 percent shooting.

Chandler is a perfect sixth man because he can line up at shooting guard, small forward and power forward as needed while being able to both handle the ball and shoot it. He's a tremendous athlete and a versatile defender who fits Denver's high-octane, up-tempo style of play perfectly.

Andre Miller, who provides the team with a veteran pure point guard that knows how to read a defense, will also see heavy minutes. Miller averaged 9.7 points and 6.7 dimes last season and gives the Nuggets' backcourt a pass-first lead guard who can make his teammates better, run the pick-and-roll and give their offense a different dynamic than the attacking style of Ty Lawson.

Corey Brewer is another athletic, defensive-minded wing player who can lock down the perimeter, attack the basket and hit the occasional shot from the perimeter. He forms a great one-two defensive punch with Iguodala that will make Denver very tough to score on from outside.
Anthony Randolph is enigmatic but still brimming with potential and should see decent minutes behind McGee and Kenneth Faried, while Kosta Koufos is a strong seven-footer who clogs up the paint and snags tough rebounds.

The Nuggets' bench may have lost a little potency, but they are still easily among the league's deepest teams and should be taken very seriously in the 2012-2013 season. Their second unit has thrived playing together in the past and should continue to pick apart opponents with their chemistry and all-around play.
No. 4: Oklahoma City Thunder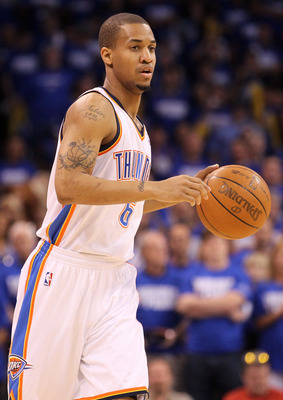 Ronald Martinez/Getty Images
Key Reserves: James Harden, Nick Collison, Eric Maynor, Perry Jones III.

With the reigning Sixth Man of the Year, a number of quality rotation pieces and plenty of proven experience as a unit, the Oklahoma City Thunder easily have one of the best bench units in the league. With very little offseason turnover, this Thunder bench unit has phenomenal chemistry and should only be better next heading into the 2012-2013 season.

Harden is obviously the headliner, and the versatile shooting guard averaged 16.8 points, 4.1 rebounds and 3.7 assists on 49.1 percent shooting from the field and 39 percent shooting from three-point territory. He gives the OKC offense a completely unique dynamic with his shooting, penetration and facilitating ability.

Harden averaged 31.4 minutes per game, playing consistent crunch-time minutes and making huge plays, even with his disappointing performance in the NBA Finals. At just 23 years old, Harden still has tremendous upside and should continue to make strides as he gained valuable experience playing with the United States Olympic squad.

Beyond just Harden, OKC has an elite bench big man and role player in Nick Collison. Collison isn't much of a scorer, although he can finish at the rim, but he draws charges, snags tough rebounds and is a terrific help defender.

Eric Maynor missed the brunt of last season, but is one of the better reserve point guards in the league. He can break down a defense off the dribble, make passes to cutters and shooters and is a solid defender to boot.
Add to that the enigmatic, but undeniably talented Perry Jones III, who could potentially be the steal of the draft if he stays healthy and plays up to his tremendous physical potential, and OKC has not just one of the most potent starting fives in the league, but a fearsome reserve unit to back them up.
No. 3: Miami Heat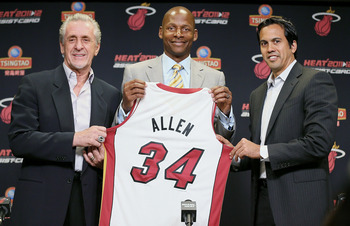 Mike Ehrmann/Getty Images
Key Reserves: Ray Allen, Udonis Haslem, Norris Cole, Mike Miller, Rashard Lewis.

After being much maligned during the first season of the Big Three era for having one of the league's weakest benches, the Miami Heat have made a slew of moves to bolster their second unit and after another active offseason now boast one of the most talented bench mobs in the league.

As a former All-NBA player and one of the greatest three-point shooters in basketball history, Ray Allen is clearly the headliner among the Heat's pine-riders. Although he struggled with injuries, the sharpshooting 2-guard still averaged 14.1 points, 3.1 boards and 2.4 assists on 45.8 percent shooting from the floor and a blistering 45.3 percent clip from distance.

In Miami, Allen will play consistent minutes at both shooting guard and small forward and will feast on the open looks his new star teammates create. Because defenses have to swarm on the penetration of LeBron James and Dwyane Wade, Allen will spend plenty of time alone on the perimeter launching from deep.

In addition, he must be guarded closely at all times and will provide room to work while sprinting off picks to keep his defender honest. Despite his advancing age, Allen is still a solid passer and defender who should thrive once he embraces the sixth-man role.

The squad also features ultimate "glue guy" Udonis Haslem, who averaged 7.3 rebounds per game last season and will give Miami a player at the four and five spot that can protect the basket, lock down the boards and occasionally hit the mid-range jumper when left open.

Norris Cole is a solid bench contributor who can handle the ball, attack the rim and push the pace in transition. With Cole, Haslem and Allen the team more lineup options than perhaps any team in the league.

Veterans Mike Miller and Rashard Lewis will provide rebounding and consistent floor spacing as well, giving the Heat a bench unit with high-octane scoring that perfectly compliments their superstars.
No. 2: San Antonio Spurs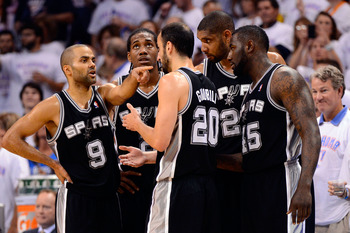 Ronald Martinez/Getty Images
Key Reserves: Manu Ginobili, Stephen Jackson, Tiago Splitter, Gary Neal, DeJuan Blair.

The San Antonio Spurs' absolutely decimated their opponents during the lock-out shortened season thanks to their depth, earning a 50-16 record and the league's top seed. The Spurs' bench had perhaps the best chemistry of any team in the league, blending seamlessly with the starters, sharing the ball and carrying the team for stretches of the season.

Although Manu Ginobili was injured for the majority of last season, he'll be the team's sixth man obviously, and though he appeared in just 34 games in the regular season, he averaged 12.9 points, 3.4 rebounds and 4.4 assists per game while shooting 52.6 percent from the floor and 41.3 percent from three-point territory.

Ginobili is among the league's best 2-guards because of his offensive versatility. He has a bevy of moves off the dribble to get to the basket and is able to absorb contact and finish at the rim with ease. He is also an excellent shooter and can run off screens to create an open shot.

Beyond just Ginobili, the team features some excellent guard depth with Gary Neal and Stephen Jackson. Neal is one of the better reserve point guards in the league. He can run the team's offense for stretches, shoot the ball brilliantly and has improved as a playmaker significantly during his time in the NBA.

Jackson is a rugged, hard-nosed defender who can stretch out a defense and lock down the shooting guard and small forward positions. The troubled swingman had a very strong playoff run, as he shot an absurd 60.5 percent from three-point territory in the Spurs' 14 postseason contests.

Tiago Splitter is a young big man with tremendous upside thanks to his length, strength and athleticism. He's steadily improving in the finesse aspects of the game, but runs the floor extremely hard and can protect the rim. With Tim Duncan's age, expect Splitter to see a more featured role.
DeJuan Blair is a talented, hard-working big man, although it's difficult to project how much time he'll see next season.

This Spurs bench played better than practically any second unit last season and with little change in their roster, they should hit the ground running and help San Antonio make another run at a championship banner.
No. 1: Boston Celtics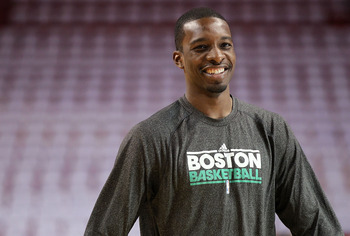 Mike Ehrmann/Getty Images
Key Reserves: Jason Terry, Courtney Lee, Jeff Green, Jared Sullinger, Chris Wilcox.

In the opinion of many fans and pundits, the Boston Celtics' injury-plagued bench and lack of depth is what cost them a shot at playing for another NBA championship.
The Celtics' front office clearly took this to heart as they went out and both signed and retained a number of players to give them what is, to me, the top second unit in the league.
The team retained Jeff Green and Chris Wilcox, drafted big men Jared Sullinger and Fab Melo and signed Courtney Lee and Jason Terry in order to give them a completely retooled rotation around the core of Rajon Rondo, Kevin Garnett or Paul Pierce.

Terry will assume Ray Allen's sixth-man role but while Allen struggled to adjust to a spot on the pine, Terry thrives starting the game on the bench.
Last season, the 34-year-old averaged 15.1 points, 2.4 rebounds and 3.6 assists. He is capable of both scoring and facilitating and at this point is a better player than Allen, who will primarily be used as a long-distance shooter.

Lee will provide gritty perimeter defense and timely three-point shooting and gives Rondo an athletic running mate in the backcourt to play in transition. Along with Avery Bradley and Rondo, Lee gives Boston one of the best perimeter defensive units in the league.

Green missed the entirety of the 2011-2012 season due to an aortic aneurysm, but is a versatile frontcourt piece that can both back up the aging Paul Pierce and play alongside him as needed. Green can slash to the rim, shoot the three and guard multiple positions defensively. He'll likely see the most minutes off the bench and will be a vital piece of the Celts' frontcourt.

Sullinger and Wilcox will provide the muscle inside, helping to pace the boards and score down low. Sullinger is a bit of an X-factor but if he can live up to his potential, he could be the star of the future for Boston and the successor to Kevin Garnett. He's an extremely polished post scorer who still has upside so long as his back holds up.
Boston obviously is not the Eastern Conference favorite with Miami retaining that title, but thanks to their star-studded starting lineup and their bolstered, multi-faceted bench unit they have earned the title of the clear-cut second best squad.
They can rest their starters during the regular season and so long as everyone stays healthy are as serious a title threat as any next season.
Keep Reading