One Nickname to Perfectly Describe Every NBA Franchise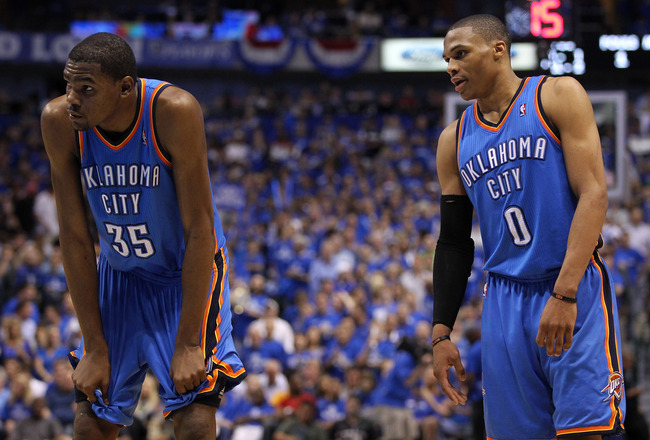 Ronald Martinez/Getty Images
Basketball loves its nicknames. From "The Big Ticket" to "Showtime" to the "Bad Boy Pistons," no team or player in hoops can shy away from being given its moniker.
The 2012 NBA season will be one of the most anticipated seasons in years, with another talent-rich rookie pool entering the league and players flocking to new teams as well. These new beginnings bring on nickname opportunities. We're sure not to miss out on it.
"The Brow" will make his first NBA appearance, but what will his young team be called? What about this new Laker team that shoring up on the West Coast?
I can think of a name for those two, and 28 more. The rest of the Association is not safe from my label maker.
Atlanta Hawks, The Boys of Summer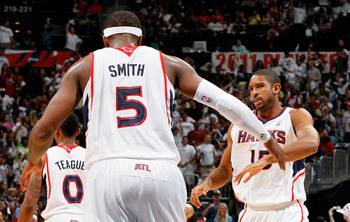 Kevin C. Cox/Getty Images
No, I'm not talking about June.
While this current Atlanta Hawks team could contend for a playoff spot next season, the organization has its radar focused on free agency in 2013.
Hawks GM Danny Ferry will look to reel in a Dwight Howard, Chris Paul or Andrew Bynum to pair alongside their nucleus of Al Horford and Jeff Teague.
Forward Josh Smith may be on the outs, but pairing Horford with a superstar could be a tantalizing pair in the East.
Boston Celtics, Wild Hogs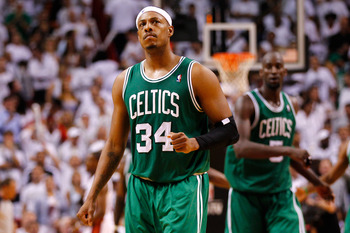 Mike Ehrmann/Getty Images
Remember that film starring John Travolta, Tim Allen and Martin Lawrence about men entering a mid-life crisis that create a biker gang to rediscover their youth?
The Boston Celtics are in the same boat. The Celts retooled with younger pieces, but their fate next season rests squarely on the contributions of Paul Pierce and Kevin Garnett.
If the two stars from the 2008 title can kick into high gear during next postseason, Rajon Rondo and Co. can provide enough supplementary offense to contend.
But much like the reception for Wild Hogs, this theory has had mixed reviews.
Brooklyn Nets, The New Frontier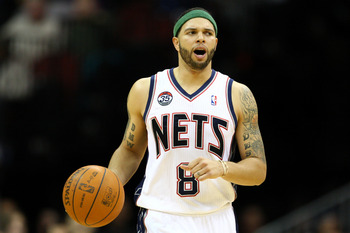 Chris Chambers/Getty Images
When John F. Kennedy spoke of the New Frontier, excitement rose to an all-time high over the possibilities for the future.
Albiet on a much-smaller scale, Mikhail Prokorov has changed the sports outlook in Brooklyn. The Nets move to the Barclays Center combined with some tasty free-agent signings has made it an exciting time to be in Brooklyn.
In addition, this Nets roster stars a foursome that rivals the best quartets in the East. Deron Williams, Joe Johnson, Gerald Wallace and Brook Lopez should challenge for a home playoff series at a minimum.
A win over the Knicks on Opening Night, in particular, would send the state of New York into a frenzy.
Charlotte Bobcats, Captain Kirk and the Kids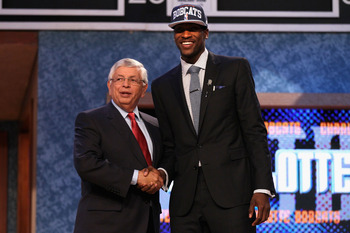 Elsa/Getty Images
They may not have much of a resemblance, but Michael Kidd-Gilchrist and the Star Trek captain have more in common than you think.
Kidd-Gilchrist has been tasked to change the culture of one of the worst team's in NBA history last season.
It would be a tall order for many NBA players, but Kidd-Gilchrist already earned a reputation at Kentucky for his intoxicating work ethic and his effect on team effort. The Bobcats hope their rookie can have the same effect on their middling franchise.
The first season of Star Trek didn't have great reviews initially either, but in time it became a colossal success.
Chicago Bulls, Waiting for Springtime
Jonathan Daniel/Getty Images
Bulls fans know their season hinges in January, February, March, or, err, whenever Derrick Rose can come back.
Chicago's star guard has a long road ahead rehab-wise, but it won't stop once he returns to the floor. The Bulls return only one player from their Bench Mob (Taj Gibson), so his support could be even worse this season.
Hope for success in the stretch run is possible, but Chicago will need Rose to come back in superhuman form.
Cleveland Cavaliers, Young and Restless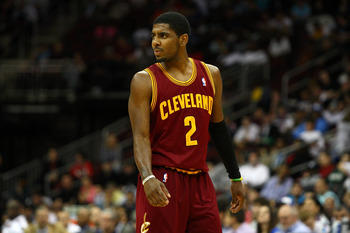 Chris Chambers/Getty Images
Kyrie Irving got the Cavaliers in the news for challenging Kobe Bryant to one on one during Olympic trials.
While Kobe declined until a later date, this Cavaliers team will be adopting Kyrie's fearless confidence with their run-and-gun mentality.
They drafted Dion Waiters to feature a pair of penetrators who can attack defenses regularly. Combined with young role players Tristan Thompson and Alonzo Gee, Cleveland will be playing cocky uptempo basketball.
If they can build on last season, the Cavs confidence will be through the roof come year three.
Dallas Mavericks, The One Man Band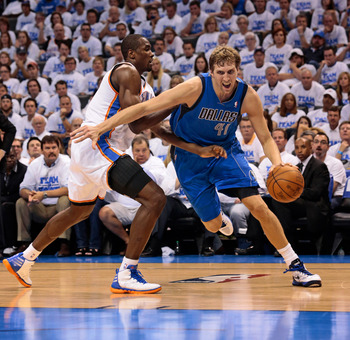 Brett Deering/Getty Images
Dirk Nowitzki thought he might get some help in Dwight Howard or Deron Williams this offseason.
When those options went elsewhere and Dallas' starting backcourt did the same, Dallas was pressed to make deals to satisfy their star.
Mark Cuban did not come away with nothing, but on paper the Mavs don't seem to be much better than their 2012 form.
O.J. Mayo and Elton Brand should contribute offensively, but Chris Kaman isn't exactly a defensive presence in the paint. It seems Dallas will continue to regret releasing Tyson Chandler after their 2011 title win.
So the Dirk show goes on, without much help.
Denver Nuggets, The Killer Bees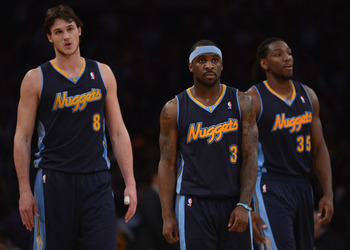 Harry How/Getty Images
They may not all have last names that start with the letter "B," much like the '80s Miami Dolphin defenses, but the Nuggets may be the most fast-paced team in 2012.
They already have the league's fastest point guard (baseline to baseline) in Ty Lawson. Add in their new addition Andre Iguodala and exciting rookie Kenneth Faried and that's a threesome to take note of on the break. Talk about some swarming bees.
Let's not forget in the team's deep rotation with three point marksman Danilo Galinari and emerging JaVale McGee (yes, that same JaVale McGee).
George Karl has a coach's dream on this roster: an aggressive bunch that can go 10 deep or more.
Detroit Pistons, DEE-Troit Developmental Program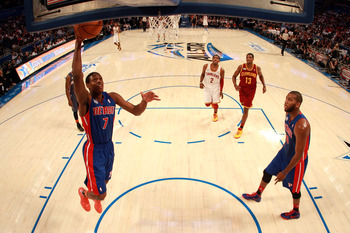 Mike Ehrmann/Getty Images
Greg Monroe. Brandon Knight. Andre Drummond. The Detroit Piston's future rests on three young names to evolve and deliver in the upcoming years.
2012 may be another year of growing pains for this club, but a patient organization could reap high dividends later on.
Drummond, especially, could end up being the top prize of this past year's draft. No prospect came into the Association with all the tools to be an impact player in the paint than the UConn product this year.
Will he have an appetite for basketball now that he's a million-dollar man in the NBA?
That's a question only Drummond will be able to answer.
Golden State Warriors, Great Expectations (Again)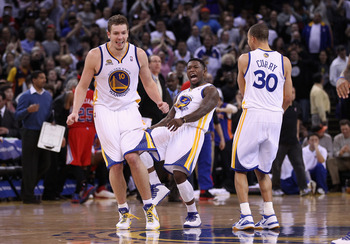 Ezra Shaw/Getty Images
Much like the Pip in Dicken's Great Expectations, Warrior's owner Joe Lacob is a big believer in positive thinking.
He called for playoffs last season in head coach Mark Jackson's first year, only to trade fan-favorite Monta Ellis for an eventual tank-job into a top-seven lottery selection. Needless to say, fans weren't amused by his hypocrisy.
Fortunately, though, the Warriors future could not be brighter after last year's bleak finish.
They finally have a capable center in their frontcourt: Andrew Bogut from the Ellis trade. The Australian, if he can stay healthy (a BIG if), should provide plenty of looks for Warriors shooters Stephen Curry, Klay Thompson and rookie Harrison Barnes.
If the threes are falling, the Warrior stock should be rising next season.


Houston Rockets, Linsane in the Membrane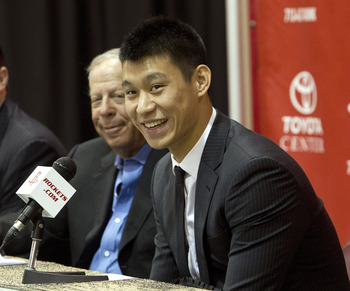 Bob Levey/Getty Images
The Rockets swung for the fences this offseason and ended up with..Jeremy Lin?
Talk about a bunt on the court, but a home run in the Rockets marketing office.
Houston may have missed out on a franchise-changing player like Dwight Howard this season, but Lin will keep them relevant in the basketball world. Likely not playoff relevant, though.
Not to mention because of Daryl Morey's wheeling and dealing, they'll be players in 2013 free agency. Being a Rockets fan might not be so insane after all.


Indiana Pacers, Now or Never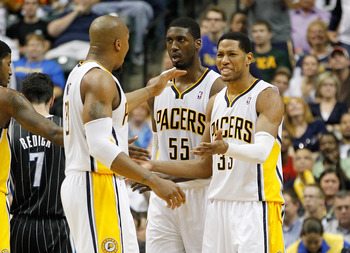 Gregory Shamus/Getty Images
The Pacers had the up and coming label for the last couple seasons, but after those young talents started getting long-term contracts, patience is no longer a virtue.
Center Roy Hibbert has become the latest Pacer to gain a long-term deal, despite his shortcomings offensively against Miami when they had no inside presence most of the series.
Indiana may have already seen Danny Granger's ceiling the last couple years: a gunner who can shoot from deep but doesn't scare inside. They will have to hope Paul George can continue his development into a tough cover at the 2 spot in order to truly challenge Miami and Boston at the top.
This latest playoff experience should make the Pacers a tougher squad mentally. Easier said than done, though.
LA Clippers, Hollywood's Second Son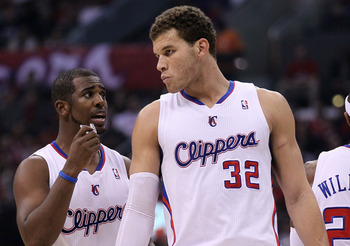 Stephen Dunn/Getty Images
The Clippers climbed to relevance last season after stealing Chris Paul. The Lakers still won the Pacific Division and coupled that with additions of Steve Nash and Dwight Howard in the offseason.
The Clippers are back to the Staples Center's second team, at least on paper.
The Clips were able to add some significant contributors on the offensive end in Jamal Crawford, Grant Hill and Lamar Odom.
Defensively, though, where they desperately needed to improve to challenge the elite, has yet to be addressed.
This season will not be a failure, however, as the Clippers will be the cheaper ticket in Los Angeles.
LA Lakers, the Fantastic Four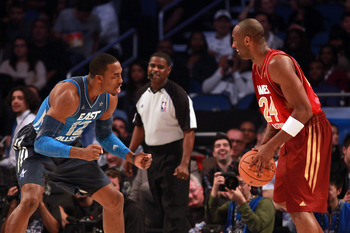 Ronald Martinez/Getty Images
Kobe Bryant is Mr. Fantastic, Dwight Howard is the Thing and Pau Gasol is...the Invisible Woman?
OK, not exactly the comic-book version, but the Lakers have one super foursome in purple and gold next season.
The Lake Show's four stars feature some of the most recognizable players worldwide. Not to mention, three (Bryant, Howard, Nash) are on every NBA fans top-10 players to see in person.
Consider the collective resumes of LA's four stars: three league MVPs, three Defensive Player of the Years, 18 All-NBA First Teams, 32 All-Star appearances.
That's without counting scoring titles, rookie of the year titles, rebounding titles. You get the picture.
Can these four coexist? Their team's fate depends on it.
Sounds like a comic book story.
Memphis Grizzlies, Smashmouth Basketball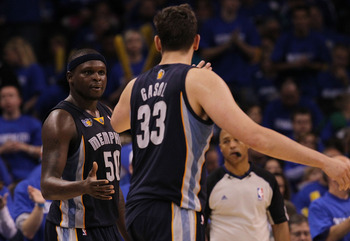 Ronald Martinez/Getty Images
If you're talking tough, gritty basketball, you're talking about the Memphis Grizzlies.
Head coach Lionel Hollins predicates his team's gameplan on tough defense and an inside-outside scoring mentality.
Marc Gasol and Zach Randolph are one of the top frontcourts in the league, when healthy, which poses one tall order for teams trying to go small.
The Grizzlies will need that inside scoring to amp up this season if they want to truly make waves in the West.
Otherwise, they're just another team with a scheme and a dream.
Miami Heat, Team Repeat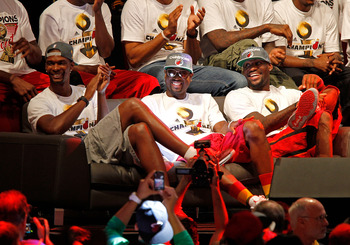 Mike Ehrmann/Getty Images
Now that the Miami Heat are NBA champions, the target on their back only gets bigger.
But Miami didn't hold serve with their championship roster; rather, they improved upon their small-ball approach around LeBron James with new additions Ray Allen and Rashard Lewis.
On the other hand, the Heat coaching staff has a ton of work ahead of them to sort out this rotation. Past LeBron, Wade and Bosh, the potential lineups are endless.
In addition, the Heat talent has to avoid the championship hangover their predecessors, the Dallas Mavericks, had trouble with.
They still have the best player in basketball. That will help.
Milwaukee Bucks, Backcourt Ballin'
Chris Chambers/Getty Images
The Bucks now sport one of the league's most exciting guard tandems with Brandon Jennings and Monta Ellis. The Milwaukee brass hopes that the addition of Ellis will turn their team into an offensive threat.
Under Scott Skiles, Milwaukee has enjoyed mild success through his defensive-minded approach. Though, when opportunity struck to bolster the offense with Ellis, the Bucks now have one of the league's most talented scorers on their roster.
Watching how this backcourt blends together and if this team can find an true identity will be a treat to NBA diehards.
Minnesota Timberwolves, Euroball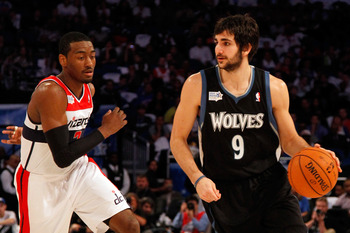 Mike Ehrmann/Getty Images
Minnesota is now home to some of the most recognizable international players in the world. Certainly Ricky Rubio, the emerging point guard, but also Nikola Pekovic, Andrei Kirilenko and Russian import Alexey Schved will don a Timberwolves uniform next season.
Kevin Love asked for more help and Timberwolves GM David Kahn answered the call with some changes. Kirilenko will bring a new defensive mentality that was apparent when he played for Russia in the Olympics.
In addition, Love certainly fits the bill of a European player offensively, as his range extends all the way out to the three-point line.
But with so many Euros aboard, the Wolves may play a different style than Love is familiar with.
New Orleans Hornets, the Future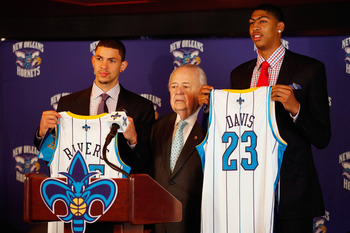 Chris Graythen/Getty Images
New Orleans fans have to be excited about their franchise's upcoming season with Anthony Davis, Austin Rivers and Ryan Anderson joining Eric Gordon by the bayou.
All signs point to a future backcourt in Gordon and Rivers and a frontcourt of Anderson and Davis. Many will be pointing toward playoff contention, but the Hornets will be infusing many new talents together under Monty Williams.
They will first have to see what they have in their current core. The sky is the limit in 2013, though.
Not only will this squad be getting a year older together, but the Hornets are one of the top players in next year's free agent market as well, with around $20 million in expiring contracts vanishing in thin air.
New York Knicks, Second at-Bat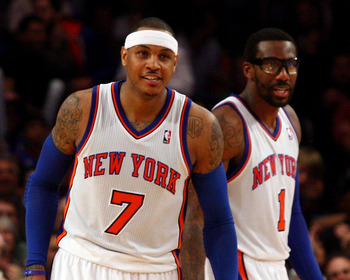 Chris Chambers/Getty Images
The Knicks will get a second go around with their star-laden frontcourt in Carmelo Anthony, Amar'e Stoudemire and Tyson Chandler.
The first year did not go as planned, but with an entire offseason to gel together, optimism is in the air.
While the frontcourt stays the same, they will be joined with entirely new backcourt mates.
Landry Fields and Jeremy Lin are gone, but Raymond Felton, Jason Kidd and Ronnie Brewer enter the fold. The changes were necessary after such a turmoil-filled campaign last season.
Expectations will be high, but the Knicks seem better equipped to answer them the second time around.
Oklahoma City Thunder, The Young and the Restless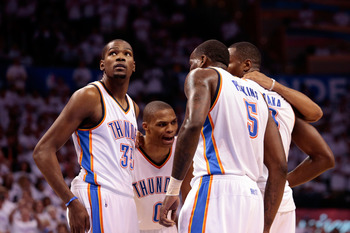 Brett Deering/Getty Images
Kevin Durant, Russell Westbrook and James Harden have had spectacular years, but an NBA championship this year was not meant to be.
After a Team USA appearance, these three should be raring to go next season and take their explosive offense all the way to the big stage.
Defensive stalwart Serge Ibaka, in addition, was exposed to the same high-caliber play in London playing for Spain. That makes four Thunder players who played in two championships this season. All under 25, mind you.
The three Americans got to taste victory in London. That'll surely follow them back home in Oklahoma City.
Orlando Magic, The Lottery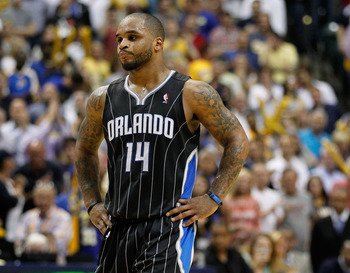 Gregory Shamus/Getty Images
Orlando will open the season with Jameer Nelson and Arron Afflalo heading the team banner.
Magic fans are still waiting to wake up from this nightmare.
Orlando's Dwight Howard deal did not receive much praise, or current assets, but Magic head coach Jacque Vaughn will attempt to play the "Us Against the World" mentality to the team's advantage.
Does not seem like a favorable situation for him.


Philadelphia 76ers, Bynum's Team
Howard Smith-US PRESSWIRE
The arrival of Andrew Bynum will make Philadelphia a more serious contender in the East, even If it doesn't happen overnight.
More importantly, he won't stand behind the shadow of Kobe Bryant. The 76ers are Bynum's oyster.
Essentially trading Andre Igoudala for Andrew Bynum has altered their team's entire outlook: The Sixers no longer have a playoff ceiling.
Igoudala, Lou Williams and Elton Brand are out of the picture, which will dampen their hopes in the short run. Bynum in a Sixers uniform, though, has made them better for years to come.
Phoenix Suns, Nash-Less Wonders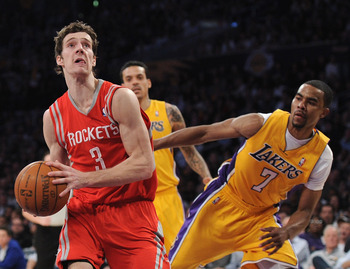 Harry How/Getty Images
It's a new era in Phoenix. The Suns shipped away perhaps the most decorated player in team history, but retooled for a competitive 2012 season.
The Suns replace Nash with his former protégé, Goran Dragic, who comes back to Phoenix more seasoned and poised to lead this squad.
In addition, Michael Beasley and Luis Scola should provide a complementary boost outside and inside, respectively.
The roster does not look like one that's playoff bound, but Phoenix made sure they didn't go broke when Nash left town. A season of intrigue awaits.
Portland Trail Blazers, Lillard's Law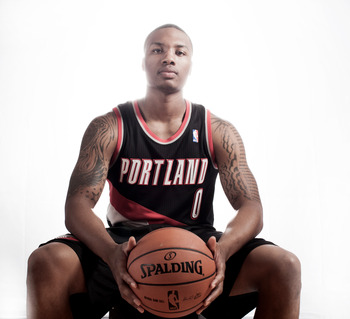 Nick Laham/Getty Images
The Trail Blazers fell off the map last season when injuries derailed their chances at another postseason bid.
They have cut their losses in the cases of Brandon Roy and Greg Oden last season, and handed the key to the franchise over to LaMarcus Aldridge.
All the while, Portland management entrusted the point-guard duties to a rookie from Weber State.
That rookie, Damien Lillard, will dictate how Portland finishes this season.
They may be on their way to another losing campaign, but if he shows star potential like he did in the Summer League, the Blazers may be back in the mix sooner than we all thought.
Sacramento Kings, Boogie Down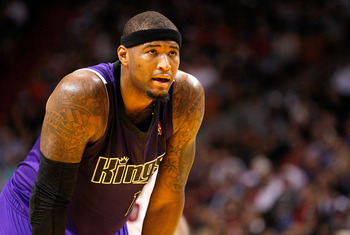 Mike Ehrmann/Getty Images
It's year three for the 2010 draft class, none more important for Sacramento's DeMarcus "Boogie" Cousins.
Cousins has always been well-regarded for his strength and defensive toughness, but his behavior has gotten in the way of winning in Sacramento.
To make matters worse, "Boogie" got beat out by Anthony Davis for a Team USA spot this summer.
Even if the longevity factor for Davis' selection was in play, Cousins had two years of NBA experience to put toward a tryout and turn some heads in USA Basketball circles. He came up empty handed.
If any year was the time for a rebound, this is it. Cousins is a sexy pick for Most Improved Player this season. I wouldn't doubt it.
San Antonio Spurs, Half Past Noon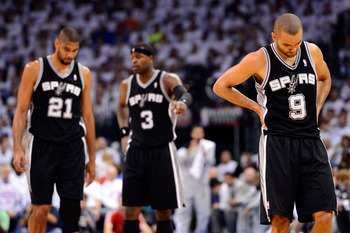 Ronald Martinez/Getty Images
There aren't many years left for this Spurs core. They may have lost their best chance at a title last season.
They were the league's most efficient team on offense, held a 20-game winning streak and were the favorite to win it all—until Oklahoma City won four straight in the Western Conference finals.
Can the Spurs replicate that efficiency again, when the games matter most? Age has certainly become a factor in this discussion.
Tim Duncan is in his final three years. Manu Ginobili is on the downswing of his career, while Tony Parker had an MVP season but couldn't stay in front of Russell Westbrook. That matchup will stay the same next season.
The lack of young stars in San Antonio may derail their title chances for the duration of their Big Three's careers.
Toronto Raptors, Canadian Intrigue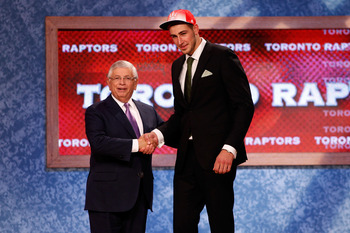 Mike Stobe/Getty Images
Toronto coach Dwayne Casey finally has some talent, along with one of the most enticing rosters in the East.
Defense hasn't been a problem with Casey's squad; the Raptors went from a middling defensive team to the ninth-best rank in defensive efficiency overnight.
The offensive talent on this team, though, had been in flux, and the buyout of Jonas Valanciunas was a huge part of that. Adding Valanciunas gives Toronto an inside presence, which in turn will open up the floor for Andrea Bargnani to play the stretch 4.
Toronto's other fresh blood will also benefit from their new Lithuanian center. Kyle Lowry may be the backup plan for Steve Nash, but he was nearly an All-Star last season. In addition, new draft pick Terrence Ross will bring a gunner's mentality to keep spacing in this offense.
Toronto has been in oblivion for some time. This may be the first year that things are looking up.
Utah Jazz, Two-Party System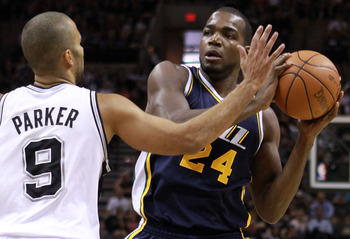 Ronald Martinez/Getty Images
The Jazz roster is full of talent, but split into the two different groups: players in their prime and the future of the franchise.
When Utah acquired Derrick Favors as part of the Deron Williams trade in 2011, some wondered where the former third overall pick (2010) would fit behind Paul Millsap and Al Jefferson.
If the clock on this numbers game hadn't started already, then it certainly did after the Jazz invested the third pick in the 2011 draft in big man Enes Kanter. Throw Gordon Hayward and Alec Burks into the mix and there is a young nucleus in Utah looking to spread its wings.
It's edging closer to decision time in Utah, as Millsap and Jefferson are both in the final year of their contracts.
Simply put, Utah's collection of big men is too talented to have to divvy up the minutes.
Washington Wizards, Attitude Adjustment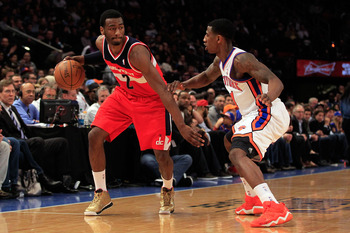 Chris Trotman/Getty Images
The Wizards of yesteryear were young, naive and lacking in a veteran presence. Those days ended this summer.
The Wiz traded for established vets Trevor Ariza and Emeka Okafor to bring stability to the roster. Not to mention, players in the locker room for John Wall to emulate in their work ethic.
This year will be Wall's third and there are lofty expectations abound. Now with a backcourt mate in rookie Bradley Beal, along with surrounding pieces, the Washington floor general finally has pieces to rely on.
Playoffs or not, a new look and new attitude will be presented in the D.C. area. And it doesn't have to do with this fall's election.
Keep Reading