Updated NBA Title Odds Following Dwight Howard Trade
Sam Greenwood/Getty Images

Ring the bell, the Los Angeles Lakers have won the 2012 NBA offseason.
After already acquiring future Hall of Fame point guard Steve Nash in a sign-and-trade with the Phoenix Suns, the Lakers made another massive splash by acquiring disgruntled center Dwight Howard in a four-team trade.
Via ESPN:
A source with direct knowledge of the talks told ESPN.com's Marc Stein the Lakers will receive Howard, the Denver Nuggets will acquire Andre Iguodala, the 76ers will receive Andrew Bynum and Jason Richardson, and the Magic will get Arron Afflalo, Al Harrington, Nikola Vucevic and one protected future first-round pick from each of the three teams.

The Lakers also will acquire Earl Clark and Chris Duhon, a source told ESPN The Magazine's Chris Broussard.
When blockbuster moves like this go down, so do the NBA championship odds for the teams involved. What do the odds look like now? Here's an updated look at the favorites to win the 2012-13 NBA championship.
(All odds via Bovada.lv)
Begin Slideshow

»
Jim Rogash/Getty Images

Opening Odds: 40/1
Current Odds: 25/1
Key Offseason Additions: Andrew Bynum, Nick Young, Jason Richardson, Kwame Brown
Who could have thought adding the second-best center in the NBA would give you lower championship odds?
In Bynum, the Sixers get a player coming off a career-best 19-12-2 stat-line. He'll come into Philly in a contract year looking to prove the Lakers made a massive mistake.
The 24-year-old center has spent his offseason recovering from the grind of the NBA's lockout-shortened 66-game season and will undergo the Orthokine treatment (via ESPN) on his knee at some point this offseason.
That means only good things for the Sixers, who will have its first elite center since Moses Malone.
Losing Andre Iguodala is tough, but if Evan Turner is ever going to flourish at the pro level, he needed this trade. All around win for Philly here.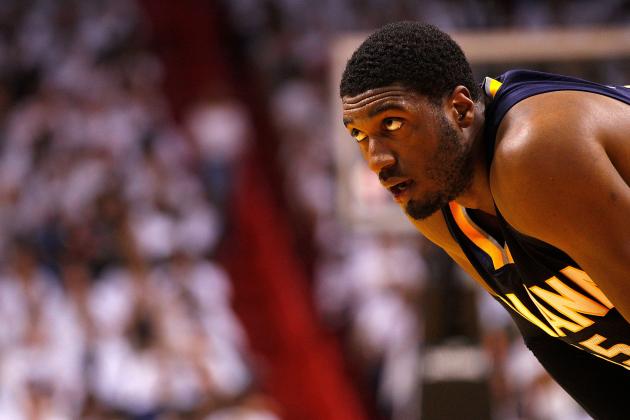 Mike Ehrmann/Getty Images

Opening Odds: 20/1
Current Odds: 25/1
Key Offseason Additions: D.J. Augustin, Ian Mahinmi, Gerald Green
You would likely be better off setting your money on fire than betting on the Pacers at 25/1 to win the NBA championship.
Few contenders had a worse offseason than Indiana. Starting with the team's selection of Miles Plumlee at No. 26 in June's draft, new Pacers general manager has made one inexplicable decision after another.
The four-year, $58 million contract given to center Roy Hibbert wouldn't be so horrible if the Pacers had any cap flexibility left.
But to trade incumbent point guard Darren Collison and Dahntay Jones for the right to overpay backup center Ian Mahinmi would have been the worst move of the offseason had Orlando not just traded Dwight Howard for a copy of The New Adventures of Old Christine, Season 1 on VHS.
There's very little chance that the Pacers can even match its Eastern Conference Finals run with this roster.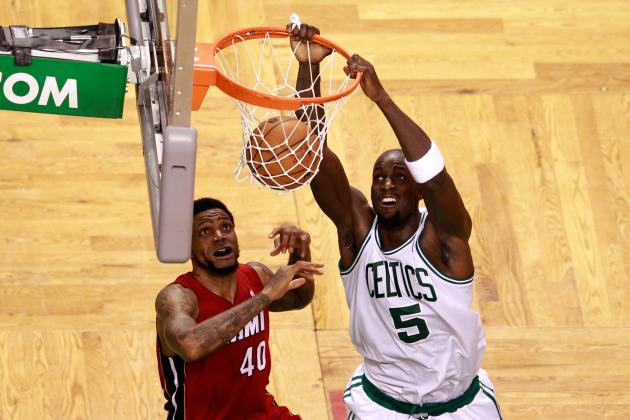 Jared Wickerham/Getty Images

Opening Odds: 20/1
Current Odds: 25/1
Key Offseason Additions: Jason Terry, Courtney Lee, Jared Sullinger, Jeff Green (return from injury), Fab Melo, Jason Collins
While Indiana's odds may be the worst value on the market, this is likely the last time you'll see the Celtics at 25/1.
Most everyone seems focused on the Celtics' loss of Ray Allen to the Miami Heat, but few recognize the 2012-13 team is infinitely deeper than the one that took the Heat to Game 7 of the Eastern Conference Finals.
The Jason Terry-Courtney Lee dual additions undoubtedly represent an upgrade over the 37-year-old Allen, who is coming off his worst career NBA season.
Regardless, it's the additions to the front court that should really get Boston in a tizzy.
Neither first-round pick, Jared Sullinger or Fab Melo, will make an immediate star-level impact. But their presence means extra regular season rest for Kevin Garnett, which can only lead to good things come playoff time.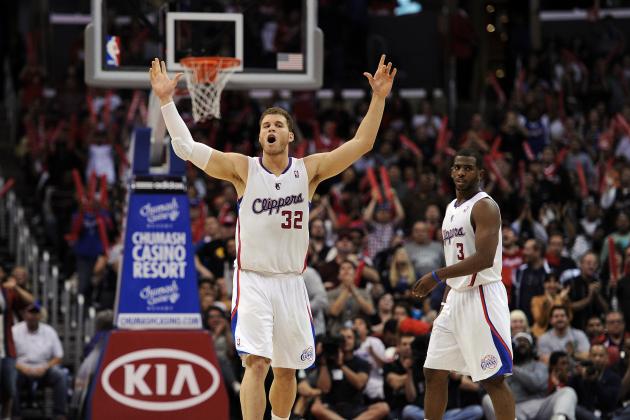 Harry How/Getty Images

Opening Odds: 18/1
Current Odds: 18/1
Key Offseason Additions: Jamal Crawford, Grant Hill, Ronny Turiaf, Ryan Hollins, Willie Green
While the Lakers have been out and about setting the NBA transaction mill on fire, their Staples Center roommates have been in piece-finding mode all offseason.
Jamal Crawford will serve as the team's sixth man next season and hopes to rebound from an awful one-season run in Portland. Grant Hill should help negate some of Crawford's questionable personality traits and can still guard four positions at 39 years old.
None of that really matters in the large scheme of things.
This entire season is about one thing for the Clippers: signing Chris Paul to an extension. If the Clippers do well enough to convince CP3 to stay long-term, then the front office has done its job. If not, 18/1 Finals odds won't mean anything when the Clips are back in the lottery come 2014.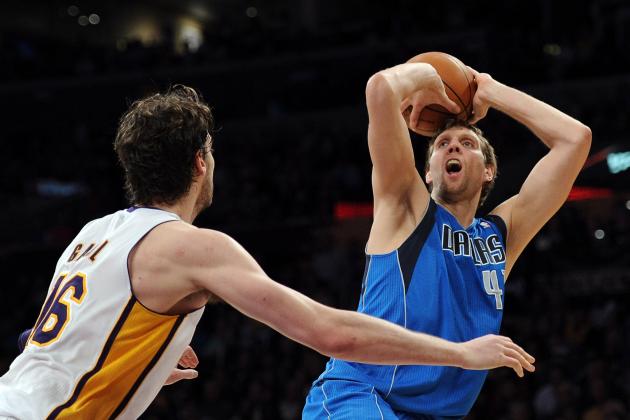 Harry How/Getty Images

Opening Odds: 14/1
Current Odds: 18/1
Key Offseason Additions: Chris Kaman, Elton Brand, O.J. Mayo, Darren Collison, Dahntay Jones
After striking out in its pursuit of point guard Deron Williams, the Mavericks essentially went to work compiling a one-year piecemeal team to keep the playoff ship afloat.
Simply put, teams like this don't win championships. The Mavs are still good enough, though, to win a ton of regular season games and possibly pull off a first-round upset in the playoffs.
Chris Kaman and Elton Brand should provide enough depth in the Dallas frontcourt to give Dirk Nowitzki, who wore down last season, some much-needed rest. Guards O.J. Mayo and Darren Collison were among the league's biggest steals of the offseason.
If it's possible to give out a gold star for ultimate failure, the Mavs front office deserves it.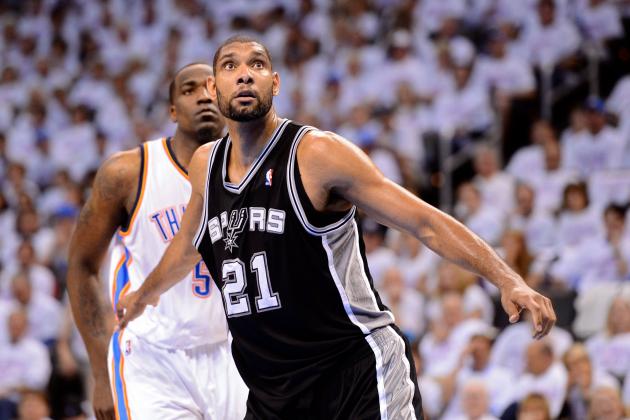 Ronald Martinez/Getty Images

Opening Odds: 10/1
Current Odds: 14/1
Key Offseason Additions: Boris Diaw (re-signed), Nando de Colo
Can the Spurs go one offseason without getting completely forgotten?
Lost once again in all of this offseason hoopla is the fact that San Antonio looked like not only the best team in the NBA for most of last season, but the best all-around team in a decade.
The Spurs roster is catered to a European style where ball movement and sharp-shooting reign supreme. Bringing back Boris Diaw and bringing in Nando de Colo can do nothing but help that cause next season.
Just don't act surprised if the Spurs wind up with home-court advantage throughout the playoffs again next year.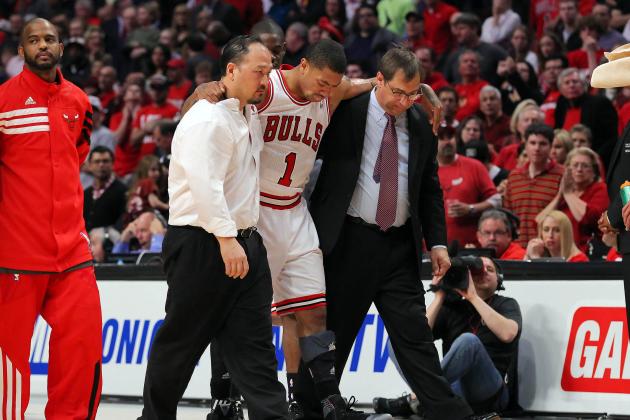 Dennis Wierzbicki-US PRESSWIRE

Opening Odds: 6/1
Current Odds: 9/1
Key Offseason Additions: Kirk Hinrich, Vladimir Radmanovic, Marco Belinelli, Nate Robinson, Nazr Muhammad
The oddsmakers over at Bovada must be seeing something I'm missing because I wouldn't even touch this Bulls roster at 50/1 odds, let alone 9/1.
It's as if they don't know 2011 NBA MVP Derrick Rose is out until at least March with a knee injury. The front office spent the whole offseason choosing to avoid the luxury tax over retaining its vaunted "Bench Mob."
This strategy is all likely part of a plan to pursue a superstar to pair with Rose in the summer of 2013 where the team will still have the option of amnestying Carlos Boozer's terrible contract to free cap space.
But not even the most zealous Chicago Bulls fan thinks the team has a shot at a title next season.
Ronald Martinez/Getty Images

Opening Odds: 5/1
Current Odds: 11/2
Key Offseason Additions: Hasheem Thabeet, Perry Jones, Daniel Orton
For Oklahoma City, this offseason was all about bringing in pieces and hoping that the young core comes back from the Olympic Games more seasoned and ready to bring home the Larry O'Brien Trophy.
Each of the Thunder's core four of Kevin Durant, Russell Westbrook and Serge Ibaka will be a part of the gold medal game in London when Team USA takes on Spain.
Playing on the biggest of world stages should do nothing but help the Thunder as their youth became exposed in last season's NBA Finals against the Miami Heat.
General manager Sam Presti wasn't going to let an offseason go by without trying to make the team better.
He pilfered infinitely talented Perry Jones in June's draft and brought in Hasheem Thabeet and Daniel Orton, hoping beyond hope that one of them becomes a valuable NBA player.
The key, though, will be what his young stars bring back from London.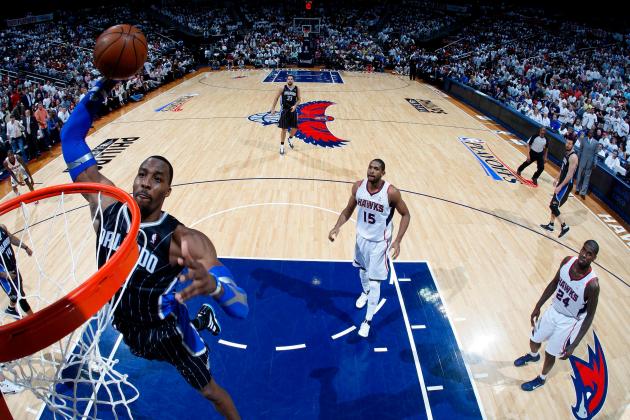 Kevin C. Cox/Getty Images

Opening Odds: 10/1
Current Odds: 3/1
Key Offseason Additions: Dwight Howard, Steve Nash, Antawn Jamison, Chris Duhon, Earl Clark
With the Dwightmare's conclusion comes the planning of the ticker tape parade in Los Angeles.
Dwight Howard's arrival to the Lakers means L.A. will have the best center and shooting guard in the NBA, the league's most versatile big man and one of the five greatest passers in basketball history in its starting lineup next year.
The Lakers mean business.
But the Miami Heat's struggles during the 2010-11 season with chemistry proves you can't just create a Frankenstein champion overnight.
If these new Lakers stay healthy, buy into the team's new Princeton offense and make the individual sacrifices to win, there is nothing that will stop L.A. from winning the Western Conference.
There will, however, (likely) be a defending champion waiting in the NBA Finals ready for an Avengers-Justice League showdown.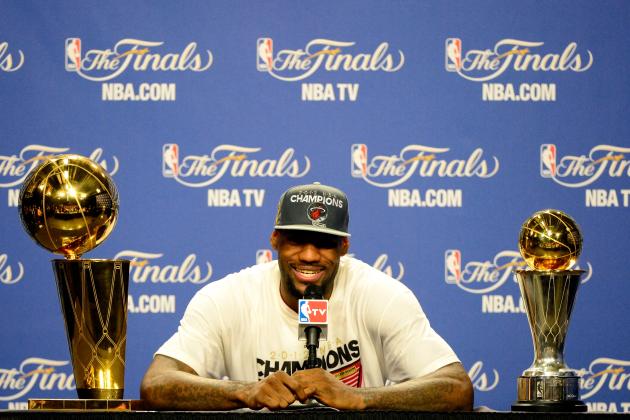 Ronald Martinez/Getty Images

Opening Odds: 11/4
Current Odds: 5/2
Key Offseason Additions: Ray Allen, Rashard Lewis
With the additions of Ray Allen and Rashard Lewis on the outside, knocking off the defending champions won't be an easy feat for any of the aforementioned teams.
LeBron James is still quite easily the best player in the world and his alpha dog status on Team USA in London will do nothing but solidify his burgeoning confidence.
This summer could be the start of a Jordan-esque step into all-time greatness for James, or it could simply turn out to be a marvelous one-year run. Either way, we'll likely figure out our answer during next year's NBA season.
Dwyane Wade and Chris Bosh sat out the Olympics to recover from injury, so the Heat should come back even better than they were in last season's playoff run. The depth still isn't there and Miami still lacks strength in the middle but there is still no more talented team in the league.