10 Hot Matchups NBA Fans Are Desperate to See in 2012-13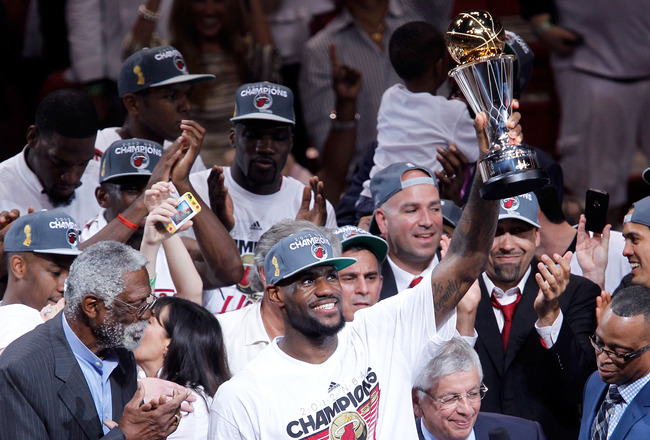 Mike Ehrmann/Getty Images
With the full 2012-13 NBA schedule still far from being announced, the South Florida Sun-Sentinel decided to wet our beaks and report that the Miami Heat will kick off the league's regular season on Oct. 30 against the Boston Celtics.
Miami vs. Boston will give us a classic Eastern Conference Finals matchup redux and also represents ex-Celtic Ray Allen's initial meeting with his former squad since defecting to Miami this offseason.
Not bad for opening night.
But what are the most anticipated matchups of the 2012-13 NBA regular season? Here are 10 games most NBA fans are already desperate to see next season.
(Programming note: Unfortunately, the Dwight Howard saga has no end in sight and may even stretch into next season. In the event that Howard is traded, "Dwight's New Team vs. Orlando Magic" would rank No. 2 on this list.)
10. Boston Celtics vs. Los Angeles Lakers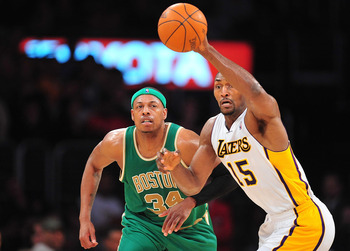 Gary A. Vasquez-US PRESSWIRE
You cannot have a "most anticipated matchups" list without including the most hallowed rivalry in NBA history.
Unfortunately for NBA old-heads among us, the Celtics and Lakers currently have side rivalries that are far more interesting at this point.
The addition of a Steve Nash-Rajon Rondo matchup at the point-guard spot offers a new, interesting wrinkle, but these teams know each other too well to throw any new monkey wrenches in at this point.
But still. We're downgrading from "historic" to "still really awesome" here. It's not as if we're talking Bobcats-Raptors here, folks.
9. Los Angeles Clippers vs. Los Angeles Lakers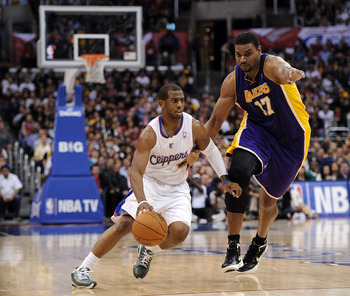 Harry How/Getty Images
A year after Lob City was seemingly on the verge of capturing the hearts of Angelenos, the Lakers reclaimed the city's heart this offseason by acquiring Steve Nash and joining the Dwight Howard chase.
With order seemingly restored in the popularity contest, it will be interesting to see how that affects the teams on the court.
A matchup of Chris Paul versus Steve Nash is captivating by itself, but becomes top-notch when factoring in the supporting cast. And with CP3 balking so far at the Clippers' long-term extension offers, this could be the final season of a short-lived L.A. rivalry.
8. Boston Celtics vs. New York Knicks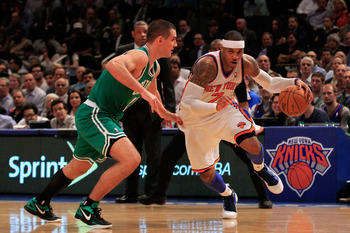 Chris Trotman/Getty Images
Physicality finally returned to the East Coast's longest-running NBA rivalry, as the Celtics and Knicks split their four matchups this past season.
Beginning with a spirited exchange of words between Boston forward Kevin Garnett and New York reserve Bill Walker, the teams traded as many barbs as baskets in their four contests.
The Celtics and Knicks split the four matchups, with no game being decided by more than eight points.
Only with a fully healthy Carmelo Anthony and Amar'e Stoudemire, this time, the games could mean jockeying for playoff position instead of just an invite for New York.
7. San Antonio Spurs vs. Oklahoma City Thunder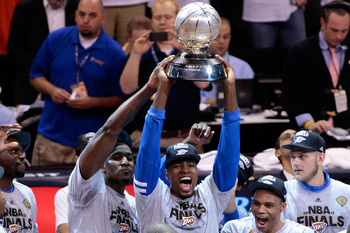 Brett Deering/Getty Images
For the Spurs, a matchup with Oklahoma City represents a chance at redemption for one of the more shocking conference-finals losses in recent memory.
After looking like the best team in basketball for two consecutive rounds and taking a 2-0 lead against the Thunder, the younger Oklahoma City squad swept San Antonio in the team's final four games.
Most of the time, Oklahoma City's victory would signal a new era. The Spurs would slowly fall by the wayside, as the Thunder's apparent dynasty takes hold of the Western Conference.
But, the fluke of Serge Ibaka and Kendrick Perkins shooting a combined 18-for-20, as they did in Game 5, won't happen again.
And judging by his NBA Finals performance, neither will James Harden's out-of-his-mind play in the series' final four games.
All of that should give San Antonio enough hope for one last Western Conference championship in the Duncan era.
6. Los Angeles Lakers vs. Phoenix Suns (in Phoenix)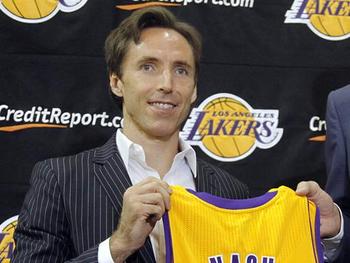 Photo Credit: AP
The Lakers' first matchup against the Suns in Los Angeles won't be particularly interesting at all because no one is interested in seeing the NBA's elite crush a lottery team.
But Nash's first return to Phoenix? Captivating television.
The Phoenix crowd will undoubtedly give Nash the loudest ovation of the year, and it wouldn't be shocking if the team did some sort pregame ceremony to honor their former point guard.
Regardless of how the game plays out, Nash's return will mark one of the most touching moments this year in sports.
5. Oklahoma City Thunder vs. Los Angeles Lakers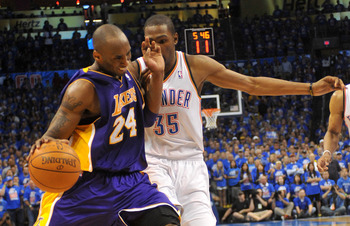 Mark D. Smith-US PRESSWIRE
Is the Western Conference favorite the young, incumbent champion? Or has the acquisition of Steve Nash resurrected the Lakers back to their rightful place atop the conference?
That's the question the Lakers and Thunder will try to answer during their regular-season matchups.
The Thunder made no big-time acquisitions outside of drafting Baylor's Perry Jones, while the Lakers' roster endured a complete overhaul this offseason—and L.A. may not even be done.
If the Lakers somehow land Dwight Howard, OKC vs. L.A. could become the premier matchup in the NBA, let alone the Western Conference.
4. Miami Heat vs. Los Angeles Lakers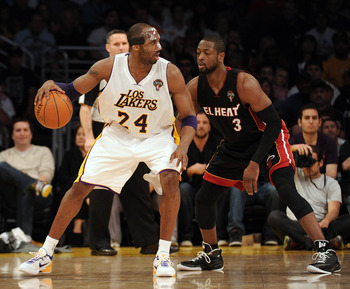 Harry How/Getty Images
Another matchup contingent upon the rest of L.A.'s offseason is against the incumbent champion Miami Heat.
If the Lakers acquire Dwight Howard, we'll be looking at the two overwhelming conference-champion favorites and a likely NBA Finals preview.
If not, we'll be looking at one overwhelming conference-champion favorite, one conference-championship contender and a possible NBA Finals preview.
While those two sentences are starkly similar, the differences represent the chasm between great matchup and potential epic rivalry.
Because, honestly, who doesn't want to see LeBron James face Kobe Bryant in the NBA Finals before Bryant's career ends?
3. Miami Heat vs. Boston Celtics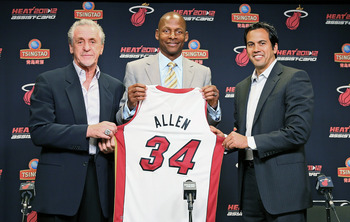 Mike Ehrmann/Getty Images
As if their epic seven-game series in the Eastern Conference Finals wasn't enough to create hype.
Ray Allen's defection to Miami for half of what Boston was offering (!) and the subsequent rumors of Allen's behind-the-scenes unhappiness with the Celtics and poor relationship with Rajon Rondo open up a brand new can of worms for this rivalry.
Will the reception from Celtics fans be all love as Allen suspects, or with Boston resent Ray Ray for not giving the Big Three one final run? Will the bad blood finally boil over between Rondo and Allen now that they're on opposite sides? Or will Paul Pierce and Kevin Garnett's love for their former teammate take the fangs out of the Heat-Celtics feud?
Those are the questions remaining to be answered when Boston and Miami face off to open the NBA regular season (per the South Florida Sun-Sentinel).
2. Brooklyn Nets vs. New York Knicks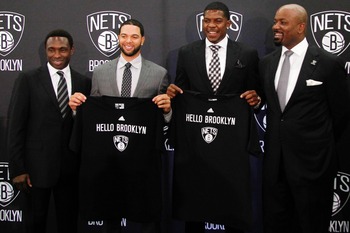 Debby Wong-US PRESSWIRE
Knicks fans may think it's ridiculous that the Nets could take over New York City someday, but it's not.
Brooklyn's inaugural season gives NYC fans something they've never had: a choice.
Of course, the Spike Lees and old-timers will never defect, but casual fans and young fans have no allegiance to the Knicks. They're best known as the franchise that hasn't won since 1973 and refused to re-sign the city's golden boy (Jeremy Lin) this offseason.
On the other hand, the Nets have invested a federal stimulus plan into their franchise and could reenter the Dwight Howard sweepstakes if D12 goes untraded.
There's only one way for the Knicks to stop Brooklyn's overriding momentum, and that's to beat the living tar out of their ugly stepbrother. For all of the hype, the Nets spent $200 million on three players from last season's lottery team and acquired Joe freaking Johnson.
It's not as if 1992 Michael Jordan walked through the door.
By all accounts, the Knicks are the better team. But they're going to have to prove it early and often to avoid fan defection.
1. Miami Heat vs. Oklahoma City Thunder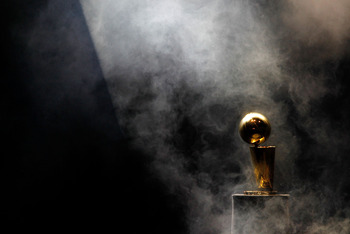 Mike Ehrmann/Getty Images
It took the Miami Heat just five games to defeat the Oklahoma City Thunder in the NBA Finals this past season.
That fact does not sit well with Thunder star Kevin Durant, who admitted he's not too keen on being his rival's teammate for the upcoming Olympics in London.
Via USA Today:
Durant admits it bothers him coming to the gym and seeing James every day.

"It does. It does, but what can I do?" Durant said Tuesday [July 10]. "He's my teammate now. I'm a team player. I can't let that affect this. This is bigger than that. It's tough to lose in the Finals and play the guy you've been going up against for five games who beat you. So me, I'm just going to get over it, still be a great teammate, come out and play hard."
And play hard Durant has. After starting the Olympics on the team's second unit, a scoring barrage throughout Team USA's exhibition season caused coach Mike Krzyzewski to start KD in place of Carmelo Anthony.
If you think that Finals loss has nothing to do with Durant's brilliant play of late, you're mistaken. And it will only get better once the NBA regular season hits.
Keep Reading