NBA Power Rankings: Who Are the Most Athletic Teams Post-Draft?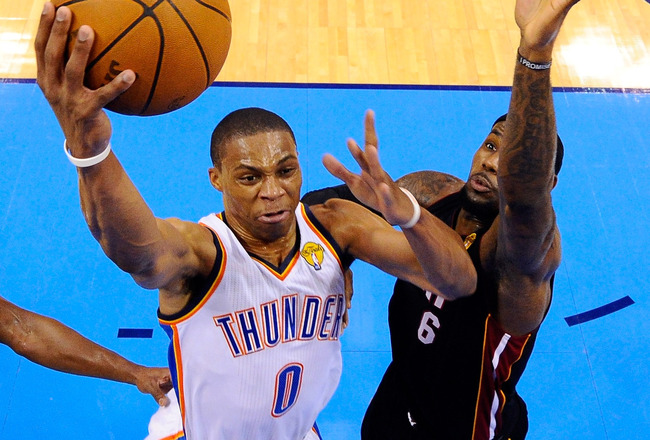 OKC and Miami provided fans with an ultra-athletic NBA Finals.
Pool/Getty Images
Some of the best athletes on the planet are employed by the NBA.
In this year's NBA Finals, with the Miami Heat defeating the Oklahoma City Thunder, perhaps the two most athletic teams in the league were matched up against one another. The Heat, led by league MVP and athletic freak LeBron James, defeated the upstart Thunder, led by the dynamic and athletic duo of Kevin Durant and Russell Westbrook, in five games to claim the franchise's second NBA Championship.
However, athleticism doesn't always directly translate to wins.
Some of the best teams in the league aren't necessarily impressive athletically, but they overcome their deficiencies in athleticism with veteran "know-how" and discipline. For example, the young and talented Philadelphia 76ers are more athletic than the San Antonio Spurs, but the Spurs are a much better basketball team led by their veteran trio of Manu Ginobili, Tim Duncan and Tony Parker.
Several teams added key pieces in this year's NBA Draft, and many will be expected to play significant minutes as rookies. With the draft in the books and the free agent frenzy winding down, let's see where all 30 teams rank among the most athletic teams in the league.
30. Charlotte Bobcats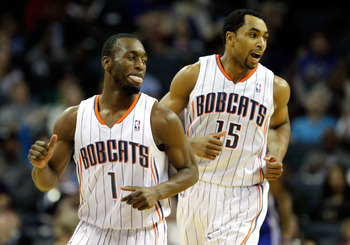 Charlotte isn't going to scare anyone athletically.
Streeter Lecka/Getty Images
Players drafted - No. 2: G/F Michael Kidd-Gilchrist/Kentucky, No. 31: SF Jeffrey Taylor/Vanderbilt
Five key players - Gerald Henderson, Kemba Walker, Ramon Sessions, B.J. Mullens, Bismack Biyombo
From top to bottom, there haven't been many, if any, less talented teams than the current Charlotte Bobcats. Kemba Walker and Gerald Henderson provided at least a ray of hope during the 2011 season, but this team is low on talent, and very low on athletes.
An inexperienced frontcourt in Mullens and Biyombo appeared to be a perfect fit for Kansas power forward Thomas Robinson, but the Bobcats ultimately decided to go with Kentucky's Michael Kidd-Gilchrist with the No. 2 overall pick. As a rookie, MKG will instantly be perhaps the best athlete on the Bobcats' roster. That's not a good thing.
29. Houston Rockets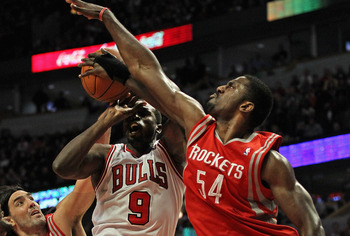 Dwight Howard would certainly boost Houston in the "athleticism" category.
Jonathan Daniel/Getty Images
Players drafted - No. 12: SG Jeremy Lamb/Connecticut, No. 16: PF Royce White/Iowa State, No. 18: PF Terrence Jones/Kentucky
Five key players - Kevin Martin, Chandler Parsons, Patrick Patterson, Donatas Motiejunas, Toney Douglas
Talk about putting all your eggs into one basket. The Rockets are doing everything they can do get themselves in position to land Dwight Howard. They better hope they land him, because in this offseason alone, Houston has lost Courtney Lee, Goran Dragic, Marcus Camby, Chase Budinger, Samuel Dalembert, Kyle Lowry and Luis Scola, one way or another. Those six players combined for 265 starts and accounted for 79 percent of the team's scoring last season.
If Houston can't acquire Howard, they're in an extremely tough position, as they not only lack athletes, they simply lack players.
28. Phoenix Suns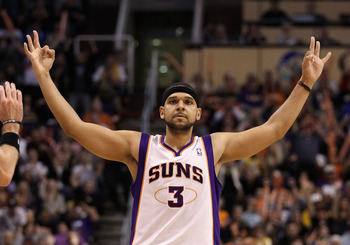 Phoenix used to be flooded with athletes, but that's not the case anymore.
Christian Petersen/Getty Images
Players drafted - No. 13: PG Kendall Marshall/North Carolina
Five key players - Marcin Gortat, Jared Dudley, Channing Frye, Luis Scola, Goran Dragic
Several years ago, when the Suns lit up the NBA with Steve Nash at point guard and Amare Stoudemire as his sidekick, Phoenix was one of the most electric teams in basketball. The 2012 squad is in a very different situation, one in which their best player may be center Marcin Gortat.
Phoenix will hope rookie Kendall Marshall can fill Nash's shoes at the point, while Jared Dudley and Shannon Brown will be expected to pick up the slack resulting from the departures of Nash and Grant Hill.
All in all, the Suns are better off without Nash or Hill because they wouldn't compete for a title either way, and now they'll improve from within by building around a young nucleus.
27. Detroit Pistons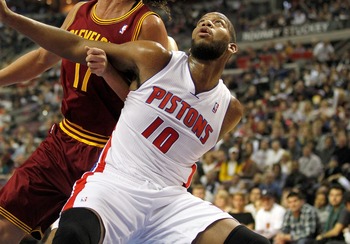 The Pistons are a young and physical bunch, but they're not overly athletic.
Gregory Shamus/Getty Images
Players drafted - No. 9: C Andre Drummond/Connecticut, No. 39: SF Khris Middleton/Texas A&M, No. 44: SG Kim English, Missouri
Five key players - Rodney Stuckey, Greg Monroe, Brandon Knight, Tayshaun Prince, Jason Maxiell
The Pistons feature a promising young backcourt in Knight and Stuckey, and they now boast a talented post duo in Monroe and Drummond. All four of the aforementioned players are solid athletes, but there isn't much athletic talent among their supporting cast.
If Drummond reaches his ceiling and becomes a dominant post player, the Pistons could eventually be as close to No. 1 as they are to No. 30. However, as things currently stand, Detroit looks like they're a ways away from being a playoff team, and they'll continue to struggle against fast-paced, athletic teams.
26. Utah Jazz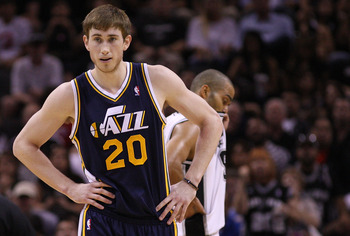 Utah is a solid and highly-skilled team, but not very athletic.
Ronald Martinez/Getty Images
Players drafted - No. 47: SG Kevin Murphy/Tennessee Tech
Five key players - Al Jefferson, Paul Millsap, Gordon Hayward, Derrick Favors, Marvin Williams
The Jazz feature a variety of players who came into the league with high expectations, yet they haven't been able to live up to their draft stock as professionals up to this point. Marvin Williams, the No. 2 pick in 2005, and Derrick Favors, the No. 3 pick in 2010, have both fizzled into nothing more than role players since coming into the league. Regardless, Utah is a solid team capable of making a respectable run in the playoffs.
Although they made the playoffs in 2011, and they are set to bring back all their key pieces from last year's team, don't expect the Jazz to be a serious threat in the Western Conference anytime soon.
25. Cleveland Cavaliers
If No. 4 pick Dion Waiters pans out, the Cavs will have a scary backcourt.
Chris Chambers/Getty Images
Players drafted - No. 4: SG Dion Waiters/Syracuse, No. 17: C Tyler Zeller/North Carolina
Five key players - Kyrie Irving, Tristan Thompson, Anderson Varejao, Alonzo Gee, Daniel Gibson
It was no secret that the Cavs wanted to bolster their backcourt alongside Kyrie Irving in this year's draft. After they were unable to pull off a trade-up for Florida's Brad Beal, the Cavs surprised some by spending the No. 4 pick on Syracuse guard Dion Waiters. Some compare Waiters to Dwyane Wade with a similar ability to create his own shot, and if "D-Wait" becomes "D-Wade," Cleveland could have one of the scariest backcourts in the league.
As things currently stand, the Cavs lack elite athletes outside of Irving, Waiters and Tristan Thompson. However, this team has a clear direction, and they have the necessary pieces to develop into a long-term winner in the NBA.
24. New Orleans Hornets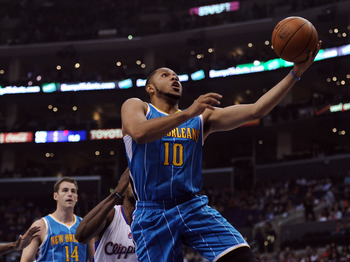 Eric Gordon has some new weapons in Anthony Davis and Austin Rivers.
Harry How/Getty Images
Players drafted - No. 1: PF Anthony Davis/Kentucky, No. 10: SG Austin Rivers/Duke, No. 46: SF Darius Miller/Kentucky
Five key players - Eric Gordon, Ryan Anderson, Greivis Vasquez, Brad Miller, Al-Farouq Aminu
If not for their top two draft picks, both of which were selected in the top ten overall, the Hornets would be dangerously close to No. 30 on the list of the league's most athletic teams. However, Anthony Davis and Austin Rivers will both be expected to play significant minutes as rookies, and their athleticism will directly translate to wins for coach Monty Williams and the Hornets.
New Orleans acquired the league's most improved player, Ryan Anderson, from Orlando this offseason. With a rare ability to step back and hit the three, the 6' 10" Anderson will be a vital asset to the Hornets' success this season.
23. Sacramento Kings
Sacramento's frontcourt, with Cousins & Robinson, is young but highly athletic.
Mike Ehrmann/Getty Images
Players drafted - No. 5: PF Thomas Robinson/Kansas
Five key players - Tyreke Evans, DeMarcus Cousins, Marcus Thornton, Aaron Brooks, Jason Thompson
For being a "bad team" and seemingly picking in the lottery year after year, the Kings have a solid and very athletic nucleus. Tyreke Evans, although he tends to be a ball stopper offensively, is an extremely athletic player capable of playing either guard position or small forward, while DeMarcus Cousins has one of the highest ceilings among active post players.
The Kings were incredibly fortunate to have Kansas power forward Thomas Robinson fall into their lap with the fifth pick, and although he may not be an elite scorer, his rebounding and shot-blocking ability will be called upon immediately in his rookie season. If they keep their core intact, the Kings could be a lot closer to No. 1 on the list of the NBA's most athletic teams a few years down the road.
22. Toronto Raptors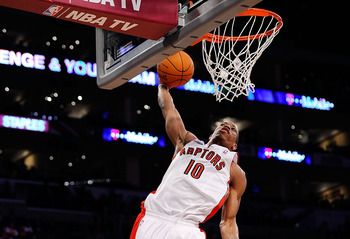 Loaded with athletes, Toronto could be one of the NBA's most improved teams.
Kevork Djansezian/Getty Images
Players drafted - No. 8: SG Terrence Ross/Washington, No. 37: PF Quincy Acy/Baylor, No. 56: Tomislav Zubcic/Croatia
Five key players - Andrea Bargnani, Kyle Lowry, DeMar DeRozan, Landry Fields, Jonas Valančiūnas
When the Raptors took Bargnani with the top pick in the 2006 NBA Draft, many thought it may have been the weakest No. 1 overall pick of all-time. But actually, the Italian big man has enjoyed a solid NBA career, averaging at least 19.5 points and 5.2 rebounds per game in each of the past two seasons. Bargnani figures to be joined in the frontcourt this season by Jonas Valančiūnas, the team's first round pick in 2011.
Toronto figures to be an improved team athletically by adding Lowry, Fields and Ross to their lineup, giving them a deep and versatile stable of perimeter players. The Raptors' new additions will make them a more dangerous team offensively, as well as provide them the ability to match up with all types of lineups.
21. Dallas Mavericks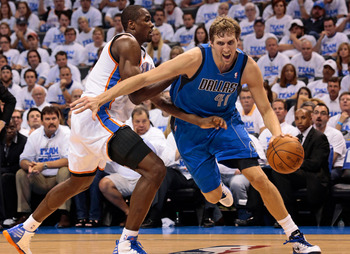 Dirk keeps them viable, but the Mavericks lack true athletes.
Brett Deering/Getty Images
Players drafted - No. 24: SG Jared Cunningham/Oregon State, No. 33: PF Bernard James/Florida State, No. 34: F Jae Crowder/Marquette
Five key players - Dirk Nowitzki, O.J. Mayo, Shawn Marion, Chris Kaman, Elton Brand
After a brief run as "America's Team" following their upset victory over the Miami Heat in the NBA Finals, the Mavericks faded into mediocrity in 2011. This offseason, the aging Mavericks have lost Jason Kidd to the Knicks and Jason Terry to the Celtics.
To fill their holes in the backcourt, the Mavs signed former Memphis guard O.J. Mayo, and added veteran post players Elton Brand and Chris Kaman this offseason to bolster the team's rebounding and scoring output. Dallas isn't anywhere near the league's most athletic teams, but they're a much better overall team than several teams ranked ahead of them athletically.
20. Milwaukee Bucks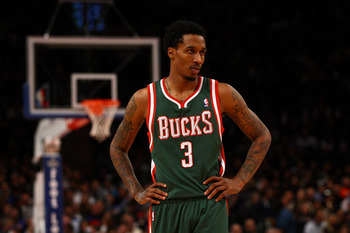 Brandon Jennings and Monta Ellis may be the quickest backcourt in the NBA.
Chris Chambers/Getty Images
Players drafted - No. 14: PF John Henson/North Carolina, No. 42: SG Doron Lamb/Kentucky
Five key players - Brandon Jennings, Monta Ellis, Ersan Ilyasova, Drew Gooden, Luc Mbah-a-Moute
The Milwaukee Bucks boast perhaps the league's quickest backcourt in Brandon Jennings and Monta Ellis. After they were a respectable team offensively in 2011, the Bucks have made a conscious effort to bolster their biggest deficiency from a season ago—a weak interior defense. Milwaukee considered moving up in the draft for North Carolina's rangy shot-blocker John Henson, and they were pleasantly surprised when he fell into their lap at No. 14.
By re-signing Ersan Ilyasova, a deceptively good athlete in his own right, the Bucks quietly enter 2012 as perhaps one of the league's most improved teams. While they're certainly not a serious threat to Miami in regards to the Eastern Conference's elite teams, nobody will want to play against Ellis, Jennings and the Bucks' talented backcourt.
19. Boston Celtics
Boston is consistent, but they're not an elite team athletically.
Jim Rogash/Getty Images
Players drafted - No. 21: PF Jared Sullinger/Ohio State, No. 22: C Fab Melo/Syracuse, No. 51: PF Kris Joseph/Syracuse
Five key players - Rajon Rondo, Kevin Garnett, Paul Pierce, Jason Terry, Brandon Bass
When the Celtics lost to the Heat in Game 7 of the Eastern Conference Finals, it was widely expected to be the end for Boston's "big three." That did, in fact, end up being the case as Ray Allen left the Celtics to join the rival Heat this offseason. However, instead of getting younger at guard, Boston acquired veteran Jason Terry to fill Allen's shoes on the perimeter.
With a veteran core that knows what it takes to win, the aging Celtics remain a very dangerous team in the East, but they're not going to beat anyone athletically. Boston relies on great coaching from Doc Rivers and savvy veteran "know-how" to beat more athletic teams.
18. Golden State Warriors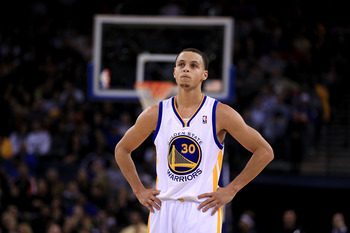 Golden State, very quietly, has assembled an impressive starting five.
Ezra Shaw/Getty Images
Players drafted - No. 7: SF Harrison Barnes/North Carolina, No. 30: C Festus Ezeli/Vanderbilt, No. 35: PF Draymond Green/Michigan State, No. 52: C Ognjen Kuzmic/Spain
Five key players - Steph Curry, Klay Thompson, Harrison Barnes, David Lee, Andrew Bogut
Going through their presumed starting lineup, the Warriors seem to have covered all the bases. Point guard? Stephen Curry, check. Shooting guard? Klay Thompson, check. Small forward? This year's No. 7 pick Harrison Barnes, check. Power forward? David Lee, check. Center? Andrew Bogut, check. Very quietly, the Golden State Warriors have put themselves in a promising position by assembling a potentially great roster.
Athletically, the Warriors are solid but less than stellar. But if Bogut is able to stay healthy for a full season, which is something he hasn't done in recent years, that would go a long way in putting the Warriors in contention to make noise in the Western Conference.
17. Orlando Magic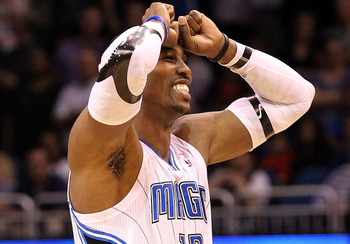 Dwight Howard has been a headache this offseason, but he's a freak athletically.
Sam Greenwood/Getty Images
Players drafted - No. 19: PF Andrew Nicholson/St.Bonaventure, No. 49: C Kyle O'Quinn/Norfolk State
Five key players - Dwight Howard, Jameer Nelson, Hedo Turkoglu, J.J. Redick, Glen Davis
As things currently stand, the Magic have a pretty athletic lineup top to bottom. But with every new rumor surrounding Dwight Howard, the outlook for Orlando's 2012 season may be on the verge of changing drastically.
The Magic grabbed a very solid NBA-ready player in Andrew Nicholson with the 19th pick, but they'll need several post players to step up and make a bigger impact with Howard potentially leaving town. Point guard Jameer Nelson has been under-appreciated athletically, as has Glen Davis for his size. WIth Howard, this team could contend for the No. 3 or 4 seed in the East, but without him, it's anyone's guess as to how they'll fare.
16. Minnesota Timberwolves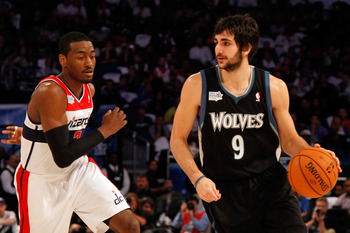 Before his injury, Rubio and the T-Wolves were exciting to watch.
Mike Ehrmann/Getty Images
Players drafted - No. 58: F Robbie Hummel/Purdue
Five key players - Kevin Love, Ricky Rubio, Brandon Roy, Nikola Pekovic, Derrick Williams
After playing a season overseas, there was certainly no shortage of questions surrounding Ricky Rubio and how his game would translate to the NBA. Rubio quickly put an end to those conversations, as he instantly helped the Timberwolves become one of the most exciting teams in the entire NBA. Although rookie Derrick Williams was disappointing, he's reportedly lost weight and figures to play more at small forward this season.
Athleticism isn't the strength of Kevin Love's game, but he's a better athlete than he's given credit for, and he's now a perennial NBA All-Star despite having not yet met his ceiling. Minnesota may be a mediocre team athletically, but the arrow is pointing up in regards to their team potential.
15. Portland Trail Blazers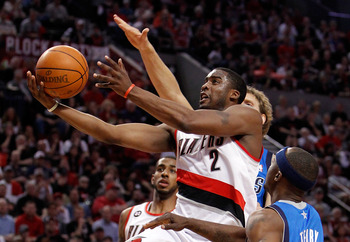 Portland is a talented team, and they've filled their most glaring needs.
Jonathan Ferrey/Getty Images
Players drafted - No. 6: PG Damian Lillard/Weber State, No. 11: C Meyers Leonard/Illinois, No. 40: PG Will Barton/Memphis
Five key players - LaMarcus Aldridge, Wes Matthews, Nick Batum, J.J. Hickson, Victor Claver
It's always fun, albeit pointless, to play a game of "what if" in regards to NBA teams and players. Just imagine if Greg Oden hadn't suffered the flood of injuries that he has, and Portland's starting lineup featured Oden alongside highly athletic power forward LaMarcus Aldridge. That would be a scary lineup to the rest of the Western Conference.
With the Blazers expected to match Minnesota's offer sheet for small forward Nick Batum, Portland figures to return the majority of its 2011 lineup in 2012. If both of the team's two first round picks, Damian Lillard and Meyers Leonard, pan out and reach their potential, the Blazers will have an elite team athletically, putting them in the conversation for the best in the West.
14. Brooklyn Nets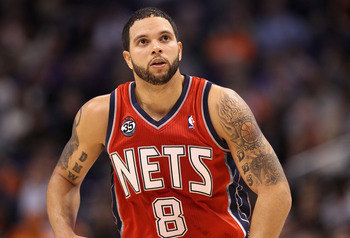 They couldn't get Dwight Howard, but the Nets are an up-and-comer.
Christian Petersen/Getty Images
Players drafted - No. 41: PG Tyshawn Taylor/Kansas, No. 54: Tomike Shengelia/Belgium, No. 57: Ilkan Karaman/Turkey
Five key players - Deron Williams, Brook Lopez, Gerald Wallace, Kris Humphries, MarShon Brooks
The Nets were obviously very disappointed that they weren't able to acquire Dwight Howard from the Orlando Magic. With Howard in the fold, Brooklyn may have been the biggest threat to a potential Miami Heat dynasty, but without him, the Nets still figure to be a much improved team.
Deron Williams is one of the top point guards in the game, and it would have been a delight to see him run the pick-and-roll with Howard, but starting center Brook Lopez is an All-Star caliber player in his own right. The Nets feature athletes at every position on their team, and if they put it all together, they could become a serious threat in the East in 2012.
13. Washington Wizards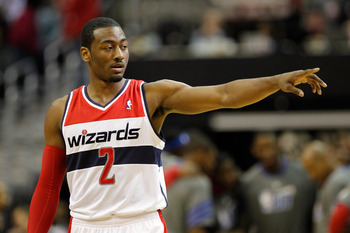 After adding Brad Beal, the Wizards will be an athletic machine.
Rob Carr/Getty Images
Players drafted - No. 3: SG Bradley Beal/Florida, No. 32: SG Tomas Satoransky/Spain
Five key players - John Wall, Nene, Jordan Crawford, Emeka Okafor, Cartier Martin
Few players have entered the NBA with as much attention and as many expectations as John Wall. Wall's elite speed and athleticism have quickly translated to the NBA level, as he's averaged 16 points and eight assists in each of his first two seasons in the league. With an unselfish and hard-working post duo in Nene and Emeka Okafor, the Wizards hope that they will be a more complete team in 2012.
Although it was with the third overall pick, Washington may have gotten the steal of the draft in Bradley Beal, who could potentially develop into a star in the NBA. If he reaches his potential, Beal will join Wall and combine for one of the most athletic and dangerous backcourts in the NBA. This team is lacking where it matters most—wins—but they certainly aren't short on athletes.
12. San Antonio Spurs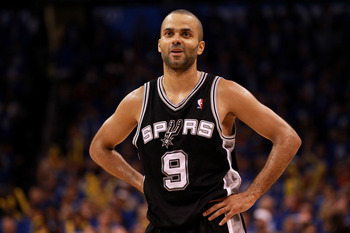 Known as the league's "old guys," the Spurs are deceptively athletic.
Ronald Martinez/Getty Images
Players drafted - No. 59: PG Marcus Denmon/Missouri
Five key players - Tony Parker, Manu Ginobili, Tim Duncan, Kawhi Leonard, Boris Diaw
San Antonio has built a true dynasty under head coach Gregg Popovich. Under the lead of Tony Parker and Tim Duncan and with a large dose of Manu Ginobili, the Spurs have won four Championships under the lead of Popovich.
Despite their unrivaled success, the Spurs are not one of the league's most athletic teams. Instead they rely on immaculate execution and thorough game-planning to maintain their status among the league's championship contenders. Although they may not be one of the league's most athletic teams, they'll gladly point to their rings as a measure of their success.
11. Los Angeles Lakers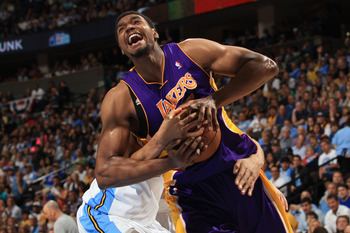 Bynum is one of the most athletic centers in the NBA. Now he has Nash at point.
Doug Pensinger/Getty Images
Players drafted - No. 60: C Robert Sacre/Gonzaga
Five key players - Kobe Bryant, Andrew Bynum, Steve Nash, Pau Gasol, Metta World Peace
After adding Steve Nash to an already athletic team, the Lakers will enter 2012 with very high expectations. Kobe isn't the elite athlete that he once was, but he's still a good athlete that is more than capable of putting the team on his back and carrying them to victory.
In the frontcourt, the Lakers' combination of Pau Gasol and Andrew Bynum is one of the more versatile post duos in the league. Bynum, specifically, is a highly athletic player for his size at 7' 0" and 285 pounds, giving Los Angeles a mismatch down low against almost any opponent. The Lakers are a team flooded with veterans, and their team athleticism is something that should not be overlooked.
10. Atlanta Hawks
The Hawks can compete with better teams because of their athleticism.
Grant Halverson/Getty Images
Players drafted - No. 23: SG John Jenkins/Vanderbilt, No. 43: PF Mike Scott/Virginia
Five key players - Josh Smith, Al Horford, Devin Harris, Jeff Teague, Lou Williams
Several years ago, the Hawks were in the conversation regarding the most athletic team in the NBA. With the ultra-athletic Josh Smith at power forward and highly skilled Al Horford at center, Atlanta's athleticism in the post can outmatch their opponents. In an offseason trade, the Hawks shipped disappointing former No. 2 pick Marvin Williams to Utah in exchange for Devin Harris.
Harris has been a solid yet under-appreciated point guard throughout his career, and it will likely be more of the same for him with Atlanta. This team may not be as athletic as they once were, but they still have enough team speed and athleticism to beat more skilled teams.
9. New York Knicks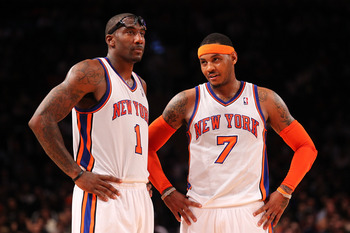 The Knicks have surrounded Amare & Melo with several great athletes.
Al Bello/Getty Images
Players drafted - No. 48: PF Kostas Papanikolaou/Greece
Five key players - Carmelo Anthony, Amare Stoudemire, Tyson Chandler, J.R. Smith, Iman Shumpert
On paper, the New York Knicks appear to be one of the deepest and most talented teams in the league. However, that simply wasn't the case last year, as the team struggled to find an identity and only the No. 7 seed in the East. The Knicks are expected to allow Jeremy Lin to leave as a free agent, but they still have an impressive starting five with Raymond Felton at point guard to go along with Smith, Carmelo, Amare, and Chandler.
Although he's the team's star player, Anthony isn't among the team's best athletes. The strength of the team athletically is their highly versatile post duo of Stoudemire and Chandler. New York will continue to emerge as a threat in the East if everyone understands their role and their intelligence matches their athleticism.
8. Memphis Grizzlies
Rudy Gay and Zach Randolph lead an athletic Memphis attack.
Christian Petersen/Getty Images
Players drafted - No. 25: PG Tony Wroten/Washington
Five key players - Rudy Gay, Zach Randolph, Marc Gasol, Mike Conley, Jerryd Bayless
Despite allowing O.J. Mayo to leave as a free agent, the Grizzlies are a very athletic team, capable of beating nearly anyone in the Western Conference. In the 2010 season, the No. 8 seeded Grizzlies used their youth and athletic ability to upset the top-seeded Spurs in the first round of the playoffs.
Small forward Rudy Gay is a smooth, versatile perimeter player capable of guarding a wide variety of offensive players, and go-to post player Zach Randolph is a terrific, fleet-footed athlete for his size. Memphis is a team that nobody wants to play in the playoffs, because their ability to play any kind of game makes them a very dangerous opponent.
7. Indiana Pacers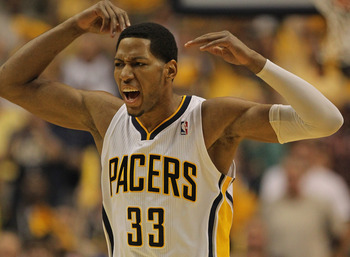 The Pacers are young and talented. And capable of matching up against almost anyone.
Jonathan Daniel/Getty Images
Players drafted - No. 26: PF Miles Plumlee/Duke, No. 36: SG Orlando Johnson/UC-Santa Barbara
Five key players - Danny Granger, Roy Hibbert, Paul George, George Hill, David West
Many were surprised by Indiana's ability to give Miami all it could handle in the Eastern Conference Semifinals, but to anyone familiar with the Pacers' athleticism, the competitiveness of the series shouldn't come as a surprise. Nobody can stop someone like LeBron James, but Danny Granger is one of the better defenders in the league against elite scoring threats like James.
Granger is joined in the backcourt by underrated point guard George Hill, and long, versatile shooting guard Paul George. Despite being 7' 2," All-Star center Roy Hibbert is an exceptional athlete in his own right with the ability to run the floor and score from anywhere on the court. The Pacers gave a glimpse at what they can be as a team in their playoff series against the Heat, and they'll only improve the longer they're together.
6. Denver Nuggets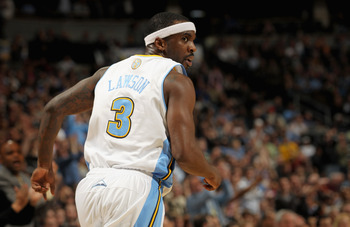 Denver has been one of the highest-scoring teams in the league recently.
Doug Pensinger/Getty Images
Players drafted - No. 20: SG Evan Fournier/France, No. 38: F Quincy Miller/Baylor, No. 50: PF Izzet Turkyilmaz/Turkey
Five key players - Ty Lawson, Danilo Gallinari, Kenneth Faried, JaVale McGee, Arron Afflalo
If the NBA was trying to field its best 11-man football team, it'd be hard to find a better running back than the lightning quick and thickly built Ty Lawson. Denver has been the top scoring team in the NBA in each of the past two seasons with Lawson leading the way. It's rare that a team gets better after trading away a superstar player, but that's exactly what the Nuggets have done since shipping Carmelo Anthony to New York.
Lawson is surrounded by several capable scorers and highly athletic players. As a result, the Nuggets have averaged at least 104.1 points per game the past two seasons. Although he sometimes lacks discipline, making him a common YouTube hit for his "bloopers," JaVale McGee has as much athletic ability as any post player in the NBA. This young Denver team gave the Lakers all they could handle in this year's playoffs, and the best is yet to come.
5. Philadelphia 76ers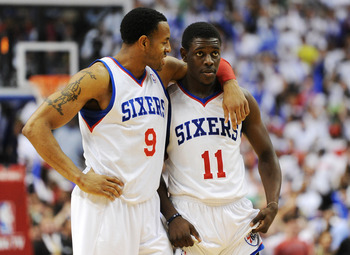 Jrue Holiday is an athletic mismatch, while Iggy is a defensive stud.
Drew Hallowell/Getty Images
Players drafted - No. 15: SF Moe Harkless/St. John's, No. 27: PF Arnett Moultrie/Mississippi State
Five key players - Jrue Holiday, Andre Iguodala, Evan Turner, Thaddeus Young, Spencer Hawes
While they obviously benefitted from a season-ending injury to Derrick Rose, the young and athletic 76ers, as the No. 8 seed, defeated the top-seeded Chicago Bulls in the Eastern Conference playoffs. The Rose-less Bulls were overmatched athletically by Philadelphia's youth led by point guard Jrue Holiday.
Philadelphia allowed veteran power forward Elton Brand to leave as a free agent, opening the door of opportunity for the more athletic and highly skilled Thaddeus Young at power forward. As two of the top perimeter defenders in the league, Andre Iguodala and Evan Turner allow the 76ers to match up with the league's most lethal scorers. This team is the definition of athletic, and they're only going to get better.
4. Chicago Bulls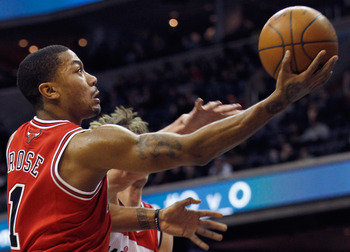 Rose, the former MVP, is the best of the Bulls' athletic bunch.
Rob Carr/Getty Images
Players drafted - No. 29: PG Marquis Teague/Kentucky
Five key players - Derrick Rose, Joakim Noah, Carlos Boozer, Luol Deng, Taj Gibson
Chicago earned the No. 1 seed in the Eastern Conference this year, but they lost to the 76ers in the first round after Derrick Rose suffered a season-ending knee injury. Rose, the 2011 MVP, is one of the best athletes in the entire league, and his absence had an obvious effect on the outcome of the series.
The Bulls' starting frontcourt, consisting of Noah and Boozer, is known more for hustle and energy, but both players are solid athletes and stand out when matched up against slower, less athletic guys. No one on Chicago's roster is on the same level as Rose athletically, but nonetheless, the Bulls are a true contender in the Eastern Conference.
3. Los Angeles Clippers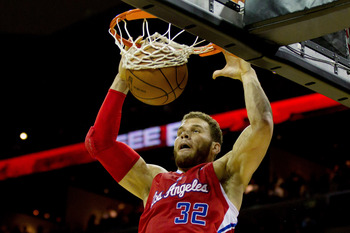 With CP3 at point, and Griffin & Jordan in the post, the Clips are scary.
Justin Edmonds/Getty Images
Players drafted - No. 53: PF Furkan Aldemir/Turkey
Five key players - Chris Paul, Blake Griffin, DeAndre Jordan, Jamal Crawford, Chauncey Billups
Chris Paul and Blake Griffin combine for one of the most entertaining highlight reel duos in the NBA. Everytime the Clippers are in action, you can expect at least one appearance from the Paul-to-Griffin combination on SportsCenter. But going beyond the Clippers' dynamic duo, Los Angeles has a highly athletic center in DeAndre Jordan and they've added an athletic, natural scorer this offseason in Jamal Crawford.
Jordan and Griffin combine for likely the league's most athletic duo in the post. The Clippers' athleticism wasn't enough to push them past the Spurs in this year's playoffs, but their best is yet to come as long as their core remains intact.
2. Oklahoma City Thunder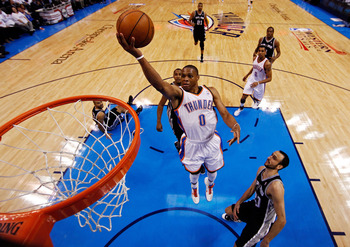 Westbrook is the best athlete on an athletically stacked OKC team.
Pool/Getty Images
Players drafted - No. 28: F Perry Jones III/Baylor
Five key players - Kevin Durant, Russell Westbrook, James Harden, Serge Ibaka, Thabo Sefolosha
What the young Thunder were able to accomplish this season is truly incredible. Westbrook and Durant, at just 23 years old, and Harden, at 22, combined for possibly the league's biggest of all "big threes." All three players are highly athletic, and they frequently use their youth and athleticism to their advantage by aggressively pushing the ball up the court.
The team's most athletic player is not in their highly publicized "big three." It's athletic freak Serge Ibaka. At 6'10," Ibaka has an incredible 7'4" wingspan to go along with a 46" vertical. Seriously. Nothing else needs to be said.
1. Miami Heat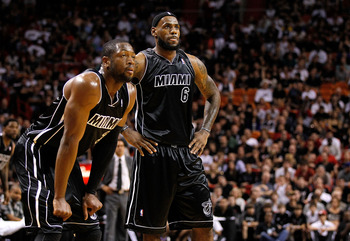 Whether you like them or not, the Heat are stacked with athletes.
Mike Ehrmann/Getty Images
Players drafted - No. 45: C Justin Hamilton/LSU
Five key players - LeBron James, Dwyane Wade, Chris Bosh, Ray Allen, Shane Battier
Whether you're a fan of LeBron & Co. or you're an active member of the "Miami Heat," the NBA Champions are the most athletic team in the league. When you watch Calvin Johnson dominate the NFL's defensive backs at his wide receiver position, it's fun to imagine LeBron James on the gridiron. Calvin Johnson is 6'5" and 236 pounds with incredible athleticism, but LeBron, at 6'8" and 260 pounds, dwarfs "Megatron" and is perhaps even more athletic.
The league MVP is surrounded by several terrific athletes. Obviously both Dwyane Wade and Chris Bosh are two of the game's top players at their positions, while athletic role players Shane Battier and Mario Chalmers played a vital role in the Heat's championship run. After adding Ray Allen and Rashard Lewis this offseason, Miami figures to be even better—and more athletic—in 2012.
Keep Reading