NBA Power Rankings: Who Will Prove LeBron James, Miami Heat Are One-Hit Wonders
June 22, 2012

Ronald Martinez/Getty Images
Now that the 2011-12 NBA season is in the books, it's time to start looking toward next season and whether or not LeBron James and the Miami Heat are capable of a repeat or simply just one-hit wonders who got it rolling at the right time.
With my pre-draft power rankings, I will take a look at those teams who have the best shot to prevent another celebration in South Beach next season.
30. Charlotte Bobcats
The Bobcats will win more than seven games, but Michael Jordan and company will still be the laughingstock of the NBA. There's no quick fix in Charlotte, and the rebuilding process will take a while.
29. Washington Wizards
The trade that brought Emeka Okafor and Trevor Ariza to Washington was another head-scratcher by Ernie Grunfeld. They will be better defensively, but the Wizards gave up cap flexibility and are a long ways away from winning.
28. Cleveland Cavaliers
The Cavs are on their way. They still need scoring and size to be competitive, though. They can add some of that through the draft and will have one of the best young cores in the NBA, but they're still going to be very young.
27. Brooklyn Nets
Who knows what the Nets will look like in 2013? So far they've failed in their attempt to land Dwight Howard, and it could cost them Deron Williams.
There's a chance this team could be pretty bad as they open their new arena.
26. Portland Trail Blazers
The Blazers have cap room and a pair of first-round picks, so they are a team that could improve in the next few weeks.
25. New Orleans Hornets
Re-signing Eric Gordon is a must, and adding Anthony Davis and another young talent with the No. 10 pick makes New Orleans much better.
Even though they were bad in 2012, they competed for coach Monty Williams. They now have cap flexibility and could be back in the playoff mix in a year or two.
24. Toronto Raptors
They should be getting last year's first-round pick Jonas Valanciunas this year, and if they add a productive small forward either through the draft or via trade, the Raptors could be much improved in 2013.
23. Sacramento Kings
The Kings have very good, young talent. They just have to learn how to win. That starts by getting better defensively.
22. Phoenix Suns
If the Suns lose Steve Nash, they could be pretty bad in 2013. They have two talented players in Marcin Gortat and Markieff Morris and must start rebuilding around them.
21. Detroit Pistons
The Pistons played pretty well toward the end of the season but need to get more athletic to compete in the Eastern Conference. However, adding to this team will be very hard with the horrible contracts of Ben Gordon and Charlie Villanueva on the books.
20. Milwaukee Bucks
The Bucks stand to lose Ersan Ilyasova, which will be a big hit. They have a nice backcourt but must find a way to add legit post players before they make a run at the playoffs.
19. Minnesota Timberwolves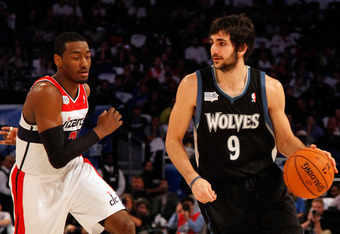 Mike Ehrmann/Getty Images
If Ricky Rubio returns healthy, the Wolves could be a sleeper playoff team in 2013. They are one shooter away.
18. Houston Rockets
The Rockets have a pair of first-round picks, but can they add backcourt depth and a productive big man?
They also have to worry about keeping point guard Kyle Lowry happy, which could turn into an issue.
17. Golden State Warriors
The Warriors may seem high on this list, but if they add a productive small forward to pair with Andrew Bogut, David Lee, Klay Thompson and Stephen Curry, this team looks good on paper.
16. Orlando Magic
Orlando has a ton of holes to fill. They would rank lower, but as of right now, they still have Dwight Howard. It may be time for the Magic to cut ties and start over.
15. Philadelphia 76ers
The Sixers had a nice playoff run, but they need a go-to scorer in the worst way. Until they get one, they will be just a middle of the pack team in the East.
14. Dallas Mavericks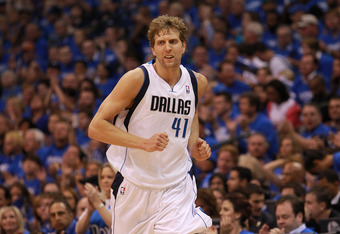 Ronald Martinez/Getty Images
Dallas is a team that could be back in 2013 as they have the cap room to really improve. If they add a legit star to pair with Dirk Nowitzki, they could be legitimate title contenders once again.
13. Utah Jazz
The Jazz are a good young team and are only going to get better. They have to find a way to add a point guard, and with the emergence of Derrick Favors in the postseason, they could use one of their veteran bigs as a trade chip.
12. Atlanta Hawks
The Hawks could start trending the wrong way in 2013, but they still have a talented roster and Al Horford will be healthy. On paper, they are still a middle-of-the-pack team in the Eastern Conference, but changes could be coming soon in Atlanta, starting with Josh Smith, who is entering the final year of his contract.
11. Boston Celtics
The Celtics are a year older, and Kevin Garnett's status is up in the air. They still have Rajon Rondo though, and whatever the Boston roster looks like in 2013, they could be pretty competitive.
10. Denver Nuggets
The Nuggets showed in the postseason they are a good, young team ready to take the next step.
They are deep and athletic and could begin to rise in the Western Conference.
9. Chicago Bulls
The loss of Derrick Rose is crippling, and while the Bulls will be competitive without him, they aren't realistic title contenders until he returns completely healthy.
8. Los Angeles Lakers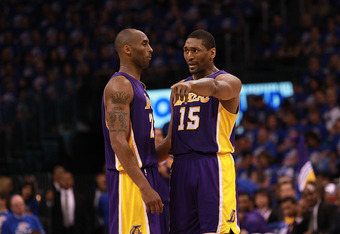 Ronald Martinez/Getty Images
Pau Gasol could be gone. Ramon Sessions may not return as well.
All the pressure now shifts to general manager Mitch Kupchak to make the Lakers a better team in 2013, but I would expect him to do exactly that.
However, right now, the Lakers have the same questions they had a season ago.
No point guard. Very little depth. A need at small forward and very little cap space to improve.
Yet, as long as Kobe Bryant is a Lakers uniform and Andrew Bynum continues to improve, the Lakers could be a threat to unseat the Heat next season.
7. Memphis Grizzlies
Zach Randolph should be healthy to start the season, and the Grizzlies have an excellent young core that includes Rudy Gay, Mike Conley and Marc Gasol.
Despite a first-round exit this season, the Grizzlies are still a team on the rise.
They must find some shooting in the offseason, though, as Memphis shot only 32 percent from behind the arc on the season. If they find a legit 2-guard, the Grizzlies could become very dangerous in 2013.
6. Los Angeles Clippers
The Clippers won a first-round series in 2012, and with a full training camp for Chris Paul, they could set their sights on the Pacific Division crown in 2013.
They are a legit title contender, but to compete, they not only have to add a 2-guard that can shoot but also one that can defend.
In addition, Vinny Del Negro's team needs depth. If they can make the necessary tweaks, the Clippers could have their sights set on a long playoff run next season.
5. New York Knicks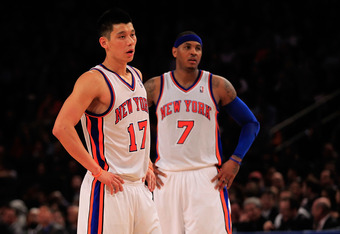 Chris Trotman/Getty Images
If any team needs a full training camp to figure things out, it's the Knicks.
In 2012 their roller coaster ride featured Carmelo Anthony, Amar'e Stoudemire and Tyson Chandler not co-existing early, the rise of Linsanity, the exit of Mike D'Antoni, a rash of injuries and much more.
Give Mike Woodson and Jeremy Lin (if he's re-signed) a full training camp, and I think these guys will get things figured out. 
They won't be as deep as in 2012, but on paper, their projected starting five could be as good as any in the NBA. They have to learn how to win in the postseason, but there's too much talent in the Big Apple for them not to be realistic threats to the Heat.
Whether they get the job done, though, is another story altogether.
4. Indiana Pacers
The Pacers tried to push the Heat around in the playoffs, and it didn't work. But they gained valuable playoff experience and will be back in 2013.
In addition, they should be better as they are in a very good spot as it relates to the salary cap.
They need a legit star to lean on in the postseason, though, and they have the money and trade assets to attempt to get one.
If they swing for the fences in the offseason, the Pacers could be legit contenders in the East. If they don't, they will still be a very good team and a potentially tough out for Miami in the playoffs.
3. San Antonio Spurs
Would the Heat be champions today if they had played the Spurs instead of the Thunder?
Looking at how good the Spurs were in 2012, it's a fair question to ask. San Antonio will be a year older in 2013, but they are very deep, and if Tony Parker plays at the MVP level he did during most of the season, then the Spurs are a serious threat to prevent Miami from winning back-to-back titles.
They do everything well on the floor and have possibly the best coach in the NBA in Gregg Popovich.
San Antonio has one more run left in them.
2. Oklahoma City Thunder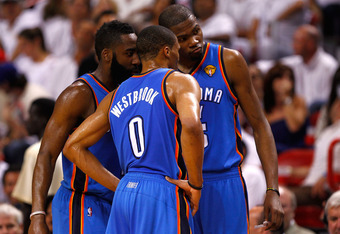 Mike Ehrmann/Getty Images
We saw how losing in the finals in 2011 affected LeBron James and the Heat.
I expect Kevin Durant and company to use this as a learning experience and come back in 2013 hungrier than ever to win the championship.
James Harden can't be as bad as he was in the finals, and Russell Westbrook must learn to value the basketball in key situations, but the Thunder have the pieces necessary to be celebrating this time next year.
Anything less will be a failure for this team.
1. Miami Heat
After the incredible run from LeBron and the Heat, Miami has to be No. 1, but they won't be without questions in 2013.
The main one is how will they react to being champions? Will they have that same hunger in 2013, or will they let their guard down?
I have concerns over Dwyane Wade's body breaking down, and while Miami's depth came through in the finals, it is a legitimate concern going forward.
Finally, can they expect LBJ to average 30 and 10 for another postseason? that's a lot to ask for even LeBron.