Does David Stern Really Care About Flopping, or About His Own Image?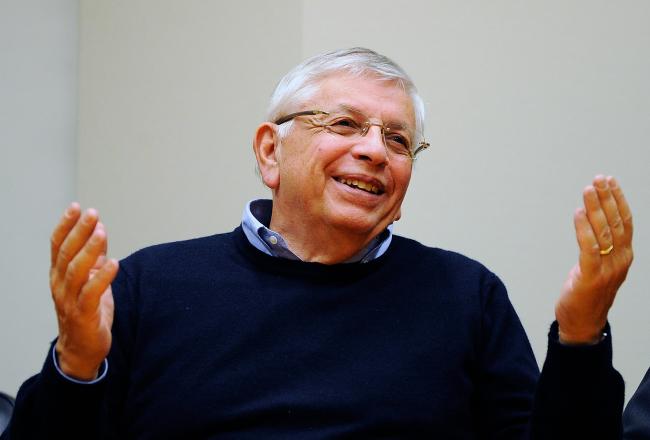 Patrick McDermott/Getty Images
Nobody likes a flopper, even (and, perhaps, especially) NBA commissioner David Stern.
He and the league's reshuffled competition committee—comprised of Boston Celtics coach Doc Rivers, Memphis Grizzlies coach Lionel Hollins, Dallas Mavericks coach Rick Carlisle, Los Angeles Lakers GM Mitch Kupchak, Oklahoma City Thunder GM Sam Presti, Utah Jazz GM Kevin O'Connor, Golden State Warriors owner Joe Lacob and Cleveland Cavaliers owner Dan Gilbert—have already met to discuss what can be done to discourage, if not purge, the ever-growing prevalence of acting from the game.
No, I don't mean keeping Shaquille O'Neal off the silver screen at all costs, though that might not be such a bad idea if the NBA should ever get its hands on a time machine.
Rather, I'm referring to the sort of on-court embellishment that makes even European soccer players look like honest, well-behaved athletes. The sort that turned Lob City into Flop City for the Los Angeles Clippers and has "helped" to maintain the Miami Heat's status as the most hated team in the league, long after LeBron James came to terms with his "Decision."
The stigmatization of flopping in the media, though, doesn't appear to have discouraged players from partaking in the much-maligned practice.
Not that it should. Any player worth his weight in salt would be more than justified to seek out any and every possible edge that's within the rules (or rather isn't disbarred by them) in pursuit of victory. That includes flopping, which is despised by fans, executives and (some) players, but may be rendered legal anathema in due time. As Stern told NBA.com:
If you continue to do this, you may you have to suffer some consequences. What those exactly should be and what the progression is is to be decided, because ... we just want to put a stake in the ground that says this is not something that we want to be part of our game, without coming down with a sledgehammer but just doing it in a minimalist way to begin stamping it out. And I think there are ways we can do that and we'll have to wait and see exactly what we come up with.
What should the NBA do to penalize flopping?
What have Stern and his committee come up with so far? A "postgame analysis" to determine whether or not players have intentionally attempted to fool referees and administer a punishment of some sort after the fact.
What might that punishment entail? A slap on the wrist? A fine? A suspension? A technical foul? Some combination of punitive measures? All (or at least some) will be revealed after the league's next Board of Governor's meeting in July.
Until then, isn't it just swell of Stern to take up flopping after claiming the competition committee wouldn't discuss it and fining Indiana Pacers coach Frank Vogel $15,000 for bringing it up? Self-serving much, Mr. Stern?
It should come as no surprise, though, that Stern might or would pursue a particular end—be it flopping, or instant replay or any of a number of other issues—as a means of improving his own image.
Especially after the way he tarnished his legacy in the aftermath of the lockout. Contentious negotiations with the Players' Association, the nixed Chris Paul trade and concerns among executives about the league rigging the draft lottery all stand as stains on Stern's 29-year resume. Then again, his prestige has since been rescued by an exciting season and a picturesque NBA Finals matchup.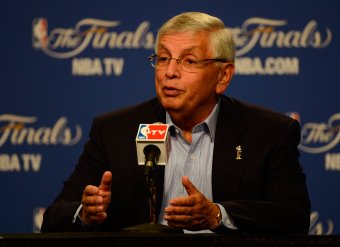 Ronald Martinez/Getty Images
Of course, maintaining and improving his own reputation are both functions of Stern's post. After all, he's a politician by trade, charged with wielding the power and influence of his constituents for their benefit while also saving something for himself. The owners reap the rewards of the policy itself (in this case, cutting down embellishment and improving the game itself), and he gets a gold star on his report card for pulling it off.
As they say in Washington, D.C., good policy is good politics.
Begrudge Stern all you want for what his motives for action may or may not be, but if the end result is less flopping in the NBA, do the means really matter?
This article is
What is the duplicate article?
Why is this article offensive?
Where is this article plagiarized from?
Why is this article poorly edited?